Axios Login
April 11, 2019
Situational awareness: WikiLeaks founder Julian Assange was arrested Thursday at the Ecuadorian Embassy in London, according to the Metropolitan Police, who later confirmed that his arrest was under a U.S. extradition warrant.
1 big thing: Facebook's forever war on misinformation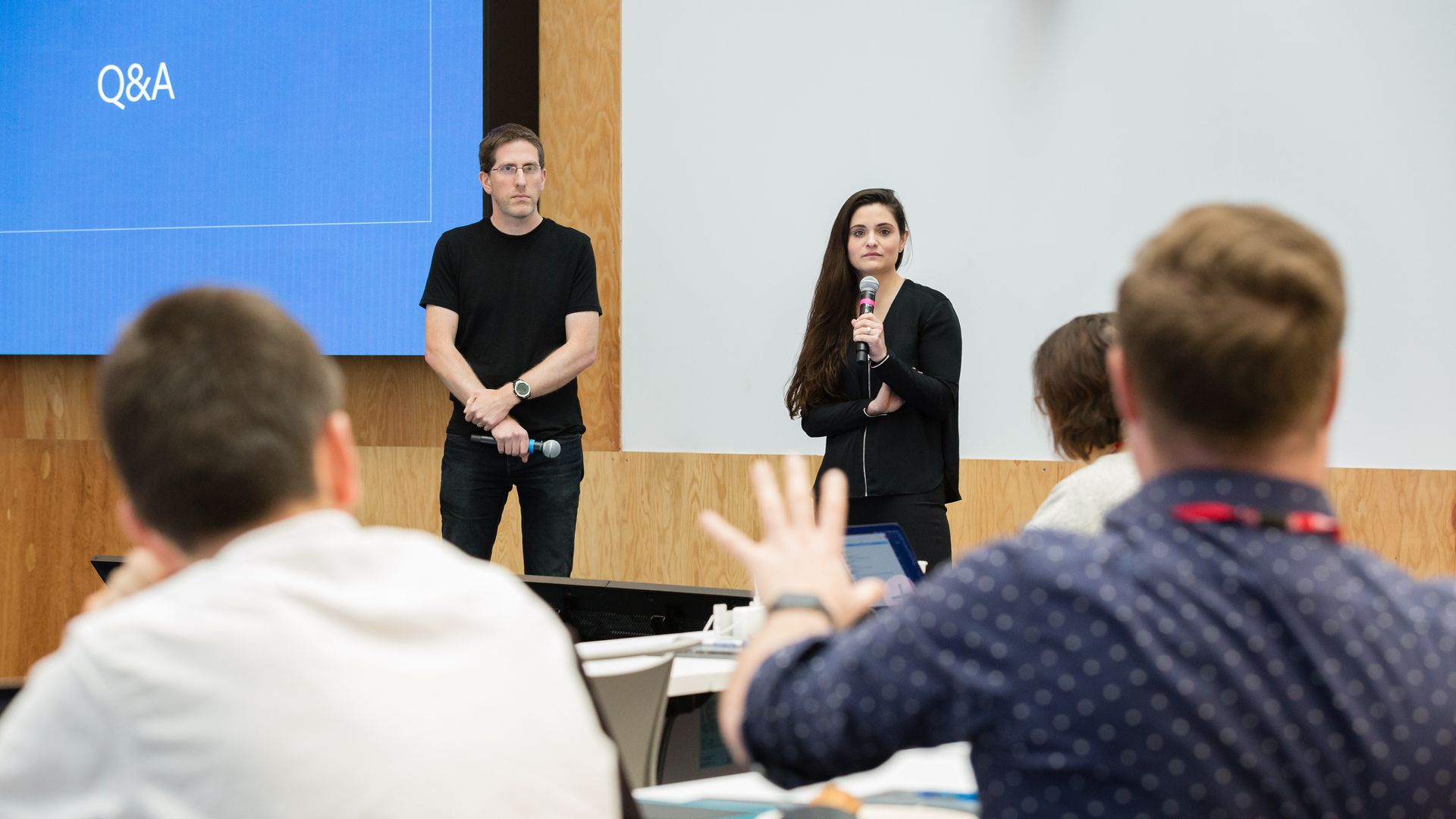 Facebook spent 3 hours detailing its efforts to fight misinformation on Wednesday, highlighting points of improvement but leaving unanswered the overarching question of whether users are safer than they were 2 years ago.
The good: Facebook is getting better at both detecting and removing some types of content, with a particular focus on efforts to subvert democratic elections.
The company said it removed 45,000 attempts at voter suppression during the 2018 U.S. midterms, including lies about when, where and how to vote, as well as misinformation about immigration enforcement at the polls, with 90% of those efforts being spotted before anyone reported them.
The bad: Other types of negative content remain prevalent on Facebook.
The company is able to proactively detect and remove more than 99% of child exploitation and terrorist propaganda before users report it, as well as 96% of nudity and 97% of graphic violence — but barely more than half of hate speech (52%).
The ugly: Facebook's pledge to shift toward private, encrypted conversations is likely to make it harder for the company to monitor and remove objectionable content. Facebook executives acknowledged the issue Wednesday, but declined to offer any specifics on how the company will deal with it.
Between the lines: When it comes to false information, in most cases Facebook isn't looking to remove it, though it is working to keep such information from being viewed and shared as broadly.
"We don't want to make money from problematic content or recommend it to people," Facebook product manager Tessa Lyons told reporters.
Facebook faces a tough challenge as it looks to reduce the visibility of content that approaches, but doesn't violate, its standards.
"As [a post] gets closer to the line, it gets more and more engagement," said Henry Silverman, operations specialist.
That's why Facebook is looking to create a new gray zone of content that's promoted less but not removed.
But as the company turns up that dial, it's cutting down on engagement — the metric its whole business is tuned to maximize.
What they're saying: Asked whether Facebook believes users are safer than in years' past, VP of integrity Guy Rosen told Axios that Facebook is doing better but stopped short of claiming users are safer.
"We're taking down more bad content, and taking down more of it before people even report it. We're proactively and methodically addressing abuse on the platform, understanding existing problems and identifying new ones as they emerge. So, I would say we're doing better than we were. But ... these are not problems you fix, but issues where you continually improve."
— Guy Rosen
Meanwhile, Rosen also said at the event that Facebook is still several months from being able to deliver a Clear History tool it originally promised for last year as a means for users to increase their privacy. It now hopes to deliver it in the fall.
Flashback: It was one year ago today that CEO Mark Zuckerberg was defending Facebook on Capitol Hill.
Our thought bubble: Wednesday's event sounded like the online-platform equivalent of a military briefing. Facebook is in fact now engaged in a long-term war of attrition with some of its own users to shape the boundaries of acceptable speech on its platform. It has one big advantage: It owns the battleground and sets the rules of engagement.
2. "Skinny" TV bundles keep getting fatter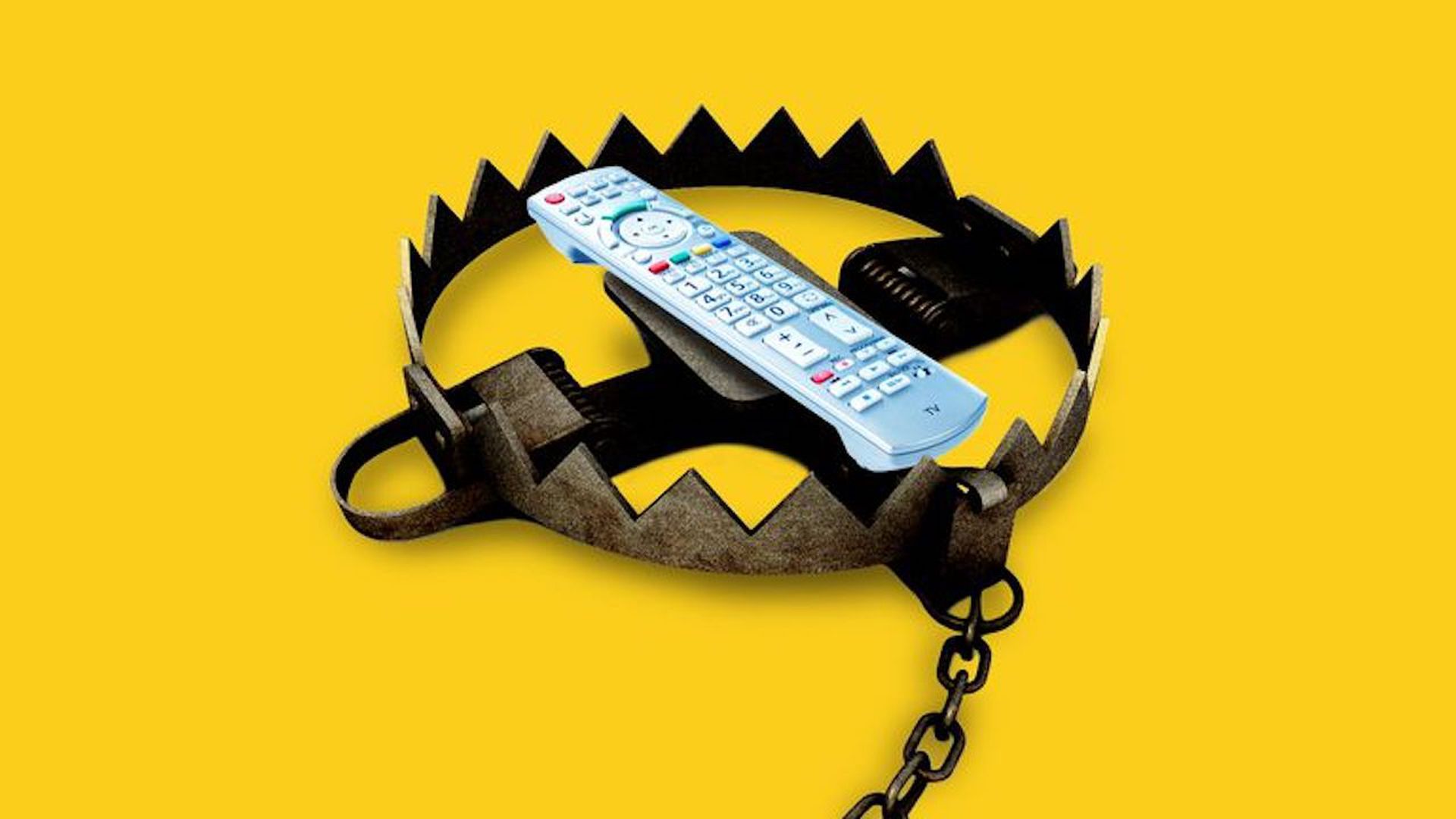 With each passing month, the cheap, digital live TV packages that Americans embraced in place of expensive cable packages are becoming less of a bargain. As Axios' Sara Fischer reports, many of the popular "skinny bundle" live TV services, like Hulu with Live TV, YouTube TV and DirecTV Now, have increased their package prices this year.
Why it matters: The price hikes, which usually occur when skinny bundle packages add more channels, show that it's difficult for smaller digital TV packages to compete with the bloated and expensive pay TV packages that they sought to displace.
Driving the news: YouTube TV announced Wednesday it is increasing its prices to $50 per month after striking a major multiyear distribution agreement with Discovery to provide channels like HGTV, Food Network, Animal Planet, Travel Channel and more.
Hulu with Live TV increased the price of its package to $45 in January.
DirecTV Now increased the price of its smallest live TV package to $50 in March.
The big picture: The price increases across many of these skinny bundle packages show that the companies couldn't make the lower prices sustainable or profitable for the long haul.
Last year, AT&T's DirecTV NOW, Dish's Sling TV, Sony's Playstation Vue, and YouTube TV all announced similar price cuts within months of one another.
When the first skinny bundle package, Dish's Sling TV, debuted in 2015, the price for the smallest package was just $20. Now, the average package is roughly $45.
The bottom line: The channel additions that are often causing the price increases demonstrate that consumers may actually like the broad choice they get from traditional cable and satellite packages more than they let on, but they want to be able to access that programming digitally, and across devices.
Go deeper: Sara has more here.
3. Conservatives make bias a political weapon
Conservatives in Washington are alleging that the gatekeepers to big media and communication channels are silencing their voices and censoring their perspectives.
So far, though, the arguments aren't backed up by the evidence, Axios' David McCabe and Sara report.
Why it matters: Lawmakers using rumors to support claims of bias run the risk of turning serious policy discussions about the danger of algorithms and media consolidation into unsubstantiated political barbs.
Driving the news: On Wednesday, Donald Trump's 2020 campaign adviser Brad Parscale tweeted that AT&T is positioning itself as "a weapon of the left" for pulling down a video Trump tweeted that included non-copyrighted footage from "The Dark Knight," a film produced by AT&T-owned movie studio Warner Bros.
Fact check: Warner Bros., as well as many other movie studios, routinely pull down clips from content that is posted without a license, as it is a violation of copyright law regardless of who uses it or how it's used.
Sen. Ted Cruz, a regular critic of the companies, acknowledged at a Wednesday Senate Judiciary Committee hearing that examples of bias on the platforms was "anecdotal" but blamed a lack of "data."
But, but, but: According to data from social media tracking firm Newswhip, conservative publishers continue to thrive on Facebook. Fox News, the Daily Mail, pundit Ben Shapiro's Daily Wire and Breitbart were all among the publishers who received the most engagement on Facebook from Jan. 1 to March 10 of this year.
Meanwhile, Sen. Mazie Hirono, the top Democrat on the subcommittee hosting the hearing, called the charges of bias "baseless."
What they're saying: Facebook's Neil Potts and Twitter's Carlos Monje, Jr., both said at the hearing that while the companies were working to get better at policing content, decisions weren't being made from a place of political bias.
The big picture: The debate over bias continues to derail conversations about real content moderation problems, like the spread of terrorist content or child exploitation.
Case in point: In December, Republican lawmakers from the House Judiciary Committee referenced studies whose accuracy has been disputed, as well as their own impromptu experiments, to press Google CEO Sundar Pichai Wednesday about bias against conservatives in its search algorithms.
Our thought bubble: Tech executives are getting a free pass when they head to Capitol Hill because they often find themselves defending their companies against unproven accusations of bias, instead of being pressed to discuss real, proven and persistent problems around content moderation.
4. The plus side of social media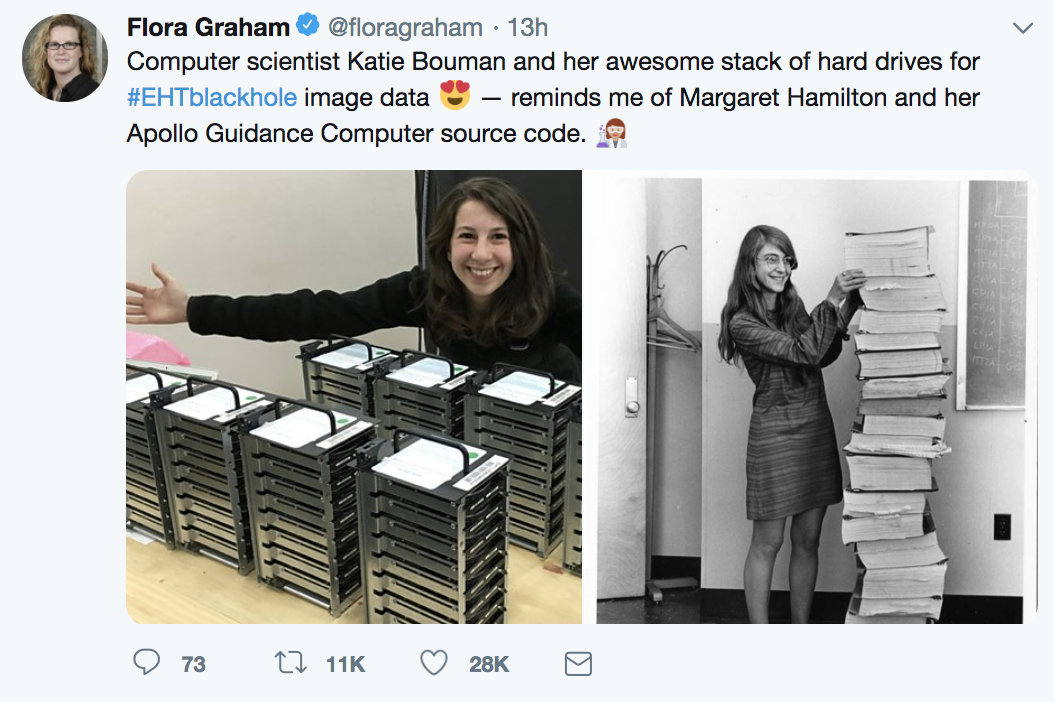 While women have often been excluded from their contributions in science and tech, Twitter users were determined not to let that happen to Katie Bouman.
Her work as a grad student was instrumental to the first ever black hole photo that was the talk of the internet on Wednesday. And social media was full of posts making sure Bouman's role wasn't overlooked.
One fun thing: The radio telescopes around the globe that generated the black hole image produced so much data that scientists had to ship it around on hard drive arrays — the internet was apparently too slow.
5. Take Note
On Tap
Trading Places
Sean Foy, who headed operations at Enjoy Technology and served as a director of operations at Amazon, has joined car-selling platform Shift as COO.
ICYMI
6. After you Login
A woman in Oregon called 911 fearing a burglar was prowling inside her home. It turned out to be a Roomba trapped in her bathroom.