Axios Login
June 24, 2019
If you missed last night's "Axios on HBO" summer finale, you owe it to yourself to go back and watch it. Some of the tech-related items are recapped below, but there's way more in the episode — including a megascoop from Axios' Jonathan Swan.
Today's Smart Brevity count: 968 words, < 4 minute read.
1 big thing: Putting a price tag on your data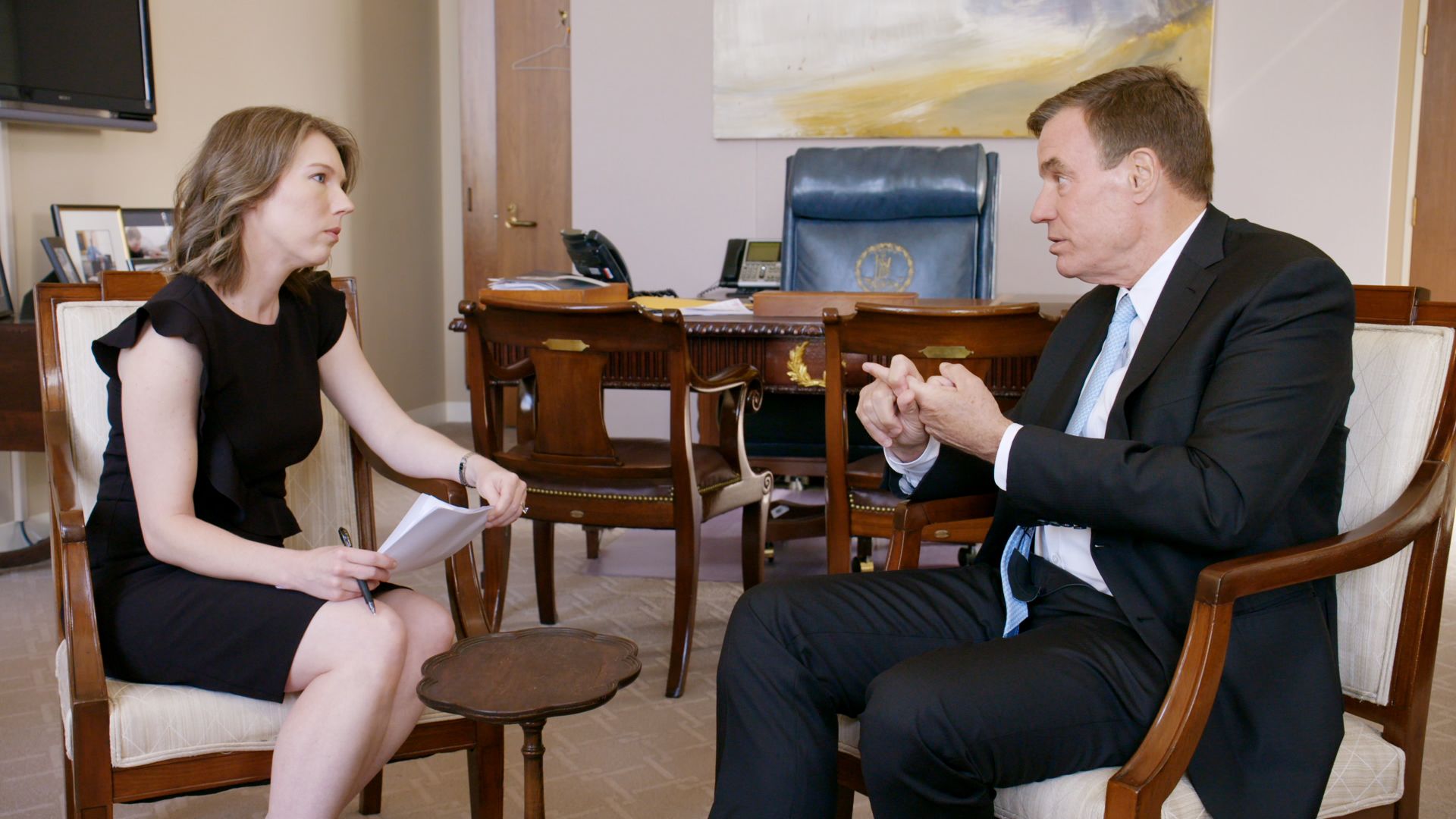 Politicians are increasingly interested in putting a price tag on the personal data you share with online platforms, Axios' Kim Hart writes.
Why it matters: The grand bargain of the digital age, in which consumers have traded their data for free services, is being criticized more and more as a lopsided exchange in which consumers give up valuable assets to use "free" services.
Driving the news: As first reported on "Axios on HBO," Sens. Mark Warner (D-Va.) and Josh Hawley (R-Mo.) are introducing legislation today that would require Big Tech platforms to tell users how much money their data is worth.
The bill would also require the platforms to let you delete all or part of the data they've collected about you.
What they're saying:
"I think you've got to have this value proposition out there for Americans to realize what they are giving up in terms of value when you have this data basically taken from you — often times without knowledge of not only how it's being taken, but how it's being used, and in certain cases, how it's being manipulated."
— Sen. Mark Warner, to "Axios on HBO"
California Gov. Gavin Newsom supports the concept of a "data dividend" for California residents. He's unsure how big those checks should be.
"Your data is being monetized every single nanosecond. And, to the extent it's been monetized and it's yours, I think in some way shape or form you should be rewarded."
— Gov. Gavin Newsom, to "Axios on HBO"
Be smart: It's been argued that it's hard to apply modern antitrust doctrine to Facebook and Google because antitrust laws are focused on price, and the tech platforms are technically free.
Valuing data in terms of dollars and cents could give regulators more enforcement leverage.
And with a dollar figure attached, data could suddenly become a more tangible asset that consumers may start to guard more carefully.
Most likely, data shared with tech companies isn't going to translate into real money in users' pockets. Still, there's clearly growing momentum to force platforms to be more transparent about the value they derive from their users' data.
The bottom line: Even if these proposals go nowhere, they're useful in demonstrating to users that they're not getting something for free.
Go deeper:
2. Doctored content puts social media in crosshairs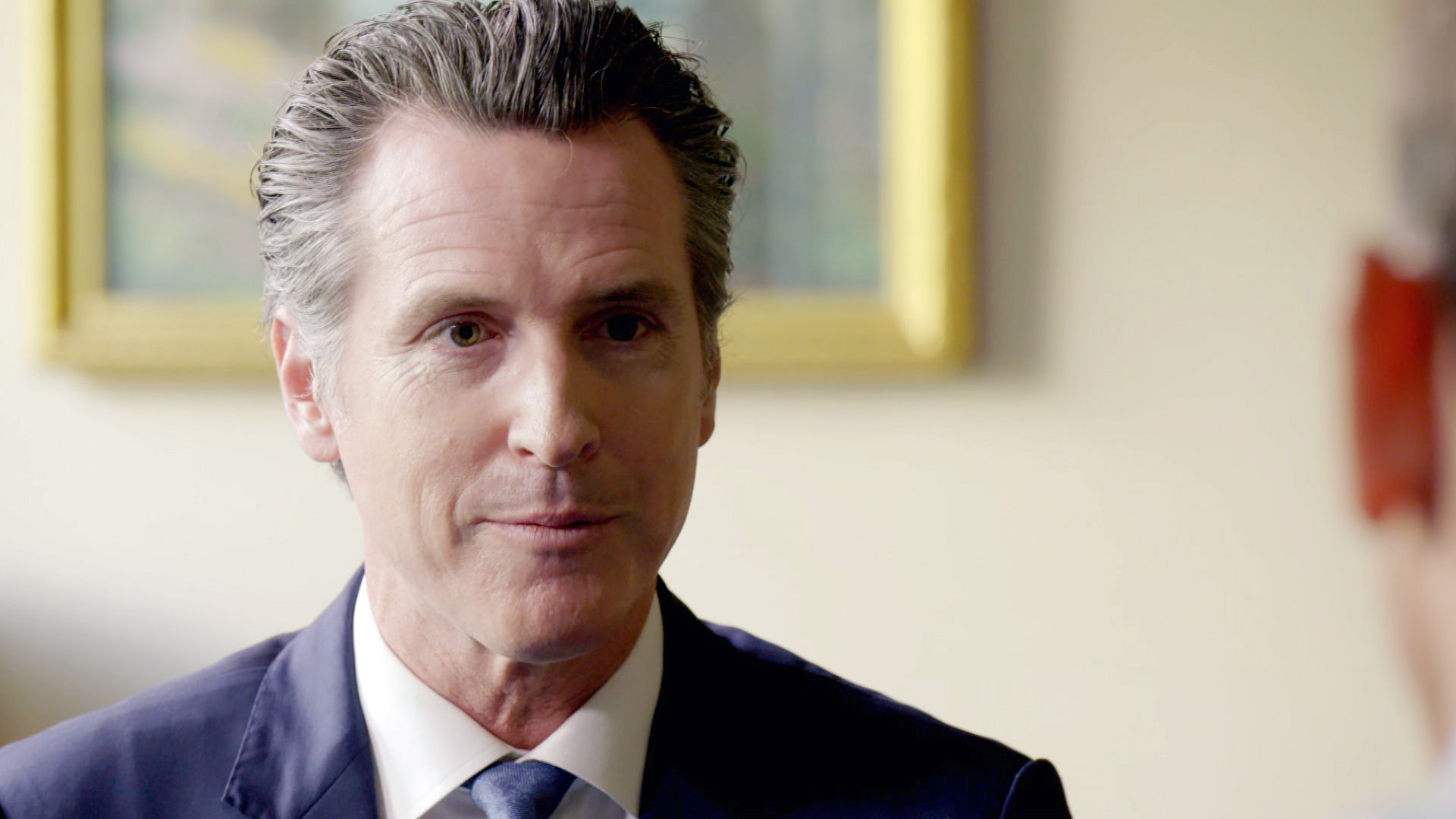 In interviews with "Axios on HBO," Newsom and Warner both warn social media companies to tread carefully when it comes to hosting manipulated content.
Newsom calls Facebook's decision not to remove a doctored video of House Speaker Nancy Pelosi "curious."
"The technology that was used to slow down that video is nothing compared to the technology that exists today that is used to completely manipulate the conversation," Newsom tells Axios CEO Jim VandeHei.
"On the doctored video front ... if they make the mistake of making a determination in other instances that are consequential, they will pay."
Warner says his "patience is wearing thin" with the companies' inaction on multiple issues.
"You know, we're one horrific event away, that may have been spurred on by some egregious Facebook post, or we're one event away from someone's personal life being destroyed by an algorithm that goes awry ... to where Americans are going to say 'All right, enough,'" he tells Kim.
"There is a huge growing bipartisan consensus that the status quo does not work. ... So I hope they get the message, but if not, then maybe we have to move past some of what I think are smart first steps and go right toward a more draconian solution set."
3. Alleged U.S. cyber operations against Iran
Axios cybersecurity reporter Joe Uchill notes that there's a big risk associated with the cyberattacks the U.S. is said to have conducted against Iran, in response to attacks on oil tankers in the Gulf of Oman and an unmanned U.S. drone.
The big question: Given its history of responding to threats with cyberattacks of its own, how will Tehran respond?
Background: Iran is believed to have launched several cyberattacks against the U.S. financial sector in 2012, just after the U.S. implemented sanctions against Iran — and with the memory still fresh of the Stuxnet malware, likely designed by the U.S. and Israel to disable Iran's nuclear program.
Since then, Iran has also been suspected of destructive cyberattacks against the state-owned oil giant Saudi Aramco and the Las Vegas Sands Corp.
The intrigue: Iran has recently been increasing its cyber espionage efforts against the U.S. But the operations appear (at this point) to be more about gathering intelligence than causing damage. That could change at any time.
Yes, but: While the specter of U.S. cyberattacks against Iran might bring to mind Stuxnet, we don't know what form these attacks took. It could have been something minor — more of a brushback pitch designed to deter, rather than destroy.
Go deeper: Joe has more here.
4. Facebook's crypto partner debuts refugee investment fund
Axios' Felix Salmon notes that among the launch partners for Facebook's cryptocurrency Libra is Kiva, a nonprofit that has married the concept of third-world microloans to first-world crowdfunding.
Catch up quick: Ordinary Americans use Kiva to lend money to some of the poorest people in the world, in dollars and with 0% interest.
The dollars go to microfinance institutions in more than 80 countries, which convert them into local currencies and then lend them out to individuals who have to repay the loans with interest.
5. Take Note
On Tap
Trading Places
PayPal COO Bill Ready plans to depart the company at the end of the year. Ready was previously head of Braintree, which PayPal acquired in 2013. (Correction: An earlier version of this item incorrectly said Braintree was acquired by Facebook.)
ICYMI
6. After you Login
Start your week out right. Check out this rap some Osaka grannies did to welcome the G20. (h/t Tokyo Reporter)