Axios Login
July 19, 2017
Hi from AT&T Park, where I am checking out both the San Francisco's ability to pull out a close game and Intel's work in live sports VR.
Intel's big bet on baseball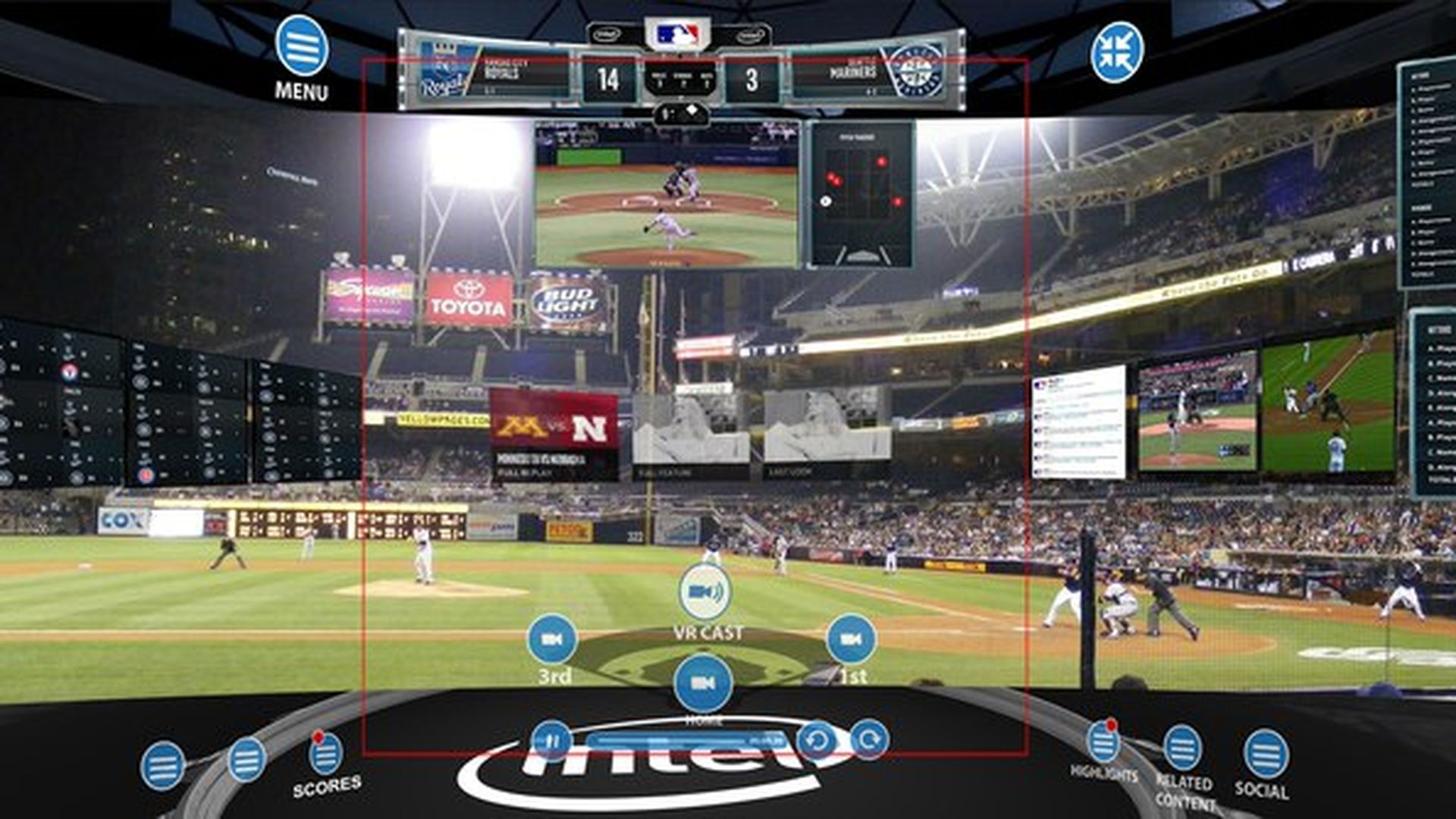 Intel has been traveling the country this year, broadcasting one major league game a week in virtual reality.
On Tuesday, the company's crew was close to home as the San Francisco Giants defeated the Cleveland Indians 2-1 in extra innings.
How it works: The games are free to watch, but require the person to have a Samsung phone and Gear VR headset. To broadcast a game in VR, Intel has camera rigs on the first and third base side, as well as the traditional "deep home" shot. It also aims to have an additional camera or two in a spot unique to each stadium. In Arizona, for example, it has one near the stadium's swimming pool. Each camera setup has six pairs of cameras to capture high-definition footage in 180 degrees.
In the parking lot, meanwhile, separate teams work in two adjoining vans. One group works on the sound and stitches the images together, while a second van houses a more traditional broadcast setup, including play-by-play announcer J.B. Long.
Tweaking the product: Still new at this, Intel is constantly adding new tricks to its arsenal. Last night's game, for example, was the first time the company added real-time VR graphics to the mix, showing baseball cards with stats above the players.
Competition: Intel is not without rivals in the space as NextVR also broadcasts professional sports in VR, including NBA basketball. At least this past season, though, NextVR broadcasts required a subscription to NBA League Pass, in addition to the requisite VR gear.
The bottom line: Intel CEO Brian Krzanich has said he wants VR sports to be a billion dollar business for the company. After whiffing on mobile, Intel could certainly use a hit.
The future of jobs is still a mystery
One of the big topics at Fortune's Brainstorm Tech conference was how — and at what level — will the world of artificial intelligence and self-driving cars shake up the labor market.
"We are in a data desert," Bloomberg Beta chief Roy Bahat said in reference to the relative lack of data about employment trends and predictions. He added that much of the data collected by the federal government every year tends to pertain to full-time employees and fails to show trends for other types of workers.
And that's before the change really hits.
Read Kia's full story on the future of employment.
Calling BS on Silicon Valley's sexism
Another big topic at Brainstorm, not surprisingly, was Silicon Valley's many issues when it comes to treating women fairly and with respect.
Jonathan Sposato, the chairman of PicMonkey and an angel investor, rebuffed the idea that women should have to act like men in the workplace in order to succeed.
"I think that's kinda bullshit," he said, according to Kia who is in Aspen for the conference.
But then Sposato faced a rebuttal himself when OpenTable CEO Christa Quarles called "bullshit" on his suggestion that women don't help each other as much as they could in business.
"In Silicon Valley today there is a sisterhood of women who are supporting each other, telling each other about board opportunities, giving each other business ideas," adding that older generations of women may have been more susceptible to being territorial in the workplace.
Kia's take: The heated conversations taking place in the aftermath of the sexism scandals underscore how close to home it hits for so many women in the tech industry and the fact that there continues to be a lot of misperceptions and disagreements on how to address the issues. That said, at least they are finally being talked about.
Apple launching an online journal on machine learning
Apple is planning to offer more of its machine learning research with the world.
The company today started an online journal on its website (link should be working shortly, Apple says) with plans to share technical articles throughout the year.
First post: "Improving the Realism of Synthetic Images," is based on an existing academic journal article, but tries to make it a bit more approachable with GIFs, images, and (slightly) more accessible language.
My take: Apple isn't exactly known for sharing its research with the world; however, machine learning is dominated by academic discussion and many in the field (including those Apple wants to hire and retain) want to be able to compare notes on state of the art technology.
Google takes on Facebook News Feed
Google announced Wednesday an overhaul to its mobile search platform that will algorithmically prioritize links that users will see as they scroll through search results, similarly to how Facebook operates, Sara reports.
Like Facebook: Google says it will provide information from "diverse perspectives," meaning news stories may have multiple viewpoints from a variety of sources that show up in your feed.
Why it matters: Google will now more directly compete with Facebook for users' time spent on mobile. This will also change the focus areas consumers will use to receive news on each platform. Whereas Google tends to be a source of more local, state, and hard news (business, tech, job postings, etc.), Facebook has owned the entertainment and lifestyle spaces.
Speaking of new twists on the news, beginning today, NBC News will produce a twice-daily news show exclusively for Snapchat's mobile content platform, Discover.
Something new: This is the first time a daily TV news show will exist on Snapchat's platform, demonstrating a major shift in how TV news will transition to mobile in the digital age.
Digging deeper: Snapchat has been at the forefront of landing exclusive mobile content deals with TV networks, partly due to creating a unique mobile-first content strategy, and partly due to its penetration with a very engaged millennial audience.
Sara has more, including a look at the data, here.
Take note
On tap: A House Energy & Commerce subcommittee this morning holds a hearing on self-driving car legislation designed to regulate & encourage deployment...Qualcomm and T-Mobile report earnings...Fortune's Brainstorm conference wraps up in Aspen and will include speeches from the CEOs of Wells Fargo and SoFi and former CIA chief John Brennan.
Trading places: GitHub VP of social impact Nicole Sanchez has left the company to resume her own consulting business. (GitHub will be her first client)...Former Uber comms chief Rachel Whetstone has joined Facebook, where she will oversee PR efforts for Facebook's Messenger, WhatsApp, and Instagram.
ICYMI: The group behind the Bluetooth standard has added support for mesh networking as part of a bid for a broader role in the smart home...Facebook plans to build a second data center in New Mexico, doubling its investment there to $500 million...IBM's financial results were a mixed bag; earnings and guidance came in better than many had expected, but sales were below consensus estimates...After several delays, Samsung said that it is now adding the voice capabilities of its Bixby assistant to all Galaxy S8 and S8+ devices in the U.S...Google is reintroducing Glass as a manufacturing tool and says it improves the efficiency of tasks by 25%.
After you Login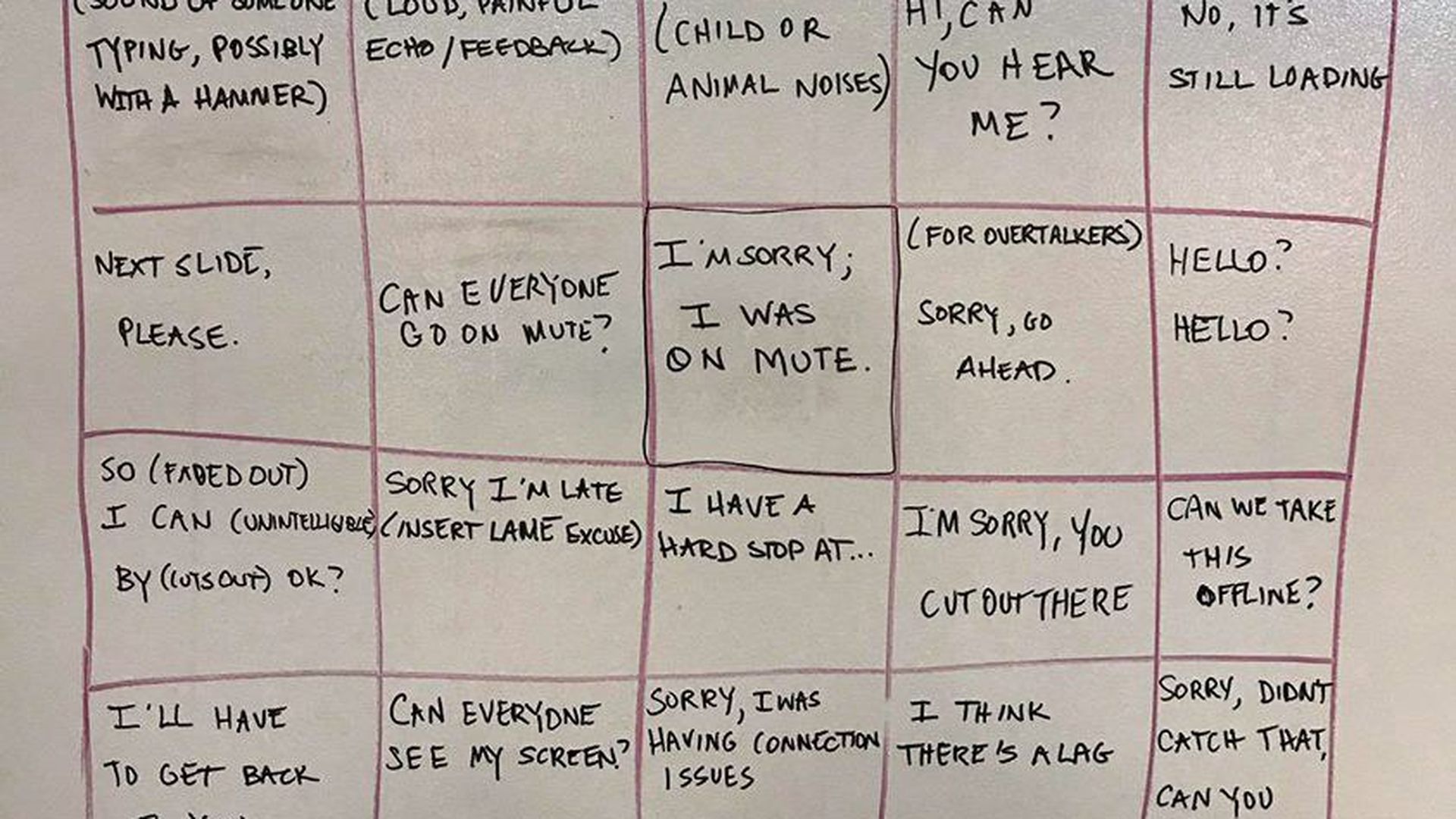 "Who just joined?" ... Here's a little fun for the next time you are on a long, boring conference call. Thanks, E Gilliam. Gilliam works as head of creative services at a Silicon Valley company.