Hi from Oracle Arena, where the Warriors just won the NBA title. It's the first time since 1974 that a Bay Area team has won a championship at home. But more on that in a bit.
https://www.axios.com/newsletters/axios-login-0d806f8c-2781-408a-b41c-b24e7ae0f1df.html?chunk=0#story0
The women trying to change the face of Uber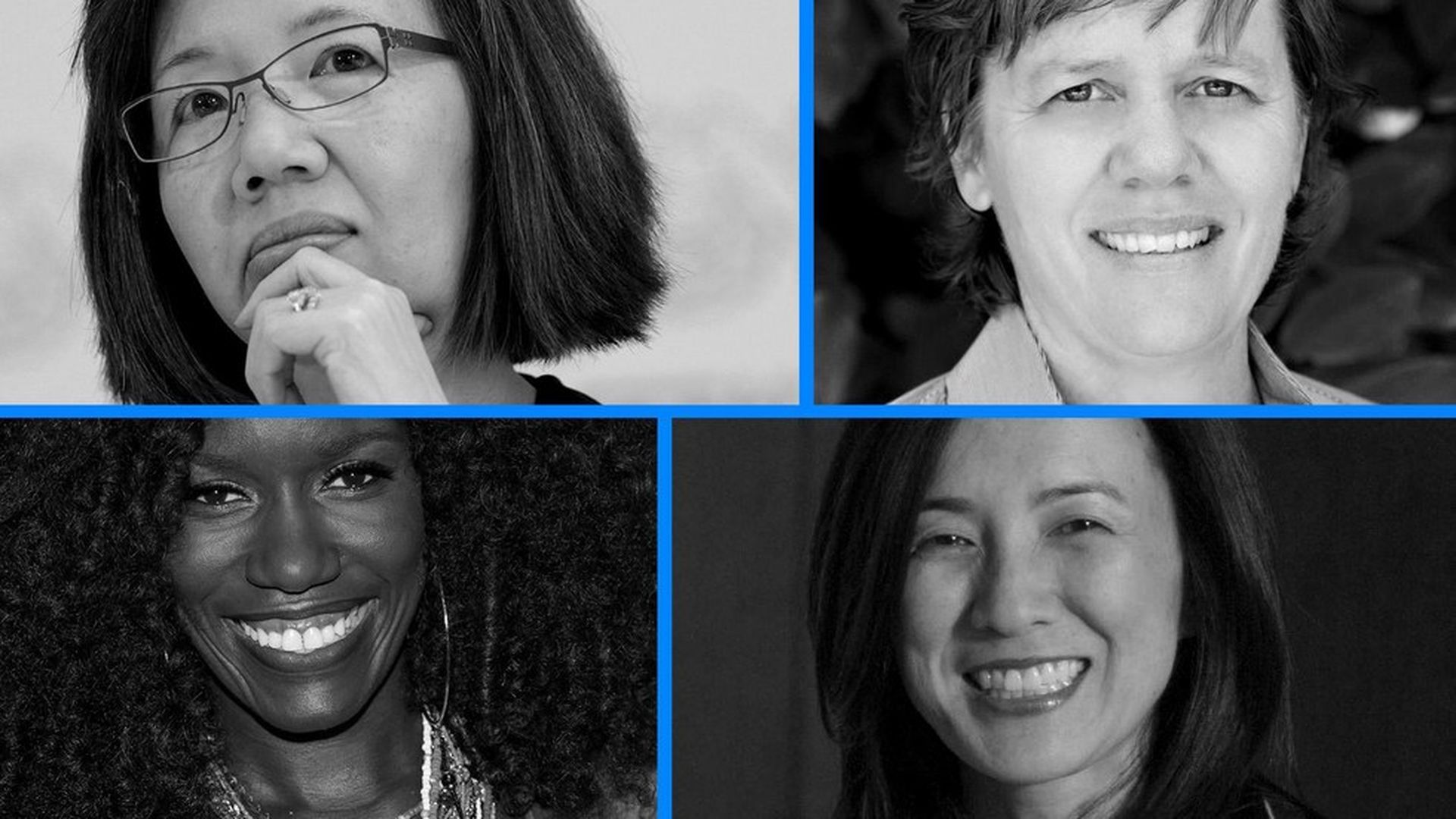 Uber is still laying out its full plan to change its frat culture image (more on that later today), but it's clear that part of its effort has been to increase the number of high-profile women in management — four have been added in recent weeks, Kia reports.
Among its executive ranks, during the past few weeks Uber:
Plus, Arianna Huffington, who joined Uber's board last year, took the lead in its ongoing investigation of its workplace issues.
Uber says: These recent hires and promotions aren't part of any quotas or due to pressure to hire more female executives. Instead, these women were simply the best candidates for the jobs, the company told Axios. The timing is a coincidence, Uber argues — hiring executives takes a long time.
And, it's worth noting that two of Uber's top executives — Rachel Holt and Austin Geidt — have been with the company long before this crisis erupted.
The big question: One job Uber needs to fill is chief operating officer, which would ideally go to a seasoned female executive to help re-balance its company culture, as Recode noted. If not, the question is if these other hires will really be enough to change a decidedly male corporate culture.
https://www.axios.com/newsletters/axios-login-0d806f8c-2781-408a-b41c-b24e7ae0f1df.html?chunk=1#story1
Tech wins another NBA Championship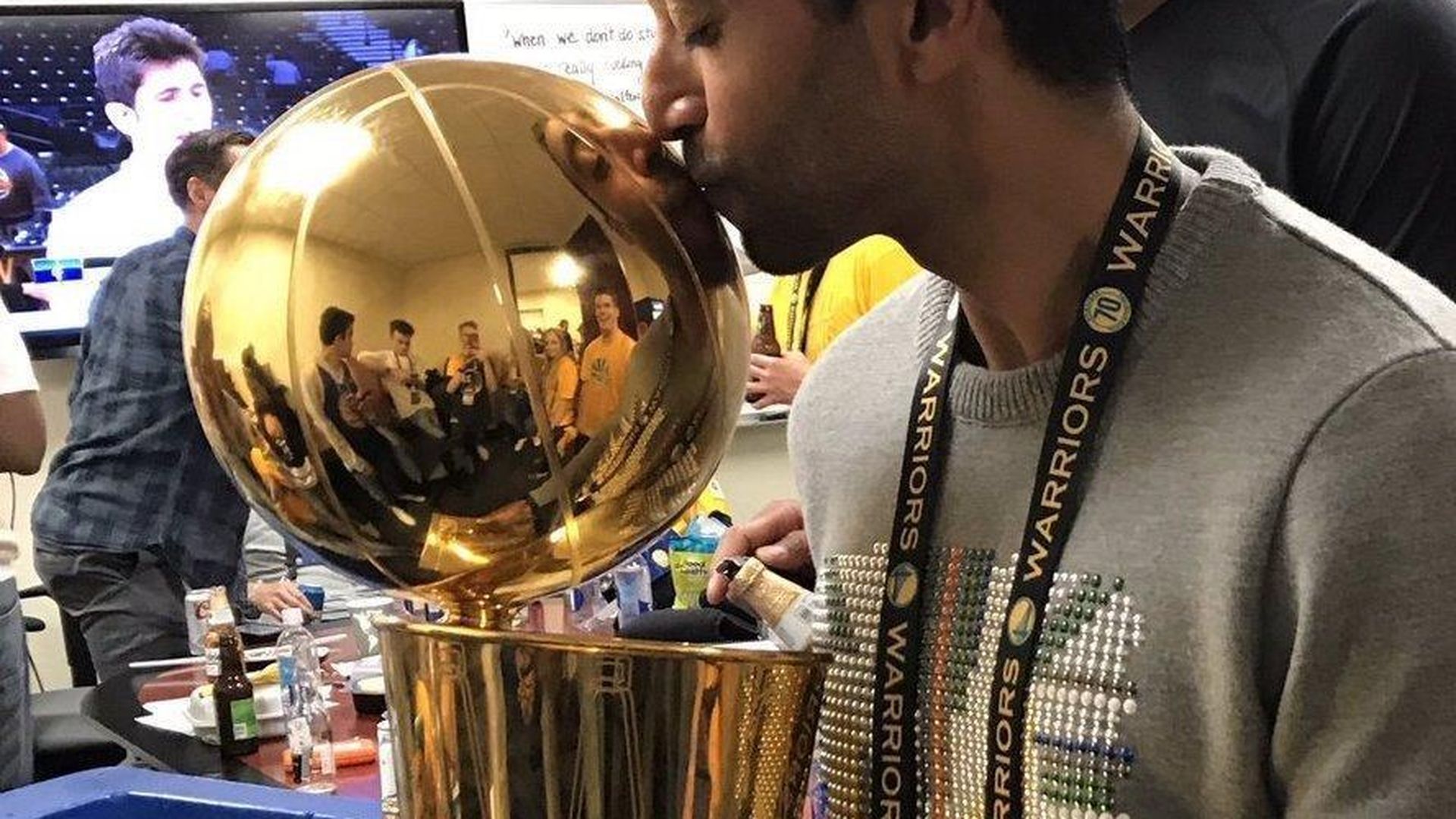 Like me, a lot of those in tech spent the better part of their youth getting picked last in gym. So it's with an extra zeal that Silicon Valley celebrates the success of its hometown Golden State Warriors.
And the industry's leaders were well represented inside Oracle last night. Of course, Warriors part-owner (and Social Capital VC) Chamath Palihapitiya was there, as was Apple's Eddy Cue, a front row regular. For the first time this playoffs, Cue's boss, Apple CEO Tim Cook, was also at the game.
Other tech executives there: Square/Twitter CEO Jack Dorsey, Oracle's Mark Hurd, Facebook's Dan Rose, SV Angel's Ron Conway, CBS Interactive chief Jim Lanzone, film producer Jeffrey Katzenberg, and Instagram's Marne Levine.
SurveyMonkey CEO Zander Lurie went with his wife, who is expecting the couple's third child. "She's six months pregnant and we wanted the baby to hear a championship celebration," Lurie told Login. "You have to hand it to ownership and this group of players. The off-season moves, the unselfish play and pure execution. It's a once-in-a-generation franchise."
Meanwhile, Palihapitiya was a man of few words on Twitter after the victory. "Yup yup #2," he tweeted, followed a half hour later by a picture of him kissing the championship trophy.
https://www.axios.com/newsletters/axios-login-0d806f8c-2781-408a-b41c-b24e7ae0f1df.html?chunk=2#story2
Eero debuts next generation router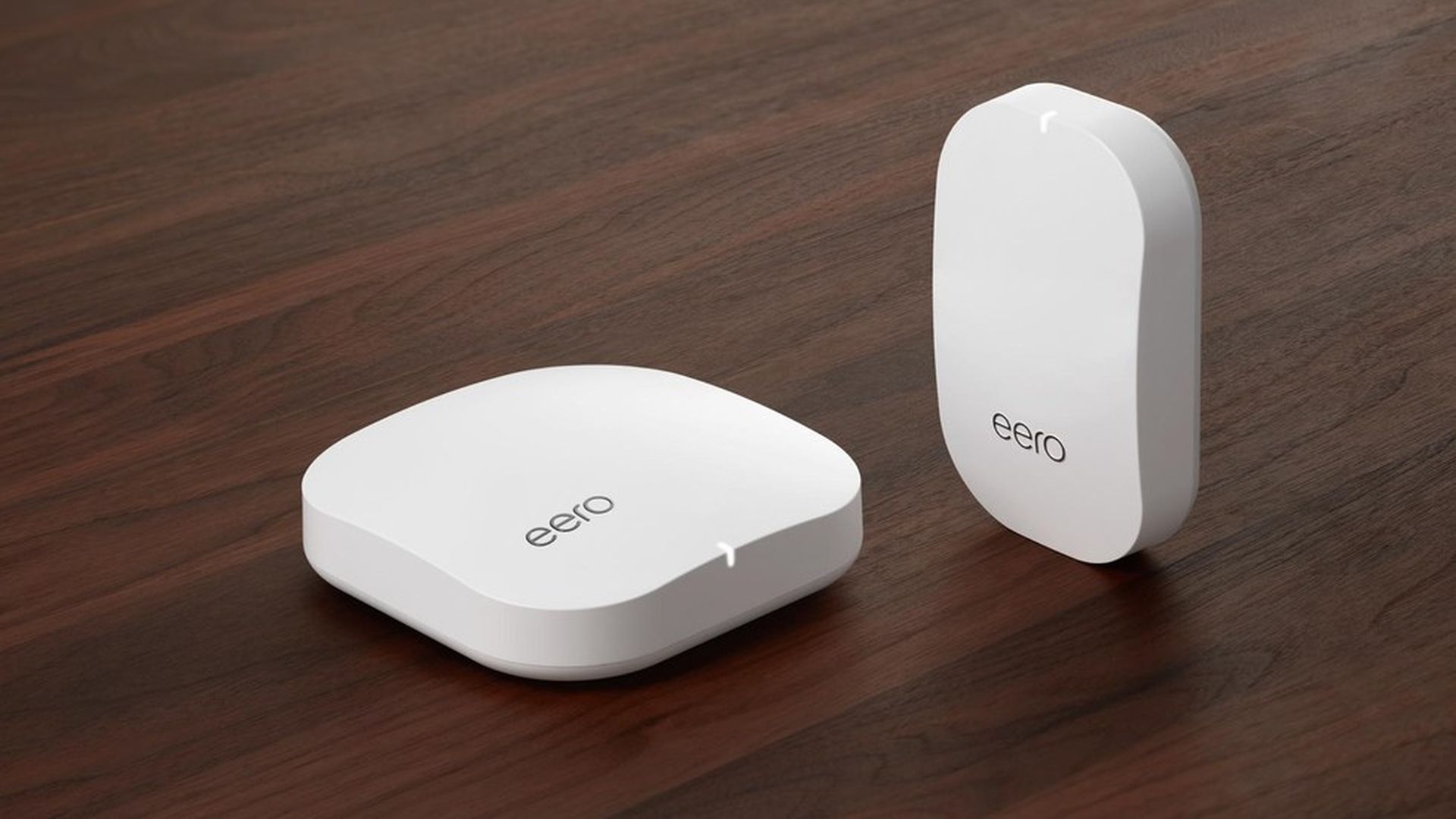 Wireless mesh networking start-up Eero is ready with the second-generation of its wi-fi router. The new system is roughly the same size as the original, but is capable of double the range and performance, CEO Nick Weaver told Axios. A new smaller unit, dubbed Eero Beacon, is half the size and plugs directly into an outlet, but Weaver says it still has 30 percent more performance than the original Eero.
Offering more is important. While Eero had few competitors when it first launched its three-router system, it now faces competition from a number of startups, as well as established networking companies as well as big names like Comcast and Google.
"The market has certainly grown and evolved much more quickly," Weaver said.
More changes:
The Eero will be available in more places, with the company adding all Best Buy stores and select Walmart stores, in addition to its current online distribution.
Eero said its new standard pricing set-up will be an Eero and two Beacons, which will sell for $399. It will also sell other configurations, including an Eero and 1 Beacon for $299 or three Eeros for $499.
Eero is aiming to offer a premium service. The $10 month/$100 per year service adds enterprise-grade security and parental controls.
https://www.axios.com/newsletters/axios-login-0d806f8c-2781-408a-b41c-b24e7ae0f1df.html?chunk=3#story3
Gig economy grows, highlighting concerns about benefits
A survey out today highlights the rapid growth of the gig economy. The report from MBO Partners says that 12.9 million people occasionally take on independent forms of work — at least once a month — an increase from 10.5 million people in 2016. The number of people doing those types of work more frequently fell slightly.
Why it matters: Washington has spent years trying to grapple with the rise of people working for "on-demand" services. Contractors like Uber and Lyft drivers don't get the same benefits that an employee would, a gap in the safety net that worries state governments, too: For example, California's Legislature moved to expand earned income tax credits to those who are self-employed (it still has to be approved by Gov. Jerry Brown).
https://www.axios.com/newsletters/axios-login-0d806f8c-2781-408a-b41c-b24e7ae0f1df.html?chunk=4#story4
More older Americans are getting news on mobile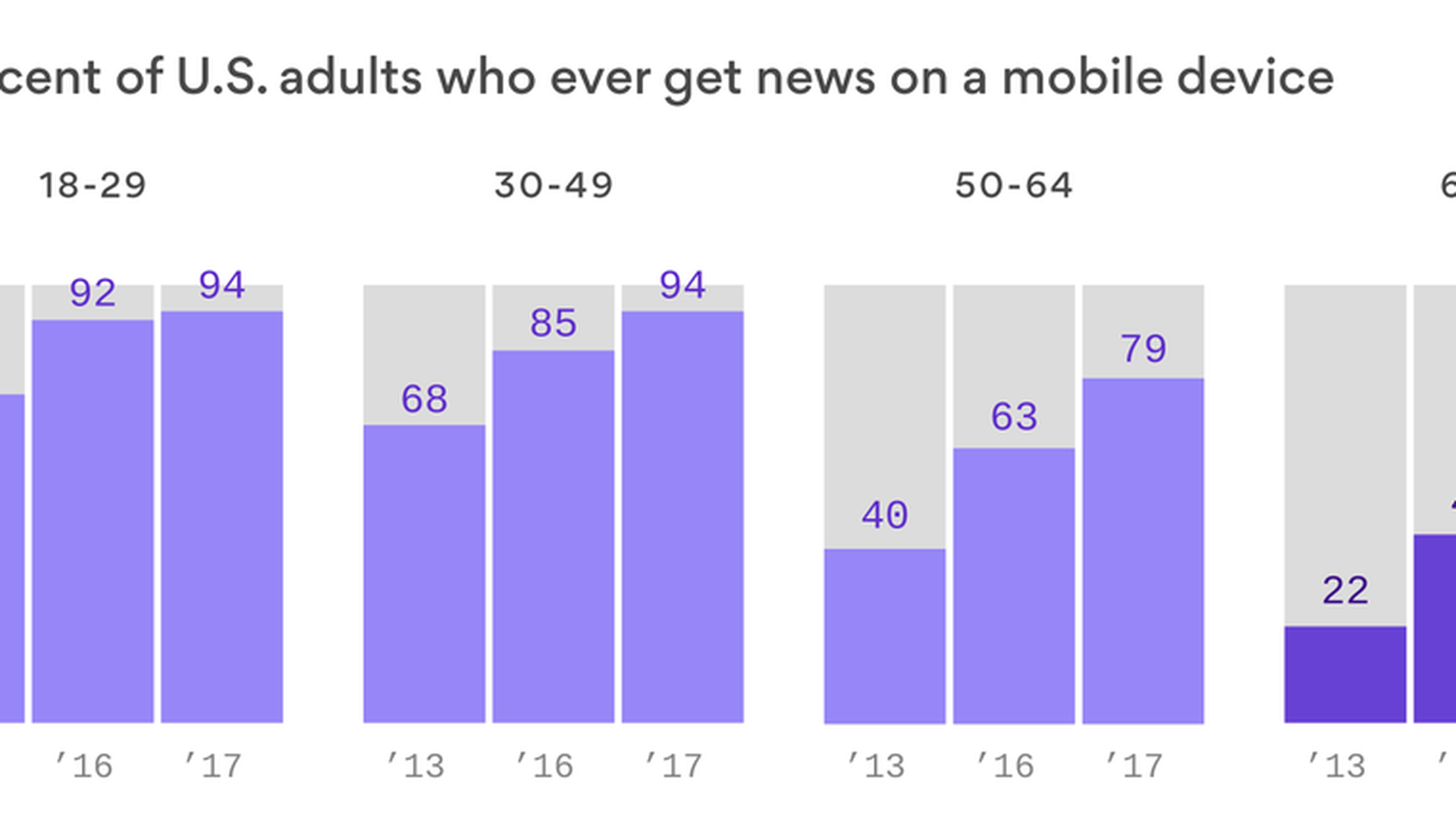 More than 80% of U.S. adults get news on their phones — up from roughly half of Americans just four years ago, according to a new survey from Pew Research Center. Most of that growth comes from adults older than 65 whose news consumption via mobile spiked almost 25% in the last year, and has tripled over the past four years. The next oldest group of adults shows a similar pattern, Sara reports.
Why it's happening: Older adults are driving growth in mobile news consumption because younger generations have already moved almost entirely onto mobile platforms. According to Daniel Mintz, chief data "evangelist" at Looker and former head of data and analytics at Upworthy, the push to adopt new technologies among older people is increasing as more tech-savvy baby boomers age.
The trend also extends beyond mobile news. A recent Pew survey found that tech adoption overall (internet and broadband) is skyrocketing among older adults.
https://www.axios.com/newsletters/axios-login-0d806f8c-2781-408a-b41c-b24e7ae0f1df.html?chunk=5#story5
Take note
On tap: Rutberg's Future Mobile 2017 conference takes place today and Wednesday in Half Moon Bay, Calif. I'm interviewing augmented reality pioneer Ralph Osterhout at the event on Wednesday...Video game conference E3 continues in L.A.
Trading places: As expected, Uber business chief Emil Michael is out, with well-regarded business development executive David Richter taking his spot.
ICYMI: Apple CEO Tim Cook has, for the first time, confirmed the company's plans for developing self-driving cars...Sleep monitor startup Hello has laid off most of its workers and is seeking a buyer for the remaining assets, Kia scooped on Monday...Wordpress is closing its super-swank San Francisco office because too few workers were showing up; meanwhile Waymo is retiring its cute little Firefly autonomous car prototype in favor of newer designs...Sony's E3 press conference was basically an hour full of video trailers for upcoming games, some of them not coming until next year...Microsoft researcher Chuck Thacker, who helped pioneer many aspects of the PC while at Xerox PARC, died Monday after a short illness, according to longtime colleague Eric Horvitz.
https://www.axios.com/newsletters/axios-login-0d806f8c-2781-408a-b41c-b24e7ae0f1df.html?chunk=6#story6