Axios Generate
August 16, 2022
☀️ Good morning! Today's newsletter, edited by Mickey Meece, has a Smart Brevity count of 1,026 words, 4 minutes. 
🚨 Situational awareness: Federal officials are expected to cut water supplies to states relying on the Colorado River "as drought and climate change leave less water flowing" and deplete reservoirs, AP reports.
🎶 At this moment in 1971, Marvin Gaye was atop Billboard's R&B charts with a brilliant single that's today's intro tune...
1 big thing: The signature is only the beginning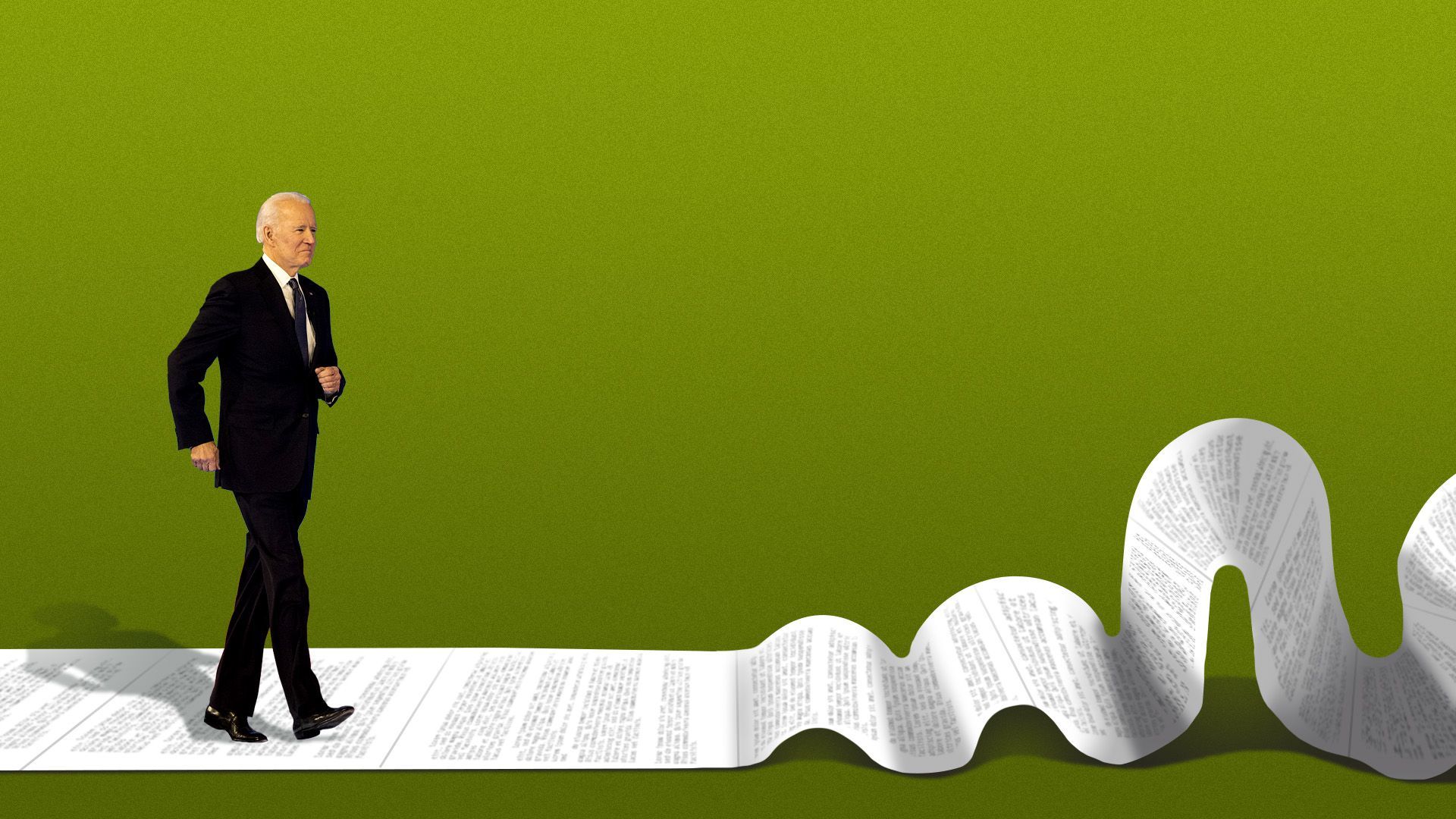 President Biden's signature on the Democrats' climate plan will quickly bring a new campaign to promote it — and a yearslong, uncertain effort to transform the bill into a huge clean energy expansion, Ben writes.
Driving the news: The president will sign the climate, health and tax plan this afternoon, and in the coming weeks, will travel across the country talking it up, the White House said.
Zoom in: Recent days have brought new or updated analyses about the bill's potential effects over the next decade-plus as roughly $370 billion in energy and climate investments take shape.
A few noteworthy tidbits we hadn't yet covered include...
🔽 The Princeton-led REPEAT Project sees the bill driving down U.S. consumption of petroleum products (gasoline, diesel and more) by roughly 13% from 2021 levels.
Natural gas use would also be lower than projections under current policy.
The bill is "likely to drive the first sustained decline in consumption of petroleum fuels and natural gas in US history (e.g. outside of recession)," Princeton's Jesse Jenkins tweeted.
🛢️Potential emissions increases from provisions that require continued U.S. oil-and-gas leasing are pretty minor, per a new analysis from Resources for the Future fellow Brian Prest.
The emissions cuts spurred by the rest of the bill would outweigh even his highest estimated emissions from those mandates by a factor of 10 or more.
📊 The Rhodium Group's analysis is pretty granular but also offers a high-level take on the bill's projected effects.
"Looking across sectors, the biggest emission reductions by far occur in the electric power sector, followed by carbon removal (due to forest and soil practices, direct air capture and other actions), industry (including emissions from fossil fuel production), and transportation."
The big picture: Multiple reports find the bill potentially adding enough emissions reductions relative to current policy to get the U.S. around 40% below 2005 levels by 2030.
The U.S. target under the Paris Agreement is a 50% cut by that date, so more federal, state, local and corporate efforts would be needed.
Yes, but: These various projections are only that, as modelers freely admit. Maybe the emissions cuts will be even deeper!
On the other hand, a lot has to break right in the real world for the big envisioned clean energy expansion to take hold.
There are workforce constraints, siting hurdles, and a lot more.
2. Europe is facing winter peril
European natural gas prices continue to hit ludicrous heights, as expectations of a winter fuel crisis grow, Matt Phillips writes in Axios Markets.
Driving the news: Benchmark European natural gas prices jumped above €230 per megawatt hour, a level that would have been considered laughably high a couple of years ago.
Catch up fast: Russia, the largest supplier of gas to Europe, has been cutting back on shipments, in response to European sanctions levied on Russia after its invasion of Ukraine.
Shipments are now down to 20% of pre-invasion levels, with expectations for a winter shutoff growing.
Threat level: One ominous indicator is that Google searches for "firewood" have soared in Germany.
3. One EV advantage: cheaper fuel costs
A new Energy Department note helps show that EVs can be easier on the pocketbook than gas-powered models once you get past the generally higher sticker price, Ben writes.
The big picture: The chart above, adapted from the note, shows estimated average costs for hundreds of model year 2022 vehicles ranging from fully electric to fully gasoline-powered.
All the fully electric models had annual costs under $1,000.
"Models with an annual fuel cost estimate of $2,000 to $7,000 were dominated by conventional gasoline models."
Yes, but: Needless to say fuel costs depend on...fuel costs!
And the analysis used gas prices that are high by historical standards ($4.87 per gallon for regular, $5.76 for premium) and have since fallen.
But it's still a useful analysis because the differences are wide enough that long-term EV costs are lower even with cheaper gas.
And anyway gas prices may climb again in the future.
What's new: Expanded consumer tax subsidies in the new climate law are aimed at lowering upfront prices.
But it's not clear how quickly they will be widely used, thanks in part to battery sourcing requirements attached to eligible vehicles.
Of note: The analysis assumes 15,000 miles of driving per year with 55% city and 45% highway, and electricity costs of $0.13 per kilowatt hour.
4. Catch up fast on oil: markets, BP, carbon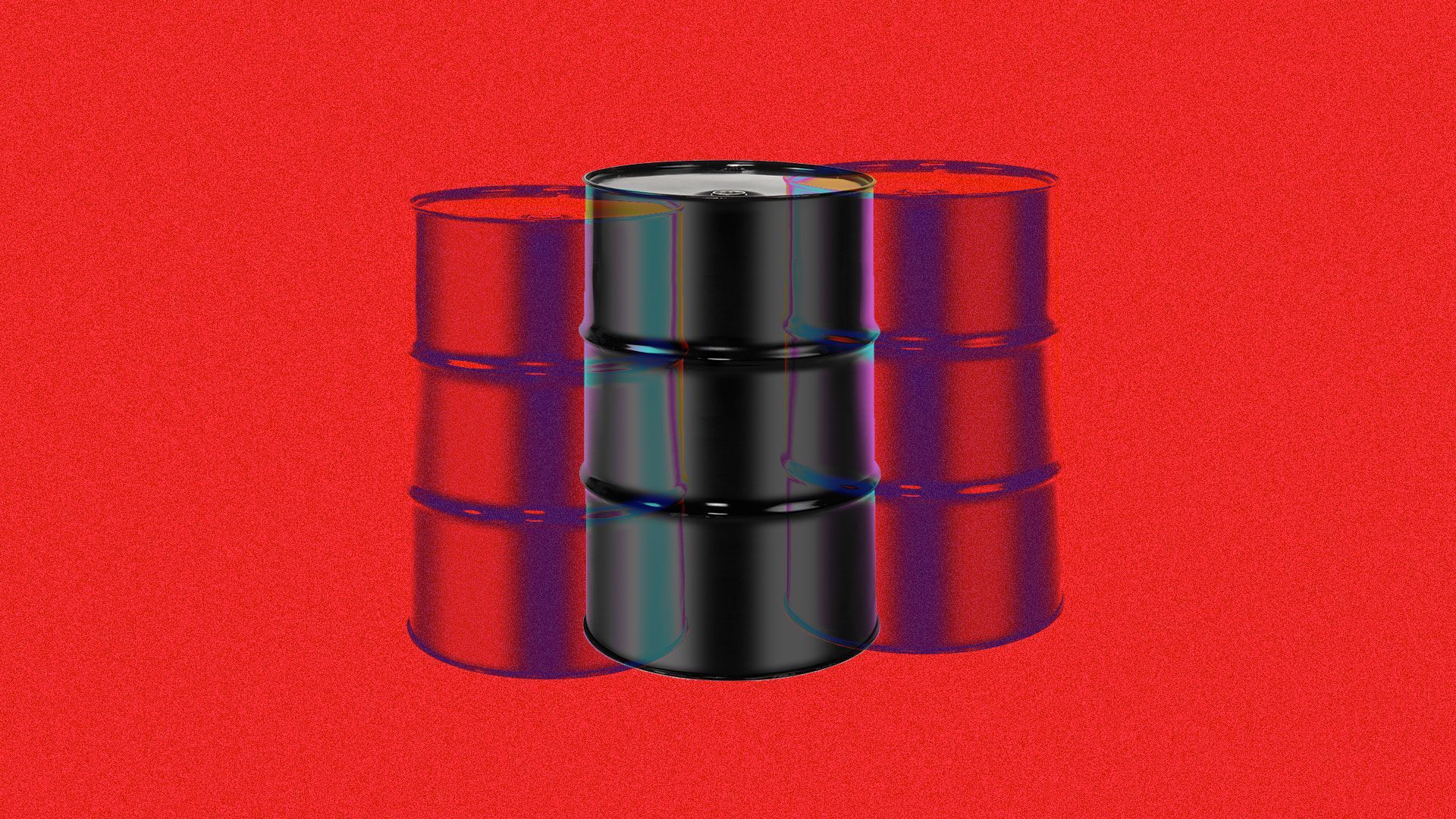 Crude prices are down this week (but are regaining some ground this morning) amid weak Chinese economic data and a rate cut by their central bank, Ben writes.
China's rate cut may have "spooked" traders because it's "it's unlikely to have any positive impact and just looked a little desperate," Oanda analyst Craig Erlam said in a note.
The U.S. benchmark WTI is trading at roughly $90 this morning, down roughly $30 per barrel compared to early-mid June.
👋 "BP Plc is seeking to get rid of its oil assets in Mexico amid a shift in its business strategy toward renewable energy and a challenging political climate in the energy sector in the country." (Bloomberg)
🌎 Reuters and Argus Media have stories exploring oil companies' potential use of expanded carbon storage tax incentives in the new climate law.
Why it matters: "This is going to unlock a significant amount of emissions that could become economic for capture," Chris Davis, a senior vice president at Milestone Carbon, tells Reuters, which notes his firm works with midsized companies.
Yes, but: The story questions whether the wider subsidies will be enough to advance large-scale industrial capture "hubs" like the one Exxon is pitching in the Houston area, citing analysts who say more policy support is needed.
5. Charted: U.S. air conditioning
With searing U.S. heat this summer and more coming in the years ahead, one area of resilience is that the country is heavily air-conditioned, Ben writes.
Yes, but: The map above — via a blog post from UC-Berkeley's Energy Institute at Haas — shows that lots of people still lack home cooling.
Of note: It's drawn from 2020 data in a big Energy Department survey of residential energy use conducted every few years.
The deadly 2021 heat wave in the Pacific Northwest and other extreme events have likely pushed up AC deployment to some degree.
📬 Did a friend send you this newsletter? Welcome, please sign up. Thanks for reading and we'll see you back here tomorrow.