Good morning and welcome back to Generate. This is a good list of organizations helping people affected by Harvey and the catastrophic flooding that's ongoing. Ok, let's get to the news . . .
https://www.axios.com/newsletters/axios-generate-cc459b70-8663-46f5-ae63-ee656cb2648f.html?chunk=0#story0
Harvey's energy toll: the latest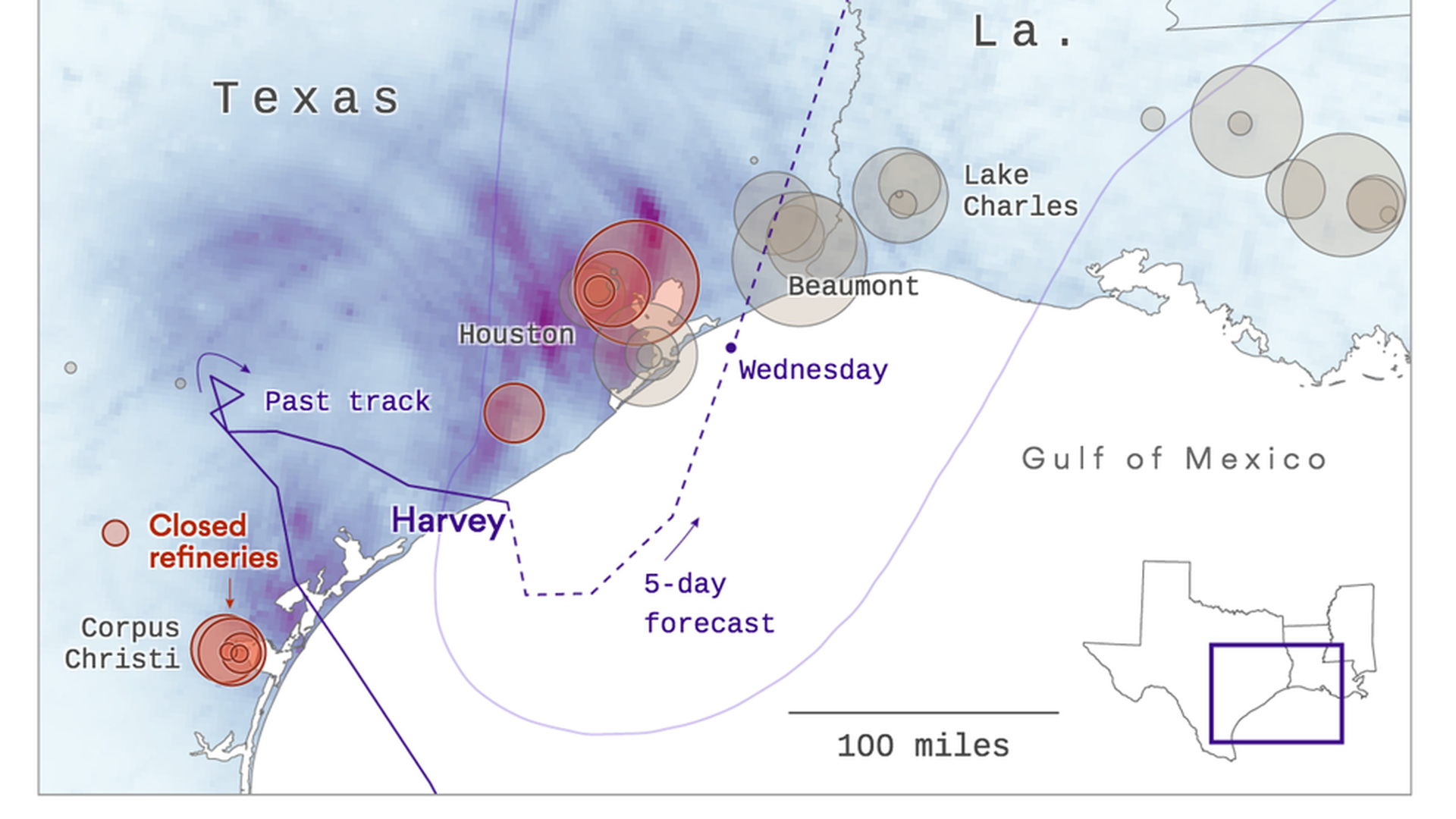 Here's a few more snapshots of there things stand along with Gulf Coast energy systems still being hammered by Harvey, which was downgraded from hurricane to a tropical storm...
Refineries: As of yesterday afternoon, 10 refineries in the Corpus Christi and Houston area are offline, with a combined capacity of roughly 2.2 million barrels per day, or roughly 12% of the U.S total, according to an Energy Department report. (Note: There are varying estimates and some put the number higher.)
Check out the chart above to see where refineries are closed amid massive rainfall and facilities that are in the path of Harvey.
In addition, DOE reports that three Houston-region refineries and one in the Beaumont/Port Arthur region are operating at reduced levels, while two others in that Beaumont region are weighing a shutdown.
One to watch: Via Reuters, Motiva is expected to make a decision this morning about whether it needs to halt operations at its 603,000-barrel-per-day refinery in Port Arthur, the nation's largest.
Gasoline: Prices are climbing as the storm hamstrings refining, crude oil, and pipeline networks in the region.
According to AAA, the average nationwide price for regular gas as of early this morning was $2.38 per gallon, which is several cents higher than it was a week ago.
"Despite the country's overall oil and gasoline inventories being at or above 5-year highs, until there is clear picture of damage and an idea when refineries can return to full operational status, gas prices will continue to increase," AAA spokeswoman Jeanette Casselano said in a release yesterday.
Offshore: The latest Interior Department update yesterday shows that offshore oil-and-gas production shut-in due to Harvey is starting to come back.
Roughly 331,000 barrels of oil production, or around 19%, of Gulf of Mexico output were shut-in, a dip from the roughly 379,000 barrels offline in the prior day's update. Offshore gas production that had been shut-in is also coming back.
Power: Roughly 300,000 people remain without power. The Electric Reliability Council of Texas, which manages most of the state's grid, said in an update yesterday afternoon that a number of major transmission lines remain out of service.
Perspective: Bloomberg's Liam Denning has an interesting analysis that shows why natural gas prices have not spiked the way they did when Hurricanes Katrina and Rita hit the region 12 years ago.
Read more of this story here and watch our Axios stream for updates.
https://www.axios.com/newsletters/axios-generate-cc459b70-8663-46f5-ae63-ee656cb2648f.html?chunk=1#story1
Solar trade tea leaves
The day after: Let's spend a little more time with the Sunday's piece by my colleague Jonathan Swan, who has an inside-the-room look at President Trump's "bring me some tariffs" demand.
Trump's remarks rippled through the renewable energy world yesterday, where the wider solar industry (and other business sectors) are lined up against the petition from two struggling panel manufacturers for new penalties.
The zeitgeist: Greentech Media takes stock with this headline: "The Solar Industry's Biggest Fear About Trump May Come True: 'I Want Tariffs.'"
Why it matters: If and when — and many think it's a "when" — the U.S. International Trade Commission rules that solar cells and modules coming to the U.S. from Asia are harming domestic producers, a decision on imposing import penalties will be in Trump's lap.
Some sources called Trump's comments a sign that he's likely to support new tariffs on solar imports (even though they weren't the subject of the meeting that Swan reported on), but others believe that with this White House, it's just impossible to know what will happen.
Crystal ball: "President Trump's comments reinforce our expectation that if the U.S. ITC reaches an affirmative determination on injury, we would expect the president to support trade remedies that could likely weaken the value proposition of solar in the near term," Timothy Fox of the research and analysis firm ClearView Energy Partners said in comments also shared with E&E News.
https://www.axios.com/newsletters/axios-generate-cc459b70-8663-46f5-ae63-ee656cb2648f.html?chunk=2#story2
On my screen: climate polling and cabinet notes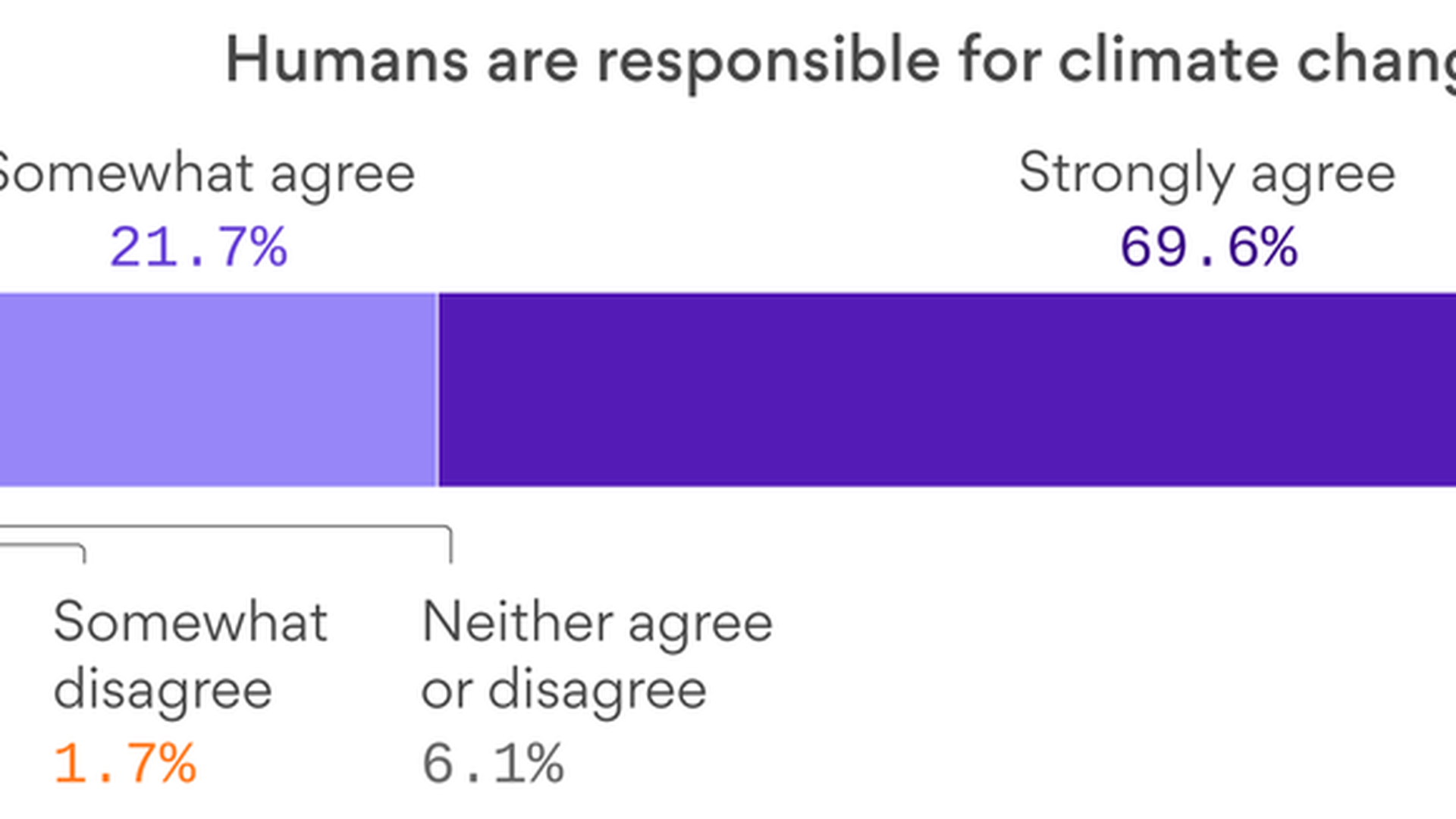 Polling: The World Economic Forum is out with its latest, wide-ranging worldwide survey of 18-35-year-olds in over 180 countries.
Roughly 70% strongly agree that science has shown that humans are responsible for climate change (see chart above). Almost 49% view climate change and "destruction of nature" as the most serious issue confronting the world, the third year in a row that climate has topped the list, according to WEF.
EPA: The agency's inspector general said it will begin "preliminary research" into Administrator Scott Pruitt's travel, a topic that Democrats and environmentalists have flagged.
"This assignment is being initiated based on congressional requests and a hotline complaint, all of which expressed concerns about Administrator Pruitt's travel — primarily his frequent travel to and from his home state of Oklahoma at taxpayer expense," a memo states.
EPA fires back: "Administrator Pruitt is traveling the country to hear directly from the people impacted by EPA's regulations outside of the Washington bubble. This is nothing more than a distraction from the Administrator's significant environmental accomplishments," said spokeswoman Amy Graham.
Reuters has more on the story here.
State Department: Secretary of State Rex Tillerson's plans to downsize the department would get rid of positions including the special envoy for climate change and the special representative for the Arctic, according to a letter to the Senate Foreign Relations Committee first obtained by CNN.
Here's a copy of the letter, via Politico.
Plans for energy: "The Assistant Secretary for Energy Resources (ENR) will continue to perform the responsibilities of the Special Envoy and Coordinator for International Energy Affairs. We intend to request that Congress repeal the statutory requirement for this coordinator position, since the Assistant Secretary already fulfills the responsibilities," the letter states.
https://www.axios.com/newsletters/axios-generate-cc459b70-8663-46f5-ae63-ee656cb2648f.html?chunk=3#story3
One good listen
Amos Hochstein, who was the State Department's special energy envoy late in the Obama era, is the guest on the latest Platts Capitol Crude podcast. A few takeaways...
Behind the scenes: Hochstein provides a slice of recent diplomatic history, recalling 2016 meetings with new OPEC secretary general Mohammed Barkindo and discussions about how the shale boom has changed the game.
"We have had a longstanding policy of not meeting with OPEC. But I met with [Barkindo], outside the office, at a coffee shop, at a hotel. I met with him in a number of capitals, including in Washington, and he wanted some kind of cooperation," Hochstein said.
"I said, well first of all we don't support cartels, but second, if you want to really move the conversation, you need to really internalize what happened in America, that America is now the swing producer, and the first step is acknowledging the issue."
Current events: Hochstein explains that while oil sanctions he helped construct under Obama helped get Iran to the table to craft the nuclear deal, it doesn't make sense for Trump to threaten new oil restrictions.
Effective sanctions require international cooperation — he notes that ahead of the Iran deal, the EU had concurrent sanctions and Asian buyers' of Iranian crude understood the restrictions were part of a negotiation, not indefinite.
"We don't have any allies who right now would step up in this environment and say, 'OK, I will stop buying again.' I just don't see it," Hochstein said.
https://www.axios.com/newsletters/axios-generate-cc459b70-8663-46f5-ae63-ee656cb2648f.html?chunk=4#story4
More for your ears
A few other good podcasts I've heard in recent days...
Nuclear: Bloomberg's Decrypted podcast looks at the status of the long scientific quest to transform fusion energy into reality.
Transmission: The latest episode of analyst Chris Nelder's Energy Transition Show examines barriers and opportunities around building transmission that would help transport renewable electricity.
Business: Wood Mackenzie has a concise discussion of some big moves in the oil sector, including A.P. Moller-Maersk's sale of its oil business to Total and BHP Billiton's decision to shed its shale assets at a loss. One verdict: Big conglomerates are focusing on their core competencies.
Qatar: The latest edition of the American Enterprise Institute's Banter chats with Middle East expert Ken Pollack about the deep roots of today's clash between Qatar (a major LNG player) and its mideast neighbors.
https://www.axios.com/newsletters/axios-generate-cc459b70-8663-46f5-ae63-ee656cb2648f.html?chunk=5#story5
Amy's notebook: Responding to "both sides" criticism
My Axios colleague Amy Harder keep the conversation going...
I received a good dose of critical feedback about my latest column, "What both sides are getting wrong about climate change."
After Trump's comments about the Charlottesville tragedy, the term "both sides" has become even more loaded. More generally, some commentators on Twitter pointed to my piece as a textbook example of how journalists overly focus on covering both sides of an issue equally, when one side is more at fault than the other. I think often about how to cover climate change with accuracy and without bias, so I welcome this constructive criticism.
My thought bubble:
I anticipated criticism for using the term "both sides." My verdict: It's appropriate, because there are two sides to this debate, with the right refusing to acknowledge the scientific consensus and the left employing counterproductive tactics. Ignoring the fact that there are two sides would be a disservice to readers. It would also reinforce the separate echo chambers that I am trying to bridge and ignore the political reality that we live in: namely, that Republicans are running the federal government right now. Giving ample space to both sides does not automatically equate them as being equal in terms of their roles. I've written that Republicans should shoulder more of the blame because of their public rejection of the science.
But to be clear, I'm not using the term with reference to the science of global warming. I have repeatedly emphasized that most Republicans don't publicly acknowledge the scientific consensus that human activity is driving Earth's temperature up. I don't give weight to the scientific arguments put forth by people who doubt climate change is real. That said, there are aspects of this debate on both sides that deserve scrutiny.
https://www.axios.com/newsletters/axios-generate-cc459b70-8663-46f5-ae63-ee656cb2648f.html?chunk=6#story6
One cool thing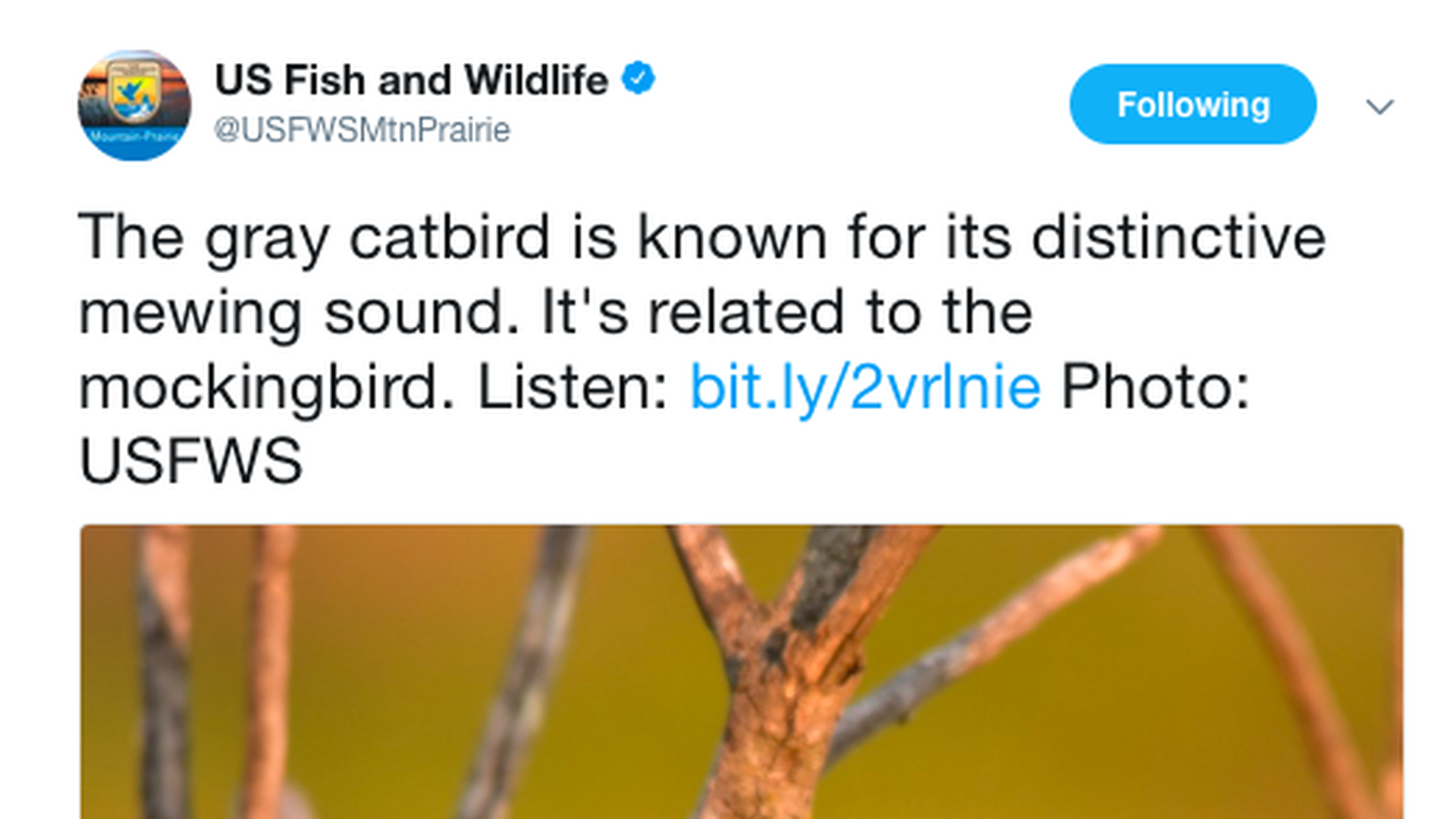 That weekend tweet from the U.S. Fish and Wildlife Service's Mountain-Prarie region leads to a very cool site maintained by the The Cornell Lab of Ornithology.
They have archived the songs of various kinds of birds (and provide all kinds of other info too). Find your favorite bird and have a listen here. And yes, the gray catbird's "raspy mew" really is kind of catlike. But they carry some prettier tunes too.