Axios Generate
January 30, 2023
🍩 Welcome back! Today's newsletter has a Smart Brevity count of 1,255 words, 5 minutes.
🚨Join Axios' journalists Wednesday, Feb. 1, at 8am ET in Washington, D.C., for an inside perspective on the 118th Congress. Hear from Rep. Nanette Barragán (D-Calif.), Sen. Thom Tillis (R-N.C.) and more. Register
🎶 Happy birthday to multi-talented singer-songwriter-producer Jody Watley, who has today's intro tune...
1 big thing: Intensifying EV battles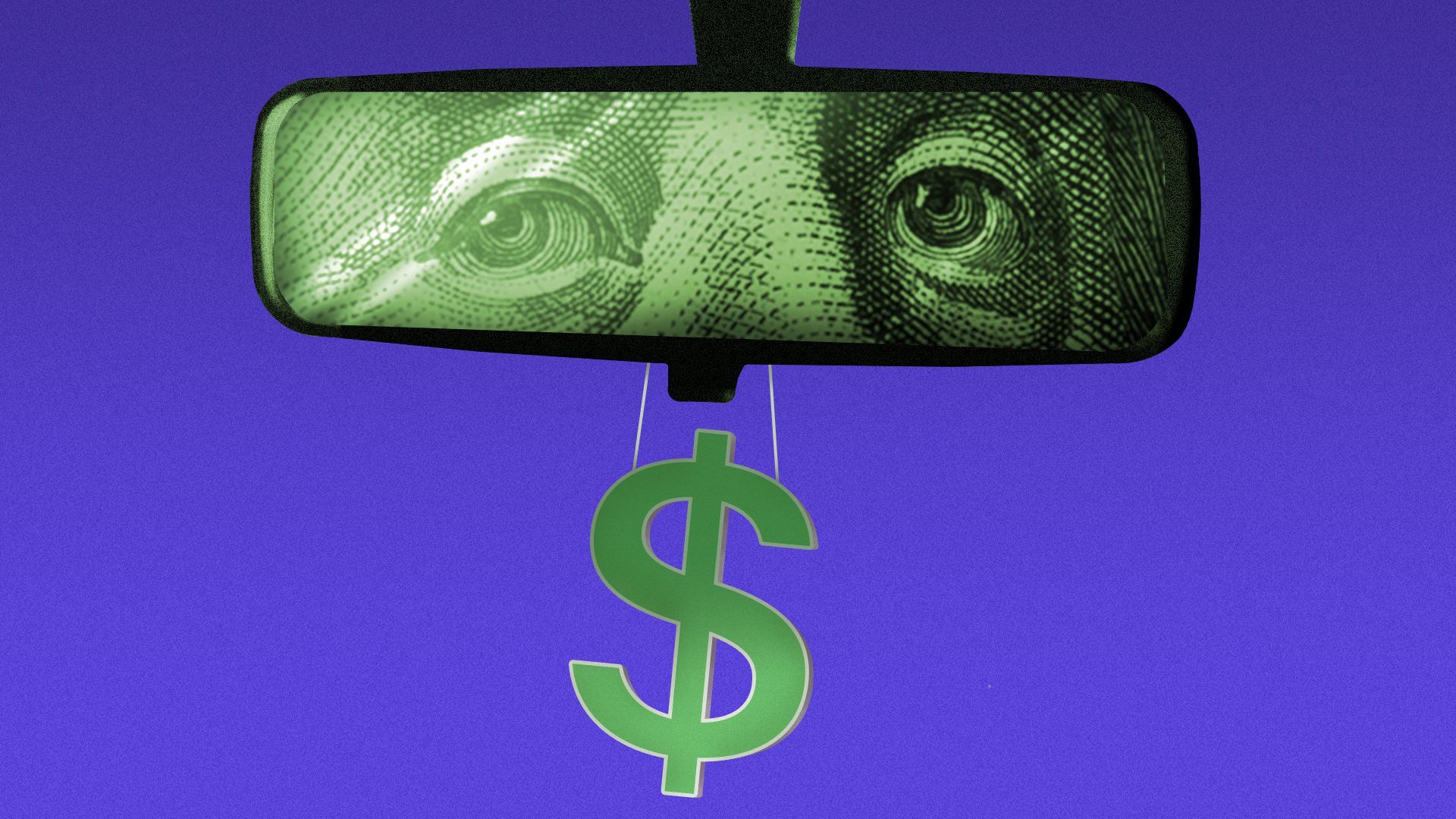 Breaking: Ford said this morning it's lowering prices for the Mustang Mach-E, Ben and Axios' Joann Muller report.
Why it matters: Begun, the price war has, amid growing competition in the EV market.
"We are not going to cede ground to anyone," Marin Gjaja, a top Ford EV executive, in a statement.
🗞️ Driving the news: Ford is cutting 2023 Mach-E prices from $600 to $5,900, depending on the configuration and battery.
Ford is the No. 2 U.S. EV seller, far behind Tesla but looking to gain ground.
Last year, Mach-E sales grew 45% to well over 39,000 units and Ford also said it's now "significantly" increasing production.
🏃🏽‍♀️ Catch up fast: Ford's move comes two weeks after Tesla cut prices by up to 20% on the Model 3 sedan and Model Y crossover.
The Vietnamese startup VinFast has also cut prices as it seeks a beachhead in the U.S. market.
The intrigue: Look for companies to bring the price of more models under the eligibility cap for U.S. consumer purchase subsidies.
Ford's move boosts the number of Mach-E versions under the $55,000 ceiling. It's $80,000 for SUVs and designations of what's-what are controversial.
The big picture: Market leader Tesla and Ford bring strengths and weaknesses to the competition.
The 120-year-old Ford actually has a newer EV lineup. In addition to the Mach-E, Ford got into the pickup market faster with the electric F-150 that arrived last year.
But Tesla has more room to maneuver on prices. Its profit margin is vastly higher than the legacy automakers, and Tesla last week also vowed to improve its overall business cost structure.
"We believe our margins will remain healthy and industry-leading over the course of the year," CEO Elon Musk told analysts on an earnings call.
What we're watching: The intra-GOP politics of EVs. On Saturday, former President Trump used a South Carolina campaign event to bash EVs as he seeks the 2024 GOP nomination.
Yes, but: Red states like Georgia and Tennessee are increasingly home to EV and battery manufacturing with the support of GOP politicians — including South Carolina Gov. Henry McMaster.
"In the last several months, McMaster and several businesses announced billions of dollars in investments from the electric vehicle industry," The State newspaper's coverage of Trump's rally noted.
Bonus: Lucid's wild ride
Shares of the luxury EV maker Lucid Motors soared 43% Friday on a rumor that Saudi Arabia's sovereign wealth fund, already a major backer, would buy out the remaining shares, Ben writes.
The stock jumped nearly 100% before easing during the wild session. Insider has more.
2. New Zealand's deadly deluge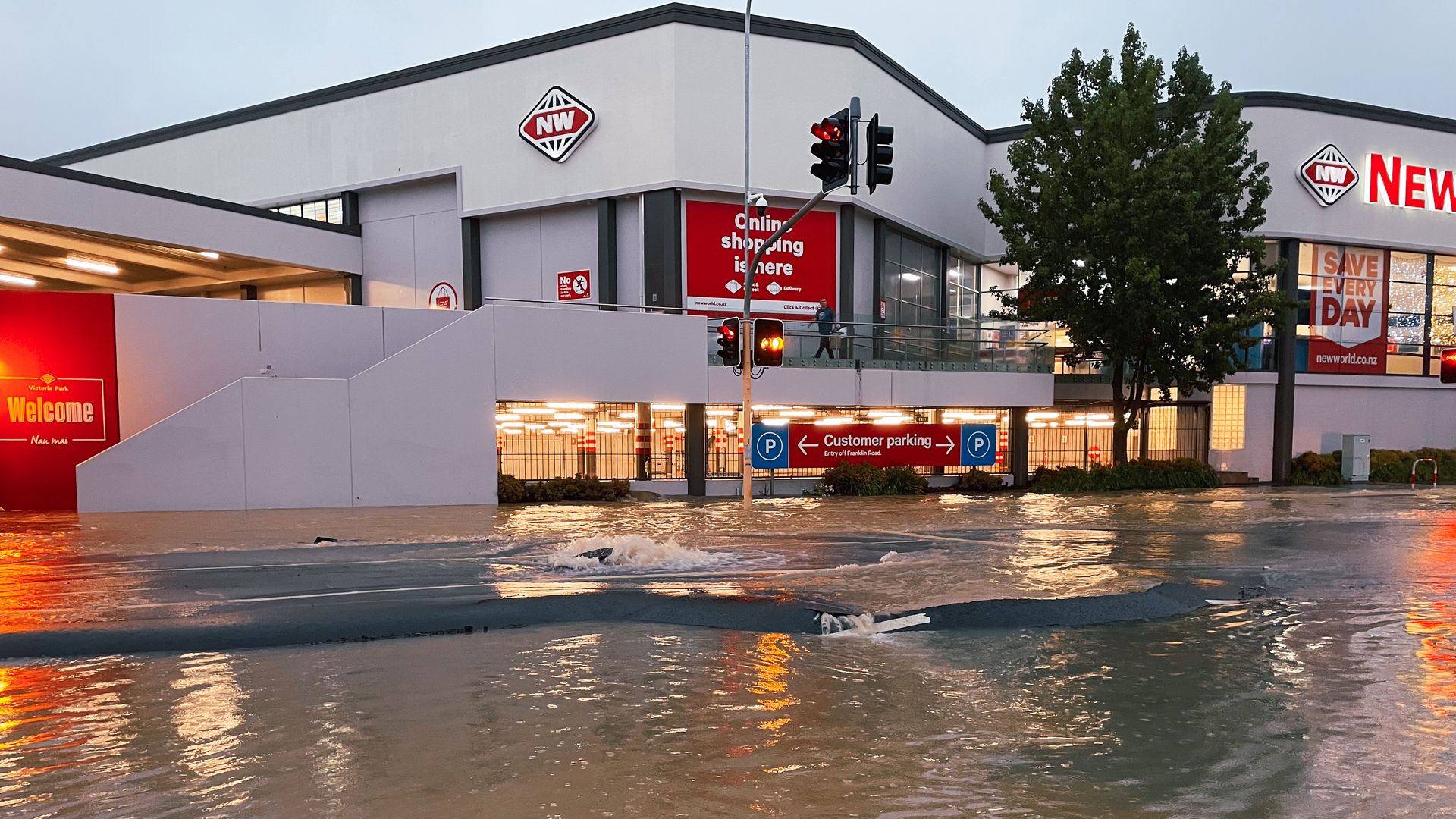 An unprecedented deluge hit northern New Zealand late last week, with heavy rains continuing through midweek. Flooding shut down Auckland on Friday as an entire summer's worth of rain fell in a single day, Andrew writes.
The big picture: The deluge killed at least 4 people, and may serve as a wake-up call to step up preparations for climate change-related extreme weather events.
Auckland joins the list of other cities hit hard by record downpours recently, including Seoul, Korea.
Context: The heavy rains and resulting flooding are tied to multiple climate and extreme weather factors.
These include a La Niña event in the tropical Pacific Ocean, which combined with global warming-related trends is yielding a marine heat wave in the South Pacific.
Ocean temperatures are running about 5.4°F above average around parts of New Zealand, according to Kevin Trenberth, an Auckland-based climate scientist.
High ocean temperatures contribute to extreme rainfall events on land, as more water is evaporated into the air and wrung out by weather systems.
By the numbers: Auckland saw its wettest day on record Friday, picking up 10.25 inches.
In parts of the city, it took just 3 hours to reach January's monthly average rainfall.
With rainfall since Friday and more still expected, January 2023 may become Auckland's all-time wettest month.
3. 🏃🏽‍♀️Catch up fast on Congress
🔬A key House Republican is demanding White House documents about a top climate official sanctioned last year by the National Academy of Sciences for violating its code of conduct, Ben writes.
Driving the news: House science committee chair Frank Lucas, in a new letter, wants info about Jane Lubchenco's role in crafting interagency scientific integrity policies.
Context: He says the White House has refused prior documents requests on Lubchenco, the deputy director for climate and environment in the White House science and tech policy office.
Catch up fast: Last summer NAS barred Lubchenco from involvement in its publications and activities for five years over an incident that occurred before she joined the administration.
🛢️Twenty-seven House and Senate Democrats want U.S. climate envoy John Kerry to reverse support for the United Arab Emirates tapping its state oil company CEO as president of the next United Nations climate summit.
Driving the news: The lawmakers, in a letter, say Kerry should lean on the UAE to withdraw Sultan Ahmed al-Jaber, arguing he "poses a risk" to the negotiations and has a conflict of interest.
Catch up fast: Environmental groups have decried al-Jaber's appointment, though he's also the UAE's climate envoy and has a renewables industry background.
Yes, but: The letter gives Kerry an easy way to respond, saying at a minimum, Kerry should "seek assurances" the UAE will push for an "ambitious" COP28.
4. War will probably speed up energy transition — BP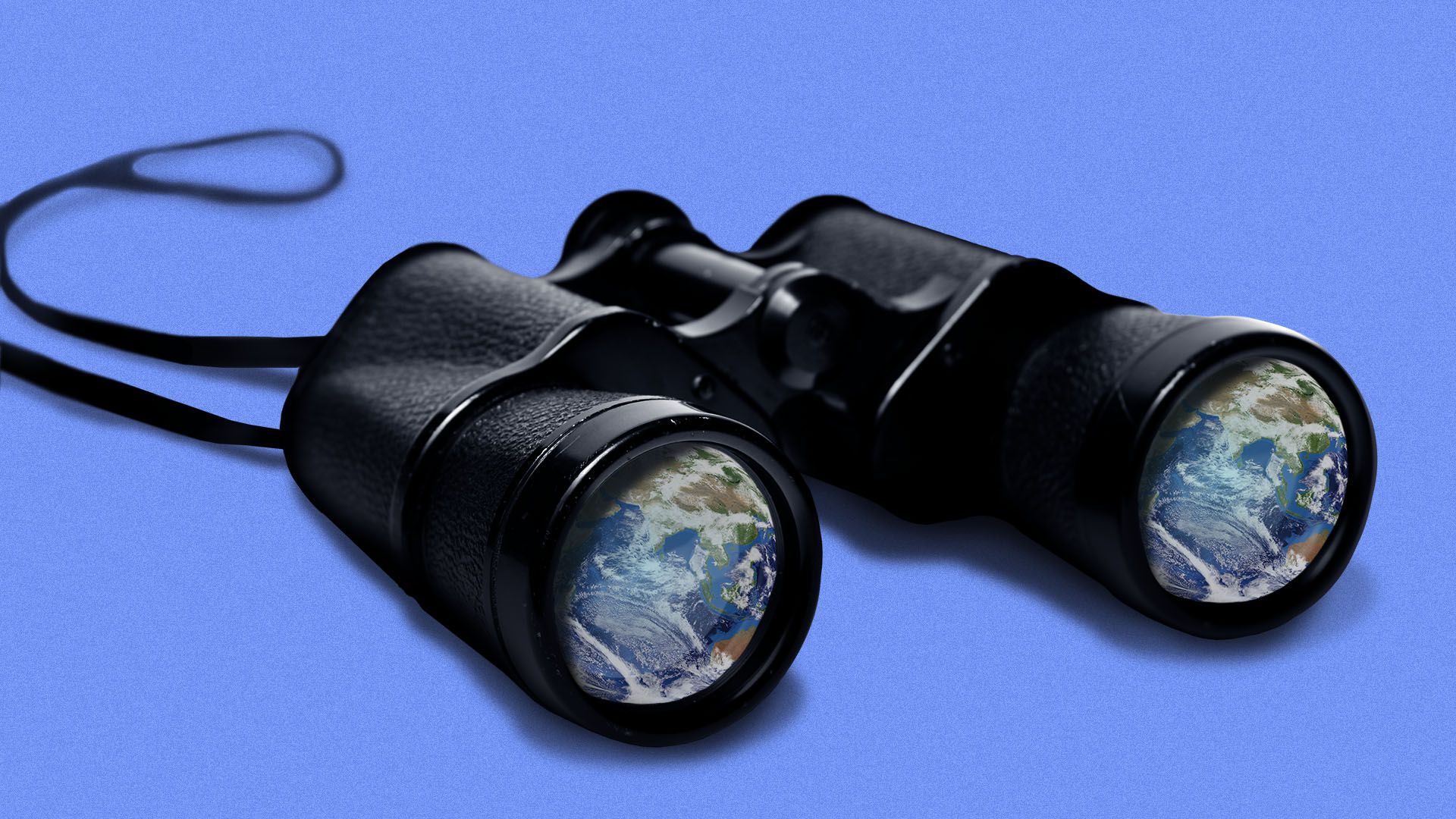 BP is cutting projections of long-term global oil and gas consumption, finding Russia's war in Ukraine is "likely to accelerate the pace of the energy transition," Ben writes.
Why it matters: Its annual gaze into the future (and all the caveats that demands) is among the most detailed attempts by companies and analysts to game out the global energy trajectory.
🖼️ The big picture: Increased emphasis on security pushes countries to curb import dependence in favor of domestic sources — and that broadly means more non-fossil fuels.
🔍 Zoom in: BP's "new momentum" scenario — the "broad trajectory along which the global energy system is currently traveling" — has downward revisions of 6% and 5% in oil and gas demand in 2035 compared to last year's outlook.
Threat level: Despite the focus on security and expanded government support for low-carbon energy, that scenario doesn't meet Paris Agreement goals.
"New momentum" sees oil demand staying around 100 million barrels per day (mbd) throughout this decade and then falling to around 75 mbd by 2050.
But BP models two other scenarios — "accelerated" and "net zero" — that are consistent with the 2ºC and 1.5ºC Paris targets.
5. The new taxonomy of climate-friendly food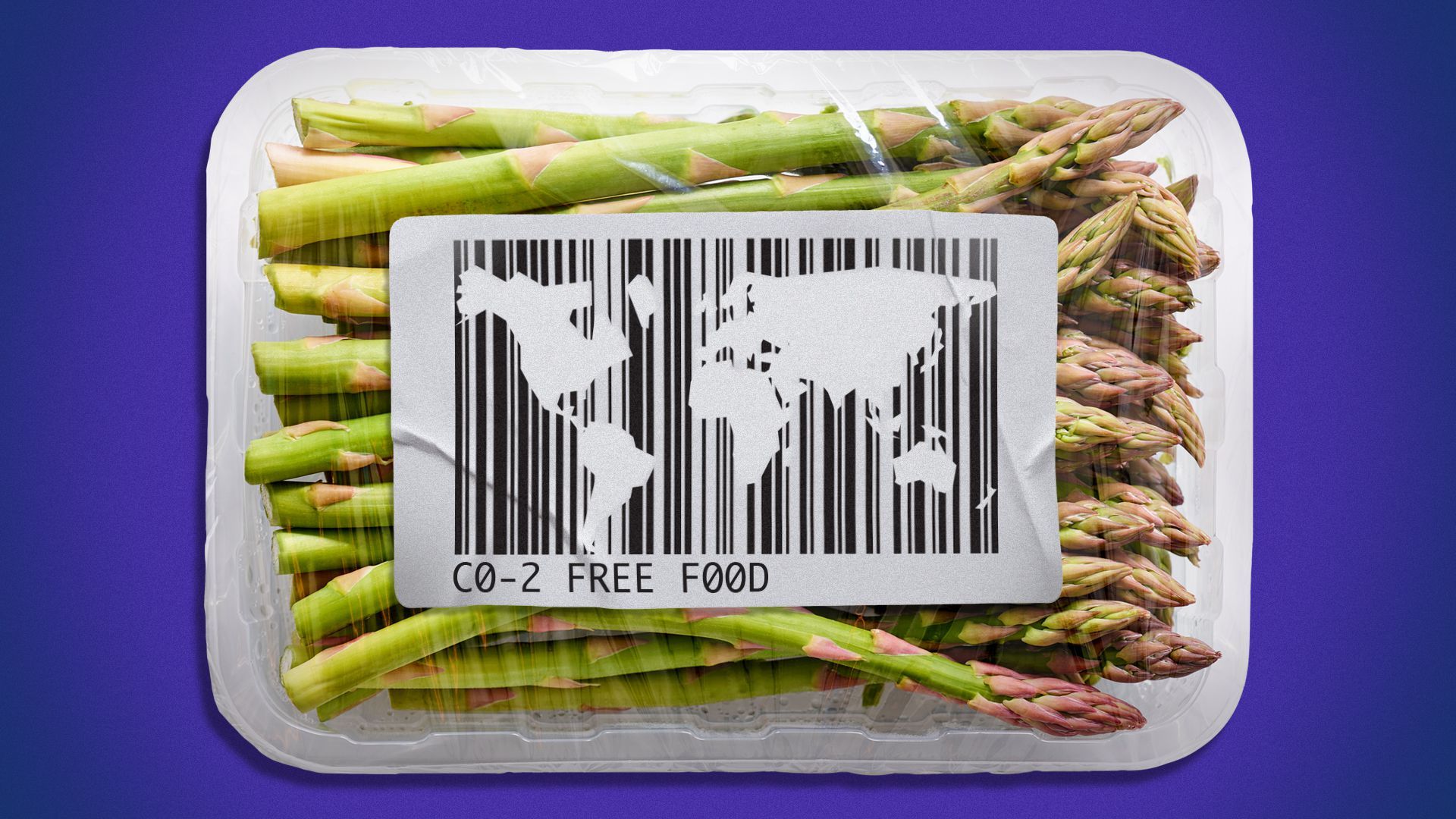 Move over, locavores: A slew of new labels — from "climavore" to "reducetarian" — reflect the trend of people eating with sustainability in mind to reduce their climate "foodprint," Axios' Jennifer A. Kingson reports.
Why it matters: Manufacturers, restaurants, and supermarkets are racing to cater to the zeal for lower-carbon choices, which has people eschewing plastic packaging, ingredients flown in from afar, and foods that are environmentally damaging to produce.
The big picture: While there's plenty of disagreement about what to avoid, top villains include faves like red meat, chocolate, avocados, sugar, and — gasp — coffee.
The "eat local" mantra is being replaced by the notion that what you eat is more important — since transportation is sometimes a small part of your meal's carbon footprint.
Driving the news: Terms like "climatarian" are getting newfound attention from corporate America as young consumers seek "green" diets.
Restaurant chains like Just Salad, Chipotle, and Panera Bread are putting "carbon labels" on foods.
The intrigue: There's a dizzying nomenclature affiliated with climate-conscious eating, with meaningful yet hard-to-parse differences. Others include "climatarian," "sustainatarian," "regenivore" and more.
📬 Did a friend send you this newsletter? Welcome, please sign up.
🙏 Thanks to Mickey Meece and David Nather for edits to today's newsletter. Have a great day!