Vietnam's VinFast wants to challenge Tesla on its home turf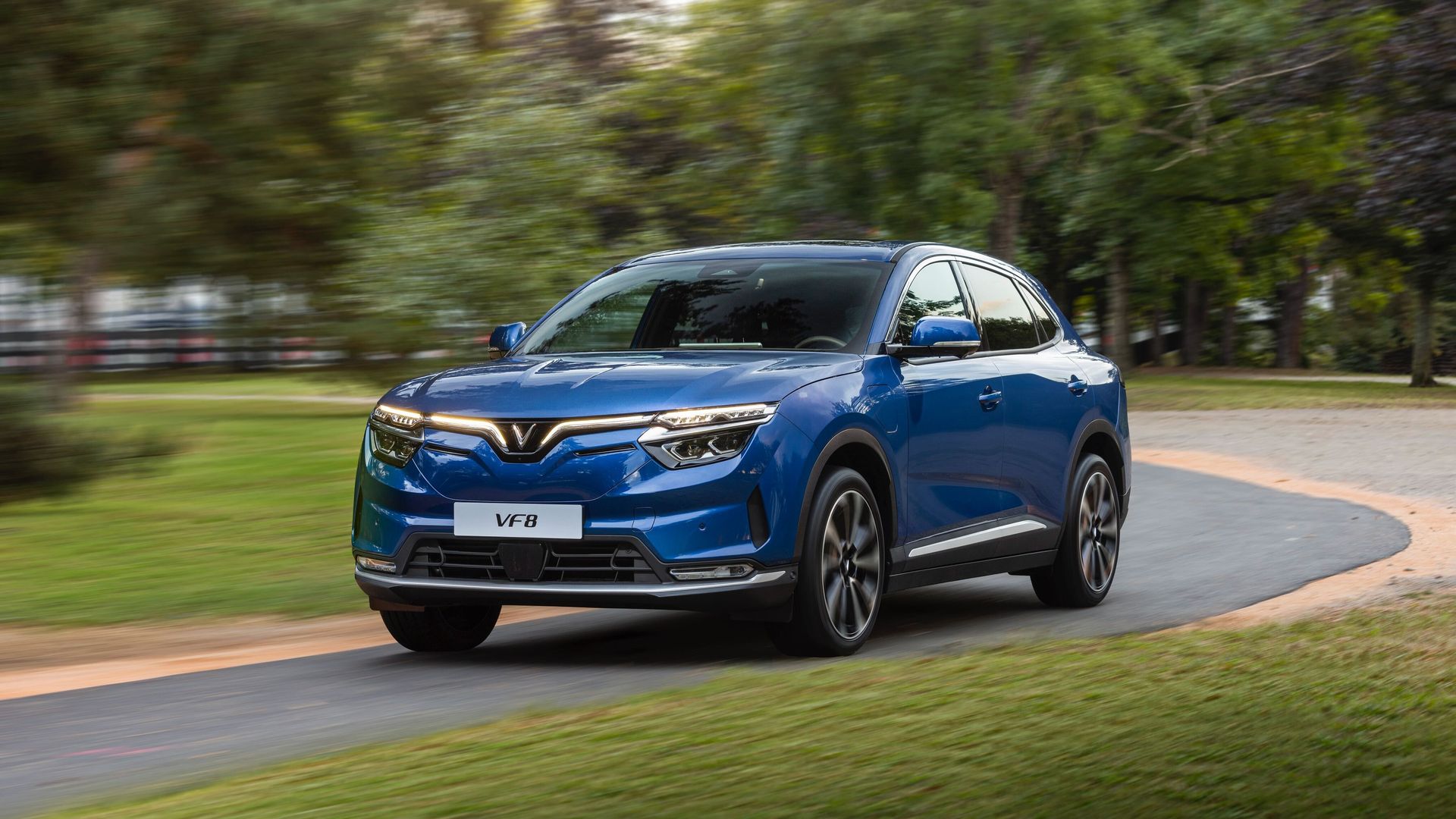 Launching a car company is difficult — just ask VinFast, the ambitious Vietnamese electric vehicle (EV) startup struggling to gain traction in the United States amid early missteps and an explosive price war.
Why it matters: The EV market is still taking shape, and it's rarely a bad thing for consumers to have more options and competition.
Driving the news: VinFast is the latest in a crop of new automakers hoping to emulate EV market leader Tesla.
But it's up against long odds — especially after Tesla, facing its own challenges, recently slashed prices by as much as 20%, threatening to stifle VinFast's U.S. plans while it's barely gotten out of the gate.
VinFast is scrambling to respond. "As a new brand entering the market, when other brands reduce their prices we have to come up with promotions to ensure VinFast's competitiveness," a spokesperson said in a statement.
Where it stands: VinFast's first models, the VF 8 and VF 9, have U.S. starting prices of $59,000 and $83,000, respectively.
Meanwhile, Tesla's basic Model Y is now $52,990, down from $65,990.
VinFast's imported cars don't qualify for a $7,500 U.S. federal EV tax credit. That puts them at a further disadvantage against Tesla's cars, which do qualify.
By the numbers: VinFast says it has taken 65,000 global reservations for its first models, the VF 8 and VF 9 SUVs.
Its initial shipment of 999 cars arrived in the U.S. at the end of December, but many early reservation holders were disappointed, judging by discussions on VinFast's official community website and other forums.
That's because the first batch of VF 8s, a previously unannounced "City Edition," came with a smaller-than-expected battery and a driving range of only 179 miles.
Some are now looking to cancel their reservations, or sell them — along with the travel perks — to others via social media and other forums.
Be smart: Tesla isn't VinFast's only competition — entrenched American automakers such as Ford and GM are also busy electrifying their offerings.
Catch up fast: VinFast has been making cars for just three years, entirely in Vietnam.
But it's already planning a $2 billion North Carolina factory and a listing on the Nasdaq.
With nearly unlimited resources from Vietnam's wealthiest entrepreneur, the company aims to shake up the global automotive industry with a full EV lineup and an innovative battery subscription pricing model — albeit one that's yet to materialize.
The backstory: While VinFast is new to the U.S., it's not a typical startup.
Founded in 2017, it's a unit of Vingroup, Vietnam's largest conglomerate, which has interests in real estate development, education, and technology.
It's owned by billionaire Pham Nhat Vuong, who got his start selling fast-cooking ramen noodles in Ukraine in 1993, MotorTrend writes.
The $39 billion conglomerate includes Vinpearl luxury resorts, VinWonders amusement parks, Vinhomes housing developments, Vincom shopping centers, and the non-profit Vinmec health system.
Vinhomes' residents attend Vinschool, a non-profit K-12 education system, and some even go on to VinUni, a private, non-profit university.
VinFast's first cars, introduced in 2019, were based on older-generation BMW technology and ran on gas.
Yet they quickly propelled VinFast to become Vietnam's fourth-best-selling brand, behind Hyundai, Toyota, and Kia.
Then, in a sudden shift, the company said it would abandon gasoline-powered cars and make only EVs starting in 2022.
To drum up interest, the company hosted investors, influencers, and journalists for all-expense paid trips to its resorts and theme parks in Vietnam, including a factory visit and meetings with VinFast executives.
Customers who placed early orders got a discount, along with a trip to Vietnam, an exclusive NFT, and other perks.
What's next: VinFast's first VF 9 models will be delivered to customers this year, a spokesperson says.
The company will soon begin taking reservations for its smaller VF 5, VF 6, and VF 7 models.
The bottom line: VinFast may never become a household name in the U.S. — but other foreign automakers, like Hyundai and Kia, quickly evolved from no-names to power players in the American market, blazing a trail the company may yet follow.
Go deeper