Axios Gaming
March 15, 2022
Stephen here on a Tuesday.
🌆 Thank you to the readers who reminded me late Friday that some of you wouldn't need to change the clocks last weekend. After two nights of my kids not knowing when to eat or wind it down for bedtime, I envy you.
📅 Join Axios virtually at our inaugural What's Next Summit on April 5. Register here to attend livestream sessions with discussions on trends that will revolutionize our future.  
Today's edition is 1,238 words, 4.5 minutes.
1 big thing: A bet on games as health care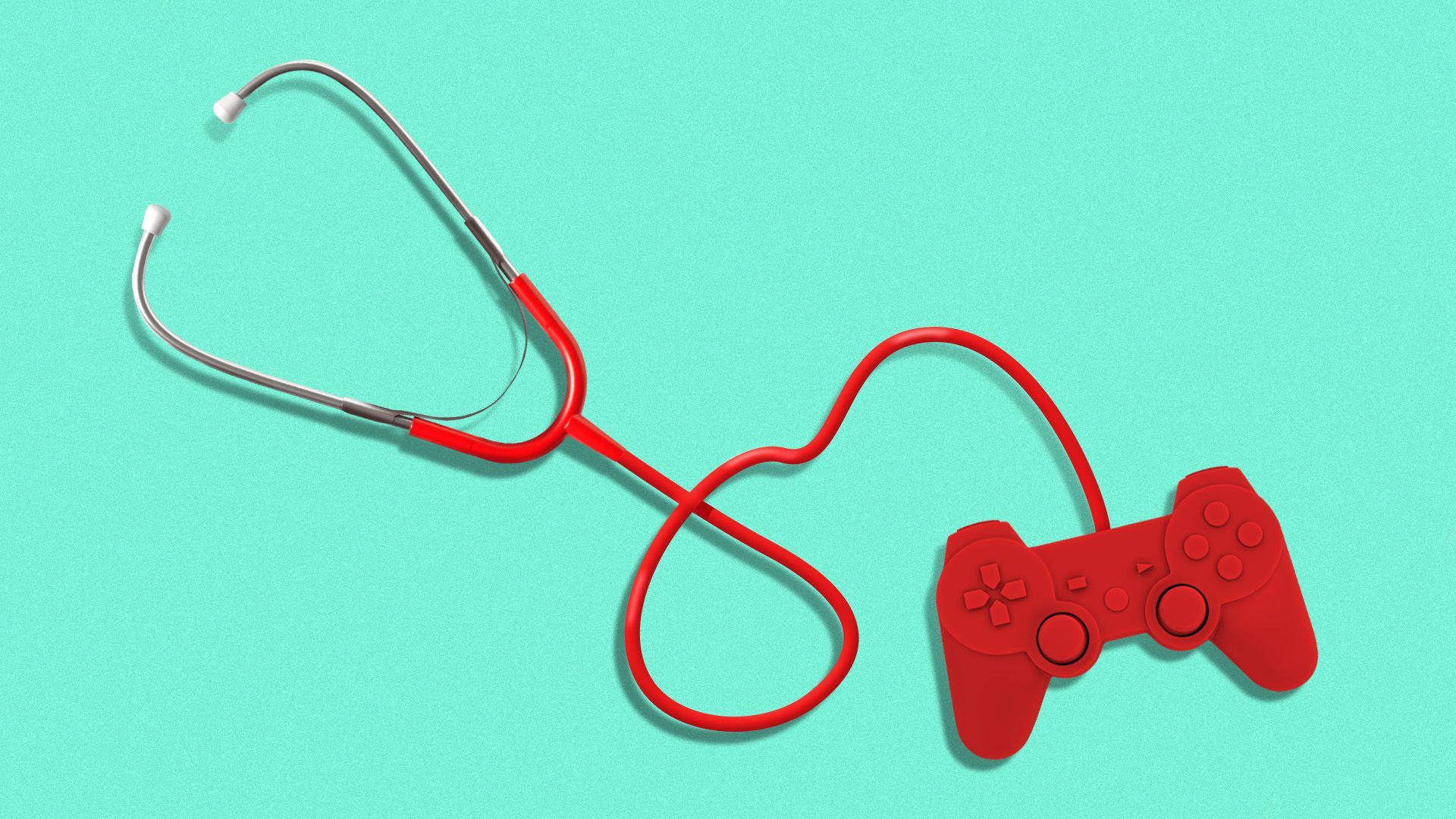 If upstart video game publisher DeepWell has its way, you'll someday be able to buy a video game and see a label about what therapeutic benefits you'd get from playing it.
Driving the news: DeepWell is coming out of a yearlong incubation today, as its founders aim to rewire how games are used for health care, with a focus on mental health, in early 2023.
The details: The company is the brainchild of medical devices executive Ryan Douglas and veteran game publisher Mike Wilson, who are assembling a team from their respective fields to push the health benefits of playing certain games.
The team isn't revealing any projects yet, but Wilson tells Axios that its first game, set for Q1 2023 and developed with an outside team, will be designed to treat mild to moderate depression, anxiety and hypertension.
DeepWell isn't just making games. It is developing a framework to help other game makers create medically beneficial games and get FDA approval for them as over-the-counter treatments.
Company leaders also want to look back, identifying the health benefits of playing some existing games and getting them officially recognized and labeled. (For an idea about how that would work, consider research that suggests that playing Tetris helped survivors of car crashes process their trauma.)
The big picture: Health and gaming have been converging for some time, as researchers recognize the benefits afforded by interactive entertainment.
Wilson describes DeepWell as a convergence of personal concerns.
He is a serial starter of game companies and an industry maverick. His last big endeavor, indie-friendly publisher Devolver Digital, went public last year at a nearly $1 billion valuation.
Indie studios, which DeepWell will work with, have the agility to lead in the production of health-oriented games, he says.
More personally, he recounts his own struggles with mental health and those of loved ones, including a sibling who died by suicide. He describes mental health as an epidemic, one he wants to help fight.
The bottom line: "I don't honestly care how big DeepWell gets," Wilson tells Axios.
"But if in 10 years there are a dozen other companies doing this and we're somewhere in there or we helped inspire people to think in this way, that's really what I'm in it for."
2. Origins of the Take-Two, Zynga deal
Take-Two Interactive executives had casually floated an acquisition of Zynga with the latter company's leadership at various times, including January 2021, but didn't pursue the company in earnest until October of last year, according to a new SEC filing about the merger.
Driving the news: The new S4 form offers a timeline of acquisition talks leading to GTA publisher Take-Two's planned $12.7 billion purchase of Words With Friends publisher Zynga, announced in January of this year.
Take-Two chairman Strauss Zelnick called Zynga CEO Frank Gibeau on Oct. 8 to discuss a deal.
That led to months of talks between the companies' leaders and a flurry of activity, including a Christmas Day transmission of a draft of the merger agreement and a New Year's Eve meeting of Take-Two and Zynga officials to discuss the former's long-term plans.
The intrigue: By the time Zelnick called Gibeau, three other companies had expressed interest in buying Zynga.
Take-Two was the most aggressive.
After the January announcement of the planned deal, other companies had 45 days to make an offer, but none did so, according to the filing.
There's always a GTA angle: The new filing signals that Rockstar's Grand Theft Auto VI is planned for Take-Two's 2024 fiscal year, ending March 31, 2024 — or, maybe it's coming for FY2025.
Analysts parsing Take-Two's projections are split on how to interpret the company's expectation of $3.9 billion in net bookings (read: all transactions) in the year ending March 31, 2023, then $5.2 billion in FY 2024 and $5.5 billion in FY 2025.
Cowen's Doug Creutz, who was already thinking FY24, told Axios he's "even more convinced," having checked Take-Two's expectations on bookings and margins.
Jefferies' Andrew Uerkwitz sees an FY24 case but reads the numbers as more likely pointing to FY25, given Take-Two's other pledges to soon ramp up its number of hardcore, big-budget game releases.
Either way, a financial estimate isn't an immutable law of physics. Rockstar's games tend to slip and get all the time Rockstar needs.
3. Small spelling change, big difference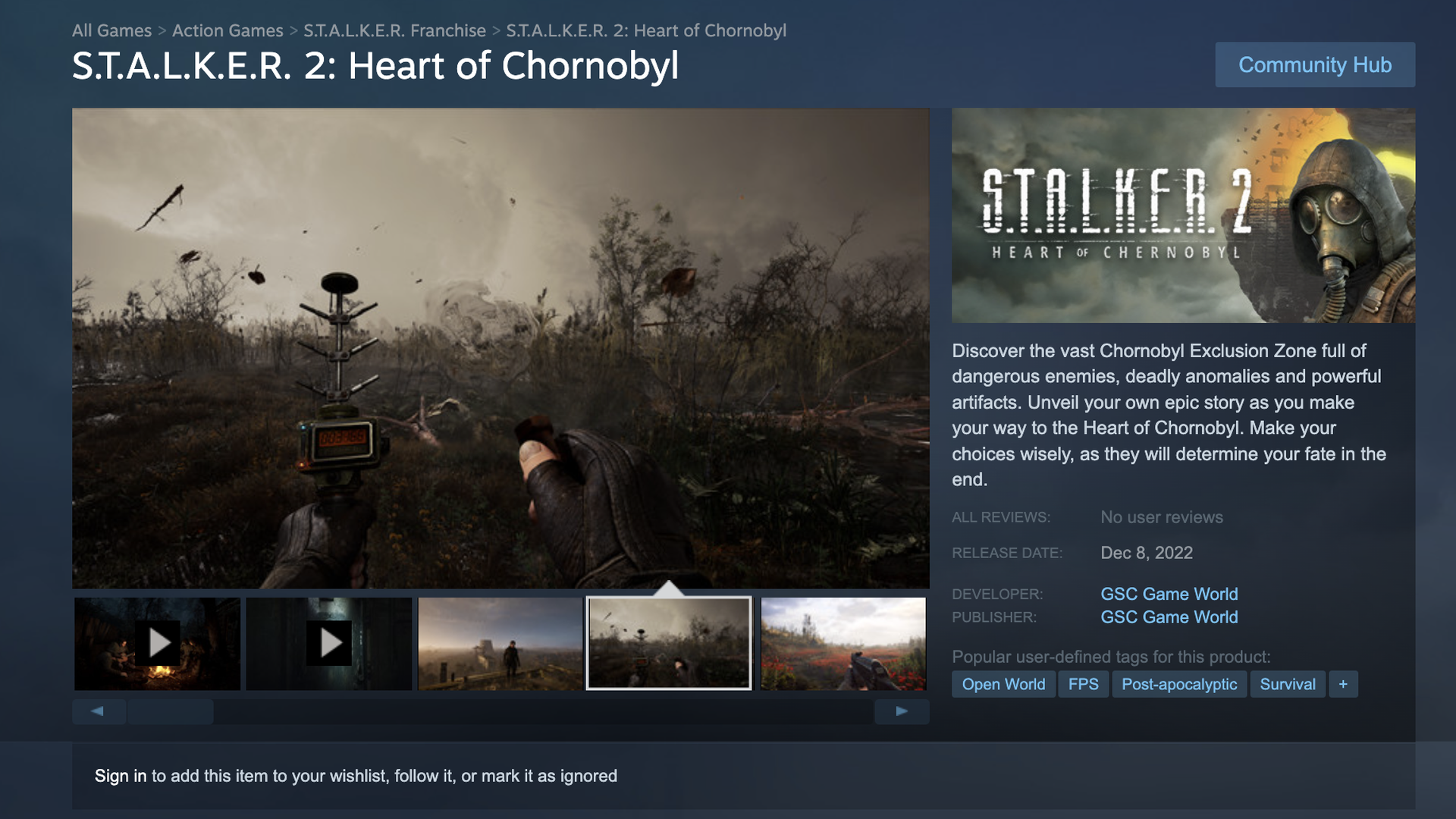 Ukrainian game studio GSC Game World has tweaked the subtitle of its next game, S.T.A.L.K.E.R. 2, from Heart of Chernobyl to Heart of Chornobyl.
Driving the news: The new spelling appeared in the game's Steam page, as spotted by PC Gamer, but without any commentary as to why.
Even though GSC hasn't commented about this, it's not hard to guess what's happening here.
The "Chernobyl" spelling is the Romanized version of the Russian spelling of the notorious power plant. "Chornobyl" is the Romanized version of the Ukrainian spelling.
GSC officials have been vocal about Russia's invasion of their country, calling on fans to donate to defense efforts while very understandably putting the development of the game on hold.
4. Need to know
😲 Microsoft's high-profile new Perfect Dark game has lost nearly three dozen of its developers, including many of its most senior people, according to a VGC report.
🤔 Konami, a company whose commitment to video games is sometimes unclear, is holding an indie game showcase in Tokyo on June 26, VGC reports.
😠 Another messy game launch, another promise from the developers to tweak, tune and take in fan feedback. This time: Square Enix's Chocobo GP, Eurogamer reports.
💰 Tencent has acquired a majority share of Spanish video game studio Tequila Works, a midsized studio and publisher responsible for offbeat games such as RiME and Gylt.
5. Worthy of your attention
Aching wrists, early retirement and the surprising physical toll of esports [Gregory Leporati, The Washington Post]
Philippe "Vulcan" Laflamme, a 22-year-old "League of Legends" player for Evil Geniuses, said that injuries and the fear of early retirement have always been in the back of his mind. He has experienced wrist, neck and back pain throughout his career and says the support of professionals like Migliore has changed his approach to gaming.
"When I was 16, I would just play the game as much as humanly possible," he said. "Now, I'm more aware and ask myself: Will these extra games be useful, or could they take a year off of my career? Will they do more harm than good?"
6. Halo TV thoughts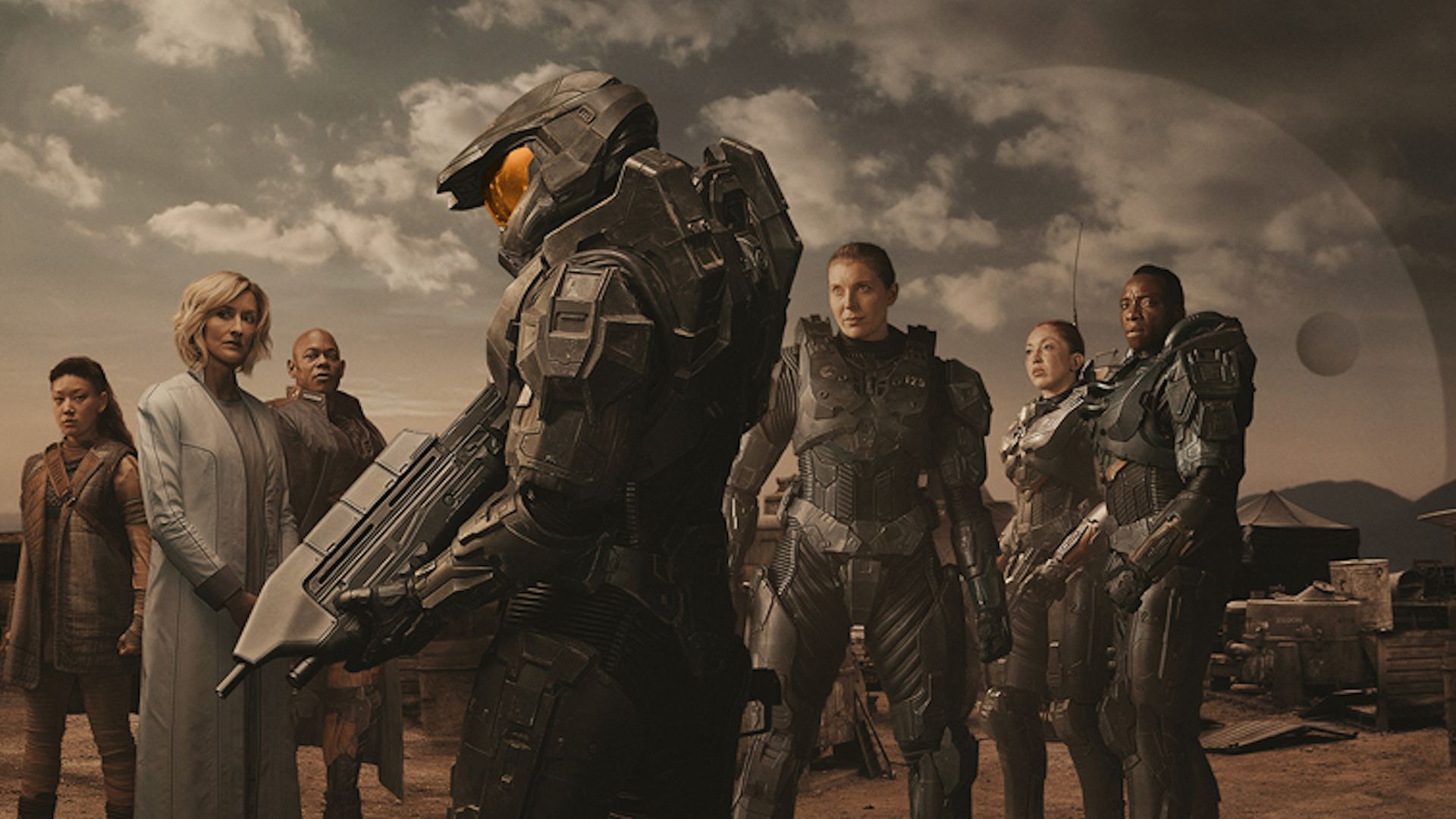 The new "Halo" show, coming to Paramount+ on March 24, is worth a watch just to see how different it is from the games.
My impressions: I've seen the series' first two episodes and agree with critics that it sometimes looks cheap and some of its acting is bland.
But it gets protagonist Master Chief right.
Better, its divergence from the games is fascinating and, so far, valuable in the shades of gray it adds to the franchise.
Master Chief and his fellow alien-thrashing Spartan space marines always had questionable roots as lab-enhanced kids-turned-soldiers.
The show more directly peers at that, depicting the moral failures of humanity's UNSC government and the civilian toll in wars in which Chief and Co. go guns-blazing.
The bottom line: I'm usually uninterested in video game adaptations to TV and film, but any that'll add depth like this have my attention.
🎁 Like the newsletter? Refer Axios Gaming to your friends to spread the word, and get free stuff in the process. Follow the link here to begin.
🐦 Find us on Twitter: @megan_nicolett / @stephentotilo.
The newsletter wasn't late today. That was just the clocks changing.