Welcome back to Future. What should we be writing about?
I'd love to hear what you think of today's edition. Reply to this email or message me at erica@axios.com. Future's Saturday author, Kaveh, is at kaveh@axios.com.
Today, I've got 1,192 words, a 4.5-minute read. First up...
1 big thing: Big Tech's hyperlocal fights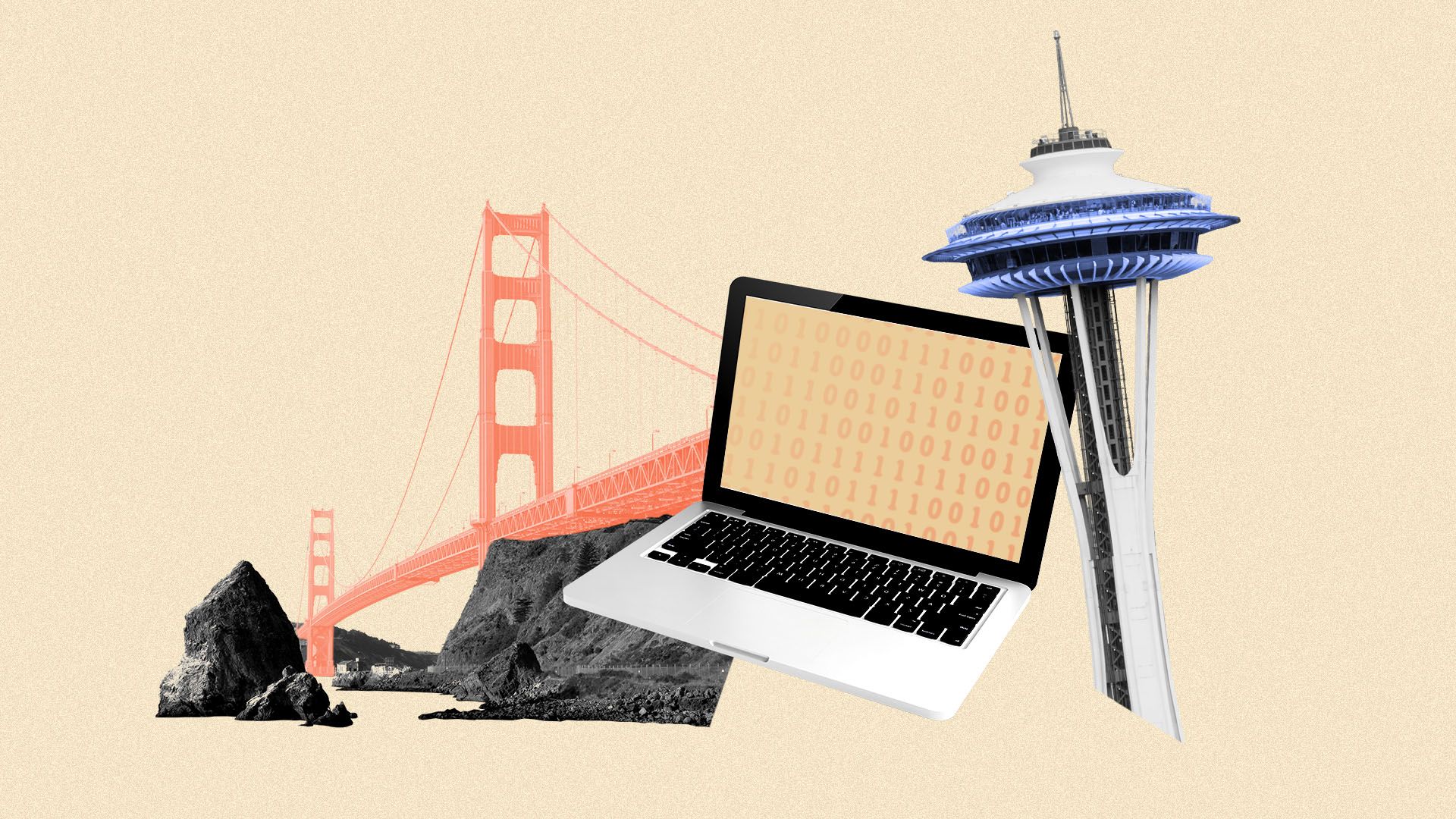 For decades, America's tech giants scaled up quietly — paying little attention to the cities and towns that hosted them. Now, they're answering to the communities that have felt the most acute effects of their explosive growth.
Why it matters: Much of the backlash against Big Tech is occurring on a national — or even global — scale, but the giants are realizing some of their toughest and priciest fights are in their hometowns.
"Some of these tech companies with this 'move fast, break things' ethos have learned that when you get involved with local politics, your brand can suffer," says Jason McDaniel, a political science professor at San Francisco State University.
Think how New York's backlash against Amazon HQ2 drove the company out of town.
San Francisco passed a homelessness tax on businesses.
Mountain View passed a per employee "head tax" aimed at Google, which will end up costing the company millions every year.
Local politics are becoming too costly for the companies to ignore, says Margaret O'Mara, a tech historian at the University of Washington. "They're now finally playing in local politics. It's becoming important not only to their public image, but also their bottom line."
What's happening: Amazon has put $1.4 million into the Seattle City Council race this year. It's "a staggering sum for a city election, let alone from a company that was M.I.A. in local politics for years," the New York Times' Karen Weise writes. Just four years ago, Amazon spent $25,000.
"We believe it is critical that our hometown has a City Council that is focused on pragmatic solutions to our shared challenges in transportation, homelessness, climate change and public safety," an Amazon spokesperson said in a statement.
Money in San Francisco's elections is reaching new heights, too. The past two City Hall elections saw $7 million and $8 million in spending, reports the San Francisco Chronicle.
Tech giants are also putting money into local projects — often trying to address housing and transit crises fueled by their own growth.
Just this week, Facebook committed $1 billion for Bay Area housing. Google made the same pledge earlier this year.
Microsoft pledged $500 million for affordable housing in Seattle.
Amazon has given money to address homelessness in Seattle as well as Arlington, Virginia, the home of its second headquarters.
But, but, but: "Politics is not a vending machine," says Lee Drutman, a scholar at New America. And in some cases, spending too much can work against tech giants.
In Seattle, progressive candidates are latching onto Amazon's big political contribution as a talking point. Kshama Sawant, who is the most vocal anti-Amazon Seattle council member, tweeted, "EMERGENCY! Amazon just dropped a $1 million bomb on Seattle elections — we can't let Jeff Bezos buy City Hall!"
And in San Francisco, Juul garnered widespread backlash after it spent millions to support a ballot measure overturning a ban on the sale of e-cigarettes. The company later pulled support for the measure.
What to watch: As the techlash intensifies, eyes are on federal regulators, but local and state lawmakers will be in the crux of the action, too, O'Mara says. "We're in for a really interesting 5–10 years in which this issue of tech regulation is going to be a really defining political question — at every level."
Go deeper: Cities, not Congress, are clipping Big Tech's wings
2. When corporate America turns a blind eye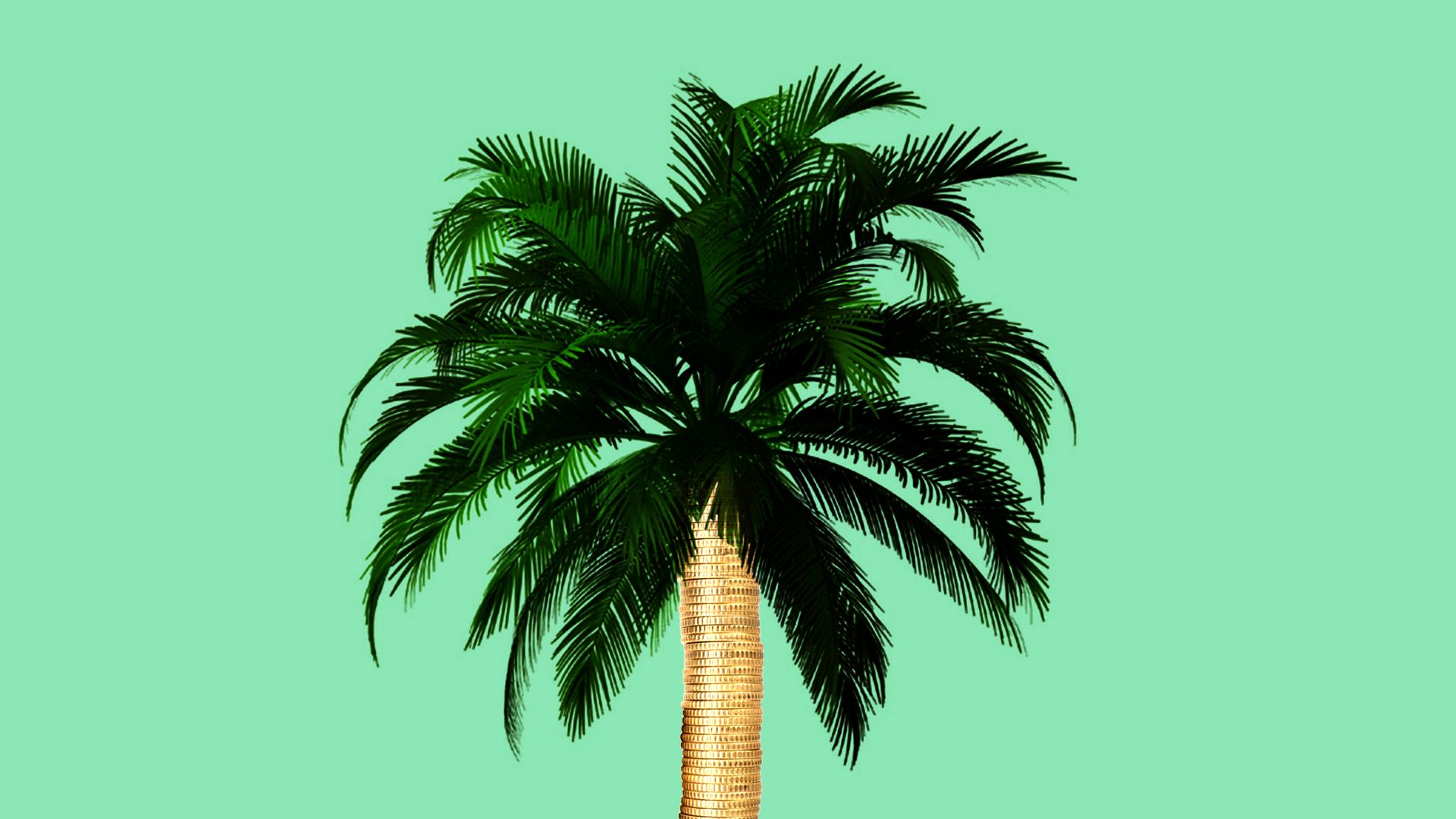 When CEOs throw their corporate weight around, they can force change faster than policymakers, but the lure of big profits can make them look the other way.
The list of big names scheduled to attend "Davos in the Desert" — the Future Investment Initiative in Riyadh, Saudi Arabia — later this month sends a clear message: The murder of journalist Jamal Khashoggi by the Saudi royal family doesn't matter when there's money to be made, writes Axios' Felix Salmon.
Felix got a "Draft Narrative Program" for the conference, marked "Not Final — Subject to Change." Any of the names on the program could therefore still pull out.
Those names include heads of state, such as Narendra Modi of India and Jair Bolsonaro of Brazil. The Trump administration is represented by Treasury Secretary Steven Mnuchin, Energy Secretary Rick Perry and White House senior adviser Jared Kushner.
Top financiers scheduled to attend include Michael Corbat, CEO of Citigroup; Tidjane Thiam, CEO of Credit Suisse; and Noel Quinn, CEO of HSBC. Fund managers include Ray Dalio of Bridgewater, Robert Smith of Vista, Stephen Schwarzman of Blackstone, Larry Fink of BlackRock, Daniel Loeb of Third Point, and Barry Sternlicht of Starwood.
The big picture: Never before has an authoritarian governments' ability to influence — or even silence — America's rich and powerful been so starkly on display. And it's not just Saudi Arabia.
The American intelligence community acknowledges that the Kremlin interfered in an American presidential election and committed a nerve agent attack on British soil. But American companies like Boeing, Ford and McDonald's all consider Russia a big growth market, per Reuters.
And no country has pushed American people and companies around like China.
U.S. firms are not just doing business with China despite its human rights abuses — they're policing speech and expression to bend to Beijing's will.
The list is growing. The American companies that have apologized to China or censored themselves to please the Chinese Communist Party include Apple, Marriott, the Gap, all three big airlines, shoemaker Vans, gaming company Activision Blizzard, and, most recently, the NBA.
"China is in a different category from anything else — and maybe anything else in world history — because there's never been such a fiercely authoritarian regime that had such overawing market power," Larry Diamond, a senior fellow at the Hoover Institution, tells me.
"We're effectively losing our 1st Amendment rights because of an external power."
3. Unprepared for the electric car future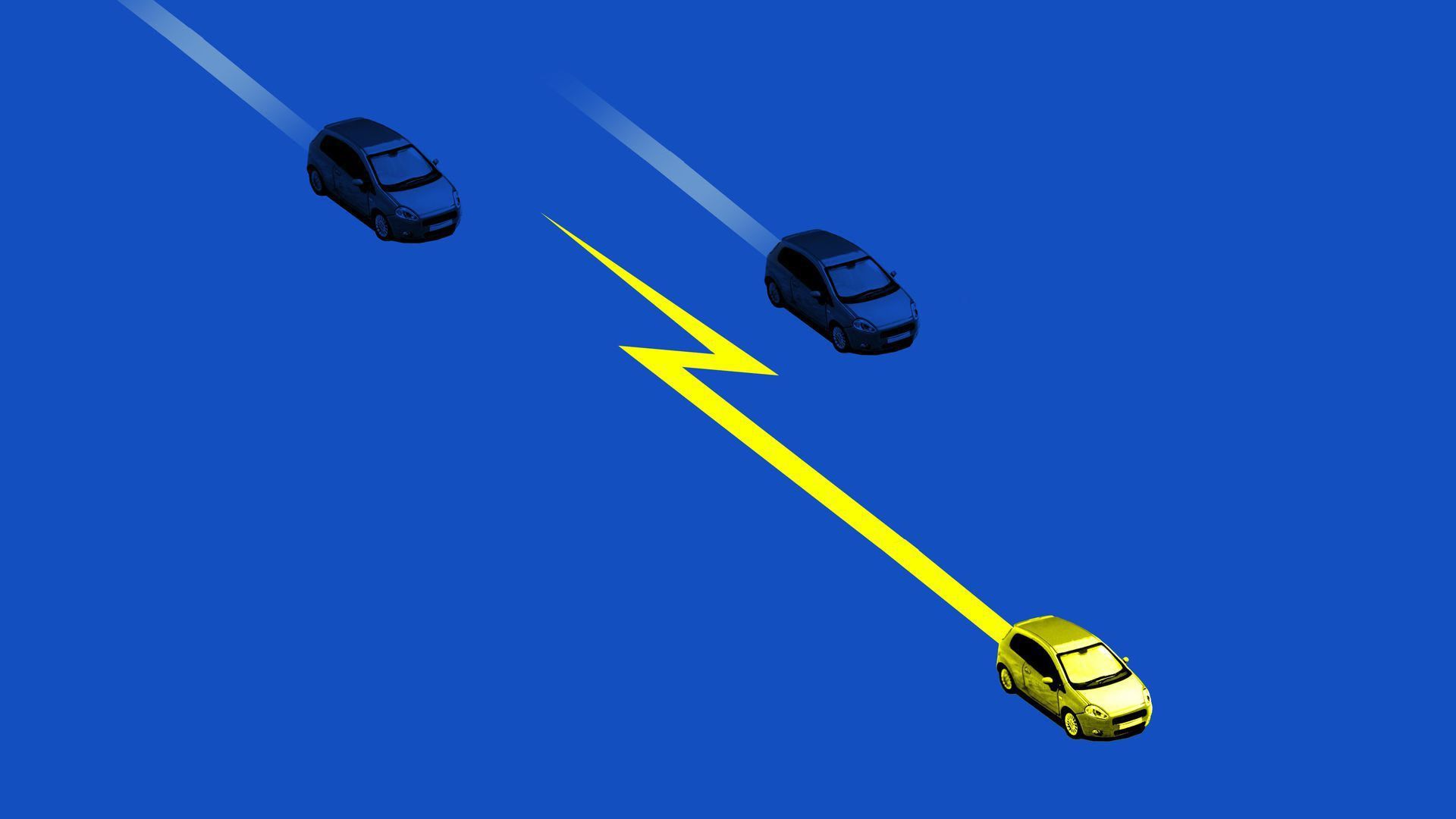 There's a staggering stat in Kim Hart's Axios Cities newsletter today: California mandates that 250,000 EV-capable charging stations be publicly available by 2025 — but the state is way behind with only about 22,000 charging outlets so far.
Why it matters: America's infrastructure is unprepared for the EV revolution.
There's a reason for that: Equipping parking spots to be EV charging stations is expensive.
It can cost several thousand dollars per space to retrofit existing parking garages or lots, which requires ripping up cement to lay electric conduits.
According to calculations by EnergySolutions, it's four to six times cheaper to install EV-capable parking spots during new construction or ongoing renovations.
But not every city has a lot of new construction going on in the first place, so figuring out how to get charging stations into existing buildings will be key to EV expansion, says Anne Smart, VP of Public Policy for ChargePoint.
Sign up for Kim's newsletter, a weekly dive into the technological and demographic trends shaping cities, here.
4. Worthy of your time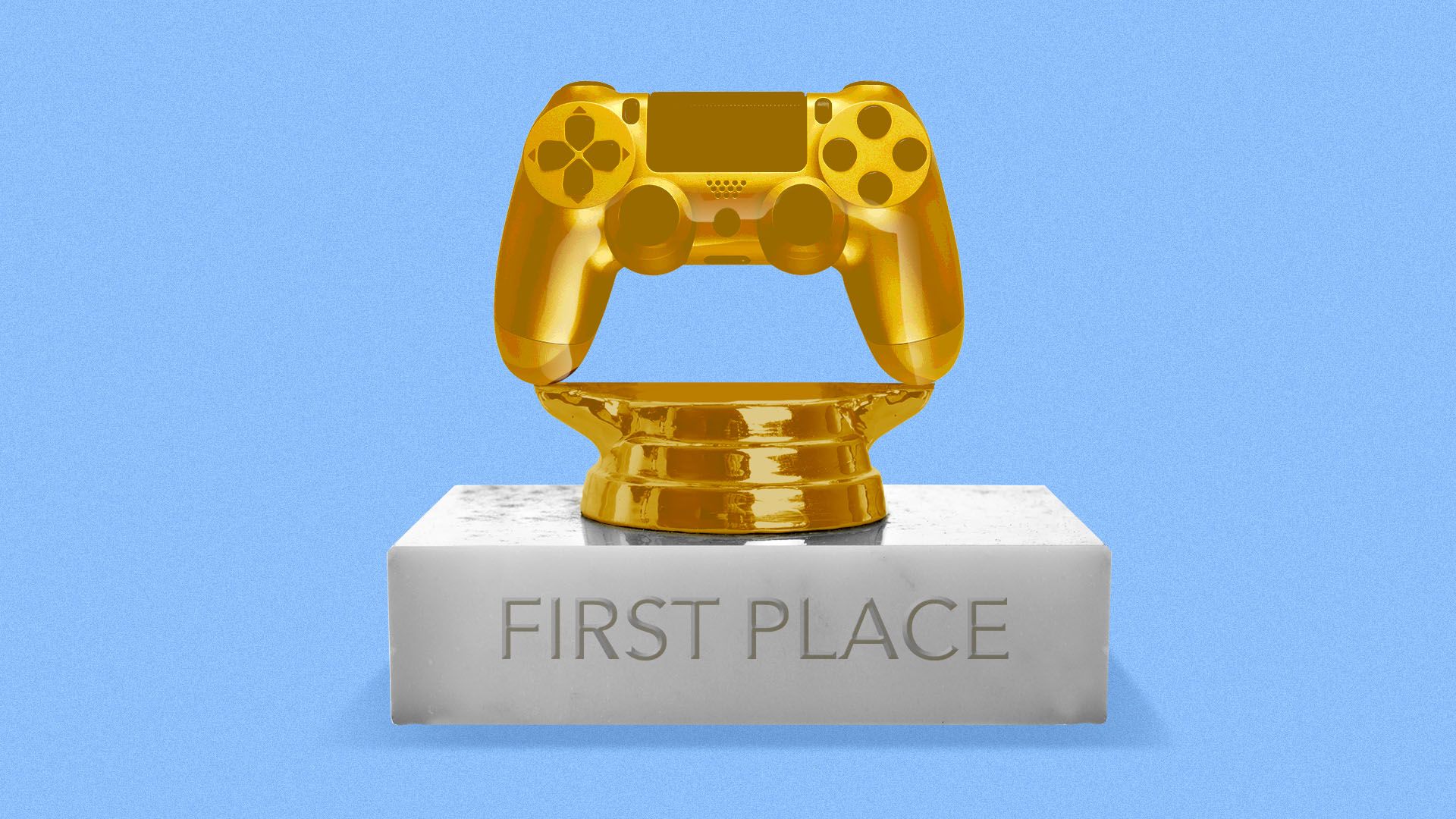 Inside the esports investment boom (Dan Primack — Axios)
The global backlash against Libra (Paul Vigna — WSJ)
The existential threat to global tourism (Chuck Thompson — Gen)
China hacks its minorities — even abroad (Nicole Perlroth, Kate Conger, Paul Mozur — NYT)
Amazon's second largest market (Emma Thomasson, Riham Alkousaa — Reuters)
5. 1 fun thing: It's hard being a millennial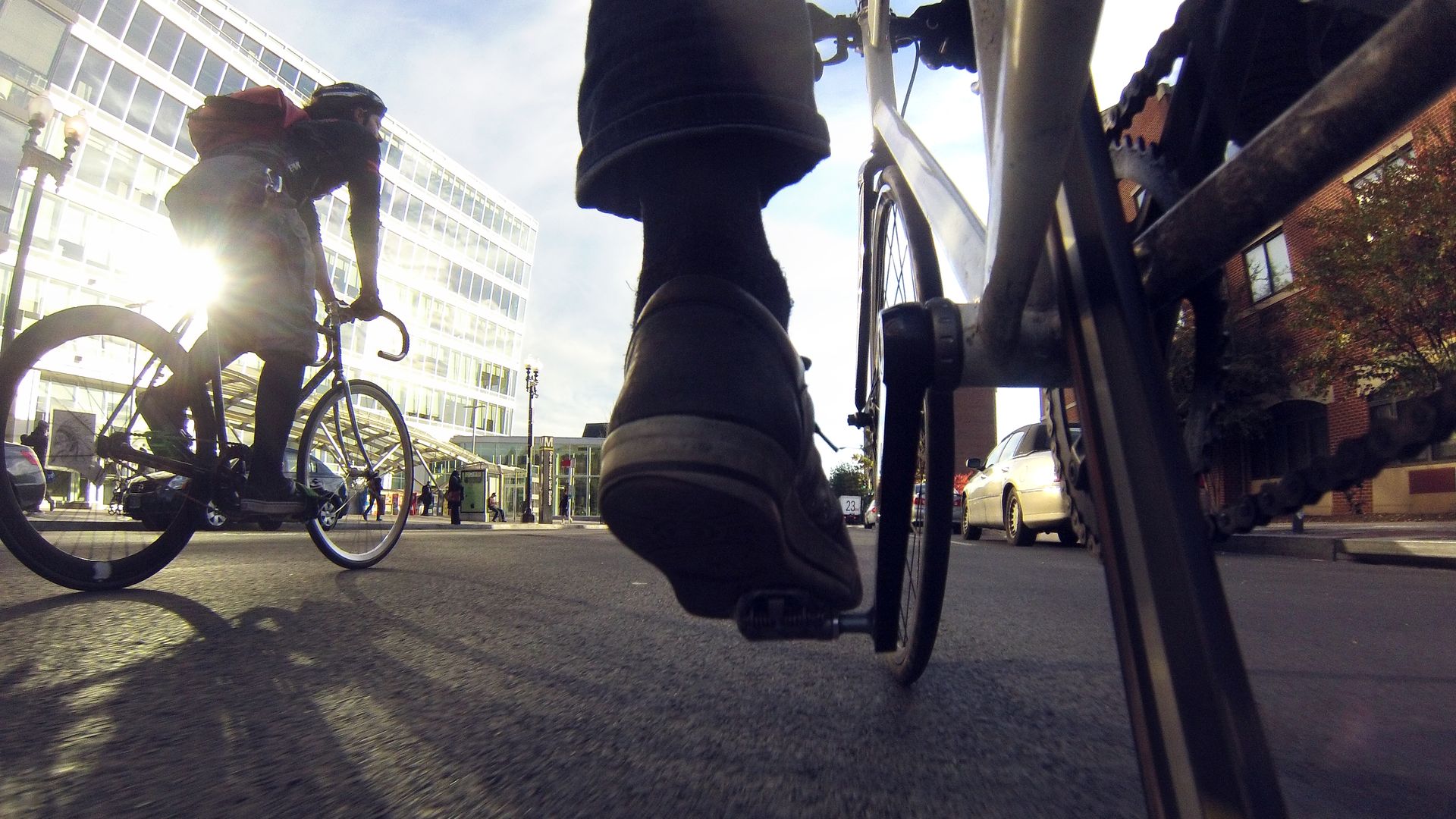 The idyllic lifestyle of the urban-dwelling millennial could get more expensive.
What's happening: A slew of companies that grew into shiny unicorns by offering cheap, convenient services or products are bleeding out. And they might raise their prices to start making money, writes The Atlantic's Derek Thompson.
"If you wake up on a Casper mattress, work out with a Peloton before breakfast, Uber to your desk at a WeWork, order DoorDash for lunch, take a Lyft home, and get dinner through Postmates, you've interacted with seven companies that will collectively lose nearly $14 billion this year," Thompson writes.
"If you use Lime scooters to bop around the city, download Wag to walk your dog, and sign up for Blue Apron to make a meal, that's three more brands that have never recorded a dime in earnings, or have seen their valuations fall by more than 50 percent."
One to add to the list: MoviePass — a millennial favorite that launched with a ton of buzz, but had literally no way to make any money.