Axios Cities
March 25, 2021
It was fun while it lasted!
This is the final issue of Axios Cities, but fear not fair readers: We're evolving and expanding this newsletter to become something even bigger and better on a daily basis — and, in the meantime, we'll still be publishing plenty of cities-focused content.
On behalf of myself and Kim Hart — the founding editor of Axios Cities — thank you for reading, responding and kibbitzing. This newsletter is 1,614 words, which will take you 6 minutes to read.
Situational awareness: Recreational pot is about to become legal in New York City — what could possibly go wrong?
1 big thing: Crosswalks in the crosshairs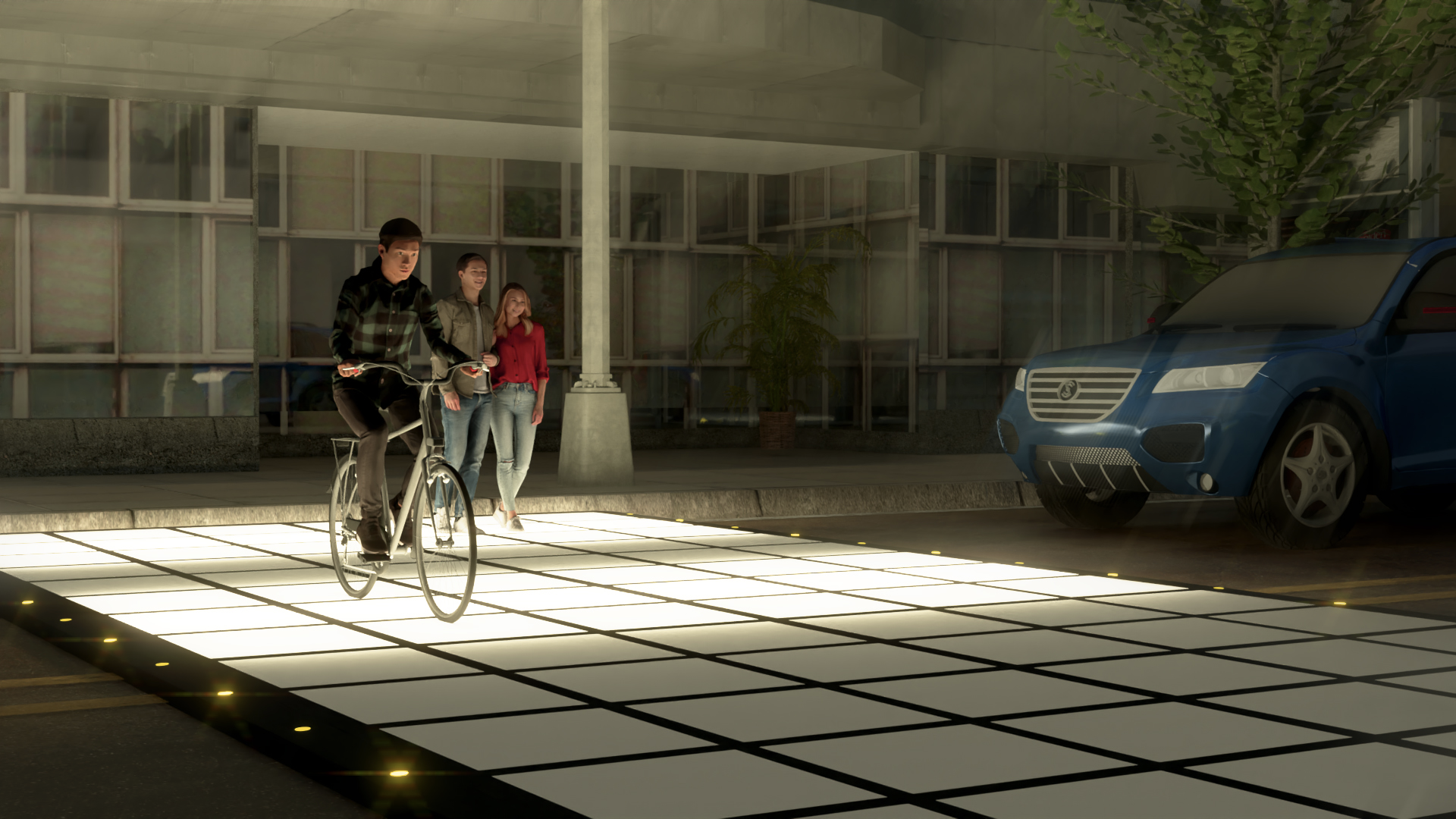 The rise of pedestrian deaths in the U.S. has triggered a scramble to improve the design of urban crosswalks — ideally, using technology.
Why it matters: Crosswalks are a growing site of preventable deaths — often with distracted driving to blame — and urban planners are envisioning various types of facelifts that could make a difference.
The development of better crosswalks could be a big leap forward for "smart cities" technology, which has sputtered in recent months over privacy issues.
Driving the news: A report released Tuesday by the Governor's Highway Safety Association says the pedestrian fatality rate rose 20% in the first six months of 2020 "as speeding, distracted and impaired driving, and other dangerous driving behaviors increased during the COVID-19 pandemic."
The Vision Zero Network, a national initiative to eliminate traffic fatalities and severe injuries, has been opening chapters in cities across the country. (Here's a map of their 45+ communities.)
What's happening: Startups like Sensol Systems, which has developed a light-up crosswalk that illuminates when people (and bikes and pets) are in it, are talking to cities and campuses about cost-effective designs.
"We are creating a buffer of light," Janie Bube, founder and CEO of Sensol Systems, tells Axios.
"When somebody is on the sidewalk and steps onto the crosswalk, it will activate and illuminate, but that same effect does not happen if there's a car going over it."
Her crosswalk — which will cost less than $45,000 per intersection, and is still being shopped to potential clients and venture capitalists — is able to collect the data (on pedestrian counts, etc.) that cities crave.
The big picture: While most pedestrian crosswalks have minimal markings, some are painted with zebra stripes — seen as a good first step — and some are equipped with rectangular rapid-flashing beacons.
The latter, known as RRFBs, use high-intensity LED lights that flash to improve driver visibility and yield rates at crosswalks.
During the pandemic, some cities tried blocking traffic in pedestrian-friendly ways to create "slow streets," but success has been mixed.
Washington, D.C., is ending its program in May.
Flashback: Modern crosswalk design got started in the U.K. (Remember the cover of the Beatles' album "Abbey Road"? That's a zebra crossing.)
Marked crosswalks were introduced in the U.K. in the 1930s, accompanied by flashing amber globes known as "Belisha beacons." (Named for Minister of Transport Leslie Hore-Belisha.)
Painted "zebra stripes" emerged in the 1940s.
2. Murder rates rose sharply in U.S. cities in 2020
Pandemic-induced fear, economic hardship, domestic discord, racial strife and an influx of guns helped propel the urban homicide rate by a record amount last year, a new report says.
Why it matters: A drumbeat of dire reports about rising crime has left city dwellers justifiably scared — and policymakers should be addressing the pandemic and violent crime at the same time, the reports' authors say.
Anti-violence programs should be a priority, according to a report released by Arnold Ventures — a philanthropy focused on solving societal problems — and the National Commission on COVID-19 and Criminal Justice.
Relations between communities and the police should be mended, the authors say, and street outreach workers should be deployed to help defuse tensions.
Driving the news: "In a sample of 34 cities, homicide rates were almost 30% higher in 2020 than in 2019, a jump that claimed an additional 1,268 lives," per the report.
While the three largest cities — New York, LA and Chicago — accounted for a disproportionate amount of the rise, higher homicide numbers were seen in cities large and small.
Aggravated assaults and gun assaults rose as well.
The silver lining: Residential burglary rates dropped by 24%, the report found, and drug offenses by 30%.
Motor vehicle theft rose by 13%.
The bottom line: The elevated murder rate has carried into 2021, the New York Times reports.
A tally of homicides by the FBI — which looked at different data from Arnold Ventures — found a 25% rise in 2020, which would "mean the United States surpassed 20,000 murders in a year for the first time since 1995," the NYT said.
Possible reasons include "the various stresses of the pandemic; the surge in gun sales during the crisis; and less belief in police legitimacy related to protests over police brutality."
3. Pandemic brings new clashes over emotional support dogs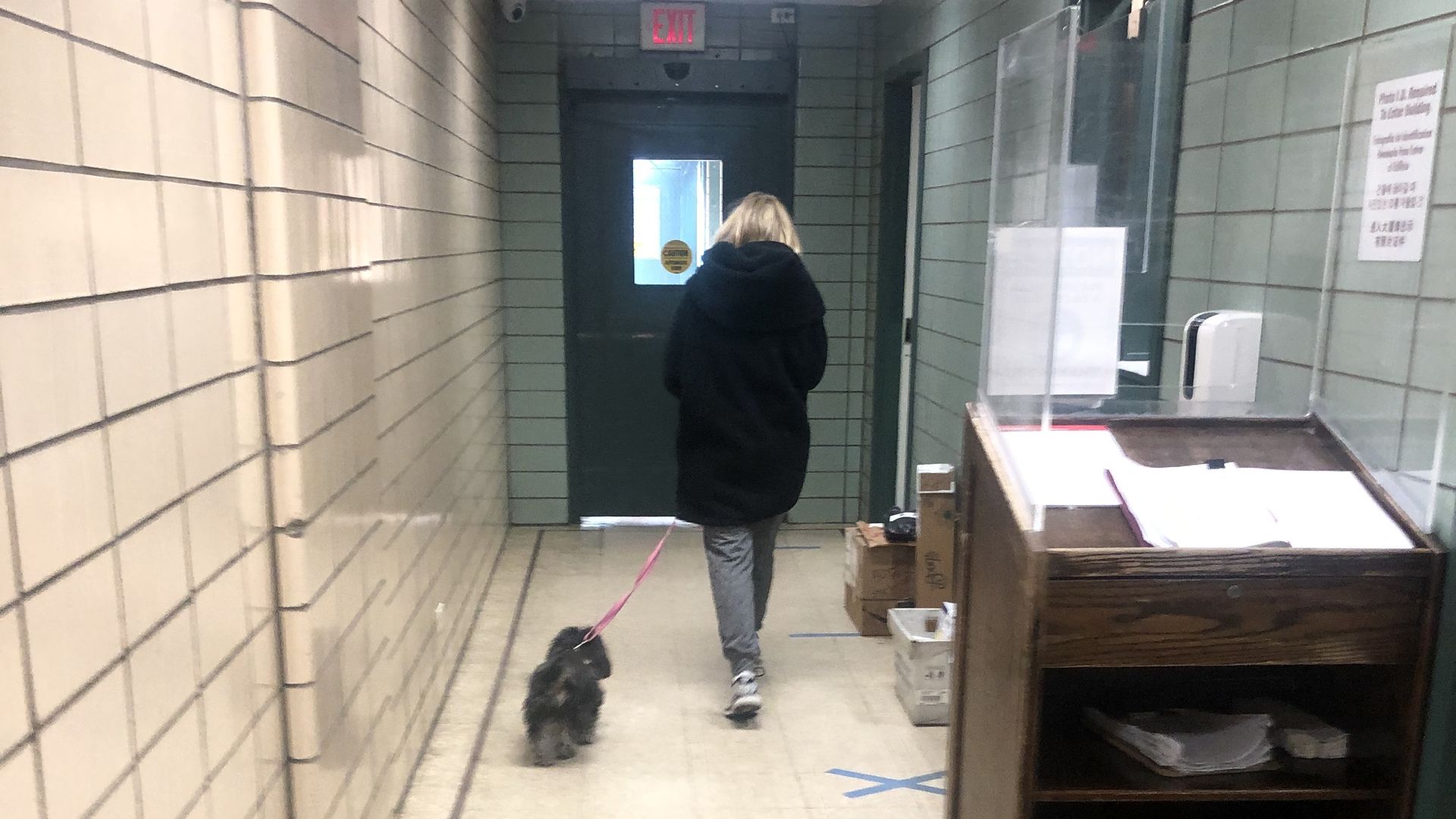 With people adopting pandemic puppies in droves, "emotional support" dogs are suddenly everywhere they're not supposed to be — like restaurants, supermarkets and retail stores.
Why it matters: The rule-flouting is a strain on merchants, who fear lawsuits from certificate-waving dog owners, and on people with actual service dogs — which, unlike emotional support animals, are trained to perform vital tasks for their owners.
Where it stands: Although the Department of Transportation ruled in December that airlines no longer have to let emotional support animals (ESAs) on planes, HUD still considers them "assistance animals" — which means that landlords have to permit them in no-pets apartment buildings.
But ESAs are not service animals — and aren't covered under the ADA.
Nevertheless, lots of websites help pet lovers get doctors' notes that they can use to flout the rules.
People are snapping up official-looking "service dog" vests on Amazon and using them to trot their puppies anywhere they like.
Driving the news: Landlords, desperate to fill apartments that have emptied during the pandemic, are being more lenient about allowing emotional support dogs — setting up clashes among residents.
Readers have been writing to me about unfortunate encounters with ill-behaved ESAs and their indignant owners.
Although ESAs aren't allowed in supermarkets or restaurants, shopkeepers are reluctant to kick out patrons' dogs for fear of making a scene or getting sued.
"I really want to advocate for business owners — they feel trapped and like they're unable to protect themselves," says Sarah Schaff of Can Do Canines of Minnesota, which trains service dogs for people with disabilities.
There are two questions that merchants can ask to suss out legitimacy, Schaff tells Axios: "Is this a service dog?" and "What task is the dog trained to help you to do?"
How it works: The growing prevalence of ESAs is distracting for legitimate service dogs — and difficult for people who have allergies or dog phobias, or who come from cultures with aversions to dogs.
"This really delegitimizes highly trained service animals and makes things difficult for the people who rely on them," says Cassandra L. Boness, a clinical psychology intern at the University of Pittsburgh Medical Center, who published a paper saying tighter ESA rules are needed.
"People see these dogs parading around in vests acting foolish or getting into trouble," Boness tells Axios. "It's a mess."
What's next: More college students are demanding to keep ESAs in their dorm rooms — and, as people return to their workplaces, some seek to bring their emotional support doggies with them.
My thought bubble: There were perhaps zero dogs in my no-pets apartment building in Manhattan until a year or so ago, when the floodgates opened.
Some neighbors — including the owners of Oscar, the barky beagle mix downstairs — admit freely that, wink-wink, he's just a cherished family pet.
4. A bargain at $51 million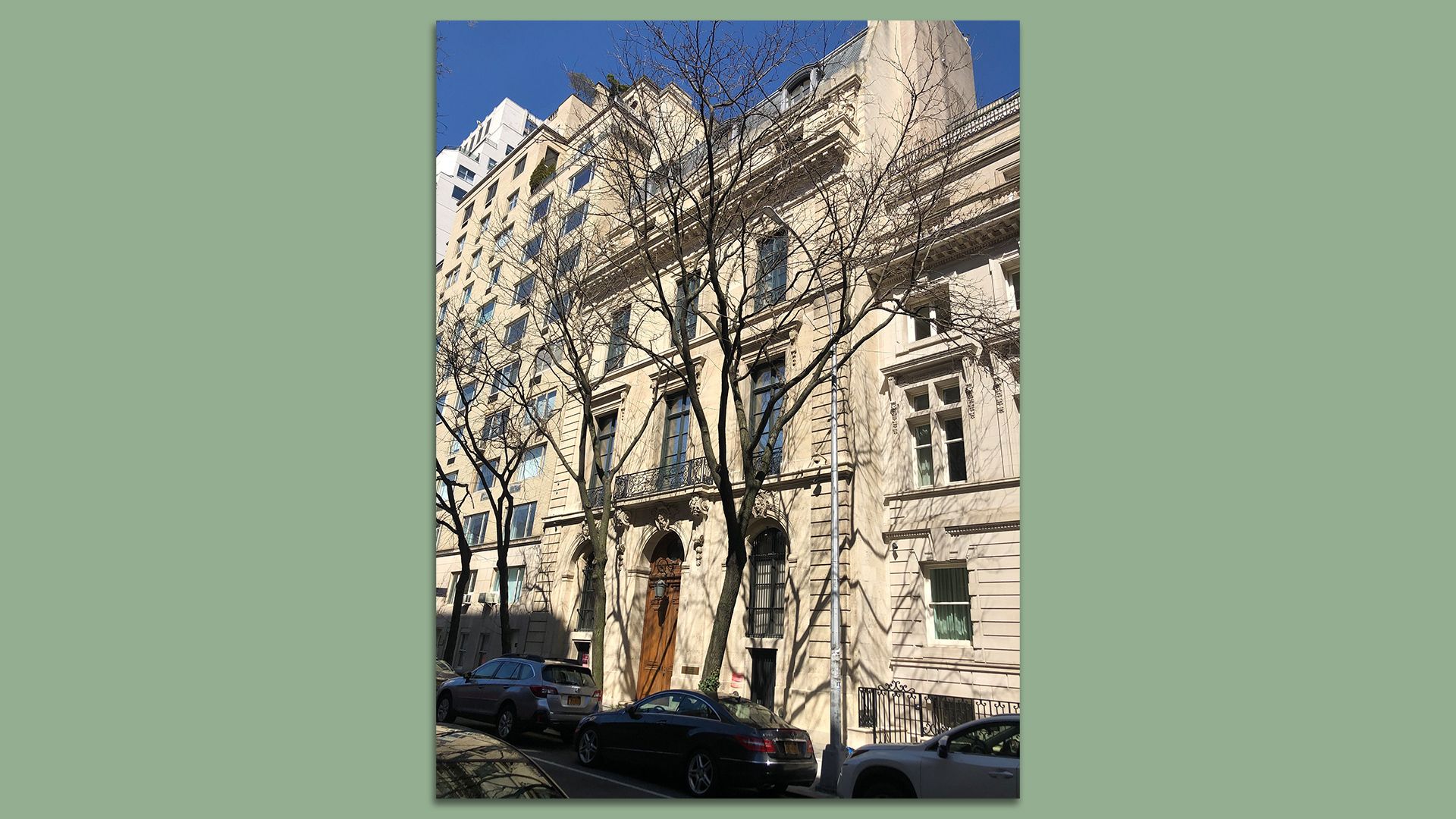 Located in a sublime pocket of Manhattan's Upper East Side, the mansion formerly occupied by Jeffrey Epstein was sold to a departing Goldman Sachs exec for $51M.
What they're saying: "Michael D. Daffey bought the seven-story, 40-room property at 9 E. 71st St. at far below its original $88 million asking price," per the New York Post.
Daffey and his wife are planning "a complete makeover."
Proceeds of the sale will go to the Epstein Victims' Compensation Program, per Fox Business.
Context: Epstein, the financier and sex trafficker, died in jail in 2019, but the fallout from his crimes continues.
Leon Black just quit his firm, Apollo Global Management, over his Epstein ties.
Of note: The mansion was built by an heir to the Macy's fortune, occupied for decades by the Birch Wathen School, and sold to Epstein associate Les Wexner for $13.2 million in 1989.
It's around the corner from the flagship Ralph Lauren store — which, when I was growing up in the 70s, was occupied by a neighborhood florist and a Baskin-Robbins.
5. Litigation over llamas in the Arctic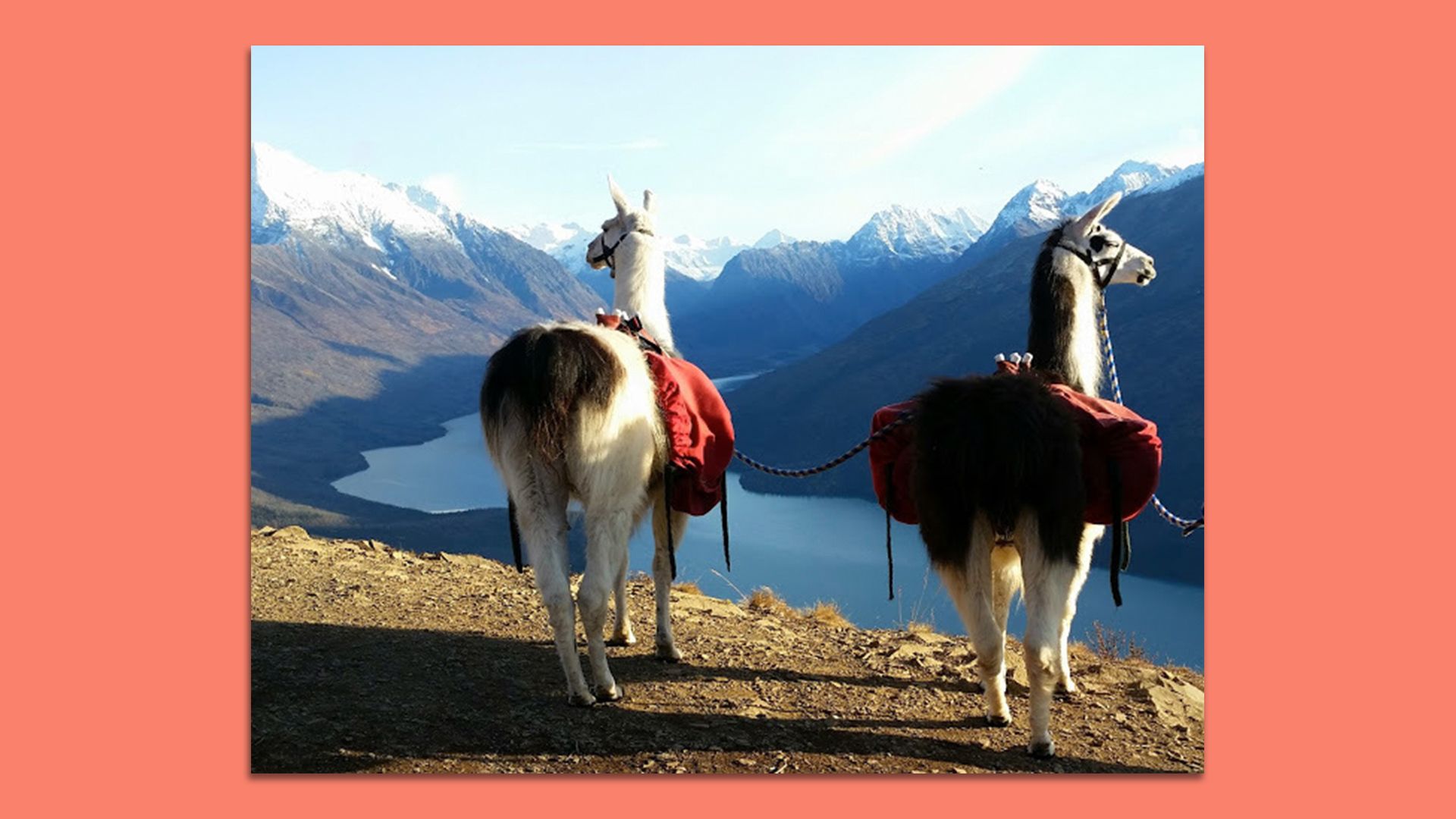 Llama owners are uniting to overturn a ban by the U.S. Fish & Wildlife Service on llamas in the Arctic National Wildlife Refuge.
Why it matters: Llamas are increasingly popular as hiking companions — they'll carry your gear uncomplainingly, with a calm and contemplative gaze — and owners say the move could have broad-reaching implications on the animals' use in the lower 48.
Driving the news: As of Aug. 31, Fish & Wildlife prohibited "domestic sheep, goat, and camelid pack animals on the Arctic National Wildlife Refuge," arguing that they posed a disease threat to Dall sheep, which are native to the Alaska mountains.
Llama owners protested and filed a lawsuit in D.C. Circuit Court, saying the move was based on bad science.
A major concern is that Fish & Wildlife — which issued a "no comment" to Axios on the matter — will try to widen the ban, imposing economic hardship on the growing number of people who rent pack llamas to wildlife lovers.
What they're saying: "The idea was to try to build a bit of a war chest, because if they're banning them in Alaska and it holds — and hopefully it doesn't — who's to say it's not going to spread to other states and parks?" said Paige McGrath, who helped organize the GoFundMe.
McGrath — who raises champion llamas at Lower Sherwood Farm in Charlottesville, Virginia — offers nature walks with herd members like Tucamon, Chewy, Gryffindor and Teriyaki.
"A lot of us do llama hiking on a commercial level, and that's a big threat to us, to have all of a sudden have some doors closed on us where we can't take our animals," she tells Axios.
What's next: The two sides have a court-mandated schedule of meetings in April.
Some personal news: I'll be taking a work sabbatical for a spell, but I'll be back very soon to continue my coverage at Axios. Look forward to seeing you all then!
Jennifer