January 02, 2020
Greetings from the U.K., where I've been reasonably successful at both getting my hiking boots muddy and not talking about Brexit.
I have big plans for Axios Edge in 2020, which might even involve a name change. If you're subscribed, you'll be first to know about them. Suggestions always welcome!
In this week's 1,465-word newsletter (a 5.5-minute read): What happens to a company when the CEO is fired; the stocks of the decade; the shale oil boom; getaway jets; Iraqi debt; and more.
1 big thing: Culture outlasts the CEO
When a CEO is forced out of a company, a lot of people hope and expect big changes. Much like Inigo Montoya in "The Princess Bride," those people are going to have to get used to disappointment.
Why it matters: It's big news when names like Dennis Muilenburg of Boeing and Travis Kalanick of Uber are forced out of their jobs. But that doesn't mean the company is going to change. The reality is that corporate cultures change slowly if at all.
How it works: Managers tend to like, hire and promote people with personalities similar to their own. Corporations therefore have a natural tendency towards monoculture.
The mystery of how and why Muilenburg held on to his job for as long as he did can be explained in large part by seeing him less as the cause of the problems at Boeing, and more as a symptom of a bottom-line-oriented corporate culture that dates back to the early 2000s.
Jerry Useem has an excellent explanation in The Atlantic of how Boeing's engineering-led culture was supplanted by McDonnell Douglas' finance-led culture after the companies merged in 1997. "The present 737 Max disaster can be traced back two decades," he writes.
When the Boeing board fired Muilenburg they replaced him with David Calhoun, a Blackstone financier who "studied accounting at Virginia Tech and began his career in GE's corporate audit team," per the FT. He is very unlikely to change Boeing's cost-cutting culture, or even move its headquarters back to Seattle, where the company's planes are built.
Travis Kalanick has now fully severed his ties with Uber, selling all his stock in the company and stepping down from its board — but his influence in the company remains incredibly strong.
Kalanick's hand-picked board members, Ursula Burns and John Thain, remain on the company's board, while longtime Thain lieutenant Nelson Chai is CFO.
Change agent Bozoma Saint John, who was charged with reinventing the Uber brand, lasted only one year at the company.
CEO Dara Khosrowshahi was similarly tasked with rebooting the company. He has survived, partly because he is happy to make statements praising not only Kalanick but also Saudi Arabia's Yasir Al-Rumayyan, who's also on Uber's board. He also continues to claim with a straight face that Uber's drivers are not core to the company.
Adam Neumann hired almost everybody at WeWork on the basis that it was an exciting and fast-growing technology company rather than a fundamentally stodgy real-estate company. If it is now trying to concentrate on boring things like cash flows, it has a comically ill-suited employee base.
Roger Ailes, the founding CEO of Fox News, was fired in 2016 and died in 2017. Since then, the network has moved even further to the right, and plays a more important role than ever in Republican politics. The Ailes legacy, far from being repudiated, has been strengthened.
The bottom line: Most of the time, executive defenestrations are theatrical events designed to avoid true corporate accountability.
2. The 2010s: When all companies became tech companies
Tech companies dominated the 2010s, with the FANG stocks (Facebook, Amazon, Netflix, Google) helping the S&P 500 return more than 350% over the course of the decade. The index would have done even better had it included Domino's Pizza, which is also a tech company.
Why it matters: These companies don't look like the tech firms of earlier decades. They don't manufacture computer hardware; neither do they sell software. They don't even make high-tech planes, like Boeing, or high-tech cars, like Tesla.
All these companies are in very mature industries. In terms of where they get the bulk of their revenues, Amazon is a retailer, Netflix is in video entertainment, Google and Facebook are in advertising, and you don't need me to tell you what industry Domino's is in.
A tech company, these days, is any company that can use technology to scale the distribution of its products. In that sense, Kylie Jenner isn't just a billionaire, she's a tech billionaire. Even Starbucks can make a claim to being a tech company.
The bottom line: The 2010s were the decade when the concept of "the tech stack" entered popular culture. Every company plays somewhere in that tech stack, which makes every company a technology company. In the 2020s, it's safe to assume, either the "tech company" designation will become refocused, or else it will lose all meaning.
3. The decade's biggest unexpected boom
Shale dominated the 2010s, even more than the iPhone or cloud computing. That's the claim made by blogger and investment adviser Josh Brown, who sees the U.S. shale boom causing a collapse in energy prices that had enormous economic and geopolitical consequences.
By the numbers: The U.S. currently produces roughly 12.7 million barrels of oil per day. That's an all-time high, and is more than double the 6.1 million expected 1o years ago.
The boom was caused by the collapse of Lehman Brothers, and the tsunami of emergency liquidity that resulted from central banks around the world trying to prevent the complete failure of the global financial system.
4. Carlos Ghosn's getaway jets
"A long-range Bombardier business jet left Kansai International Airport near Osaka — about a six-hour drive west from Tokyo — on Sunday at 11:10 p.m. Traversing Russian airspace, the plane arrived Monday morning at Ataturk Airport in Istanbul, according to flight-tracking data. A smaller jet operated by the same company, Turkey-based MNG Jet Havacilik AS, left the airport for Beirut just over half an hour later."
— The
Wall Street Journal
on Carlos Ghosn's escape from Japan
Carlos Ghosn, the indicted former chief of Nissan and Renault, has escaped from a highly-restrictive house arrest in Japan and is now back home in Lebanon. No one knows exactly how the exfiltration happened, but it almost certainly involved two different private jets — one flying from Japan to Turkey, and another flying from Istanbul to Beirut.
My thought bubble: Ghosn's year-end escapade ratifies the status of private jets as signifiers of stateless impunity.
5. The saga of Iraq's debts
When the U.S. invaded Iraq in 2003, it was taking control of the most indebted nation in the world. Iraq's debt at the time was an astonishing $130 billion, and the eradication of that debt was a rare example of international unity and cooperation in the interests of a debtor country.
The full story is told in "Tracing Iraqi Sovereign Debt Through Defaults
and Restructuring," a new paper from the London School of Economics' Simon Hinrichsen, who has also created the astonishing chart above.
To put these numbers in context: Japan's current debt-to-GDP ratio is 238%, while the U.S. is at 106%. Iraq, in the mid-1990s, had a ratio well above 1,000%.
The big picture: Iraq had very few debts before the Iran-Iraq war of 1980–1988. Western countries armed Iraq during that war, and accepted IOUs for their weapons despite knowing that Iraq was already insolvent.
In 1990, Iraq invaded Kuwait and, in so doing, lost the support of the West. Subsequent sanctions prompted Iraq's economy to implode, sending its debt-to-GDP ratio into the stratosphere.
After 1997, the United Nations' oil-for-food program helped to get Iraq's economy back onto its feet, and the debt-to-GDP ratio started falling. But the total amount of debt only fell after the U.S. invasion of Iraq in 2003.
After the war, the UN took the extraordinary step of immunizing all of Iraq's assets from attachment by creditors. That put Iraq in an extremely strong negotiating position, and ultimately the country managed to persuade creditors to accept a reduction of 80% in the value of their debts.
Where it stands: Iraq today may be facing political turmoil, but its sovereign finances are in good shape, with a low debt-to-GDP ratio, substantial foreign reserves, and a healthy fiscal surplus.
6. Coming up: The French government meets the strikers
French government officials will begin talks with labor unions on Tuesday to end the country's longest transport stoppage since the mid-1980s, Axios' Courtenay Brown writes.
Why it matters: It's been 29 days since transportation workers in France starting striking in protest of President Macron's proposal to overhaul the pension system.
Negotiations held before Christmas fell through. In a speech this week, Macron vowed to carry through his reforms, though he hinted that his plan could be further scaled back to appease workers.
Macron's concessions might not be enough for strikers, whose absence from work is hurting the country's economy. Most of them want the plan scrapped altogether.
7. Building of the week: Boeing International HQ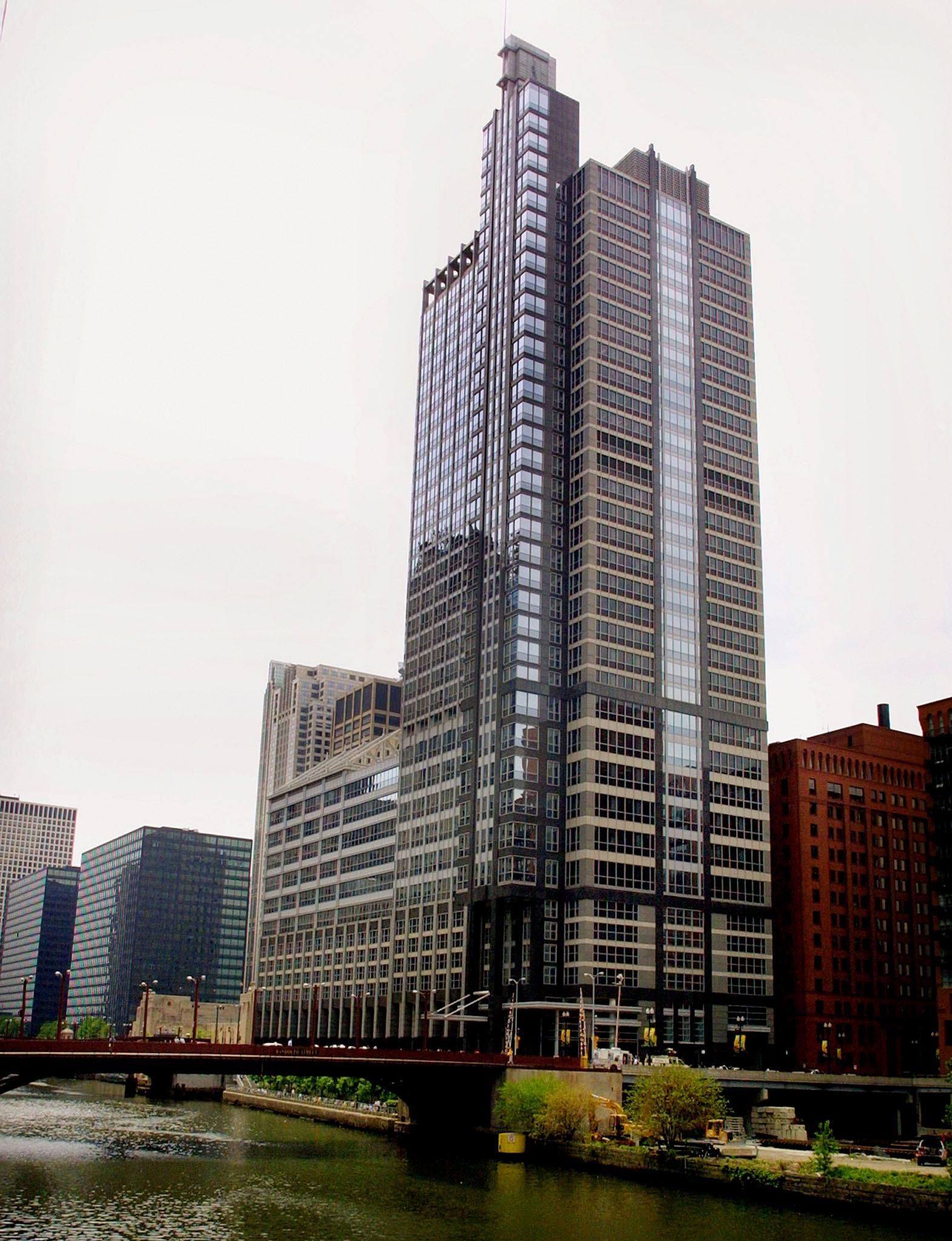 Ralph Johnson's 100 North Riverside Plaza is a 1990 skyscraper on the Chicago River, built to house the headquarters of Morton Salt.
It tends to attract little architectural attention when compared to better and flashier Chicago skyscrapers, but like the Trump International Hotel and Tower a bit further down the river, it occasionally serves as the locus of angry protests.
Boeing bought the building in 2005 for about $200 million, after pocketing some $63 million in public incentives to relocate its headquarters from Seattle to Chicago.
The heavy steel trusses above the bridge help the building's corner cantilever over the rail tracks.
Of note: Boeing's decision to relocate to Chicago was made in 2001, and announced with a peculiar PR stunt — a Boeing plane took off from Seattle, and whichever city it landed in (Dallas, Denver or Chicago) would be the company's new HQ.