Axios AM Deep Dive
March 21, 2020
Welcome to our first bonus Deep Dive as we work through this pandemic together.
To stay on top of what matters, sign up for Vitals, our daily health care newsletter.
Smart Brevity count: 1,502 words, < 6 minutes.
1 big thing: The optimist's scenario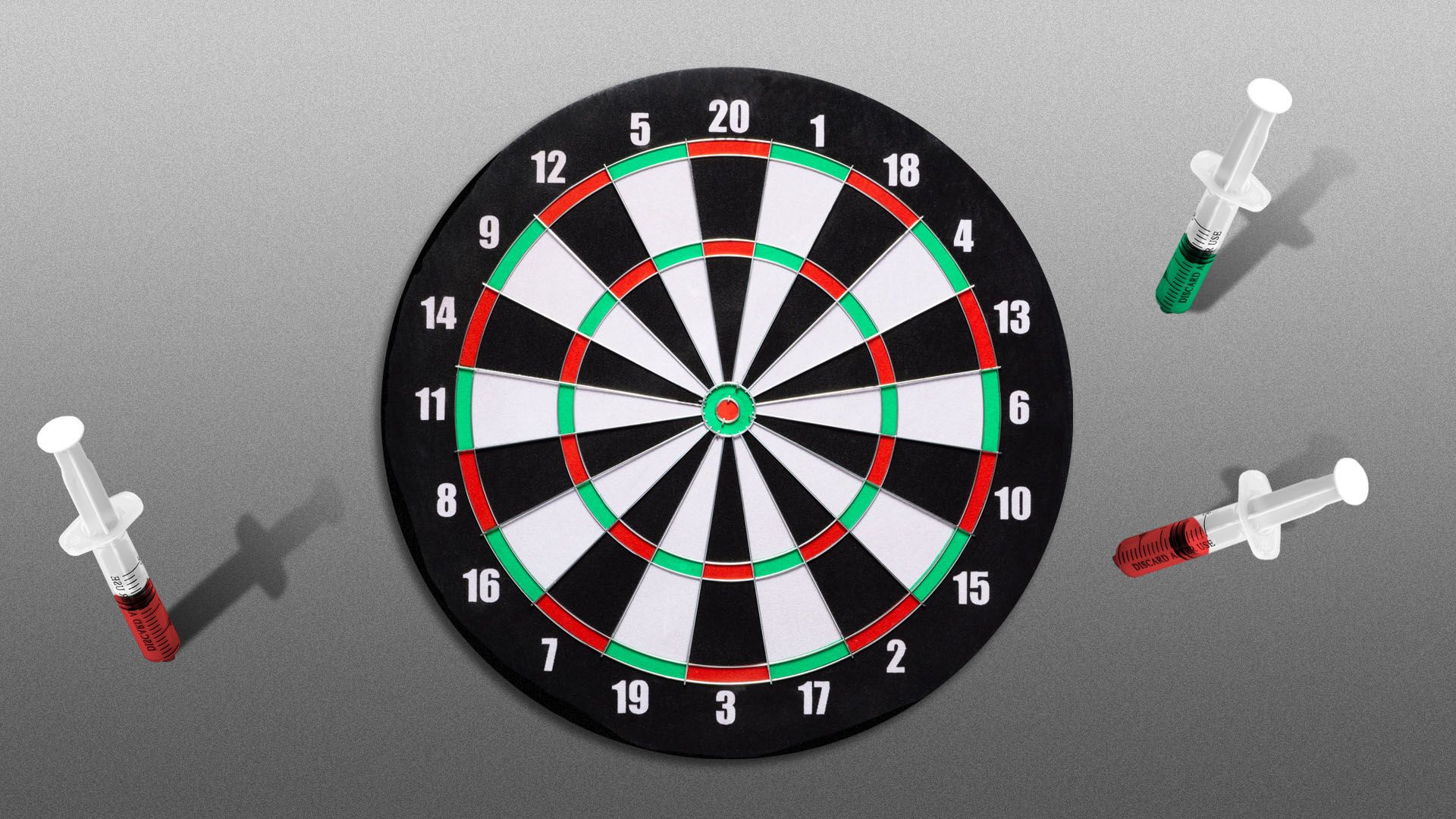 Sadly, the more we learn about the pandemic, on both the medical and economic sides, the worse the best-case scenarios become.
Why we're writing this story: Some readers tell us they think virus coverage has been overly dramatic. So we wanted to share with you the consensus of what the most clear-eyed, serious, optimistic people are saying, as a way to focus our minds. 
Tens of thousands of Americans die, we have double-digit unemployment for months, countless businesses die, retirements are wiped out, and the nation is saddled with once unimaginable debt.
That, folks, is the best case scenario we're facing.
That's if we're lucky — and doesn't even mention the lost graduations, honeymoons, weddings, and other important missed milestones.
Here's an example: A survey of epidemiology experts, posted by a scholar at UMass Amherst and reported by FiveThirtyEight, predicted that the number of cases reported by the end of this month would most likely fall somewhere between 10,500 and 81,500.
The survey was taken Monday and Tuesday.
We're already right around 20,000 cases, so the lower end of those estimates is out the window.
The same survey anticipates about 200,000 deaths in the U.S. this year, but experts have established a range that stretches from as few as 19,000 deaths to as many as 1.2 million.
A true best-case scenario would look a lot like the response in places like Singapore and South Korea, which were able to quickly "flatten the curve" and bring the number of new cases under control.
But the U.S. simply has not been doing the things that worked in those countries, so whatever our best-case scenario may be, it's not that good.
Public health: The optimist's scenario involves a longer outbreak, but with fewer cases at a time.
We could use some pleasant surprises. Maybe experimental treatments will turn out to work. Maybe warmer weather will suppress the virus' spread more than we expected. 
Those aren't ridiculous possibilities, but it's a fair amount of wishful thinking when all we have so far is an exponentially growing number of cases, and the certainty that we are under-counting those cases while they spread.
Economic havoc: Even under the optimist's scenario, the fallout for jobs and businesses will long outlast the medical calamity.
You know things are bad when CNBC reports: "Treasury Secretary Steven Mnuchin promised Wednesday that the U.S. will not have a 20% unemployment rate."
Mnuchin was dialing back a theoretical possibility without a federal rescue package — what he now calls "just a mathematical statement" — that he had floated in a closed-door meeting of Republican lawmakers.
Goldman Sachs said Sunday that the S&P 500 could hit 2,450 in the next three months. That turned out to be the optimist's scenario. On Friday, the index closed below that level.
Axios Markets Editor Dion Rabouin reports that there's no precedent for this kind of hit to small businesses. So banks have no real way to model it — one reason that many estimates seem too rosy, and that the government may be underestimating the needed size of the fiscal response.
Duration: The stock market plummeted Monday after President Trump said the crisis could last until July or August or longer.
That turned out to be the optimist's scenario.
The next day, the N.Y. Times reported on a 103-page HHS response plan, dated three days before Trump spoke, that said the pandemic "will last 18 months or longer" and could include "multiple waves."
The bottom line: The optimist's scenario has summer as the light at the end of the tunnel. But with every day and every new data point, the upside scenario gets dimmer — and more distant.
With reporting by Sam Baker, Courtenay Brown, Dion Rabouin and Bryan Walsh.
2. Q&A: How to do social distancing right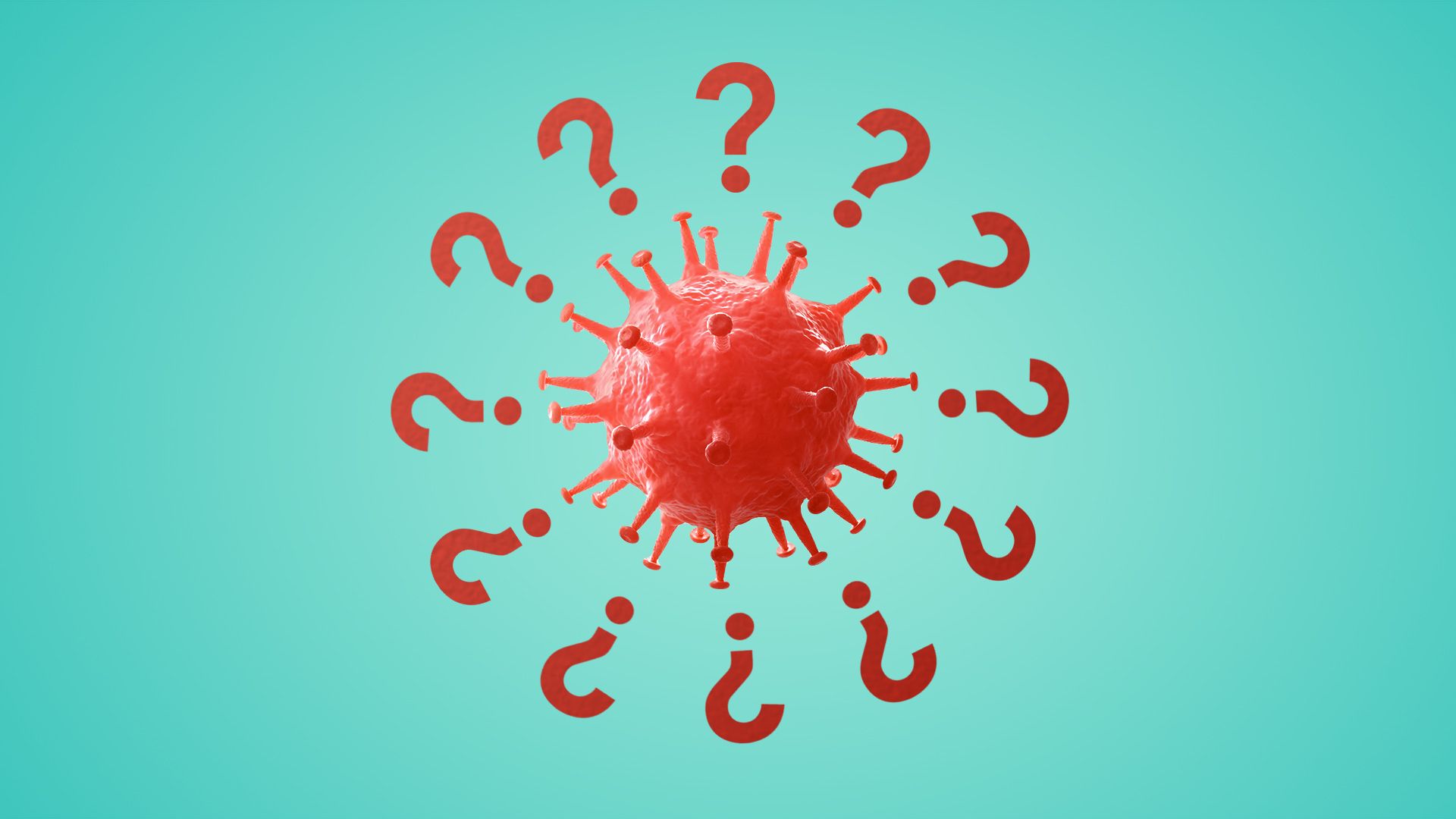 Last week, we some answered common questions about the virus and how it spreads. Today, Axios' Stef Kight asked experts: What's the most responsible way to avoid spreading the virus, support your neighbors, and take care of your own basic needs, all at the same time?
My kids are driving me insane; can I please let them play with their friends?
Sorry, but preferably not. If you're desperate, try picking one family you can trust and agree that your families will only hang out with each other.
If you do allow your kids to be with friends, encourage them to pick activities that don't require them to be in very close contact — bike rides, for example.
How am I supposed to feed myself without encountering other people?
It's OK to go to the grocery store. Experts recommend that you limit how often you go, and try to go during off-peak hours. Touch as few things as you can, and wash your hands when you get home. Also wash fresh produce and any packaging.
Delivery and takeout are also good options. And tip generously! Servers, bartenders and other tipped workers will be taking a huge economic hit while all their customers stay home.
Is it actually a good idea to do errands for my elderly or immunocompromised neighbors?
Absolutely — especially if you're young and healthy. But do it safely. Pick up and drop off groceries or laundry on front porches or doorsteps, if possible, to avoid close contact. And of course, wash your hands.
How much food and supplies should I be buying to avoid frequent trips to the store, but also avoiding depleting stores' supplies?
Am I ever going to be able to get more toilet paper?
Yes. Shelves are being restocked, major stores are changing delivery routes to get items faster, and production is being slightly increased.
Go deeper: Stef joins Dan Primack on the Pro Rata podcast to discuss these questions.
What else do you want to know? Send your questions to [email protected] and we'll answer as many as we can next week.
3. The latest: Where it stands in the U.S.
4. Quick rebound possible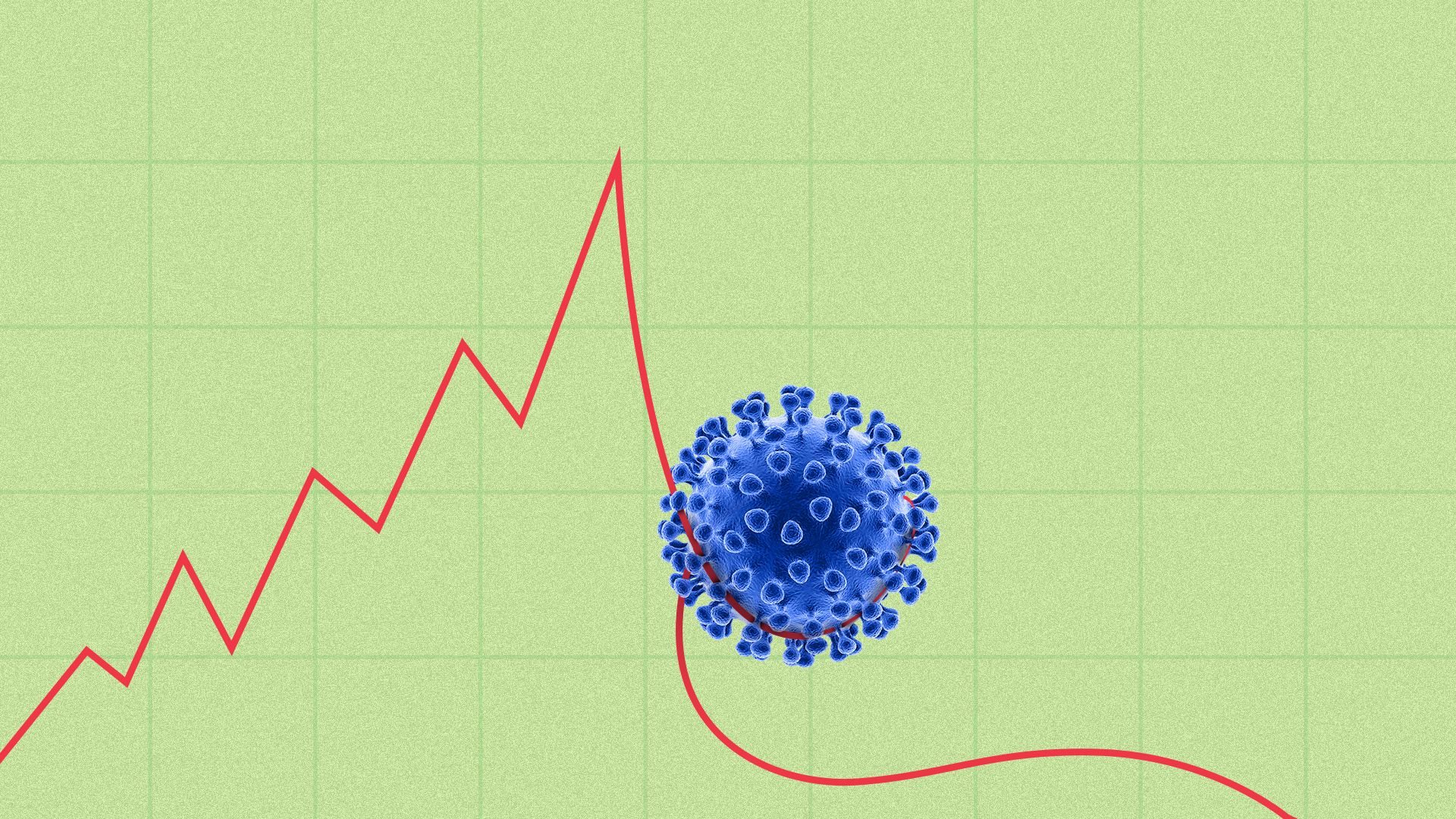 The coronavirus seems increasingly likely to plunge the world into economic times worse than anything we've seen in decades.
In the U.S., layoffs have already started. As many as 2 million people could file for unemployment aid next week— and we're barely two weeks into a widespread societal shutdown that could stretch on for weeks or months.
Deutsche Bank economists said this week that they foresee a "severe global recession occurring in the first half of 2020," and other banks have echoed those dire warnings, per Axios' Dion Rabouin.
What's next: The White House and congressional leaders are working to hammer out another stimulus bill, likely worth about $1 trillion and containing a mix of direct cash assistance to workers as well as bailouts for shell-shocked industries.
Senate Majority Leader Mitch McConnell wants to vote as early as Monday.
Many senators hope the plan is big enough that they can stay away from Washington for a while, Axios' Alayna Treene reports.
The silver lining: It may be a while, but there's reason to believe the U.S. economy can rebound pretty quickly once this is all over, Axios' Felix Salmon writes.
The immediate pain of layoffs in service industries will be very real. But once Americans can travel and go to restaurants again, there will be demand to refill those jobs.
And our physical economic infrastructure — buildings, production plants, intellectual property, internet backbones, and the like — is not being harmed at all.
Go deeper: Dan and Dion talk about the state of the economy on Pro Rata.
5. Testing is getting better, but it's not fixed
Coronavirus testing in the U.S. has improved from rock bottom but is still terrible, Axios' Caitlin Owens writes. That's a big part of the reason the number of confirmed cases is surging.
Officials are still encouraging only the sickest patients to seek tests — which is not an ideal public health approach.
Why it matters: Containing the virus requires us to know where and how bad outbreaks are. The only way to get that information is through widespread testing, which the U.S. can't do right now.
Where it stands: The U.S. has been playing catch-up on testing this whole time, largely because of early decisions from the Trump administration that severely limited the number of available tests.
Capacity has improved as private companies have come into the process, but even that incomplete progress is threatened by shortages of medical supplies, like test ingredients and the swabs used to collect samples from patients.
Academic labs told Caitlin that even after they develop a successful coronavirus test, they're turning right around and beginning to rework them, to try to stay ahead of these shortages.
The bottom line: It's impossible to know exactly how things would have played out differently if the Trump administration had moved more quickly to make more testing available, but the situation would almost certainly be better.
Go deeper: Health care editor Sam Baker joins Pro Rata to discuss the U.S. response.

7. The global pandemic
Italy's official death toll now exceeds China's, after more than 600 people died from coronavirus in one day.
It's still spreading:
8. 1 helpful thing: Drawing class for kids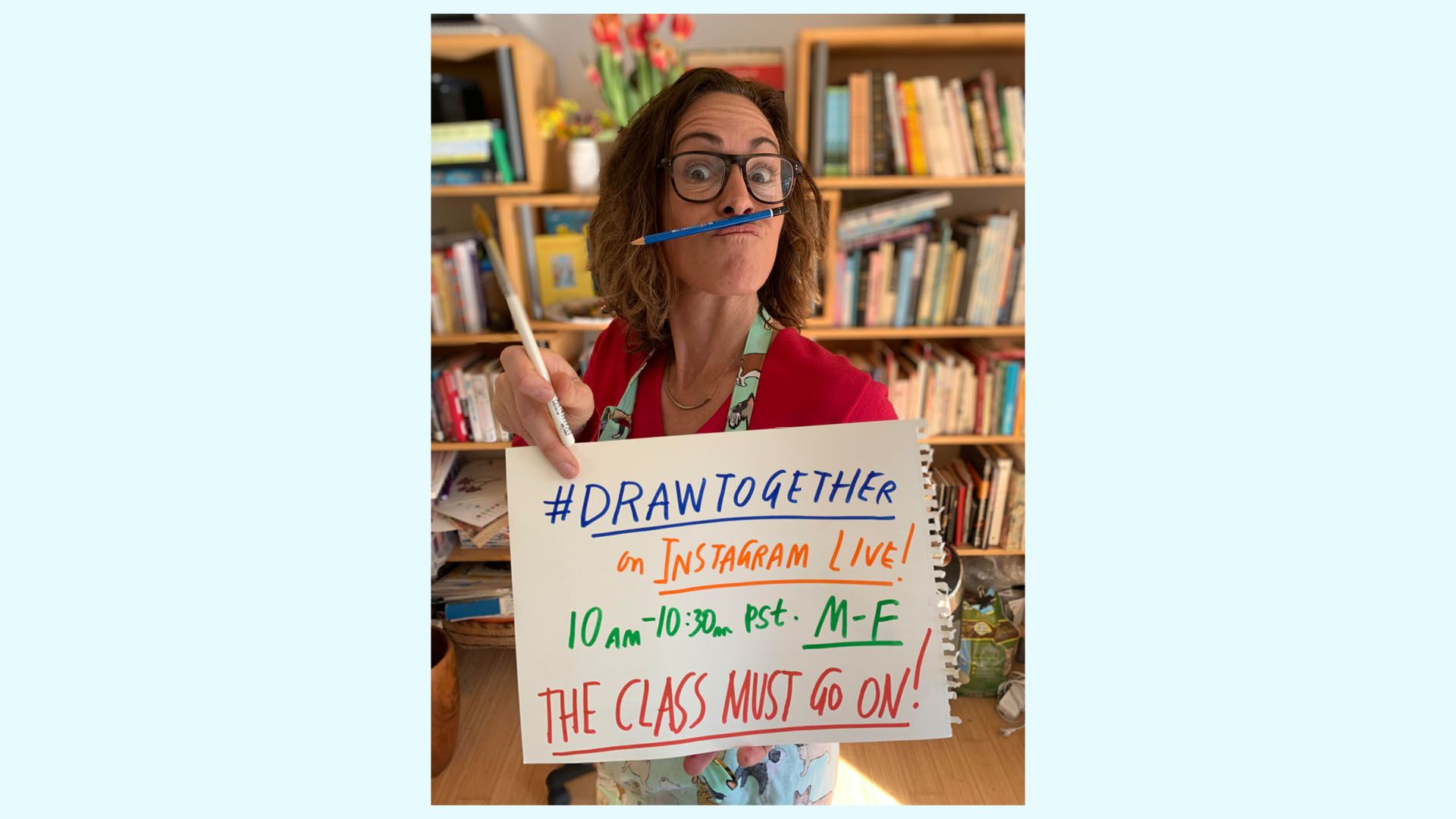 Overwhelmed parents, here's something that might help: Graphic journalist and best-selling illustrator Wendy MacNaughton is hosting a live 30-minute online drawing class for children, Mondays through Fridays at 1 pm EST.
"When we're drawing the hair on a dog, you are drawing one line after another line after another line after another line," MacNaughton, who is also a trained social worker, told Axios' Naomi Shavin.
"That process is calming for me and for them. I hope that it helps them access that calm place inside themselves when the world's going a little crazy outside."
What they're saying: "It makes me feel happy and comfortable. She makes me laugh and she's really good at teaching," seven-year-old D.C. resident Ada tells Axios.
Bonus: MacNaughton points out some other book authors and illustrators offering parent resources...