Axios Closer
February 28, 2023
Tuesday ✅.
Today's newsletter is 676 words, a 2½-minute read.
🔔 The dashboard: The S&P 500 closed up 0.3%.
Biggest gainer? Dentsply Sirona (+10.2%), the dental equipment supplier, delivered favorable sales guidance for 2023.
Biggest decliner? Norwegian Cruise Line (-10.2%), after delivering a wider-than-expected loss in Q4.
1 big thing: Calling on U.S. manufacturers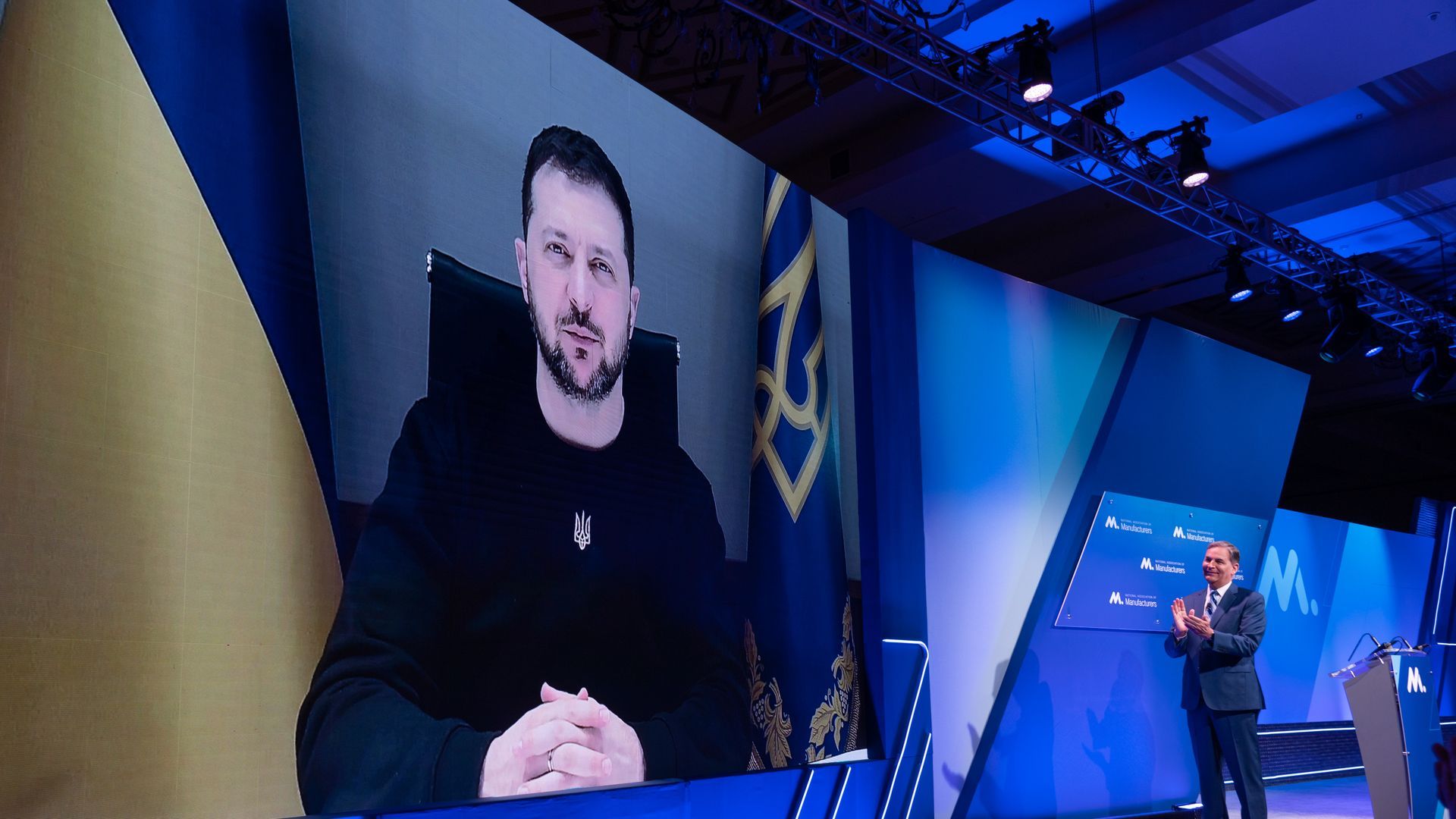 Ukrainian President Volodymyr Zelensky exhorted American businesses to begin investing in the country's reconstruction, even before its war with Russia is over, Nathan writes.
Why it matters: In addition to the tremendous loss of life, the devastation in Ukraine has wreaked havoc on the country's economy.
The World Bank estimated in September that Ukraine's reconstruction needs had already reached $349 billion.
Driving the news: "We are calling on all businesses to come to Ukraine and to leave the Russian market," Zelensky said this morning in a live speech to the National Association of Manufacturers board.
"American business has every opportunity to take a leadership position both in the reconstruction of the Ukraine economy and infrastructure."
Details: The country faces the challenge of restoring hundreds of thousands of sites damaged during the war, including infrastructure, social facilities and residential properties, Zelensky said.
A New York Times report earlier this month detailed how thousands of businesses around the world are gearing up for the possible multibillion-dollar market of rebuilding the country.
What they're saying: "Manufacturers in America will continue to stand with Ukraine," NAM CEO Jay Timmons told Zelensky today. "We will be there."
Zoom in: Zelensky urged American companies not to wait for the war to end to begin investing in Ukraine.
"So that by the time we restore peace, your hard work has already yielded results," he said.
The bottom line: Zelensky reiterated his belief that "democracy will defeat tyranny," saying Ukraine will repel Russia and "restore the full power of international law."
2. Charted: No shelter from the storm
Wind damage from hurricanes could become a new reality for many in the coming decades.
Hurricane risk will grow along the East and Gulf coasts over the next 30 years and expand into inland areas previously thought to be out of reach for most of these storms, according to new research from the nonprofit First Street Foundation.
Why it matters: How hurricane-related wind damage risks are priced into insurance policies and whether they are disclosed to prospective home buyers has major implications for the real estate and insurance industries, Axios Generate co-author Andrew Freedman writes.
3. What's happening
4. Student debt relief plan in jeopardy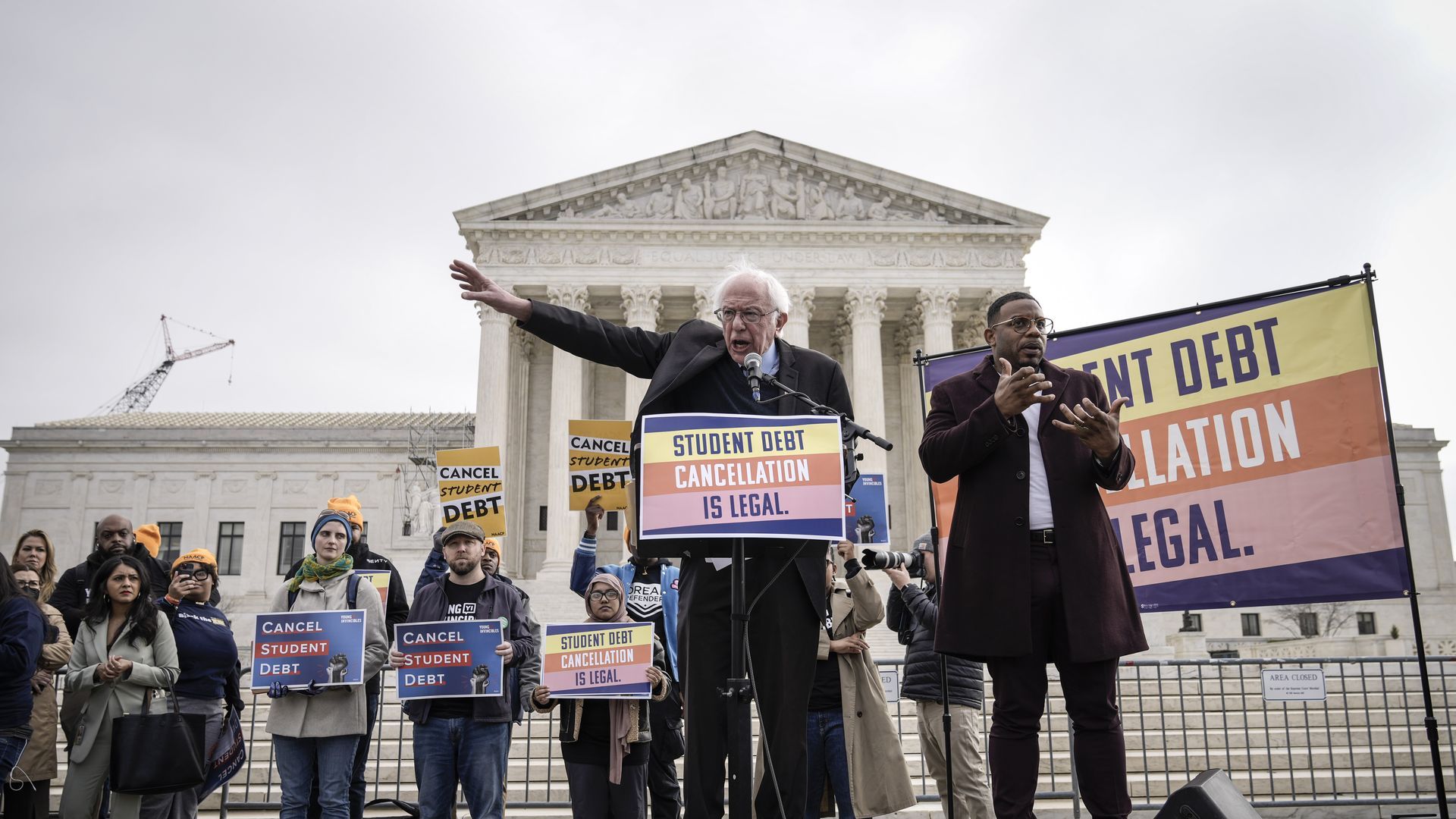 The Supreme Court seems inclined to kill President Biden's plan to forgive billions of dollars of student debt, Axios' Erin Doherty writes.
During oral arguments on Tuesday, conservative justices — with a 6-3 majority in the court — questioned Biden's legal authority to offer the debt relief.
Zoom in: They invoked the "major questions doctrine," which holds that the executive branch needs explicit congressional approval to act on the biggest issues.
The court has used that doctrine lately to strike down several Democratic priorities, including environmental regulations and COVID vaccine mandates.
The court's liberal justices appeared to back the Biden administration's arguments for the plan and expressed skepticism over whether the challengers have the legal standing to block it.
5. A flashy new X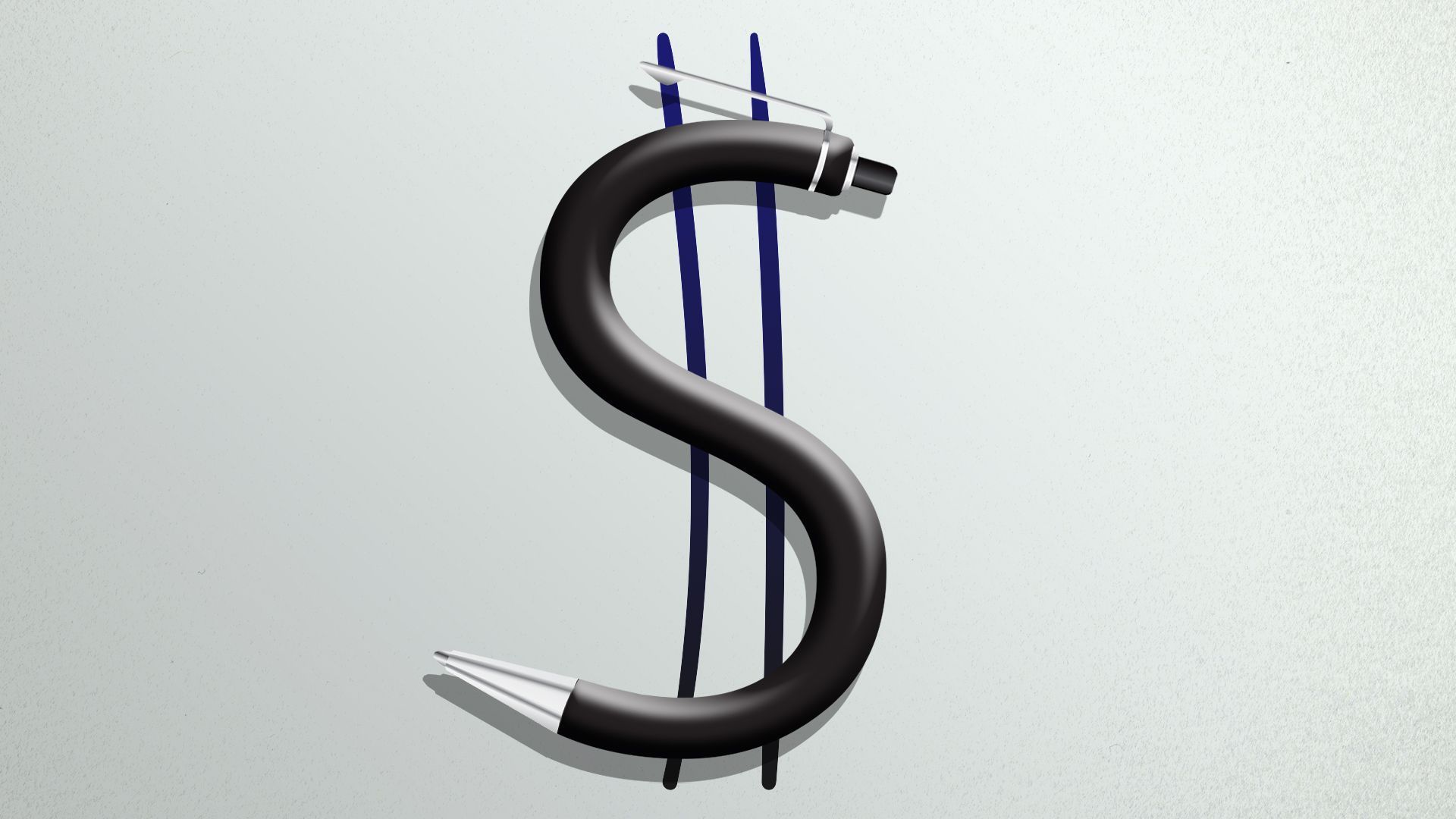 Having a signature signature will cost you, Nathan writes.
State of play: Sure, it's the digital age, but some people still want a good-looking, old-fashioned signature — so much so that they're willing to pay for one.
It's called a "signature makeover," and people tend to get one because "they're tired of the way they sign their names," AP reports.
How it works: A calligrapher provides an array of new signature options, and you commit to practicing your preferred version — sometimes using a stencil for muscle memory.
AP quoted signature designers selling their services for anywhere from $10 to $600.
"It's a way for people to reinvent themselves," St. Louis calligrapher Sonia Palamand says.
💭 Nathan's thought bubble: I wonder if John Hancock was satisfied with his signature.
6. What they're saying
"A good coach will correct your moves, and a great coach will correct your thinking."
— New York City chess coach and national master Jerald Times,
interviewed
by Chess.com to mark Black History Month.
Today's newsletter was edited by Pete Gannon and copy edited by Sheryl Miller.
✏️ Was this email forwarded to you? Sign up here to get Axios Closer in your inbox.