Welcome back!
Invite your friends and colleagues to follow along. Sign up here.
Today's Smart Brevity count: 1,703 words = a ~6 minute read
1 big thing: Urban heat islands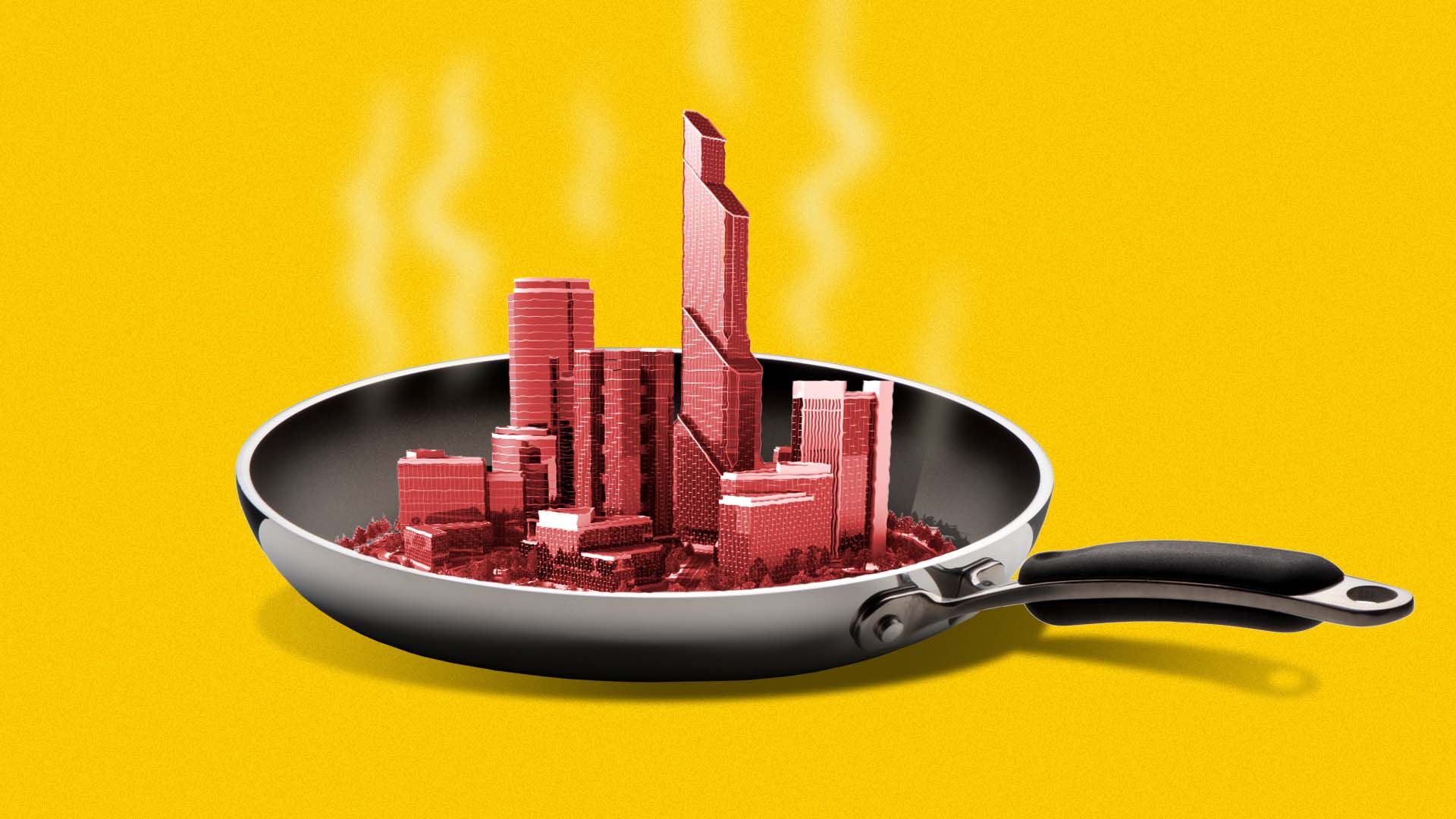 Most U.S. cities are at risk of experiencing extreme heat thanks to the "urban heat island effect" that's causing cities to warm as much as 50% faster than the rest of the country.
The big picture: July was the hottest month ever recorded globally, and it was especially brutal for major metros. Severe heat wreaks havoc on cities' infrastructure and presents serious public health risks.
"The extreme heat we're seeing right now is the result of both climate change and urban development patterns. Cities have to think about the long-term implications of the changing environment."
— Katharine Burgess, vice president of urban resilience at the Urban Land Institute
City planners and developers are rethinking urban design to keep buildings and people cool as temperatures rise, according to a new report by the Urban Land Institute first shared with Axios.
Extreme heat may be a material risk: Moody's, Fitch Ratings and S&P Global warned that credit ratings could take into account cities' strategies for dealing with climate change. That could significantly impact cities' ability to raise capital and finance projects.
Midsized U.S. cities can expect about a 1% GDP loss by 2050 due to increased expenses and reduced growth associated with rising temperatures.
By the numbers: On average, cities are 2°F to 6°F warmer than their surroundings.
Today, cities have on average 10 more extreme heat events per year than they did in the mid-1950s.
What's happening: From an economic perspective, cities that plan for super-hot futures may have a competitive advantage as consumers' preferences change with the weather.
In Houston, a midtown throughway was narrowed to make room for 175 large trees to provide shade cover along the corridor, resulting in a 20-degree temperature reduction in shaded areas.
In Scottsdale, a mixed-use development placed clustered buildings at specific angles to provide shade for each other and to pedestrian walkways. A giant custom shade was installed above the central plaza.
In New York City, parking lots are being turned into green spaces and "cool roofs" are installed throughout the city.
In Toronto, all buildings of a certain size are required by law to install vegetation on rooftops to reduce ambient temperatures. Greening 5% of the city's rooftop areas is estimated to lower citywide temperatures by about 1 degree.
In Los Angeles, where 40% of the city is covered with pavement, roofing materials must meet new sun-reflecting standards, and some city roads are coated with light-colored, reflective coating.
The catch: Heat mitigation measures are expensive, especially for large-scale projects. In the near-term, increasing air conditioning will likely be the go-to cooling method, even though air conditioners give off heat that may increase local temperatures and, through emissions, worsen climate change.
Threat level: The impacts of extreme heat are felt disproportionately by a city's most vulnerable populations — the homeless, elderly, young and those living in poverty. Low-income communities are also less likely to have air conditioning or access to pools or cooling centers.
The bottom line: Severe heat will force cities, especially those in already-warm climates, to find long-term cooling strategies to protect their people, infrastructure and economy.
2. Drug overdose deaths spike in cities
For years, death rates from drug overdoses surged in rural America. But now, overdose death rates are rising faster in cities, according to a newly released data analysis from the Centers for Disease Control.
What's happening: The opioid crisis has devastated many rural areas while heroin deaths are climbing in urban centers.
Deaths involving fentanyl, a potent synthetic opioid that's been a major factor in the drug epidemic, are higher in urban areas. Heroin and cocaine are also bigger problems in cities.
Overdoses linked to natural and semi-synthetic opioids like oxycodone and morphine are higher in rural counties. So are deaths linked to psychostimulants like methamphetamine.
The big picture: Urban and rural America have taken turns in leading the overdose toll, but the rates have never been very far apart. So while cities took the lead since 2016, the real takeaway from the data is that the drug epidemic is everywhere.
One level deeper: A recent analysis of CDC data by Axios' Sam Baker shows that the drug epidemic is hitting hardest in the suburbs of big cities.
Silver lining: The CDC report covers data through 2017, so it does not include provisional 2018 data indicating that drug overdose deaths may be on the decline for the first time in 30 years.
Yes, but: While overdoses from prescription opioids are falling, deaths from fentanyl, cocaine and meth all continued to increase last year.
3. Where faster internet is coming first
Broadband technologies are getting better and faster. But despite efforts to narrow the digital divide, rural areas and low-income neighborhoods in big cities still struggle to have access to reliable and affordable broadband service.
In rural areas, about 30% of residents don't have access to wireline broadband or mobile broadband service. Even fewer have access to both options.
The data: The Federal Communications Commission has acknowledged that its data (used to create the charts above) overstates broadband availability.
That's because companies can report that a census block is served even if only one household gets the service.
The FCC last week voted to require ISPs to provide more detailed data about their network locations.
The agency also proposed allocating $20 billion over 10 years to fund broadband expansion in unserved rural areas.
A stark digital divide still exists in cities, too. Households in cities with the highest poverty rates are up to 10 times more likely than those in higher earning communities to not have access to wireline broadband service at home.
According to 2017 census data, rich communities like Palo Alto, California, and Bethesda, Maryland, have only 6% of households without wireline broadband subscriptions.
But in cities with higher poverty rates like Trenton, New Jersey, and Flint, Michigan, up to 60% of households do not have wired broadband service to their home.
For its part, Comcast yesterday announced expanded eligibility for its program that subsidizes basic broadband service for low-income households.
4. 🗳 Reader poll: Tell me what you're interested in
Thank you for reading. Your time is valuable, and I want to cover the stories you care about. Please click on a link below to vote for the topic you're most interested in. (Choose just one.)
5. San Francisco's next housing battle: Corporate rentals
Airbnb this week acquired Urbandoor, a company that provides "corporate rentals" for business travelers and new employees, typically rented for anywhere between a month to a year, Axios' Kia Kokalitcheva writes from San Francisco.
Why it matters: Airbnb, long acquainted with tensions around home-sharing and short-term rentals, is now stepping into the latest housing controversy in its hometown.
What they're saying: Critics, including some San Francisco legislators, say that these companies are using a "loophole" in local regulations by having a minimum stay of 30 days to avoid the label of short-term rentals.
"What we need is housing for people who will make San Francisco their home, who will enroll their children in our schools, who will become members of the community. Instead, developers are taking advantage of our efforts to streamline and expedite construction, and what does it get us? Not housing, that's what."
— San Francisco supervisor Hillary Ronen
in a statement to the SF Examiner
The other side: The companies argue there's a need for this type of medium-term housing.
"As society becomes increasingly mobile and demands more flexibility, we believe agreeing to live in one place for twelve months at a time will become a thing of the past entirely," a Sonder spokesperson said in an email to Axios.
An Airbnb spokesperson told Axios that the company is committed to helping protect affordable housing.
The bottom line: In cities with severe shortages, controversies around housing are deeply emotional and delicate, regardless of whether companies are following local laws.
6. E-scooters aren't as green as they seem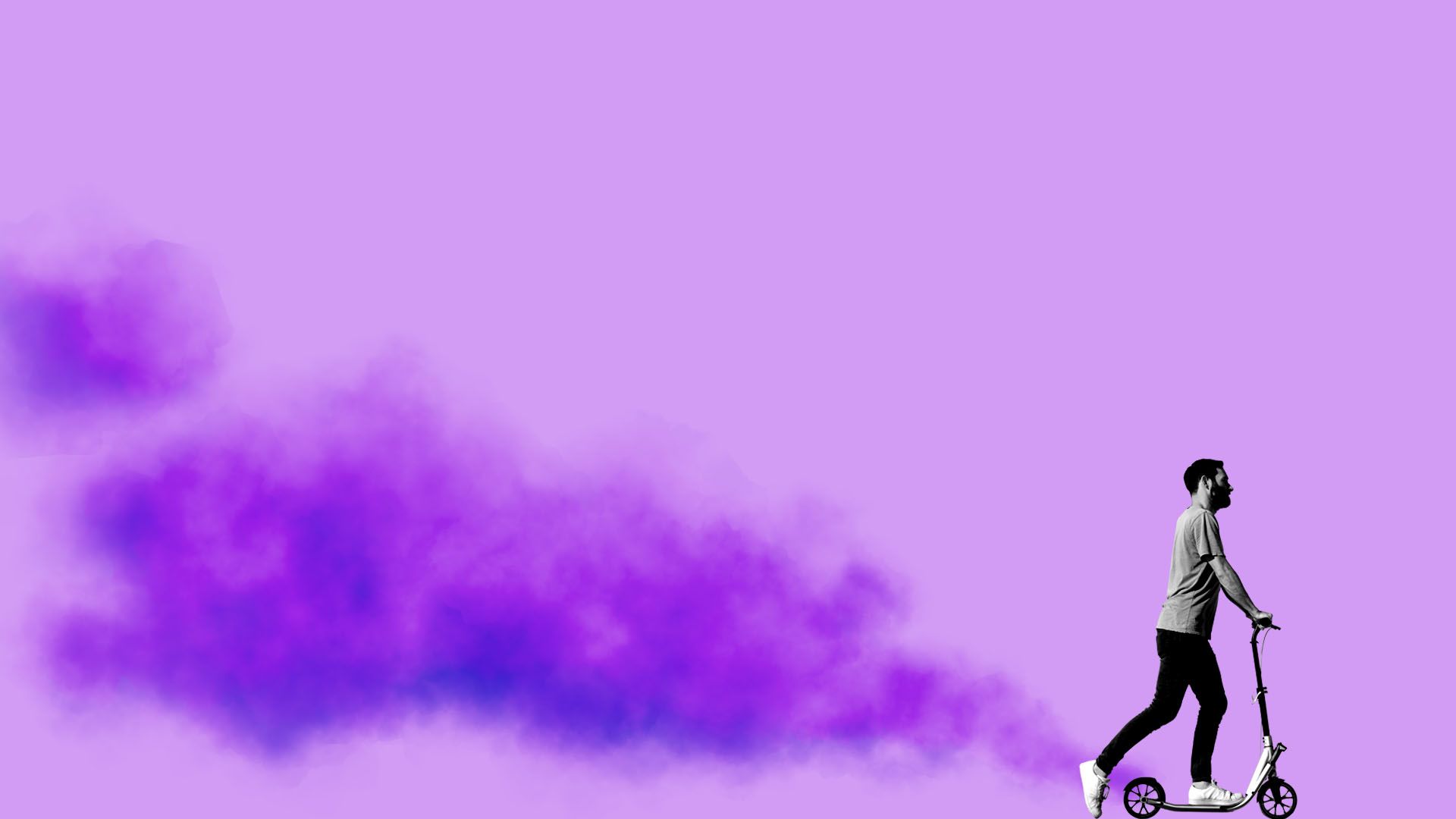 Electric scooters are often worse for climate change when compared to the transportation methods they're displacing, Axios' Amy Harder writes.
A North Carolina State University study shows that "dockless e-scooters consistently result in higher life cycle global warming impacts relative to the use of a bus with high ridership, an electric bicycle, or a bicycle per passenger-mile traveled."
"However, choosing an e-scooter over driving a personal automobile with a fuel efficiency of 26 miles per gallon results in a near universal decrease in global warming impacts."
Yes, but: Roughly half of e-scooter riders say they would have walked or biked (greener options) if it weren't for the scooter, with just one-third saying they would have taken a car instead, according to surveys cited in the study.
That means e-scooters are the less climate-friendly option about two-thirds of the time.
One level deeper: The study finds that the global warming impact of an e-scooter, including how it's made and used, is equal to about half the impact of an average gasoline-powered car per mile traveled.
Go deeper: Scooter companies meteoric rise in one chart
7. Urban files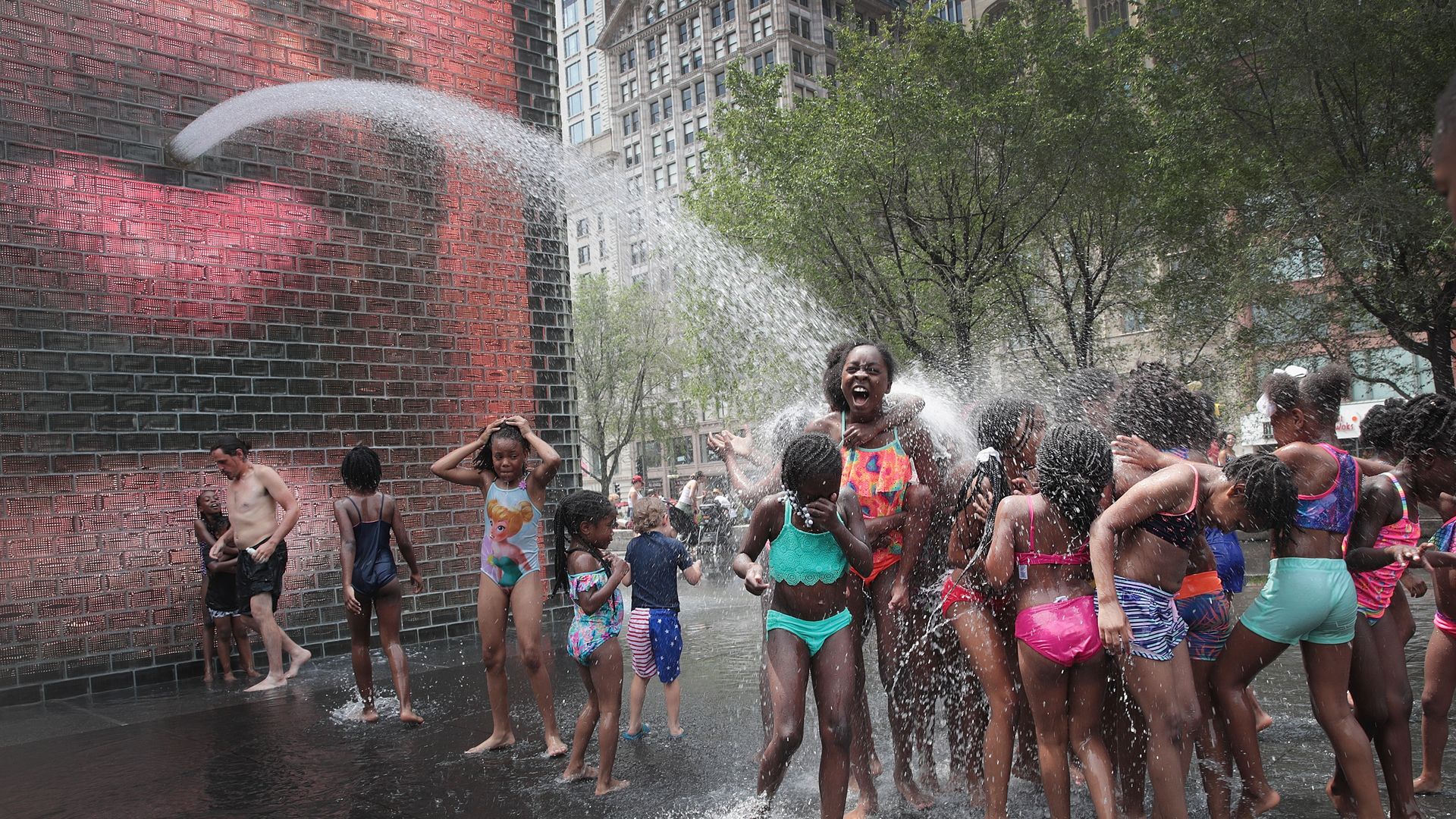 Podcast: A tale of two startup economies (Dan Primack, Axios)
What ride-hailing is really doing to urban traffic (Laura Bliss, CityLab)
Trump says cities are "a mess." They're actually enjoying a golden age. (Griff Witte, Washington Post)
Women are less trusting of self-driving cars (Joann Muller, Axios)
Do tiny-home owners actually live more sustainably? (spoiler: yes) (Maria Saxton, FastCompany)
Suburb in the sky: How Jakartans built an entire village on top of a mall (Kate Lamb, The Guardian)
8. 1 🏠 thing: Antisocial neighbors
Where you live says a lot about how much you like your neighbors, according to a survey of about 1,000 people by Rent.com.
Rural residents reported higher satisfaction with their neighbors than people living in cities. They're also most likely to trust neighbors to care for their pets, house-sit, or keep a spare key to their house.
Urbanites, on the other hand, are least likely to trust their neighbors with much of anything, except jump-starting their car.
That may have something to do with higher cost of rent in cities. Renters who pay less than $700 per month are more satisfied with their neighbors and more likely to trust them than those who pay more.
Other findings:
Baby boomers and people who live in rural areas are much more likely to strike up friendships with their neighbors.
Those with children reported having higher levels of satisfaction with their neighbors.
Renters — especially urbanites and millennials — would pay $225 more a month to choose the folks who live next door.
The bottom line: Overall, people became friends with only 30% of the neighbors they met, and nearly 40% said they weren't friends with any of their neighbors.