Axios China
October 18, 2023
Welcome back to Axios China. This week Putin is visiting Beijing, the Belt and Road Initiative turns 10, and China is continuing its diplomatic push on the Israel-Hamas conflict.
Today's newsletter is 1,506 words, a 6-minute read.
1 big thing: China's Belt and Road pulls Putin closer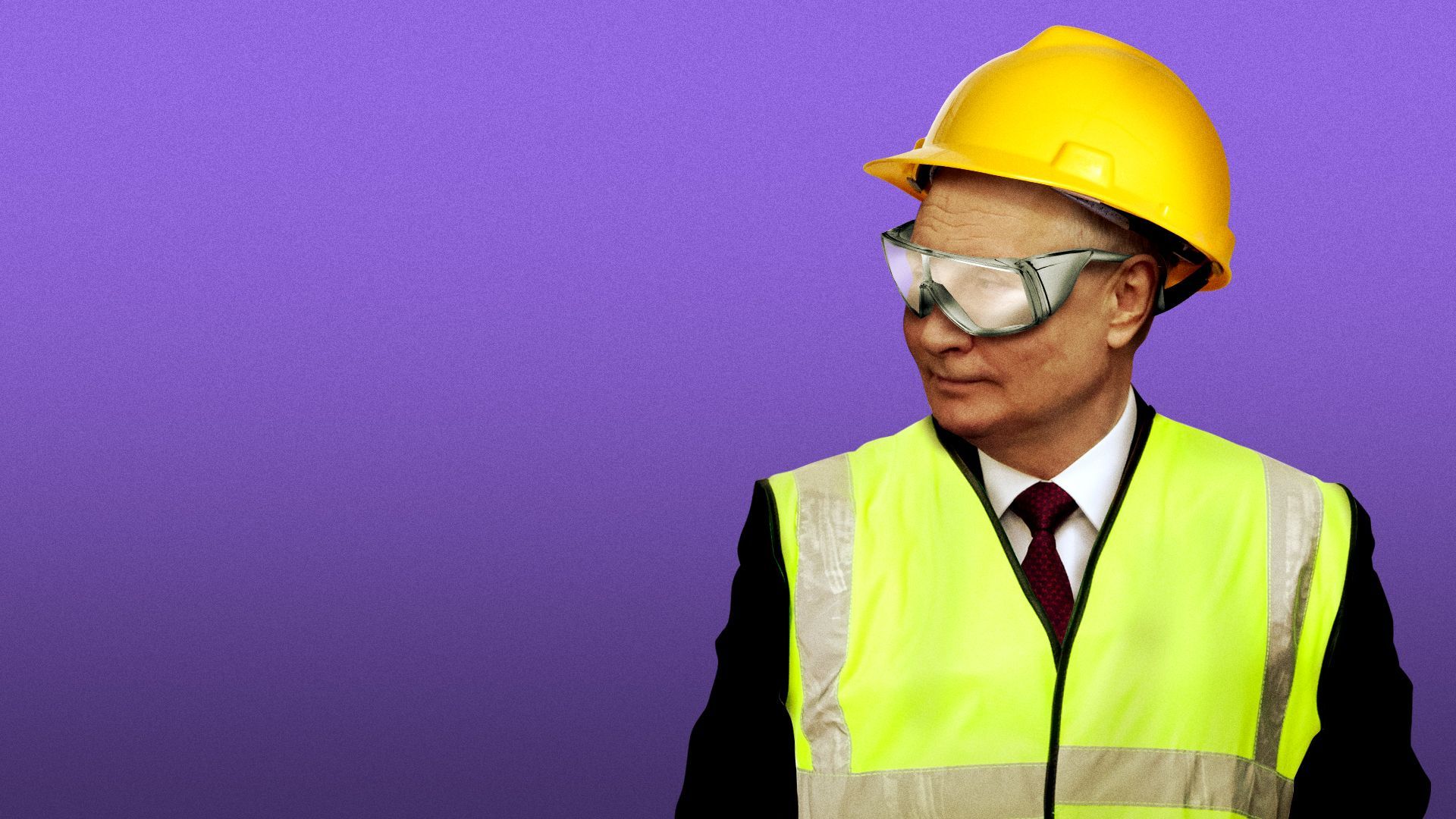 Russian President Vladimir Putin lauded China's Belt and Road Initiative during his visit to Beijing this week, where leaders from more than 130 countries are gathering for the largest international forum China has hosted since before the pandemic.
Why it matters: The Belt and Road Forum demonstrates the convening power Xi Jinping has built in the decade since he launched his signature foreign policy initiative — and the challenge China now poses as Xi envisions China as a rival global power to the U.S.
The initiative has enabled China to encroach on Russia's traditional sphere of influence in Central Asia, but it has also nurtured an emerging authoritarian-friendly alternative global system that benefits the Kremlin's revisionist goals.
Putin is offering full-throated support for China's world order-building project as Western sanctions have cut off much of Russia's access to developed economies.
Putin's visit to China is only his second foreign trip after an international arrest warrant was issued for him in March.
What he's saying: "We welcome President Xi Jinping's initiative and are willing to cooperate to promote the implementation of the initiative," Putin told Chinese state broadcaster CGTN.
"This initiative represents an excellent and correct top-level design that is continually evolving and being implemented," Putin said. "Within the framework of cooperation, no one imposes its will on others."
Putin added that Russia hopes to expand the Eurasian Economic Union — established in 2014 and including member states Russia, Belarus, Kazakhstan, Kyrgyzstan and Armenia — into a "Greater Eurasia, which aligns perfectly with China's Belt and Road Initiative."
Between the lines: Putin echoed Beijing's talking points about the Belt and Road Initiative while also promoting Russia's economic and geopolitical plan for the region as complementary, not competing with, the Belt and Road.
"There is growing realization that China's influence is set to grow in Central Asia," so Russia's leaders are "accommodating this reality," Alexander Gabuev, a senior fellow at the Carnegie Endowment for International Peace, told Axios.
Putin's and Xi's interests in Central Asia also overlap, Gabuev said. "They want to keep secular authoritarian regimes there. They want to keep those regimes not ideological and not Islamist, because in Russia and China's view, that's the best guarantee of stability," and they also "want to keep Western influence at bay."
Details: Trade between China and Russia has risen dramatically over the past year, and it's expected to reach $200 billion by the end of the year, according to Russian projections.
"For Russia, it's very important to substitute the lost markets in the West, and it's very important to keep its economy afloat, especially during the wartime to fuel the war," Yurii Poita, head of the Asia-Pacific section at Ukraine's Center for Army, Conversion and Disarmament Studies, told Axios.
Putin's main goal in showing support for the BRI is to continue to expand Russia's energy, trade and investment ties with China and create greater "strategic depth" in its economic ties, Poita said, while Xi wants to increase China's food and energy security by sourcing more from Russia.
What to watch: The BRI has expanded Beijing's sway around the world, particularly in developing and emerging economies, but Xi is looking to revamp the initiative to make it less risky for international partners, the Wall Street Journal reports.
A growing number of countries have been saddled with unsustainable debt due in part to the infrastructure contracts they signed with Chinese companies through the BRI.
A scaled-down BRI would also be more sustainable for China, which is experiencing serious economic headwinds amid ongoing real estate and debt crises.
2. South Korea caves to China's economic coercion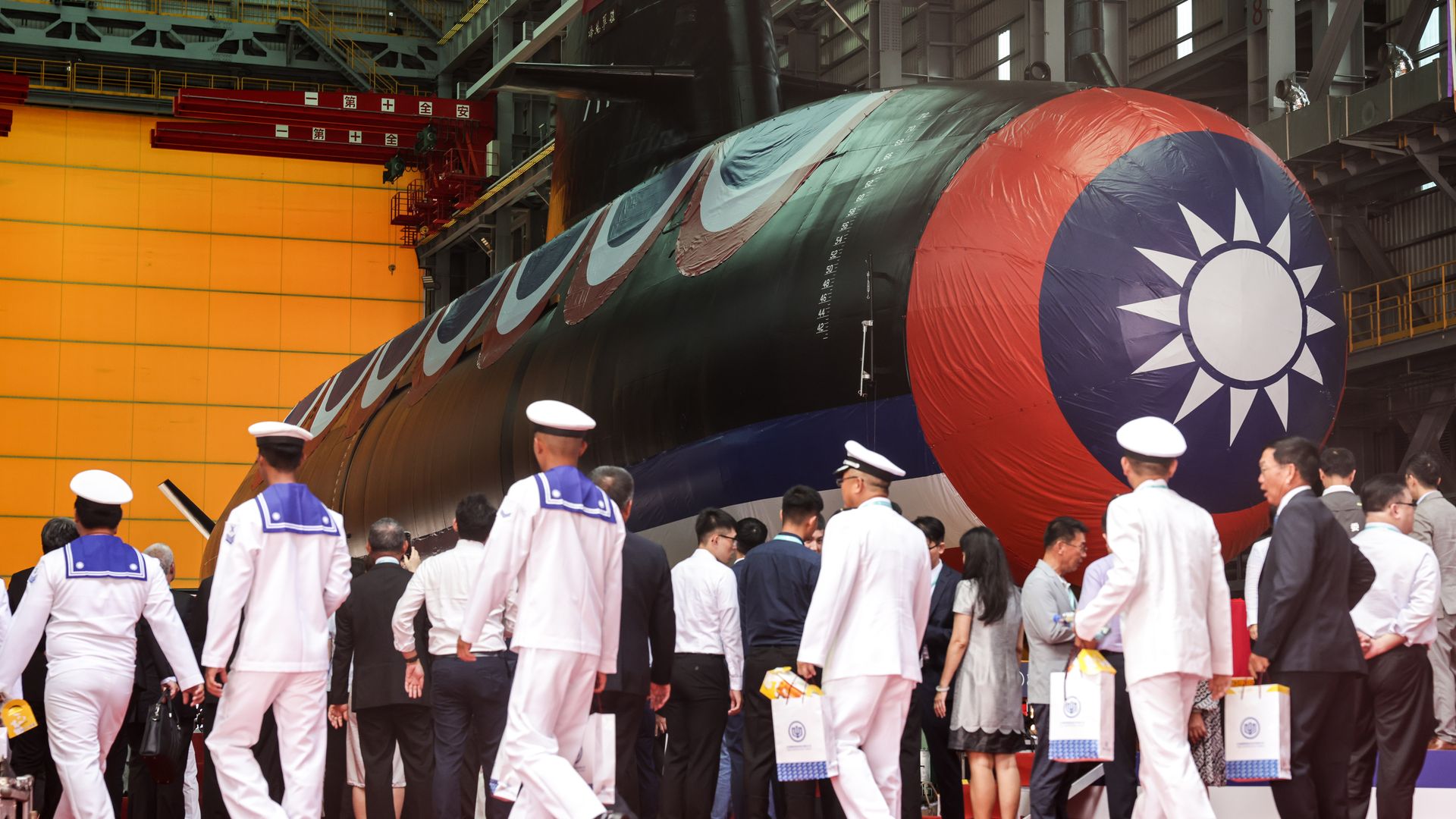 South Korean authorities blocked a Korean company from working on Taiwan's indigenous submarine project due to fears of Chinese economic retaliation, Reuters reports.
The big picture: Economic coercion is a powerful tool that Beijing uses to shape the foreign policy and defense decisions of other countries.
Driving the news: Last month, Taiwan unveiled its first domestically produced military submarine, which is equipped with torpedoes and can lay mines and attack warships.
China had repeatedly sought to block other countries from supplying technology to Taiwan's program, stating that any such assistance would harm diplomatic ties.
Details: New reporting from Reuters shows that South Korean authorities expressed concern about potential Chinese economic pressure when they ordered the arrest of a South Korean company executive last year for violating the country's trade law.
Marine technology company SI Innotec had signed an agreement to supply manufacturing equipment for Taiwan's submarine program.
An arrest warrant was issued for the company's executive director Park Mal-sik in February 2022 and the company was fined in August that year. They have appealed.
What they're saying: The affidavit for the arrest, viewed by Reuters, stated that SI Innotec's submarine agreement "directly impacts the overall security of South Korea" and that police were "concerned about a crisis similar to a second THAAD deployment, such as economic retaliation."
Background: The Chinese government levied sanctions on several sectors of South Korea's economy in 2016 after Seoul said it would deploy the U.S.-made THAAD missile defense system to strengthen its security in relation to North Korea.
3. Catch up quick
1. The Biden administration announced tighter restrictions on the export of artificial intelligence chips and manufacturing equipment to China. Go deeper.
2. The Chinese government is further tightening restrictions on foreign travel by state employees and bankers as part of Beijing's campaign against foreign influence, Reuters reports.
3. Canada's defense minister said Chinese jet fighters carried out a "dangerous and reckless" interception of a Canadian military plane over international waters, The Guardian reports.
The Canadian aircraft was monitoring shipping lanes near North Korea as part of a United Nations economic embargo.
4. Arkansas' attorney general said he will require Northrup King Seed Co., a Chinese state-owned company, to sell 160 acres of land in the northeastern part of the state. Go deeper.
Gov. Sarah Huckabee Sanders said it's the first known instance of a state enforcing a law targeting land ownership by foreign countries the U.S. considers adversaries.
4. China makes diplomatic push on Israel-Hamas war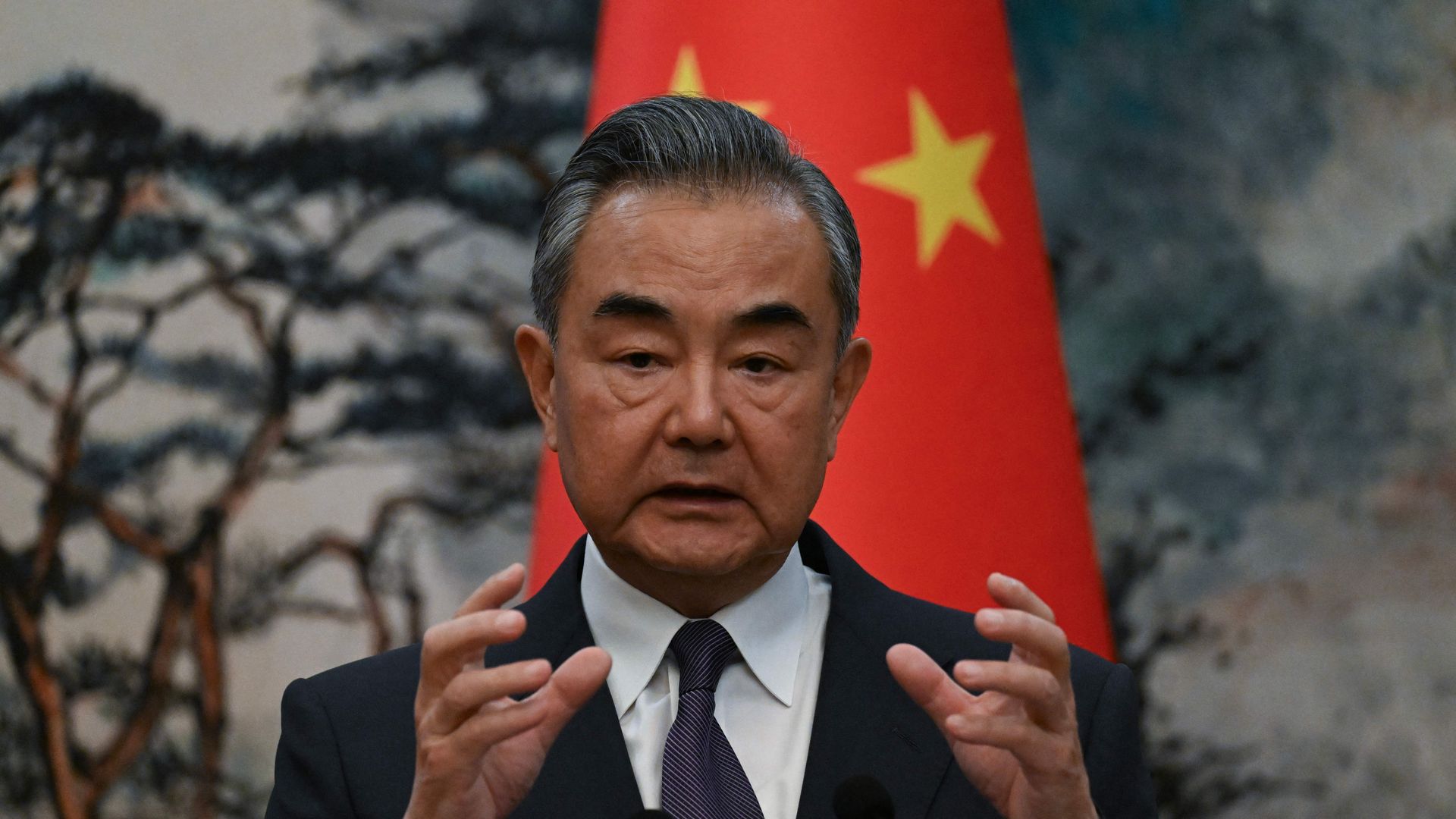 China's Foreign Minister Wang Yi is making phone calls all across the Middle East, the U.S. and elsewhere as Beijing pushes for a ceasefire and warns Israel against "collective punishment."
Why it matters: Beijing is presenting itself as a regional peacemaker while trying to capitalize on the soft power boost it may receive among Arab states and the global South for its criticism of Israeli government policies.
Chinese government officials have condemned violence against civilians but not denounced Hamas by name.
What they're saying: Wang spoke with U.S. Secretary of State Antony Blinken in a phone call over the weekend, calling for an "international peace conference" as soon as possible and warning the conflict "risks getting out of control."
Wang also spoke over the weekend with Saudi Arabia's foreign minister, saying that Israel's actions had "gone beyond self-defense" and violate human rights. Both agreed that an independent Palestinian state should be established.
Wang also held a phone call with Iran's foreign minister, who said Iran is ready to strengthen communication with China to help resolve the conflict, according to a Chinese readout of the call. Wang said China is willing to work with Muslim countries to speak with "one voice" on the Palestinian issue.
In a meeting in Beijing on Monday, Wang told Russian Foreign Minister Sergei Lavrov that the United Nations Security Council "must take action, and the major powers should play an active role." Wang also said an emergency humanitarian channel should be established.
Meanwhile at a UN Security Council meeting, China's permanent representative Zhang Jun called for a ceasefire, condemned violence against civilians, and urged Israel to "stop the collective punishment of the people of Gaza."
5. What I'm reading
Speaking out: Australian says China imprisoned her for sharing a document (Bloomberg)
"Australian journalist Cheng Lei said China jailed her for sharing an official briefing document just before the government released it, an act that led to some three years of detention."
"Cheng said she had recurring nightmares while in prison and felt like she was 'buried alive.' She said she would imagine conversations with her loved ones or listen to fake radio stations in her head."
Code War: How China's AI ambitions threaten U.S. national security (American Security Project)
"If roadblocks are not applied now, American AI innovators may be the vanguards leading the Chinese Communist Party's transition to fifth-generation warfare."
"It is possible and necessary for the Department of Defense and Congress to oversee research and development, introduce ethical and responsible legislation, and enforce auditing and oversight mechanisms of artificial intelligence technologies with explicit military capabilities."
6. 🍷 1 wine thing: China may lift punitive tariffs on Australia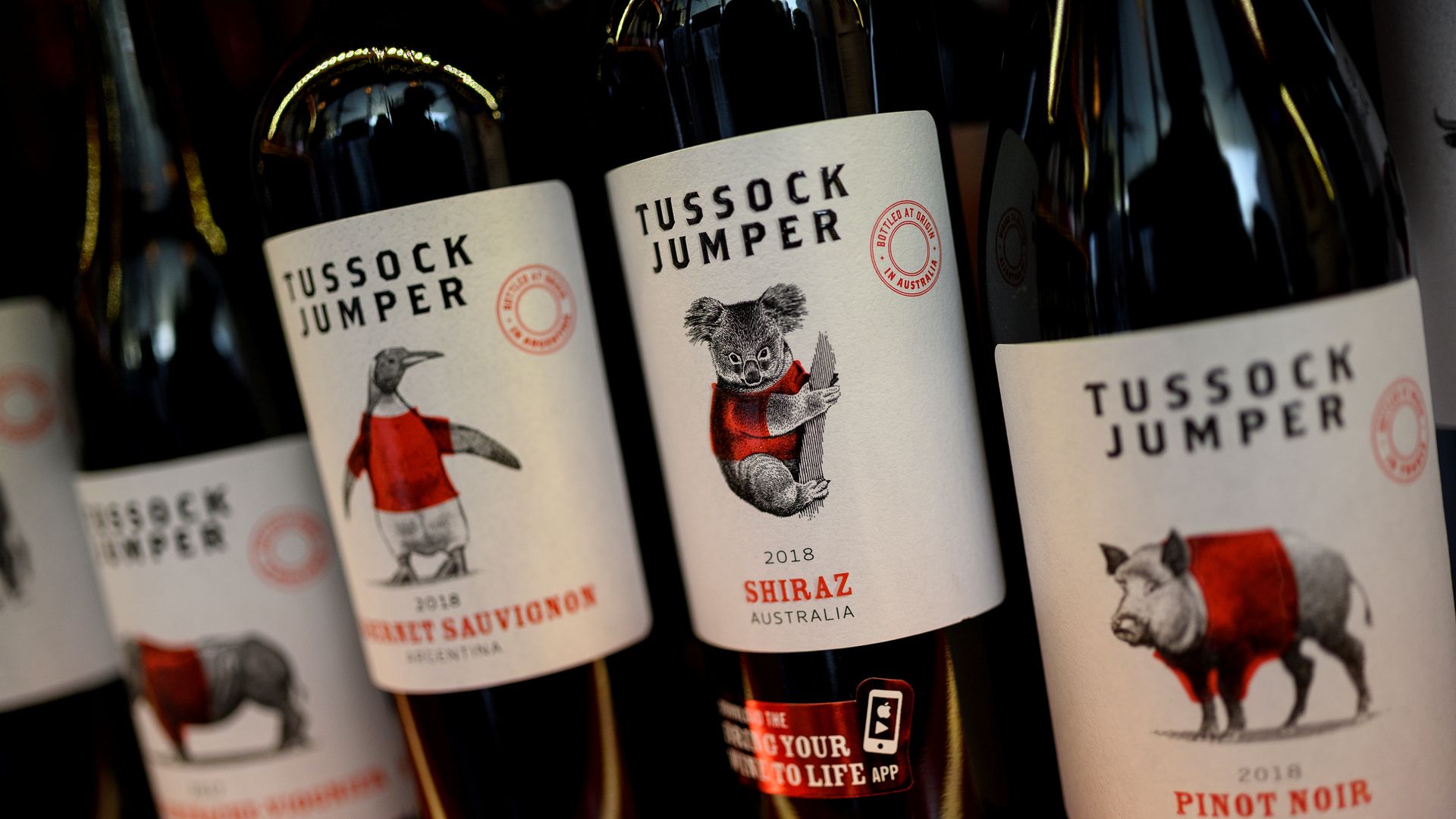 The China-Australia relationship is improving. Australian journalist Cheng Lei has been released after years in detention in China, and now it looks like Chinese consumers may soon have the chance to enjoy reasonably priced Australian wine.
Beijing and Canberra have agreed to discuss China's punitive tariffs on Australian wine, which have been in place since 2020 after then-Prime Minister Scott Morrison called for an independent investigation into the pandemic's origin.
Chinese Ambassador to Australia Xiao Qian said he expects "positive outcomes" in the coming weeks, Bloomberg reports.
A big thank you to Alison Snyder and Laurin-Whitney Gottbrath for edits, Sheryl Miller for copy edits and Shoshana Gordon for visuals.