Biden administration announces new restrictions on exporting AI chips to China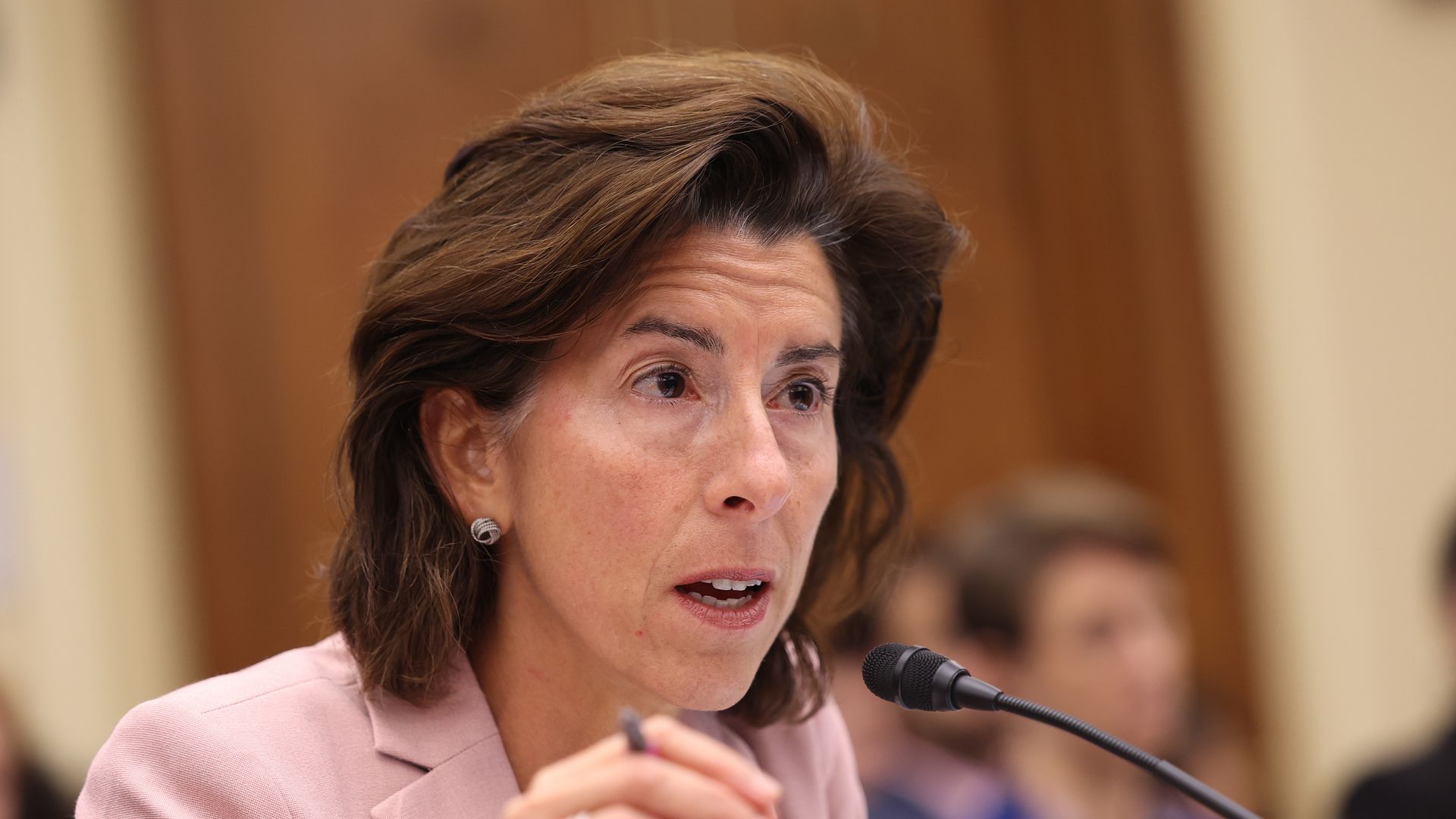 The Biden administration is tightening its restrictions on the export of artificial intelligence chips and manufacturing equipment to China, Commerce Secretary Gina Raimondo announced on Tuesday.
Why it matters: The new restrictions are designed to prevent China's military from importing advanced semiconductors or equipment.
"These export controls are intended to protect technologies that have clear national security or human rights implications," Raimondo told reporters.
"The goal is the same goal that has always been, which is to limit PRC (People's Republic of China) access to advanced semiconductors that could fuel breakthroughs in artificial intelligence," she said.
"It's true that AI has the potential for huge societal benefits," she said. "But it also can do tremendous and profound harm if in the wrong hands and in the wrong militaries."
Driving the news: The Commerce Department is revising the controls it announced last October by publishing fresh guidance today.
Officials expect to update the regulations on an annual basis, if not more frequently.
Raimondo and Treasury Secretary Janet Yellen both gave their Chinese counterparts advanced notice about the imminent changes when they visited Beijing over the summer. But they didn't share precise details about the changes.
The big picture: The revised guidelines are part of a broader administration effort to maintain military superiority over China.
In August, Biden signed an executive order to impose restrictions on outbound investments into China's semiconductor, artificial intelligence and quantum computing industry with the goal of preventing the transfer of know-how from America's leading venture capital firms to Chinese start-ups.
They come as Biden and Chinese President Xi Jinping work to repair relations between the two countries, with a potential visit by Xi to San Francisco next month.
What we're hearing: Administration officials insist that they do not want to hinder China's economy or harm the global chips industry.
"We don't want to be more restrictive than necessary," Raimondo said. "The export controls are not designed to impair China's economic growth."
Officials also worked with the semiconductor industry and solicited their feedback as they drafted the updated rules.
Between the lines: Some restrictions will now also apply to subsidiaries that are located outside of China, officials said.
The goal is to thwart any effort to circumvent the rules by buying advanced semiconductors through subsidiaries or third parties in other countries.
Chips that are sold in what officials called a "gray zone" won't be banned outright but will face greater scrutiny.
"We want to be able to monitor movements of chips in that area," an administration official.
The bottom line: The new rules only apply on the most advanced chips and those just below them.
"The vast majority of semiconductors will remain unrestricted," Raimondo said.
Go deeper