Axios AM
September 19, 2017
Good Tuesday morning, and happy 10th to Joe, Mika, Willie, Alex, Daniel, Jesse and the whole "Morning Joe" family. I'll be joining today's special anniversary show — many years of good times and "Hap-PY Friday!"s.
Situational awareness: Vice President Pence, who was scheduled to be at the U.N. all day, is returning to D.C. "to attend the GOP Senate policy lunch ... with the message that Congress should deliver on the promise to repeal and replace Obamacare," per his office.
1 big thing: See no evil, hear no evil, do no evil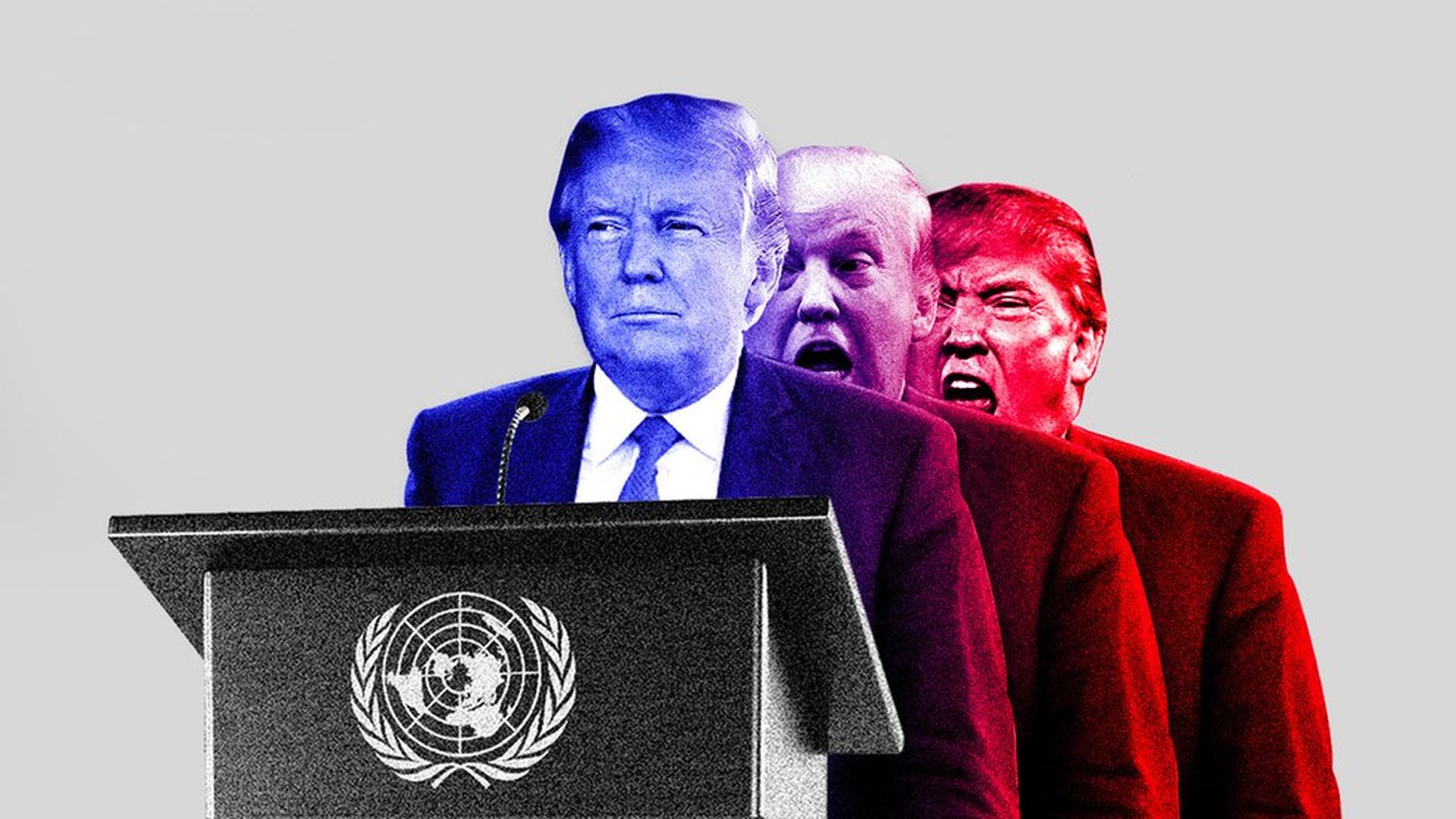 The Kelly Effect ... Who is around President Trump matters much more than with most presidents, because of his impulsiveness, lack of ideology and willingness to make snap decisions.
So if you wonder why President Trump has been willing to seriously entertain — and in one case so far, execute — policies that would've been anathema to Campaign Trump, it's partly because of the feedback loop built by Chief of Staff John Kelly and the process adhered to by the national security team before briefing Trump.
Trump's exposure to populist nationalism is now close to zero.
Look for the latest version of Trump to be on display when he speaks to the U.N. General Assembly at 10:30 this morning.
Why it matters: Kelly and Staff Secretary Rob Porter pick and choose what information gets to Trump and who's allowed to weigh in, that's supreme power. Trump is totally willing to flip positions — or take an instant stance on a new issue — if presented with compelling evidence in the moment.
When Reince Priebus was chief of staff, aides scrambled to get info — usually highly visual — in front of Trump at key decision points, like the time Agriculture Secretary Sonny Perdue brought a map to the Oval to show Trump which states would be hardest hit if he terminated NAFTA.
Bannon would often work Trump over on the phone, and other aides would try to figure out what he'd said to gin up the boss. (The snap transgender decision was partly a Bannon-on-the-telephone production.)
People who know Trump well say it's not so much that he's easily manipulated, but that he trusts Kelly, Porter, Jared Kushner, etc., to be honest brokers.
Here's how we're seeing the effect, based on reporting by Jonathan Swan and me:
Trump's willingness to publicly entertain an immigration deal that doesn't include funding for the wall would have been unimaginable to Campaign Trump or Travel Ban Trump.
No administration official we talked to at the time thought that Trump was being sincere when he originally said he'd be open to staying in the climate deal if more favorable terms were offered to the U.S. On Sunday, Trump officials were on the shows saying exactly that.
Trump's decision to raise troop levels in Afghanistan is testament to the power of a unified, controlled info flow to Trump. National Security Adviser McMaster, SecDef Mattis, CIA Director Pompeo, SecState Tillerson, et al. were all on the same page and they kept showing Trump -- with highly detailed and planned presentations -- why it'd be a disaster if he presided over a troop drawdown like Obama in Iraq.
Trump's instincts were strongly against adding to troop levels -- he really didn't want to do it. Part of the reason he kept veering was because he had Steve Bannon in his ear: Bannon would circumvent the National Security Council process and go straight to Trump, feeding the president's natural impulses and convincing him that his alternative solution of private contractors was viable.
Be smart: Now that Steve Bannon and other circumventers are gone or marginalized, it's easier for the team to shape Trump's perceptions on certain issues. Some Trump decisions — that would have been surprising in the past — are the natural result of the highly controlled information he sees and voices he hears.
Trump still has Dan Scavino, the former caddy and Trump Org employee who ran social media on the campaign and now at the White House. If you're wondering why Trump is tweeting a clip of him hitting Hillary Clinton with a golf ball, that's the out-of-hours world in the residence that's still largely Trump's own.
2. Mueller's muscle
"U.S. investigators wiretapped former Trump campaign chairman Paul Manafort under secret court orders before and after the election, ... an extraordinary step involving a high-ranking campaign official now at the center of the Russia meddling probe," per CNN's Evan Perez, Shimon Prokupecz and Pamela Brown:"The government snooping continued into early this year, including a period when Manafort was known to talk to President Donald Trump.""As part of the FISA warrant, ... earlier this year, the FBI conducted a search of a storage facility belonging to Manafort."The reporters said on CNN that Trump may have been picked up on the Manafort recordings, and said it's unknown if the warrant remains in effect.
"Dispensing with the plodding pace typical of many white-collar investigations, Mr. Mueller's team has used what some describe as shock-and-awe tactics to intimidate witnesses and potential targets of the inquiry," the N.Y. Times' Sharon LaFraniere, Matt Apuzzo and Adam Goldman report in the paper's lead story:
"Paul J. Manafort was in bed early one morning in July when federal agents bearing a search warrant picked the lock on his front door and raided his Virginia home.
"They took binders stuffed with documents and copied his computer files, looking for evidence that Mr. Manafort, President Trump's former campaign chairman, set up secret offshore bank accounts.
"They even photographed the expensive suits in his closet."
"Mueller has obtained a flurry of subpoenas to compel witnesses to testify before a grand jury, lawyers and witnesses say, sometimes before his prosecutors have taken the customary first step of interviewing them."
Why it matters: "Few people can upend Washington like a federal prosecutor rooting around a presidential administration."
N.Y. Times Quote of the Day ... Solomon Wisenberg, a veteran of the investigation that led to the impeachment trial of President Clinton, referring to aggressive tactics by Mueller and his prosecutors, "They are setting a tone. It's important early on to strike terror in the hearts of people in Washington, or else you will be rolled."
Be smart: These leaks show that Mueller has much more information about Trumpworld than had been known, with exponentially more risk to the president and his associates. Like with the Nixon tapes, there are recordings that the president's men fear. And Mueller's team clearly wants others in their sights to know it.
3. Hill wants more from Facebook
"Facebook's openness questioned on the Hill," WashPost's Carol Leonnig, Elizabeth Dwoskin and Craig Timberg report on the front page:
"House and Senate investigators have grown increasingly concerned that Facebook is withholding key information that could illuminate the shape and extent of a Russian propaganda campaign aimed at tilting the U.S. presidential election."
"Among the information Capitol Hill investigators are seeking is the full internal draft report from an inquiry the company conducted this spring into Russian election meddling but did not release at the time."
Axios' David McCabe goes inside Facebook's response: "Facebook's top security executive Alex Stamos, who used to work for Yahoo, ... bylined the disclosure of $100,000 worth of ad buys Russian-linked actors used in some cases to promote posts about divisive political issues before and after the election, and co-authored a paper that tackled the issue back in April."
Be smart: Facebook's full-court press sends a message that this isn't just a huge moment for the company's political reputation, but for its business as well.
Bonus: Tweet du jour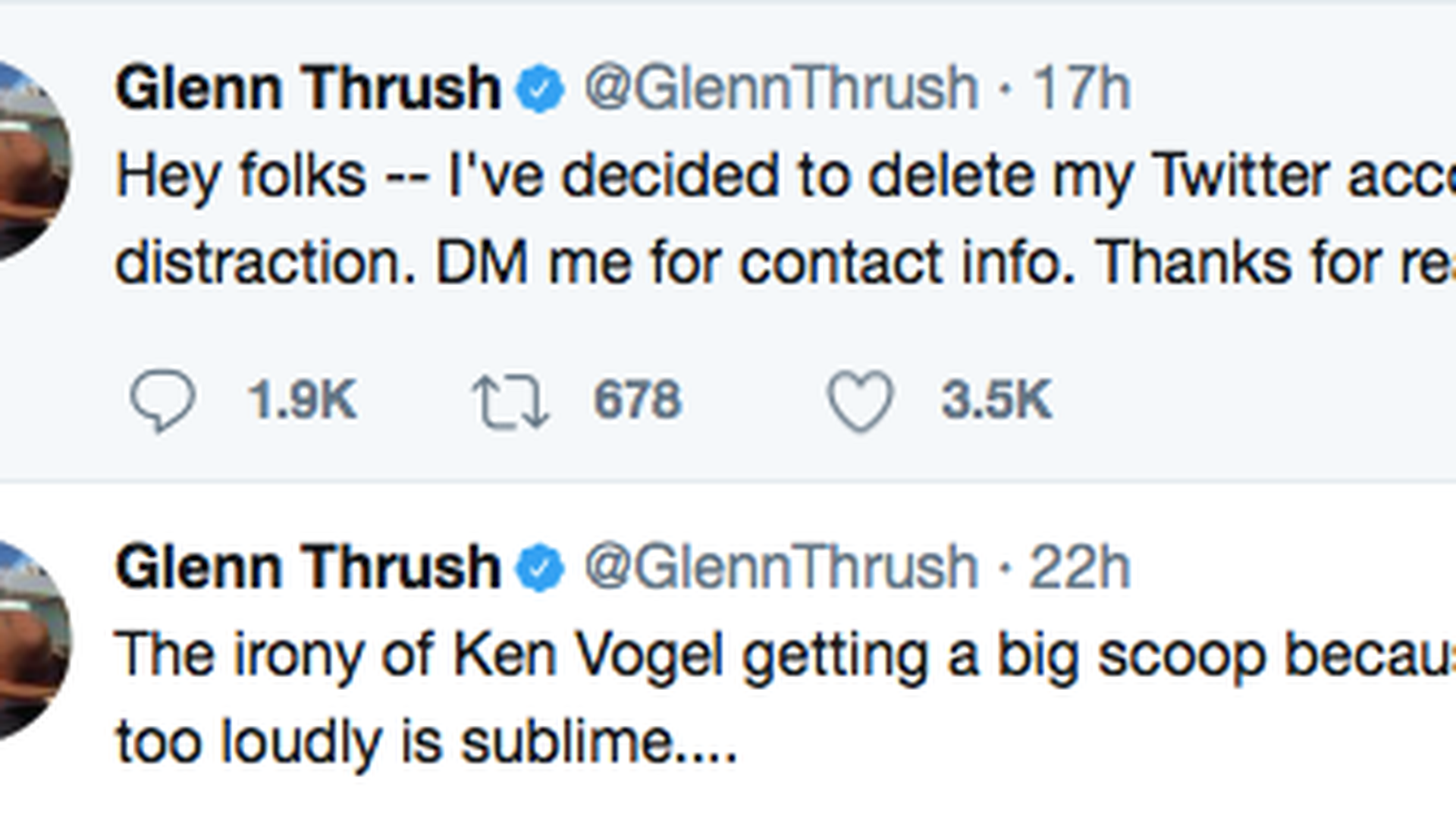 Glenn Thrush, N.Y. Times White House correspondent, signs off Twitter: "This account is dormant as of 9/19/17."
His original plan to "delete" his account was obviated by practicality: "Deleting just means someone else, maybe someone bad, grabs the name and ppl think it's me. Corp. folks insisted."
4. Media trends
"Emmys bump Hulu to a new level," by L.A. Times' David Ng and Ryan Faughnder:
"Not long ago, Hulu was known primarily as a streaming service for viewers who wanted to relive the glory days of 'Seinfeld.'""All that changed this year with 'The Handmaid's Tale,' Hulu's feminist sci-fi series that became a national conversation starter and its biggest success to date.""On Sunday, the series ... took home five Emmy Awards ... tying HBO's 'Big Little Lies' for the most wins of the year."Why it matters: "'The Handmaid's Tale' is the first streaming show to win the [outstanding] drama series award — a feat that neither Netflix nor Amazon could accomplish — and signals Hulu's ascent to the top ranks of TV."More on Hulu's big night.See the scoops from today's edition of Sara Fischer's weekly Media Trends newsletter.
5. Big questions
David Brooks column in N.Y. Times today, on "The Four Kinds of Happiness": '
The lowest kind of happiness is material pleasure, having nice food and clothing and a nice house. Then there is achievement, the pleasure we get from earned and recognized success. Third, there is generativity, the pleasure we get from giving back to others. Finally, the highest kind of happiness is moral joy, the glowing satisfaction we get when we have surrendered ourselves to some noble cause or unconditional love.
Worth pondering when you're walking, running, riding: Which of these do you have for yourself? And which of these are you giving away sharing with those you love, respect and serve?
6. Morning Joe 🎂🎂🎂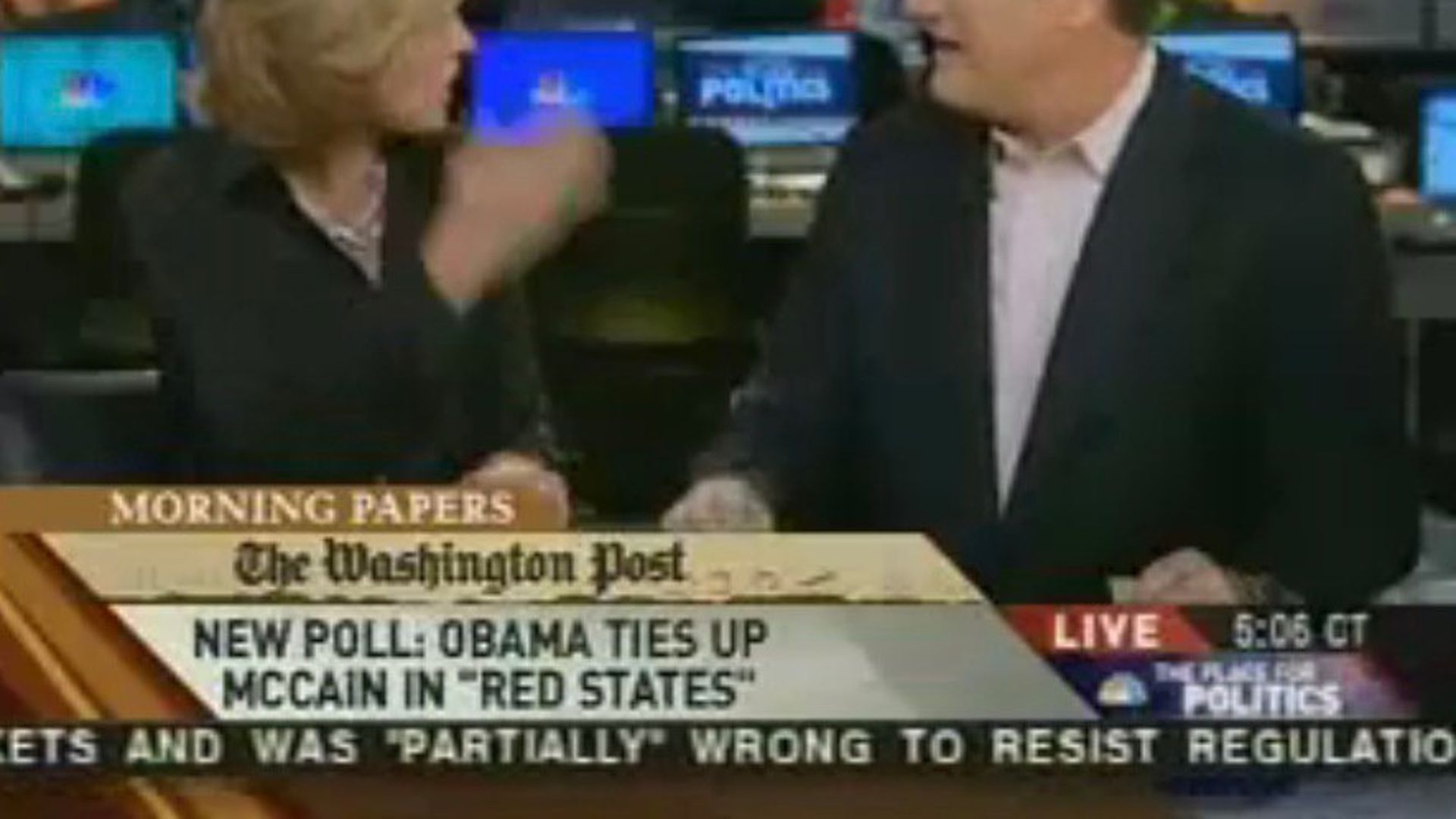 "Morning Joe" — which originally drove breakfast conversation from then-MSNBC HQ in Secaucus, N.J. — today celebrates 10 years on the air, with New York Mayor Bill de Blasio proclaiming "Morning Joe Day" in the city, live from 30 Rock's Studio 8H.
When "Joe" launched, the big story was the surge of a senator from Illinois named Barack Obama.
Popular segments: "Morning Papers" and "News You Can't Use" with Willie Geist.
The show kicked off the anniversary with a #MJ10sweepstakes on Twitter. The winners, Fran and Steve Kinross, are flying all the way from Utah.
7. The Fed's "Great Unwinding"
The Federal Reserve "is likely to announce [tomorrow] it will start slowly shrinking its $4.2 trillion portfolio of mortgage and Treasury bonds purchased during and after the financial crisis," the Wall Street Journal's Nick Timiraos writes on the front page:
"The markets haven't blinked at Fed signals for many months that this moment was nearing. But plenty could still go wrong. The central bank has never before had such a large balance sheet or attempted to do this."
Why it matters: "If it succeeds, the central bank will quietly close a chapter on an extraordinary policy experiment that lowered borrowing costs for homeowners, businesses and consumers, and will provide a model for other central banks that followed suit."
"A misstep could disrupt growth at a time when major economies are finally expanding in sync."
P.S. "Toys 'R' Us, Once a Category Killer, Is Forced Into Bankruptcy: After falling behind online, the big-box chain seeks relief from debt added in leverage buyout," per The Journal's front page:
"Toys 'R' Us plans to close some underperforming stores ... Its remaining locations would be reconfigured to be more experienced-based, incorporating amenities such as in-store play areas."
"The company expects most of its stores will be open for the holidays and it will use $3 billion in bankruptcy financing to continue buying merchandise."
8. The talk of tech
USA Today front page, "Asian women fight to crack through Silicon Valley ceiling," by Jessica Guynn in S.F.:
"By most measures, Asians and Asian Americans are well represented in tech, with 41% of jobs in Silicon Valley's top companies."
"Though Asian women hold fewer of those jobs than Asian men, they're employed in far greater numbers than other women of color, leading some to assume they do not face the same levels of discrimination as African Americans and Latinas."
"Yet research from Joan C. Williams, a professor at UC Hastings College of the Law, shows that Asian women report experiencing as much bias, and sometimes more, than other women do."
"And Asian women are the demographic group that is the least represented in the executive suite relative to their percentage in the workforce, according to a study of major San Francisco Bay Area tech companies by the nonprofit Ascend Foundation."
9. Trump alumni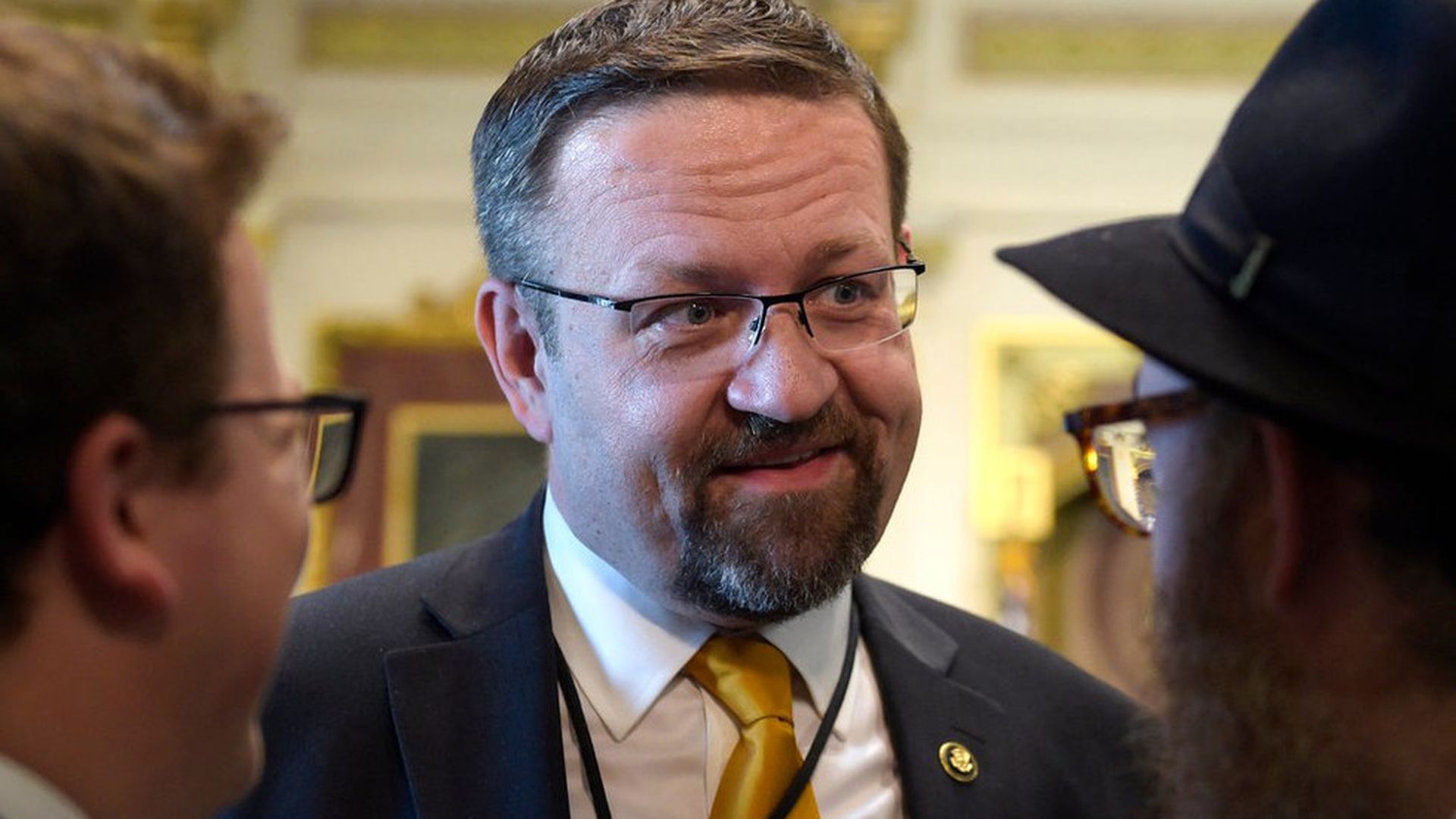 Sebastian Gorka has found a new home. It's called the "MAGA Coalition" — a new outside group to support political candidates that will "compete against globalist corporatists interests," Jonathan Swan reports:
Little is known about the group. A source familiar with Gorka's arrangements tells me he's signing on as "chief strategist," the same title his former boss Steve Bannon held when the two worked together in the White House.
Gorka's first outling with the group: He's co-headlining a rally with Sarah Palin in Montgomery, Alabama, Thursday night. The Palin-Gorka rally will promote Roy Moore, the controversial anti-establishment candidate running against incumbent Sen. Luther Strange.
The MAGA Coalition is co-sponsoring the Palin-Gorka rally with Great America Alliance, the Bannon-aligned outside group.
Why it matters: Think about this. A month ago, Gorka and Steve Bannon were working in President Trump's White House. Now they are preparing to go head-to-head against the president to support an anti-establishment candidate who is loathed by the same establishment that originally loathed Trump.
10. 1 fun thing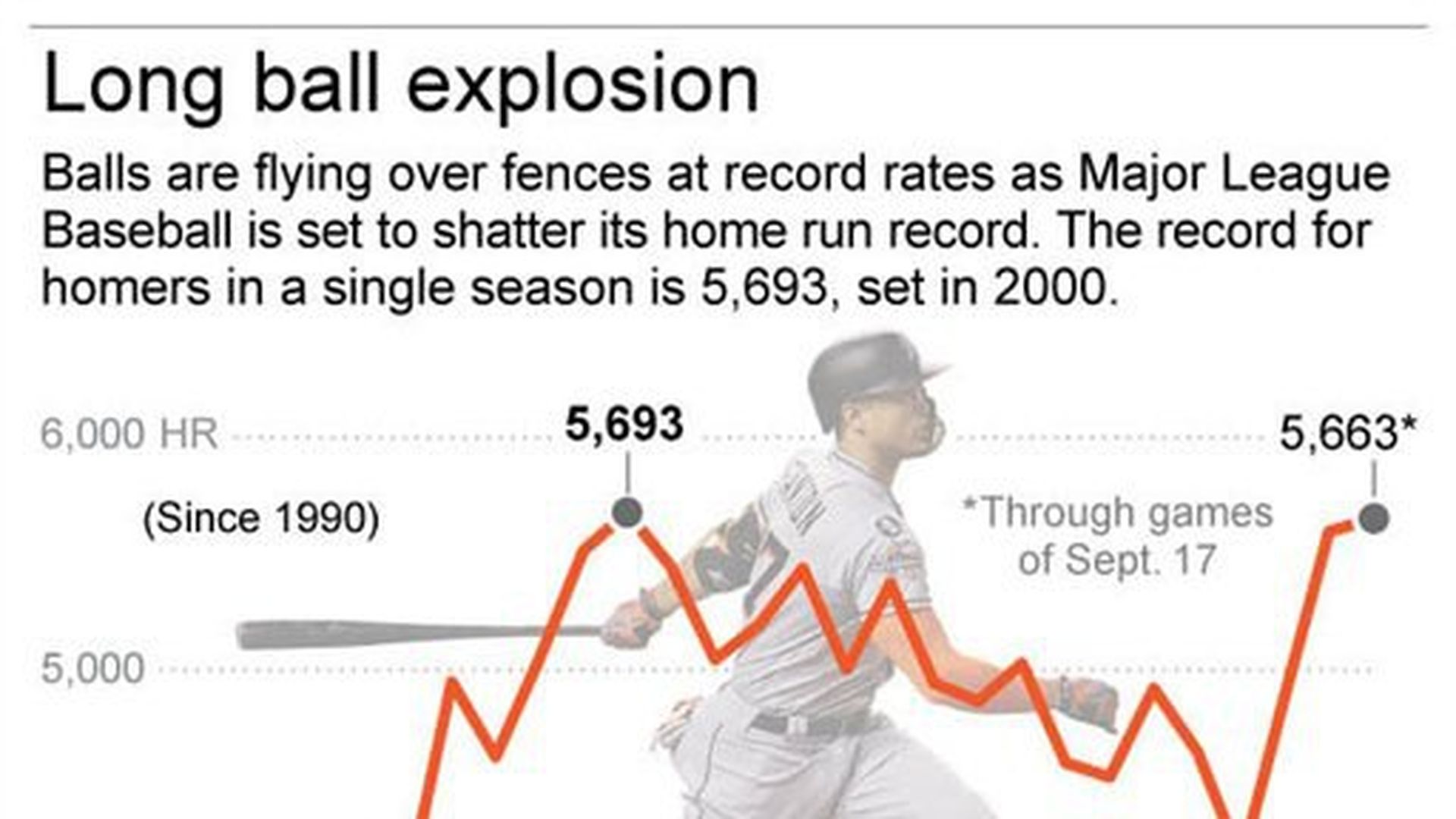 Summer of the slugger ... "Major League Baseball is on track to break its season record for home runs [today] with nearly two weeks left in the season," per AP's Ronald Blum:
"There were 5,677 home runs hit through Monday, 16 shy of the record set in 2000 at the height of the Steroids Era. With 15 games on the schedule, this should be the day that Giancarlo Stanton, Aaron Judge, Cody Bellinger or some other big popper puts 2017 over the top."
"There were 5,610 homers last year, an average of 2.31 per game, and this year's average of 2.53 projects to 6,143. That would be up 47 percent from 4,186 in 2014."
Major League Baseball Commissioner Rob Manfred: "I don't think that we are ever going to have a single explanation for exactly why we've see so many ... But players are bigger and stronger. They're playing a little differently, in terms of the way they swing. Pitchers throw harder."
New York Yankees manager Joe Girard: "The game has changed ... From when I started, there's a lot less stolen bases, there's a lot less bunting, there's a lot less hitting-and-running. You don't give outs away, and you let guys swing the bat."
"Already 107 players have hit 20 homers this year, just three shy of the record set last season — and up from 64 in 2015, according to the Elias Sports Bureau."