Good Tuesday morning. Philly readers ... Please join me tomorrow at 3:30 p.m. at the National Constitution Center as I interview former Vice President Biden and Dr. Jill Biden, along with tech entrepreneur Sean Parker, on the future of cancer care. RSVP here.
Situational awareness: Trump approval erodes slightly in selected "Trump counties" he won in 15 battleground states, per Wall Street Journal/NBC News poll ... Wall Street Journal A1: "Walt Disney Co. recently held talks to purchase a large chunk of 21st Century Fox's entertainment businesses, ... signaling that ... Rupert Murdoch is open to a surprising restructuring of his empire."
https://www.axios.com/newsletters/axios-am-ba496930-2cb5-46d2-a13d-b2678eaca2f5.html?chunk=0#story0
1 big thing: Impact of Big Tech hearings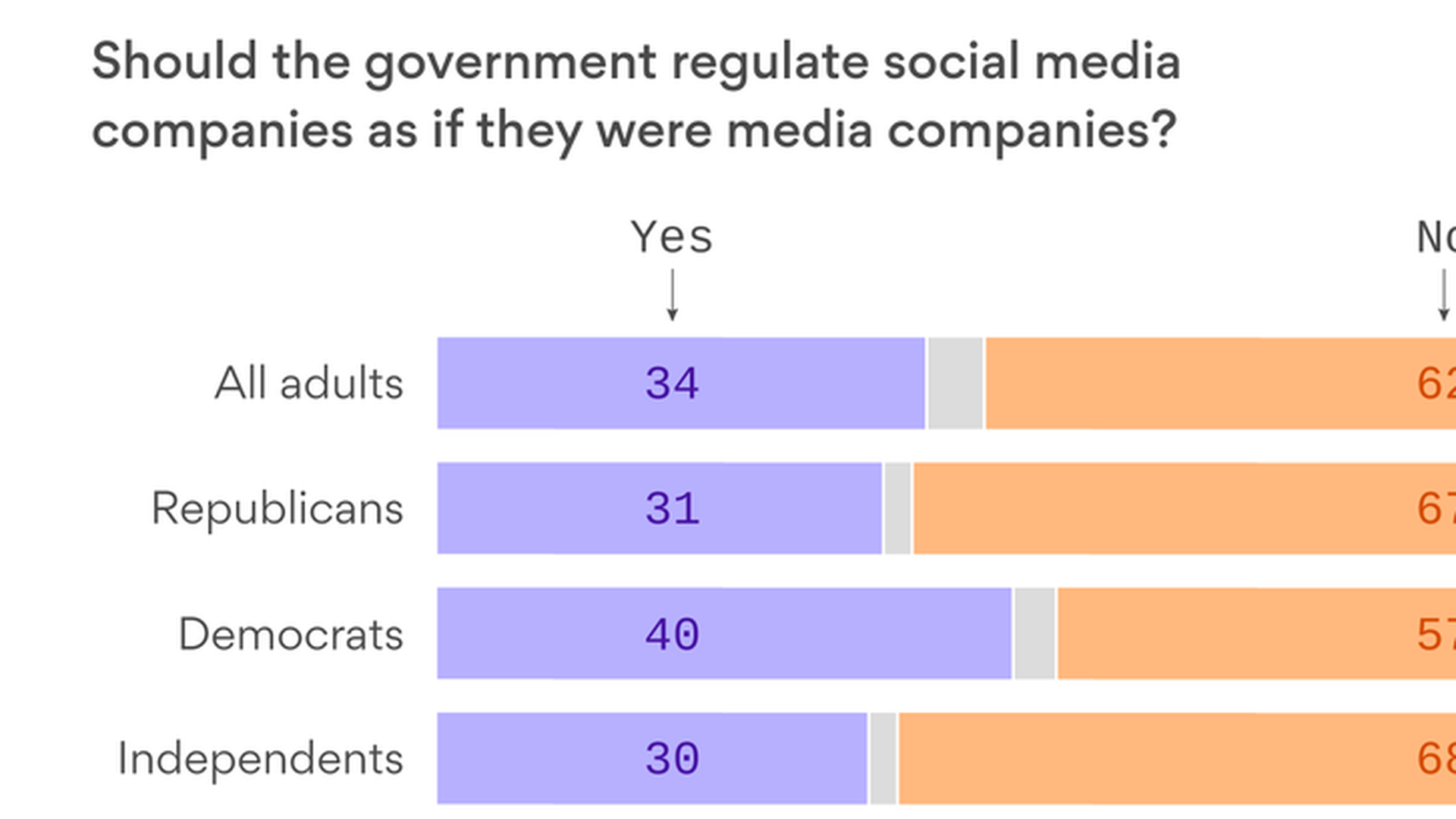 A SurveyMonkey poll for Axios found that Americans weren't impressed by tech firms' explanation of how Russian actors took advantage of their platforms during the 2016 election, but most people still don't embrace regulating the web platforms to prevent it from happening again, Axios' David McCabe reports:
34% of Americans who paid some level of attention to last week's hearings said that they think worse of the way major tech companies are handling foreign election interference after the Capitol Hill appearances. Just 13% said they thought better of the companies.
More Americans are now wary of the government going too far to regulate web platforms than before the hearings.
In a slight shift from our survey two weeks ago, a narrow majority of Americans now believe social media helps (rather than hurts) democracy and free speech.
The bottom line: Neither Congress nor the tech companies did themselves any favors. But tech execs tell me they won by not losing: Their counsels answered hours of questions with no big gaffe or revelation.
Be smart: The wariness of government regulation is widespread and bipartisan enough to be a warning to lawmakers who want to pursue it.
https://www.axios.com/newsletters/axios-am-ba496930-2cb5-46d2-a13d-b2678eaca2f5.html?chunk=1#story1
2. Trump sees "movement" with North Korea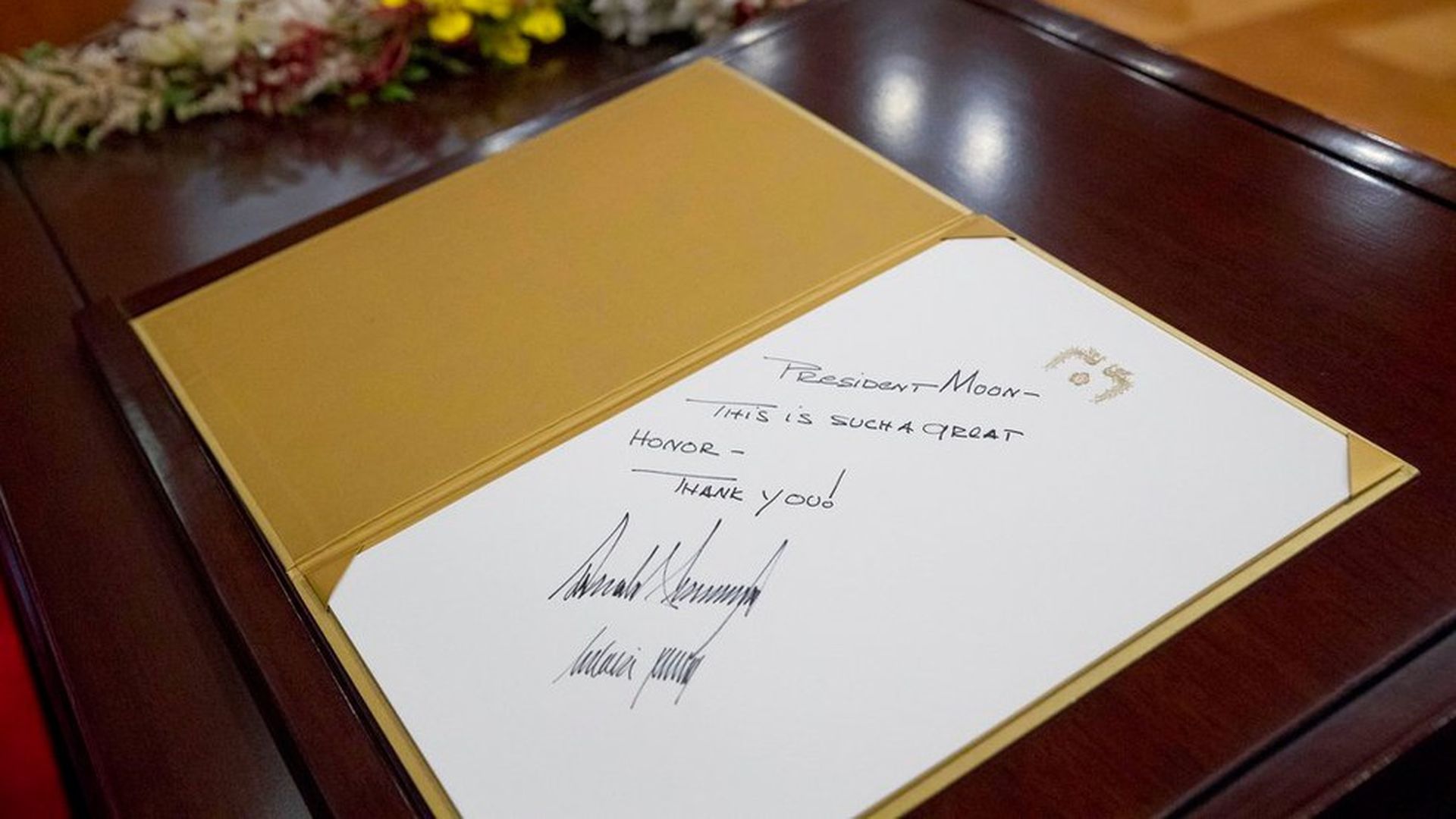 Asked at a news conference in Seoul about his diplomatic strategy with North Korea, Trump said: "I really believe that it makes sense for North Korea to come to the table and to make a deal that's good for the people of North Korea and the people of the world."
"I do see certain movement, yes. But let's see what happens."
On whether he would consider "extreme vetting for people trying to buy a gun":
"[Y]ou might not have had that very brave person who happened to have a gun or a rifle in his truck go out and shoot him, and hit him and neutralize him. And I can only say this: If he didn't have a gun, instead of having 26 dead, you would have had hundreds more dead. So that's the way I feel about it. Not going to help."
P.S. "Trump likes to remind sidekick Abe who's the alpha male," WashPost's David Nakamura: As Japanese Prime Minister Shinzo Abe has lavished attention on Trump, "their relationship has retained a subtext in which the U.S. president insists on asserting his dominance in a passive-aggressive manner."
"Before their round of golf Sunday, when Trump and Abe signed white hats emblazoned with the slogan, "Donald & Shinzo, Make Alliance Even Greater" in gold lettering, Trump wrote his name in the center of the brim, in large lines, which meant that Abe had to curve his signature off to the side."
https://www.axios.com/newsletters/axios-am-ba496930-2cb5-46d2-a13d-b2678eaca2f5.html?chunk=2#story2
3. Santa shutdown?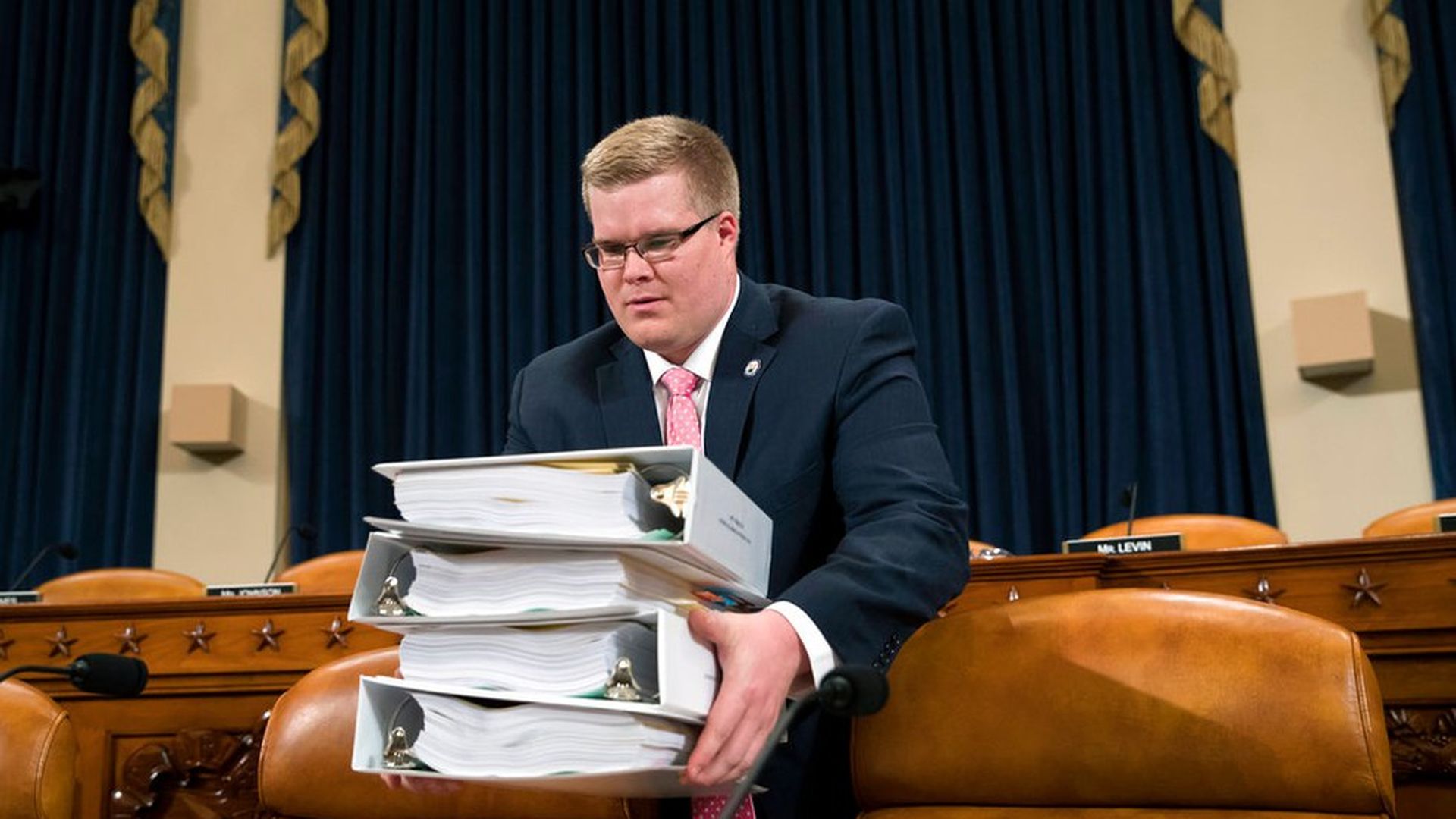 "An early December government shutdown is a real possibility, since a divided Congress can't agree on military spending, Democrats insist on help for young immigrants and President Donald Trump's position can change with each lawmaker he talks to," AP's Andy Taylor writes:
"Most of Washington is focused on overhauling the nation's tax code, but lawmakers face a combustible mix of must-do and could-do items, with the current government spending bill set to expire Dec. 8."
The to-do list: "immigration and a U.S.-Mexico border wall; an impasse over children's health care; pent-up demand for budget increases for the Pentagon and domestic agencies; and tens of billions of dollars in hurricane aid."
For Republicans, "there's an urgency to avoid a debilitating shutdown."
But "Democrats retain considerable power in the endgame ... They want protections for immigrants who were brought to the U.S. illegally as young children. They also demand budget increases for domestic agencies."
"Trump tends to waver depending on the situation — siding with Democrats on a debt deal in September, promising Republicans last week that the controversial immigration issue won't be part of the year-end spending measure."
Be smart: There is a real shutdown risk. But it's likely to be avoided since it hurts everyone.
https://www.axios.com/newsletters/axios-am-ba496930-2cb5-46d2-a13d-b2678eaca2f5.html?chunk=3#story3
4. Catastrophic error allowed gun purchase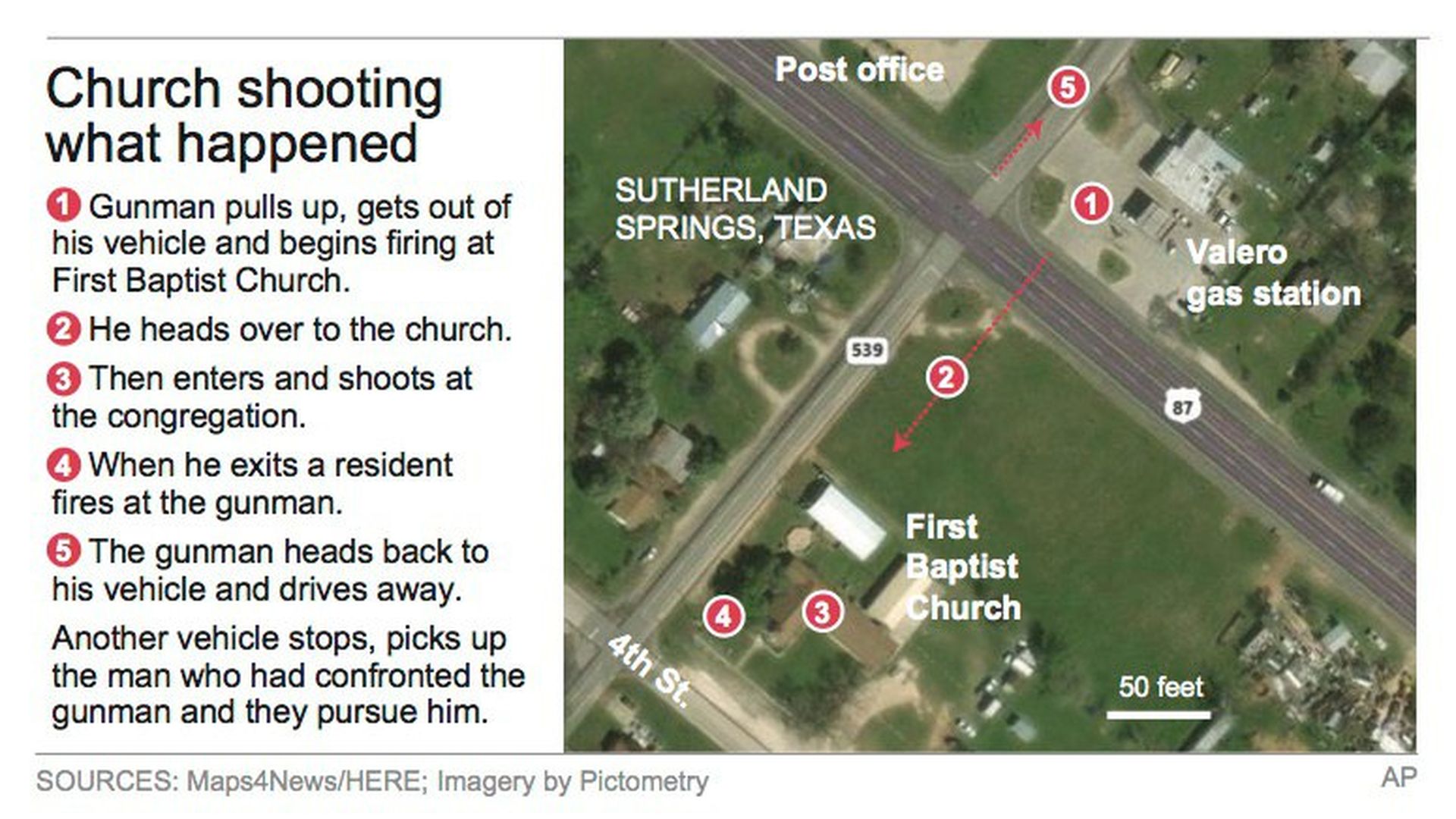 The Air Force admitted that it failed to enter Devin Kelley's domestic violence court-martial into a federal database that could have blocked him from buying the rifle he used to kill 26 people, the N.Y. Times reports:
"Under federal law, the conviction ... for domestic assault on his wife and toddler stepson — he had cracked the child's skull — should have stopped Mr. Kelley from legally purchasing the military-style rifle and three other guns he acquired in the last four years."
"One family loses 8 people in Sutherland Springs church massacre," the San Antonio Express-News reports:
Bryan Holcomb, who owned American Canvas Works in nearby Floresville, and his wife, Karla, were killed. Bryan had donated the firm's previous building to a church next door called Harvest Christian.
"Of their four children, one son, Danny, is dead, along with his 18-month-old child. John Holcombe was shot in the leg, and his pregnant wife, Crystal, was killed. Three of John and Crystal's five children were also killed."
N.Y. Times Quote of Day ... Courtney Kleiber, who knew gunman Devin Kelley since middle school: "Over the years we all saw him change into something that he wasn't. To be completely honest, I'm really not surprised this happened, and I don't think anyone who knew him is very surprised either."
https://www.axios.com/newsletters/axios-am-ba496930-2cb5-46d2-a13d-b2678eaca2f5.html?chunk=4#story4
5. 36 days from Vegas to Texas shootings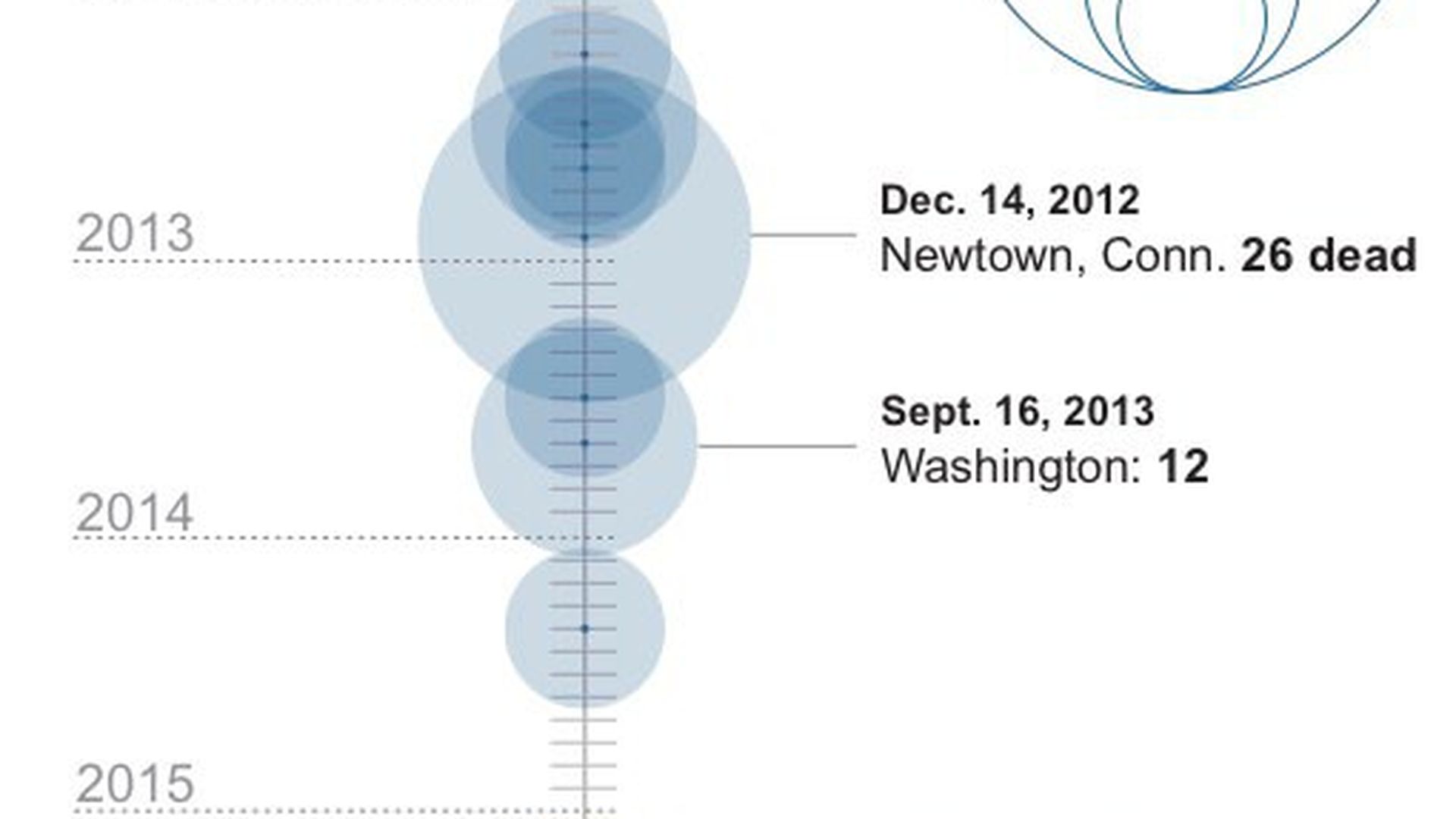 https://www.axios.com/newsletters/axios-am-ba496930-2cb5-46d2-a13d-b2678eaca2f5.html?chunk=5#story5
6. Article of the day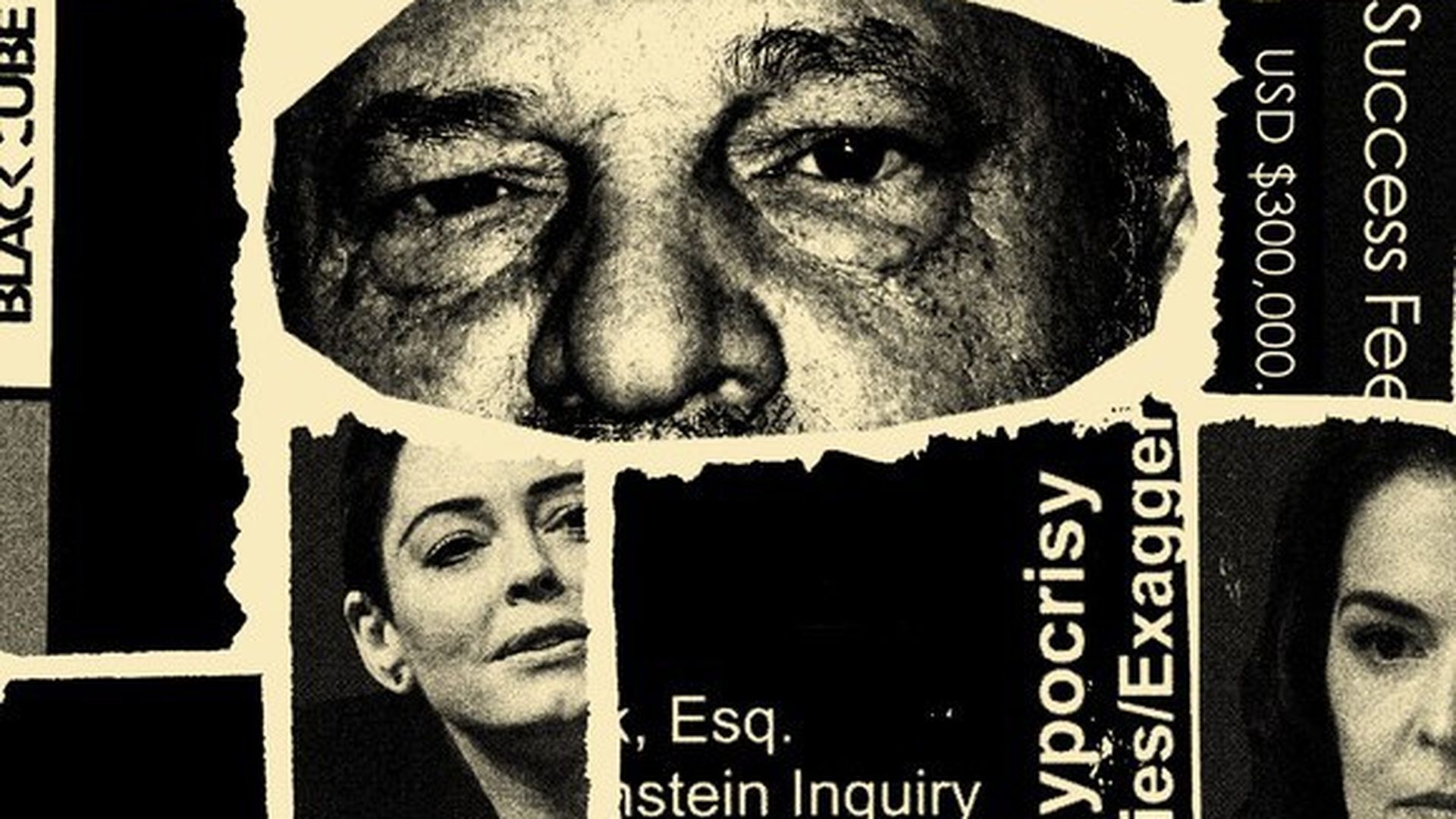 https://www.axios.com/newsletters/axios-am-ba496930-2cb5-46d2-a13d-b2678eaca2f5.html?chunk=6#story6
7. Working homeless in Silicon Valley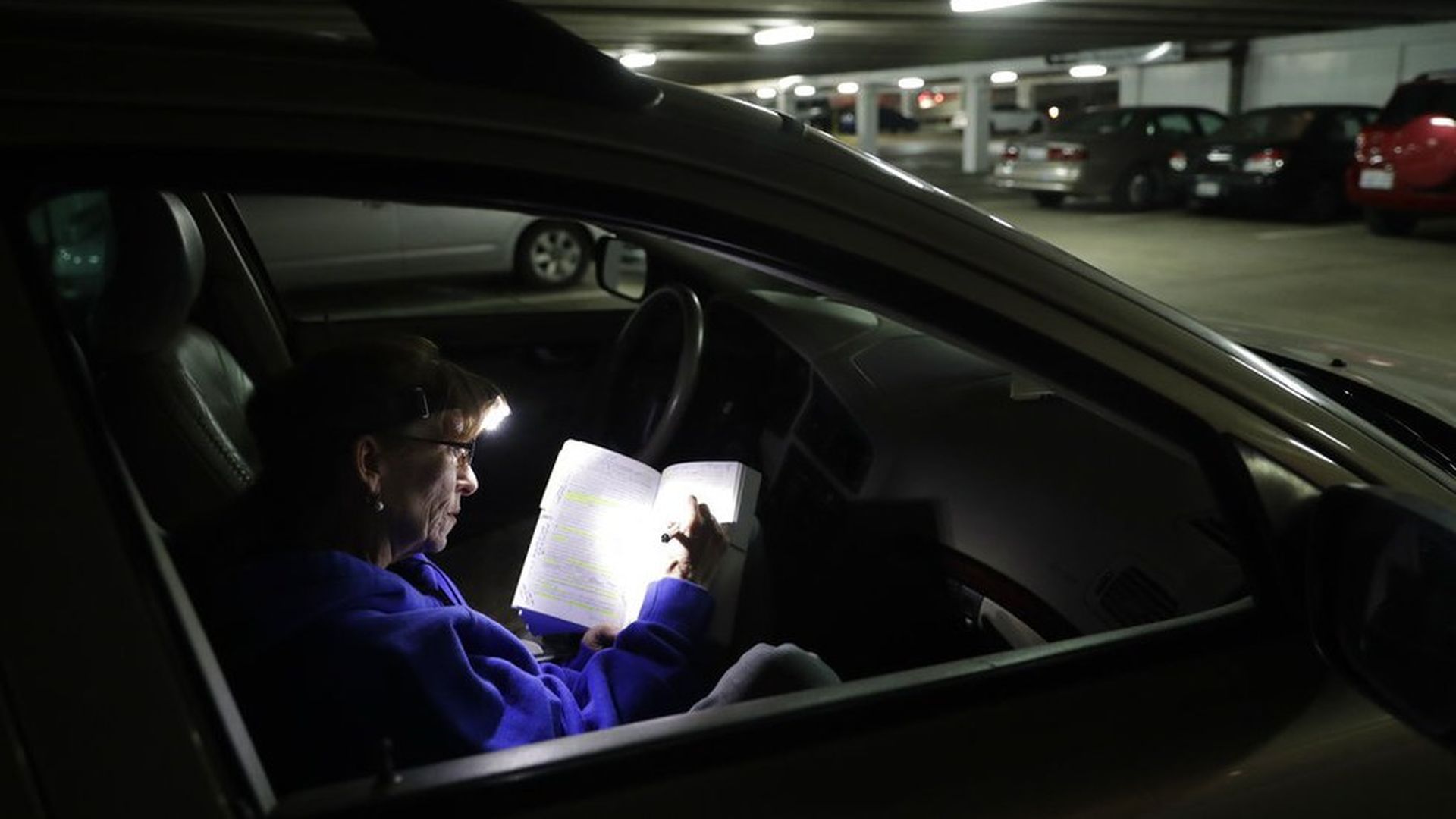 "In shadow of tech boom, the working homeless sleep in cars" ... "In the same San Francisco Bay Area city where Google built its headquarters, Tess Saldana lives in a crowded but tidy camper she parks on a tree-lined street next to a Target," AP's Janie Hart writes from Mountain View:
"On the same street in the heart of Silicon Valley, more than a dozen other RVs serve as homes for people who can't afford rent."
What's new: "San Francisco is well-known for homeless tent encampments. But the homeless problem has now spread throughout Silicon Valley, where the disparity between the rich and everyone else is glaring."
"There is no firm estimate on the number of people who live in vehicles in Silicon Valley, but the problem is pervasive and apparent to anyone who sees RVs lining thoroughfares; not as visible are the cars tucked away at night in parking lots."
Why it matters: "Many of the homeless work regular jobs, in some cases serving the very people whose sky-high net worth is the reason housing has become unaffordable for so many."
The big picture: "It's all part of a growing crisis along the West Coast, where many cities and counties have seen a surge in the number of people living on the streets over the past two years. Counts taken earlier this year show 168,000 homeless people in California, Oregon and Washington — 20,000 more than were counted just two years ago."
How it happened: "The booming economy, fueled by the tech sector, and decades of under-building have led to an historic shortage of affordable housing. It has upended the stereotypical view of people out on the streets as unemployed: They are retail clerks, plumbers, janitors — even teachers — who go to work, sleep where they can and buy gym memberships for a place to shower."
"The surge in homelessness has prompted at least 10 local governments along the West Coast to declare states of emergency, and cities from San Diego to Seattle are struggling to come up with immediate and long-range solutions."
https://www.axios.com/newsletters/axios-am-ba496930-2cb5-46d2-a13d-b2678eaca2f5.html?chunk=7#story7
8. Mercer revelation in Paradise Papers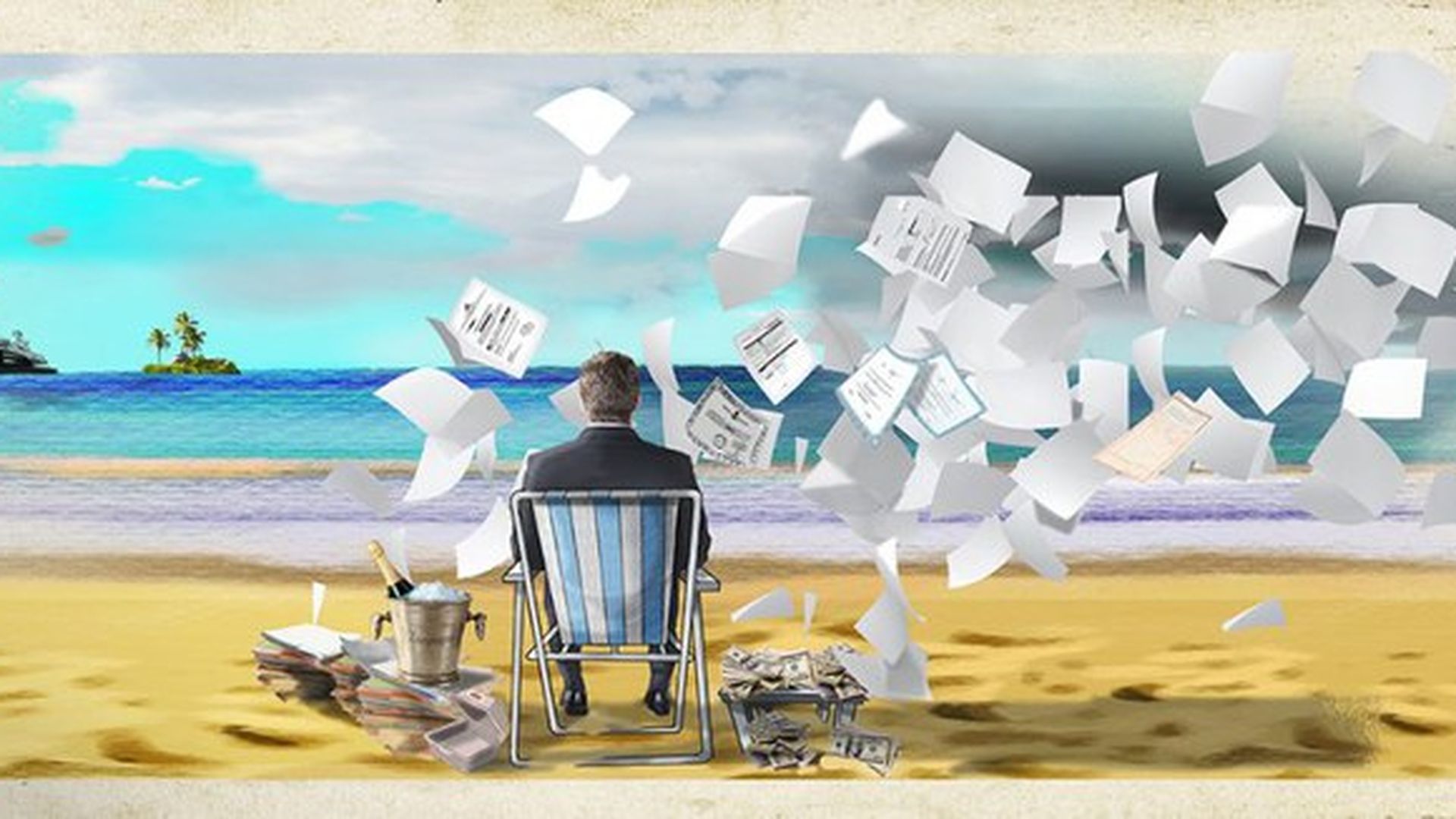 https://www.axios.com/newsletters/axios-am-ba496930-2cb5-46d2-a13d-b2678eaca2f5.html?chunk=8#story8
9. Toughest crisis in media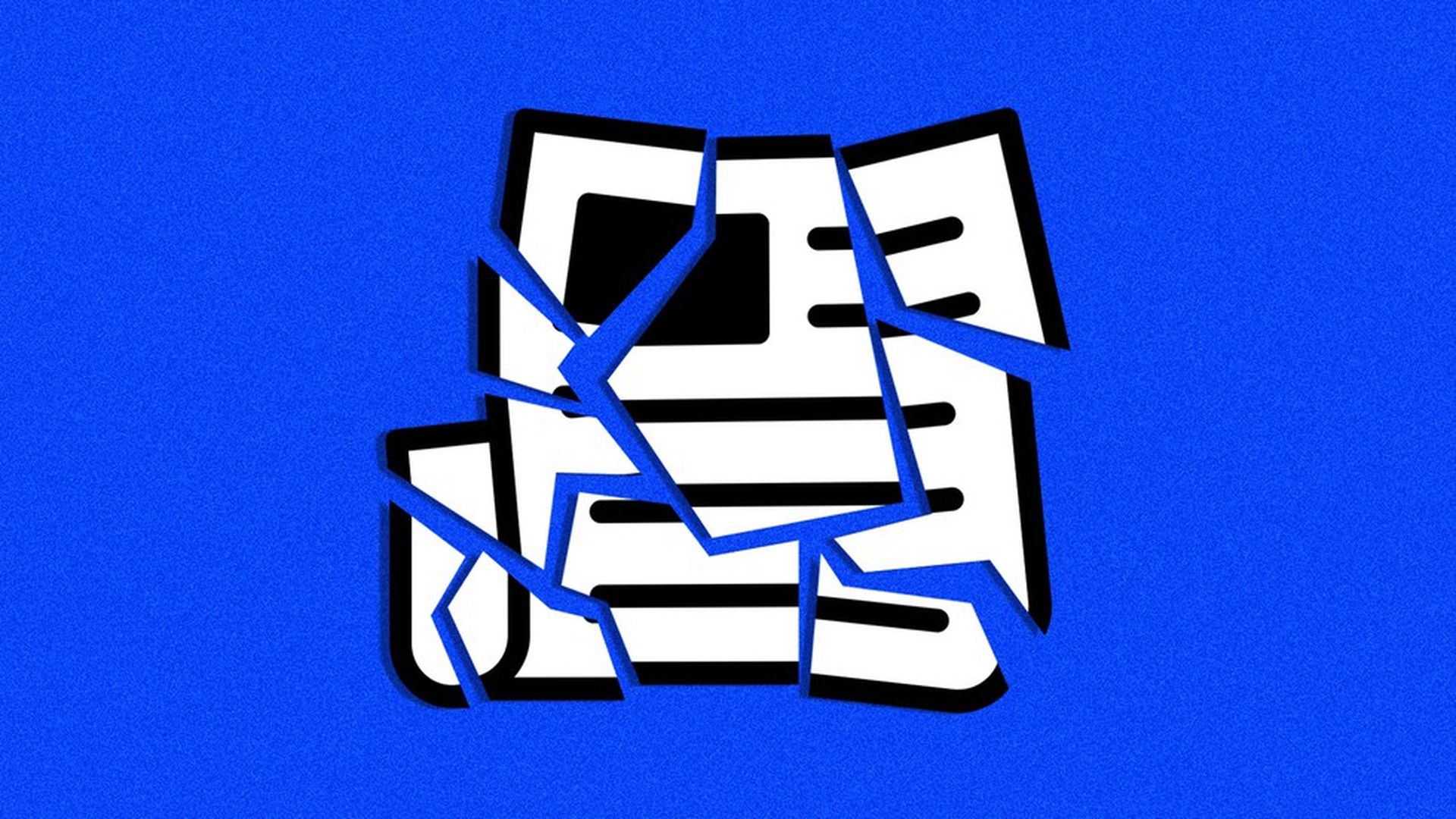 The economic strains on local news have forced outlets to close, shutter print editions and consolidate into major holding groups, Axios media trends reporter Sara Fischer writes in "The crisis in local news":
Why it matters: "As long as [cuts to local news] continues, the people in power will get away with murder," veteran NYC TV journalist Errol Louis told CNN's Brian Stelter on Sunday.
Local media continues to have a complicated relationship with technology, because while technology can be blamed for upended news economics, local media companies still rely on it for traffic and resources.
A few local media leaders have indicated that relationships with Google and Facebook are improving. "They've spent an inordinate amount of time with us," says Matt DeRienzo, executive director of Local Independent Online News Publisher.
The economic problem, according to Patch CEO Warren St. John, is that local news shouldn't be designed to serve national or scaled interests.
Be smart: I come out of local news: I covered a couple of rural counties for the then-evening paper in Fredericksburg, Va., and spent 10 years at the Richmond Times-Dispatch, including working night-police beat. I covered Arlington and Alexandria local governments for the Virginia desk of The Washington Post, and covered City Hall and Hartford for The New York Times. And I don't see a happy ending to this one.
People want their local news for free, or will just skip it. So a newspaper without the cachet and footprint of the N.Y. Times., WashPost, Wall Street Journal or Financial Times can't get enough digital subscription revenue to pay for robust reporting.
Local digital ads come nowhere near replacing the fat years of big food and classified sections — pennies vs. dollars.
We'll continue to watch innovative local-news experiments, including foundation funding and NPR-style reader donations, and will let you know what's working.
P.S. 🧀 exclusive from Sara Fischer: "Cheddar is joining forces with WeWork to scale its on-air guest booking operation. It's building remote studios in WeWork offices around the country, and eventually around the globe, to bring more TV-quality live shots to the network's weekday live programming slate. The Cheddar team will go live with its first daily broadcast from a WeWork location today in Hollywood."
https://www.axios.com/newsletters/axios-am-ba496930-2cb5-46d2-a13d-b2678eaca2f5.html?chunk=9#story9
10. 1 gym thing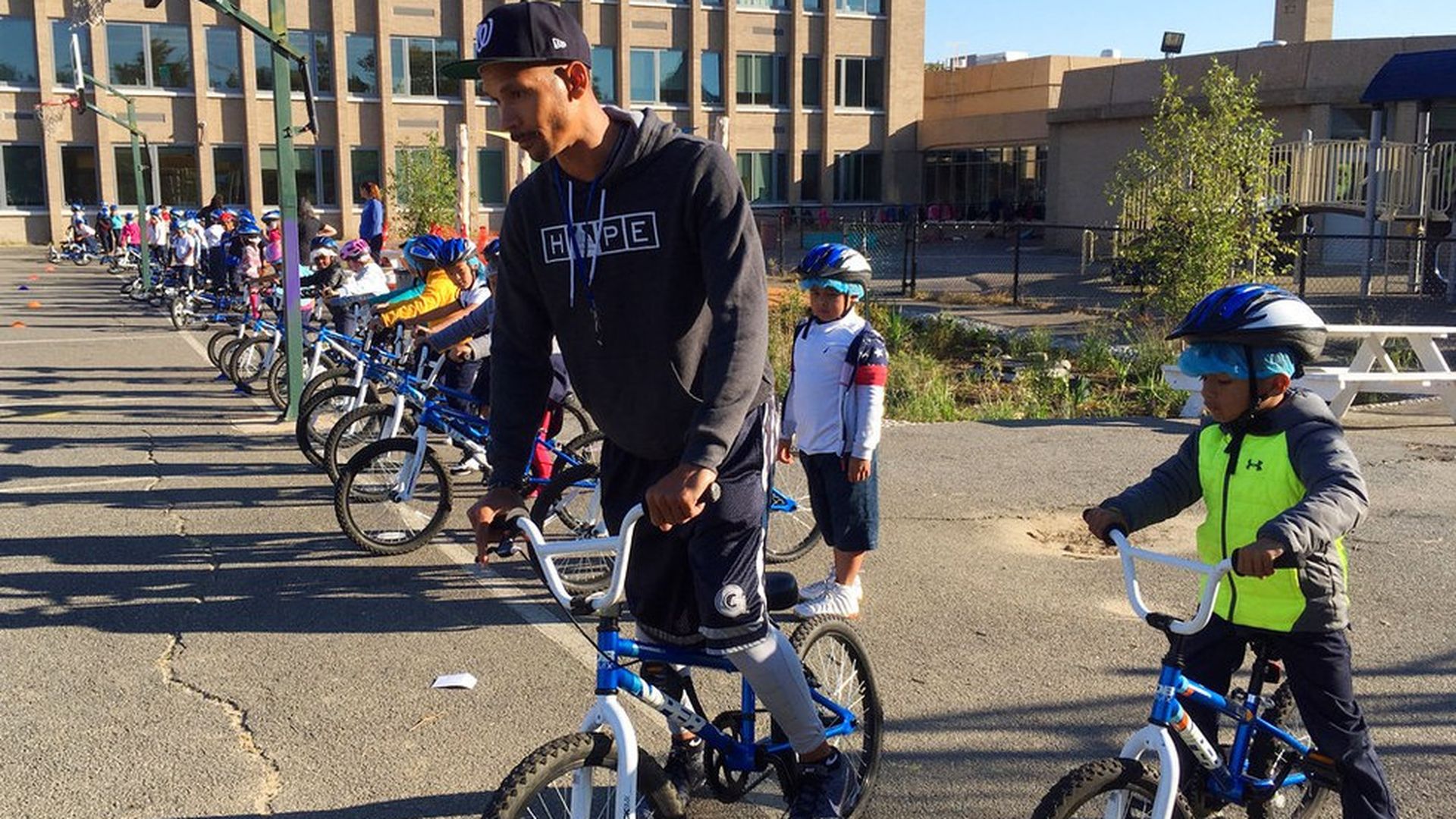 "Move over, dodgeball: Schools pump up phys ed with choices," by AP's Carolyn Thompson:
What's new: P.E. now includes kayaking, rock climbing, mountain biking, dance, self-defense, archery and in-line skating — skills that will last a lifetime.
"At a time when schools are all about getting students ready for college or jobs, experts say it's a chance for more physical education teachers to look beyond graduation, too, and leave even the least competitive students with the will and skills to keep moving."
"[T]hat has meant more bike-riding, outdoor hikes and yoga, and less dodgeball and shimmying up a rope — more choice about which activity to pursue and less emphasis on who's the best at it."
Why it matters: "With the childhood obesity rate at about 17 percent, the federal education law passed in December 2015 to replace No Child Left Behind elevates health and fitness to rank among things like art, music, civics and science as elements of a well-rounded education and makes additional funding available."