Good morning and happy Tuesday. Thanks for subscribing to Axios Media Trends. Send tips and ideas to sara@axios.com and tell your friends and colleagues to join the conversation by signing up here.
https://www.axios.com/newsletters/axios-media-trends-4ce9ef00-fd5c-4a91-9d38-4845cb77b07f.html?chunk=0#story0
1. Exclusive: Cheddar and WeWork form remote studio partnership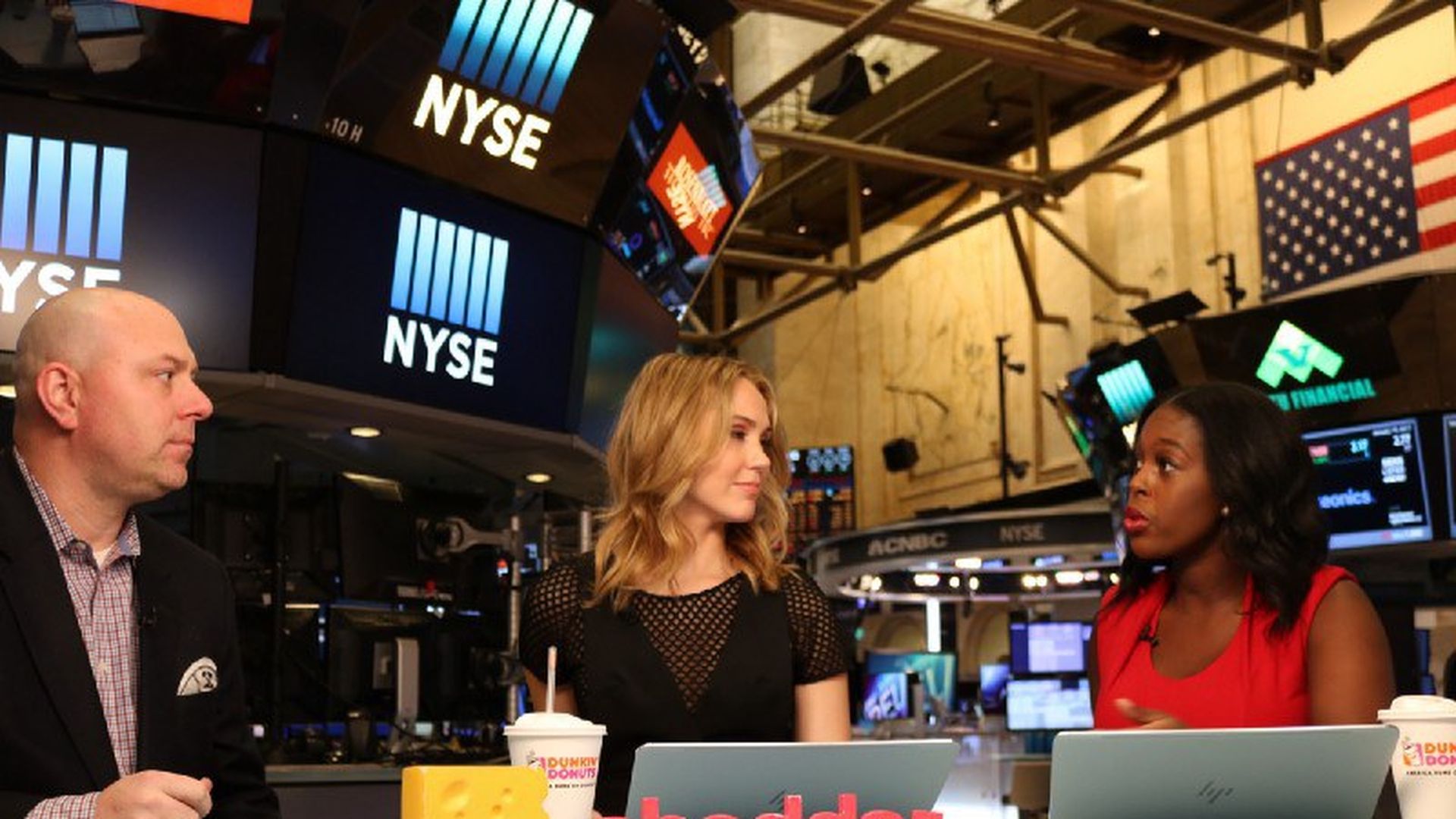 Cheddar is joining forces with WeWork to scale its on-air guest booking operation. It's building remote studios in WeWork offices around the country, and eventually around the globe, to bring more TV-quality live shots to the network's weekday live programming slate. The Cheddar team will go live with its first daily broadcast from a WeWork location today in Hollywood.
Why it matters: It's a cost-effective way for Cheddar to scale its digital TV business at the local, national and global levels. And it's a good example of how technology is upending the traditional TV business.
"The partnership gives us more edge against competitors by allowing us to have the remote broadcast scale of a major cable network," says Cheddar CEO Jon Steinberg. Most networks rely on affiliate relationships around the country to deliver high-quality guest live shots, while Cheddar uses Skype for some of its 50+ daily guest interviews. Steinberg is hoping the WeWork partnership will also increase the frequency of guests booked per day, which will cut down on segment length.
Steinberg says they are looking to add a minimum of 5-10 locations in 2018 and build from there. They will set their sites on U.S. cities to start, like DC, Chicago and San Fransisco, and then plan on expanding to perhaps London or Asia.
The investment also provides a foray into more local news coverage. "Conceivably, this could be used in breaking news situations across the globe," says Steinberg. The company launched "Cheddar Local," this summer to provide top business headlines to local news broadcasts, tailored to their region.
https://www.axios.com/newsletters/axios-media-trends-4ce9ef00-fd5c-4a91-9d38-4845cb77b07f.html?chunk=1#story1
2. New Axios/SurveyMonkey poll: Most oppose government regulating tech like media
A majority of Americans across political ideologies do not feel that the federal government should regulate large social media platforms (e.g. Facebook and Twitter) that display but don't produce content the way the government regulates media companies.
Why it matters: Fake news hype hasn't convinced the public that large tech companies should be held accountable for the information that is distributed on their platforms, even though more people are getting news and information from those companies and more people continue to take real-life action as a result of misinformation being promoted on the platform.
Per Pew, about 1/4 of all U.S. adults get news from two or more social media sites, up from 15% in 2013 and 18% in 2016. And just under half (45%) of U.S. adults use Facebook for news.
Even more telling, of the 45% of Facebook news users, around half say they get their news from that social media network alone.
https://www.axios.com/newsletters/axios-media-trends-4ce9ef00-fd5c-4a91-9d38-4845cb77b07f.html?chunk=2#story2
3. Fox in play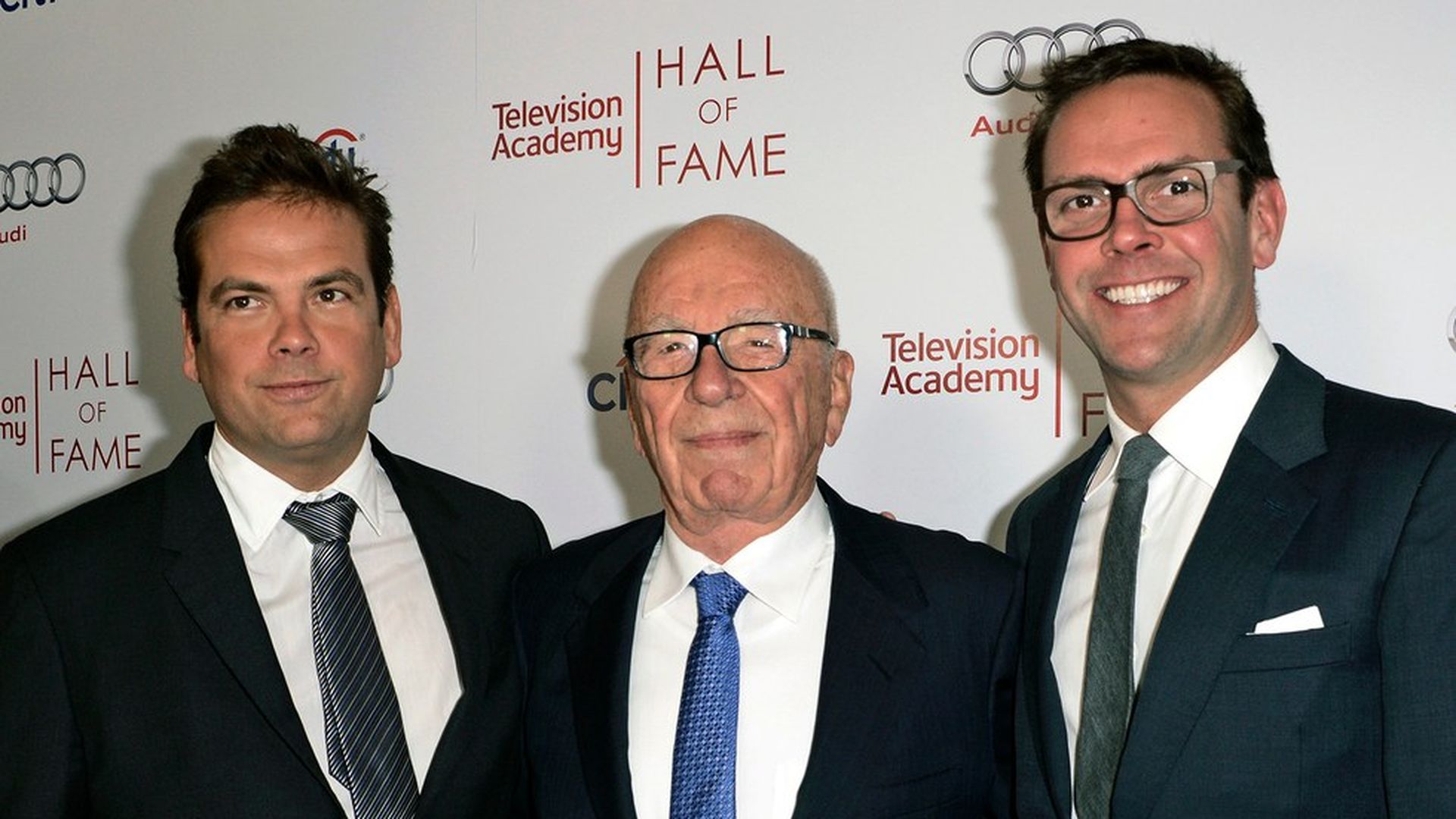 21st Century Fox has been holding talks to sell most of the company to Disney, according a report from CNBC's David Farber yesterday.
The merger would exclude Fox Networks Group, including its news and sports channels, as antitrust laws would prohibit such consolidation.
The report suggests that 21st Century Fox, owned by the Murdochs, doesn't feel it has the scale for its entertainment part of the business to compete.
Why it matters: The supposed partnership would give Disney scale to take on tech giants from an entertainment perspective, with access to 21st Century Fox's Hollywood studio and entertainment channels, like FX and National Geographic. Both CNBC and WSJ report that the talks aren't active, but if the deal moves forward it would be one of the biggest media and entertainment mergers in recent history.
What we're watching: Stock for both companies skyrocketed in response to the news. Fox reports earnings Wednesday and Disney on Thursday.
https://www.axios.com/newsletters/axios-media-trends-4ce9ef00-fd5c-4a91-9d38-4845cb77b07f.html?chunk=3#story3
4. Media's antitrust moment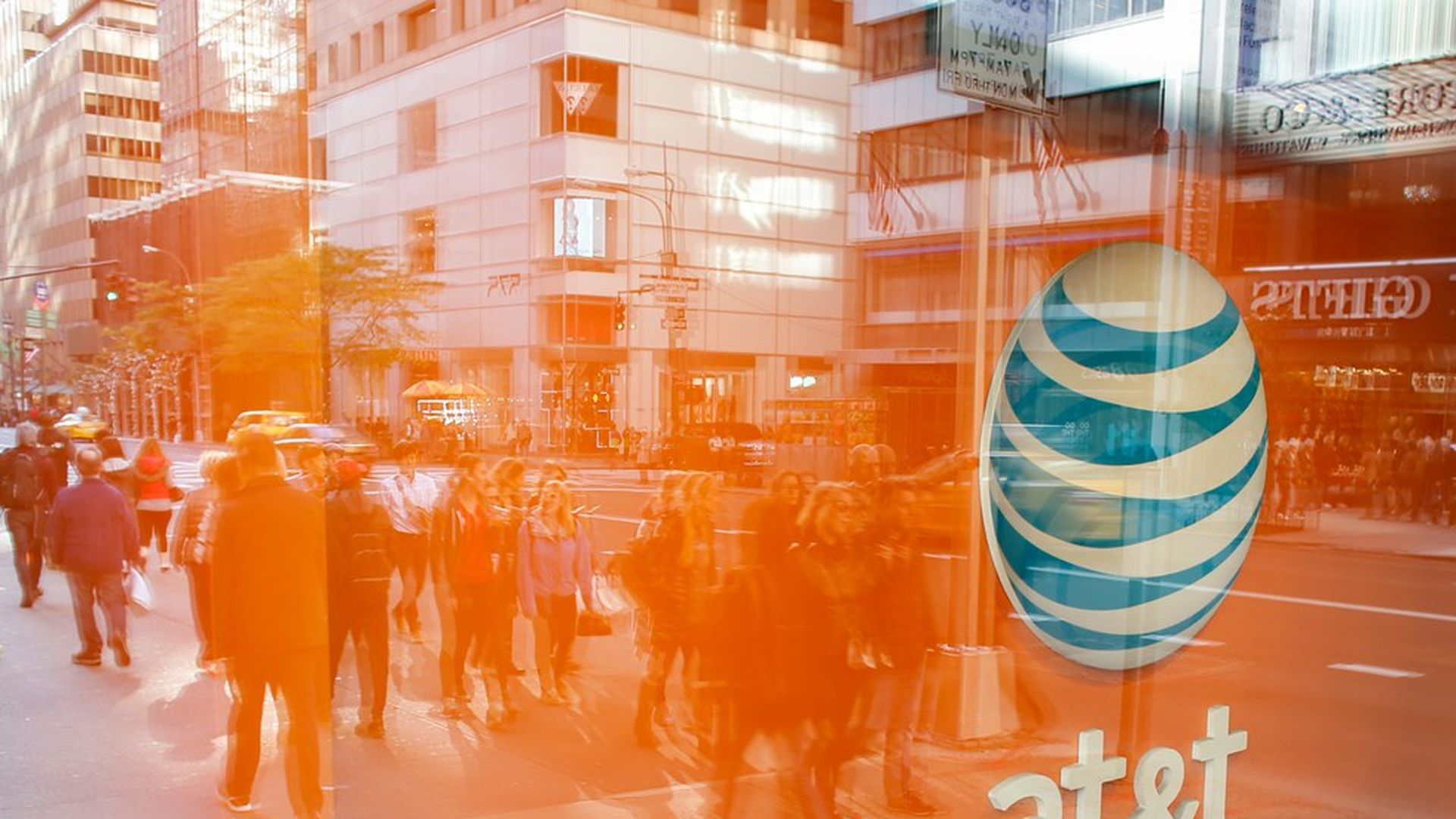 A wave of media consolidation is forcing antitrust conversations around major media mergers to take center stage.
21st Century Fox has been holding talks to sell most of the company to Disney, as noted above from David Farber's CNBC report.
The Justice Department is weighing a lawsuit to block the AT&T/Time Warner merger, according to The Wall Street Journal. Makan Delrahim, the new DOJ antitrust regulator said in March that he didn't see major problems with the merger, after President Trump vowed on the campaign trail not to let it go through. Trump has also alluded to ways he wishes the the DOJ, an independent agency, would operate and make decisions. CNN's Brian Stelter explains how the personal interests of the President and his allies could impact merger conversations.
Opposition to the Sinclair Broadcasting Corporation's proposed merger with Tribune Media continues to pile up, with some noting the deal would give Sinclair unprecedented access to upwards of 70% of local media markets. Feeling the pressure, Sinclair EVP and COO Steven M. Marks hinted at the DOJ's delay in approval on last week's earnings call: "Sooner or later, the Justice Department, it seems to us, is going to have to get aligned with the reality of the marketplace." The FCC has rolled back regulations that would pave way for the merger, but still needs to officially sign off.
Why it matters: As the economic pressures on media continues to force consolidation, it's up to antitrust regulators to determine the extent to which they will allow big mergers to happen, without compromising fair competition or democracy.
Will tech be next? While the focus lately has been mostly on telecom and broadcasting mergers, experts continue to question when and if antitrust regulators will begin to apply more scrutiny to big tech mergers.
Ben Thompson, author of the Stratechery blog, argued in light of Facebook's acquisition of tbh, a millennial polling app, "social networks should not be allowed to acquire other social networks," and that regulators "dropped the ball" in evaluating Facebook mega-mergers with Instagram and WhatsApp.
The current regulatory landscape makes it a little more difficult to bring antitrust regulations to bear on tech mergers. There are clear market definitions of how large traditional media and telecom companies are allowed to be, but such rules don't exist for the tech firms, as their markets are largely undefined and in some ways overlap in non-conventional ways.
Meanwhile, U.K. regulators have been much tougher on tech giants from an antitrust perspective.
https://www.axios.com/newsletters/axios-media-trends-4ce9ef00-fd5c-4a91-9d38-4845cb77b07f.html?chunk=4#story4
5. The crisis in local news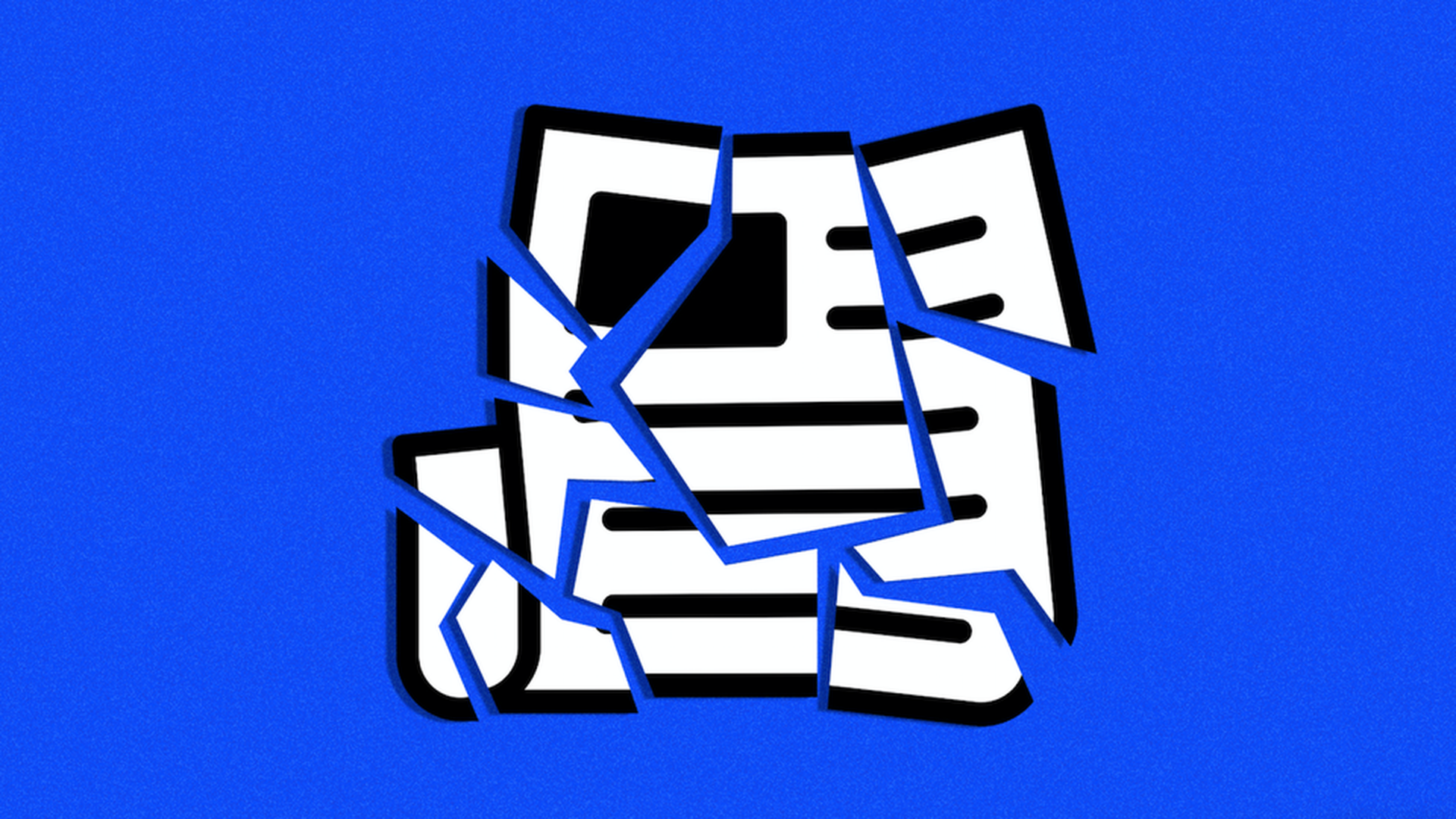 The economic strains on local news have forced local outlets to close, shutter their print editions or consolidate into major holding groups, often headquartered in far-away cities, where local interests aren't always top of mind.
Most recently, billionaire Joe Ricketts' decision to shut down local city coverage site DNAInfo and Gothamist in response to employees voting to unionize has called into question how local news outlets can survive through conflicting business interests of ownership.
The cuts are the latest of local coverage setbacks this month. The Houston Press has effectively closed down; The Baltimore City Paper, a 40-year-old publication, published its last issue November 1.
Why it matters: "As long as [cuts to local news] continues, the people in power will get away with murder," veteran NYC TV journalist Errol Louis told CNN's Brian Stelter on Sunday.
Local media continues to have a complicated relationship with technology, because while technology can be blamed for upended news economics, local media companies still rely on it for traffic and resources.
A few local media leaders have indicated that relationships with Google and Facebook are improving. "They've spent an inordinate amount of time with us," says Matt DeRienzo, Executive Director of Local Independent Online News Publisher. By comparison, DeRienzo argues that other tech companies are "less in-tune" with his local digital publishers' needs.
We have more on the crisis in local news in the Axios stream and Snapchat's Peter Hamby has more on the topic in his latest episode of Good Luck America out today.
https://www.axios.com/newsletters/axios-media-trends-4ce9ef00-fd5c-4a91-9d38-4845cb77b07f.html?chunk=5#story5
6. Twitter's free speech dance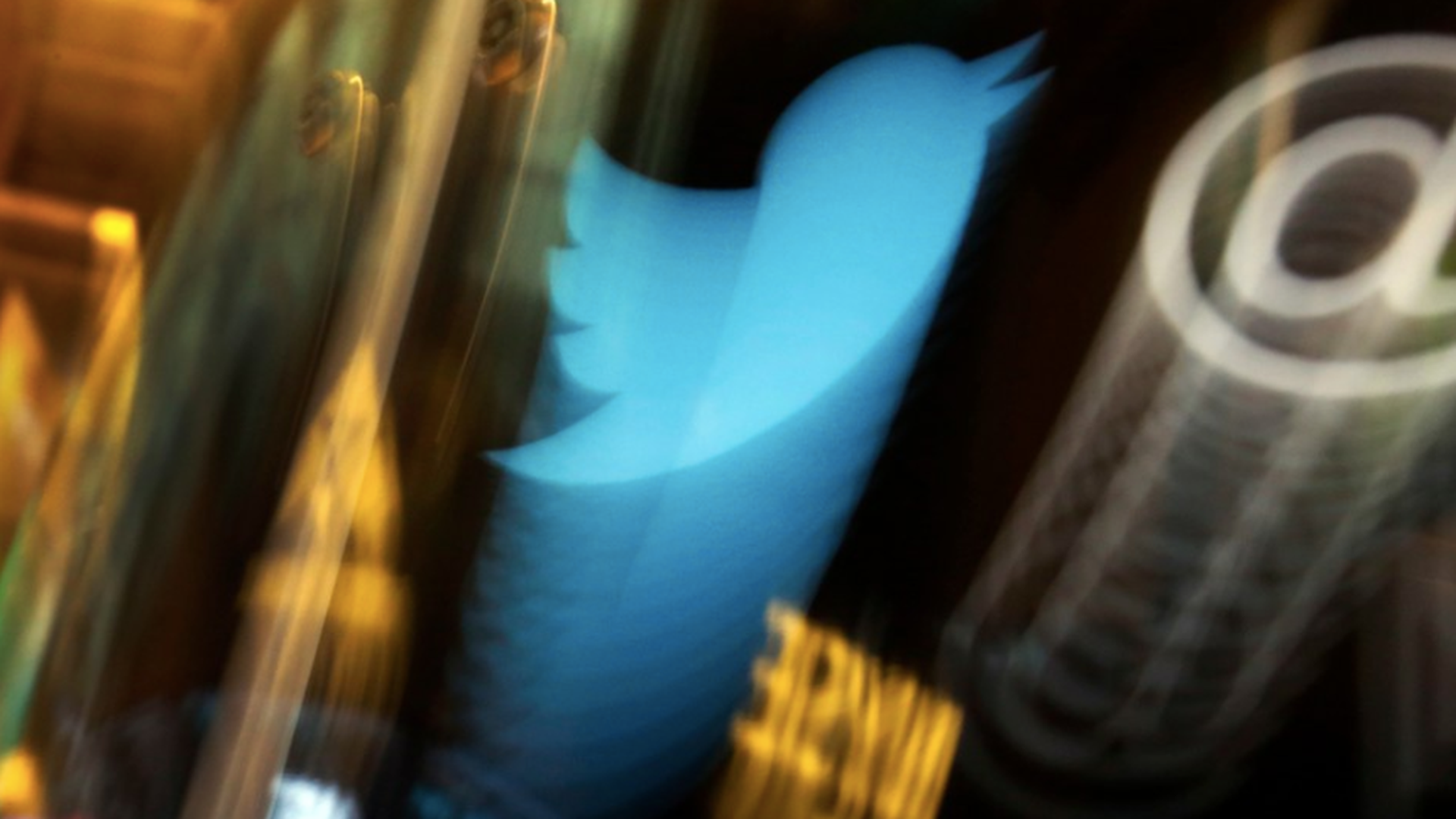 Twitter has been clamping down on accounts that it feels violates its policies with the content they post or promote. But in doing so, Twitter has faced criticism for judgement bias against free speech.
It's taken recent action on several high-profile accounts that it says violated its policies, but that users pushed back on, including Rep. Marsha Blackburn, Roger Stone and Rose McGowan. Most recently, it faced backlash from the LGTBQ community for temporarily blocking certain LGTBQ terms on Twitter's platform over the weekend.
Why it matters: It's a tough line all web platforms have to walk in the era of fake news and indecent content that spreads like wildfire online. If platforms don't filter their content, they're blamed for letting fake news and hate speech run rampant on their platforms. If they do filter their content, they risk being blamed for judgement bias.
Many want tech platforms to use more humans to review content — but humans, and human-trained algorithms, are biased too. And Twitter isn't the only tech company that's in hot water over issues of censorship.
Axios' Erica Pandey and I have more in the Axios stream.
https://www.axios.com/newsletters/axios-media-trends-4ce9ef00-fd5c-4a91-9d38-4845cb77b07f.html?chunk=6#story6
7. New guidelines for impressions and video views
The de factor media watchdog, the Media Rating Council (MRC), along with Interactive Advertising Bureau (IAB) Tech Lab and Mobile Marketing Association (MMA), have announced new measurement guidelines for mobile in-app, mobile web and desktop display advertisements. They've also released an update to the IAB Digital Video Ad Impression Measurement Guidelines for a 30-day public comment period, which ends on November 30th.
Why it matters: The changes update the basic counting requirements to better reflect current measurement capabilities and tech environments, which also can help lead to a better understanding of the efficiency of digital ad campaigns.
ICYMI: Twitter is taking steps to get MRC accredited, the MRC announced last week. Accreditation is a big deal, because it gives advertisers extra assurance that the viewership and advertising metrics companies report are accurate. Google and Facebook already committed to audits earlier this year. Snapchat, Amazon and others have yet to commit to an audit, although their advertising businesses continue to grow substantially.
https://www.axios.com/newsletters/axios-media-trends-4ce9ef00-fd5c-4a91-9d38-4845cb77b07f.html?chunk=7#story7
8. Asia Pacific's advertising boom
The advertising market in Asia Pacific is growing so fast that it is expected to become the first region to surpass North America in total advertising dollars spent by 2019. Analysts credit high-speed internet penetration, as well as heavy mobile and social media adoption — particularly in Southeast Asia — for the sharp increase.
Why it matters: Because the ad market in Asia-Pacific is growing, there is more incentive for large technology companies that rely on data-based advertising revenue to invest in products and services that will increase their margins in those regions.
User backlash to sharp digital advertising increases in the region continue to manifest itself in ad blocking. As Axios noted earlier this year, mobile ad blocking is particularly high in Asia Pacific, especially in comparison to the U.S. For perspective, 58% of Indonesians block mobile ads compared to 1% of Americans.
https://www.axios.com/newsletters/axios-media-trends-4ce9ef00-fd5c-4a91-9d38-4845cb77b07f.html?chunk=8#story8
9. 1 fun thing: Axios China
We're thrilled to announce Sinocism's Bill Bishop, one of the smartest minds on China, is moving his weekly must-read newsletter to Axios. Bill will bring his new Axios China subscribers commentary and analysis on the most important U.S.-China news of the week.
Sign up for the new Axios China newsletter here.