https://www.axios.com/newsletters/axios-am-a8ead02e-8a00-467b-a7e4-bf7f2d66dd6f.html?chunk=0#story0
1 big thing: ​Trump's biggest political mistake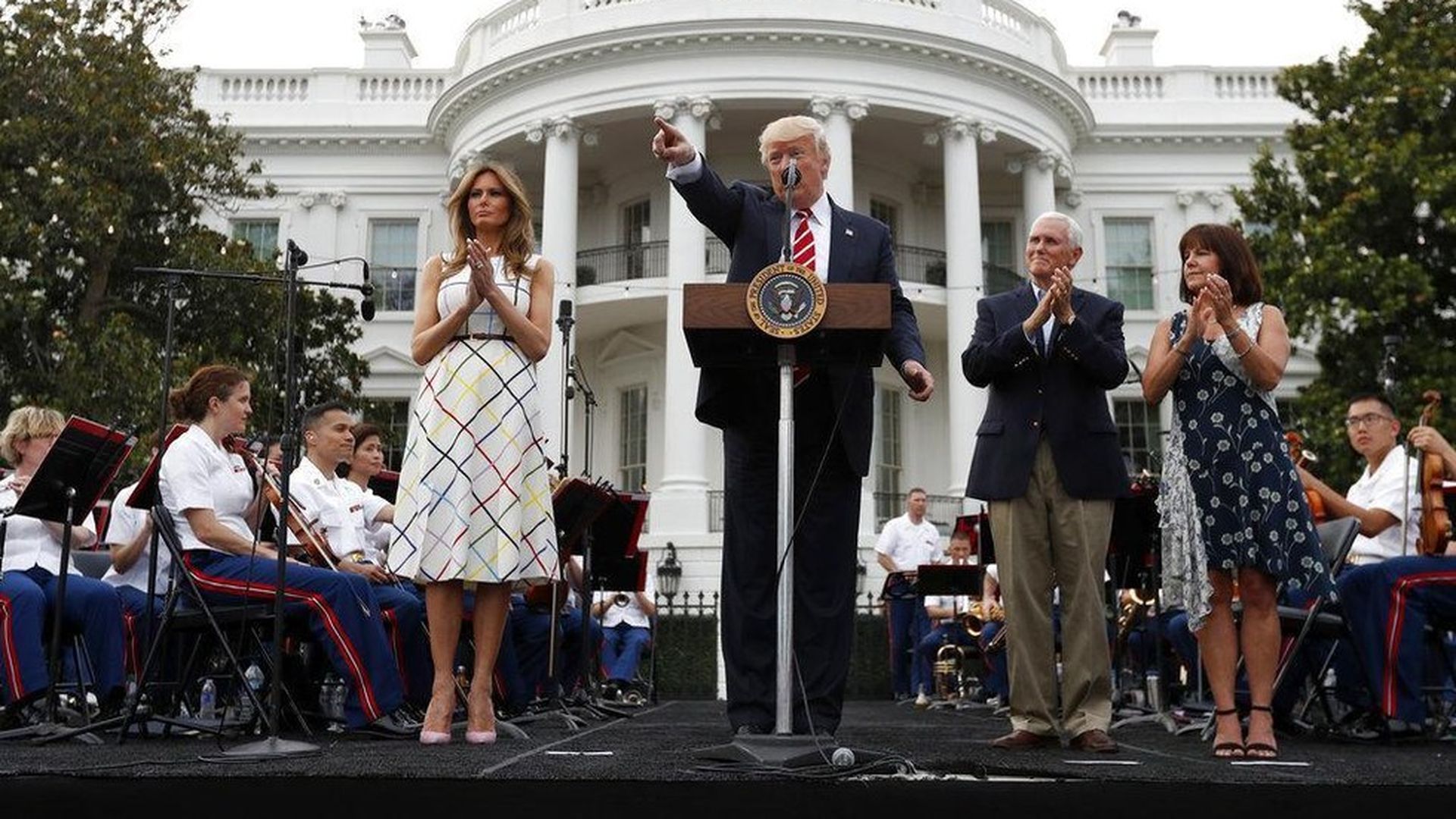 President Trump's firing of FBI Director James Comey is rightly seen as a terrific legal blunder: He undercut an investigation that might have shown he never colluded with the Russians, and spawned one that could result in obstruction of justice charges.
But regardless of the legal outcome, it'll go down as one of the dumbest political mistakes in the modern era. One of the president's outside advisers calls it the gravest political mistake since Richard Nixon decided not to apologize to the American people for Watergate, and instead proceeded with the cover-up.
"The Russia investigation is now the central narrative of the Trump administration, no matter what he does," the adviser said. "He wanted to be a disruptive force for change, and now he's stuck in the quicksand of the swamp."
Trump himself has suggested to friends that he understands the bind he created: By taunting Comey about tapes that the president admitted yesterday don't exist, he hastened the chain of events that led to the appointment of special counsel Bob Mueller, who's expected to delve into the business affairs of the president and his family.
In retrospect, if Trump had kept Comey and stopped obsessing about his investigation, his legal troubles might have blown over: No evidence of collusion has emerged. As David Brooks pointed out in one of the better columns of the month, it's striking how little has surfaced on the collusion front, given the gush of anti-Trump leaks.
Trump would be standing here today with a perfect record on contested special elections, a strong stock market, low unemployment and momentum heading into the tax reform debate. Instead, Trump's impulsive decision — made against the advice of several trusted advisers — has:
Consumed Trump: In phone calls, staff meetings and tweets, the president rages about Mueller. This often pushes aside conversation about his legislative agenda, executive actions and planned messages.
Trapped Trump: The Russia probe has now mushroomed into one that includes obstruction of justice, adding a self-created investigation that will eat up precious time for months or years to come.
Tainted Trump: Polls show the vast majority voters disapprove of his handling of Comey and Russia. More importantly, Republicans inclined to believe he didn't collude with the Russians seem quite willing to believe he might have obstructed justice after canning Comey.
Stalled Trump: He was hardly cooking with grease on the legislative front pre-Comey. Now, White House officials think they will be lucky to end 2017 with any substantial bills signed into law.
Tagged Trump for 2020: If he runs again, Democrats can be expected to turn the firing, probes, and attacks on the special prosecutor into centerpieces of the case against Trump.
Be smart: Trump changed the arc of his presidency on Day 110 by bouncing Comey. Now, Trump's great fight is to have his presidency remembered for something else.
P.S. "Trump is struggling to stay calm on Russia, one morning call at a time," by WashPost's Ashley Parker and Phil Rucker: "Around 6:30 a.m. on many days — before all the network news shows have come on the air — he gets on the phone with a member of his outside legal team to chew over all things Russia. The calls ... are part strategy consultation and part presidential venting session."
https://www.axios.com/newsletters/axios-am-a8ead02e-8a00-467b-a7e4-bf7f2d66dd6f.html?chunk=1#story1
2. Winners and losers in Senate health bill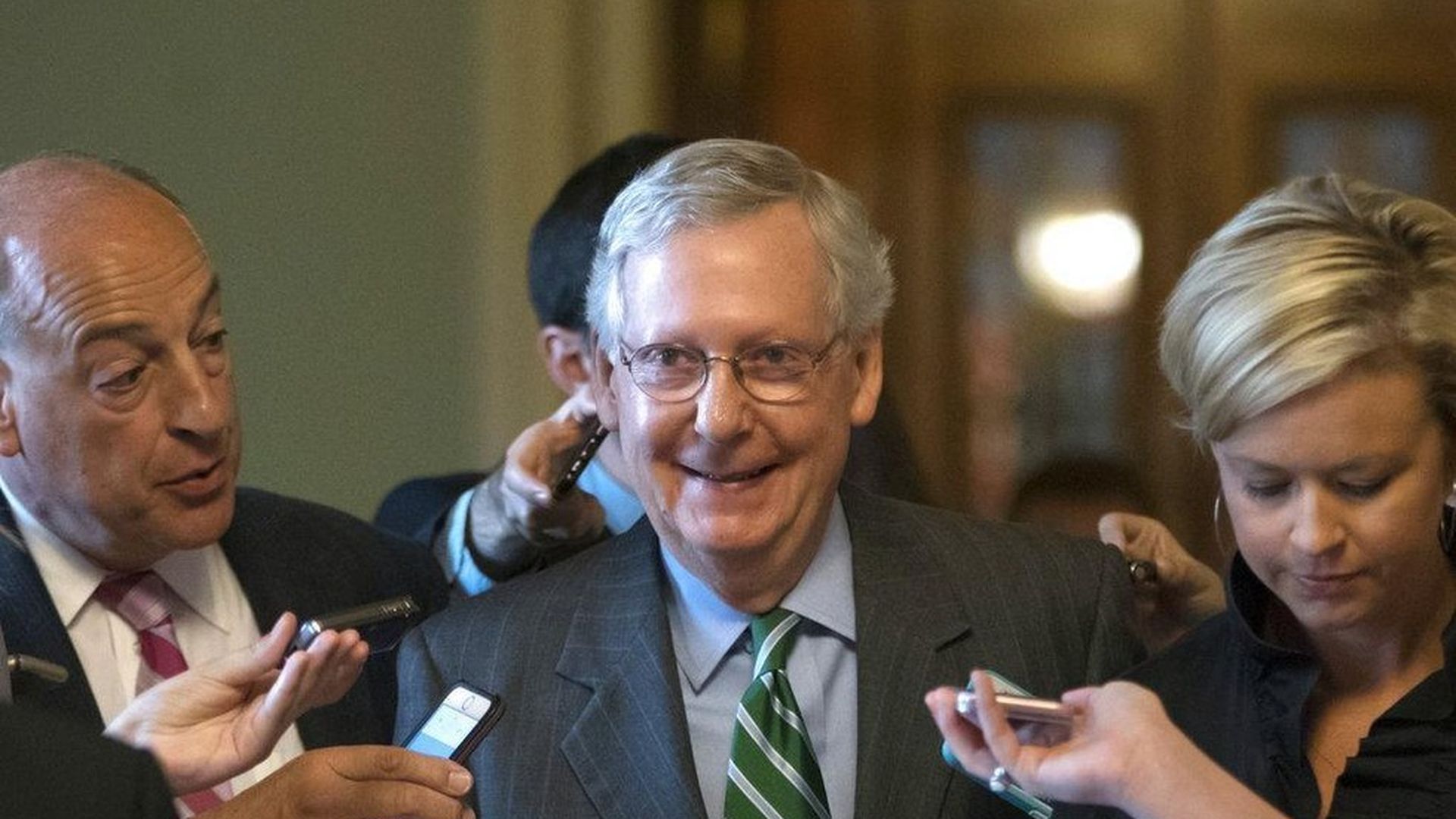 Twitter tale of the tape, as the Senate releases its healthcare bill:
President Trump's tweet on health care yesterday: 8,500 retweets, 39,000 likes.
Former President Obama's tweet on health care yesterday: 82,000 retweets, 240,000 likes.
Trump, on "Fox & Friends" this morning: "You know, health care is a very difficult situation. If you look, the Clintons tried to get it and after years and years, they couldn't do it. Obamacare was murder for them to get. ... And we're trying to do something in a very short period of time."
"I've been here for only five months. People are saying: 'Where's the health care, where's the health care?' ... It's that very, very narrow path. But I think we're going to get there."
Axios' Sam Baker has this stark takeaway on the 142-page Senate bill: It "would not replace the Affordable Care Act. It would replace Medicaid." Sam's precis:
The biggest winners: young people who don't use much health care — the "losers" under Obama's Affordable Care Act. Those consumers would no longer face a penalty for going uninsured. They'd get bigger subsidies than they're getting now. And the broader shifts in the healthcare market would favor people who don't need to use it.
The losers, broadly, are older consumers and the poor. Although the bill phases in its Medicaid cuts more slowly than its House counterpart, once they took effect, the Senate's cuts would be deeper. And in the individual insurance market, older consumers would see their financial assistance shrink.
What's in the bill ... David Nather's speed read.
https://www.axios.com/newsletters/axios-am-a8ead02e-8a00-467b-a7e4-bf7f2d66dd6f.html?chunk=2#story2
3. Zeitgeist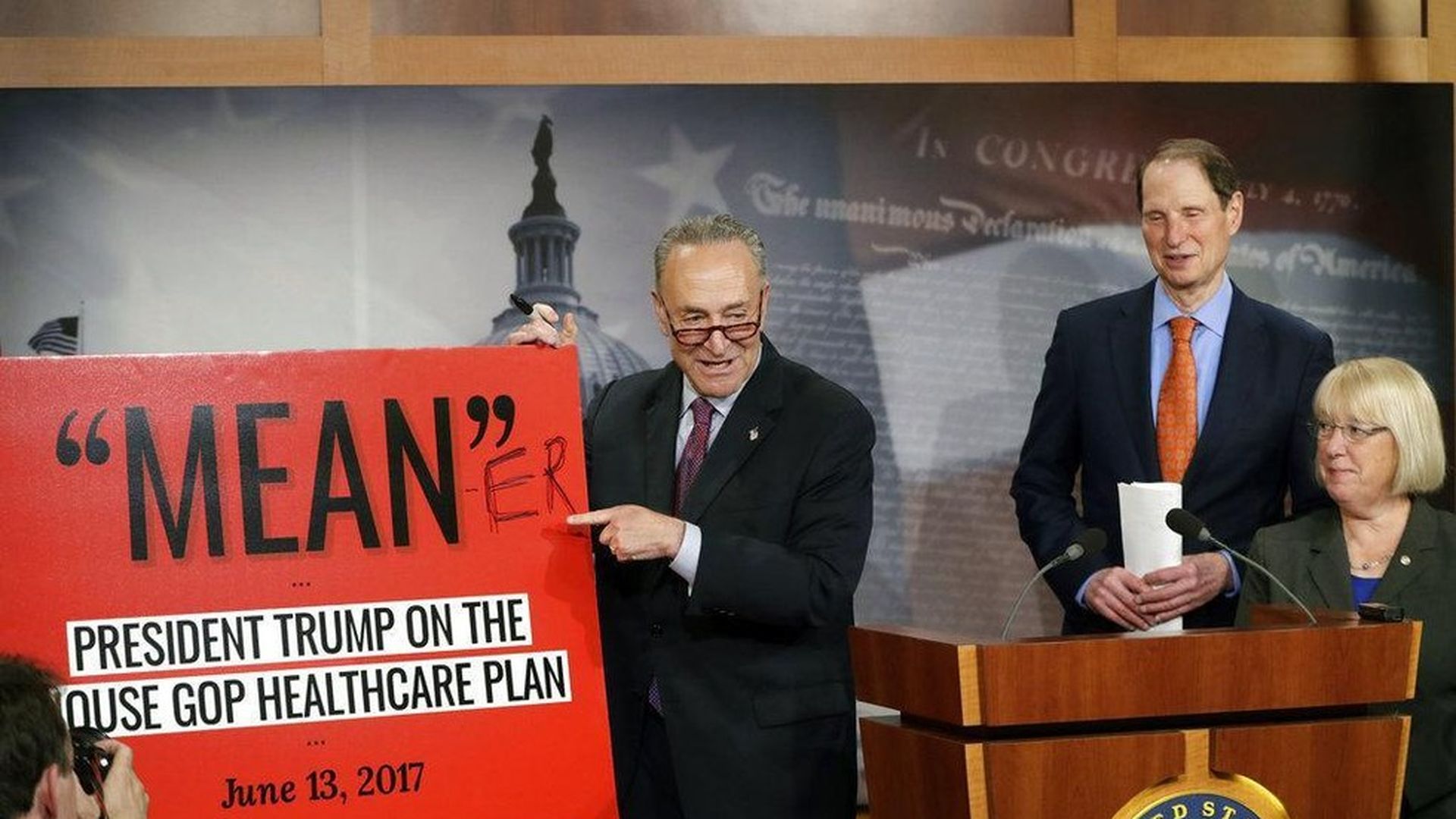 First critiques of the Senate bill ...
Wall Street Journal lead editorial, "The Senate's Health-Care Advance: The draft bill contains many conservative victories, which is why the left hates it": "Failure would expose Republicans as feckless, with conservatives attacking the GOP for having failed and Democrats attacking the GOP for having tried.
"And don't think Republicans could then drop the issue. Republicans would be under enormous pressure to shore up the failing insurance markets in this Congress. ... Republicans would splinter over 'bailing out' ObamaCare."
WashPost, analysis at top of front page, "Proposal doesn't address stability in the long term," by Amy Goldstein: "[F]eatures of the Better Care Reconciliation Act could drive prices up after a few years for people who buy individual insurance — a core group the ACA is designed to help. After the next three years, it also would begin a sharp downward path in federal support for Medicaid, the cornerstone of the nation's health-care safety net for the past half-century."
"According to health policy experts across the ideological spectrum, the bill's design amounts to a strategic calculation: Try to allay the immediate fears of insurance companies and states, at the risk of letting problems with affordability and access to coverage accumulate."
N.Y. Times front page, "A Plan That Shifts Dollars From Poor to Rich," by N.Y. Times Upshot's Margot Sanger-Katz: "Obamacare raised taxes on high earners and the health care industry, and essentially redistributed that income — in the form of health insurance or insurance subsidies — to many of the groups that have fared poorly over the last few decades.
"The draft Senate bill ... would jettison those taxes while reducing federal funding for the care of low-income Americans. The bill's largest benefits go to the wealthiest Americans ... and its biggest losses fall to poorer Americans who rely on government support."
https://www.axios.com/newsletters/axios-am-a8ead02e-8a00-467b-a7e4-bf7f2d66dd6f.html?chunk=3#story3
4. The votes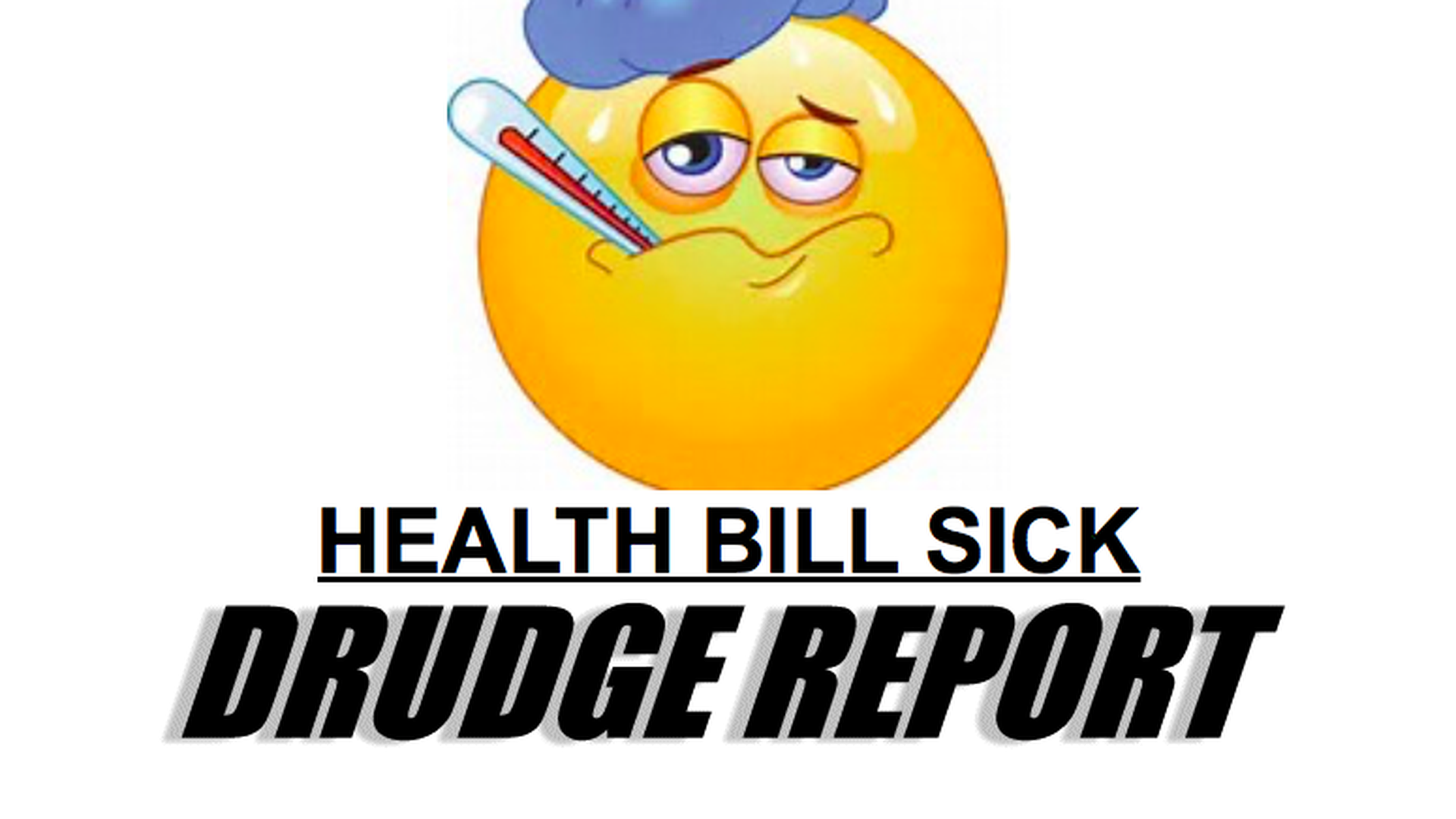 "[M]oderates quiet while conservatives yell," by Axios' Caitlin Owens: "From the joint statement by Sens. Ted Cruz, Mike Lee, Rand Paul and Ron Johnson: 'It does not appear this draft as written will accomplish the most important promise that we made to Americans: to repeal Obamacare and lower their healthcare costs.'"
Another danger sign this morning ... Front page of Denver Post, "CORY GARDNER: Senator wants to slow push for quick vote," by Mark Matthews: "U.S. Sen. Cory Gardner [of Colorado, who's chairman of the National Republican Senatorial Committee, the campaign arm] isn't backing the health care plan ... a caution that could spell trouble for the long-awaited legislation."
"Gardner ... threw out of the idea of lawmakers working through the upcoming July 4 break. "I would be OK with spending our entire recess here."
Be smart: Republicans close to leadership say senators had to posture, but will find it very difficult to be tagged as the vote that prevented the repeal of Obamacare. Sen. Rand Paul (R-Ky.) sounds like he'll remain a "no," but most of the other senators who are balking are expected to go along after changes are made.
Other most likely R nay: Sen. Lisa Murkowski of Alaska.
https://www.axios.com/newsletters/axios-am-a8ead02e-8a00-467b-a7e4-bf7f2d66dd6f.html?chunk=4#story4
5. "White House-media relations at breaking point"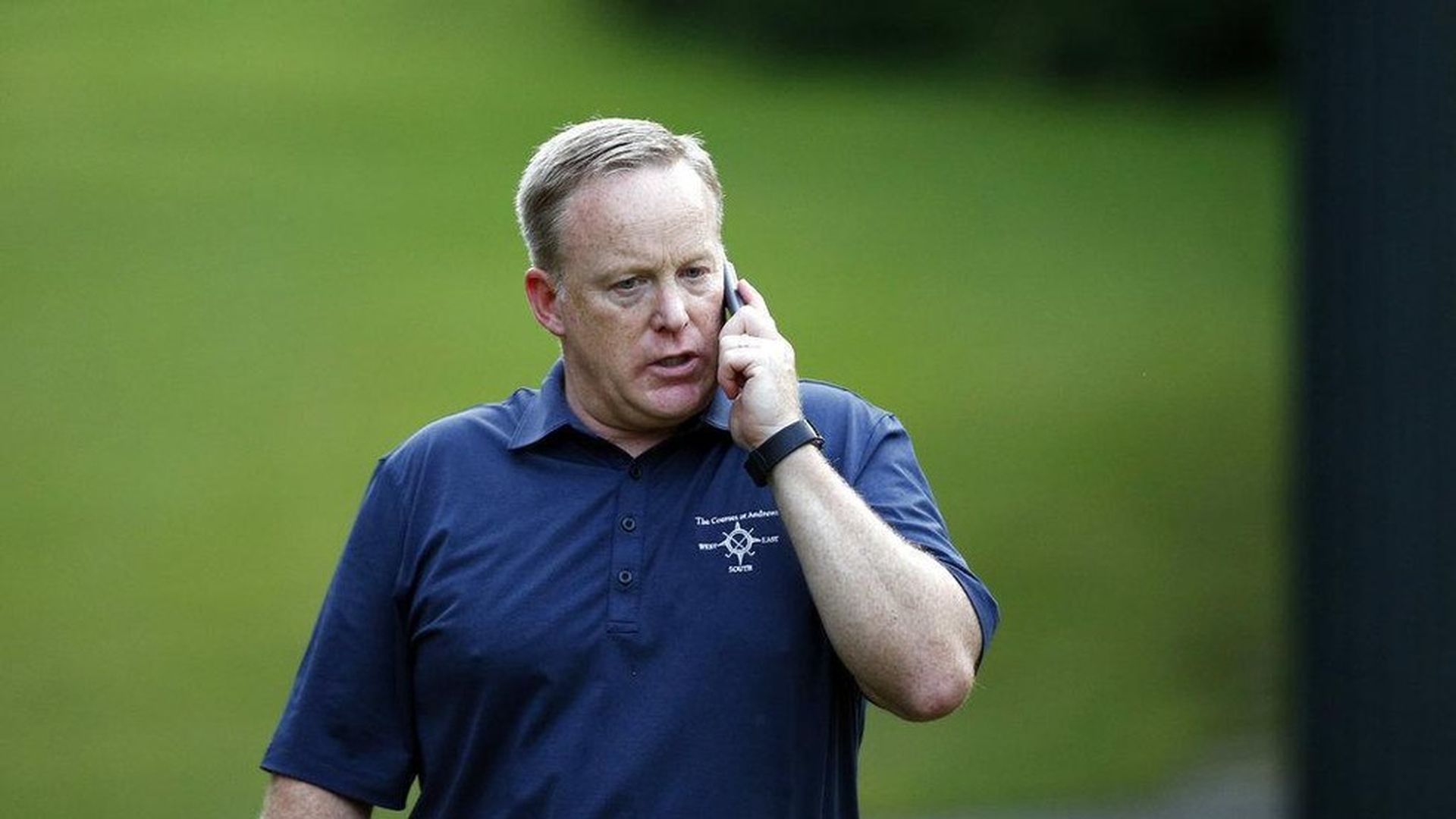 CNN's Dylan Byers: "The White House is facing daily criticism from the news media over its decision to reduce the frequency of press briefings and hold some of those briefings off camera."
"[T]he White House press office has opted for an ad-hoc strategy intended to ... make [the media] look ridiculous. It will go several days without a briefing; then, when media frustration over the lack of access reaches a fever pitch, it will hold a conventional briefing. The next day, it may hold the briefing off camera, starting the process over again."
P.S. ABC's Jonathan Karl, " 26 questions the White House has promised to answer but hasn't."
https://www.axios.com/newsletters/axios-am-a8ead02e-8a00-467b-a7e4-bf7f2d66dd6f.html?chunk=5#story5
6. Bite of the day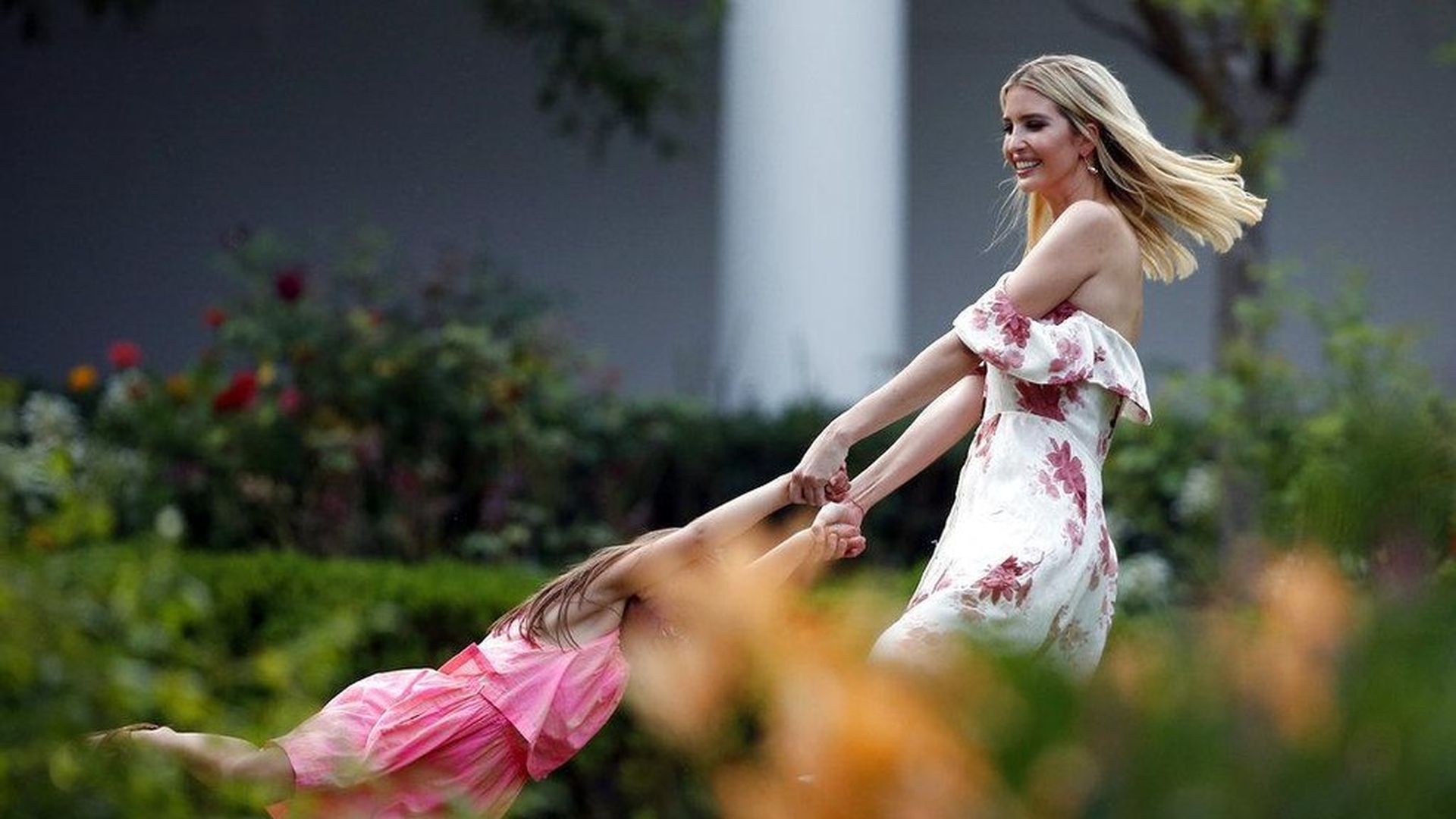 President Trump, last evening: "It's the very first Congressional Picnic that Melania and I have the pleasure of hosting, so I hope you enjoy it. I hope you enjoy it. We've gotten to know many of you over the last weeks and months and developed many friendships with politicians. Can you believe it? (Laughter.) And some really great people, I have to say — mostly, mostly. A couple of bad ones, but that's OK. (Laughter.) "
https://www.axios.com/newsletters/axios-am-a8ead02e-8a00-467b-a7e4-bf7f2d66dd6f.html?chunk=6#story6
7. Tracking power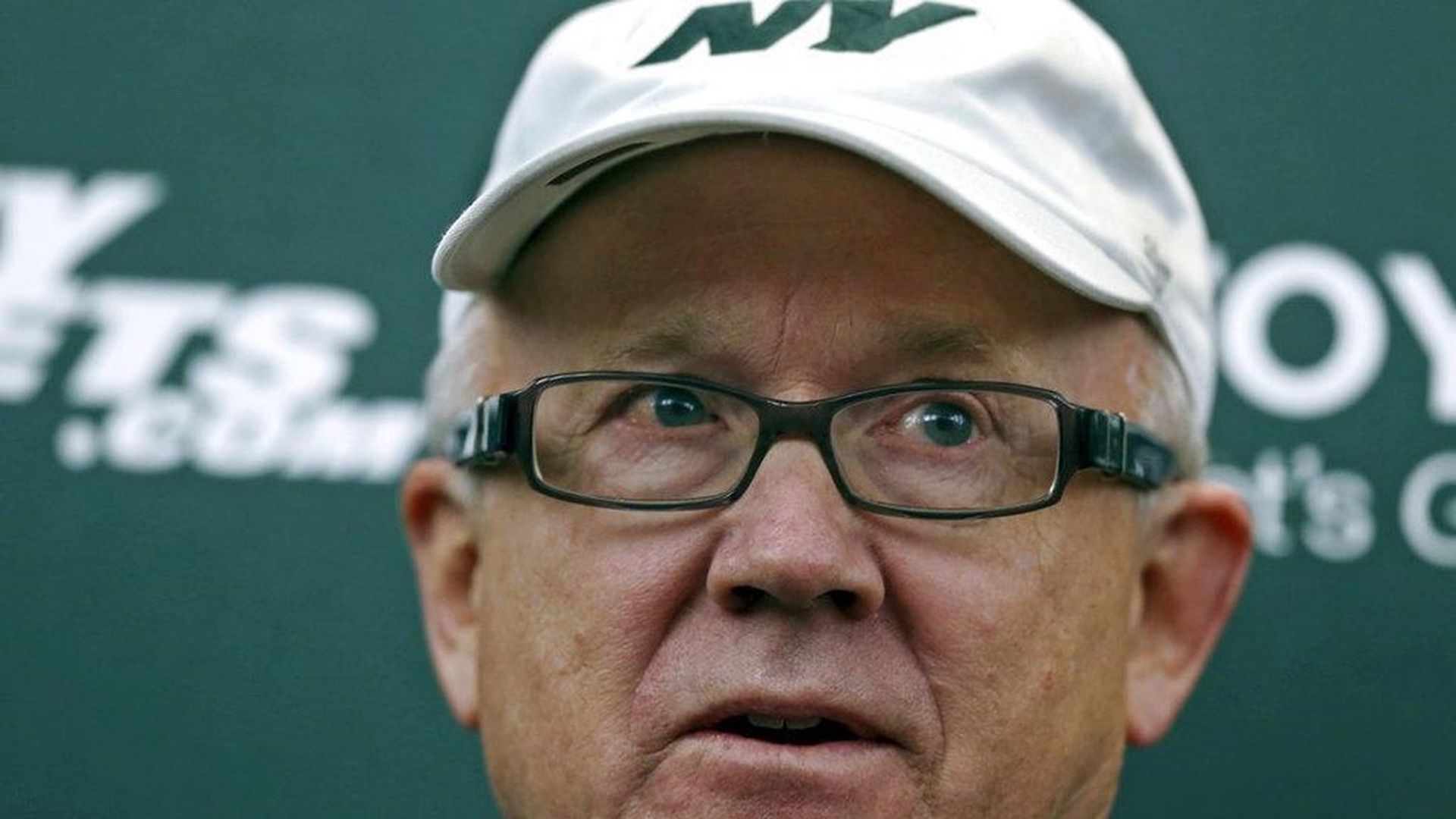 "Trump wants Jets owner, former Dodgers co-owner as US envoys":
"Trump says he'll nominate New York Jets owner Woody Johnson to be the U.S. ambassador to the United Kingdom. Trump also announced his choice of Jamie McCourt, an attorney and former co-owner of the Los Angeles Dodgers baseball team, to be the U.S. ambassador to Belgium."
"Johnson raised money for Trump's presidential campaign and donated funds to help pay for inaugural festivities. Johnson is chairman and CEO of The Johnson Co., a private asset management firm in New York. He has owned the National Football League team since 2000."
https://www.axios.com/newsletters/axios-am-a8ead02e-8a00-467b-a7e4-bf7f2d66dd6f.html?chunk=7#story7
8. Tracking wealth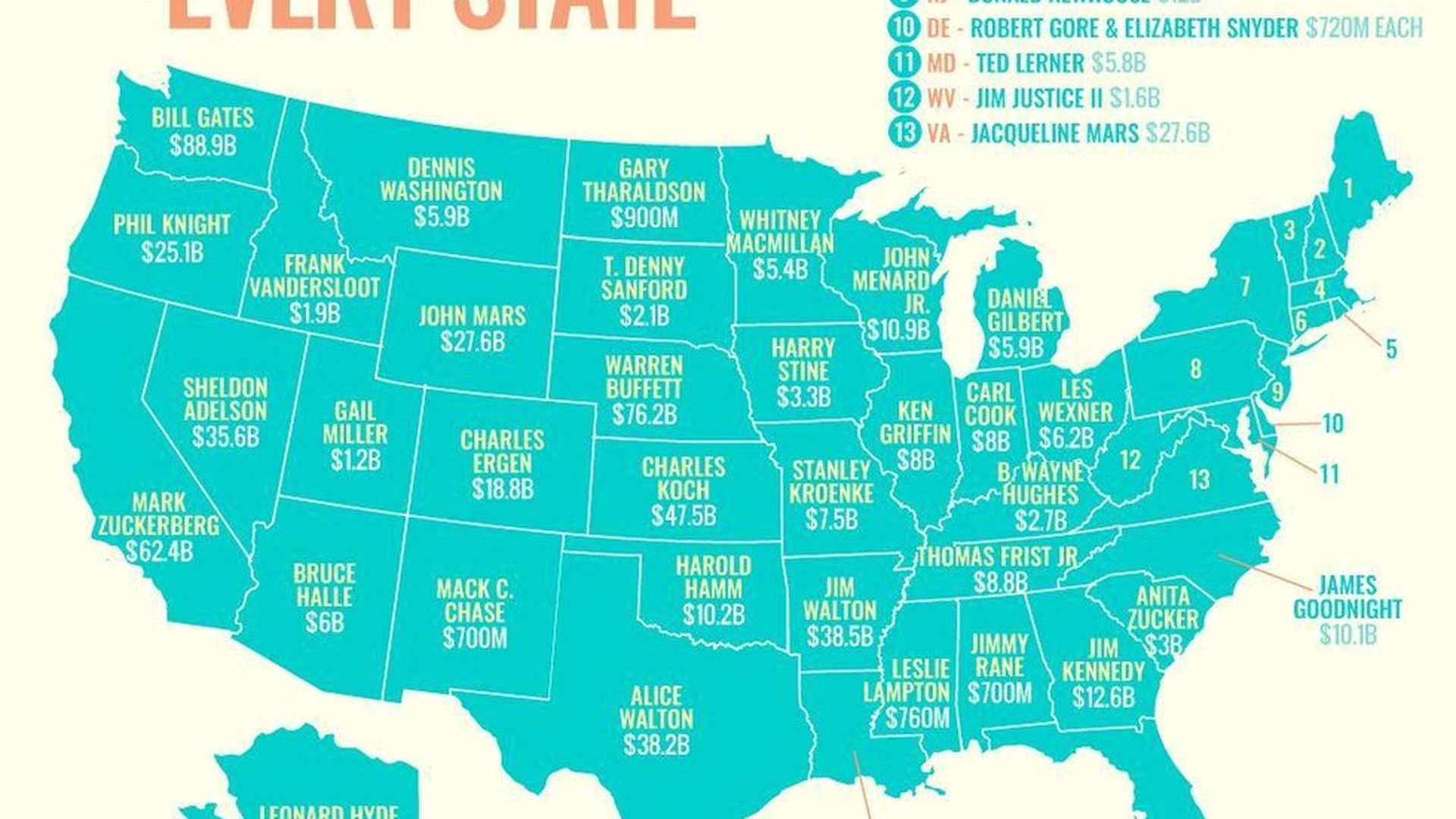 Forbes' Chase Peterson-Withorn, on the magazine's 2017 rankings:
"The biggest gainer in sheer dollars is Bill Gates. He added $12.9 billion to his fortune since last year as the rising stock market has boosted his portfolio, which includes Microsoft and a number of other public and private investments."
Gates, "the richest person in Washington state — and the world — is actually in danger of losing both titles. This year his net worth is $88.9 billion, but fellow Washington resident Jeff Bezos finished just shy of Gates, at $83.3 billion, thanks to a nearly 50% rise in Amazon's stock price since last year's list."
"Dish Network cofounder Charles Ergen, of Colorado, was the biggest gainer as a percentage of net worth. His fortune rose 41%, or $5.5 billion."
https://www.axios.com/newsletters/axios-am-a8ead02e-8a00-467b-a7e4-bf7f2d66dd6f.html?chunk=8#story8
9. "Squandering a golden opportunity"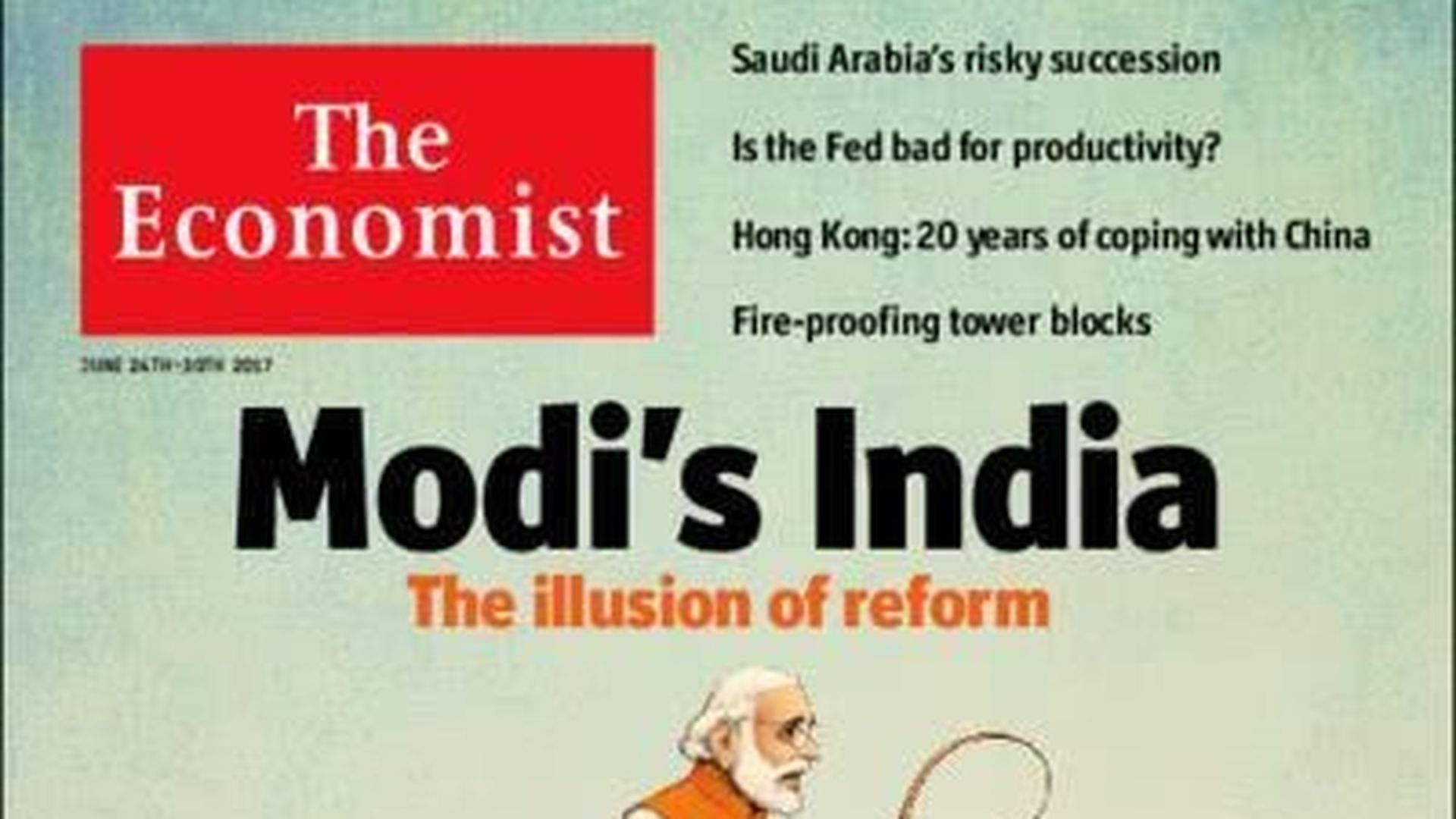 Economist cover story, "The economy under Modi: India's prime minister is not as much of a reformer as he seems. But he is more of a nationalist firebrand":
Narendra Modi "is more energetic than his predecessor, the stately Manmohan Singh, launching glitzy initiatives on everything from manufacturing to toilet-construction. But he has not come up with many big new ideas of his own ...
"His reputation as a friend to business rests on his vigorous efforts to help firms out of fixes — finding land for a particular factory, say, or expediting the construction of a power station. But he is not so good at working systematically to sort out the underlying problems holding the economy back."
Why it matters: "Political conditions are about as propitious for reform as they are ever likely to be. ... Modi's admirers paint him as the man who at last unleashed India's potential. In fact, he may go down in history for fluffing India's best shot at rapid, sustained development."
https://www.axios.com/newsletters/axios-am-a8ead02e-8a00-467b-a7e4-bf7f2d66dd6f.html?chunk=9#story9
10. 1 fun thing
"Congratulations, Here's Your $2.8 Million Fishing Prize! Now For the Polygraph: High-stakes tournaments are testing winners to tamp down the fish tales" — Wall Street Journal A-Hed by John Clarke:
"Polygraph tests aren't perfect, but they help deter cheating, say organizers of the White Marlin Open, which draws more than 300 boats and 2,000 anglers who pay $1,000 each year to compete. Polygraph tests are required for its winners of amounts greater than $50,000. ...
"Other methods include verification by a biologist and surveillance to catch cheaters who in the past have employed creative tactics, including loading fish with weights, switching a catch with a larger fish in waiting, and tail trimming to allow larger fish to win a small-length category."