April 30, 2018
Good Monday morning.
What should I ask James Comey? I'm interviewing the fired FBI director and "Higher Loyalty" author on-camera tonight for Axios and Politics and Prose bookstore. (The event is sold out, but we'll have the Smart Brevity version in AM tomorrow.) What would you like to know from Comey? Just reply to this email, or drop me a line at [email protected]
1 big thing: New Clinton wave this spring
The Clinton family has made sporadic and often subdued appearances in the 18 months (538 days) since Hillary Clinton lost her presidential election. But we're about to see a lot more of them this spring:
Why it matters: This family has been on the national stage for 26 years — all or most of the lifetime of anyone under 50. Chelsea Clinton, now 38, was 11 when her father, Arkansas Gov. Bill Clinton, announced his entry into the race for the Democratic presidential nomination in October 1991. He was 45 then; is 71 now.
Be smart: As the 2020 presidential race ramps up, plenty of top Democrats we talk to would prefer new energy and faces to Clinton nostalgia/redemption.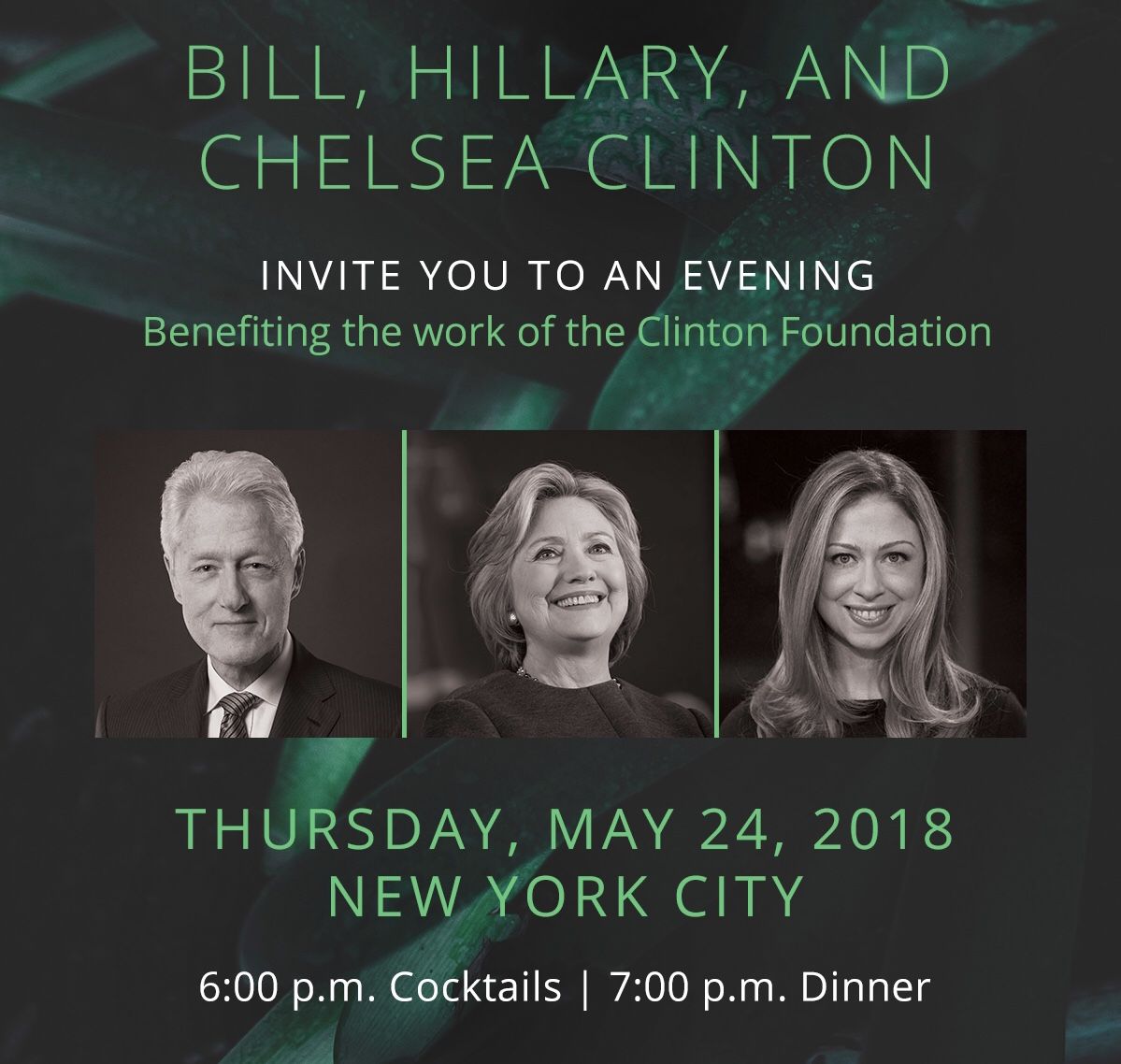 2. Why climate change can't escape back burner
Climate change always takes a backseat to other issues even though political and corporate leaders say they care about it, Axios' Amy Harder writes in her weekly "Harder Line" energy column:
Why it happens: "The amorphous, long-term nature of the problem doesn't fit well into political agendas, and companies respond in kind. This dynamic is kicking into high gear under President Trump and a Republican-controlled Congress.
Seven out of 10 U.S. voters say they want to see more action on climate change from corporations and industry, according to a forthcoming poll by Yale and George Mason universities. That's a larger amount than want such action from Congress (64%) and Trump (62%).
3. Epidemic of teen vaping in class, middle school
"A new wave of smaller vapes has swept through schools in recent months, ... replacing bulkier e-cigarettes from the past. It's now common in some schools to find students crowded into bathrooms to vape, or performing vape tricks in class, AP's Collin Binkley reports:
"The devices heat liquid into an inhalable vapor that's sold in sugary flavors like mango and mint — and often with the addictive drug nicotine."
"They're marketed to smokers as a safer alternative to traditional cigarettes, but officials say they're making their way to teens with surprising ease."
"Vaping devices are notoriously difficult to detect for schools, often leaving behind only a quick puff of vapor and a light fruity scent."
"Students get away with it in bathrooms, halls and even classrooms, where some say they exhale the vapor into their shirts."
Although buying e-cigarettes is illegal under age 18 — and some states have bumped the minimum age to 21 — students say they can buy them online or from older friends."
"Some say there are dozens available for sale in school hallways at any given time."
"Some schools have been inundated by the Juul, which dispenses a flavored vapor containing higher concentrations of nicotine than tobacco cigarettes."
Why it matters: "While high schools have typically faced the widest problems, some districts say it's now spreading to middle schools."
4. Caravan arrives at U.S. border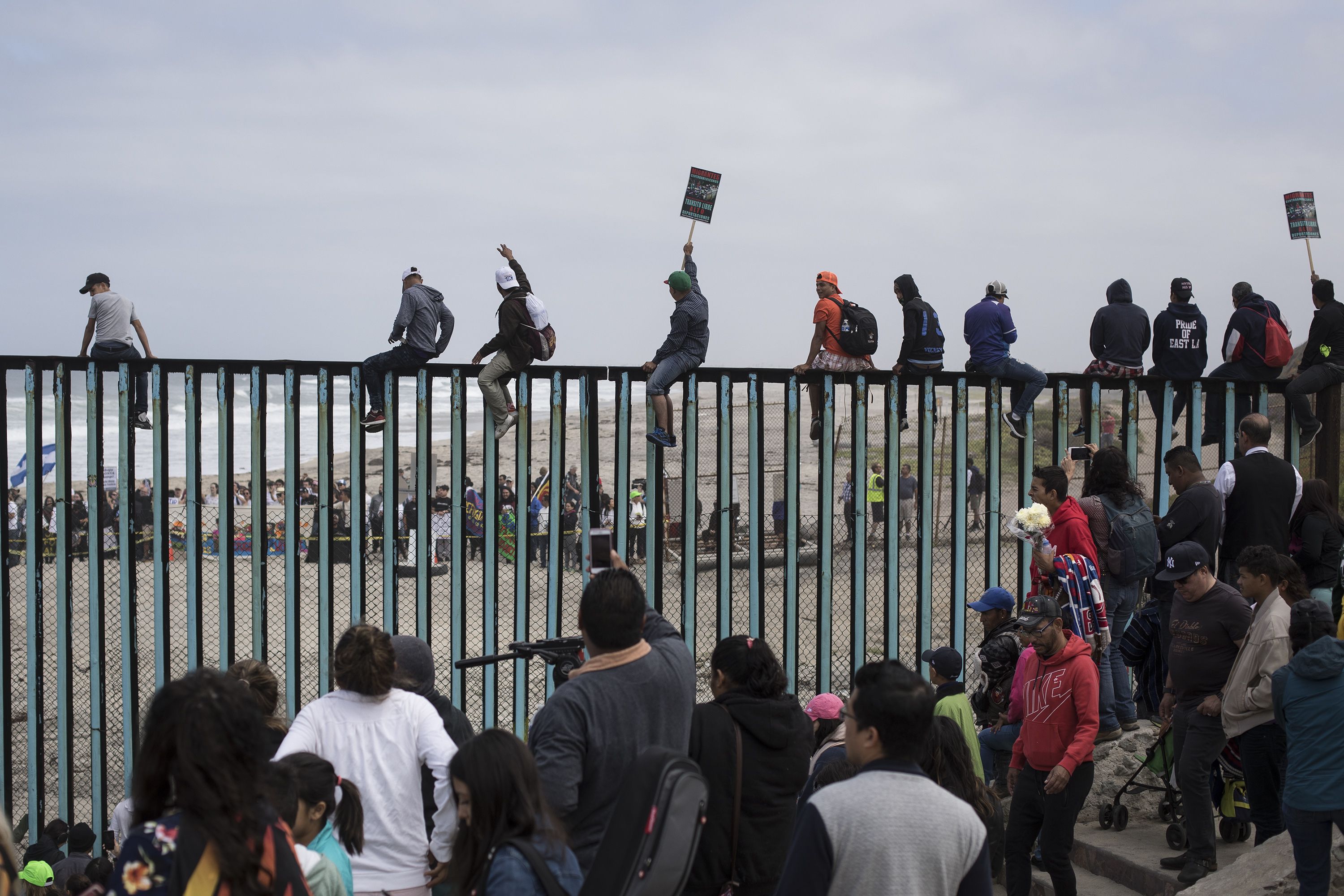 "A group of immigrants from Central America, whose caravan north drew the ire of President Trump and became a flashpoint in the roiling debate over illegal immigration, converged at the California border [yesterday] to request asylum in a scene marked by emotion and theater," the L.A. Times reports:
Why it matters: "The spectacle at the border, captured by multiple news outlets, was sure to further fan the ire of Trump, who has frequently cited the caravan as a justification for tough measures against illegal immigration."
"Younger migrants climbed to the top of tall gates dividing the U.S. and Mexico, pumping their fists at crowds gathered on the American side. Others quietly clutched infants, wondering about their future."
U.S. says no room, per AP: "[N]early 200 Central American migrants attempting to seek asylum ... were stopped in their tracks when border inspectors said that a crossing facility didn't have enough space to accommodate them."
P.S. "Some Americans offer to open up their homes to Central American asylum seekers," the L.A. Times' Cindy Carcamo reports.
Why it matters: "Even in progressive California, where state leaders approved sanctuary laws to protect people who are in the country illegally, an anti-sanctuary movement quickly followed and appears to be gaining momentum."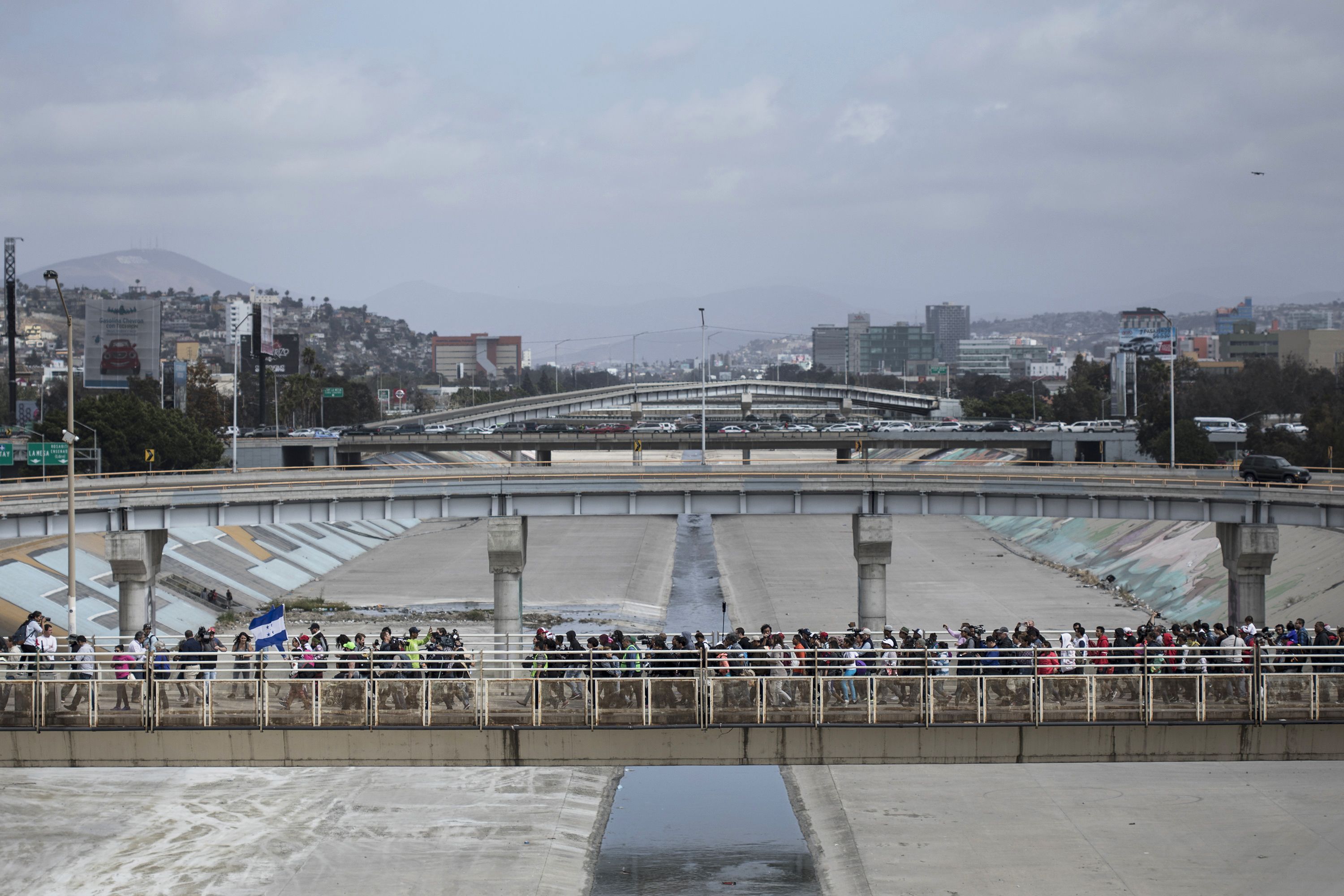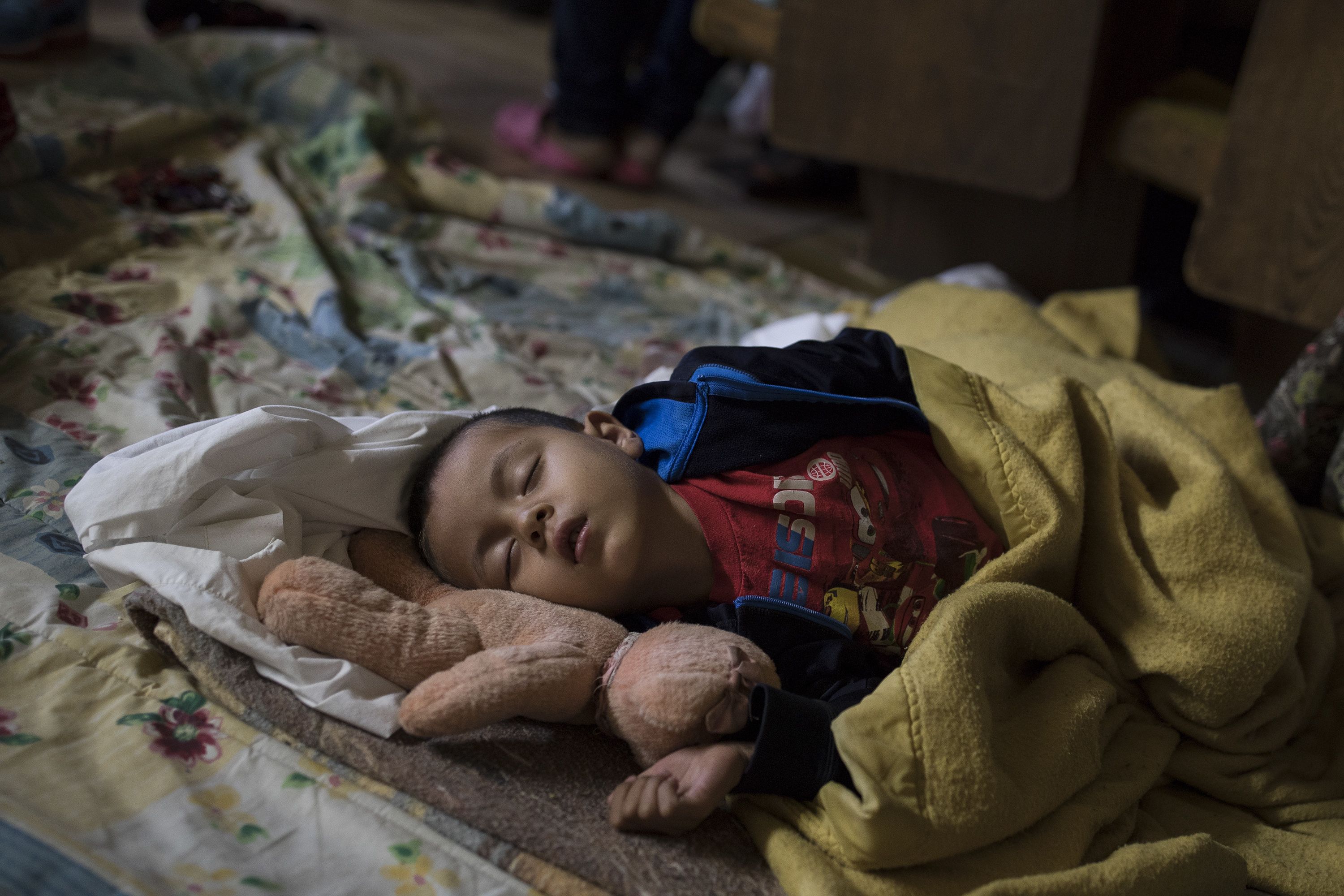 5. Stunning new overtures on Korean Peninsula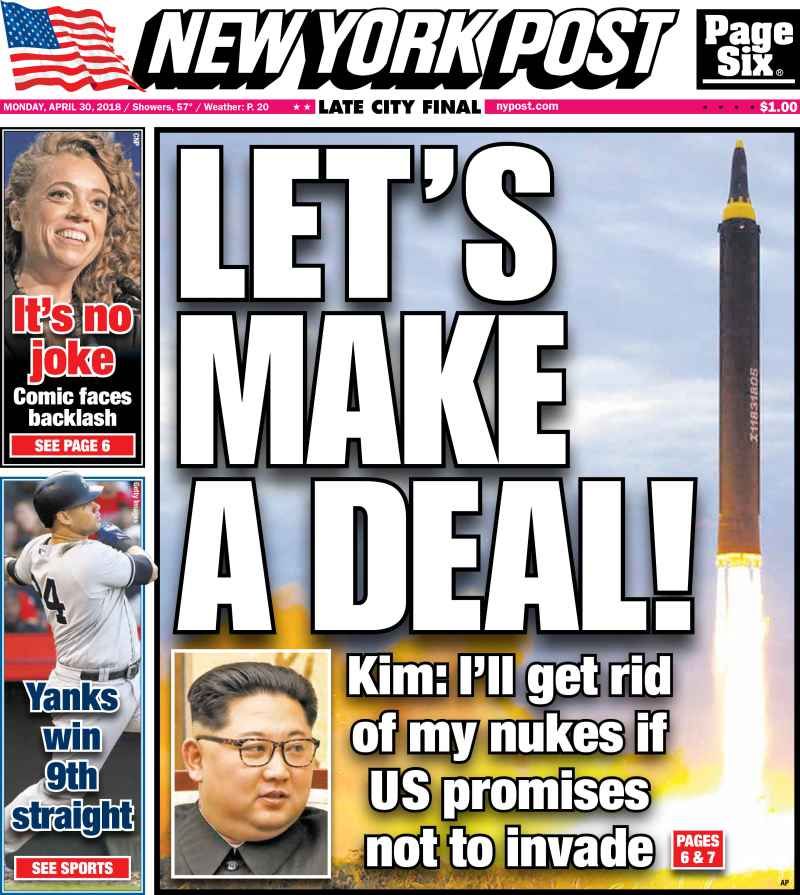 "South Korea will remove propaganda-broadcasting loudspeakers from the border with North Korea this week, officials said [today], as the rivals move to follow through with their leaders' summit declaration," per AP:
"South Korea had already turned off its loudspeakers, ... and North Korea responded by halting its own broadcasts."
6. The coming non-Chinese trade war
"[W]ith only days left before the exemptions expire and punitive tariffs take effect, it's dawning on foreign leaders that decades of warm relations with the United States carry little weight with a president dismissive of diplomatic norms," the N.Y. Times reports:
"Business leaders who have visited Washington recently said that the president had been unmoved by protests from members of his own party."
Why it matters, from Axios future editor Steve LeVine: Our eye is on the Chinese-U.S. trade talks. But the EU is our biggest trading partner, and we appear to be headed toward a precipice with them no one stopping it.
The big question is: What does a diabolically clever EU retaliation look like, like China going directly to the U.S. farm patch?
Deadline at midnight tonight ... Axios' Jonathan Swan, in last evening's weekly Sneak Peek newsletter (subscribe free here), went inside Trump's negotiating style:
The trick: Threaten the outrageous, ratchet up the tension, amplify it with tweets and taunts, and then compromise on fairly conventional middle ground."
7. Early midterm scramble by frantic GOP
Some Republicans, antsy about the energy on the left heading into midterms, say Congress needs to pass more conservative legislation this year to bolster the case for why voters should keep the GOP in office, Axios' Caitlin Owens writes:
Sen. Ted Cruz of Texas, in a tougher-than-expected race: "I think we need to do much more. ... Democratic turnout is going to be very, very high."
Scoop ... The National Republican Congressional Committee (NRCC) gave Axios' Alayna Treene the details on an initial $60.2 million buy in 13 key cities:
The breakdown: $46.3 million will be spent on television/media ads, $10 million on digital, and $4 million on polling.
Their targets: Philly ($7.8 million); D.C. ($6.4m); Minneapolis ($6.4m); Miami ($3.2m); Pittsburgh ($3.8m); Detroit ($5.7m); Tucson ($1.94m); Las Vegas ($3.6m); San Antonio ($1.8m); Denver ($1.8m); Sacramento ($1.48m); Albany ($1.2m); and California's San Joaquin Valley ($1.2m).
8. A color-blind Affirmative Action
"Why Bill and Melinda Gates put 20,000 students through college: Now universities around the country are forming a new, color-blind, Affirmative Action," — CBS News' "60 Minutes":
"[M]ajor universities like Princeton are working to lower the price of admission through a new kind of affirmative action, not based on race, but on low-income status."
"Bill and Melinda Gates ... spent more than a billion dollars putting low-income minority students through college [as] Gates Millennium Scholars."
9. Trump's Big Apple backstory
Frank Rich deep dive for New York magazine ... "The Original Donald Trump: The New York Establishment will ignore unscrupulous acts to serve its interests — just look how it treated Roy Cohn, onetime lawyer to the president":
"The story of Trump's ascent complicates the equation for those who want to believe that it was exclusively a product of his genius for publicity, or his B-stardom in a long-running reality show in NBC's prime time, or a vast right-wing conspiracy."
"One might be tempted ... to speculate on what might have happened if more of New York's elites had intervened ... to block or seriously challenge Trump's path to power. They had plenty of provocation and opportunities."
10. 1 fun thing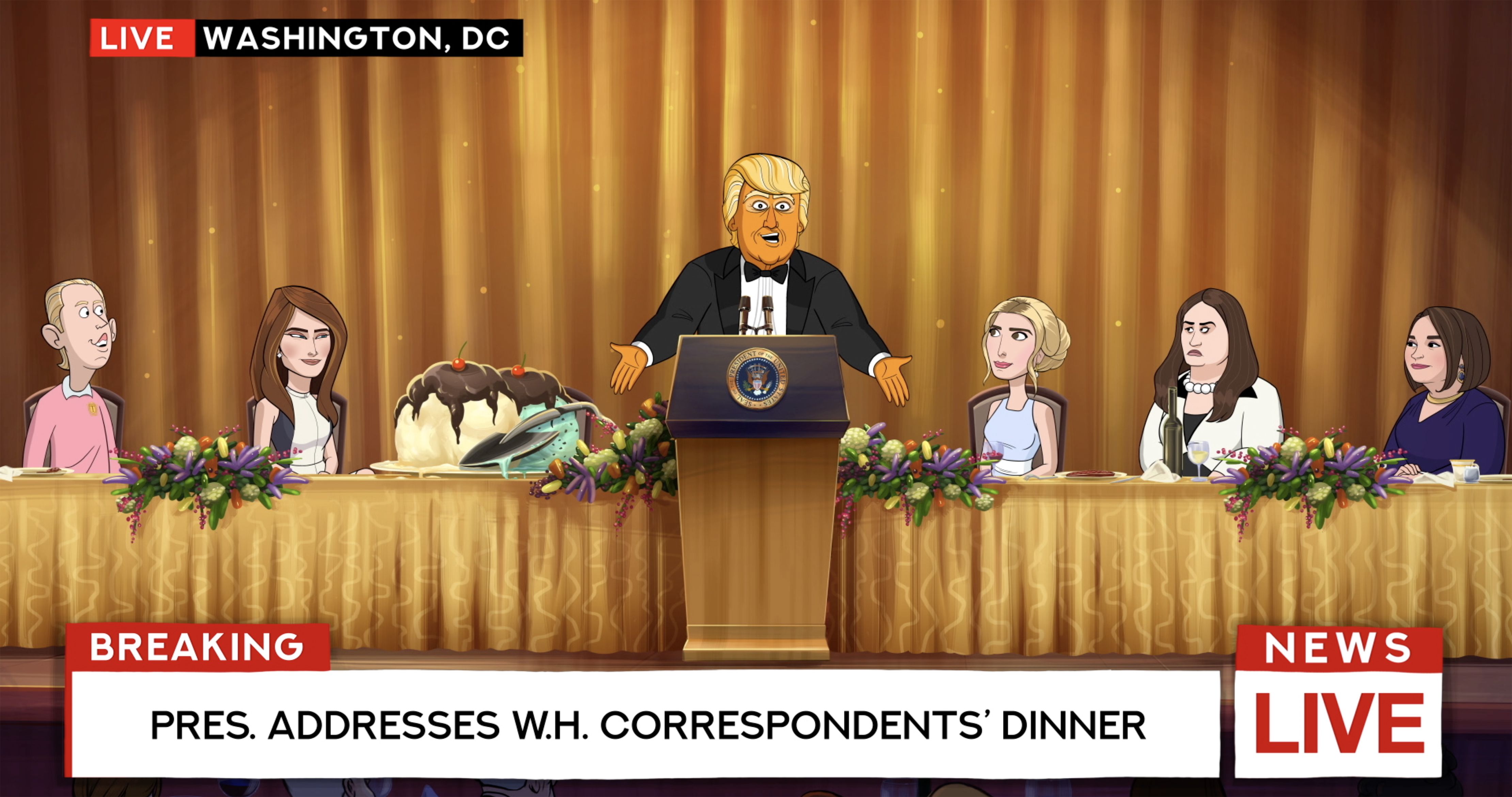 "Our Cartoon President," from Stephen Colbert and Showtime, addressed the White House Correspondents' Dinner by video, with appearances by cartoon Rachel Maddow, cartoon Wolf Blitzer and cartoon White House Correspondents' Association president Margaret Talev.
White House cameos: cartoon Stephen Miller and cartoon Sarah Sanders.
Cartoon Trump serenades "Maggie, Maggie, Maggie" Haberman.
Thanks for reading. See you all day on Axios.com.