March 15, 2022
⚠️ Good Tuesday morning. Beware: It's March 15 — the ides of March.
Smart Brevity™ count: 1,194 words ... 4½ mins. Edited by Zachary Basu.
1 big thing: Tech's globalist dream is shrinking
The tech world order that came together in the '90s at the Cold War's end is falling apart:
The break between Russia and the West signals a great retrenchment, Axios managing editor Scott Rosenberg writes from the Bay Area.
Why it matters: The breakup of the USSR in the early '90s opened an era in which internet use rapidly spread around the globe and U.S. tech companies viewed the entire planet as both factory floor and market.
Working from that assumption helped a handful of companies grow to previously inconceivable size, wealth and power.
But the triple whammy of a "decoupling" between the U.S. and China ... a global pandemic ... and Russia's invasion of Ukraine is rapidly shifting the landscape.
A new COVID outbreak that's spread from Hong Kong to nearby Shenzhen, China, has led Foxconn — the gigantic Taiwan-based tech supplier — to temporarily close production complexes there that manufacture, among other things, Apple's iPhone.
At the same time, Ukraine's plight has pushed many U.S.-based tech giants toward taking sides in a major international conflict, turning the power of their platforms toward blocking Russian state propaganda.
China became the tech industry's foundry. But that relationship has begun to unravel, as U.S. distrust of China's government mounts, American awareness of China's human rights abuses grows, and China flexes its muscles on the world stage.
What's happening: All that, plus the pandemic, leaves the U.S. in a "bring production home from overseas" mood.
The result is the start of a vast withdrawal from a single global tech market.
This grand decoupling goes beyond the "splinternet" phenomenon — the breaking up of the global internet into several different jurisdictional zones with different regulations and dominant powers.
The bottom line: The changes suggest tech's three decades of up-and-to-the-right growth have peaked.
2. Economic world comes unglued
A sense that the world is coming unglued hangs over global markets and the economy, Axios chief economic correspondent Neil Irwin writes.
Why it matters: Aspects of how the world works — taken for granted for a generation — have become deeply uncertain amid war in Europe, new pandemic lockdowns in China and high inflation in the U.S.
The threats are to globalization itself, and specifically the assumption that even countries that have big disagreements can do business with each other on an ever-widening scale.
And the faster and more efficient supply chains that companies have built over the course of decades are crumbling in new ways.
State of play: A collision between powerful geopolitical and economic forces is creating rapid whipsawing effects in markets, as traders and policymakers try to make sense of this rapidly changing world.
The invasion has caused spiking prices for oil, wheat, and many metals on commodity markets (though those prices pulled back some on Monday), as the productive capacity of two large countries is essentially cut off from the rest of the global economy.
The bottom line: The thing about living through momentous times in history is you don't know how things are going to end. Markets, and all of us, are just trying to make sense of it in real time.
3. Axios-Ipsos poll: Americans ditch masks, gain confidence
Americans' emotional and physical health is bouncing back — along with record confidence about life returning to "normal" as mask mandates are abandoned, Axios managing editor Margaret Talev writes from the Axios/Ipsos Coronavirus Index.
Why it matters: Two years after the start of the pandemic, the nation is ready to move on — despite a resurgence of cases in Europe and new lockdowns in China.
64% of respondents now favor federal, state and local governments lifting all COVID restrictions, up 20 points from early February.
But three in four say they'd go back to masking if infections increase again where they live.
83% of respondents describe their physical health as good and 84% say their state of emotional well-being is good — the highest shares for both since May 2020.
48% of respondents said "hopeful" describes the way they feel today — the highest share since this time last year when vaccines were becoming broadly available.
4. "They're lying to you here"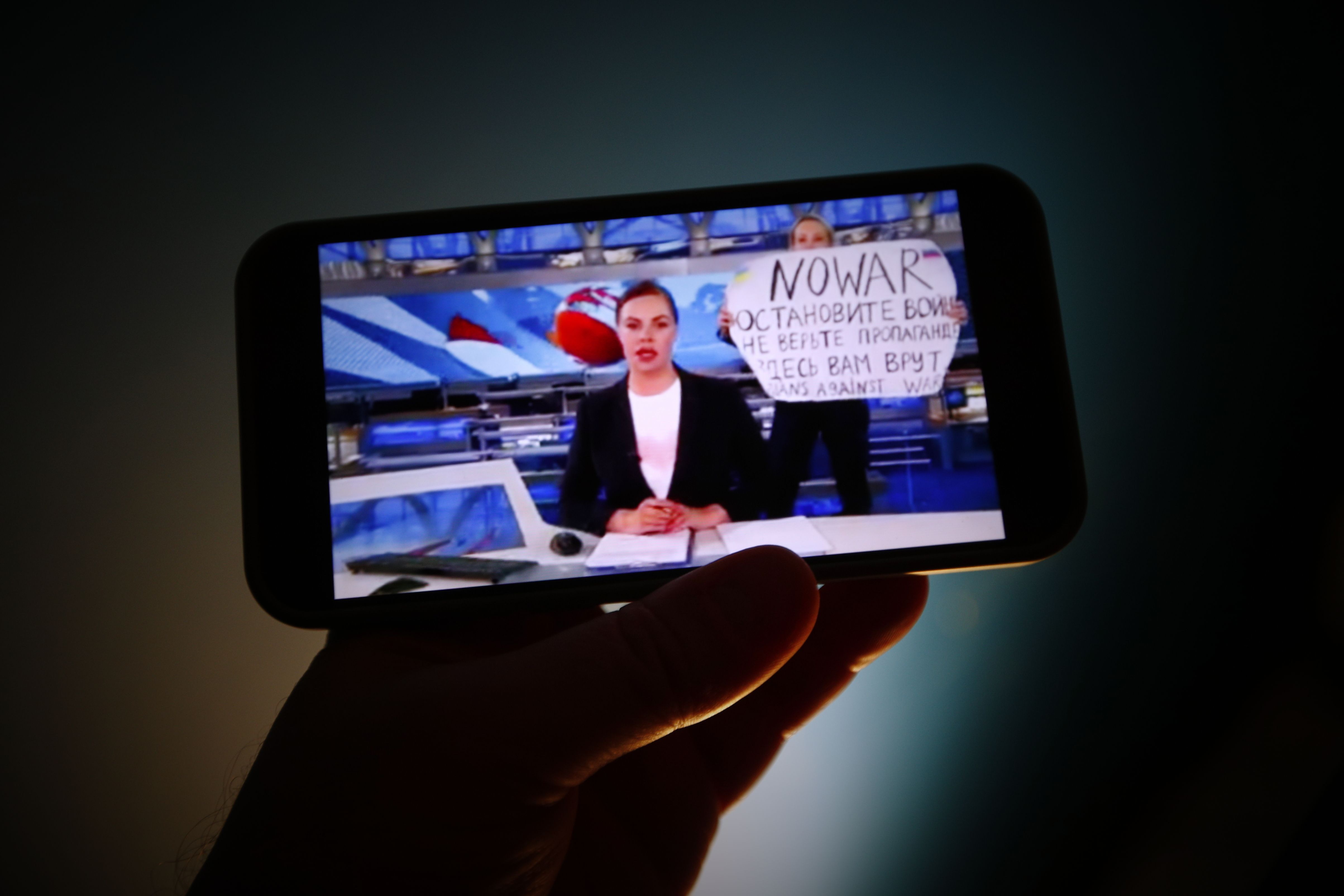 An employee for Russian state television burst onto the set of a live broadcast last evening, yelling anti-war slogans and carrying a sign that read: "Don't believe the propaganda. They're lying to you here."
Why it matters: Viral footage of the stunning protest momentarily disrupted the heavily censored media environment Russia has imposed since the invasion began, Axios' Zachary Basu writes.
Marina Ovsyannikova, an editor at Channel One whose father is Ukrainian, was arrested and could face up to 15 years in prison under a new law that bans the spread of "fake news" about the Russian military.
In a pre-recorded video, Ovsyannikova said she was "very ashamed" of working for "Kremlin propaganda" for so many years, and called for Russians to join anti-war protests.
"What is happening in Ukraine is a crime and Russia is the aggressor," she said. "Only we have the power to stop all this madness."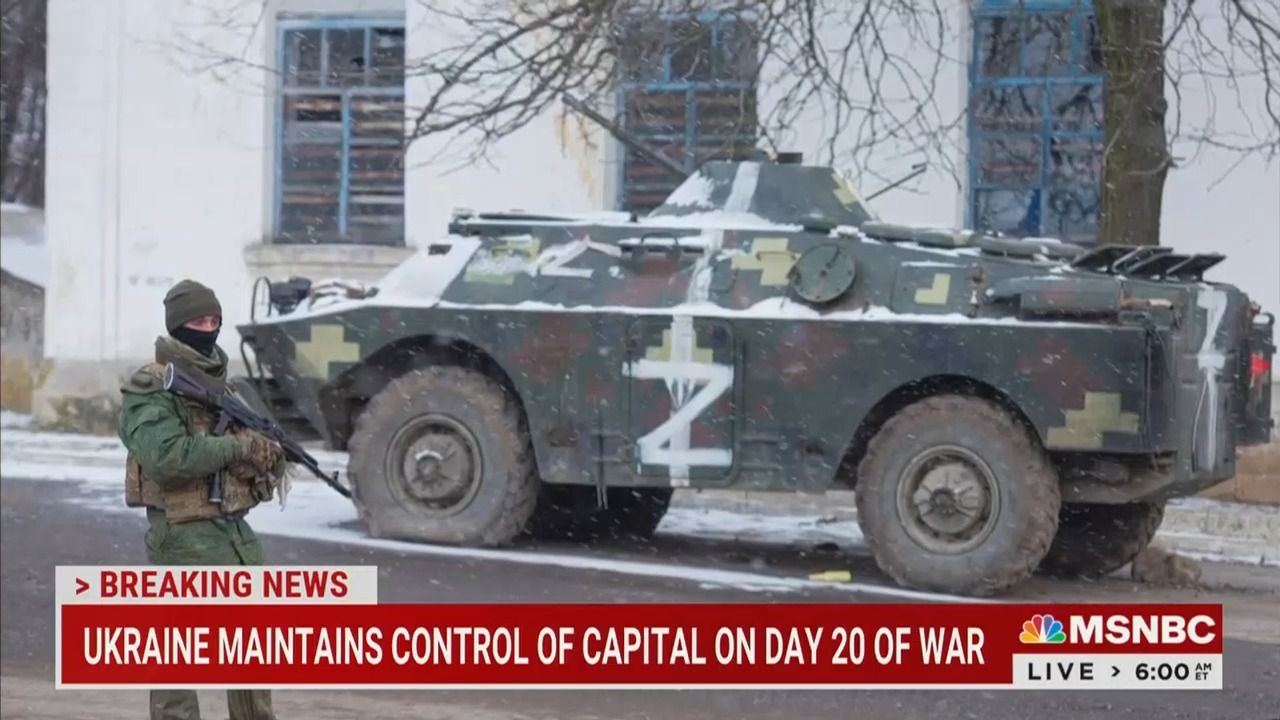 ⚡ Breaking: The prime ministers of Poland, the Czech Republic and Slovenia will travel to Kyiv today to meet with Ukrainian President Volodymyr Zelensky and convey the European Union's "unequivocal support" for Ukraine.
5. Charted: Disinformation gets global spotlight
Public awareness of misinformation and disinformation soared over the past two years, Axios' Sara Fischer and Ashley Gold write.
Why it matters: Information warfare and content moderation issues have been brought to the center of public conversation.
New data from Zignal Labs, a social media analysis firm, found that conversations surrounding misinformation and disinformation have only become more frequent since 2020.
Today, the topic is a big part of public debate about any major news event, from COVID to elections to racial justice issues — and now the invasion of Ukraine.
6. 🔮 Scenarios: Politics of Ukraine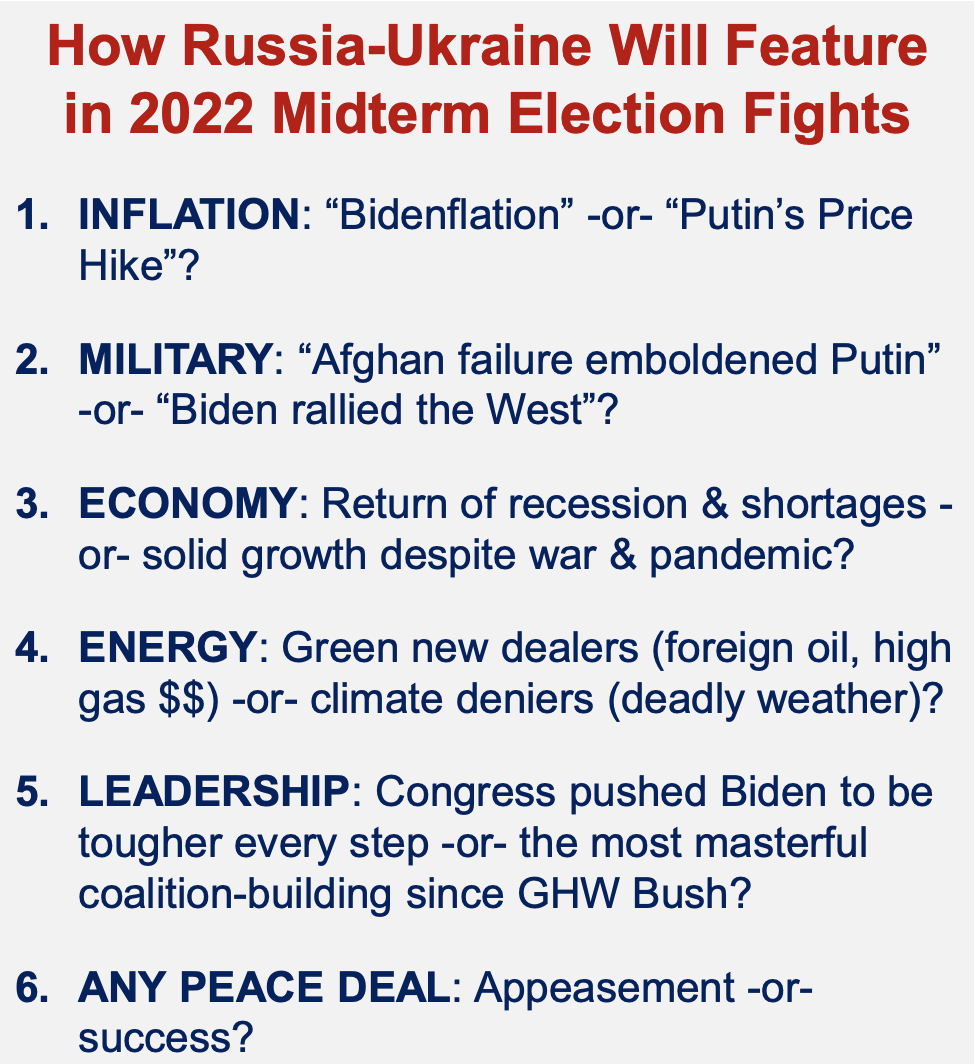 Bruce Mehlman — founder of the government relations firm Mehlman Castagnetti Rosen & Thomas — sketches how the two parties can spin Ukraine during this year's midterm campaigns.
7. 🏀 Maddest March
With legal sports-betting markets in 30 states plus D.C., this year's March Madness will generate the most betting in tournament history, Jeff Tracy writes for Axios Sports.
An estimated 45 million Americans could combine to wager $3.1 billion on the 2022 men's tournament, according to the American Gaming Association.
36.5 million of those Americans (81%) plan to wager via bracket contests.
But 76% of the money wagered will go to non-bracket bets. That's up from 55% last year — evidence that bettors are engaging in more single-game betting alongside their traditional bracket pools.
What's happening: 29 million more Americans can legally bet this year compared to last, with legal markets launching in Arizona, Connecticut, Louisiana, Maryland, North Dakota, South Dakota, Washington, Wisconsin and Wyoming.
8. 📷 Parting shot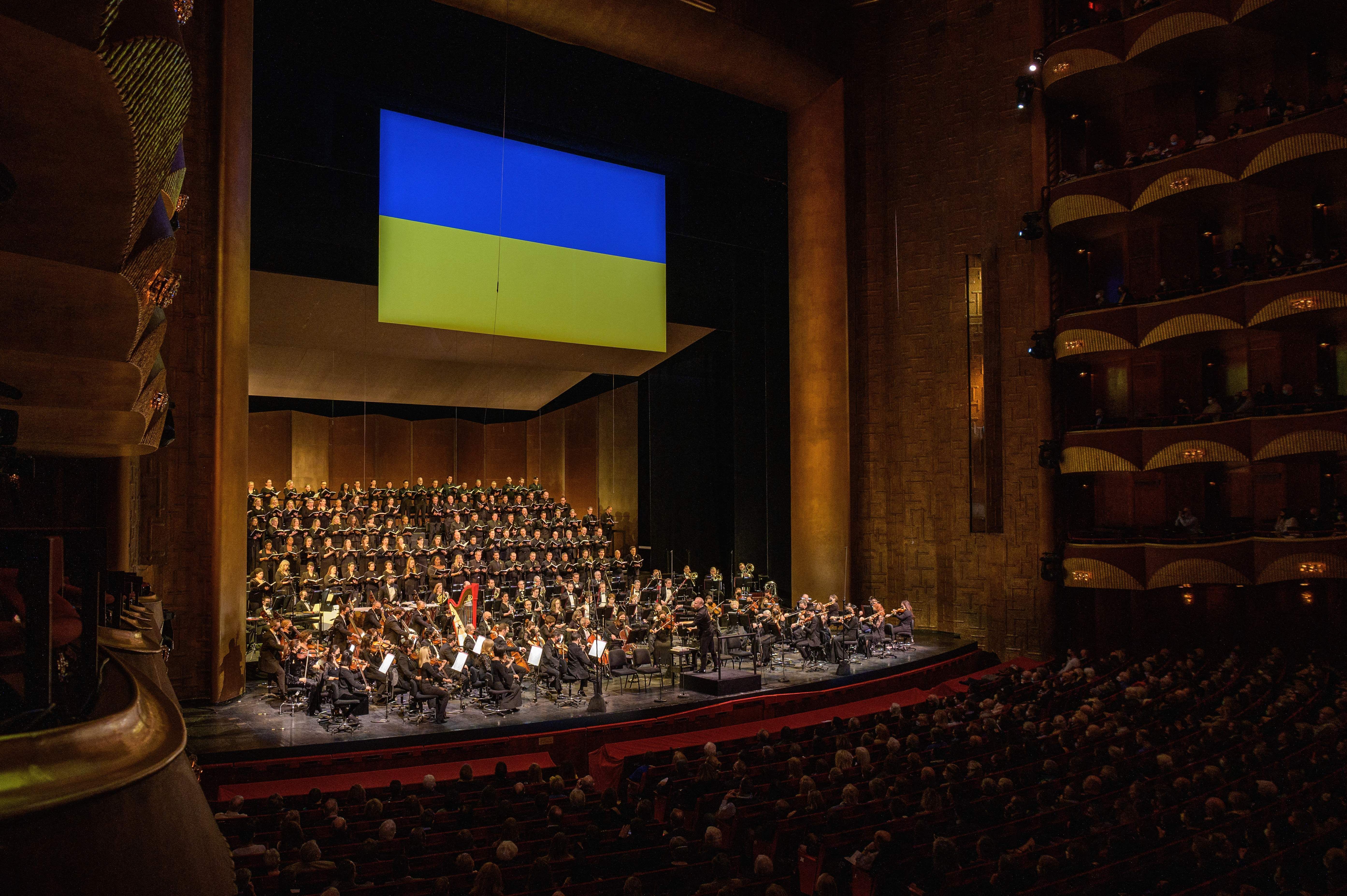 The Met Opera and Chorus performs "A Concert For Ukraine" at the Metropolitan Opera House at Lincoln Center last evening.
Ticket sales benefited relief efforts.
📬 Please urge your friends to sign up here to get their daily essentials — Axios AM, PM and Finish Line.