Axios AM
December 07, 2017
Good Thursday morning. It's Pearl Harbor Day — 76 years since Japan's surprise attack on Hawaii, killing 2,403 soldiers, sailors and civilians, and propelling the U.S. into World War II.
Axios cracked the "Recode 100" list of tech and business innovators, which calls our 11-month-old company "an overnight media success story."
Great business/life lesson: The smartest thing we did was hire an executive team capable of running a company twice our size. We did this to allow fast growth. Turns out, the team steered an unformed idea into something much bigger and more consequential.
See the full list, "The Recode 100: The people in tech, business and media who mattered in 2017." (Jeff Bezos is #1.)
1 big thing: A day-after report from Israel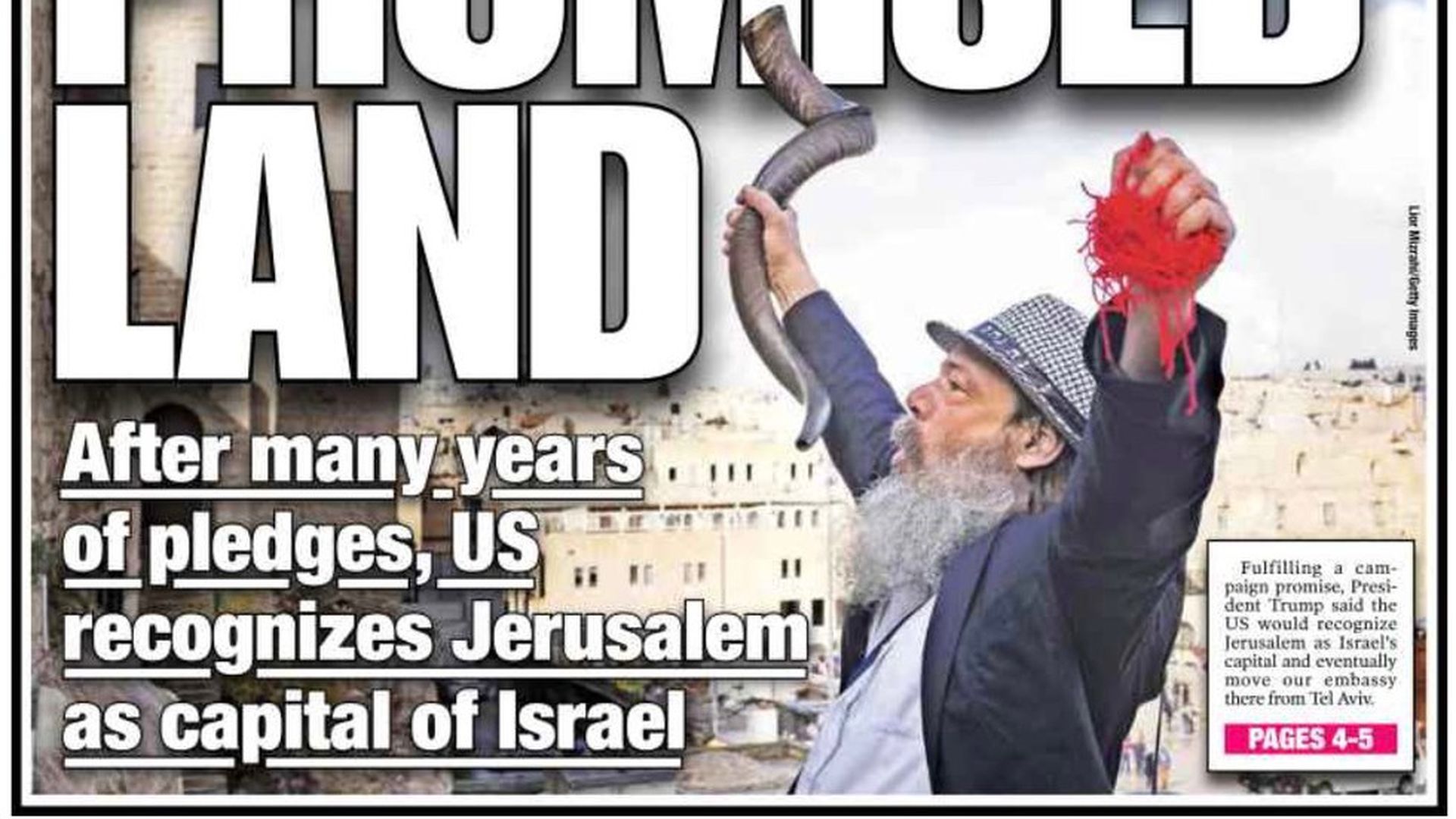 Domestic politics drove President Trump's potentially costly decision to recognize Jerusalem as Israel's capital: Even senior White House officials said they're "prepared for derailment" of Middle East peace efforts — temporarily, they hope.
Barak Ravid of Israel's Channel 10 News, an Axios contributor, gives me this day-after scouting report from Tel Aviv:
The Israeli government is jubilant. For Prime Minister Benjamin Netanyahu, this is the first big diplomatic achievement since Trump entered the Oval Office. But this is also a big political win for Netanyahu, who is entangled in police investigations over alleged corruption and has taken a hit in the latest polls.
Palestinians are depressed. President Abbas managed to mobilize the entire Arab world and part of the Western world in an attempt to stop Trump's move, but failed. Some unrest is already felt in Palestinian cities, but the big thing to look at is what happens after the Friday prayers.
Putting aside the symbolism of the U.S. recognition and the emotional reactions from both parties, a careful reading of Trump's speech shows one very important message regarding possible U.S. peace plan. Trump said he is going to do everything in his power to help the sides in getting a peace agreement and added: "Without question, Jerusalem is one of the most sensitive issues in those talks." So the future of Jerusalem, its borders and sovereignty will be on the table in every Trump-sponsored peace talk.
Whether it is even possible to renew peace talks after Trump's speech remains to be seen.
Expecting a backlash, the State Department is asking Israel to restrain its official response "and is weighing the potential threat to U.S. facilities and people," according to a document seen by Reuters.
From talking points for diplomats at the U.S. Embassy in Tel Aviv to convey to Israeli officials: "We expect there to be resistance to this news in the Middle East and around the world."
Be smart: Trump's defiant decision reflects the focus on his domestic base (including evangelical Christians), regardless of international repercussions, that led him to renounce the Paris climate accord.
L.A. Times: "In his view, he is the president who pushes through toward 'historic' change while those around him urge equivocation. He is the president who bluntly scorns the judgment of elites. And he is the president who tallies 'promises kept.'"
2. "Al Franken is no exception"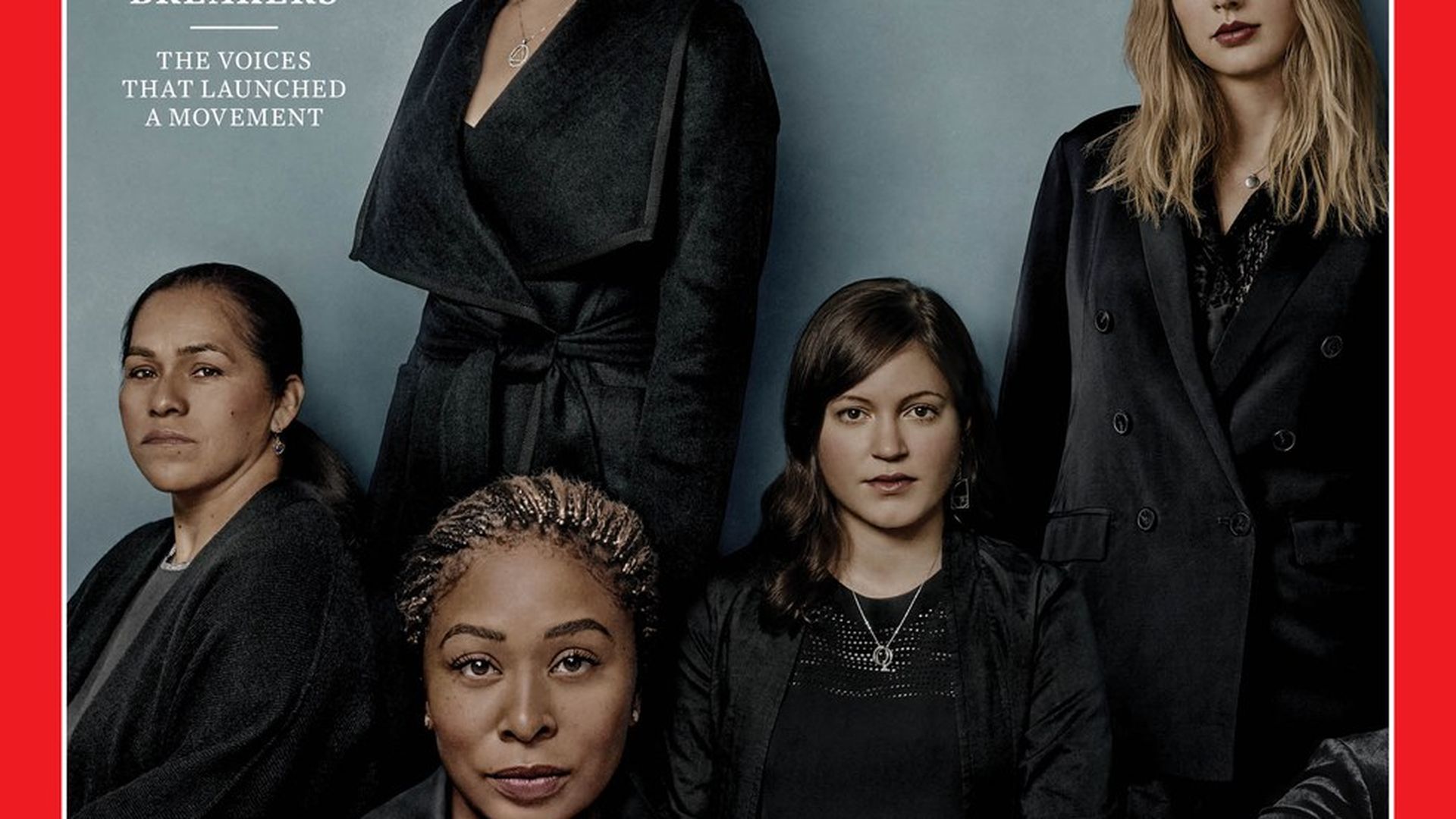 The Franken tipping point ... "Al Franken weathered six women's sexual misconduct allegations without hearing a single resignation call from his fellow Democratic senators. No. 7 broke the dam," Politico's Elana Schor and Seung Min Kim report:
"The Democratic women of the Senate had been talking among themselves about the Franken allegations for weeks ... In calls and texts, the female senators eventually came to an unstated agreement: ... The next credible story of misconduct in a credible news outlet would prompt them to call for Franken's resignation."
"The first public resignation nudge came from Sen. Kirsten Gillibrand (D-N.Y.) ... Six more Senate Democratic women followed, with head-snapping speed."
What's next: Democrats expect Franken to resign in an announcement on the Senate floor this morning.
3. Data du jour: 2017 Hill tweets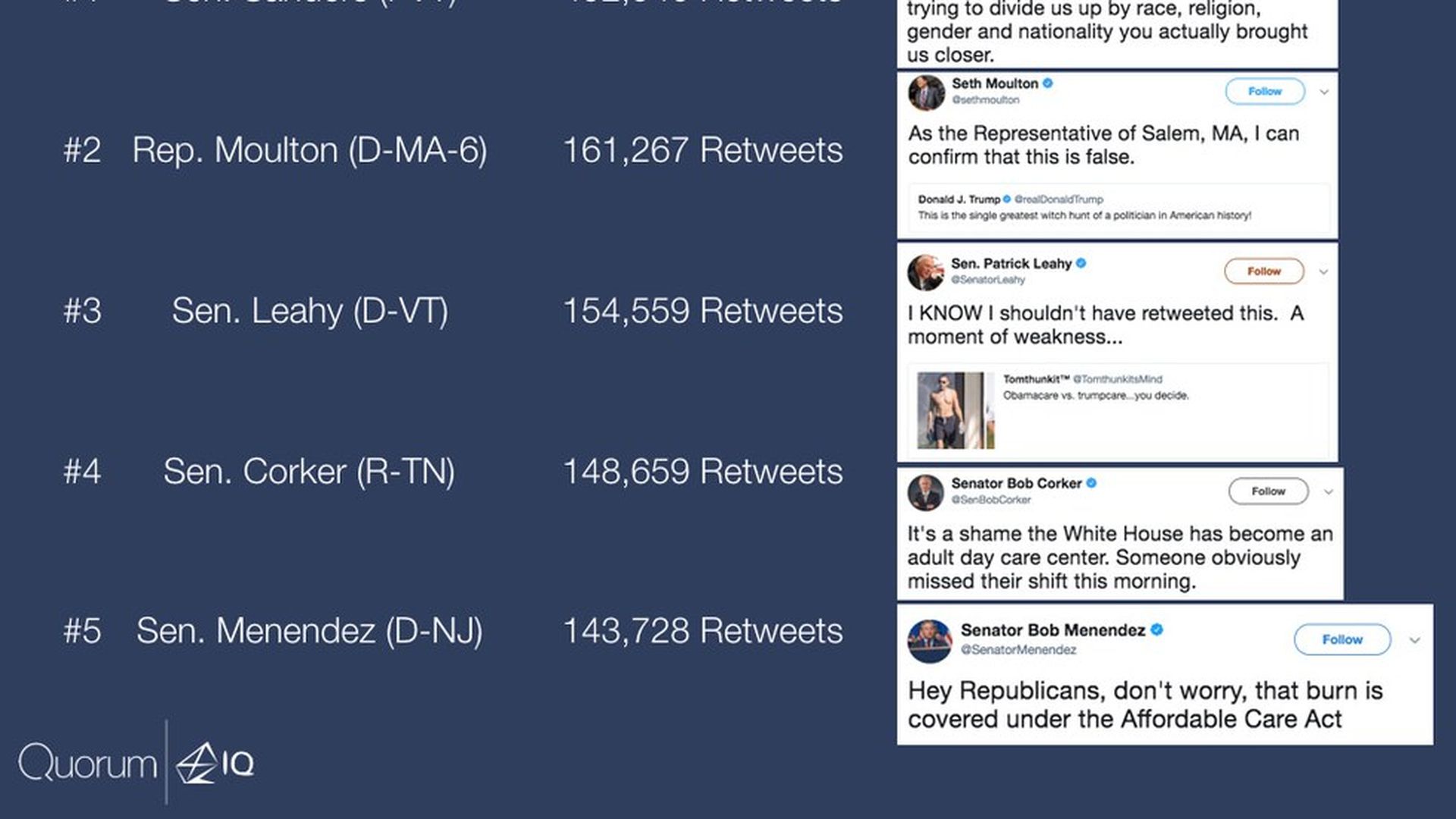 "#trumpcare was far and away the most popular hashtag by members of Congress in 2017, with nearly 12,000 posts including the tag," according to a report by Quorum, a public affairs software platform.
Healthcare hashtags held four of the top five spots.
#taxreform was #3.
See the full report, "How Congress Used Social Media in 2017."
4. Pic du jour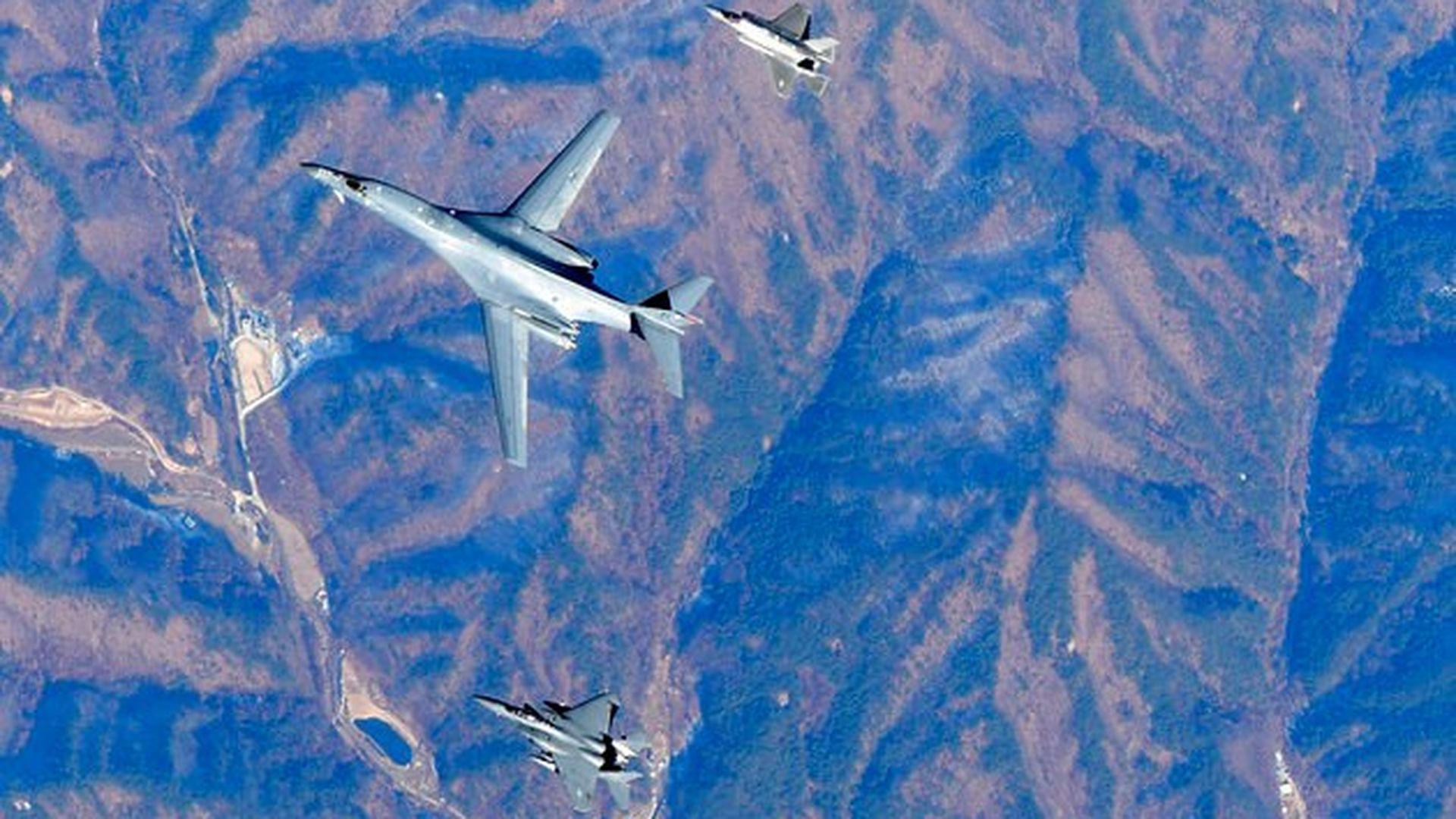 A U.S. Air Force B-1B bomber (center) flies over the Korean Peninsula with South Korean fighter jets F-16 and F-15K, and U.S. fighter jets F-35A and F35B, during a combined aerial exercise yesterday.
The U.S. flew a B-1B supersonic bomber over South Korea as part of a massive combined aerial exercise involving hundreds of warplanes — a clear warning after North Korea last week tested its biggest and most powerful missile yet.
"N. Korea says war is inevitable as allies continue war games," AP reports from Seoul: "In comments attributed to an unnamed Foreign Ministry spokesman ... North Korea says a nuclear war on the Korean Peninsula has become a matter of when, not if."
5. The talk of tech
"Apple will see as much as $47bn slashed from its expected tax liability if Republicans push through their current tax plan, making it the biggest beneficiary of the legislation," the Financial Times calculates.
"The potential windfall for the world's most valuable company stems from the reduced tax rate that would be applied to foreign earnings that it currently holds outside the US."
In the age of Amazon, the world's largest retailer is changing its legal name from "Wal-Mart Stores Inc." to "Walmart Inc." effective Feb. 1, AP reports:
Doug McMillon, Walmart president and CEO, wrote in a blog post: "Whether it's in our stores, on our sites, with our apps, by using their voice or whatever comes next, there is just one Walmart as far as our customers are concerned."
Walmart this year tripled the number of items sold online from a year ago.
Wall Street Journal: "Other big companies have changed names to signal a shift in strategy to customers or investors. Steve Jobs in 2007 decided to shorten Apple Computer Inc.'s name to Apple Inc. as it moved into phones and other devices. Google Inc. became Alphabet Inc. in 2015 as the company branched out into more businesses beyond search, like self-driving cars and robots."
6. Tracking power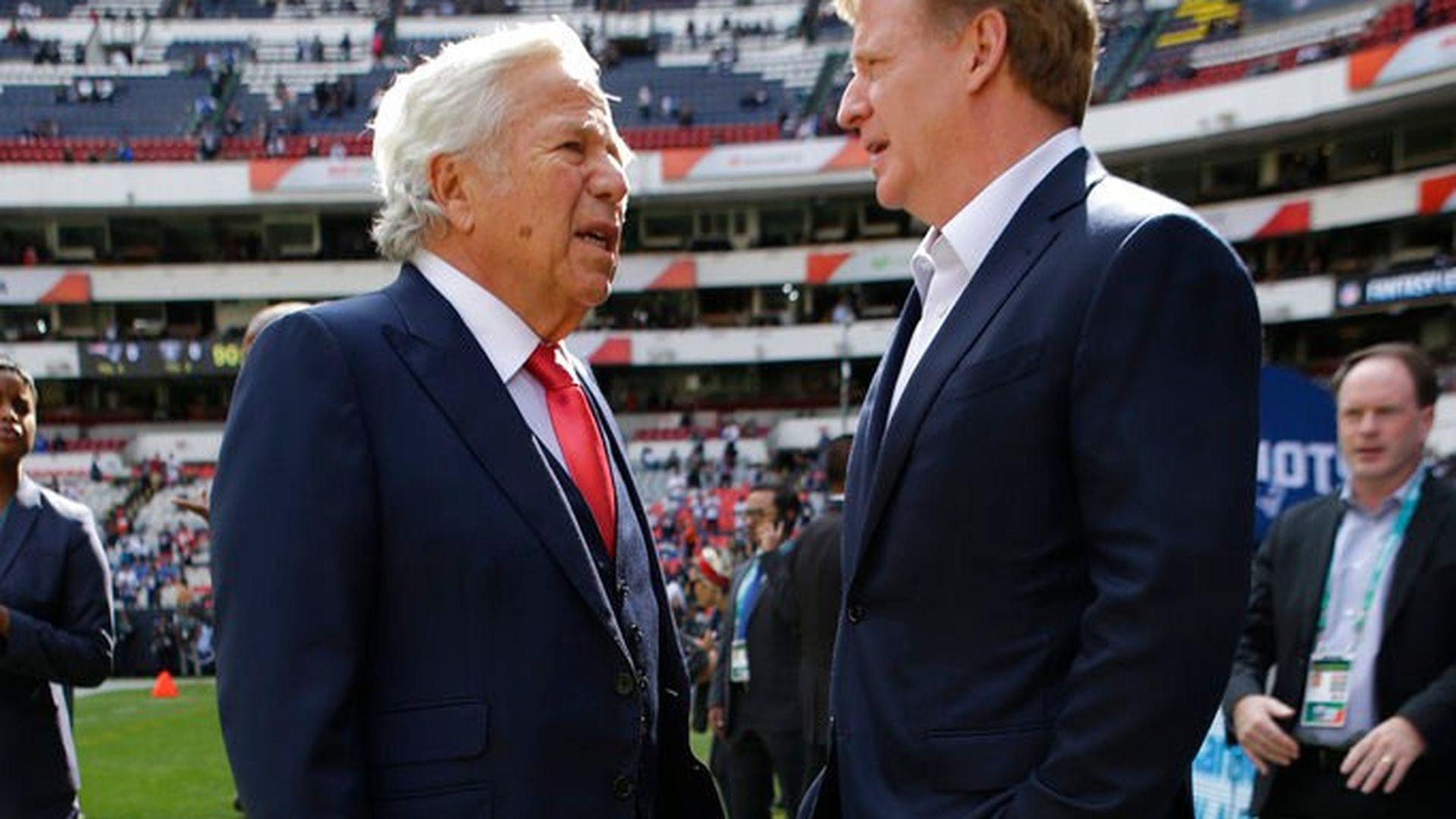 NFL Commissioner Roger Goodell signed a five-year contract extension to remain through 2023:
ESPN's Adam Schefter reports that the new contract would be worth "$200 million over the life of the contract -- about $40 million annually -- if owners approve all the bonuses and all the incentives are met."
"Disney CEO Bob Iger expected to stay past 2019 if Fox deal happens," per the L.A. Times:
"[T]he Disney board is expected to extend Iger's contract so that he can oversee the integration of [21st Century] Fox properties with Disney."
"However, ... Disney may not buy Fox, which also is considering bids from other companies, including Comcast."
Corrections
Several news organizations corrected or updated reports (I quoted Reuters on Tuesday) saying Deutsche Bank had received a subpoena from Mueller about Trump family accounts. "The subpoena concerns people or entities close to Mr. Trump," according to the Wall Street Journal — huge difference.
Thanks to eagle-eyed readers who noticed that AP forgot something in yesterday's graphic about homelessness. The missing line: "Homelessness per 10,000."
Maggie Larson drew the New Yorker cartoon we used on Tuesday, "Thanks for flagging, Karen."
7. To tell your kids: Duck dinosaur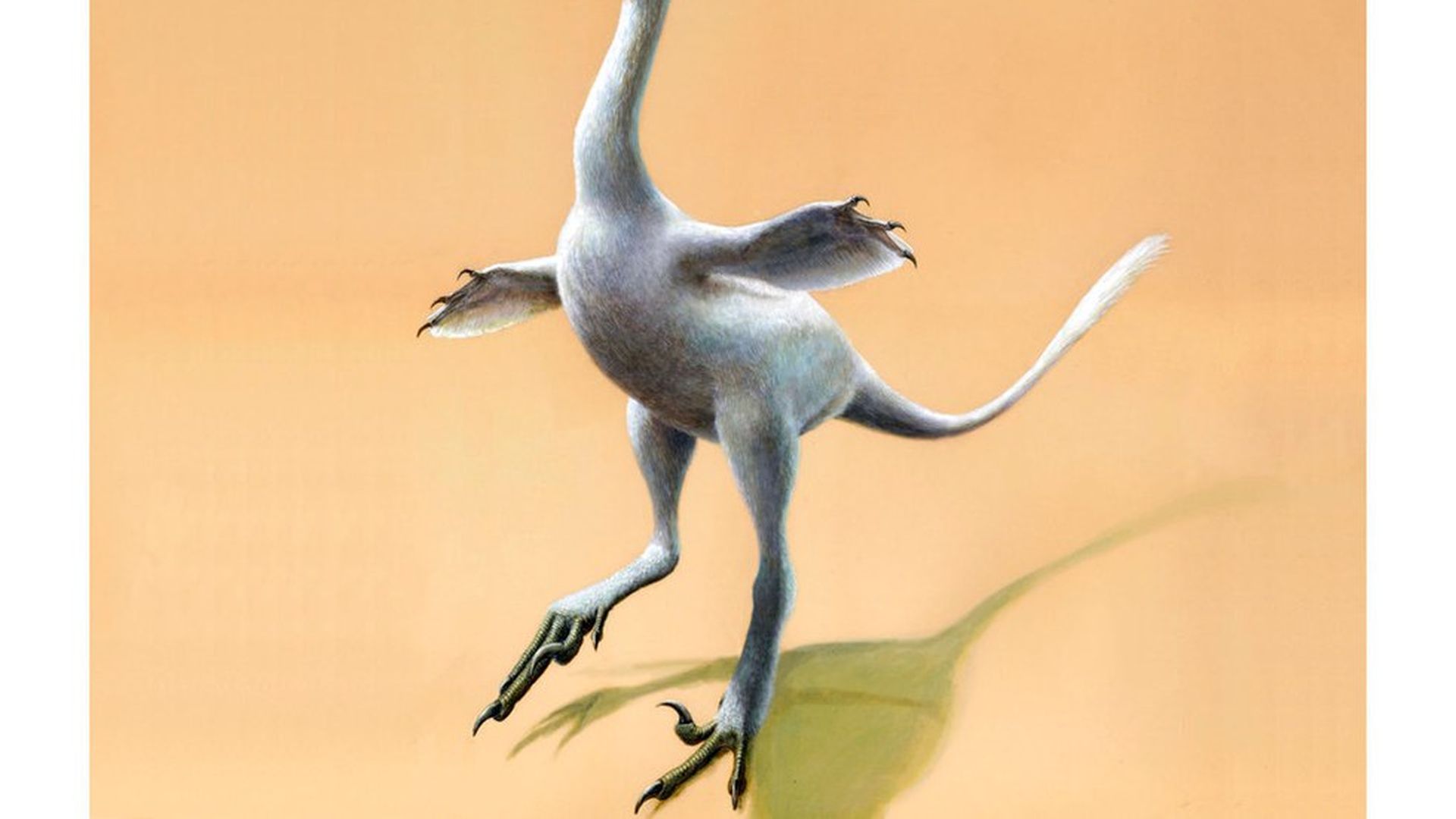 "Paleontologists studying an unusual fossil have identified a new dinosaur, related to the velociraptor, that had a neck like a swan, a snout like a goose and forelimbs like flippers," the N.Y. Times' Nicholas St. Fleur writes, based on a paper published yesterday in Nature:
"The creature's hodgepodge of features ... suggest that it might have lived on both land and in water."
"[T]hat would make the species, known as Halszkaraptor escuilliei, only the second swimming dinosaur ever found, after the ferocious spinosaurus (though even that is debated)."
"Perhaps it used its flipper-like forelimbs to maneuver like a penguin. Or its long legs to wade through water like a crane or heron."
The fossil "is about 75 million years old and came from Mongolia."
8. Axios World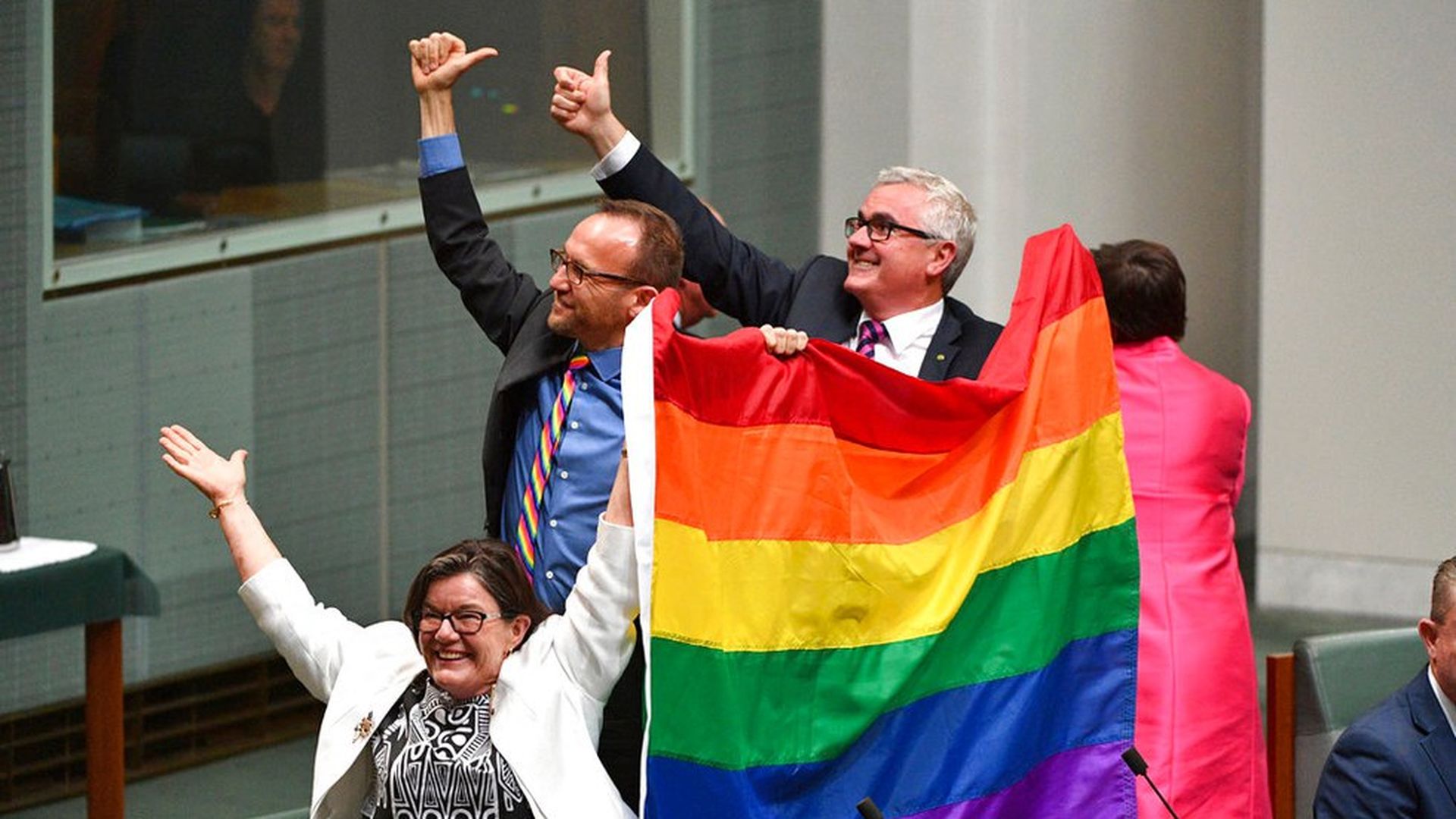 Same-sex marriage is now legal in Australia, The Sydney Morning Herald reports:
The House of Representatives passed the legislation just before 2 a.m. ET. So now both houses of Parliament have agreed.
Australia is the 26th country to legalize same-sex marriage;
LGBTQ couples can lodge their notice of intent to marry beginning Saturday.
Weddings begin early next year: "After royal assent and other formalities, the law will likely take effect in about a month, with the first weddings expected about a month later."
9. An epic year: 5 of 30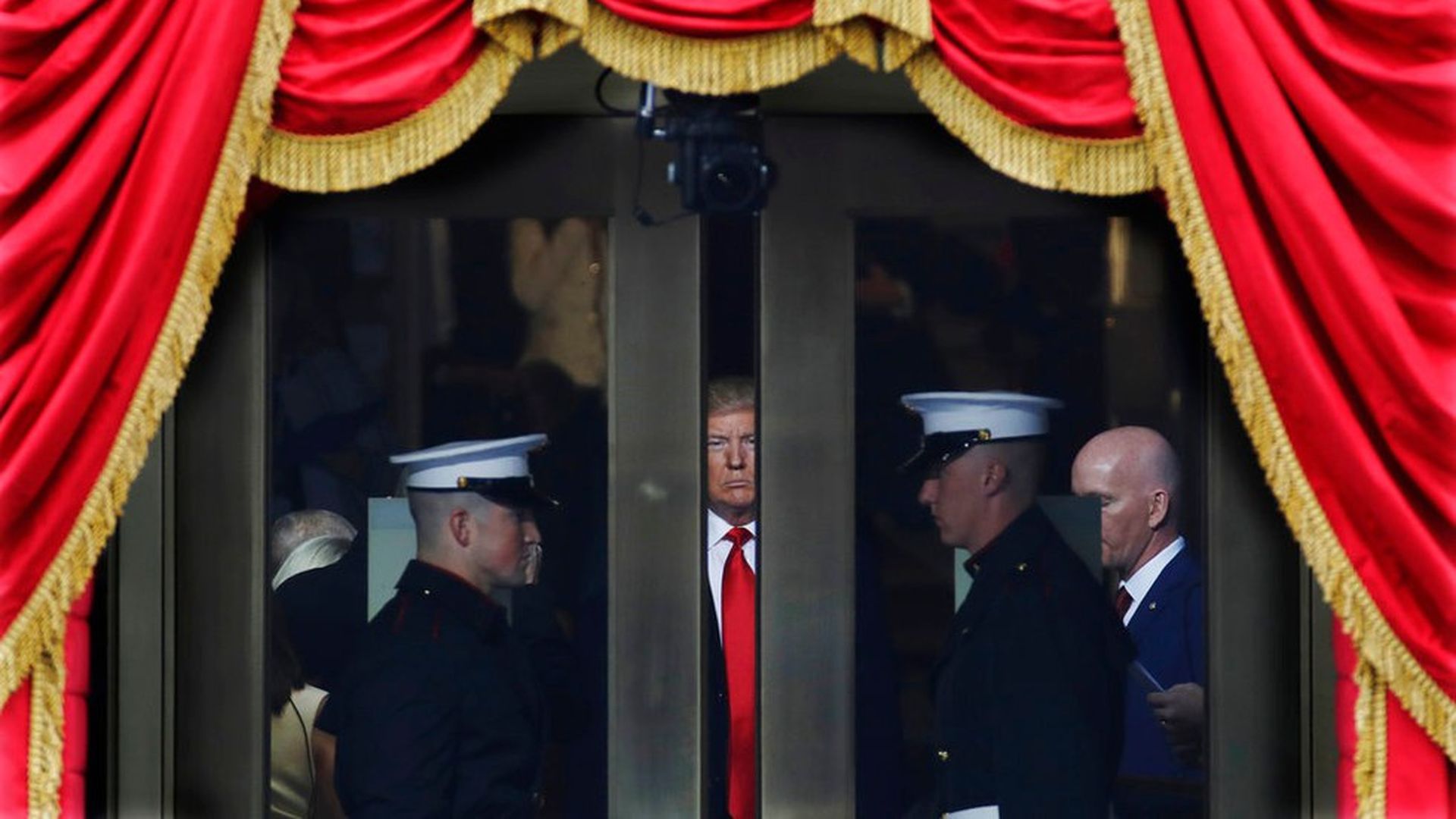 We're remembering 2017 in 30 images, one per day through New Year's Day ... President-elect Donald Trump waits to step out onto the portico for his inauguration at the U.S. Capitol on Jan. 20.
10. 1 movie thing: Review of "The Post"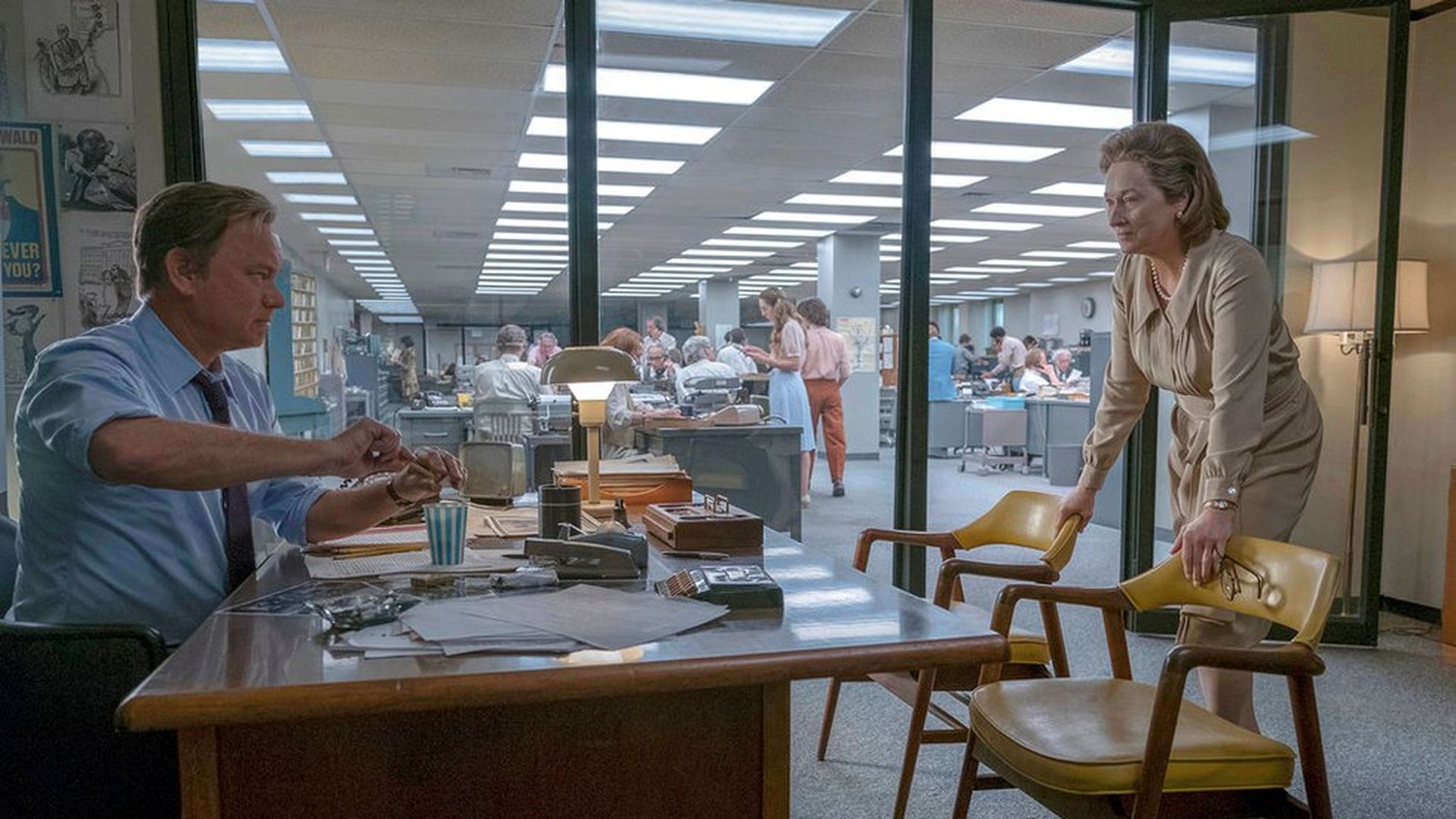 "A vigorous, stirring true-life thriller ... Steven Spielberg's latest film stars Meryl Streep and Tom Hanks in a drama about The Washington Post's role in publishing the Pentagon Papers," the Hollywood Reporter's Todd McCarthy writes (opens Dec. 22):
"An unofficial prequel to All the President's Men some 41 years after the fact, The Post stirringly dramatizes the tale of how The Washington Post ... rose to the occasion by publishing the Pentagon Papers in June of 1971 ... a fine example of that now-rare species, the big-city newspaper melodrama."
"Commercially speaking, it's a fair question to ask how many people under 40 will be drawn to a tale rooted in such quaint realities as manual typewriters, daily deadlines, midnight print runs and reporters sneaking down to the street to use a pay phone so they won't be overheard speaking with confidential sources."
"[A] good number more will now. The spectacle of real characters played by Meryl Streep and Tom Hanks standing up to a craven, mean-spirited president should resonate with many viewers of all ages."
"In the unavoidable straight-up comparison with All the President's Men, the edge decidedly goes to the older film.
"The journalistic journey of Bob Woodward and Carl Bernstein ... led to an unprecedented historical result ... The comparative breeziness of The Post is congenial, ... but the main thing here is Katharine Graham's taking hold of her inheritance."