Good Wednesday morning. I hope you'll join me in taking a sleep survey that Arianna Huffington's Thrive Global is conducting with Axios, including a question about where your phone sleeps when you do. (We listened to your emails, and added a "None of the above" choice to the question about your industry.) Be caught napping.
https://www.axios.com/newsletters/axios-am-e92f6221-b703-4608-a347-62ca6e8c001d.html?chunk=0#story0
1 big thing: New episode of 'Trump v. world'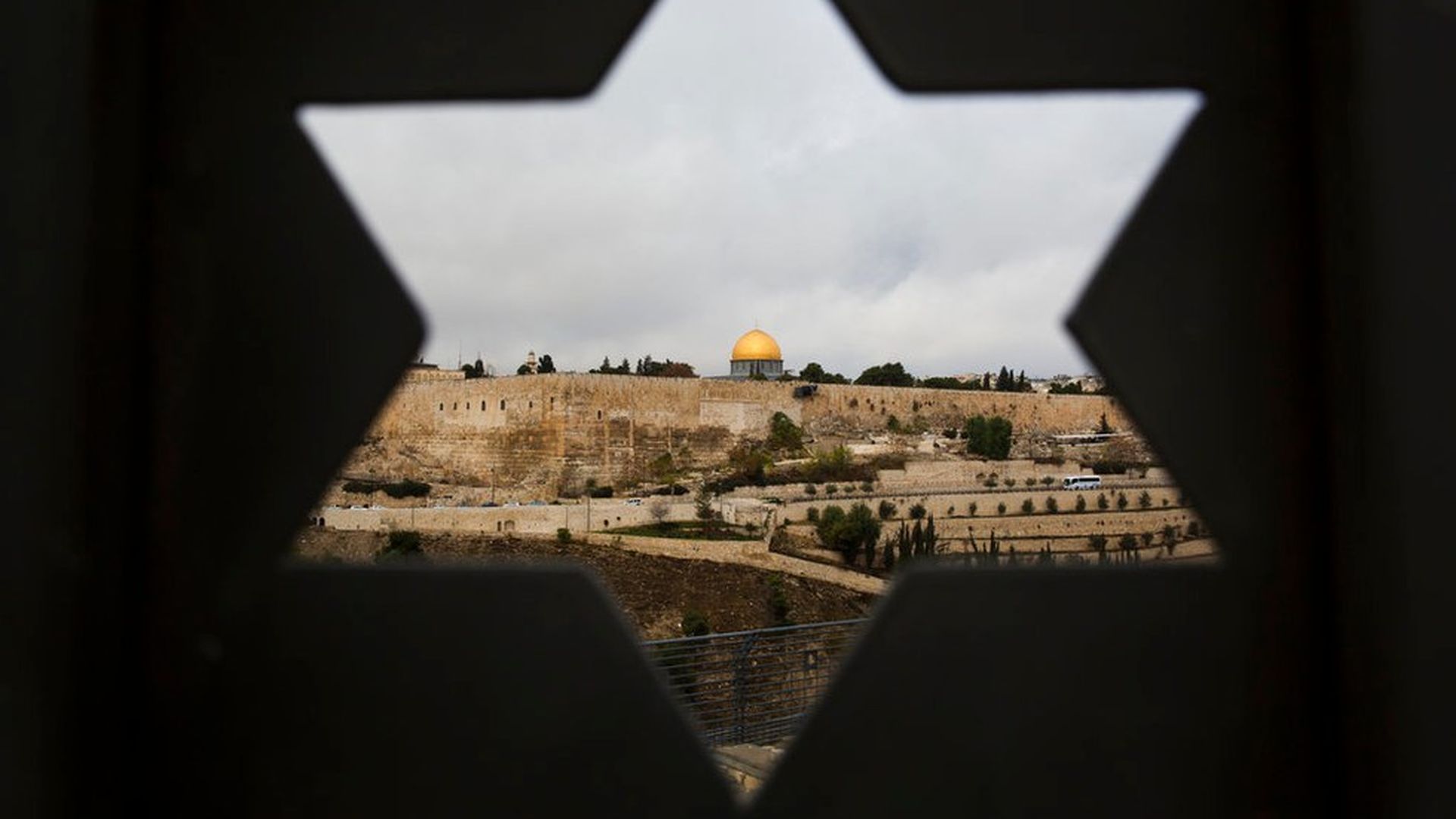 Pope Francis added his voice this morning to Arab, Muslim and European objections to President Trump's plan today to recognize Jerusalem as Israel's capital, "a move that could trigger violence in the region, derail a developing U.S. Mideast peace plan, and infuriate key allies in the Arab world and the West."
The pope said he was "profoundly concerned," and asked "that everyone respects the status quo of the city." He called on the world for "wisdom and prudence" to avoid further conflict.
Turkish Deputy Prime Minister Bekir Bozdag said recognizing Jerusalem as Israel's capital would be an act of "madness" that would "plunge the region and the world into a fire with no end in sight." (NBC)
Trump gives a statement on Jerusalem at 1 p.m. in the White House Diplomatic Reception Room.
Barak Ravid of Israel's Channel 10 News, writing on Axios, says the challenge for Trump is "how to fulfill his campaign promise of moving the U.S. embassy to Jerusalem and still get a peace deal between Israel and the Palestinians — and prevent a wave a violence across the West Bank and the Middle East."
"White House officials think Trump's decision to follow through on his campaign promise — even if only partially — strengthens his credibility around the world as a someone who stands by his word, isn't intimidated by threats, and doesn't cave to international pressure."
Middle Eastern and European leaders say the move will interfere with peace talks, per Axios' Erica Pandey:
Administration officials said on a call with reporters last evening that the president "understands the Palestinians' aspirations" and supports a two-state solution if that's what both parties desire.
Be smart: Even Bush administration alumni who are pro-Israel tell me that they find this move short-sighted — an aggravation to allies in the region when we need help with Iran, Syria and Lebanon.
One Republican who is a former national-security official told me: "If nothing was going on and everything was perfect in the world, this would be fine. But we're fighting for influence right now, and asking for support from our Gulf allies. This upsets everyone in the Middle East except Israel."
https://www.axios.com/newsletters/axios-am-e92f6221-b703-4608-a347-62ca6e8c001d.html?chunk=1#story1
2. If you read only 1 thing
"Men need to hear the story of [Old Dominion University basketball] coach Jeff Jones' recovery from prostate cancer" — Harry Minium, sports columnist for The Virginian-Pilot of Norfolk:
"The manliest athletes, from the NFL to the NBA, don't think twice about wearing pink to show camaraderie with breast cancer survivors. ... But if you're a guy I'll bet you don't know that light blue is the color that signifies prostate cancer, or that September was prostate cancer awareness month."
"Prostate cancer may kill nearly 27,000 men per year, yet it's a disease with an almost non-existent media profile. Old Dominion basketball coach Jeff Jones [husband of Axios' Danielle Jones] thinks he understands why. ... Prostate cancer can be a particularly sensitive subject for men because it can go right to the heart of a guy's manhood."
Why it matters: "Testing, he said, is the key to beating the disease. Had he not applied for a new life insurance policy in 2014, he would not have been tested, and would not have known he had cancer."
https://www.axios.com/newsletters/axios-am-e92f6221-b703-4608-a347-62ca6e8c001d.html?chunk=2#story2
3. Clinton and "Weinstein's Complicity Machine"
"Harvey Weinstein ... commanded enablers, silencers and spies, warning others who discovered his secrets to say nothing," the N.Y. Times' Megan Twohey, Jodi Kantor, Susan Dominus, Jim Rutenberg and Steve Eder write, based on nearly 200 interviews:
"[T]wo prominent women said they warned Mrs. Clinton's team. In 2016, Lena Dunham, the writer and actress, said she was troubled by the producer's visible presence during Mrs. Clinton's presidential run, hosting fund-raisers and appearing at campaign events."
"So in March last year, Ms. Dunham, a vocal Clinton supporter, said she warned the campaign. 'I just want you to let you know that Harvey's a rapist and this is going to come out at some point,' Ms. Dunham said she told Kristina Schake, the campaign's deputy communications director."
"Earlier, during the 2008 presidential race, Tina Brown, the magazine editor, said she cautioned a member of Mrs. Clinton's inner circle about him. 'I was hearing that Harvey's sleaziness with women had escalated ... and she was unwise to be so closely associated with him,' Ms. Brown said in an email."
"Nick Merrill, the [campaign's] communications director, said in a statement: 'We were shocked when we learned what he'd done. It's despicable behavior, and the women that have come forward have shown enormous courage. As to claims about a warning, that's something staff wouldn't forget.'"
https://www.axios.com/newsletters/axios-am-e92f6221-b703-4608-a347-62ca6e8c001d.html?chunk=3#story3
Bonus: Pic du jour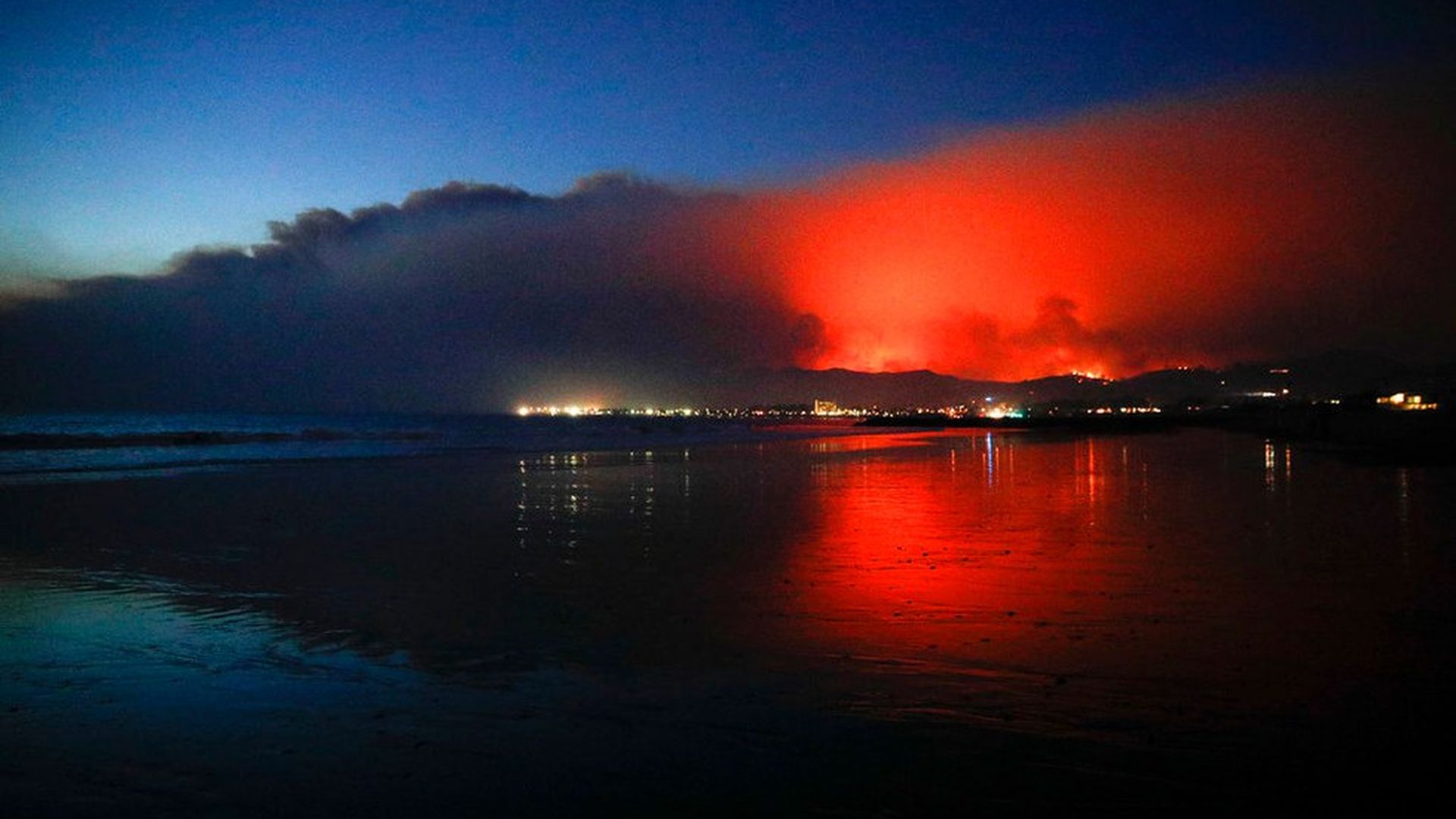 The red glow of a wildfire is reflected on the beach in Ventura, Calif., yesterday.
Raked by ferocious Santa Ana winds, explosive wildfires northwest of Los Angeles and in the city's foothills burned a psychiatric hospital and scores of homes, and forced the evacuation of tens of thousands of people.
L.A. Times: "The destructive Thomas fire finally met a fire line it could not jump: the Pacific Ocean. The fast-moving, wind-driven wildfire [jumped] Highway 33 and [burned] through oil fields before crossing the 101 Freeway into Solimar Beach."
https://www.axios.com/newsletters/axios-am-e92f6221-b703-4608-a347-62ca6e8c001d.html?chunk=4#story4
4. Coming data trade war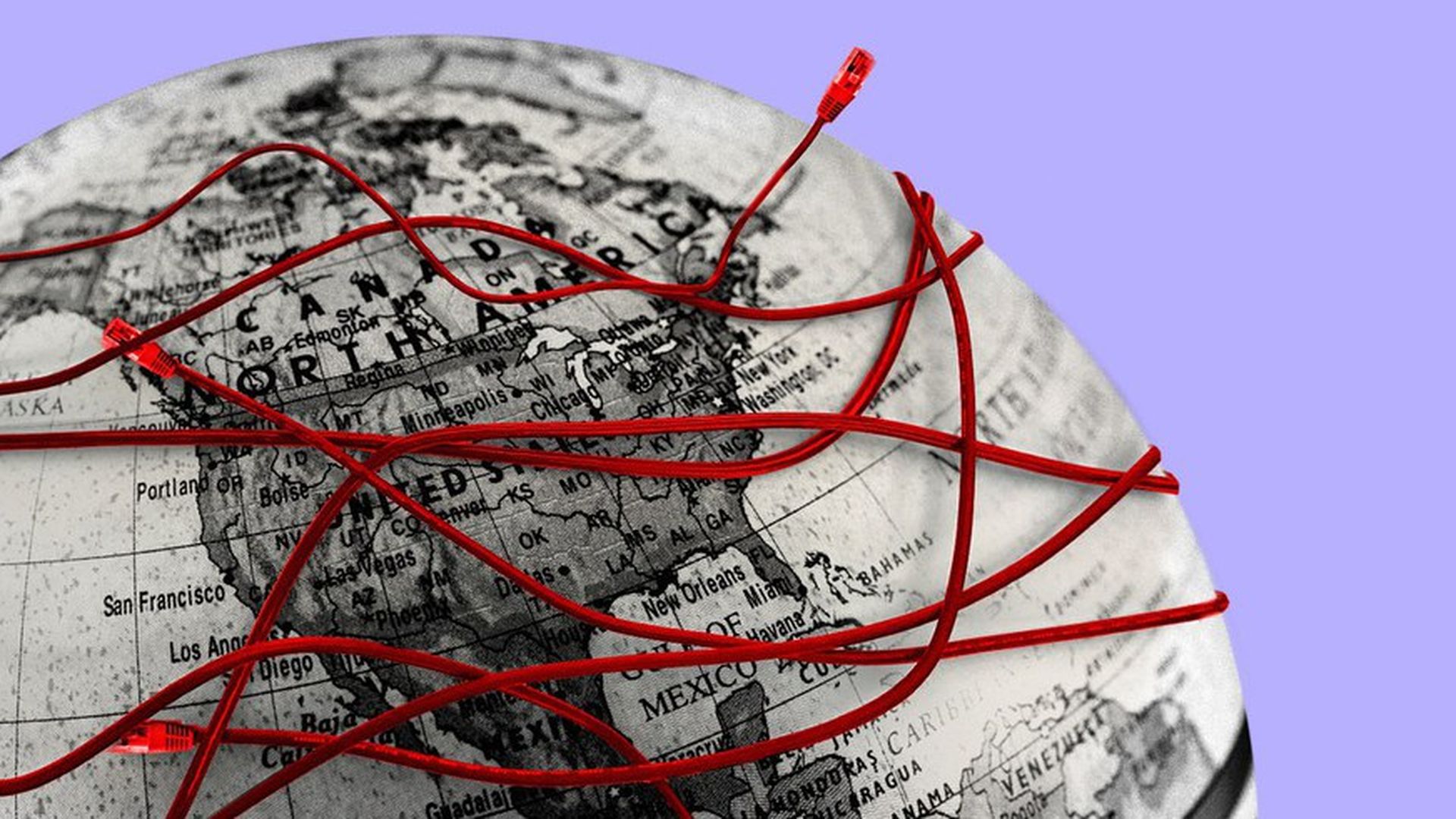 Tech companies are facing growing international obstacles affecting how their most valuable asset — data — flows across borders, Axios' Kim Hart and Sara Fischer report:
New trade agreements and laws are affecting how companies share and store their troves of data around the world.
Why it matters: For decades, trade talks centered around tangible goods such as oil, agriculture and cars. But now that the economy is rooted in data that has to cross borders to meet the demands of global business, rules governing how data is housed and accessed are at the forefront of trade conversations.
Social media companies also have a lot to lose to data regulation and overseas trade barriers. Here's how many of their users are located outside of North America:
https://www.axios.com/newsletters/axios-am-e92f6221-b703-4608-a347-62ca6e8c001d.html?chunk=5#story5
5. New this morning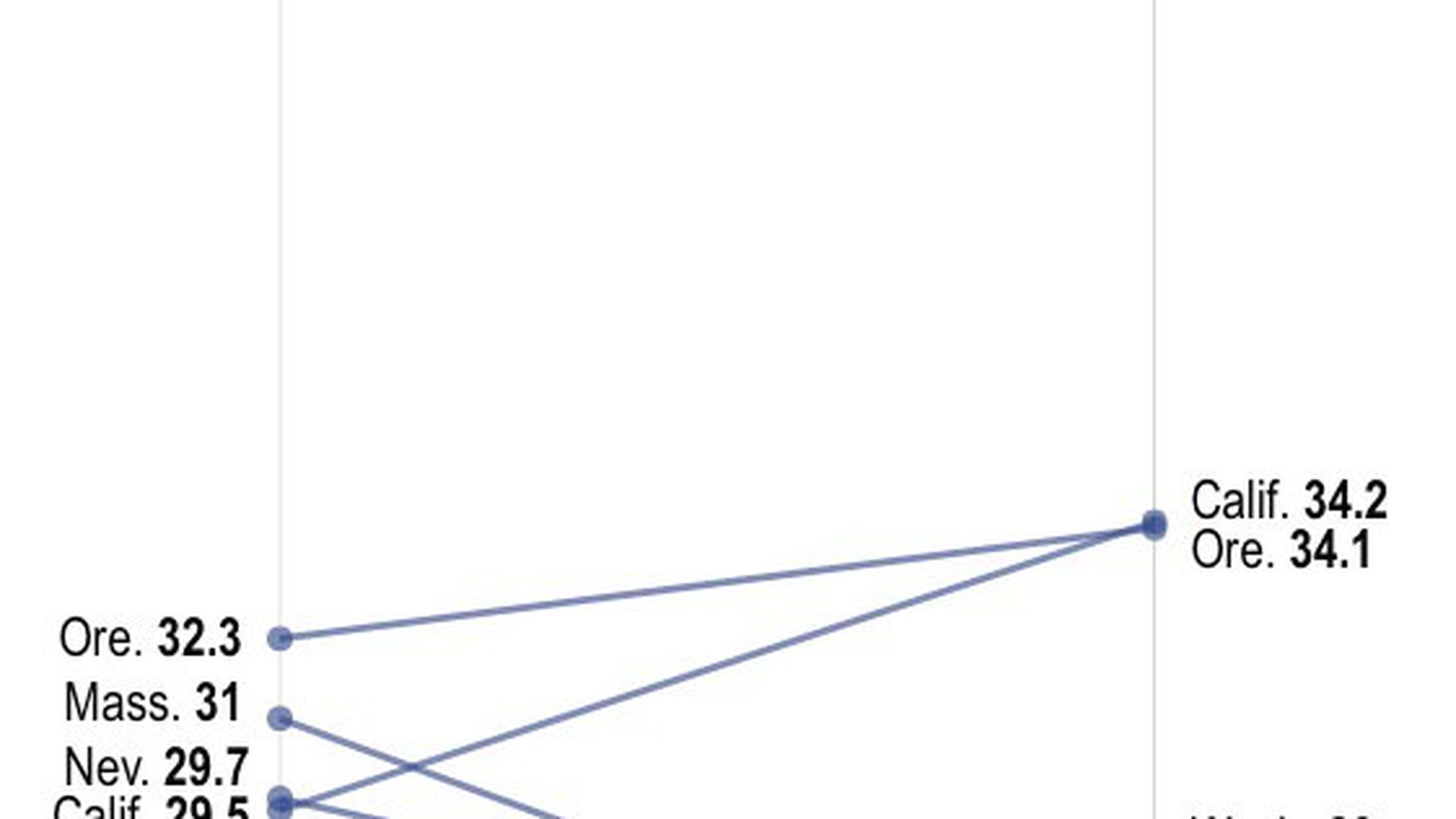 https://www.axios.com/newsletters/axios-am-e92f6221-b703-4608-a347-62ca6e8c001d.html?chunk=6#story6
6. Trump's front page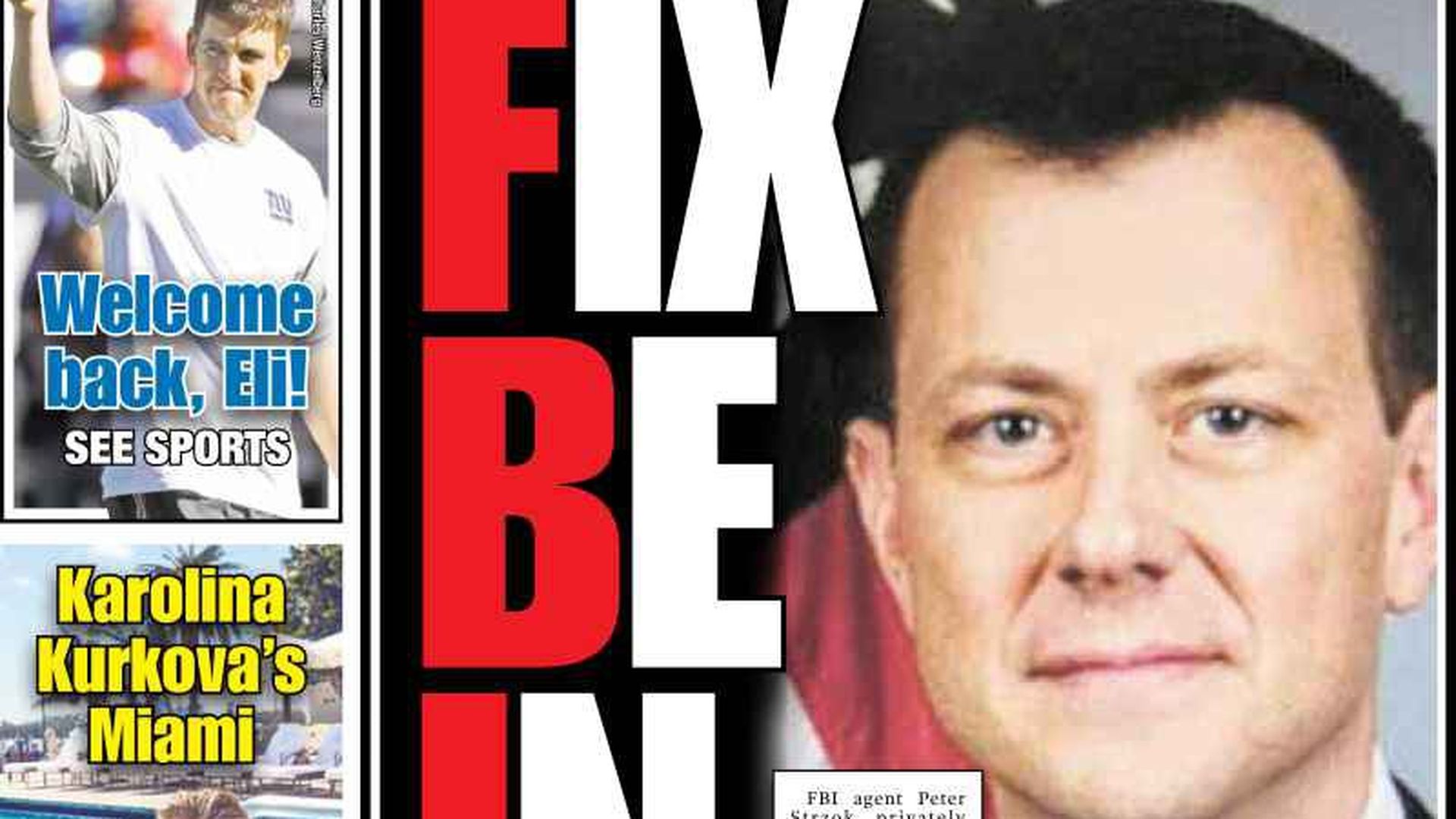 https://www.axios.com/newsletters/axios-am-e92f6221-b703-4608-a347-62ca6e8c001d.html?chunk=7#story7
7. Data du jour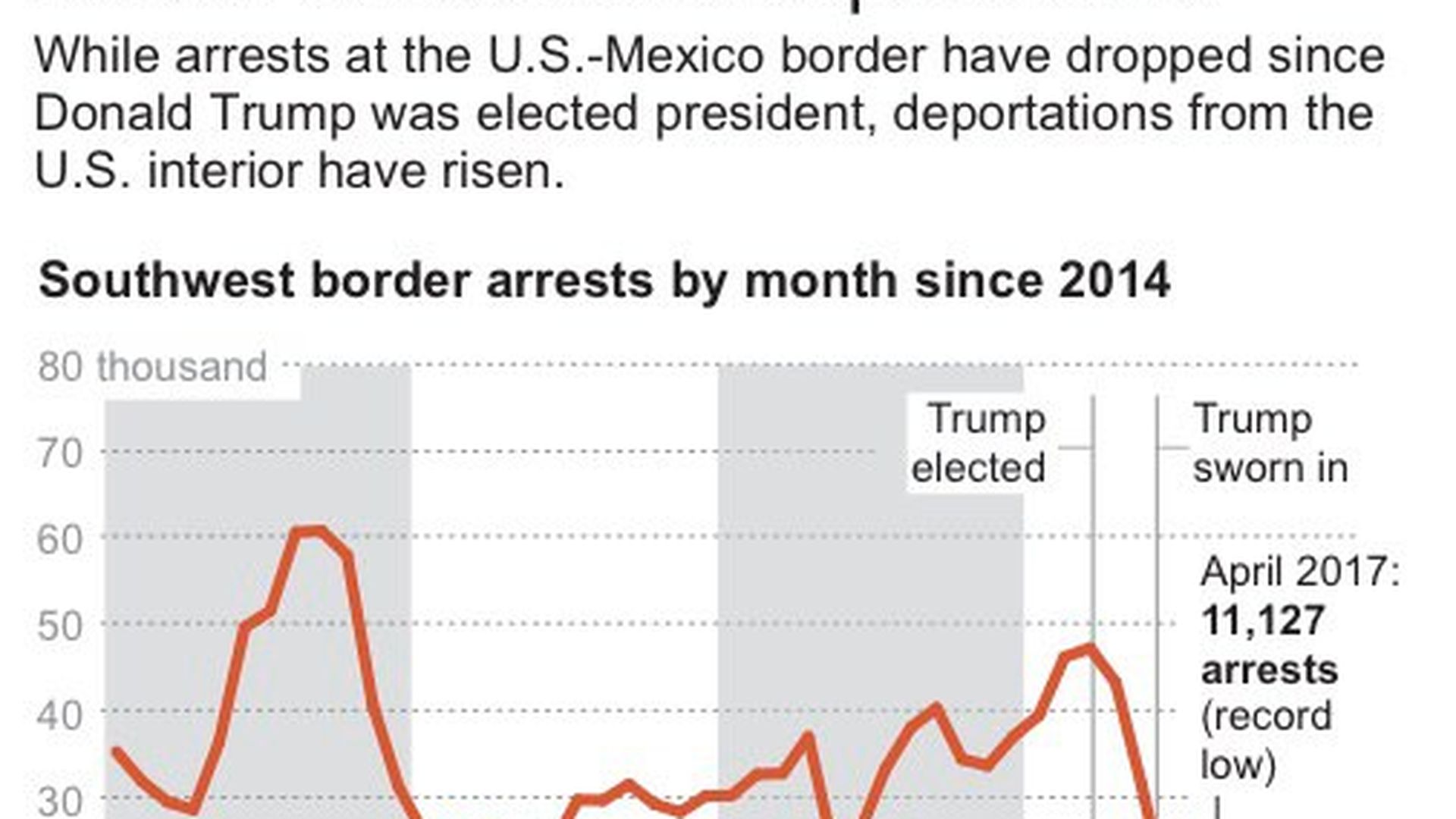 Clicker ... New American Economy, founded by Michael Bloomberg, posts an interactive map showing the impact of immigration in individual states, cities and congressional districts.
The group, which brings together more than 500 mayors and business leaders, today will hold an iMarch to rally support for immigration reform and "Dreamers" ahead of this month's government spending battles. Events are planned in all 50 states, with a war room to host lawmakers and journalists in the U.S. Capitol.
https://www.axios.com/newsletters/axios-am-e92f6221-b703-4608-a347-62ca6e8c001d.html?chunk=8#story8
8. Together again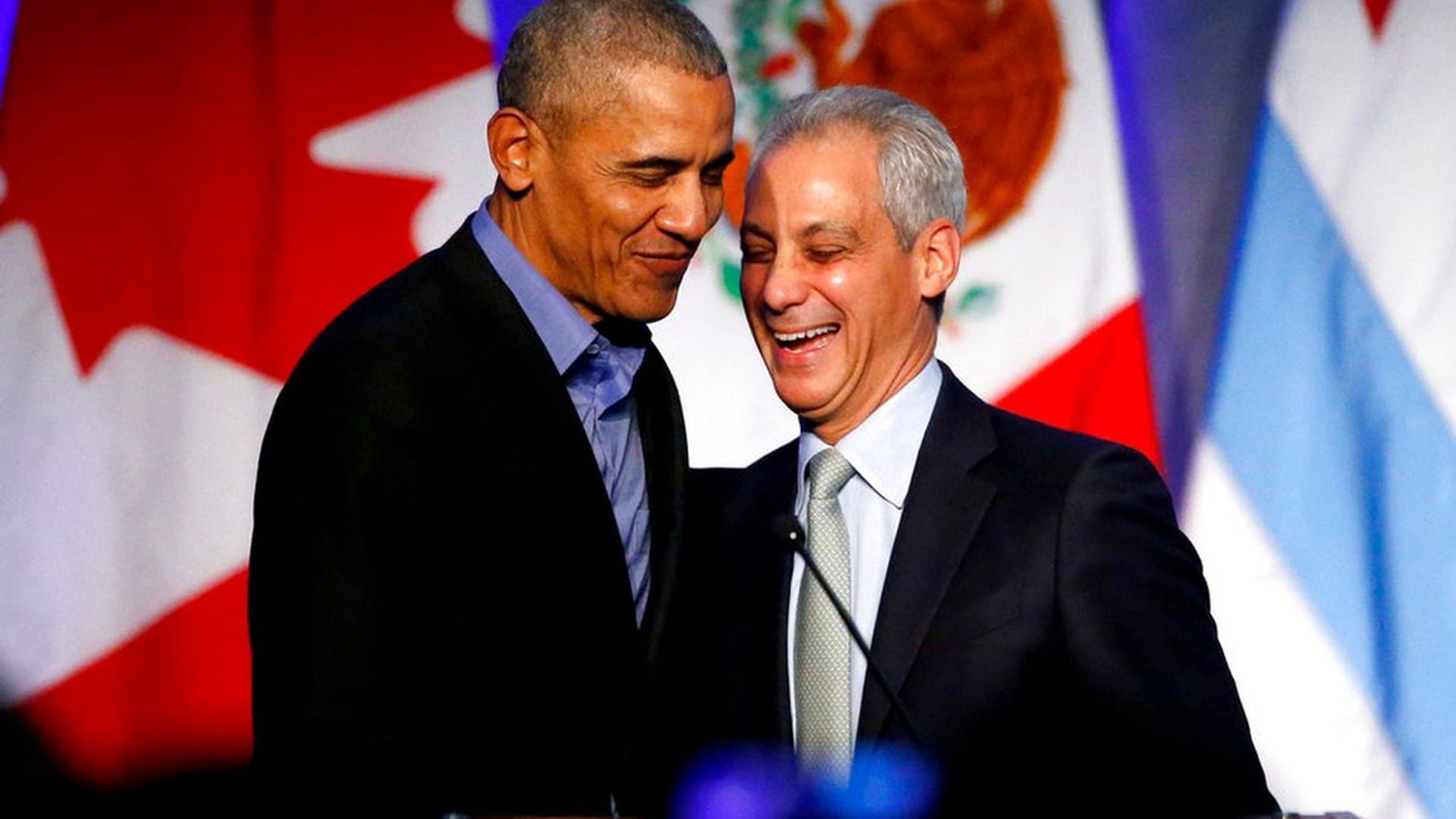 Seven years after leaving as White House chief of staff to President Barack Obama (in Oct. 2010), Chicago Mayor Rahm Emanuel introduced his former boss yesterday in the Windy City, at a summit on climate change that includes mayors from around the globe.
Obama, via the Chicago Tribune: "This is my hometown, so I hope Rahm has been as good of a host as he was a chief of staff, and as good as he has been a mayor."
Obama didn't mention Trump by name: "Obviously we're in an unusual time when the United States is now the only nation on earth that does not belong to the Paris agreement ... And that's a difficult position to defend. But the good news is that the Paris agreement was never going to solve the climate crisis on its own. It was going to be up to all of us."
https://www.axios.com/newsletters/axios-am-e92f6221-b703-4608-a347-62ca6e8c001d.html?chunk=9#story9
9. An epic year: 4 of 30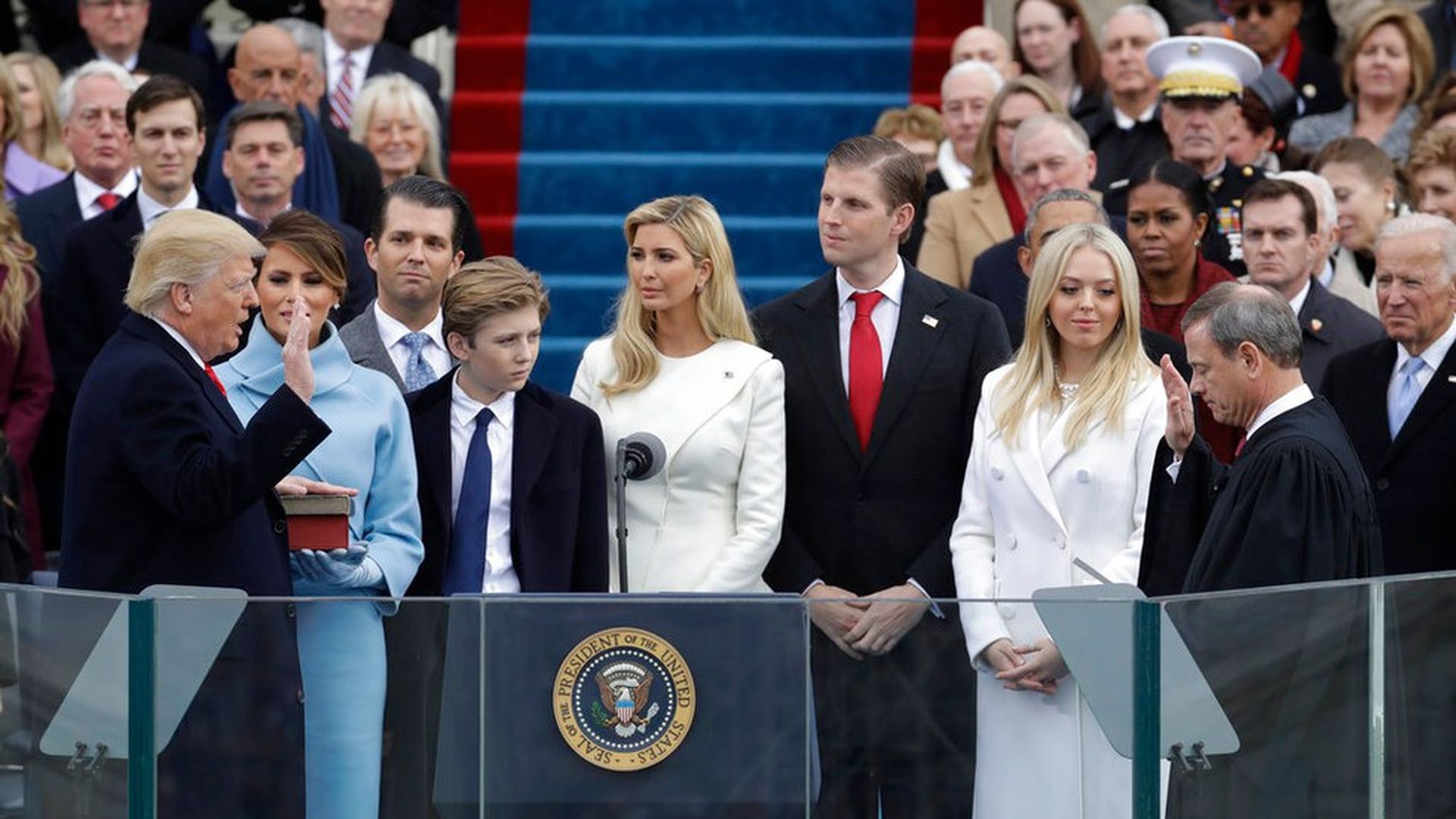 Axios AM is looking back on 2017 with 30 images from this epic year, one a day through New Year's Day.
It begins ... Donald John Trump is sworn in as the 45th president of the United States by Chief Justice John Roberts, as Melania Trump and his family looks on at the U.S. Capitol on Jan. 20.
One harsh word in the inaugural address sets the tone: 'Mothers and children trapped in poverty in our inner cities, rusted-out factories scattered like tombstones across the landscape of our nation; an education system flush with cash but which leaves our young and beautiful students deprived of all knowledge; and the crime and the gangs and the drugs that have stolen too many lives and robbed our country of so much unrealized potential. This American carnage stops right here and stops right now."
https://www.axios.com/newsletters/axios-am-e92f6221-b703-4608-a347-62ca6e8c001d.html?chunk=10#story10
10. 1 fast thing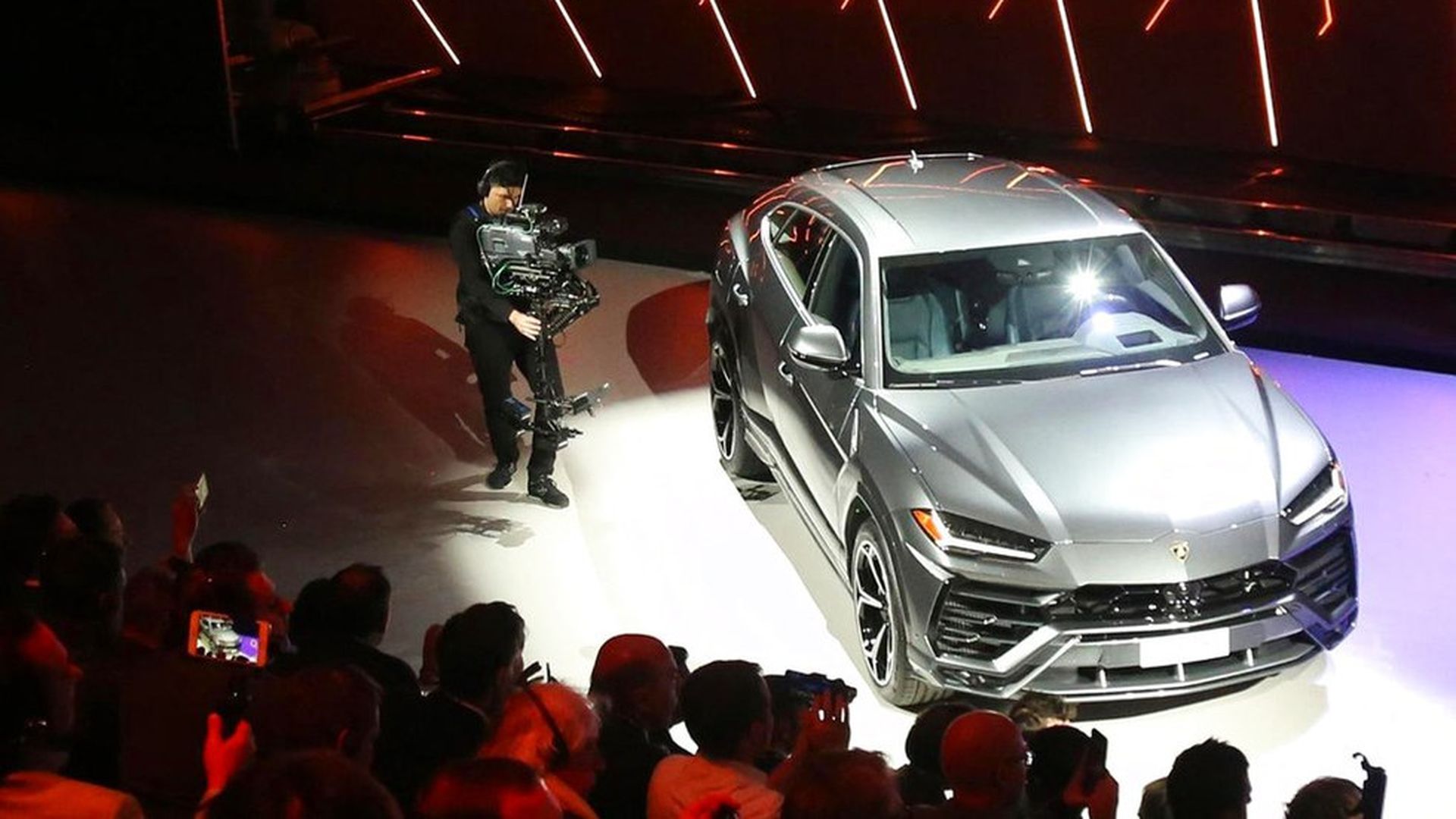 A Lamborghini SUV ... "Supercar makers have long known that parked next to that snarling Lamborghini ... at some of the globe's toniest addresses is a practical SUV," AP's Colleen Barry writes:
"With the sport utility vehicle market growing by leaps and bounds, [performance-car makers] increasingly want in on the profits."
"Lamborghini unveiled the once-improbable Urus SUV ... at its headquarters in Sant'Agata, Italy, where the supercar maker owned by the Volkswagen group is expanding the factory to meet utility vehicle demand."
Why it matters: "The Urus enters a luxury field crowded with the Mercedes G-Class, the Bentley Bentayga and the trailblazing Porsche Cayenne — and soon to be joined by Aston Martin, Rolls Royce and in all probability, Ferrari."
Top stat: "The Urus can go from 0 to 62 mph in 3.6 seconds ... At a maximum speed of 189.5 mph, Lamborghini boasts that it is 'the fastest SUV in the world.'"