Axios AM
December 05, 2017
Good Tuesday morning. Bulletin ... "Special Counsel Robert Mueller has asked Deutsche Bank to share data on accounts held by President Trump and his family," Reuters reports from Frankfurt.
Situational awareness: "Another former staff employee of Rep. John Conyers [D-Mich.] came forward ... to publicly accuse the congressman of sexual harassment, saying he once [groped her] in church," the Detroit Free Press reports. "Conyers [will] have an announcement about his future at 10:15 a.m."
A survey for you ... You're invited to take the Axios version of a sleep survey ("no right or wrong answers") from Thrive Global, founded by Arianna Huffington to "end the stress and burnout epidemic." Be honest.
1 big thing: Trump's survival plan
President Trump, his lawyers and his political team are telegraphing with increasing precision their strategy for fighting any charges against the president in the unfolding Russia investigation:
1. Wishful thinking: Cooperate with special counsel Bob Mueller, and tell Trump everything is fine. White House lawyer Ty Cobb continues to argue that the facts will be fine for the president, and that Mueller's probe will wrap up "shortly after the first of the year absent some unforeseen delay."
Trump often buys this, and it's partly what keeps aides sane: They know charges may come, but the happy talk gives them hope.
Aides know Mueller would not hire a team of prosecutorial "killers," and give Mike Flynn a break, unless bigger game was in clear range. But the aides point out that Trump has spent most of his adult life in litigation. He erupts in 30-second bursts but usually settles down.
2. Fight: Trump's lawyers will argue Trump either did not violate any law — or, even if it appears he did, that the president, because of his broad power, cannot be charged and should not be impeached.
Trump lawyer John Dowd told me the president cannot be charged for obstruction of justice.
Jay Sekulow, another member of the president's legal team, told The New Yorker that Trump can't be charged with a crime that doesn't exist: "For something to be a crime, there has to be a statute that you claim is being violated ... There is not a statute that refers to criminal collusion. There is no crime of collusion."
3. Fog: This part of the plan has been in full motion for many months: The Trump fog machine blows daily. The idea is to taint the prosecutor, the FBI, the process, the media, the Democrats, the critics. Trump is playing not for a court, per se, but the court of public opinion — and, more importantly, the court of House Republican opinion.
Worth noting: Look how many Republicans came around to the president's way of thinking on Russia, and more recently Roy Moore. His power over Republicans is formidable, and flows from popularity among the base. He knows this and exploits it.
4. Fudge: Trump and his legal team need to muddy things that might seem clear. Case in point: the Trump tweet in which he appears to admit knowing Flynn lied to the FBI. Not only did Dowd claim he drafted the tweet, but staff leaked word that other tweets were written by people other than Trump. How convenient.
2. First look ... Joe Biden: "Stand Up to the Kremlin"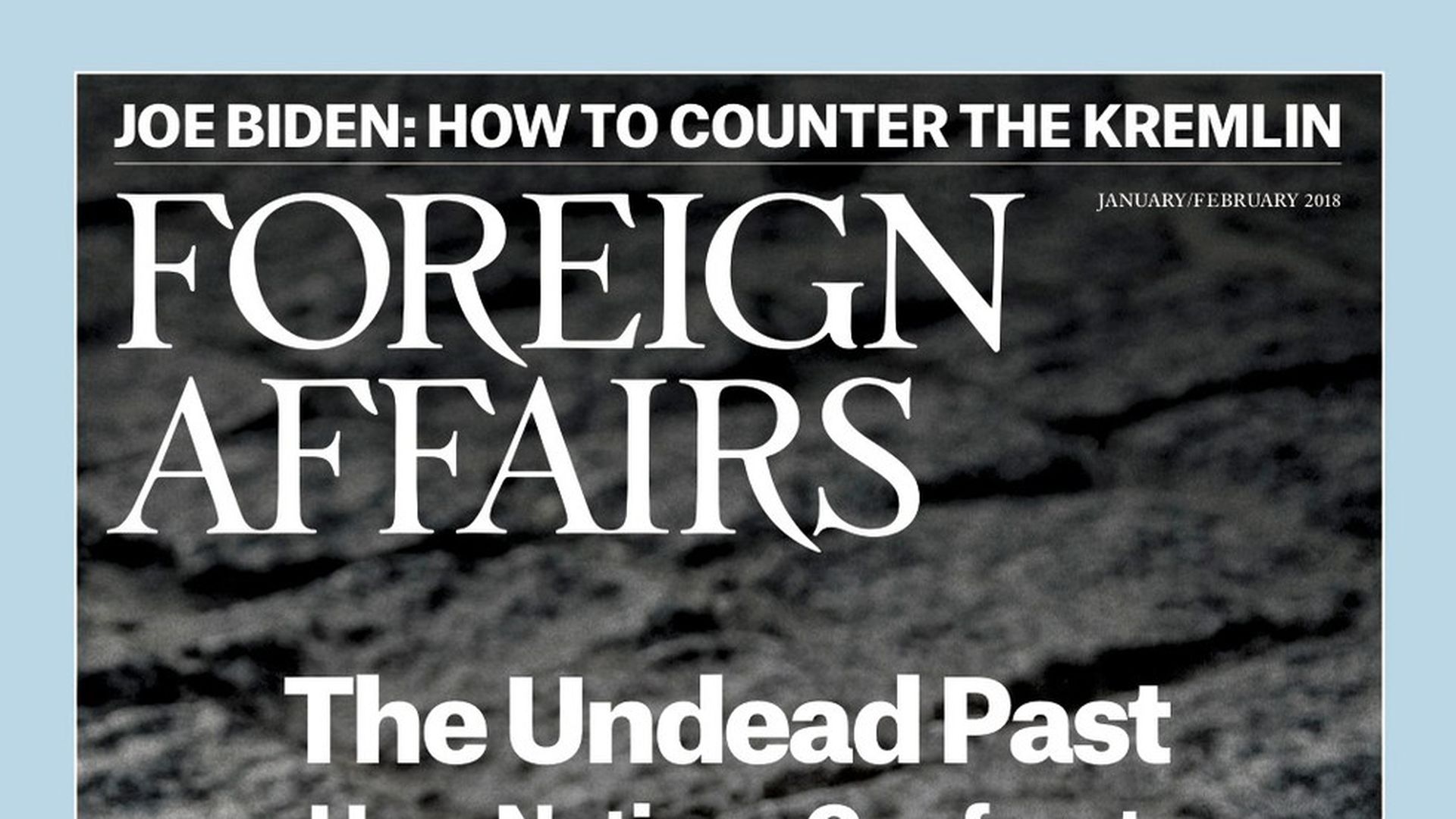 Joe Biden has written a tough, newsy article for Foreign Affairs magazine that takes on the Kremlin, the White House and the social-media giants, as the former vice president stays in the mix amid planning for a 2020 run.
Axios has an exclusive first look for you. The sentence that will get the most pick-up:
"Social media companies such as Twitter, Facebook, and Google must provide greater transparency about who funds the political advertisements on their platforms, work harder to eliminate automated and bot-generated content, and invest in the technological and human resources to root out fake foreign accounts that spread disinformation."Biden co-writes with Michael Carpenter, Penn Biden Center senior director and former Deputy Assistant Secretary of Defense, on "How to Stand Up to the Kremlin: Defending Democracy Against Its Enemies," in the forthcoming (January/February) issue of Foreign Affairs:
"The Russian government is brazenly assaulting the foundations of Western democracy around the world."
"Russia's assault on democracy and subversion of democratic political systems calls for a strong response. The United States and its allies must improve their ability to deter Russian military aggression."
"Trump has made a habit of lavishing praise on Putin and even reportedly sought to lift sanctions against Russia shortly after his inauguration. We are not questioning Trump's motives, but his behavior forces us to question his judgment."
"If this administration cannot or will not stand up to Russia, other democratic institutions, including Congress and civil society organizations, must mobilize."
Biden calls for "the creation of an independent, nonpartisan commission [like the 9/11] to examine Russia's assault on American democracy."
"Putin and his cronies do not understand that the greatest strength of American democracy is an engaged citizenry. Even if the president refuses to act, we can."
Be smart: This message is a testament to the extent to which Russia has become the central partisan dividing line on foreign policy, in a reversal of the traditional positions.
Biden's blast sounds more like a candidate than a White House retiree. And it looks like the beginning of working out a campaign message.
3. High Court backs ban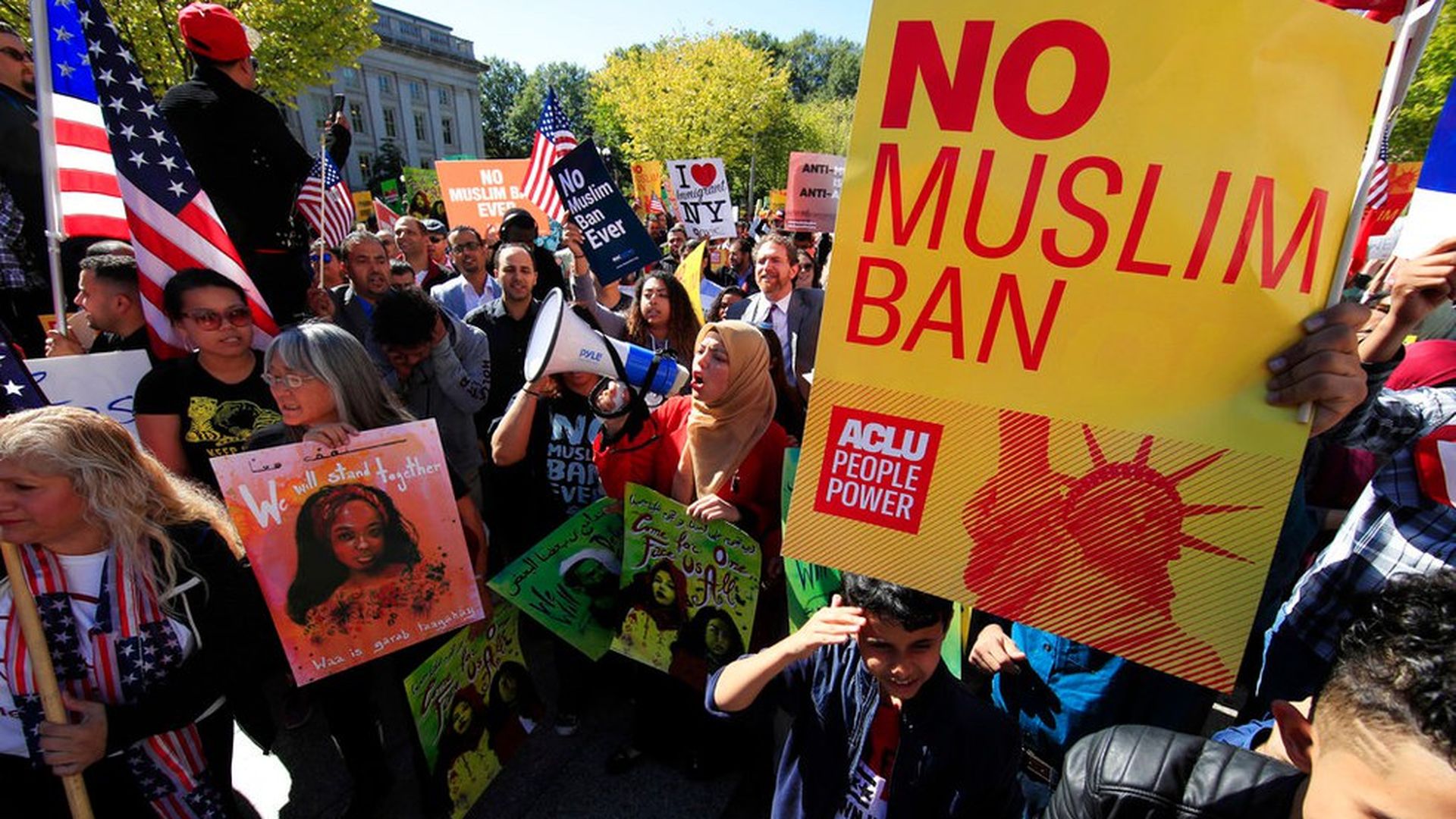 "The U.S. Supreme Court ... handed a victory to ... Trump by allowing his latest travel ban targeting people from six Muslim-majority countries to go into full effect even as legal challenges continue in lower courts," Reuters reports:
"The nine-member court, with two liberal justices dissenting, granted his administration's request to lift two injunctions imposed by lower courts that had partially blocked the ban, which is the third version of a contentious policy that Trump first sought to implement a week after taking office in January."
Why it matters: "The high court's action means that the ban will now go fully into effect for people from Chad, Iran, Libya, Somalia, Syria and Yemen seeking to enter the United States. The Republican president has said the travel ban is needed to protect the United States from terrorism by Islamic militants."
4. Bill Clinton warns of "fever swamps"
Bill Clinton has an opinion piece for the international edition of the New York Times, "Americans Must Decide Who We Really Are," with a big-picture response to the travel ban:
The former president warns that "tribalism based on race, religion, sexual identity and place of birth has replaced inclusive nationalism."
"Too often resentment conquers reason, anger blinds us to answers and sanctimony passes for authenticity."
"These trends are fueled by our Snapchat, Twitter and Facebook worlds, in which the attention span for issues on television news is only a few seconds, and the very survival of newspapers depends upon retweets of headlines from their online editions."
"Too many social media sites are fever swamps of extremist foreign and domestic invaders."
"I favor policies that promote cooperation over conflict and build an economy, a society and a politics of addition not subtraction, multiplication not division. Unfortunately, too many people in power across the world seem determined to do the reverse."
5. Data du jour
43% of Fortune 500 companies were founded by an immigrant or a child of an immigrant, per a new study from the Center for American Entrepreneurship:
That number is slightly higher within the high-tech companies on the list, at roughly 46%.
Companies with immigrant founders include Google and Tesla. The organization also highlighted companies that were founded decades ago by immigrants or their children, like Apple and Goldman Sachs.
The backdrop, from Axios' David McCabe: A legal battle is raging over the Trump administration's plan to rescind the International Entrepreneur Rule, which grants temporary visas to foreign startup founders meeting certain criteria.
6. RNC restores Moore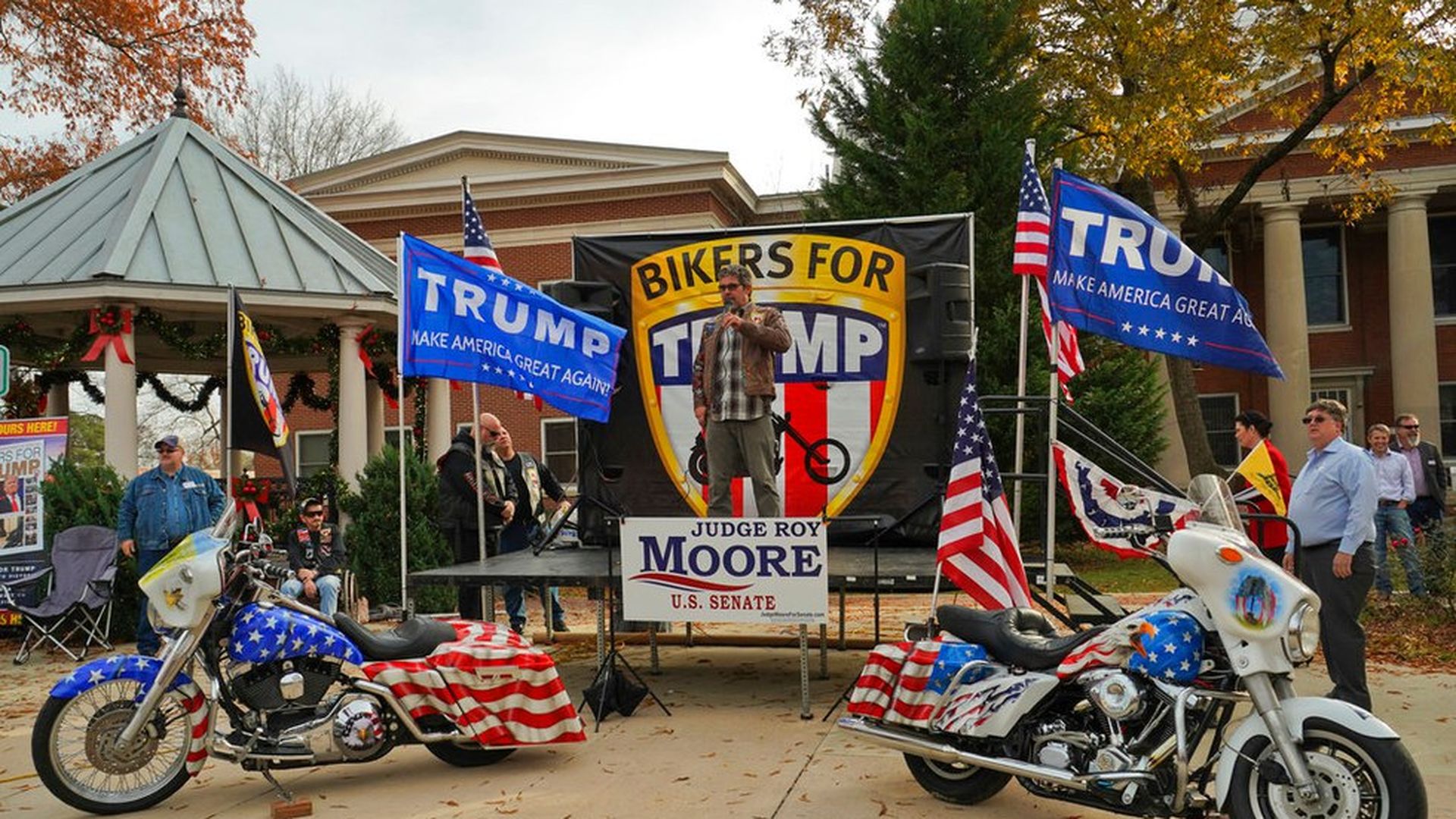 The Republican National Committee restored support for Roy Moore's bid for U.S. Senate in Alabama, after cutting him off last month over allegations of sexual advances against teenage girls in the 1970s.
The decision came on the same day as President Trump officially endorsed Moore.
The National Republican Senatorial Committee is still withholding support, AL.com reports.
Meanwhile, the WashPost reports ... "Woman shares new evidence of relationship with Roy Moore when she was 17" and he was in his 30s: "Debbie Wesson Gibson, who says she dated Roy Moore in 1981, recently found a high school graduation card she says he gave her at the time and inscribed to her."
"Happy graduation Debbie," it read in slanted cursive handwriting. "I wanted to give you this card myself. I know that you'll be a success in anything you do. Roy."
7. Data du jour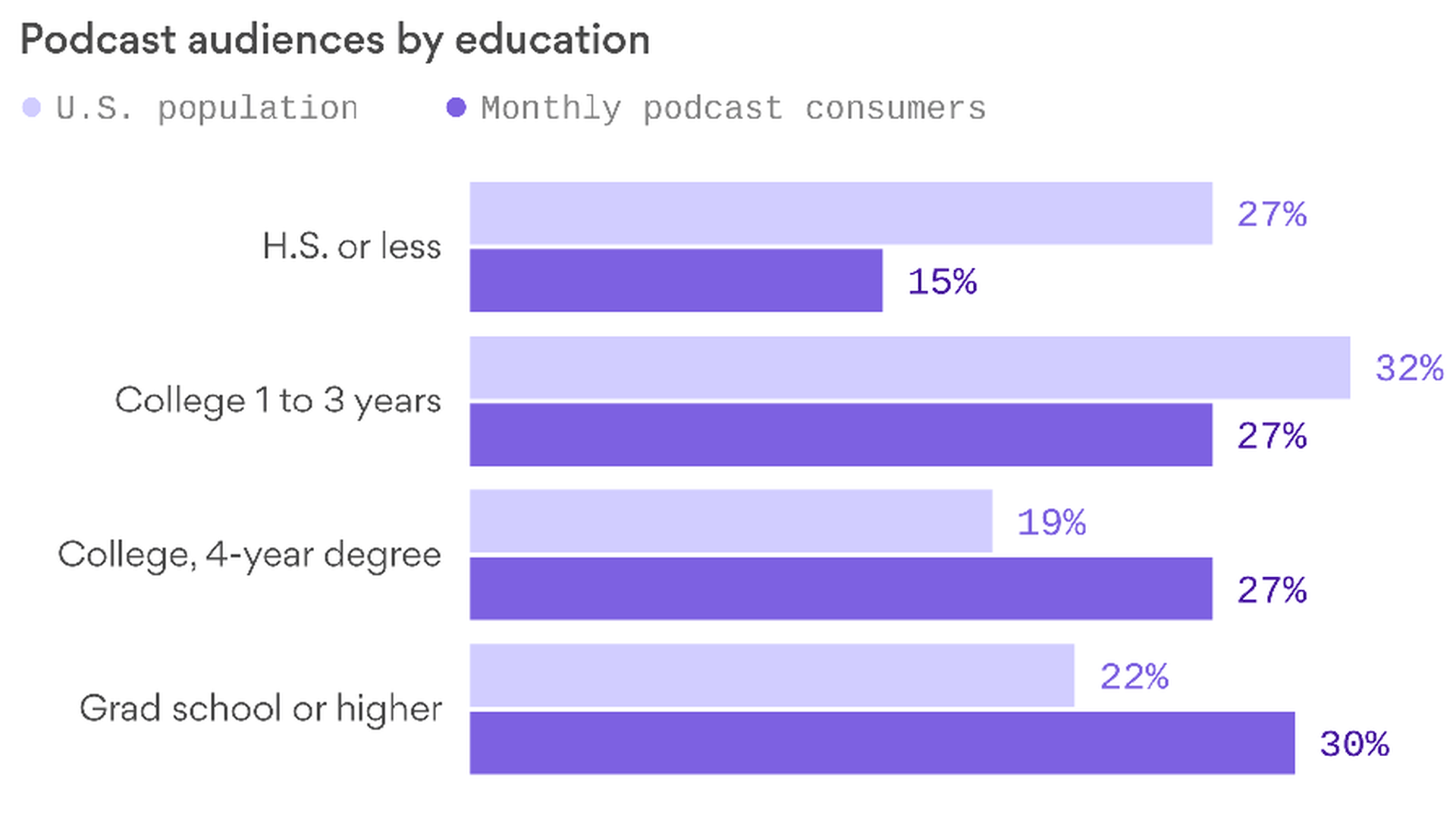 Podcasting has typically catered to high-end, urban audiences, and podcasts featured on popular distribution channels, like iTunes, are often produced from urban areas where the biggest distributors and podcast networks are located, Axios media trends expert Sara Fischer explains:
Most listeners in the U.S. are highly educated, have higher household incomes and work full-time, according to Edison Research's latest podcast survey.
Sign up free for Sara's weekly newsletter, Media Trends.
8. News Corp to fight Google/Facebook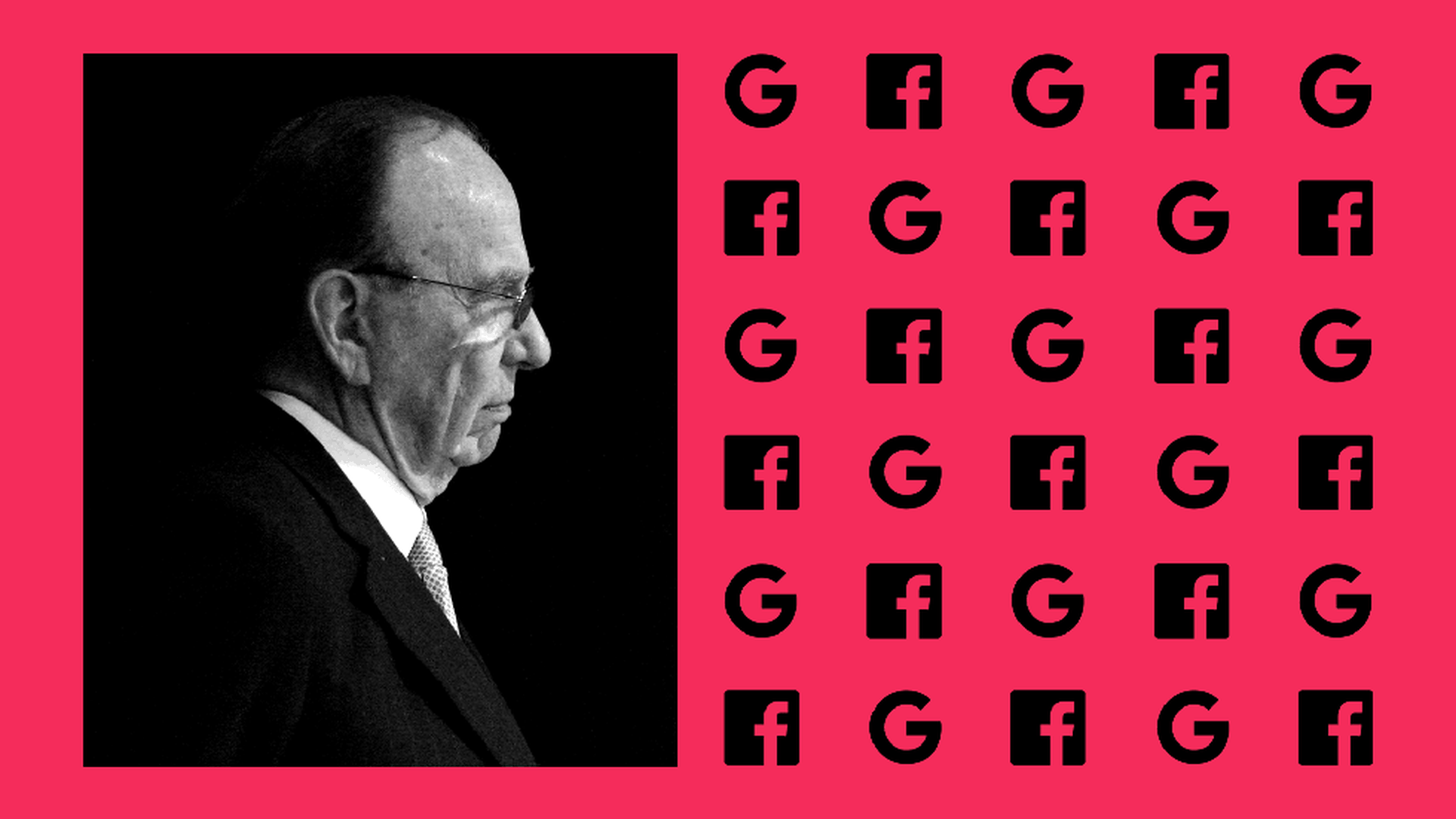 News Corp is taking aim at the digital-ad dominance of Google and Facebook with a new platform to let advertisers reach audiences across all of its online properties, Axios' Sara Fischer reports:
The new platform, called News IQ, will pull audience data from sites like The Wall Street Journal, New York Post and Barron's and give advertisers a way to reach specific audiences around safe content.
Why it matters: News Corp is the latest publishing company to launch a data-based advertising network to win back digital ad dollars from Google and Facebook. Disney, NBC and Vox Media, and Verizon and Oath have all similar steps. While none of these new ad networks are as big as Google or Facebook's, they are hoping to offer more brand-safe content at scale — a major selling point for advertisers spooked by terrorist content and suicide videos.
News IQ will launch globally over the coming months and years, News Corp CEO Robert Thomson tells Axios exclusively. "We're not going to stop at U.S. borders."
9. An epic year: 3 of 30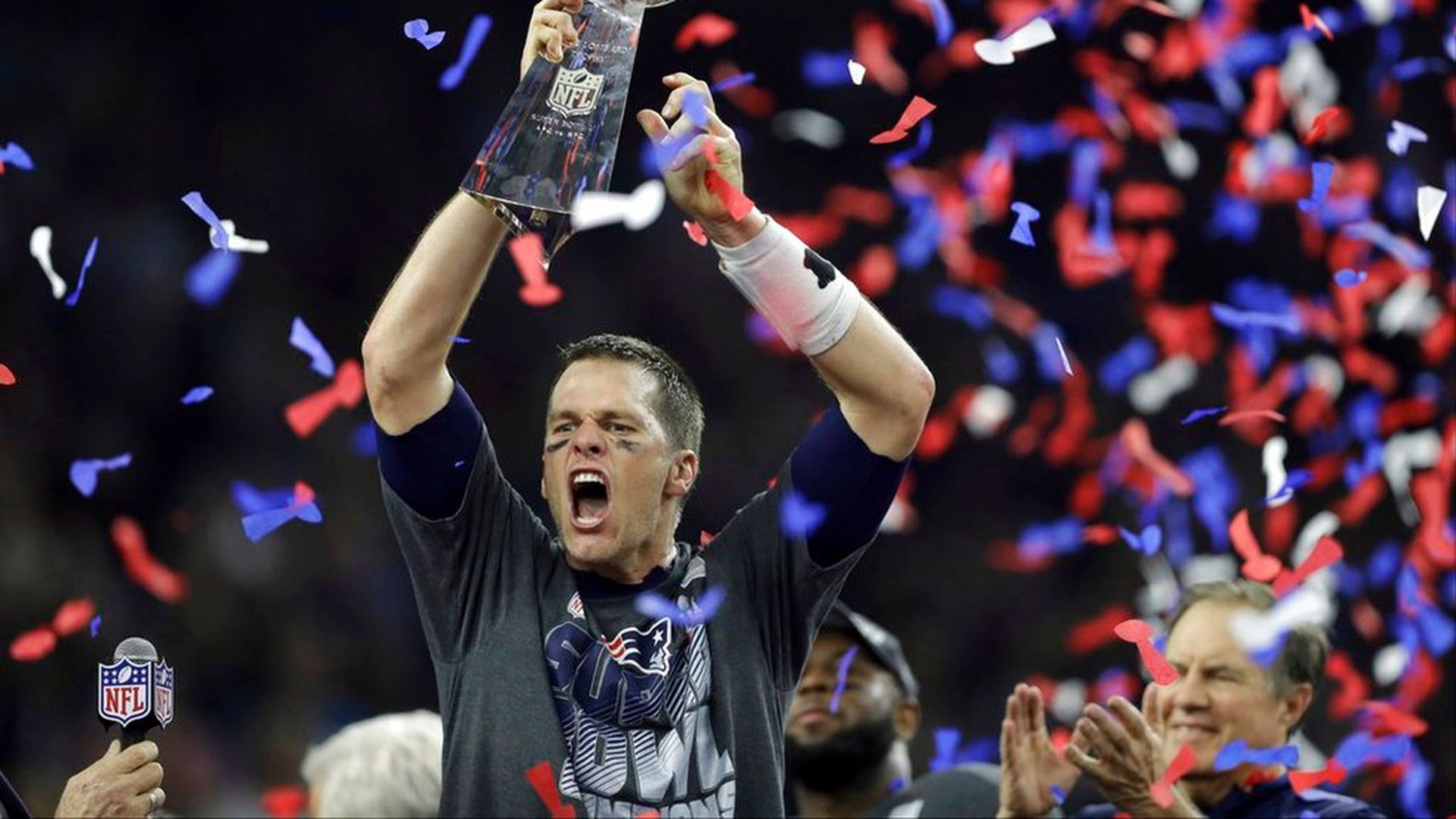 New England Patriots quarterback Tom Brady raises the Vince Lombardi Trophy after defeating the Atlanta Falcons in overtime (34-28) at Super Bowl 51, on Feb. 5 in Houston.
10. 1 fun thing
Netflix says House of Cards will have a sixth, abbreviated and final season without Kevin Spacey, according to Deadline:
"Netflix Chief Content Officer Ted Sarandos said the show will restart production next year, with Robin Wright ["the show's Lady MacBeth] in the lead. ... [F]ilming is slated to begin in mid-January."
"The eight-episode season will 'bring closure of the show for fans' and bring back to work some 2,000 people in the Baltimore area whose livelihoods depend on the show, Sarandos said ... at UBS's Global Media and Communications Conference in New York. Previous HoC seasons consisted of 13 episodes each."
Netflix suspended production Oct. 31, after the first allegations surfaced against Spacey.