May 28, 2020
🐦 Situational awareness: President Trump plans an executive order about social-media companies that includes a review of Section 230 of the Communications Decency Act, which exempts online platforms from liability for users' posts, Reuters reports.
A draft of the order says the White House Office of Digital Strategy will re-establish a tool for reporting online censorship, the White House Tech Bias Reporting Tool.
💻 Today at 12:30 p.m., Caitlin Owens and I will host a live Axios virtual event on the impact of the coronavirus on seniors in nursing homes. Register here.
1 big thing: Tech trend bleeds megacities, boosts heartland
The biggest U.S. tech hubs, which have enjoyed huge economic growth, are likely to start losing workers to a next tier of rising cities, thanks to the wave of remote work, Axios Cities editor Kim Hart writes.
Why it matters: With more people finding long-term flexibility to work from anywhere, they have less reason to live in the most expensive cities like New York, San Francisco, Los Angeles and Seattle.
That could create a wave of rising-star cities that have already begun to attract people looking for a better quality of life.
In 2017, 90% of the nation's tech-sector jobs were concentrated in the top five innovation cities — Boston, San Francisco, San Jose, Seattle and San Diego — per a Brookings Institution analysis.
Reality check: The shift from major tech hubs to other places won't lead to a seismic demographic shift overnight.
Workers eager to find affordable housing and more space are still likely to choose other large cities with strong economies and amenities.
When the economy starts to recover, the largest employers are still going to dominate hiring — and those companies have already put sizable investments into the biggest cities.
Still, a redistribution of sought-after workers beyond the biggest five to 10 cities will go a long way in lifting up regions that have been left behind.
It could also help reverse a decade-long brain drain from heartland cities like Kansas City and St. Louis, as well as post-industrial cities like Pittsburgh and Detroit.
Sign up for Kim Hart's weekly newsletter, Axios Cities.
2. Mourning 100,000: Virus keeps foothold in South
Overall, new coronavirus infections in the U.S. are on the decline. But a small handful of states, mainly clustered in the South, aren't seeing any improvement, Axios' Andrew Witherspoon and Sam Baker report.
The big picture: A day after the nation passed the tragic milestone of 100,000 coronavirus deaths, America is making overall progress.
But it's fragile, and it's not universal. Stubborn pockets of infection put lives at risk, and they can spread, especially as state lockdowns continue to ease.
Where it stands: Each week, Axios is tracking the change in confirmed coronavirus infections in every state.
We're using a seven-day average, to minimize the distortions of reporting delays or similar technical issues.
Ten states have not seen a single week of significant improvement — their caseloads have either gotten worse or have held steady all month.
Most of them are in the South: Alabama, Mississippi, North Carolina, South Carolina and Virginia.
But a handful of other, more populous states — California, Minnesota and Wisconsin — also stand out for their consistently lagging progress. Maine and Utah also have not reported a single week of significant improvement.
Between the lines: The number of total cases is a flawed but important metric.
The number of confirmed cases will go up as testing improves, so spikes in some areas may simply reflect a more accurate handle on the situation, and not a situation that's getting worse.
Even so, to get this pandemic under control and safely continue getting back out into the world, we still need the total number of new cases to decline.
What we're watching: This analysis is a snapshot. Any number of states have seen their case numbers yo-yo — up one week and down the next, or vice versa.
3. Violence rocks Minneapolis
Minneapolis Mayor Jacob Frey called for a police officer to be arrested and charged with killing George Floyd, a black man who died in police custody this week after a white officer kneeled on his neck after allegedly trying to pass a counterfeit bill.
A second night of violent protests erupted, with looting of south Minneapolis storefronts, the Star Tribune reports.
One person died after being shot by a pawn-shop owner.
The mayor said: "I've wrestled with, more than anything else over the last 36 hours, one fundamental question: Why is the man who killed George Floyd not in jail? ... If you had done it, or I had done it, we would be behind bars."
In Los Angeles, people protesting Floyd's death briefly blocked the 101 freeway. A demonstrator was injured after falling off the hood of a CHP cruiser as it drove away. (L.A. Times)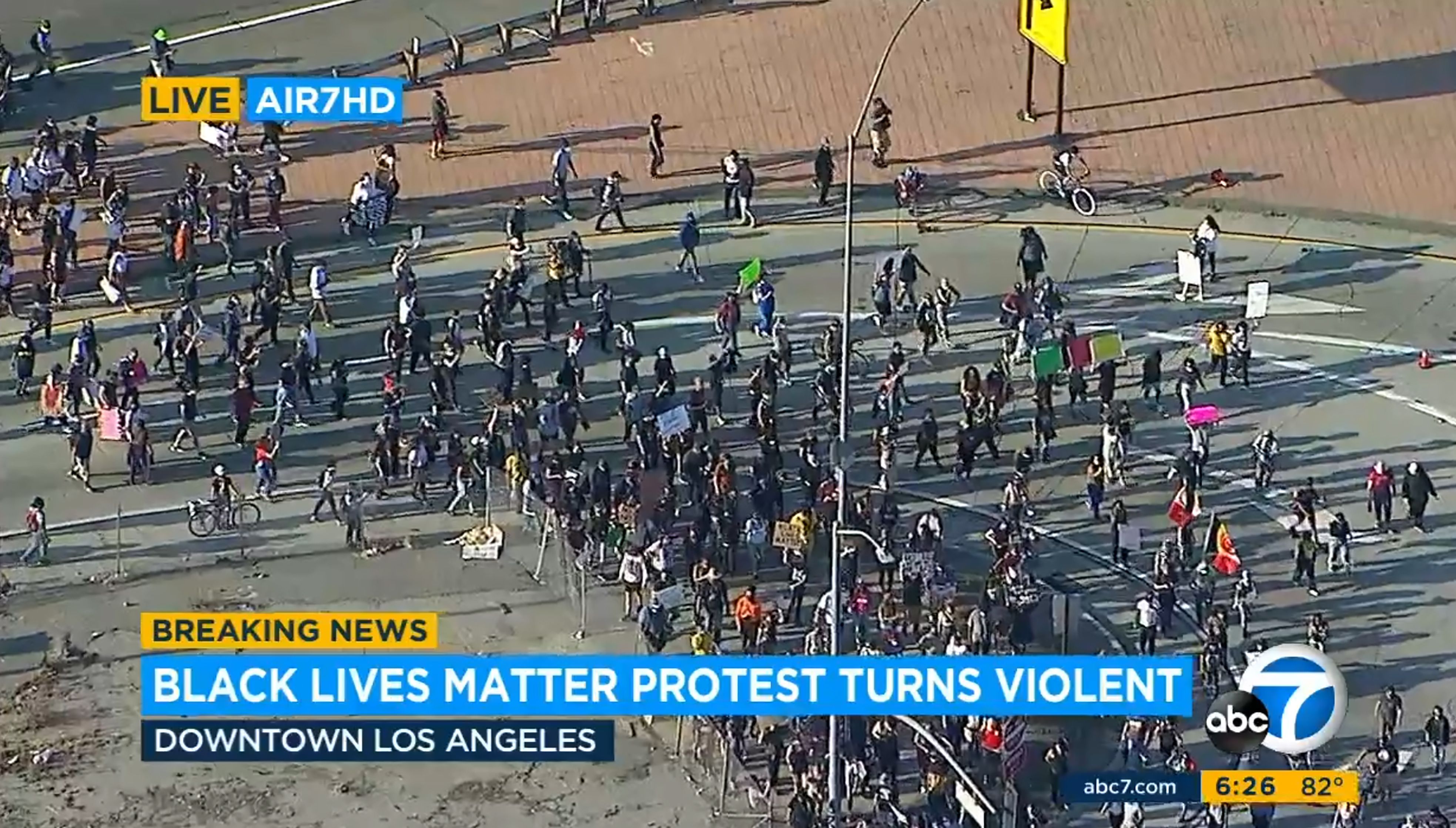 4. Pics du jour: Space drama moves to Saturday
The NASA/SpaceX "Launch America," the first astronauts to launch from the U.S. in nine years, now moves to Saturday at 3:22 p.m. ET.
The weather call to scrap yesterday's attempt came just 17 minutes before liftoff, with astronauts Doug Hurley and Bob Behnken already loaded into the capsule and fueling of the rocket underway, Axios' Miriam Kramer writes.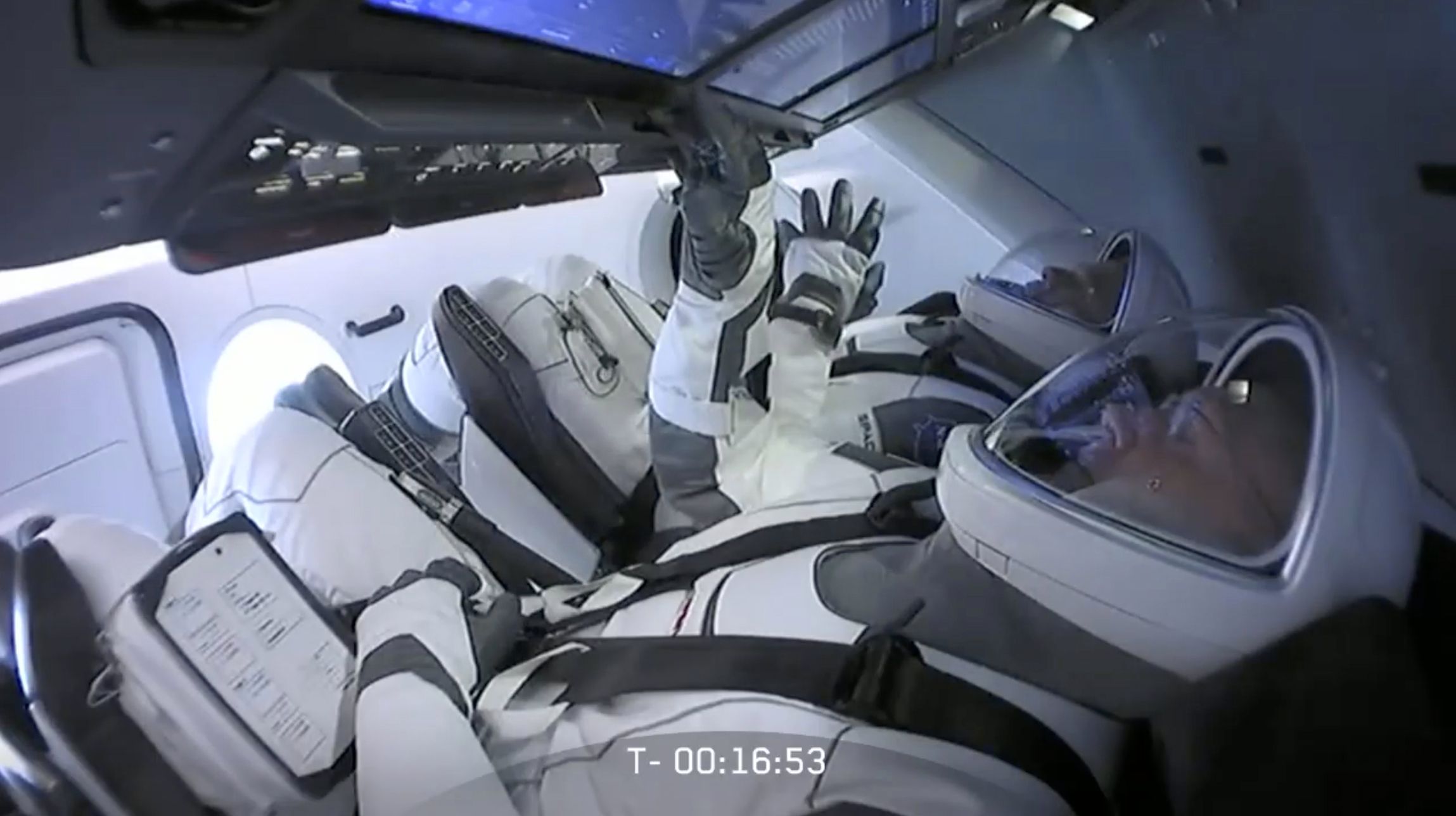 5. D.C. begins reopening tomorrow
The nation's capital will begin a gradual reopening tomorrow, even as Mayor Muriel Bowser warns that it probably will result in more coronavirus infections, AP's Ashraf Khalil reports.
Restaurants will be permitted to seat guests outdoors, barbers and hair salons will open with limited capacity, and nonessential businesses will be allowed to offer curbside or front-door pickup services.
But nail parlors, gyms and public playgrounds will remain closed.
Gatherings of more than 10 people will be prohibited.
The backdrop: D.C. had 263.2 new cases per 100,000 people over the past two weeks, which ranks first in the country for new cases per capita.
🧨 President Trump will go ahead with a July 4 celebration in D.C.
"[I]t will have a different look than 2019 to ensure the health and safety of those attending," White House spokesman Judd Deere said.
6. Time capsule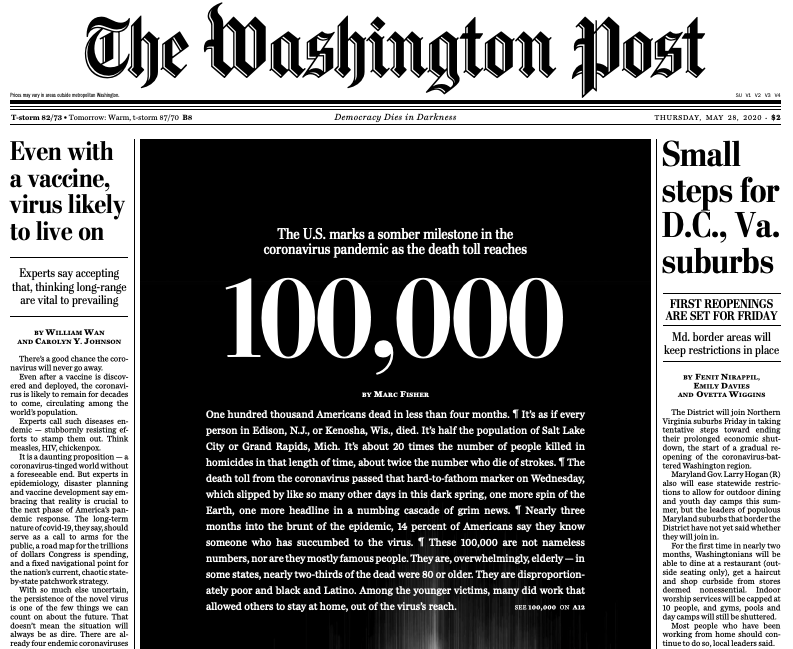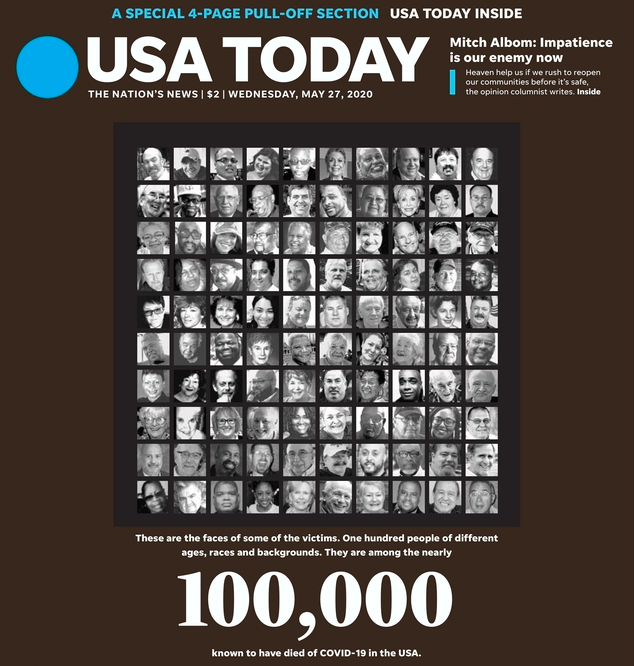 L.A. Times:

7. Woman tops CEO pay list for first time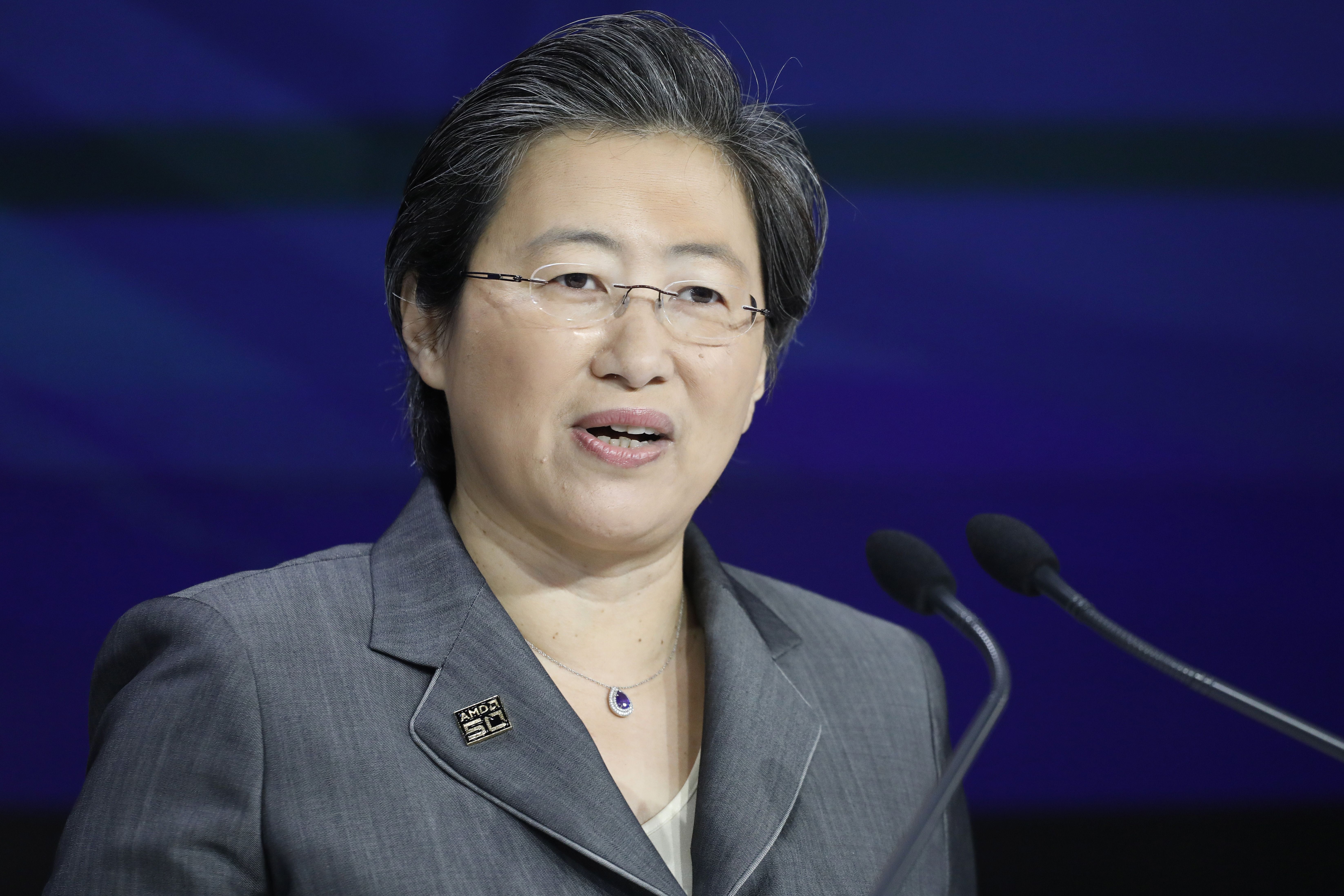 Lisa Su of chipmaker Advanced Micro Devices (AMD) is the first woman to top AP's annual survey of CEO compensation at S&P 500 companies:
Her 2019 pay package was valued at $58.5 million, following a strong performance for AMD stock during her five years as CEO, AP's Sarah Skidmore Sell writes.
The majority of her package was a one-time, performance-based stock award, according to Equilar, which conducted the study.
20 women are on the list, versus 309 men.
8. Scoop: Biden's virtual-convention dry run
Joe Biden will help close out the Texas Democratic Party's all-virtual convention next week as one of the event's major speakers, Axios' Alexi McCammond reports.
Why it matters: Given Texas' size, the event could serve as a test run for large-scale virtual events, as planners consider whether part of the Democratic National Convention — scheduled for Milwaukee in August — should be virtual.
The Texas Democratic Party has been in contact with the Democratic National Convention throughout the planning to trade best practices.
To avoid technical difficulties, speakers are pre-recording videos that will play during a nine-hour livestream on June 1.
9. First look: Charles Koch's new book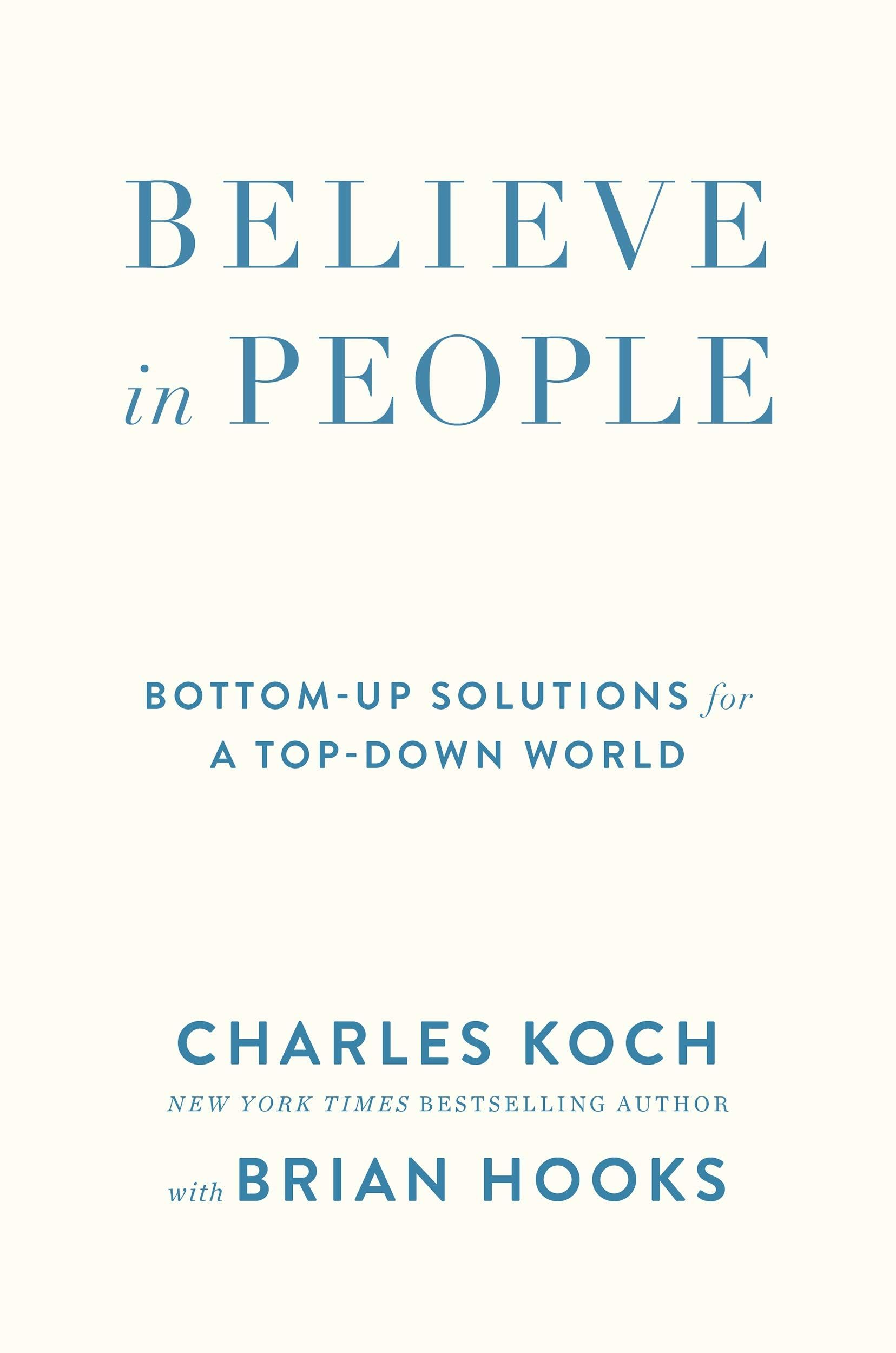 Charles Koch, chairman and CEO of Koch Industries since 1967, plans a book this fall based on the principle that "what made societies successful was empowering not just a few at the top, but people throughout society." 
The book — written with Brian Hooks, chairman and CEO of Stand Together, a nonprofit founded by Koch — is called "Believe in People: Bottom-Up Solutions for a Top-Down World," and will be out Nov. 17.
Koch was at his desk at his Wichita headquarters when I talked to him about the book, which he said "is geared toward people who see problems and injustices in society, to help them see a way they can become social entrepreneurs."
Koch said "Believe in People," which he's been working on for five years, distills more than 60 years of studying history and developing principles that he has applied to business and philanthropy.
The publisher says the book describes a "bottom-up" approach "to improve a failing education system, fix a rigged economy, and improve public policy that stifles opportunity and emboldens the extremes."
Hooks told me the book is "a call to action for anybody who's looking at what's happening in our country right now and saying: There has to be a better way."
Editor's note: This item has been updated to include the correct version of the book's cover.
10. 📺 1 smile to go: Year's #1 TV series
The traditional television season ended last week, and NBC's "Sunday Night Football" was the most-watched regular program of the year, AP's David Bauder writes.
"NCIS" was the year's most popular scripted series, with "Young Sheldon" as the top-rated comedy. (Both CBS.)
CBS was the most-watched broadcaster for the 12th year in a row, according to Nielsen figures.
CBS has won 17 of the last 18 years, the lone exception coming when Fox topped the chart at the height of "American Idol."
📱 Thanks for reading Axios AM. Please invite your friends to sign up here.