Axios AM
March 28, 2022
Good Monday morning. Today's Smart Brevity™ count: 1,485 words ... 5½ mins. Edited by Zachary Basu.
⚡ Out this morning: Listen to the latest episode of Axios' hit podcast, "How It Happened: Putin's Invasion," to hear Ukraine endgames.
1 big thing: No clear path to peace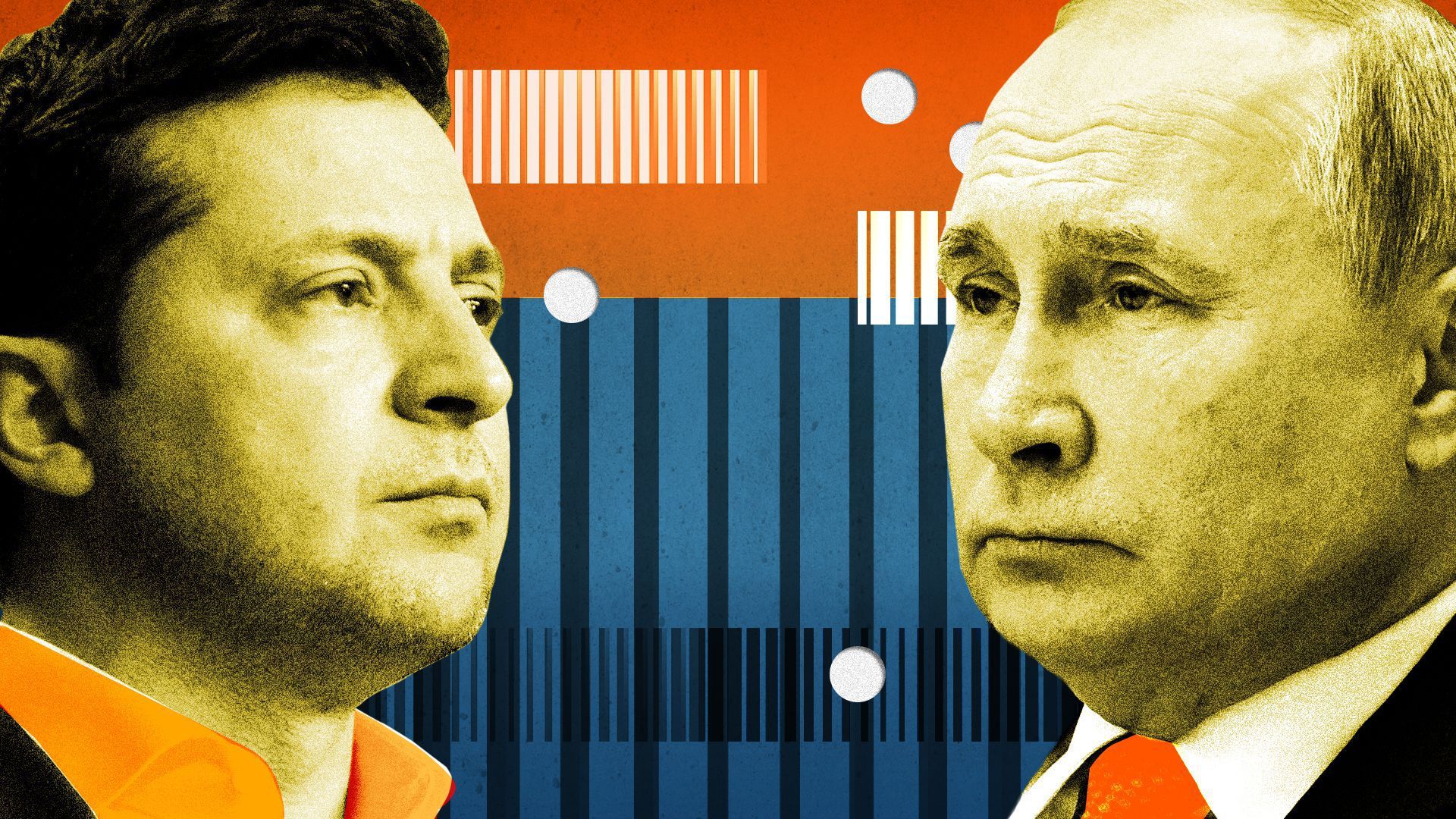 The only clear path to peace in Ukraine is a deal between Vladimir Putin and Volodymyr Zelensky. But the red lines drawn by the presidents don't intersect, Axios World author Dave Lawler reports.
Why it matters: "The ugliest pages of this war are likely in front of us," predicts Alexander Gabuev of Carnegie Moscow.
State of play: Putin could sell fairly minor concessions from the Ukrainians as a major victory given his control of the domestic media, Gabuev says. But he doesn't think that's likely: "Having started such a terrible and reckless war, I think he will not settle for lesser prizes."
Volodymyr Zelensky's chief of staff, Andriy Yermak, told Axios' Barak Ravid: "We are not going to give anything that is ours."
Between the lines: While Zelensky is urgently appealing for peace, Ukraine's success on the battlefield and in the global information war could actually make it harder for him to compromise, says Gabuev.
👀 What we're watching: Another round of peace talks is expected this week in Turkey. Putin has rebuffed Zelensky's calls for a leader-level summit.
Putin isn't personally involved in the public or private diplomacy and has sent mainly lower-level officials to negotiate.
🎧 Go deeper: Subscribe to "How It Happened" to hear Dave Lawler host "Putin's Invasion, Part III: How It Could End."
2. Scoop: Biden wants to beef up police funding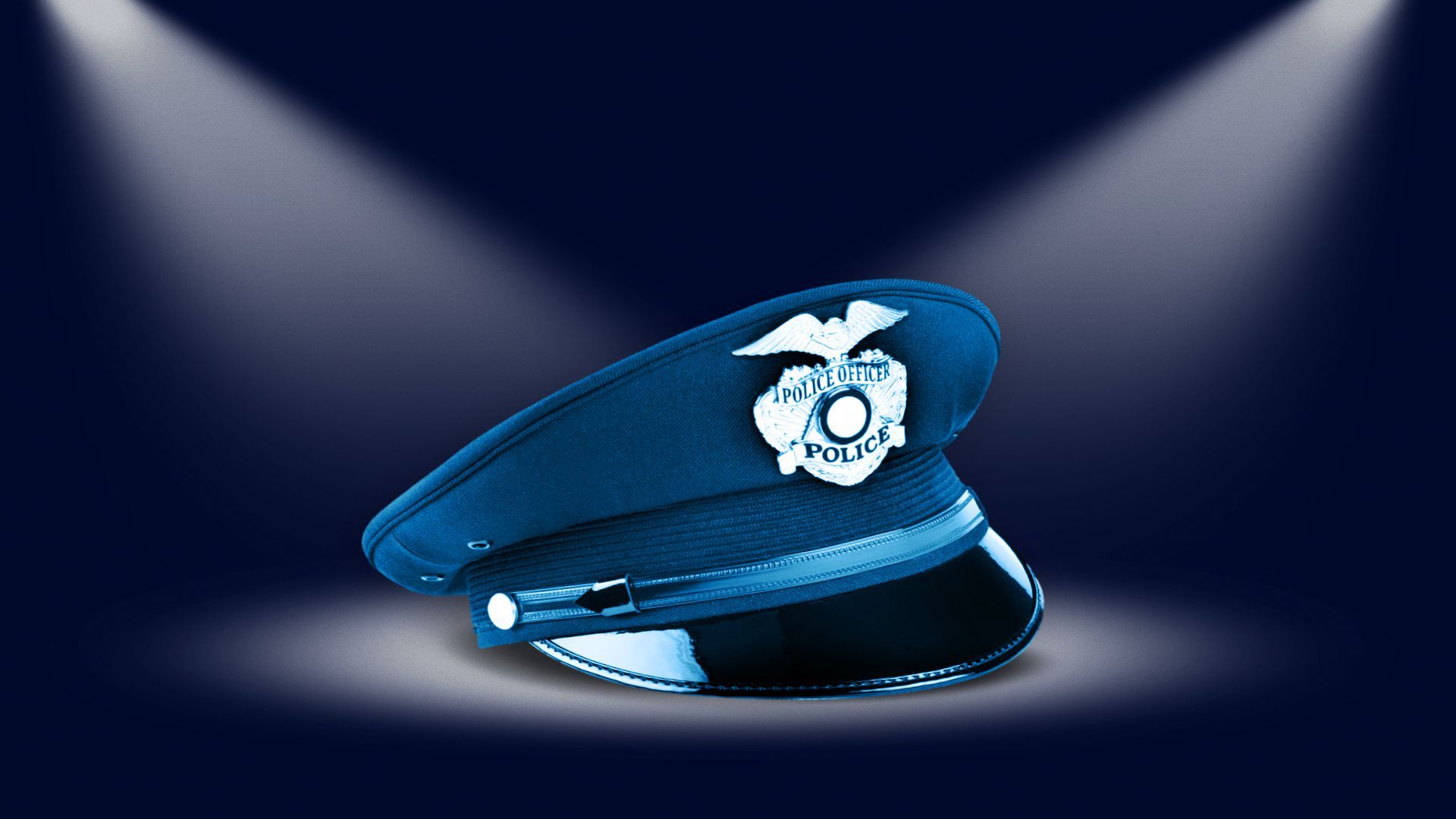 President Biden today will propose more than $32 billion in new spending to fight crime, putting a price tag on his State of the Union call to fund — not defund — the police, Axios' Hans Nichols reports.
Why it matters: Biden wants to show America he's addressing rising crime, which threatens Democrats' fortunes in the midterm elections.
The budget proposal, out at 11 a.m. ET, will include $20.6 billion for the next fiscal year for Justice Department discretionary spending on federal law enforcement, crime prevention and intervention. That's $2 billion more than the $18.6 billion enacted for the current fiscal year.
The expanded discretionary spending would increase resources for federal prosecutors and give additional resources to state and local law enforcement to put more police on the beat.
It would more than double the funding for community policing through the COPS Hiring Program. It also would add $500 million for so-called community violence interventions — a tenfold increase.
It would pay for 140 ATF agents and investigators working on gun-trafficking strike forces, and 160 ATF investigators working on gun-dealer compliance.
It would significantly increase funds for law enforcement agencies to trace firearms found at crime scenes.
Between the lines: The president has been looking for ways to distance himself from progressives over how to combat crime, and to convince swing voters he understands their concerns about feeling unsafe.
💰 The budget includes a "billionaire's tax" to pay for $1 trillion in deficit reduction over a decade.
A new minimum tax on the wealthiest Americans would require households worth over $100 million to pay at least 20% of their income in taxes, the White House said.
Go deeper: White House fact sheet on Biden's new Billionaire Minimum Income Tax.
3. 🎥 Apple TV+ beats legacy studios at Oscars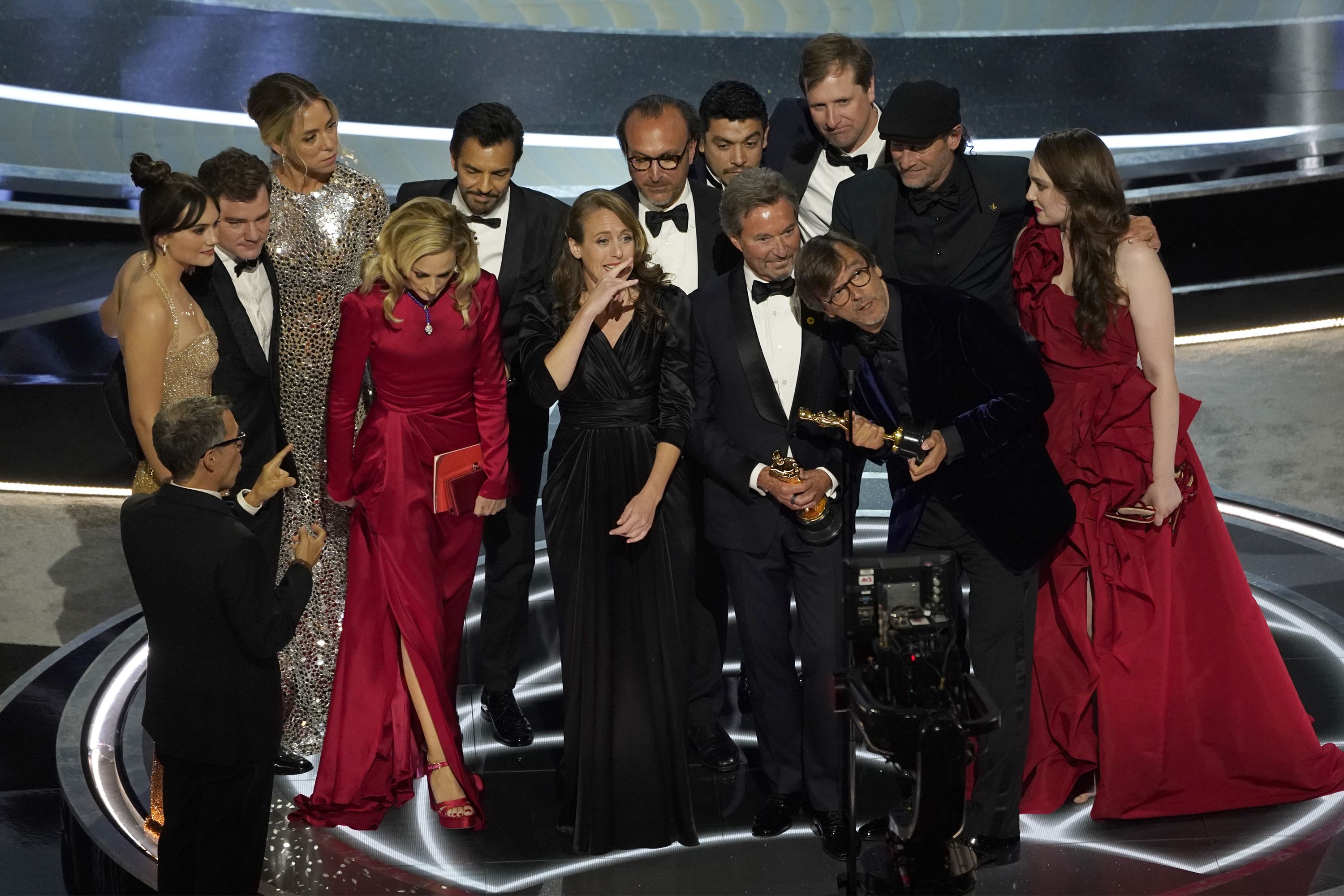 For the first time in the Academy Awards' 94-year history, a streaming company nabbed the award for Best Picture:
Apple TV+'s "CODA" — a coming-of-age film about the only hearing member in a family of deaf adults (stands for "child of deaf adults") — won three Oscars, including Best Supporting Actor and Best Writing (Adapted Screenplay).
Why it matters: It's a watershed moment for the film industry, which has for years been grappling with ways streaming is upending Hollywood, Axios Media Trends author Sara Fischer reports.
Between the lines: Apple had been considered a Hollywood outsider compared to tech rivals Netflix and Amazon.
Netflix's "The Power of the Dog" was also a Best Picture favorite heading into the night. The Western drama was nominated for more Oscars than any other film this year.
This was Apple's first year as an Oscar nominee. Apple didn't even launch its streaming service, Apple TV+, until 2019, many years after Netflix and Amazon.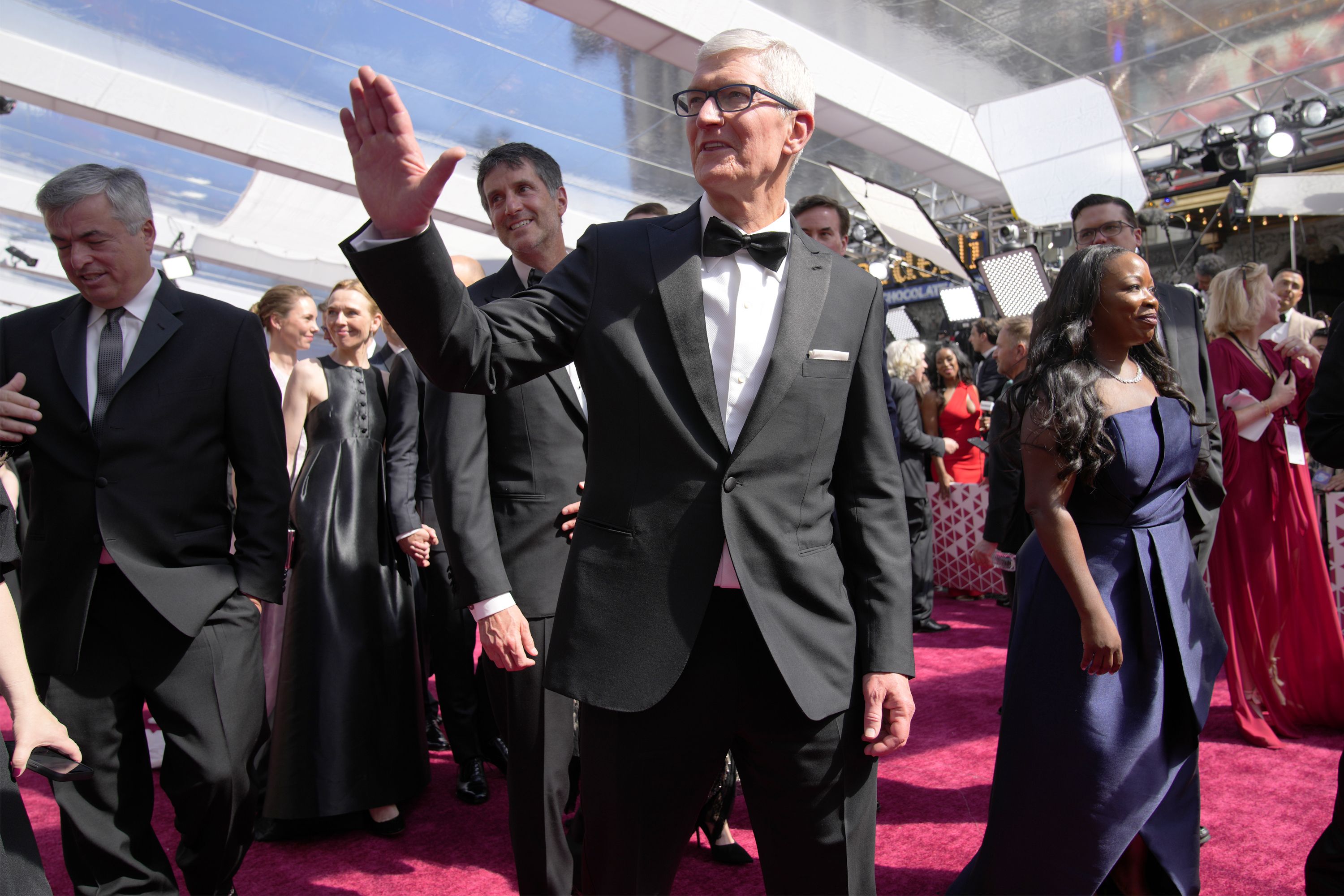 The intrigue: Apple's victory likely couldn't have happened if Netflix hadn't paved the way for the tech industry's Hollywood takeover.
Netflix has received more nominations than any movie studio, tech or traditional, for the past three years.
Other firsts:
Ariana DeBose became the first openly queer person of color to win an acting Oscar, winning Best Supporting Actress for her role in Steven Spielberg's live-action version of "West Side Story."
"CODA" star Troy Kotsur made history as the first male deaf actor to win an Oscar.
4. Pic du jour: Slap in slo-mo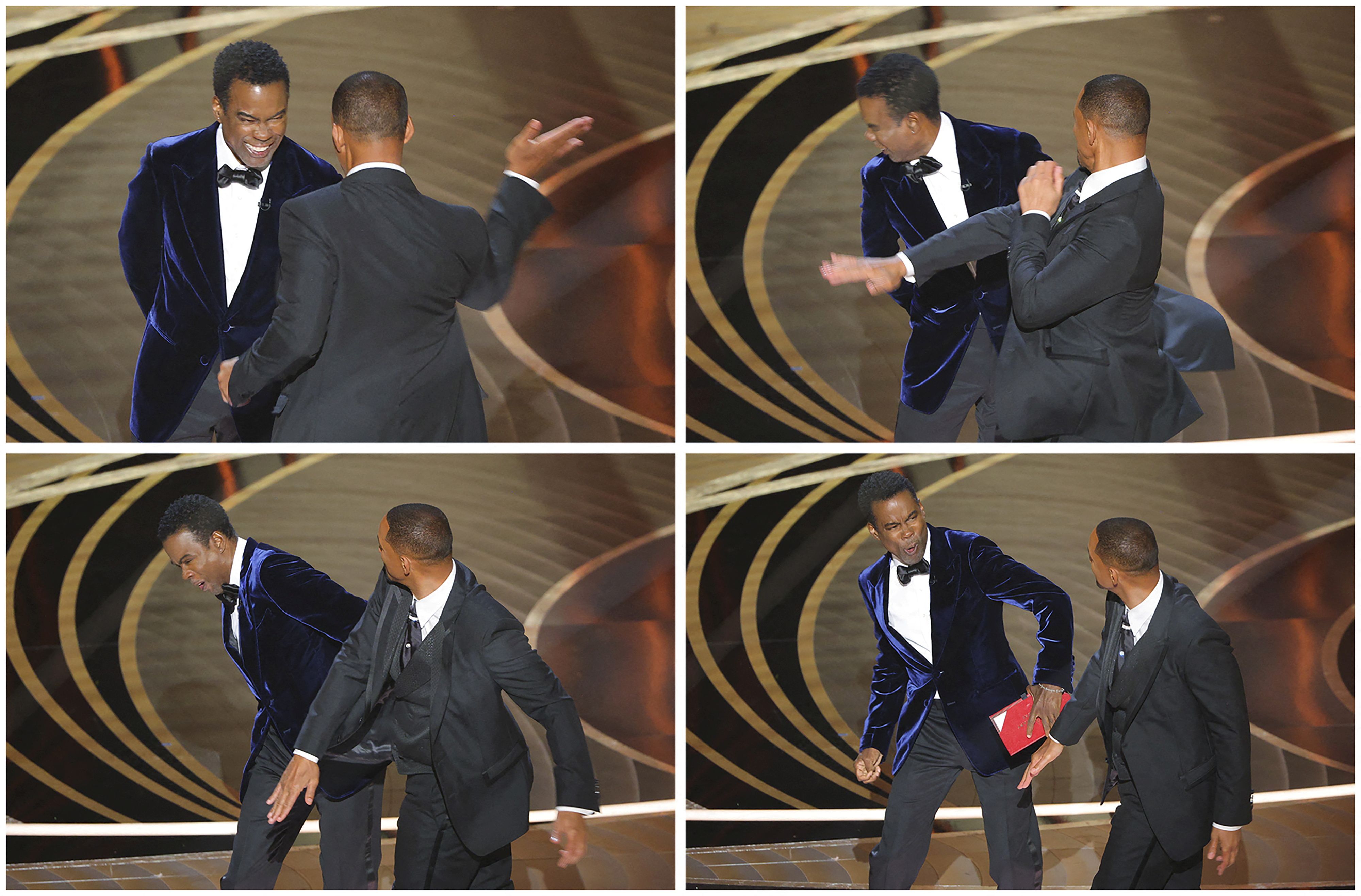 Will Smith, accepting Oscar for Best Actor last night, apologized to the Academy and his fellow nominees after slapping Chris Rock onstage in the middle of ABC's telecast, Axios' Sara Fischer reports.
Why it matters: The spontaneous moment startled viewers and nearly upstaged an otherwise smooth Oscars telecast.
The LAPD said early this morning: "The individual involved has declined to file a police report."
The Academy tweeted that it "does not condone violence of any form," though it didn't name Smith.
What happened: While introducing an awards segment, Rock made a joke about the hair of Smith's wife, Jada Pinkett Smith, calling her "G.I. Jane."
Pinkett Smith has opened up about losing her hair.
Will Smith walked onto the stage, slapped Chris Rock, and yelled, "Leave my wife's name out of your f--king mouth."
Smith was awarded Best Actor for playing Richard Williams, the father of tennis icons Venus and Serena Williams, in "King Richard."
"Love will make you do crazy things," Smith said toward the end of his emotional speech. "I'm hoping the Academy invites me back."
5. 🥊 Musk floats Twitter rival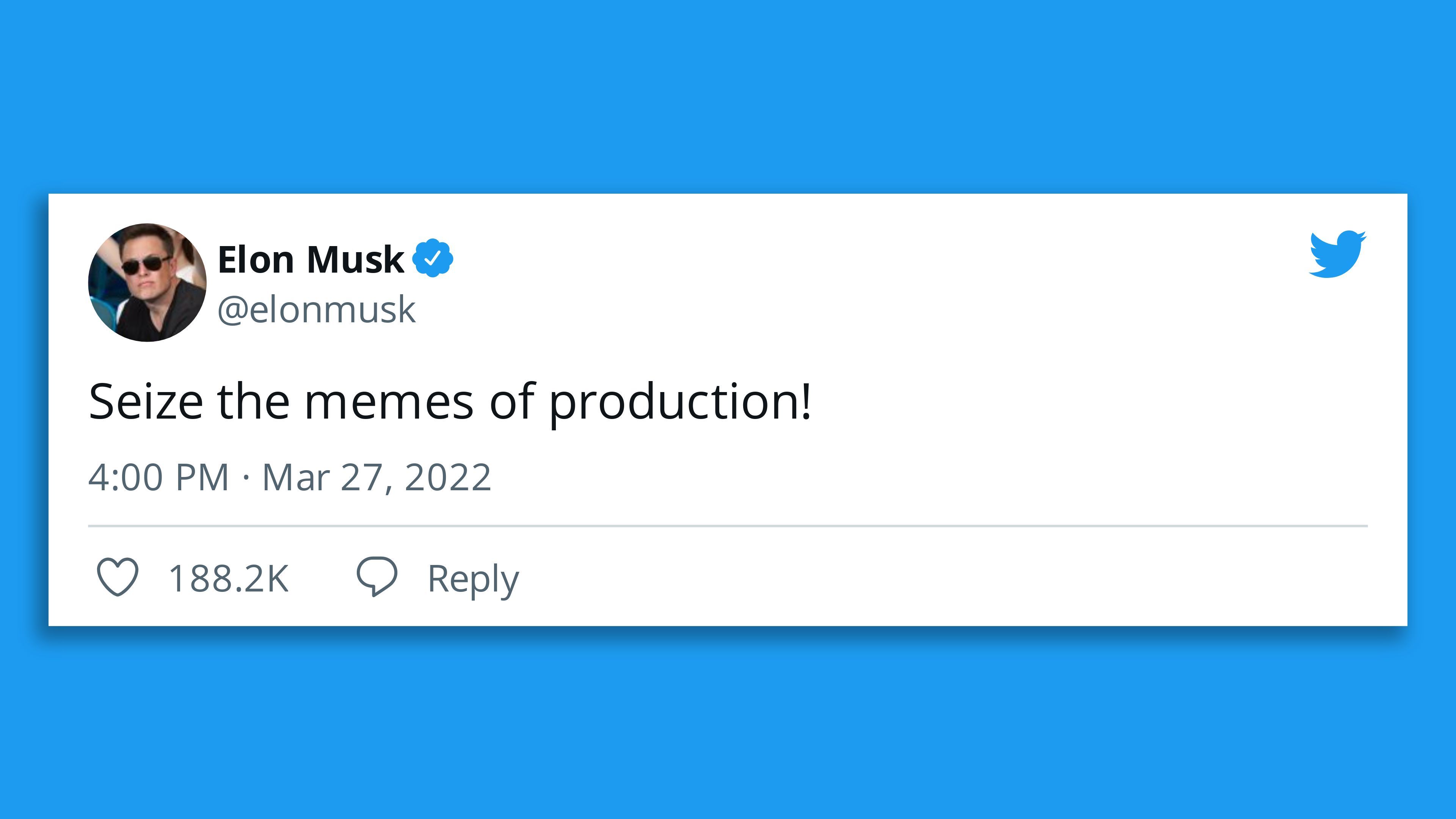 Elon Musk this weekend told his 79 million Twitter followers he's giving "serious thought" to building a social media platform to compete with Twitter.
"Given that Twitter serves as the de facto public town square, failing to adhere to free speech principles fundamentally undermines democracy," Musk tweeted. "What should be done? ... Is a new platform needed?"
Why it matters: Musk would be joining a slew of conservative sites positioning themselves as champions of free speech, hoping to draw users who feel their views are suppressed, Reuters notes.
Musk was answering a tweet asking if he'd consider building a platform with "an open source algorithm, one where free speech and adhering to free speech is given top priority, one where propaganda is very minimal."
"Am giving serious thought to this," he replied.
Musk tweeted a poll Friday asking: "Free speech is essential to a functioning democracy. Do you believe Twitter rigorously adheres to this principle?"
So far, 70% of the 2 million voters have said "no."
"The consequences of this poll will be important," Musk said. "Please vote carefully."
6. Sunday show bite for the ages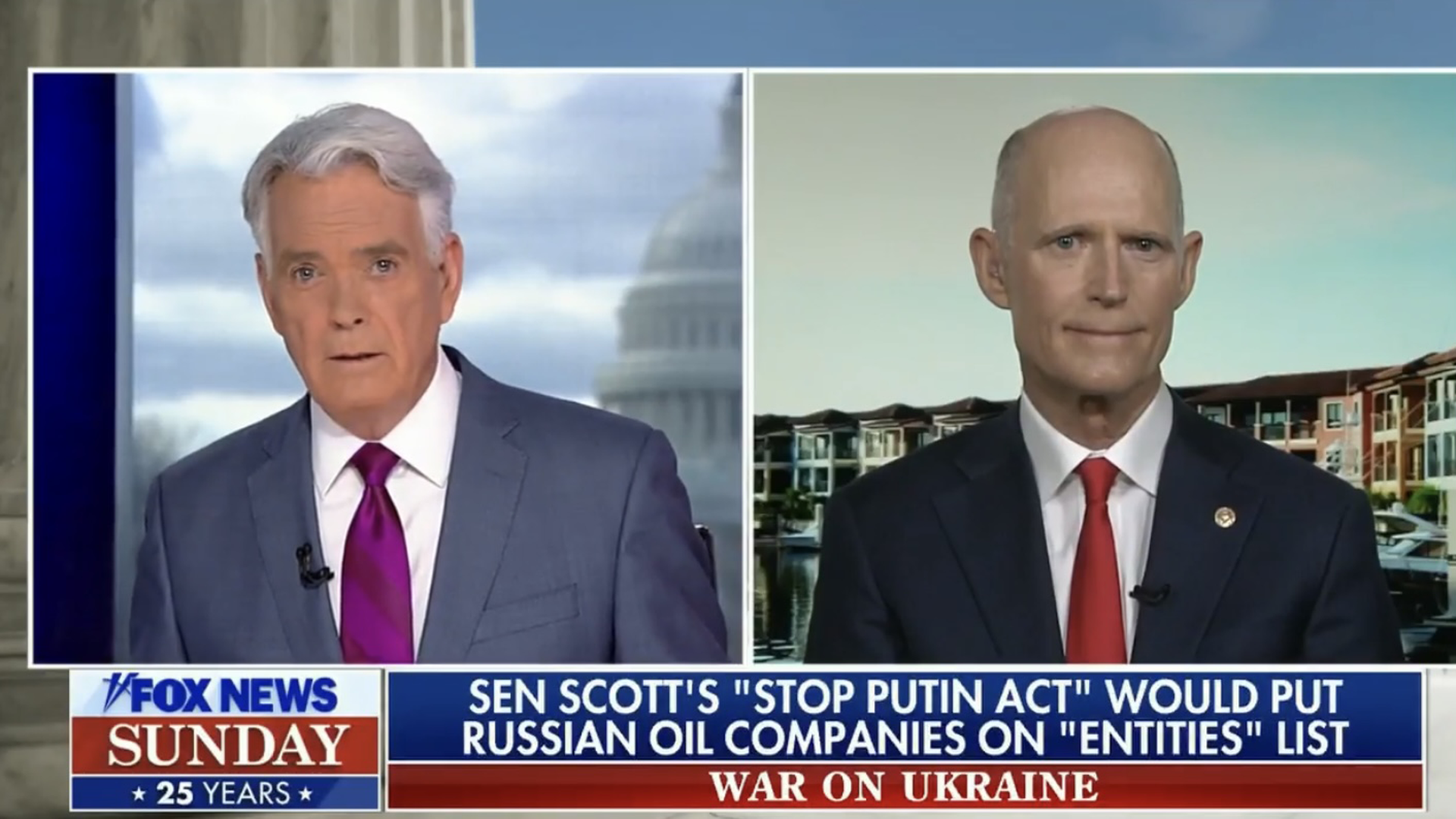 Sen. Rick Scott (R-Fla.), chair of the National Republican Senatorial Committee, to John Roberts on "Fox News Sunday":
"Biden has got to ... start acting, and getting these things done and start misspeaking — stop misspeaking."
Video: Bite at 2-min. mark.
7. Shanghai locks down 26 million in two phases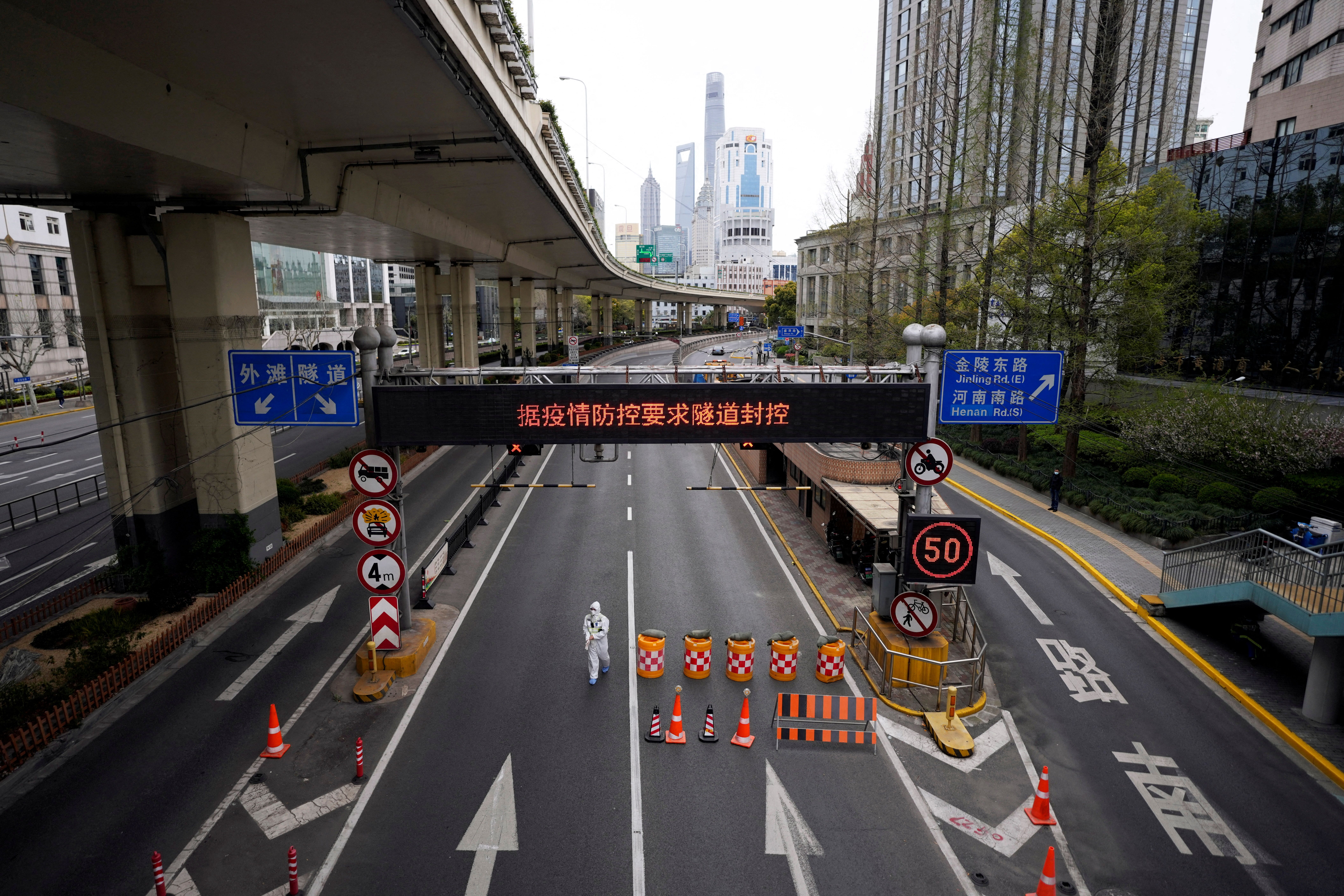 China today began its most extensive lockdown in two years, with mass testing in Shanghai, China's financial capital and largest city, AP reports.
Why it matters: The draconian move raises questions about the economic toll of the nation's "zero-COVID" strategy.
Shanghai's Pudong financial district will be locked down from today to Friday. On Friday, the vast downtown area west of the Huangpu River, which divides the city, will start its own five-day lockdown.
Deliveries will be left at checkpoints to ensure there's no contact with the outside world.
Panic buying was reported yesterday, with supermarket shelves cleared.
8. 🏀 Blue-hued Final Four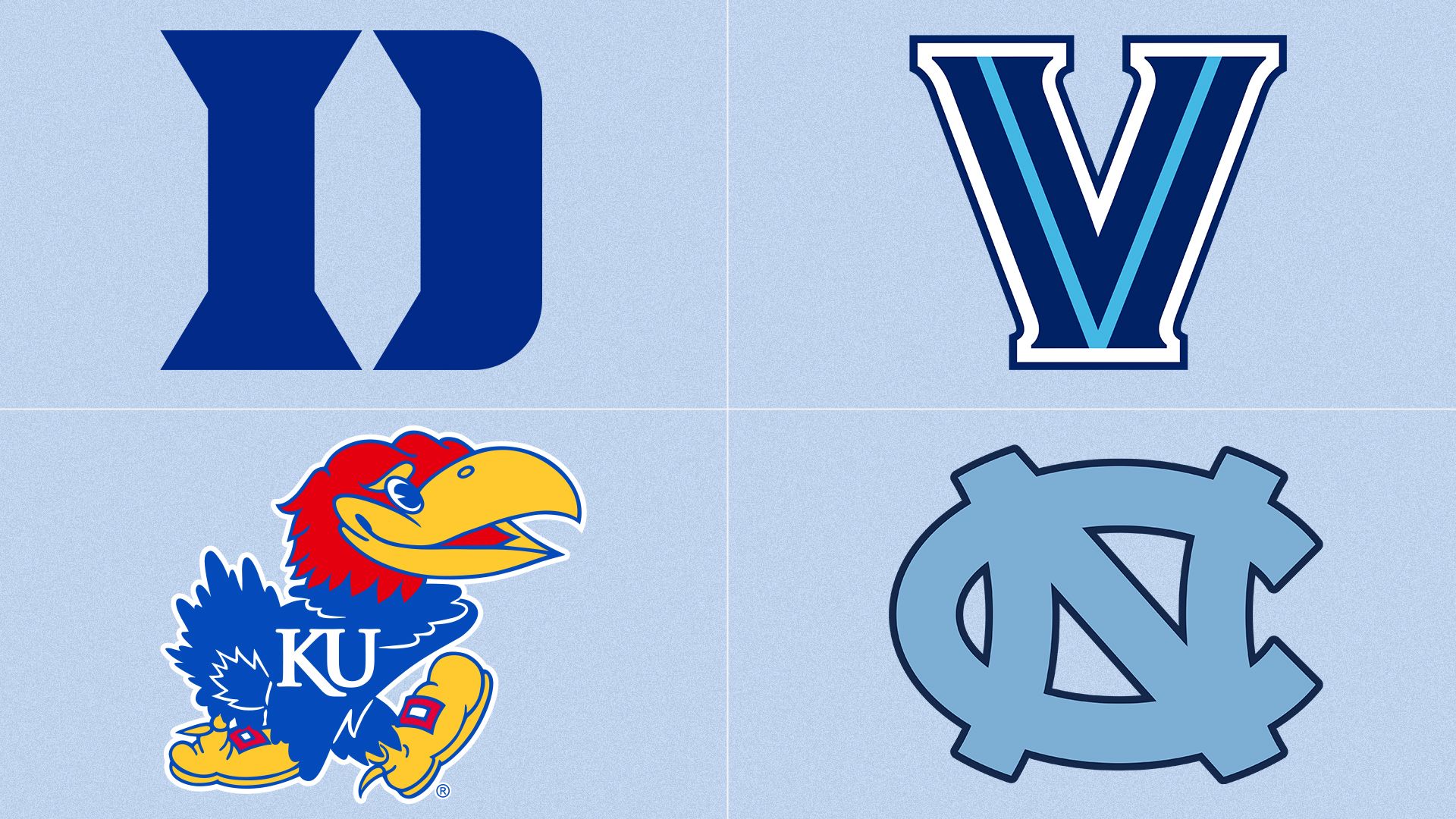 The 2022 men's Final Four is full of "Blue Bloods," all of whom suit up in blue, Axios Sports editor Kendall Baker writes.
Why it matters: An upset-filled tournament will conclude with a battle of juggernauts.
Three of the four all-time winningest programs will face off in New Orleans next weekend (sans Kentucky) — along with Villanova, which has won two of the past five titles.
Duke: 2,214 all-time wins (4th) ... 17 Final Fours (t-3rd) ... 5 championships.
UNC: 2,294 wins (3rd) ... 21 Final Fours (1st) ... 6 championships.
Kansas: 2,328 wins (1st) ... 16 Final Fours (5th) ... 3 championships.
Villanova: 1,817 wins (19th) ... 7 Final Fours (t-10th) ... 3 championships.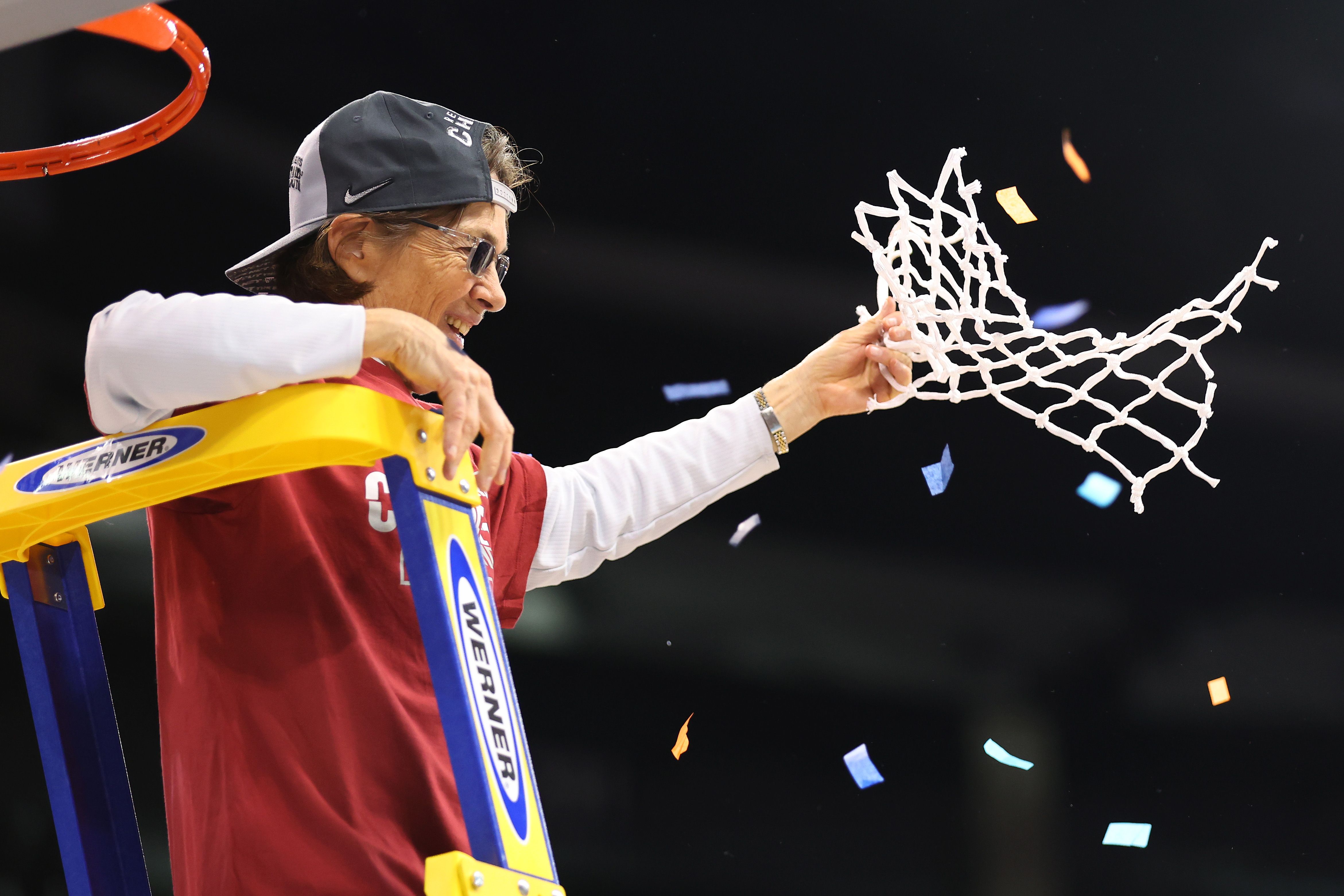 Above: Stanford Cardinal coach Tara VanDerveer cuts down the net after defeating Texas, 59-50, to advance to the Final Four.
Half the women's Final Four is set. Stanford and South Carolina dance to Minneapolis, along with winners of tonight's ESPN doubleheader:
📬 Invite your friends to sign up here to get their daily essentials — Axios AM, PM and Finish Line.