Axios AM
November 08, 2017
1 big thing: 'Tsunami election'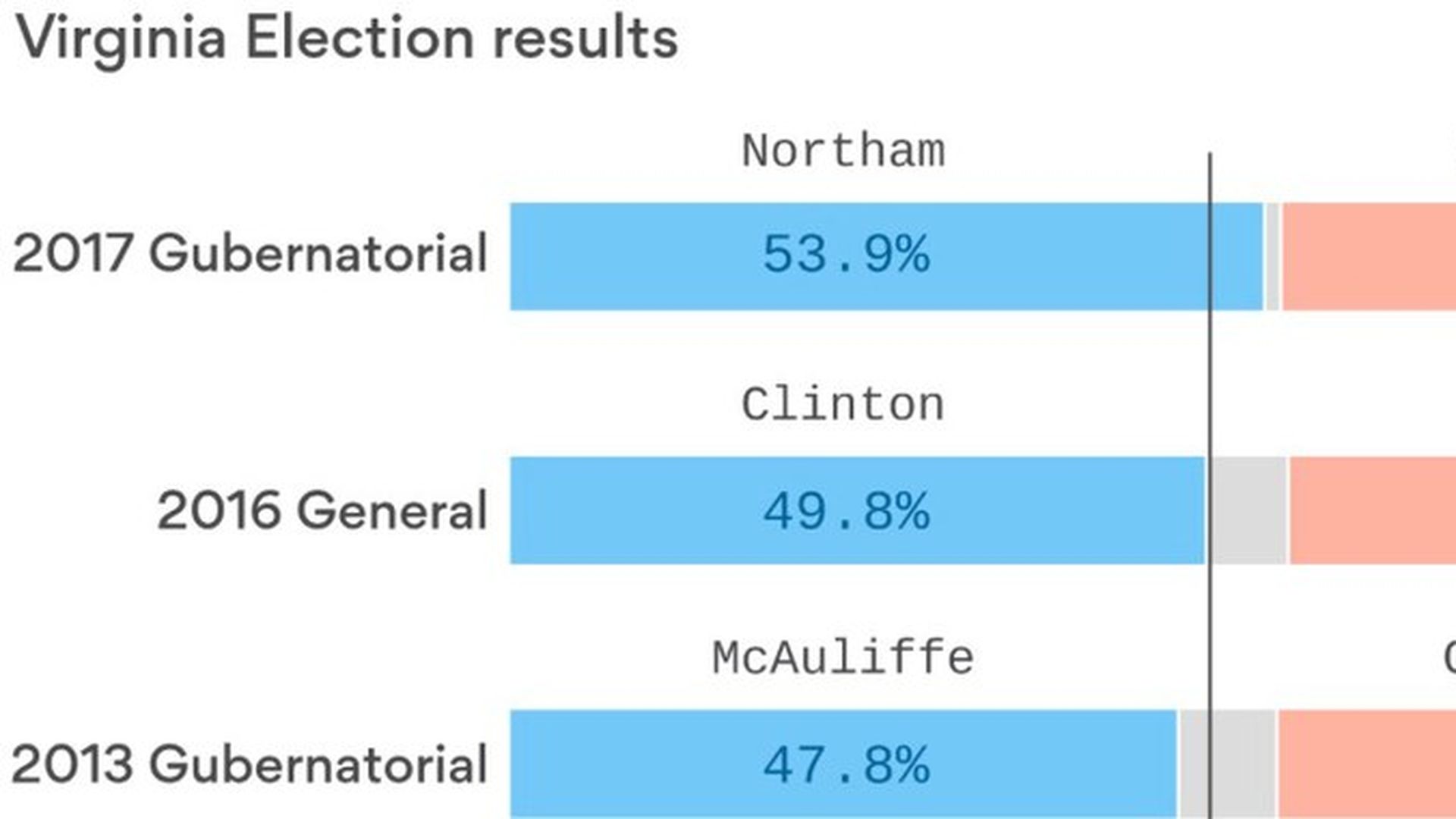 For the first time since Election Night one year ago today, Democrats could smile.
On a day that set the opening tone for the midterm elections of 2018, voters rejected President Trump, handed Democrats a big win in a swing state in a racially charged moment, and provided hope that they can win back power in Washington. Some empirical data behind the hope:
In the Virginia governor's race, Democrat Ralph Northam beat Republican Ed Gillespie by 9 points — a far bigger margin than either party had foreseen, and far wider than Hillary Clinton's win over Trump.
The stunning margin was booked largely in Northern Virginia, in what MSNBC's Steve Kornacki called "the revenge of the suburbs" after a year of Trump.
U.Va.'s Larry Sabato told me there's one explanation: "Donald Trump. He really is deeply unpopular in urban-suburban Virginia. Voter after voter wanted to send him a message, and said so. Of course, he won't listen, but the message was sent."
And it wasn't just Northam:
In what the Richmond Times-Dispatch called a "tsunami election," Democrats erase a 32-seat GOP advantage in the House of Delegates, with recounts likely to determine control.
Plus national history: "Virginia's most socially conservative state lawmaker was ousted from office ... by Danica Roem, a Democrat who will be one of the nation's first openly transgender elected officials and who embodies much of what Del. Robert G. Marshall fought against in Richmond." (WashPost)
A white mayor won by the largest margin in decades in predominantly black Detroit.
The first African American Democratic woman was elected mayor of Charlotte.
A Democrat will replace Chris Christie in New Jersey.
A Democrat knocked off a GOP incumbent in New Hampshire's largest city to become Manchester's first female mayor.
"Voters in Maine ... easily approved a referendum to expand Medicaid for low-income adults, doing an end-run around Republican Gov. Paul LePage, who vetoed the move — a key element of Obamacare." (NPR)
A big story that could get lost in the blizzard: Two more House Republicans — Rep. Frank LoBiondo of New Jersey and Rep. Ted Poe of Texas — announced their retirements, increasing chances Dems take the House a year from now.
Sound smart: It's tempting to read too much into off-year elections. And, given both Virginia and New Jersey are states Hillary Clinton won, they by all measures should have gone to Democrats. BUT ... Don't underestimate how much unity, momentum, money will now flow to Democrats — and how much finger-pointing and funk they avoided.
The takeways: Top Republicans were stunned by the severity of the shellacking, and worry that it will endanger both tax reform and the House majority. One longtime party power texted me: "The beginning of the end." Another: "R donors are shocked and dismayed."
Democrats finally see a path out of the wilderness. Matt Bennett of Third Way: "This is a huge statement by voters: They want a broad path and not ideology and litmus tests. If Democrats can learn that lesson, we have a shot at winning in 2018."
2. Trump to North Korea: "Do not try us"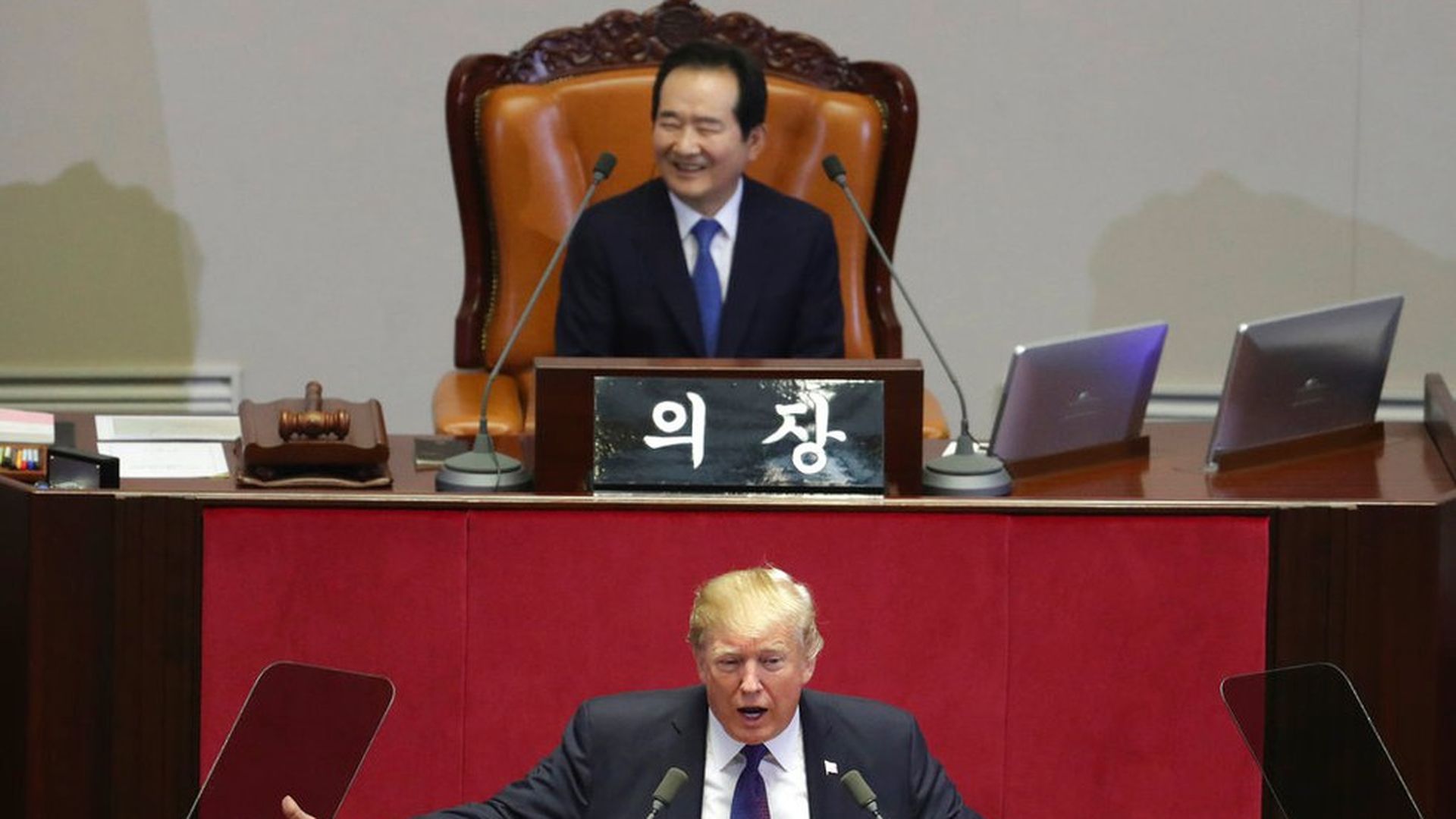 Sticking to his teleprompter as he spoke at the National Assembly Building in Seoul, South Korea, President Trump delivered a tough but calibrated speech that a senior administration official later described on Air Force One as "historic."
Trump drew applause when he invoked a signature phrase of President Reagan: "I want peace through strength."
Other memorable lines:
"I say to the North: Do not underestimate us, and do not try us."
"America's men and women in uniform have given their lives in the fight against Nazism, imperialism, Communism and terrorism. ... History is filled with discarded regimes that have foolishly tested America's resolve."
"We will not permit America or our allies to be blackmailed or attacked. ... We will not be intimidated."
"The world cannot tolerate the menace of a rogue regime that threatens with nuclear devastation."
"I ... have come here to this peninsula to deliver a message directly to the leader of the North Korean dictatorship: ... Every step you take down this dark path increases the peril you face."
3. Behind the curtain: Trump phones Dems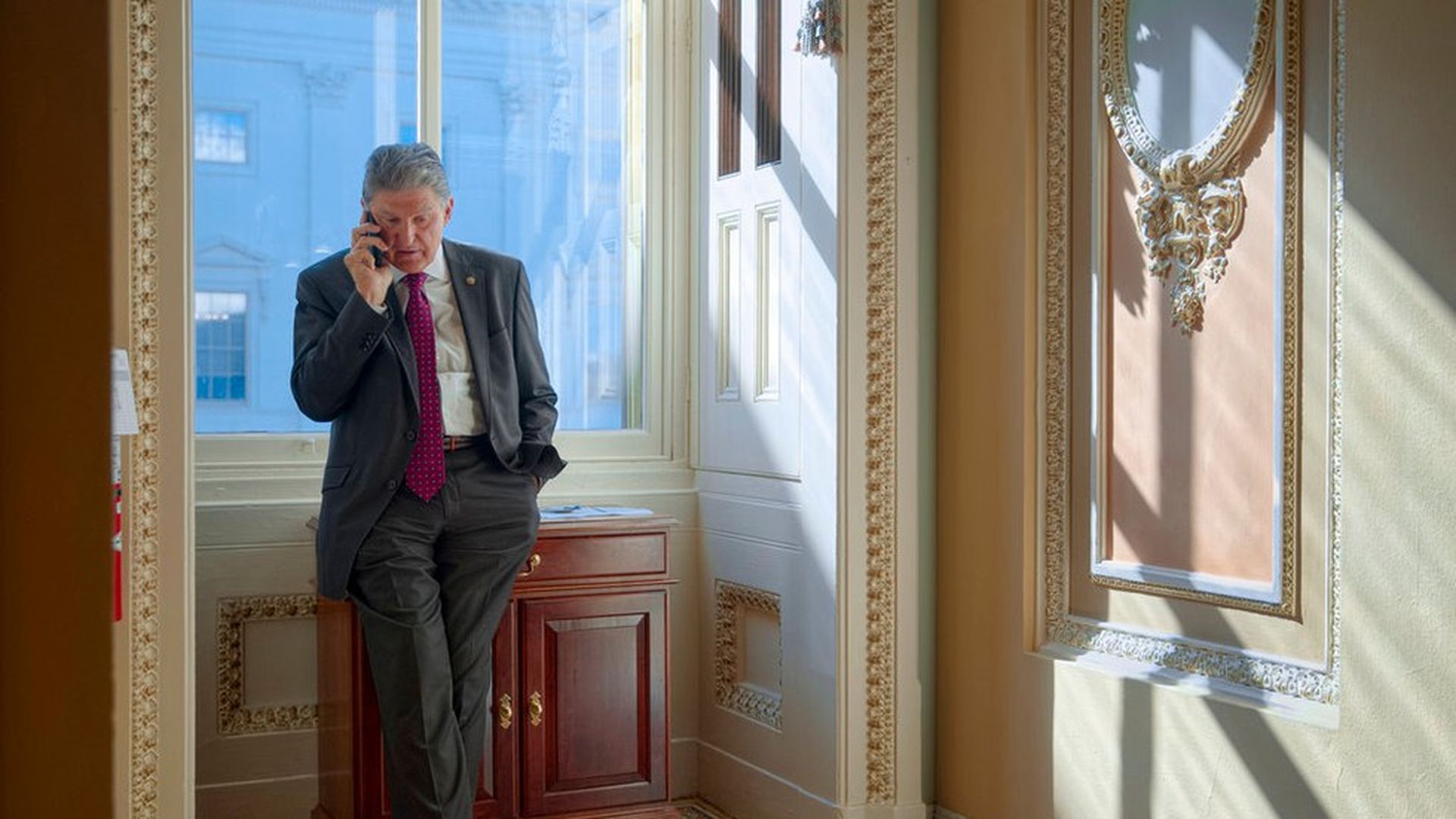 When a dozen Senate Democrats met with two White House officials at the Library of Congress yesterday to discuss tax reform, President Trump called in from Seoul.
Sen. Joe Manchin (D-W.Va.) had convinced his party colleagues to hear the pitch from White House economic adviser Gary Cohn and congressional liaison Marc Short, who asked the Dems for advice.
Axios' Jonathan Swan hears that when Trump rang in, Cohn put him on speaker.
The president said the tax bill was awful for rich people, and repeated a line he has used about his accountant telling him its a bad bill for him.
The meeting went well enough that the group plans to meet again next week.
P.S. Congress' nonpartisan Joint Committee on Taxation finds the GOP plan would raise taxes for nearly 20% of Americans over the next 10 years:
WSJ's Richard Rubin: "By 2027, fewer than half of U.S. households would get tax cuts and another one-third would see their tax liability change by less than $100, while nearly one in five households would have a tax increase."
Bonus: Data du jour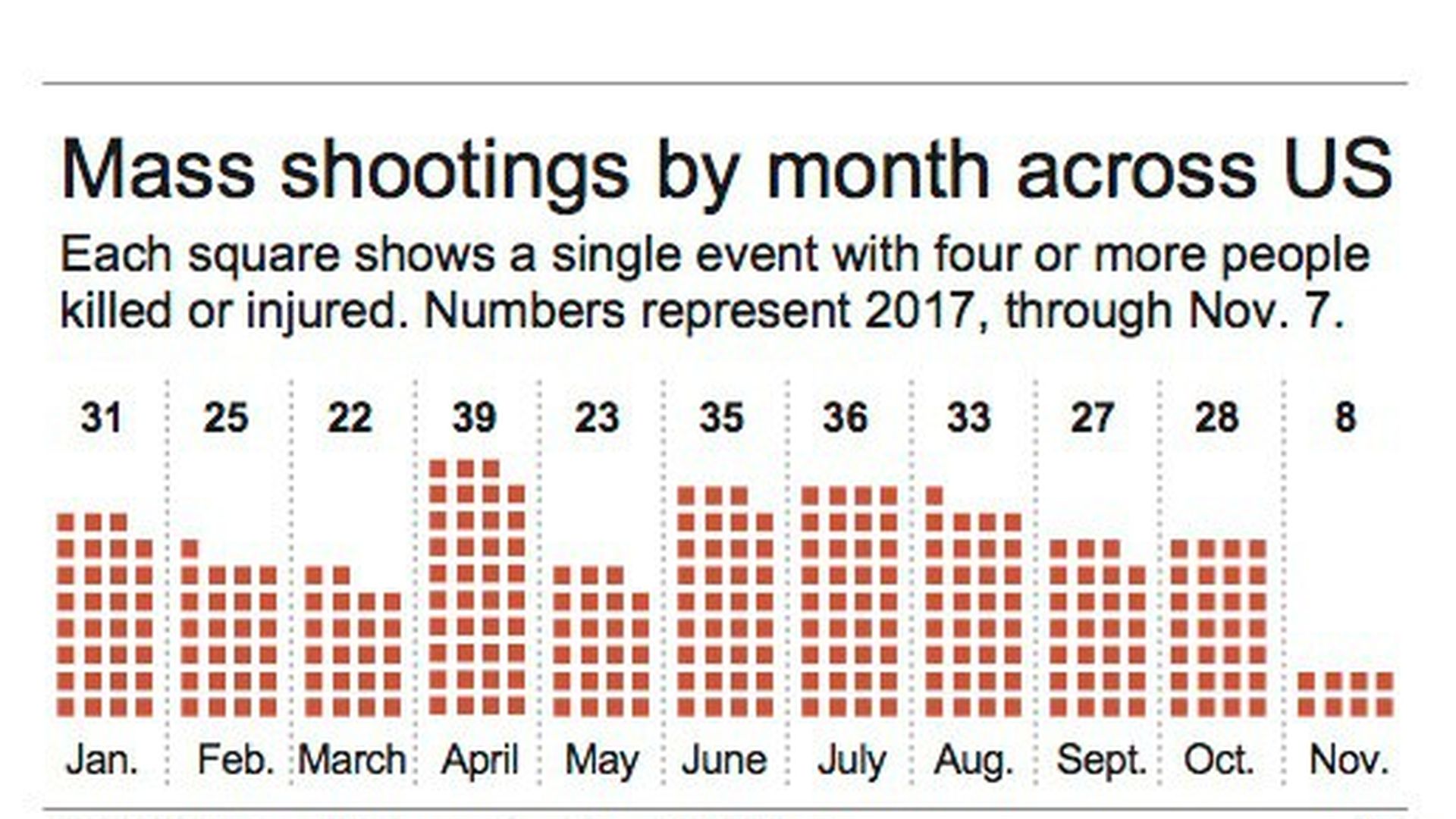 So many screw-ups in the system allowed the Texas church shooter to be free and buy guns ... The N.Y. Times describes it as "a series of red flags about the threat the gunman, Devin P. Kelley, posed to those around him":
He "escaped from a psychiatric hospital while he was in the Air Force, and was caught a few miles away by the local police, who were told that he had made death threats against his superiors and tried to smuggle weapons onto his base, a 2012 police report showed."
Why it matters: "[N]one of the warnings stopped Mr. Kelley from legally purchasing several firearms, including the rifle he used to kill 26 people at the First Baptist Church of Sutherland Springs."
4. Probes pierce Trump's inner circle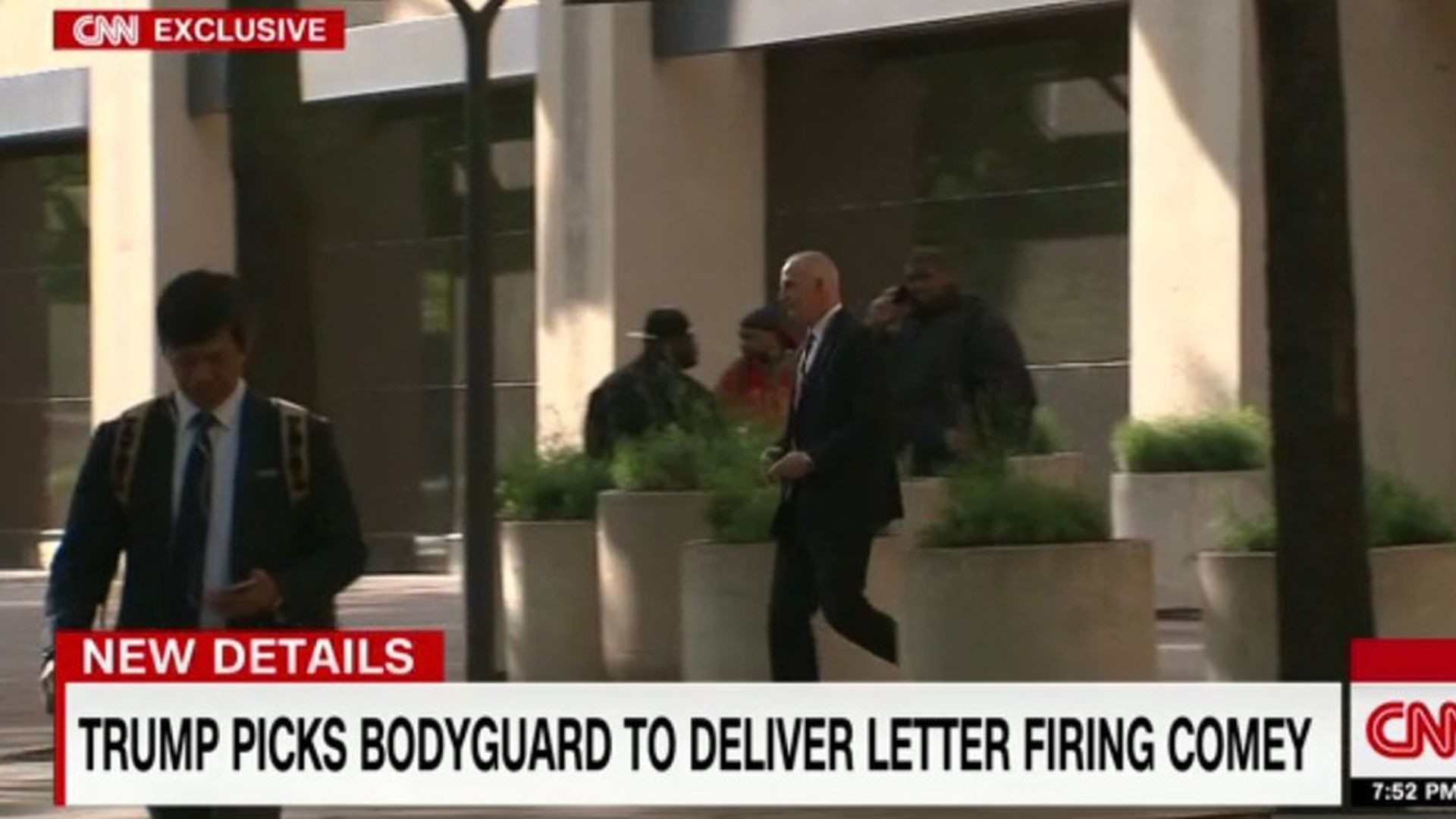 The N.Y. Times' Maggie Haberman once called longtime aide Keith Schiller "the ultimate emotional binky for Trump."
So Schiller's closed-door testimony to the House Intelligence Committee yesterday was one of the most vivid signs yet of how deeply the Russia investigations are penetrating the president's inner circle.
Schiller was Trump's bodyguard in New York and became White House director of Oval Office operations, but left in September.
Per CNN, Schiller yesterday denied "the salacious claims about Trump's 2013 trip to Moscow that appeared in the opposition research Russia dossier about Trump."
"Schiller ... [told] lawmakers repeatedly that he could not recall or was not aware a number of potential Russia connections with Trump associates."
Why he matters, from Politico's Annie Karni: "When friends and advisers outside the West Wing wanted to share a news article, gossip or advice with ... Trump, they would be advised to 'send it to Keith, he'll get it to me.'"
Schiller knows "how to manage the president's moods, his diet, what triggers him and what soothes him."
5. How cancer survival rates have changed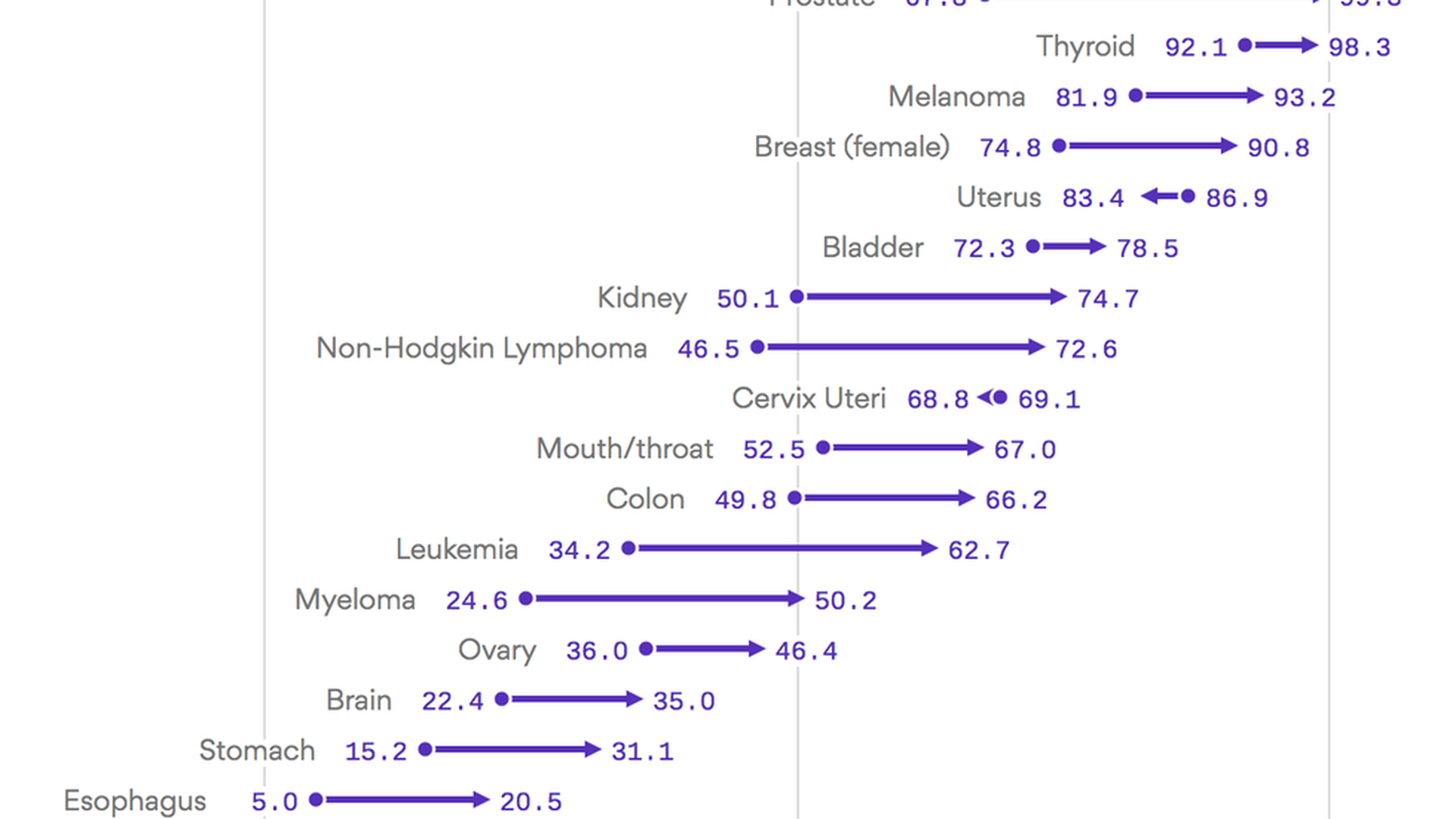 More people are surviving a cancer diagnosis today than in the 1970s, according to a report released earlier this year by government agencies and cancer groups.
Former Vice President Joe Biden, who is continuing his work to speed the progress of cancer research, will join me at 3:30 p.m. today at an Axios event in Philadelphia. I'll also interview Dr. Jill Biden and tech entrepreneur Sean Parker. (RSVP here.)
Survival rates are still low for several kinds of cancer, including brain cancers like the type that killed the Bidens' son, Beau Biden.
6. Snapchat, Twitter redesigning under pressure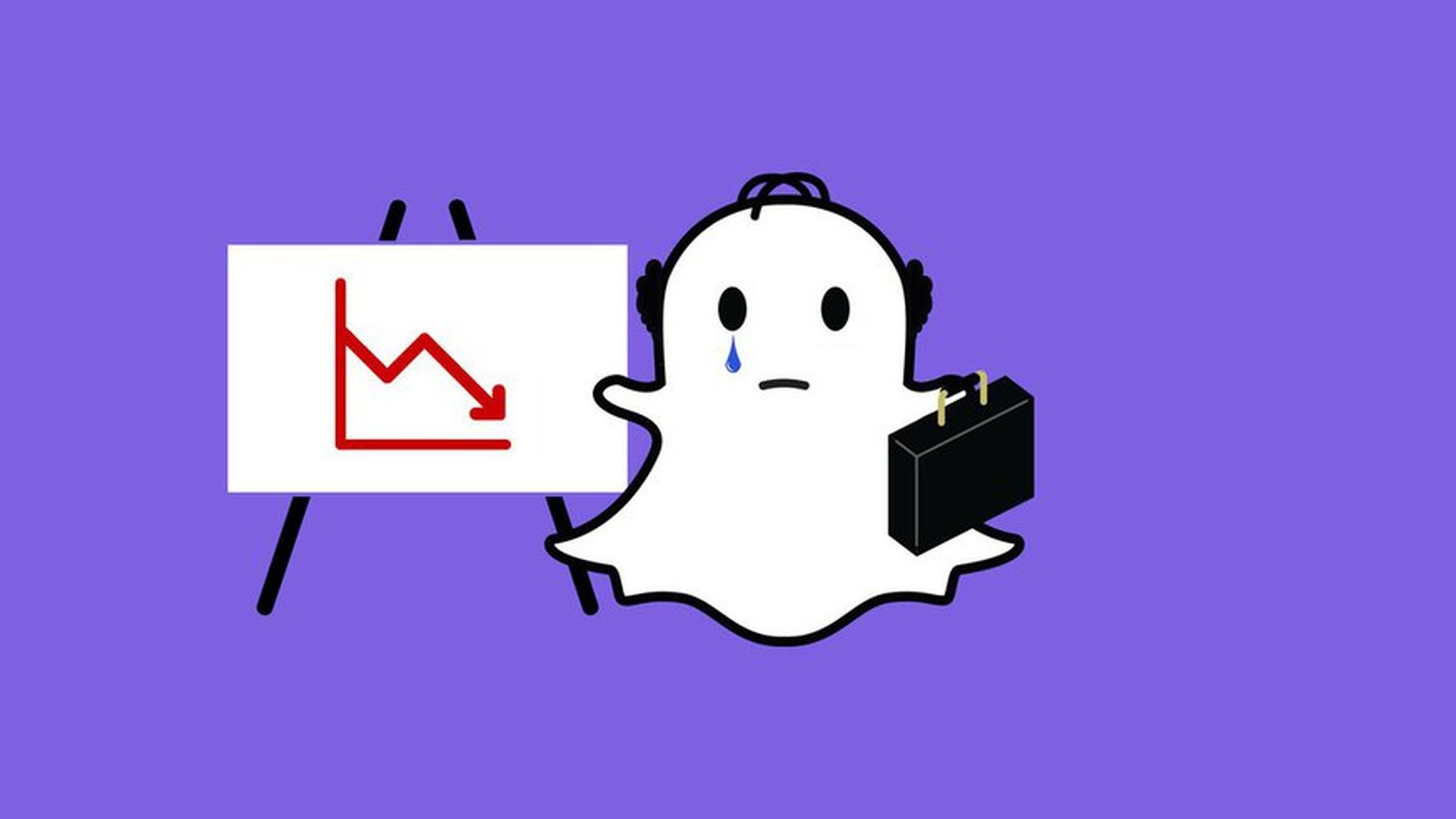 Snap Inc. stock cratered after earnings fell short of expectations. CEO Evan Spiegel announced Snapchat is redesigning its app, which the company hopes will lead to increased user adoption.
Speigel on earnings call: "The one thing that we have heard over the years is that Snapchat is difficult to understand or hard to use."
Why it matters, from Axios' Sara Fischer and Kia Kokalitcheva: Snapchat has been assuring investors since going public in March that its strategic investments in ad technology would drive revenue, particularly in North America, and that the creation of copycat products by rivals, like Instagram and Facebook Stories, would not continue to slow its user growth. Its earnings show that the company still has a long way to go in achieving those goals.
Redesigning its app is a big sign that it's feeling the pressure to make big changes quickly.
CNBC headline during the earnings call: "SNAP STORY OVER?"
P.S. Twitter 280: As we told you in the lead of Axios PM ... Twitter, after years of forcing us to express ourselves under its signature 140-character limit, is doubling that length for everyone.
Axios' Kia Kokalitcheva points out that the character limit has been iconic, and led to the "tweetstorm" as a workaround for longer thoughts.
But, like Snap, Twitter has been under pressure to make its service easier to understand and use.
7. Murdochs weigh break-up of media empire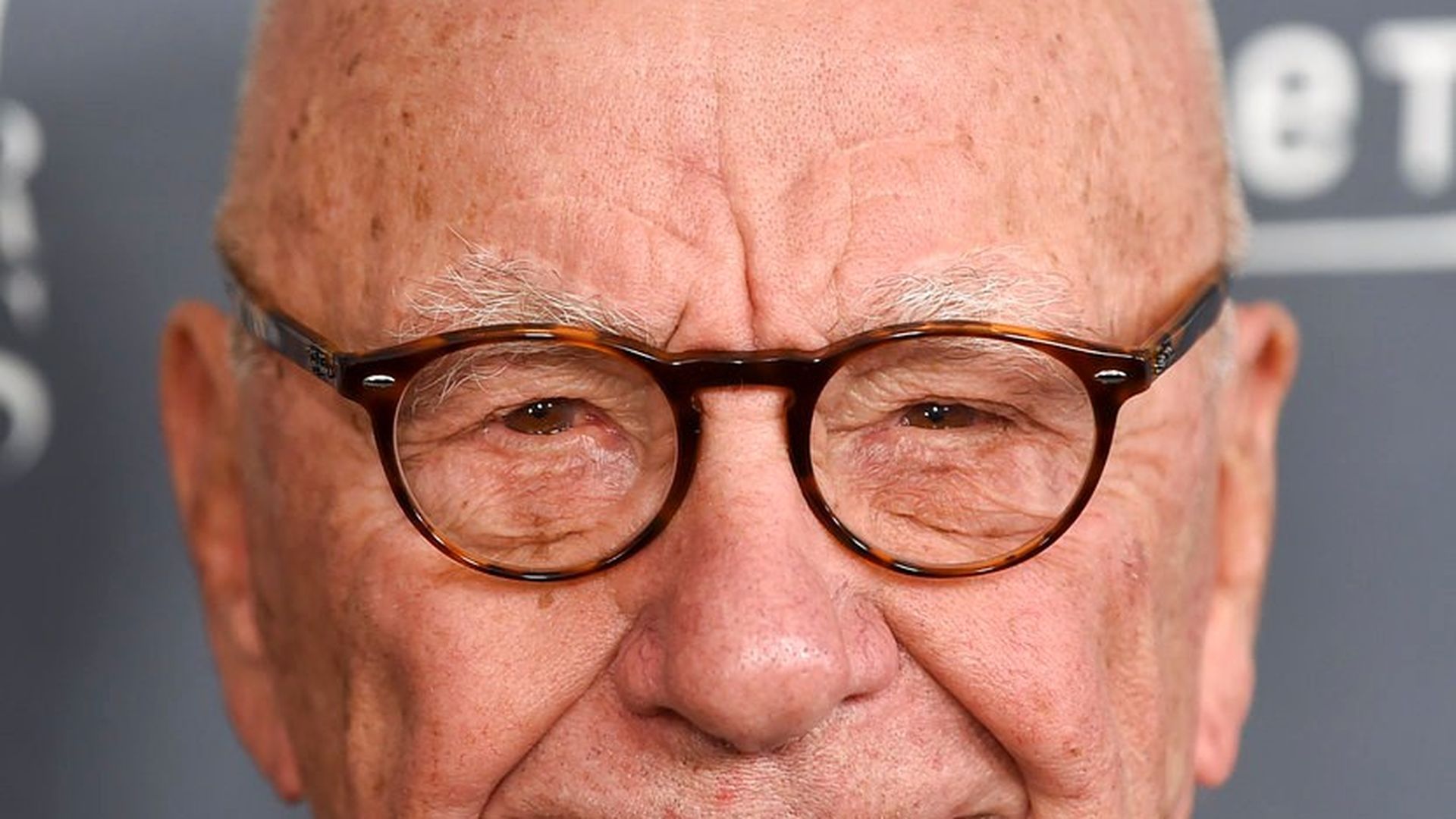 "Talks with Disney over sale of key TV and movie assets could signal end of an era for the media moguls," per the Financial Times (subscription):
"Rupert Murdoch is not used to hoisting the white flag of surrender. Yet his willingness to explore a break-up of 21st Century Fox and discuss the sale of prime film and television assets to Walt Disney suggests that, at the age of 86, the media mogul may have lost his appetite for a fight."
"The talks were initiated by Disney and its chief executive, Bob Iger."
"[B]y even entertaining the discussions, Mr Murdoch and his sons, Lachlan and James, have effectively put Fox on the block, a target for content-hungry companies such as Verizon, the telecoms group, and the John Malone-backed Charter Communications."
Why it matters: "The Murdochs have started a process that could lead to the dismantling of a company that took decades to assemble."
"The media landscape is already in a period of profound structural change. ... Still, the prospect of Mr Murdoch and his sons contemplating a sale of Fox's prized movie studio, cable channels and international investments — such as Sky — has stunned investors."
8. N.Y. Times fires Boies
David Boies, one of America's most famous lawyers, is canned by the N.Y. Times for his role in helping Harvey Weinstein thwart the paper's investigation — while also representing The Times ...
AP's David Bauder: "The New York Times [yesterday] fired lawyer David Boies' firm."
"Boies has disputed the Times' view that his work for Weinstein represented a conflict of interest. Still, he no longer works for Weinstein and said the task he completed for him was a mistake."
"In a statement to his firm's employees, ... Boies noted that his contract with the newspaper made clear that his firm might do work for clients in unrelated areas that were against the Times' interests."
"Times spokeswoman Danielle Rhoades Ha said the newspaper never contemplated the firm would contract with an intelligence firm to conduct a secret spying operation aimed at their reporting and reporters."
9. Rough Week Award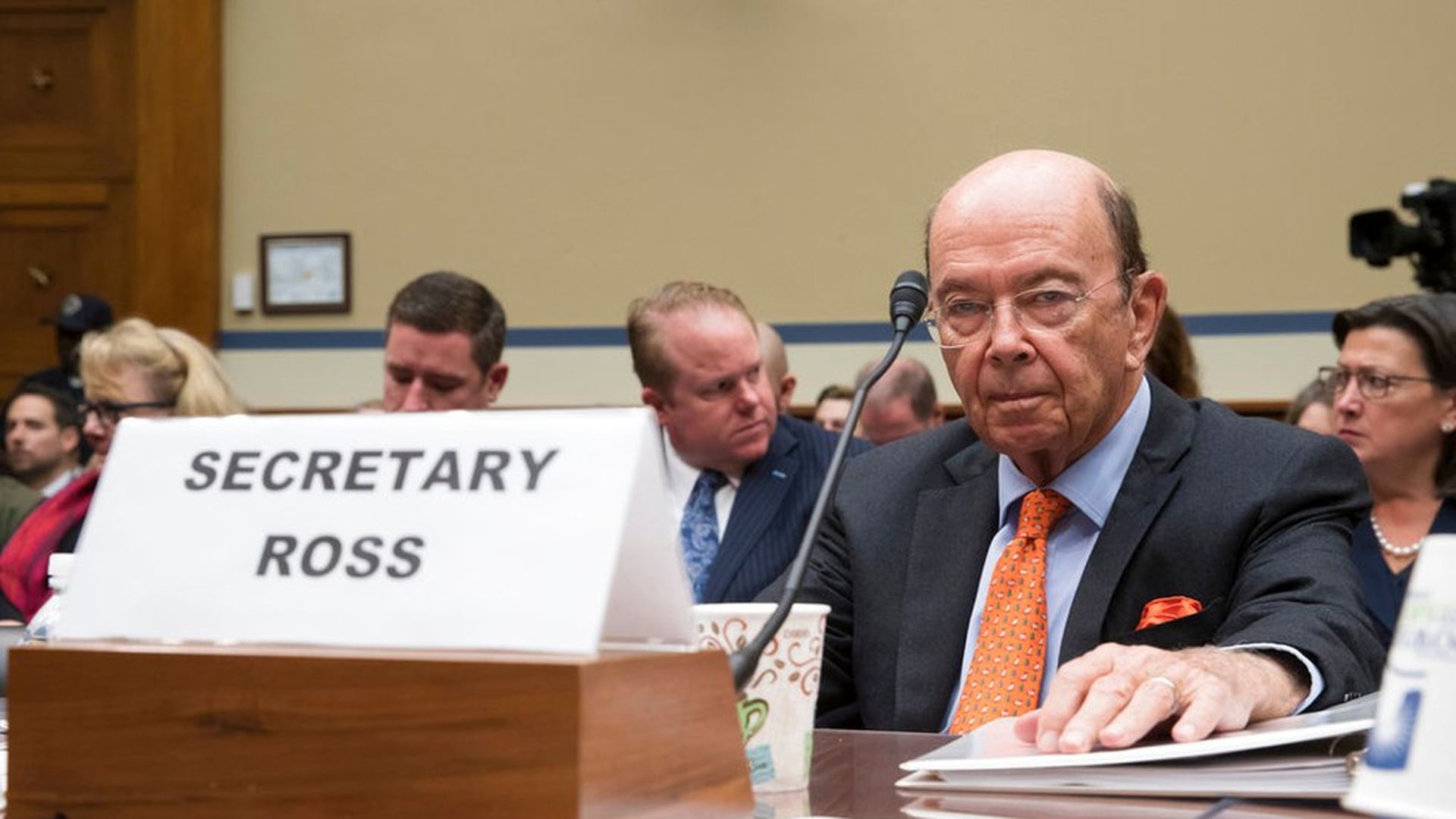 Two days after the leaked Paradise Papers showed Commerce Secretary Wilbur Ross had retained an investment with undisclosed ties to Putin cronies, "Forbes says Wilbur Ross lied about being a billionaire," per the Financial Times (subscription):
"Forbes ... has booted ... Ross off its list of the richest people in America, ... alleging he lied to them about his net worth by more than $2bn."
"Ross, 79, who made his fortune in private equity and by turning round distressed businesses, disclosed a net worth of about $700m when he was nominated to ... Trump's cabinet. A year earlier, his net worth was listed at $2.9bn on the Forbes 400 list."
Forbes: "After one month of digging, Forbes is confident it has found the answer: That money never existed. It seems clear that Ross lied to us, the latest in an apparent sequence of fibs, exaggerations, omissions, fabrications and whoppers that have been going on with Forbes since 2004."
10. 1 future thing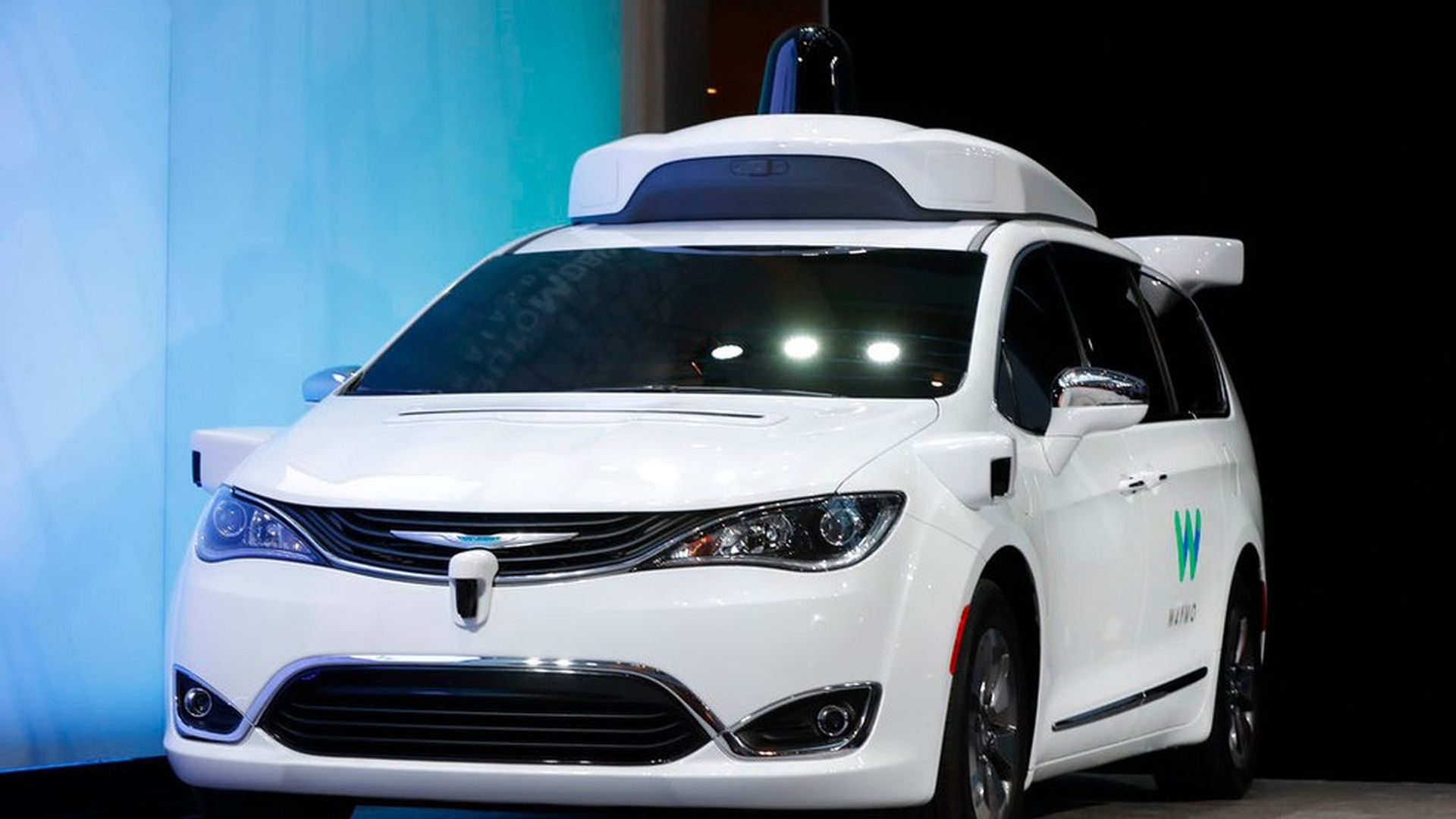 Waymo, Google's self-driving car company, is pulling the human backup driver from self-driving minivans and will test vehicles on public roads with only an employee in the back seat, AP's Tom Krisher reports from Detroit:
Why it matters: "It's a major step toward vehicles driving themselves without human backups on public roads. The company also said it would launch a ride service to compete with Uber and Lyft."
"The Waymo employee in the back seat won't be able to steer the minivan, but like all passengers, will be able to press a button to bring the van safely to a stop if necessary."
"Within a 'few months,' the fully autonomous vans will begin carrying volunteer passengers who are now taking part in a Phoenix-area test that includes use of backup drivers."