https://www.axios.com/newsletters/axios-am-33c995ec-4622-4d89-9044-93cf0a75a950.html?chunk=0#story0
1 big thing: Testing Trump-Ryan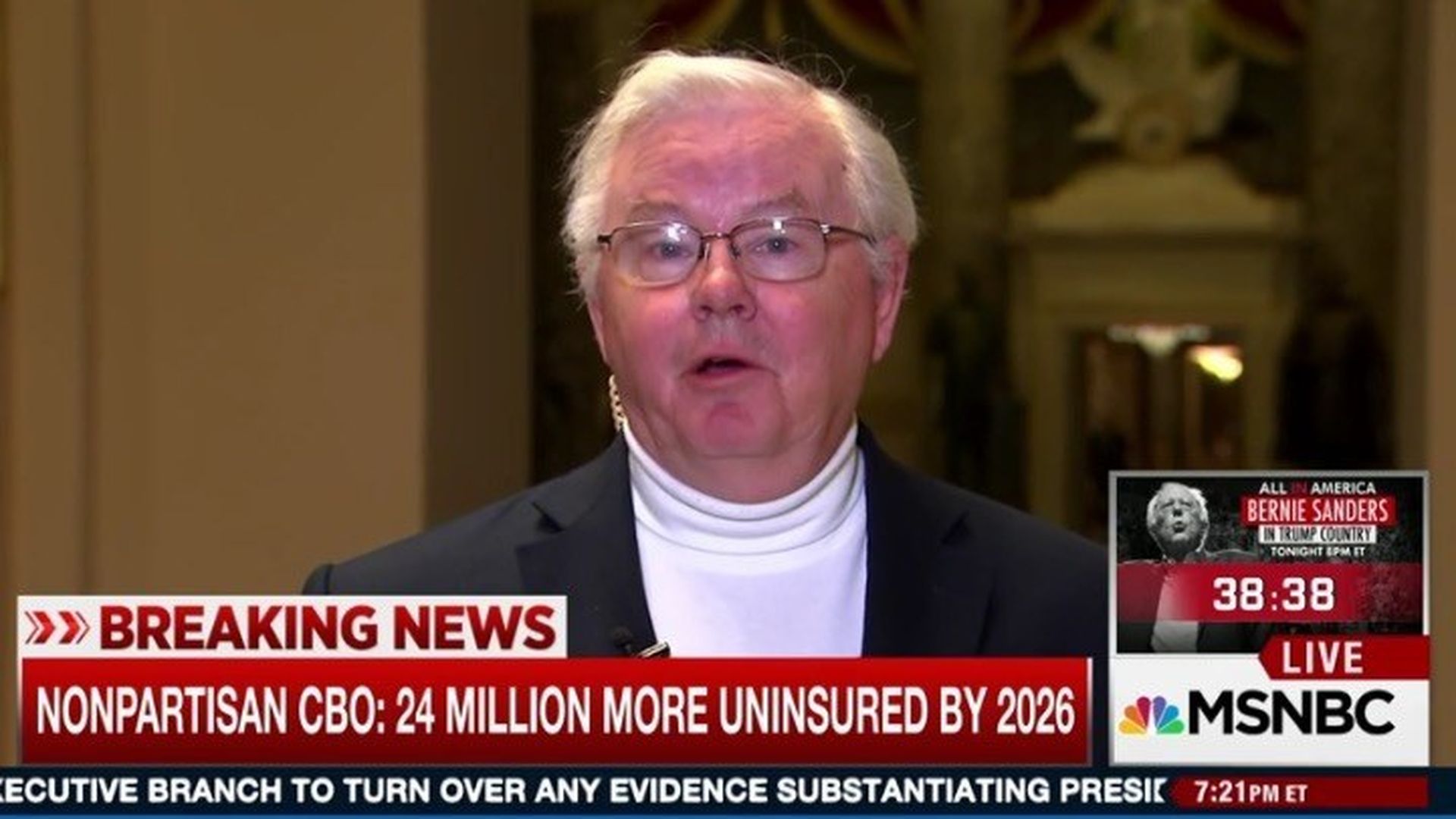 https://www.axios.com/newsletters/axios-am-33c995ec-4622-4d89-9044-93cf0a75a950.html?chunk=1#story1
2. First look
An exclusive for Axios AM readers ... The top takeaway from the Business Roundtable's Q1 CEO Economic Outlook Survey, to be announced at 11:15 a.m. today on a conference call with JPMorgan Chase Chairman and CEO Jamie Dimon (BRT's chairman), and Business Roundtable President and CEO Josh Bolten:
Expectations rise for sales, hiring and investment: The Business Roundtable CEO Economic Outlook Index — a composite of CEO projections for sales and plans for capital spending and hiring over the next six months -- made its largest increase since the fourth quarter of 2009.
https://www.axios.com/newsletters/axios-am-33c995ec-4622-4d89-9044-93cf0a75a950.html?chunk=2#story2
3. Trump's data secrets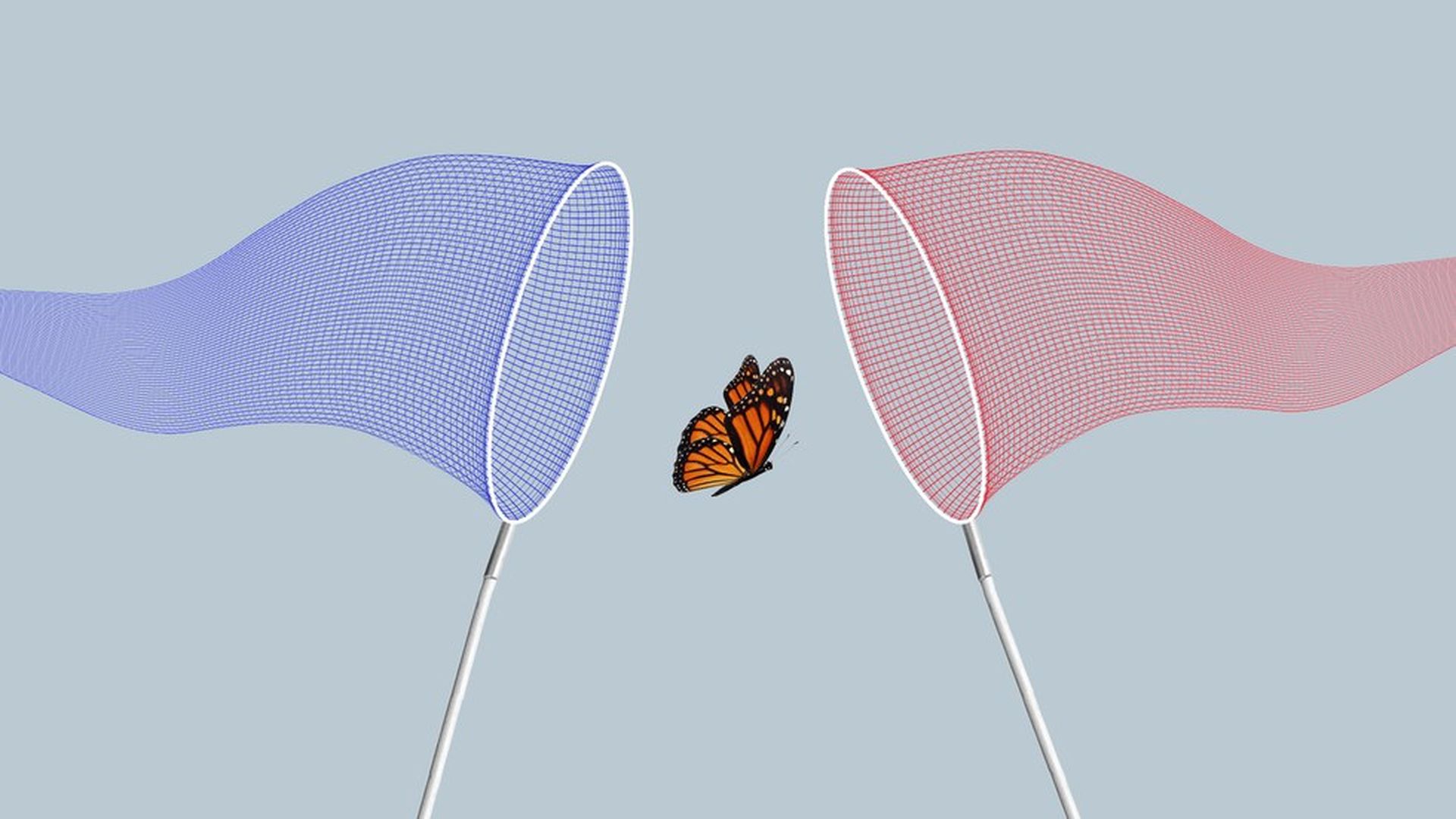 https://www.axios.com/newsletters/axios-am-33c995ec-4622-4d89-9044-93cf0a75a950.html?chunk=3#story3
4. The wilderness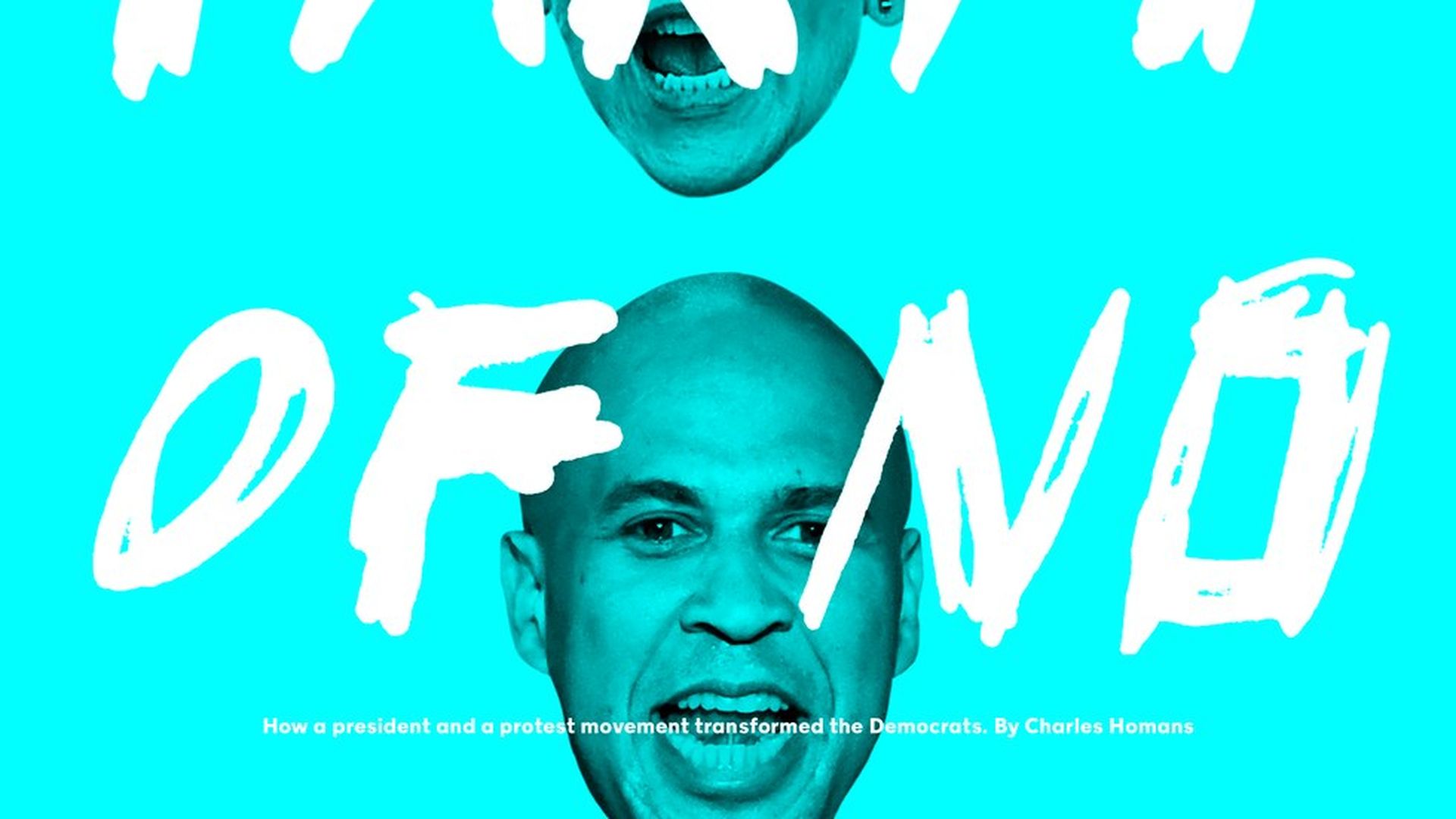 The forthcoming N.Y. Times Magazine cover story is about Senate Dems ... "The New Party of No: How a president and a protest movement transformed the Democrats," by Charles Homans:
"By mid-February, spirits in Democratic Washington had palpably lifted. You wouldn't have described the mood as triumphal; it was more as if everyone had emerged from the basement after a tornado to discover that, while the car was upside down somewhere, at least the house was still standing."
"When I met Warren, ... I asked her ... whether the postelection unity that Trump provided the Democratic Party made her ambitions to reform it easier or harder to realize. 'I think it has reminded Democrats we need to run on our values ... Because our values are more in line with most of America.'"
"If you squinted at the bodies packing the streets and the town halls, though, the picture looked an awful lot like the recent past: Here were people drawn together in defense of liberal immigration and refugee policies, reproductive rights, civil liberties and preserving Obama's policy legacy, and in opposition to a president who was moving against all those things. These were last year's arguments, only louder."
"Schumer, precisely no one's idea of a revolutionary, was now, at least in a narrow constitutional sense, the leader of the resistance. On my way out of his new office, I noticed a green marble fireplace and asked him if he'd used it yet. 'Oh, man,' he said. 'It's my favorite perk. I live in Brooklyn — I never had a fireplace. I'm learning to start fires.'"
https://www.axios.com/newsletters/axios-am-33c995ec-4622-4d89-9044-93cf0a75a950.html?chunk=4#story4
5. Top-ed
Michael Gerson column in WashPost, "Republicans are defining lunacy down": "[W]e are seeing the corruption of the Republican Party, as it tolerates, excuses and absorbs Trump's conspiratorial thinking. ... Trump does not face a coup, just a government he has attacked and refused to lead."
https://www.axios.com/newsletters/axios-am-33c995ec-4622-4d89-9044-93cf0a75a950.html?chunk=5#story5
6. How Trump likes his plane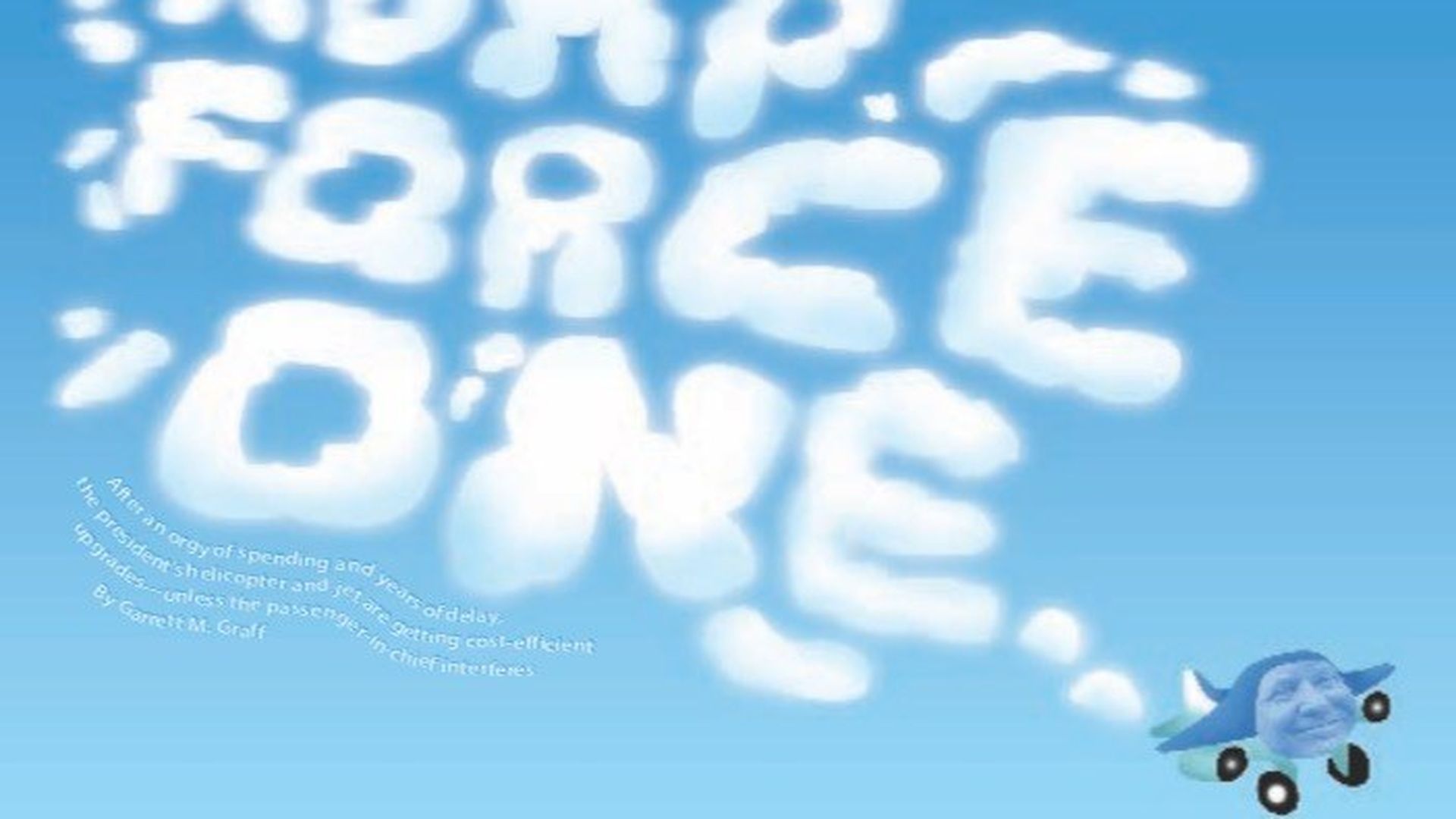 Garrett Graff for Bloomberg Businessweek, "Trump Force One Is Ready for Takeoff: After decades in the sky, the president's fleet is finally getting an upgrade—unless the new passenger-in-chief adds turbulence":
"The oddity of Trump's December tweet is that the program itself is really too new to be over budget. The outlines of the project are still forming. Although most features of the plane haven't yet been decided, a few things are known: Boeing says it will be able to fly almost 1,000 nautical miles farther and produce 16 tons less carbon dioxide on a typical flight, despite being about 154,000 pounds heavier. ...
"In his private life, Trump's personal aircraft is famously flashy—with gold-plated seat belts and bathroom faucets, a silk-lined master bedroom, a 57-inch TV, and the Trump family crest liberally emblazoned on seats and pillows. When he was given the chance to select drapes for the Oval Office, he pored over 17 options (eventually choosing gold). ... Depending on the fixtures and finishing touches, the new presidential planes themselves will likely cost about $380 million apiece."
https://www.axios.com/newsletters/axios-am-33c995ec-4622-4d89-9044-93cf0a75a950.html?chunk=6#story6
7. Undoing Obama, abroad
WashPost A1-er, "Trump wants to relax rules governing drone strikes": "The Trump administration is close to finishing a review that would make it easier for the Pentagon to launch counterterrorism strikes anywhere in the world by lowering the threshold on acceptable civilian casualties and scaling back other constraints imposed by the Obama administration."
Why it matters: "The changes to the Obama-era Presidential Policy Guidance would empower the Pentagon to make decisions on targets without approval from the White House and potentially scrap the 'near-certainty' standard of no civilian deaths for strikes outside war zones. The Trump plans are also likely to relax the requirement that potential terror targets pose a 'continuing and imminent threat' to U.S. personnel."
https://www.axios.com/newsletters/axios-am-33c995ec-4622-4d89-9044-93cf0a75a950.html?chunk=7#story7
8. Tops in tech
"Airbnb CEO signals company is planning IPO in 2018," by N.Y. Post's Lisa Fickenscher: "Brian Chesky has finally set a clock on going public. The 35-year-old chief executive of Airbnb hinted that the home-sharing site could launch an initial public offering next year. 'We are halfway through the two-year process of getting ready to go public,' Chesky said at a luncheon hosted by the Economic Club of New York."
Axios' Kia Kokalitcheva writes from San Francisco ... As SXSW's Interactive leg wraps up, companies are showcasing their last few tech products, like Google's high-tech jacket in partnership with Levi's. But maybe it's good thing that the end is near — after all, everyone is busier checking their phones than doing anything else, as The Verge's Lauren Goode concludes.
Tech exit fever: Monday was saw a lot exit action from tech companies. After Intel announced its $15.3 billion acquisition of publicly-traded Mobileye to beef up its self-driving technology, Yext and Okta filed to go public. While this is a good sign for the tech IPO market, as Cisco's last minute acquisition of AppDynamic showed, anything is possible.
Another Google messaging app: The company's internal incubator, Area 120, has built an app for watching and sharing videos with friends called Uptime. But it wasn't long before some took to Twitter to point out that Google already has several messaging apps, so Uptime's purpose is unclear.
https://www.axios.com/newsletters/axios-am-33c995ec-4622-4d89-9044-93cf0a75a950.html?chunk=8#story8
9. Big in business
Axios' Chris Matthews writes from New York that Ford will avoid a 25% tariff with a Chinese factory: "Ford's luxury Lincoln brand plans to ramp up its sales in China, revealing plans Monday to produce a new luxury SUV in China by 2019, to capitalize on a booming demand there."
Unfair trade: Foreign car makers face a 25% tariff before they can sell their cars in China, making it difficult exporters to compete with companies that produce within the country's borders. Furthermore, a U.S. company can't build factories in China without a joint-venture partner — Ford will build its new vehicle in concert with state-owned Changan Automobile. Ron Harbour, an autos consultant with Oliver Wyman, points out that GM's China-made Buick Envision, for instance, only faces a 2.5% tariff before hitting the American market and no joint-venture requirements: "Does that sound like fair trade to you?"
Why it matters: Ford says the decision shouldn't have domestic political implications, as the brand will only be sold in China. But if China were more open to foreign trade, it wouldn't be necessary for Ford to risk investment there, and it's possible that rising Chinese demand could be counted on for more American jobs.
https://www.axios.com/newsletters/axios-am-33c995ec-4622-4d89-9044-93cf0a75a950.html?chunk=9#story9
10. 1 fun thing: Bracketology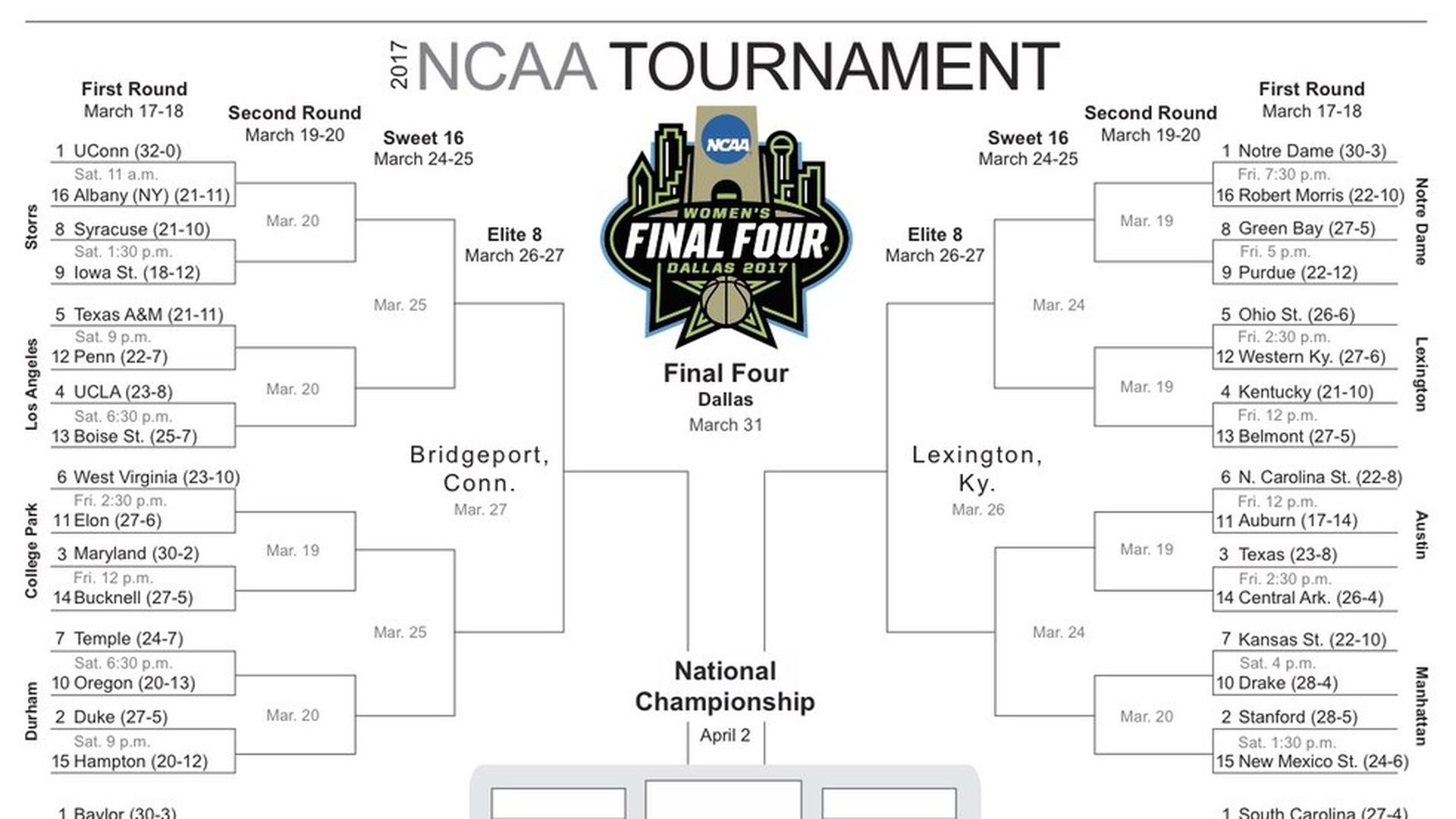 No. 1 seeds in the NCAA women's tourney (above) are UConn (trying for a record fifth consecutive national championship), Baylor, Notre Dame and South Carolina.
Axios' Shannon Vavra spotted this in Wired ... "Hack Your March Madness Bracket With the Algorithm Method ... mathematically proven tips to help you score office-pool glory": "Tournament games may be played on neutral courts, but proximity to home still makes a difference. When in doubt, bet against the team that has journeyed the farthest and across the most time zones."