December 20, 2019
🎄Happy Friday!
Today's Smart Brevity™ count: 1,140 words ... 4½ minutes.
1 big thing: Piling on Pete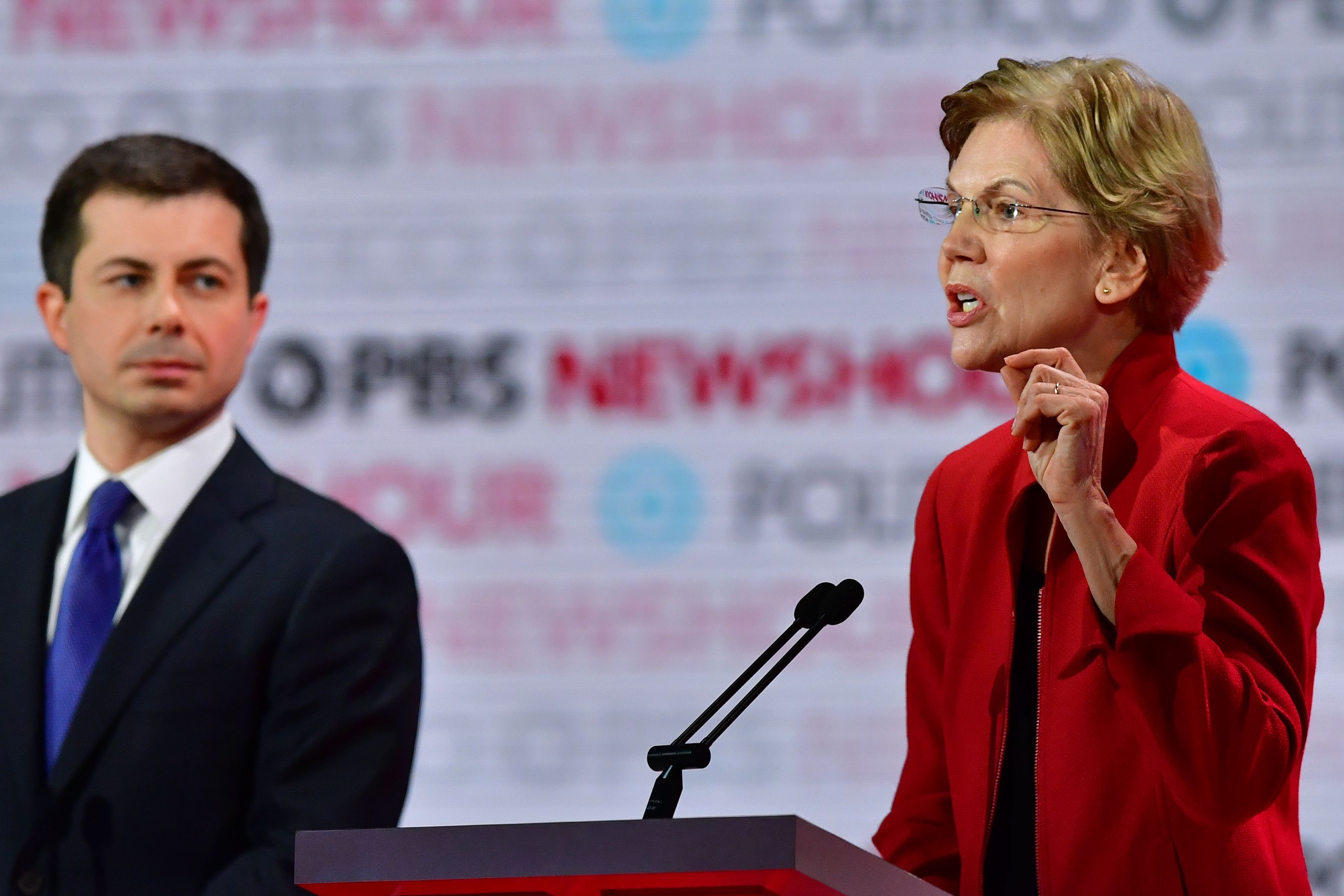 During Democrats' last debate of 2019, Pete Buttigieg was attacked like the Iowa frontrunner that he is.
Why it matters: Buttigieg faced a series of attacks as tensions that had been brewing on the campaign trail broke out on the L.A. debate stage last night.
The debate's sharpest clash came when Elizabeth Warren said he had held a fundraiser "in a wine cave full of crystals, and served $900-a-bottle wine": "Billionaires in wine caves should not pick the next president."
#Winecave and #WineCavePete trended on Twitter.
Buttigieg drew applause for his rabbit-punch return: "[A]ccording to Forbes magazine, I am literally the only person on this stage who is not a millionaire or a billionaire."
And he warned Warren against "issuing purity tests you cannot yourself pass."
Last night brought the race's most illuminating exchanges on China so far:
Asked if the U.S. should boycott the 2022 Winter Olympics in Beijing, Buttigieg said "any tool ought to be on the table," and that the U.S. should lead an effort to isolate China economically and diplomatically if Hong Kong becomes a repeat of Tiananmen Square.
Joe Biden said the U.S. must make clear it won't abide China's treatment of Uighurs and other Muslim minorities, and should move sea power toward China and seek sanctions in the UN.
More takeaways, from Axios' Zach Basu, Alexi McCammond at the debate site, and Axios editors:
Amy Klobuchar had her strongest debate performance yet. But instead of hitting progressives Bernie Sanders and Warren, she took aim at the only other Midwestern moderate on stage — Buttigieg. Klobuchar ripped Buttigieg for his lack of experience and failure to win elections outside of South Bend.
Yang shines: Andrew Yang called it both "an honor and a disappointment" that he was the only candidate of color on stage, before pivoting to his stump speech by rattling off statistics that explain the economic disadvantages that minorities face.
The bottom line: The relentless attacks on Buttigieg could shake up the race. But anything that doesn't alter the fundamentals of the campaign benefits the frontrunner.
That remains Biden, who slipped through tonight unscathed and was more assertive, comfortable and in command than in some past debates.
🥊 P.S. Bite of the night ... Warren, 70, when asked about her age, retorted: "I'd also be the youngest woman ever inaugurated."
2. Dems delay impeachment delivery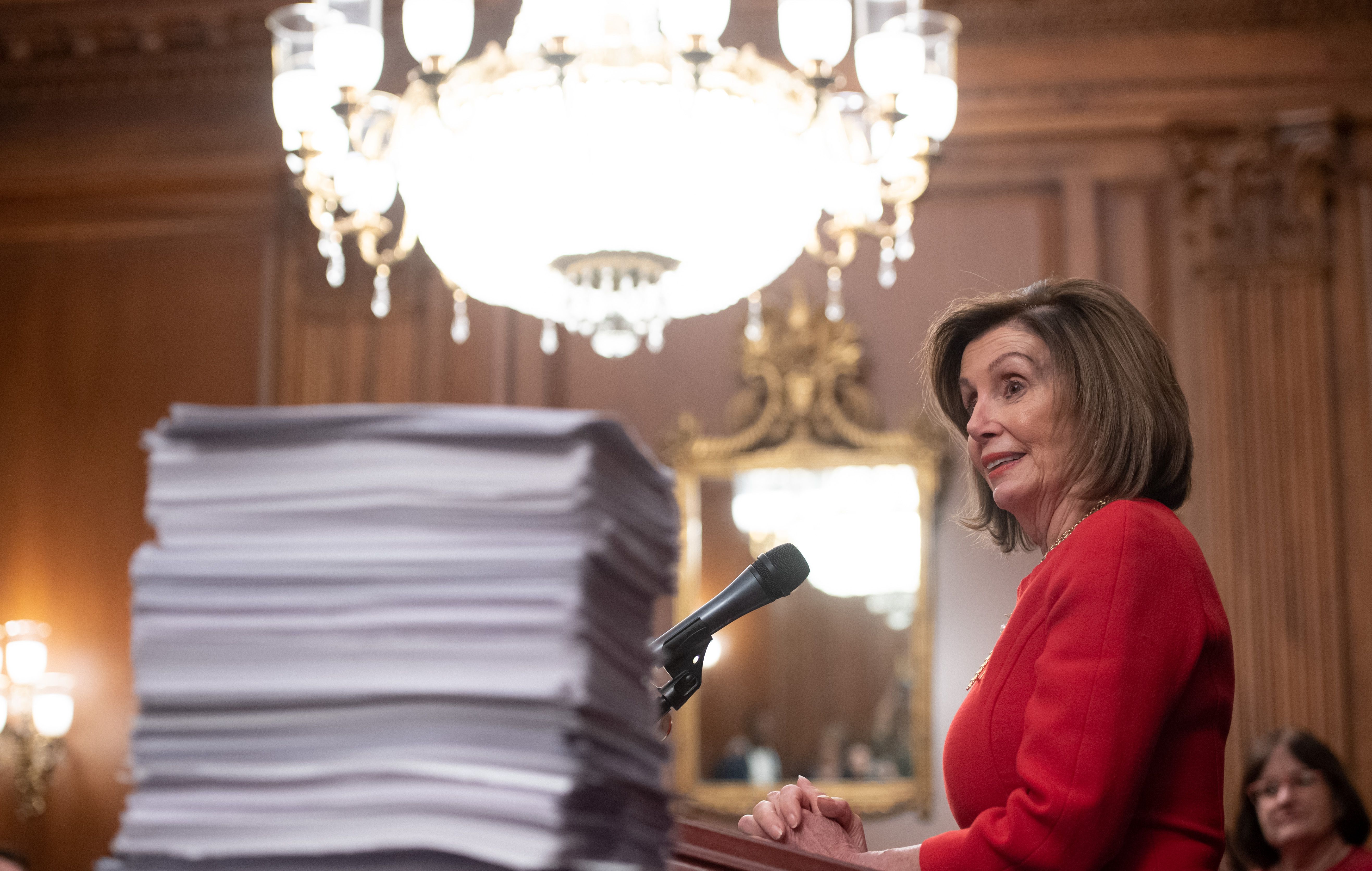 It'll be weeks before there's a Senate impeachment trial, after Congress left for Christmas without the House sending the articles of impeachment across the Capitol to trigger a trial, Axios' Alayna Treene reports.
Speaker Nancy Pelosi still hasn't named House managers, which means the articles likely won't be sent to the Senate until after Congress returns from recess on Jan. 7.
Senate Majority Leader Mitch McConnell had initially hoped to begin the Senate trial immediately upon returning from recess. This all but guarantees that will not happen.
Meanwhile, President Trump has been strategizing internally with his counsel about what they can do if Pelosi decides to hang onto the articles for an extended period.
Why it matters: Some House Dems floated delaying delivery of the articles as a way to push for more favorable terms for the Senate trial.
McConnell said on the floor yesterday: "Some House Democrats imply they are withholding the articles for some kind of 'leverage' so they can dictate the Senate process to senators. I admit, I'm not sure what 'leverage' there is in refraining from sending us something we do not want!"
The bottom line: Pelosi has signaled that she doesn't plan a long standoff with the Senate.
3. New law encourages 401(k)s to offer guaranteed payment
"Congress passed the most significant changes to the nation's retirement system in more than a decade, a move designed to help Americans save more," The Wall Street Journal's Anne Tergesen reports (subscription).
Why it matters: "With the U.S. population aging and employers shifting responsibility for retirement saving to individuals, lawmakers have grown concerned that a significant portion of Americans are at risk of outliving their money."
"One prominent provision of the legislation passed [yesterday], which President Trump is expected to sign, encourages 401(k) plans to replicate a feature of old-fashioned pensions by offering products with guaranteed income payments."
4. Pic du jour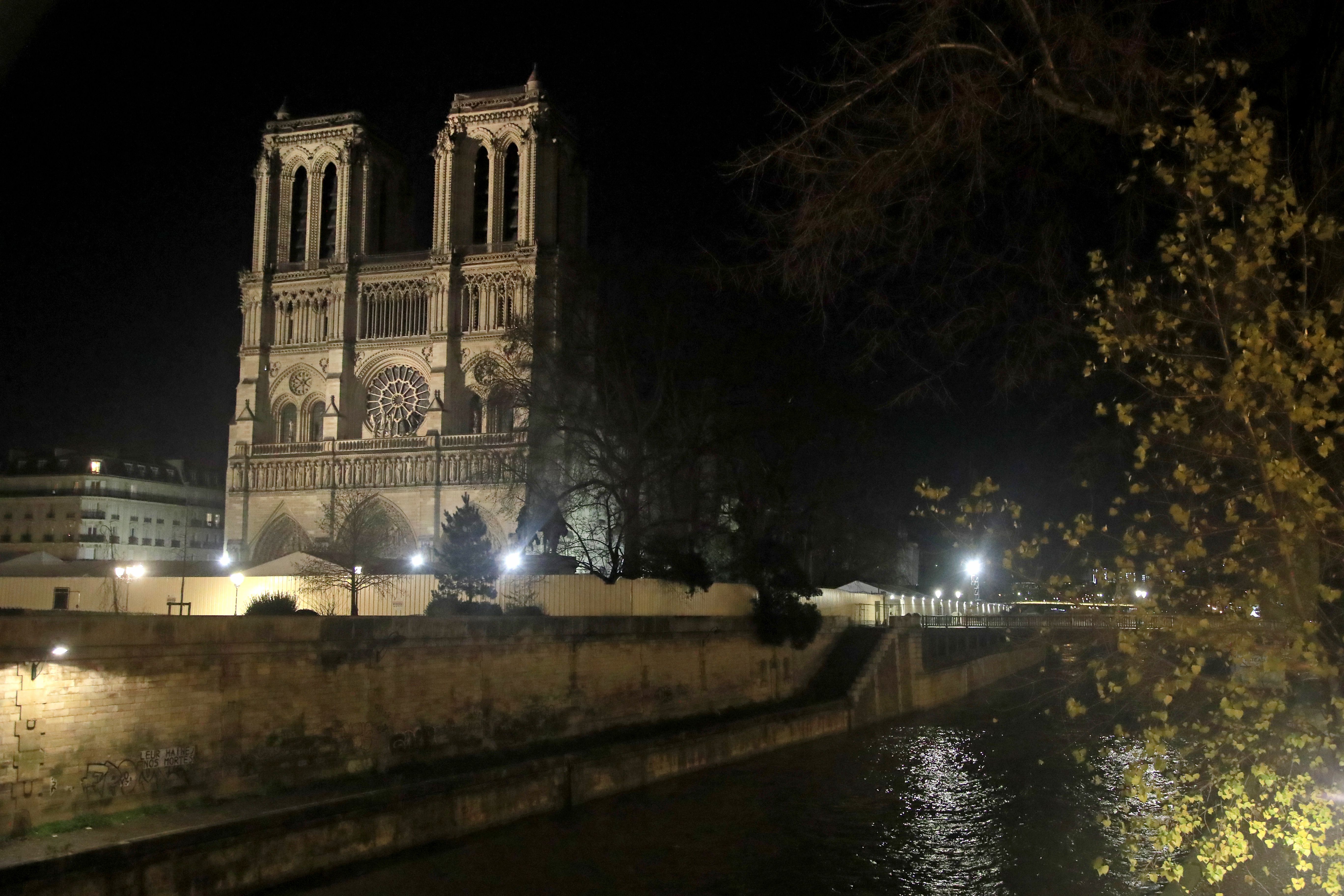 Notre Dame is lit up in Paris this week as it's being rebuilt.
The 855-year-old cathedral kept Christmas going even during two world wars — a beacon of hope amid the bloodshed.
Yet this year's fire will stop the cathedral from celebrating Midnight Mass for the first time in over two centuries, AP reports.
The now-itinerant choir is touring other churches for holiday concerts.
5. Congress ups smoking age
Congress voted to raise the legal age to purchase tobacco products, including e-cigarettes, from 18 to 21 as part of a $1.37 trillion spending measure that now awaits President Trump's signature.
Why it matters, via the N.Y. Times: The decision, which had the backing of some of the tobacco industry's biggest companies, "is viewed as an effort to appease those who are calling for a full ban on e-cigarettes or a flavor ban to prevent addicting a new generation to nicotine."
6. Teens drive vaping growth
7. Evangelical magazine says Trump must go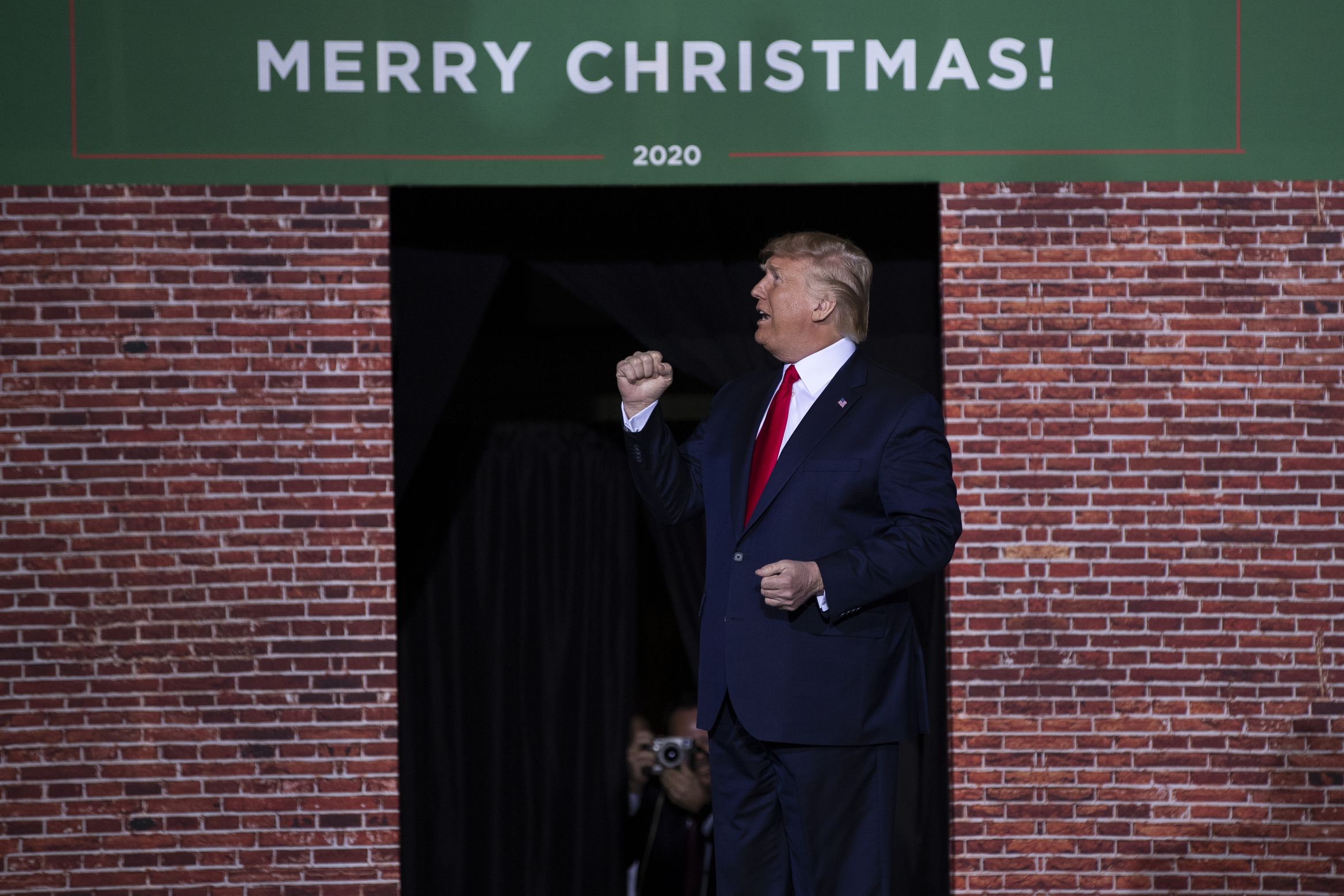 An editorial published yesterday by Christianity Today, a magazine founded by the late Rev. Billy Graham, called for President Trump's removal from office in the wake of his impeachment.
"We have reserved judgment on Mr. Trump for years now. Some have criticized us for our reserve. But when it comes to condemning the behavior of another, patient charity must come first."
"To use an old cliché, it's time to call a spade a spade, to say that no matter how many hands we win in this political poker game, we are playing with a stacked deck of gross immorality and ethical incompetence."
Why it matters: Trump won 81% of the evangelical vote in 2016, a group that makes up about 25% of the electorate, according to the Pew Research Center.
8. U.S. watching N. Korea for Christmas launch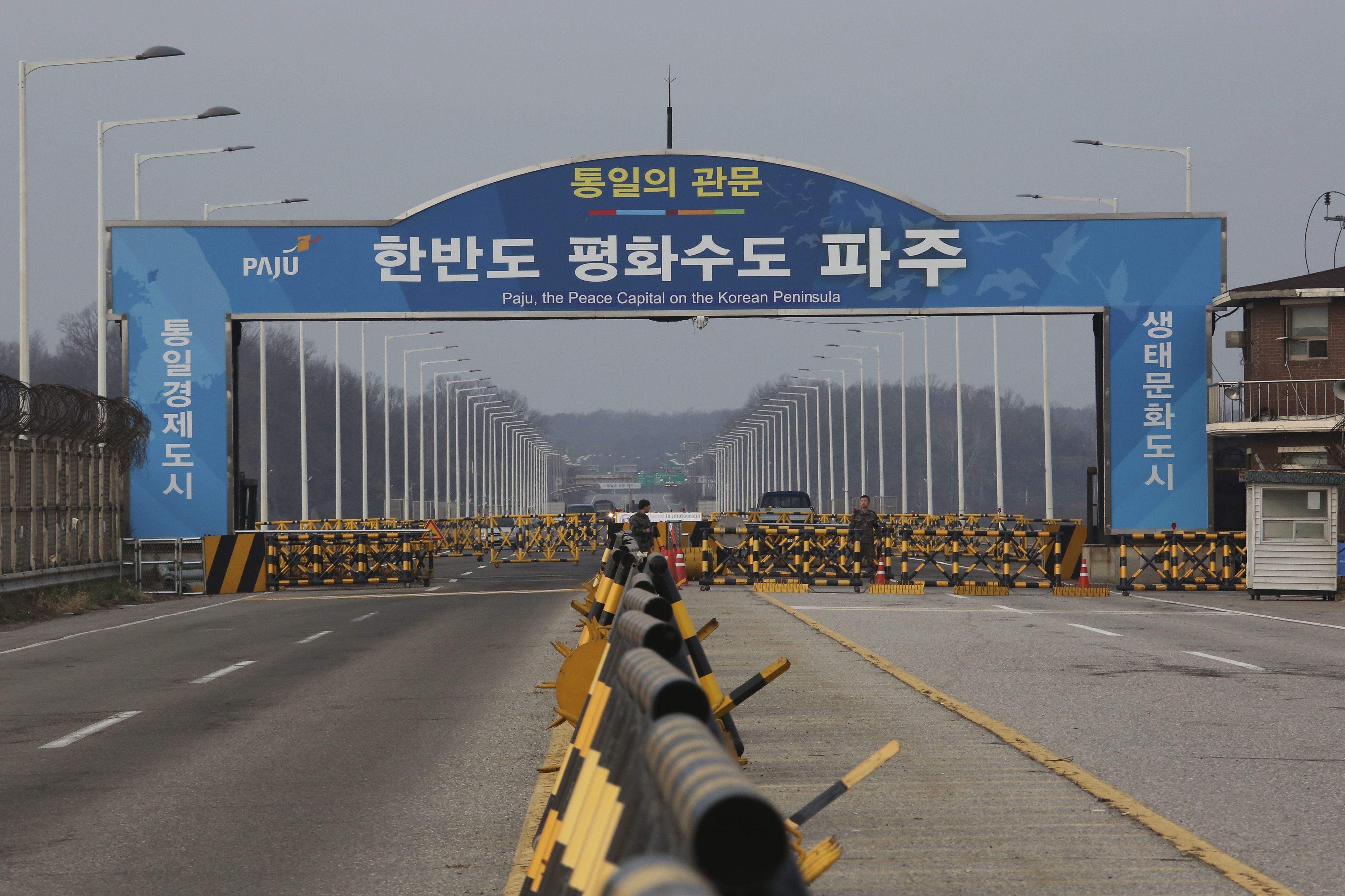 The U.S. is closely watching North Korea for signs of a possible missile launch or nuclear test in the coming days that officials are referring to as a "Christmas surprise," AP's Lolita Baldor reports.
Why it matters: A significant launch or test would mean the end of North Korea's self-imposed moratorium and raise tensions in the region.
And it would be a major blow to one of the Trump administration's major foreign policy initiatives: the drive to get North Korea back to negotiations to eliminate its nuclear weapons and missiles.
9. 2019's best photos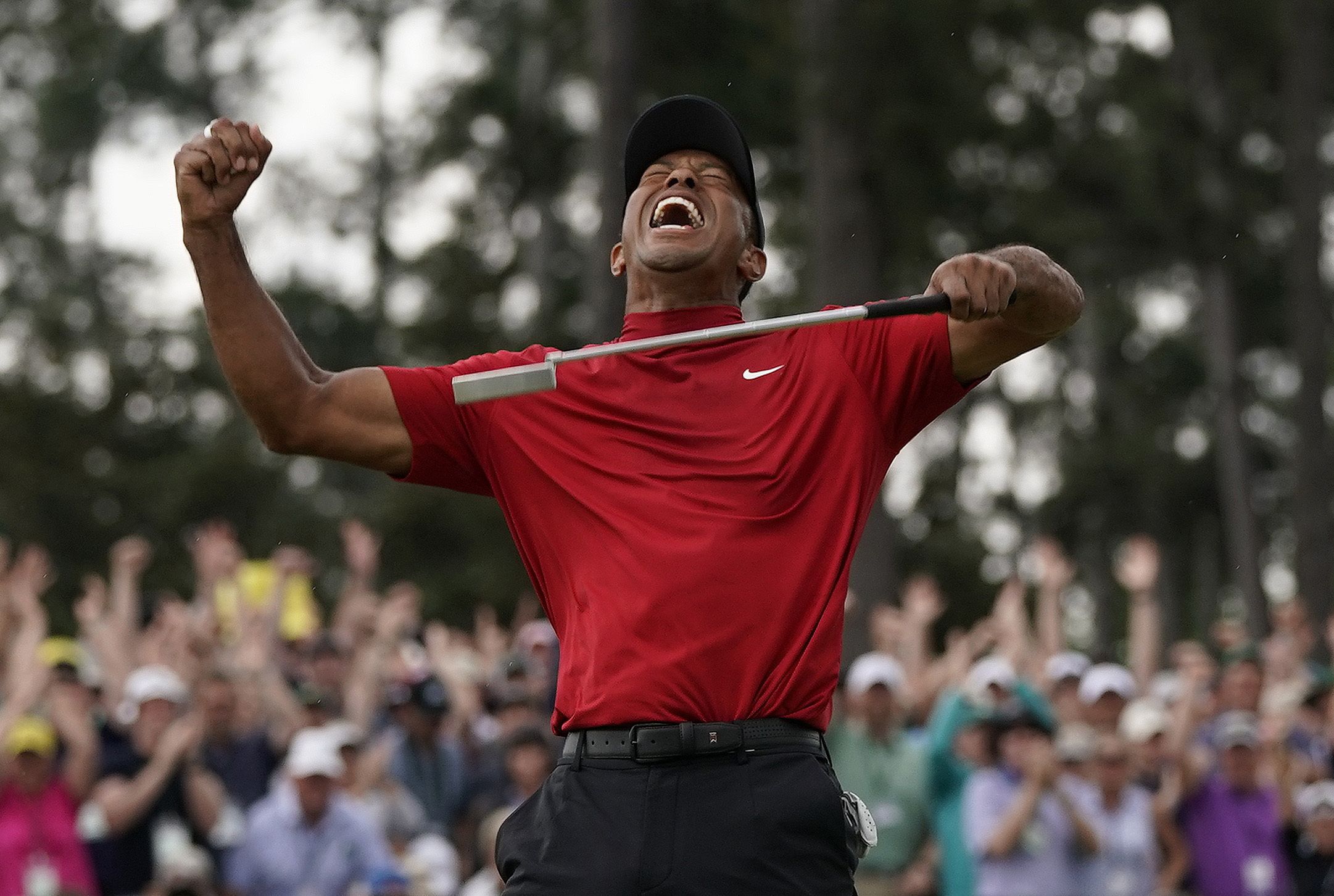 Tiger Woods wins the Masters in Augusta, Ga., on April 14.
10. 🎧 1 fun thing
Spotify's decade-spanning "Wrapped" listening recaps "are surfacing information many listeners didn't know about themselves — or would prefer not to know," writes Anna Steele in a Wall Street Journal A-hed (subscription).
"Wrapped is like audio truth serum, whether that means you're reminded that you're sharing an account with mom or discover you spent the year as an undercover fan of the biggest pop stars on the planet," Alex Bodman, Spotify's creative director, told The Journal.
💤 "Many Spotify users who streamed endless hours of 'Binaural Alpha Drone' or street sounds to sleep — or classical music to ease pets' anxiety — suffered warped results and said they wished ambient noises were excluded from results."