June 27, 2022
Hello, Monday. Smart Brevity™ count: 1,188 words ... 4½ mins. Edited by Noah Bressner.
🇷🇺 Situational awareness: Russia slipped into default on its foreign debt for the first time since 1918 — during the Bolshevik Revolution — following sanctions imposed over the war in Ukraine. Go deeper.
1 big thing: Roe's ballot power
Democrats are grabbing the Roe reversal as a lifeline ahead of November's midterms. Republicans want to keep talking about inflation.
Why it matters: This is an unusual case where the losing side wants to talk all about it. The winning side wants the spotlight elsewhere.
Axios' Sophia Cai got a first look at websites that Democrats' House and Senate campaign arms launched today — less than 72 hours after the Supreme Court ruling — blasting GOP candidates' abortion records.
Democrats see it as a mobilizing issue for suburban women in swing House districts across the country.
The House Democratic (DCCC) site is called "Extreme GOP."
The Senate Democrats' (DSCC) site is: "This is the GOP on Abortion."
Republicans know the issue could hurt them with those very same voters, so they will try to keep slamming President Biden on pocketbook issues, Axios' Lachlan Markay reports.
Samantha Bullock of the House Republicans' campaign arm (NRCC) said: "This ruling does nothing to change the fact that voters' top concerns are rising prices, soaring crime, and the disaster at the southern border."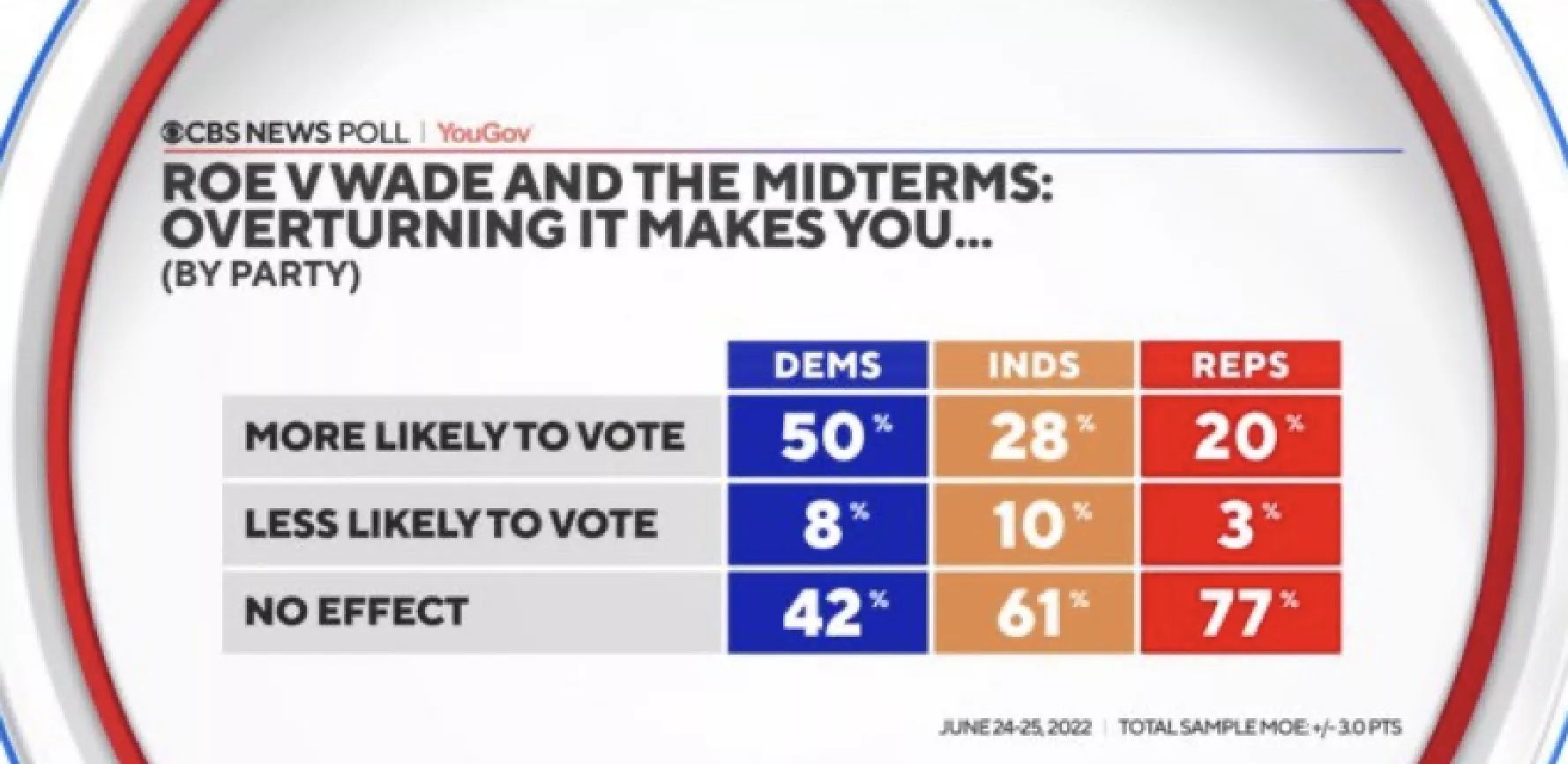 📊 Two polls released in the past 24 hours give Democrats hope the issue will move voters.
A CBS News/YouGov poll of 1,591 adults found 50% of Democrats were more likely to vote based on the Roe ruling, while only 20% of Republicans said the same.
2. ⚠️ Dire warning for Dems
More than 1 million voters across 43 states switched to the Republican Party over the past year, while 630,000 became Democrats, AP found by analyzing voter-registration data.
So the GOP got two-thirds of the nearly 1.7 million voters who changed parties in states with data available for the past 12 months.
Why it matters: It's a new sign of a red wave brewing for this fall's midterms.
Between the lines: The phenomenon has played out virtually everywhere — red states and blue states ... big cities and small towns — since President Biden took office.
What's happening: Well-educated swing voters who turned against former President Trump appear to be swinging back.
Zoom in: Tens of thousands of suburban swing voters who helped fuel the Democratic Party's gains in recent years are becoming Republicans.
The outlier: Only Virginia, which held off-year elections in 2021, saw Democrats notably trending up over the last year. And Dems got wiped out in last fall's statewide elections.
3. 🔋 Axios data dive: Where EVs are taking off
Electric vehicle registrations doubled over the past year, to 5% of new cars, Axios transportation correspondent Joann Muller writes from Detroit.
Why it matters: EVs' share of North American vehicles is accelerating and could hit 28% by 2028, and 59% by 2035, consulting firm AlixPartners says.
👀 What's we're watching: The historic shift from gasoline will take years to play out. Axios is tracking the revolution as it rolls across the U.S., using monthly vehicle registration data from S&P Global Mobility.
Each of our Axios Local newsletters will monitor EV adoption in their cities and track the most popular models among their neighbors.
What's happening: California is by far the hottest EV market. Adoption is also growing in some big cities in the Northeast, Florida and Texas. But EV ownership remains limited in the Midwest.
Shoppers have dozens of new choices, with many more on the way.
Tesla accounted for 61% of all EVs registered in the U.S. in April, the latest month for which data is available.
The next closest were Ford (8%) ... Hyundai (6%) ... and Kia (6%).
🏡 Get Axios Local ... Share this story.
4. 📷 1,000 words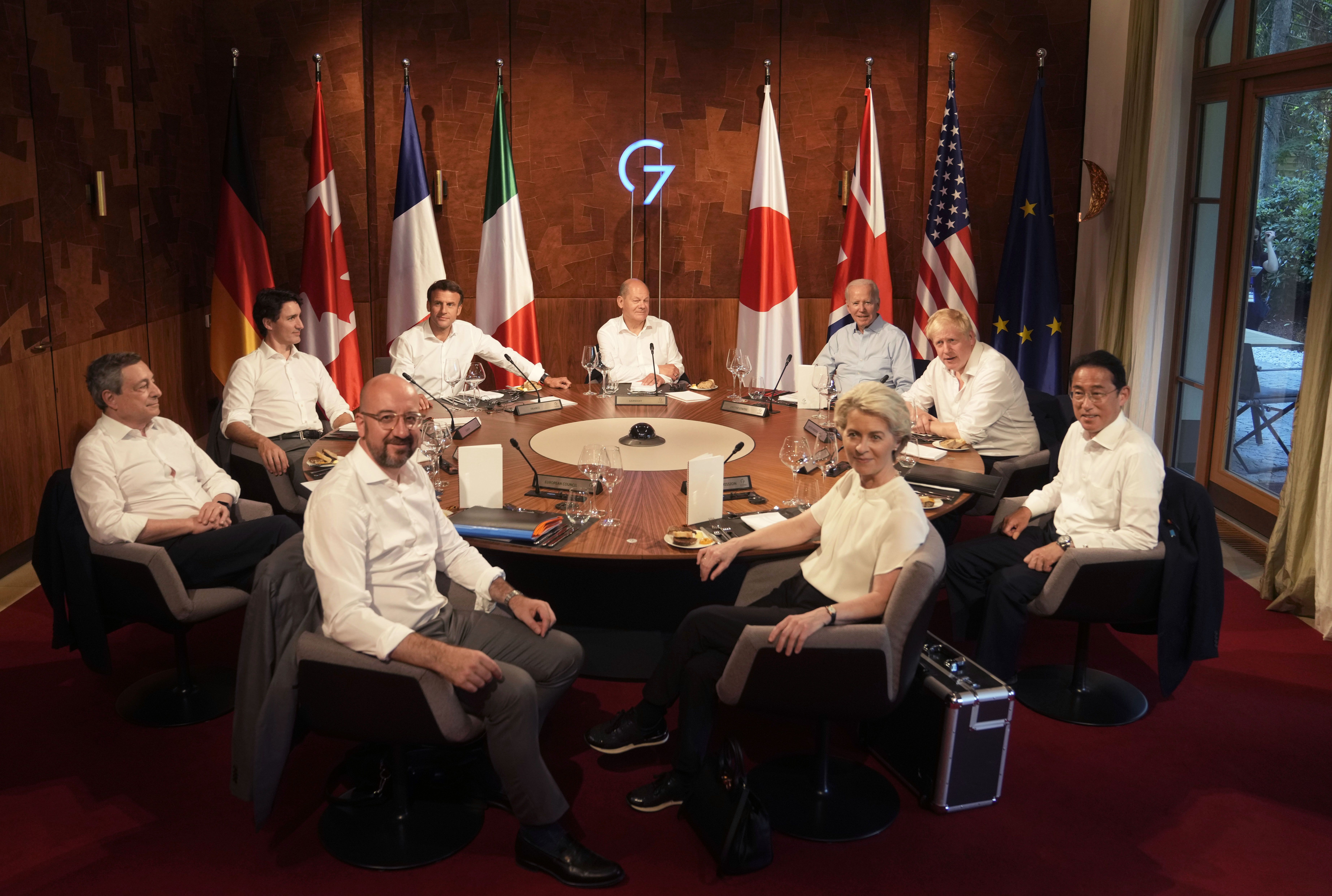 The Group of Seven (G7) economic powers gather for a working dinner (shirtsleeves!) last evening, during their summit at Castle Elmau in southern Germany.
Clockwise from front left: European Council President Charles Michel ... Italian Prime Minister Mario Draghi ... Canadian Prime Minister Justin Trudeau ... French President Emmanuel Macron ... German Chancellor Olaf Scholz ... President Biden ... British Prime Minister Boris Johnson ... Japanese Prime Minister Fumio Kishida ... European Commission President Ursula von der Leyen.
5. 🧠 Axios Explains: Where abortion is still legal
16 states have codified the right to abortion even in Roe's absence, Axios' Oriana Gonzalez writes.
What's happening: As Republican legislatures enacted restrictions, lawmakers in blue states responded by passing bills protecting providers and patients.
6. 🗳️ Most expensive statewide campaign ever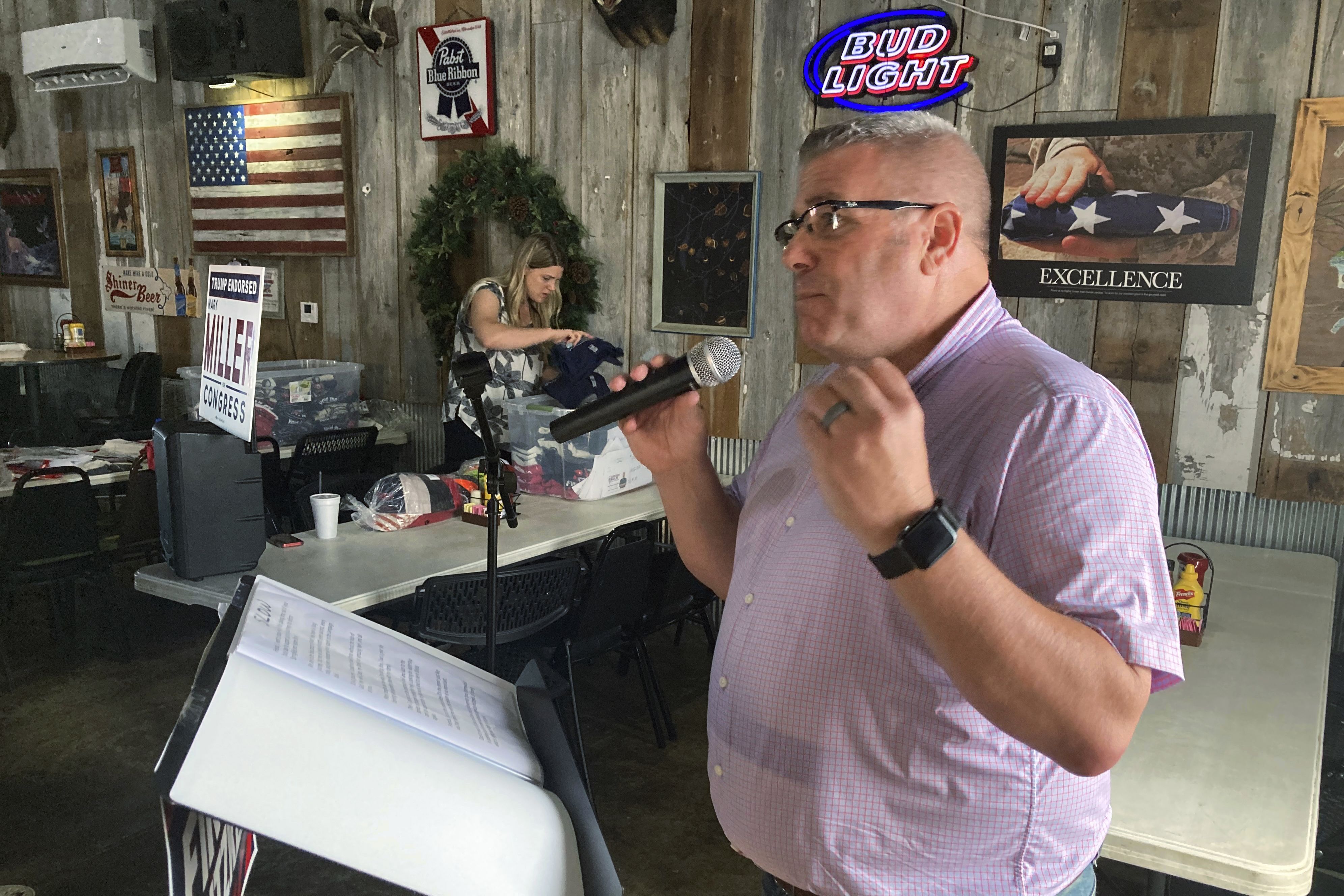 The Illinois governor's race is on track to become the most expensive campaign for a non-presidential office in U.S. history, the N.Y. Times' Reid Epstein reports (subscription).
Why it matters: It's a battle of billionaires.
The incumbent, Gov. J.B. Pritzker (D), is America's richest elected official, and part of the family that founded the Hyatt hotel chain.
In a juicy twist, Pritzker is spending big to promote the drawling, Trump-backed Republican over the establishment candidate in tomorrow's primary.
Pritzker and the Democratic Governors Association have spent a combined $35 million to attack the establishment's Richard Irvin and lift the Trumper, Darren Bailey, The Times reports:
"No candidate for any office is believed to have ever spent more to meddle in another party's primary."
Both Republicans have billionaire backers:
Ken Griffin and Dick Uihlein — among the country's biggest Republican donors — have combined to pour more than $60 million into the primary, AP reports.
Griffin, the Chicago hedge fund founder, is underwriting Irvin, currently the first Black mayor of Aurora, Chicago's largest suburb (Second City's second city, ya might say).
Uihlein, a major Trump supporter who founded the office supply company Uline, is funding Bailey — a farm-raised state senator who fought mask mandates, and is endorsed by Trump.
🥊 Quote of the day: David Smith — executive director of the Illinois Family Institute, an anti-abortion group whose political arm backs Bailey — told The Times the GOP race is about crushing moderates:
"This primary has got to purge the Republican Party of those who are self-serving snollygosters."
7. 🏒 Colorado wins Stanley Cup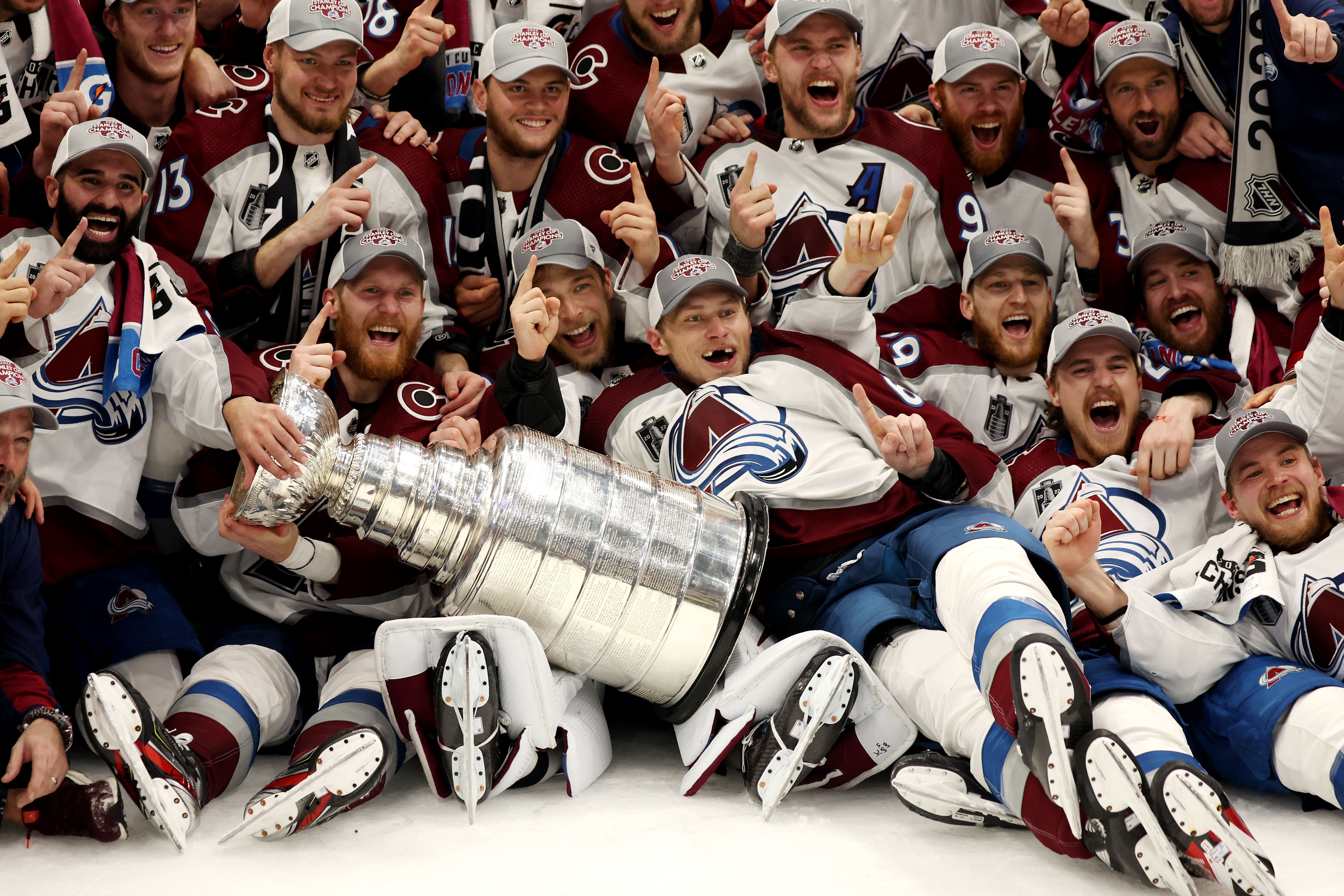 The Colorado Avalanche lifted the Stanley Cup last night with a 2-1 road win over the two-time defending champion Tampa Bay Lightning.
Why it matters: Axios Denver notes in a late-night Thought Bubble that the title cements the Mile High City as the new Hockeytown, USA.
The University of Denver Pioneers claimed the NCAA title, and Denver East won the national high school championship.
The bottom line: Three hockey titles, at three levels, in one year for one city.
8. 🎸 1 for the road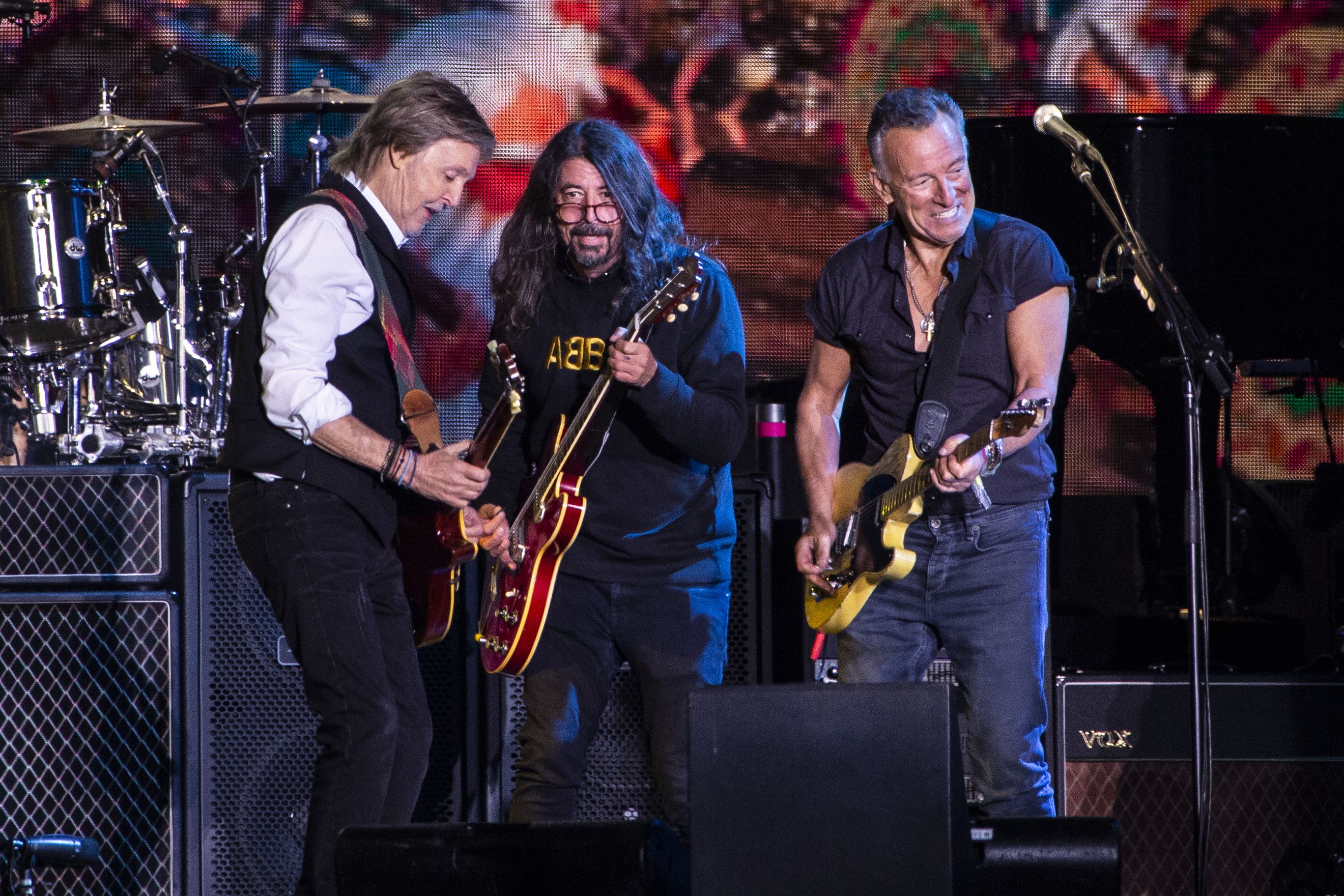 Paul McCartney, 80 ... Foo Fighters frontman Dave Grohl, 53 ... and Bruce Springsteen, 72, perform Saturday night at the 50th anniversary Glastonbury Festival at Worthy Farm, England.
The former Beatle was onstage for 2½ hours.
Some 200,000 people attended the four-day festival, which dates to 1970.
📬 Invite your friends to sign up here for their daily essentials — Axios AM, PM and Finish Line.