How the pandas are leaving D.C., early and in style
It's all aboard the FedEx Giant Panda Express for the Smithsonian National Zoo's three bears — and the special jumbo jet that's part of their elaborate return to China is taking off a little earlier than expected.
Why it matters: The pandas are precious cargo — a celebrated symbol of both D.C. and China — and every step of the journey is carefully coordinated to make their transition as seamless and stress-free as possible.
Driving the news: The three pandas — patriarch Tian Tian (26), mom Mei Xiang (25), and their 3-year-old cub Xiao Qi Ji — are scheduled to leave for the China Wildlife Conservation Association before mid-November, weeks ahead of their Dec. 7 lease expiration date.
Though zoo officials didn't specify a reason, chief veterinarian Don Neiffer tells Axios that animal transports are often planned around mild weather — no hot summer or icy winter travel.
Catch up fast: Pandas have a long history at the National Zoo. The first pair were gifted by the Chinese in 1972, though none of their offspring survived.
Other black-and-white bears have been loaned from their homeland — participating zoos often pay up to $1 million per bear a year — including Tian Tian and Mei Xiang, who arrived in 2000.
The intrigue: So how do three 200-plus pound pandas travel? On the world's largest twin-engine cargo plane, of course, courtesy of FedEx.
The Giant Panda Express (real nickname) boasts a state-of-the-art engine and is wrapped in a massive panda decal for the 19-hour journey.
Between the lines: The trip between Dulles International and Chengdu International is longer than usual because Russian airspace is closed to American carriers due to the Ukraine war, and the plane will have to refuel in Alaska.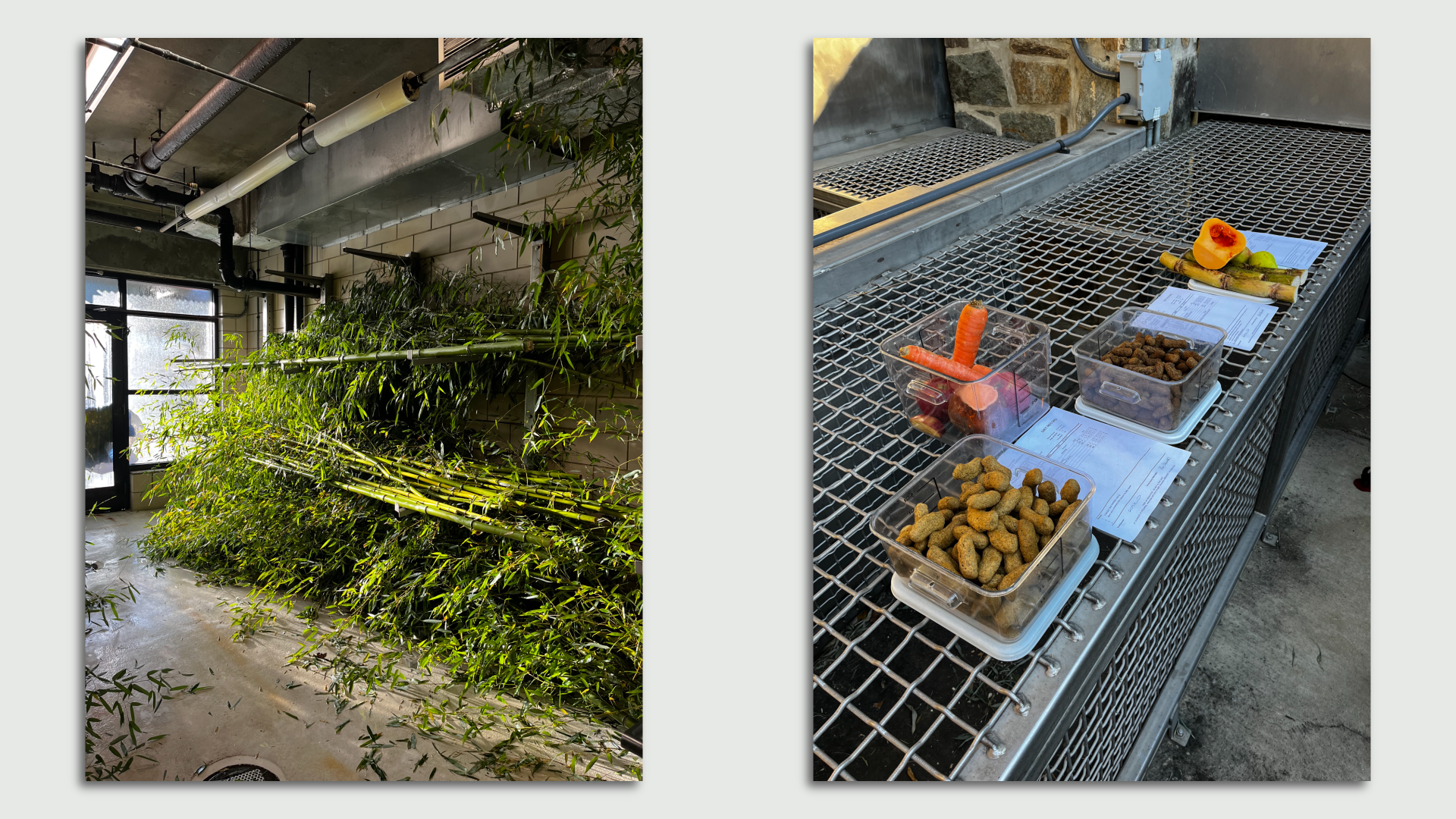 What they're saying: The affable bears aren't sedated, but "they tend to sleep most of the time," keeper Mariel Lally tells Axios. They're well-fed in their individual shipping containers on heaps of fresh bamboo — around 80 lbs. per bear — and favorite snacks, including pears, sugar cane, butternut squash, and nutrient-rich leaf eater biscuits.
The pandas will fly first-class with their own vet and keepers in jump seats. "The whole reason we fly is so we can go back and offer them whatever they need — food, water, you name it," says Lally.
As for in-flight entertainment, that's built into the program. The pandas are acclimated to their travel carriers months in advance through food and positive reinforcement. "Just the flight experience itself will be really enriching, all the sounds and smells," adds Lally.
Zoom out: Though the pandas are a big lift, animal transport is common at the zoo for breeding and exhibitions.
Neiffer, who travels with a variety of species, tells Axios that the pandas are naturally pretty calm. "It's tougher with animals that are more high-strung by nature like deer," he says. "I moved 500 ibises once, each in their own little box."
The bottom line: When the bears lift off, Washington will be panda-less for the first time in more than two decades. Two cubs and their parents at Zoo Atlanta are slated to return to China next year — so if you want to see the beloved bears stateside, you better act fast.
More Washington D.C. stories
No stories could be found
Get a free daily digest of the most important news in your backyard with Axios Washington D.C..