What's going on with D.C.'s Narcan vending machines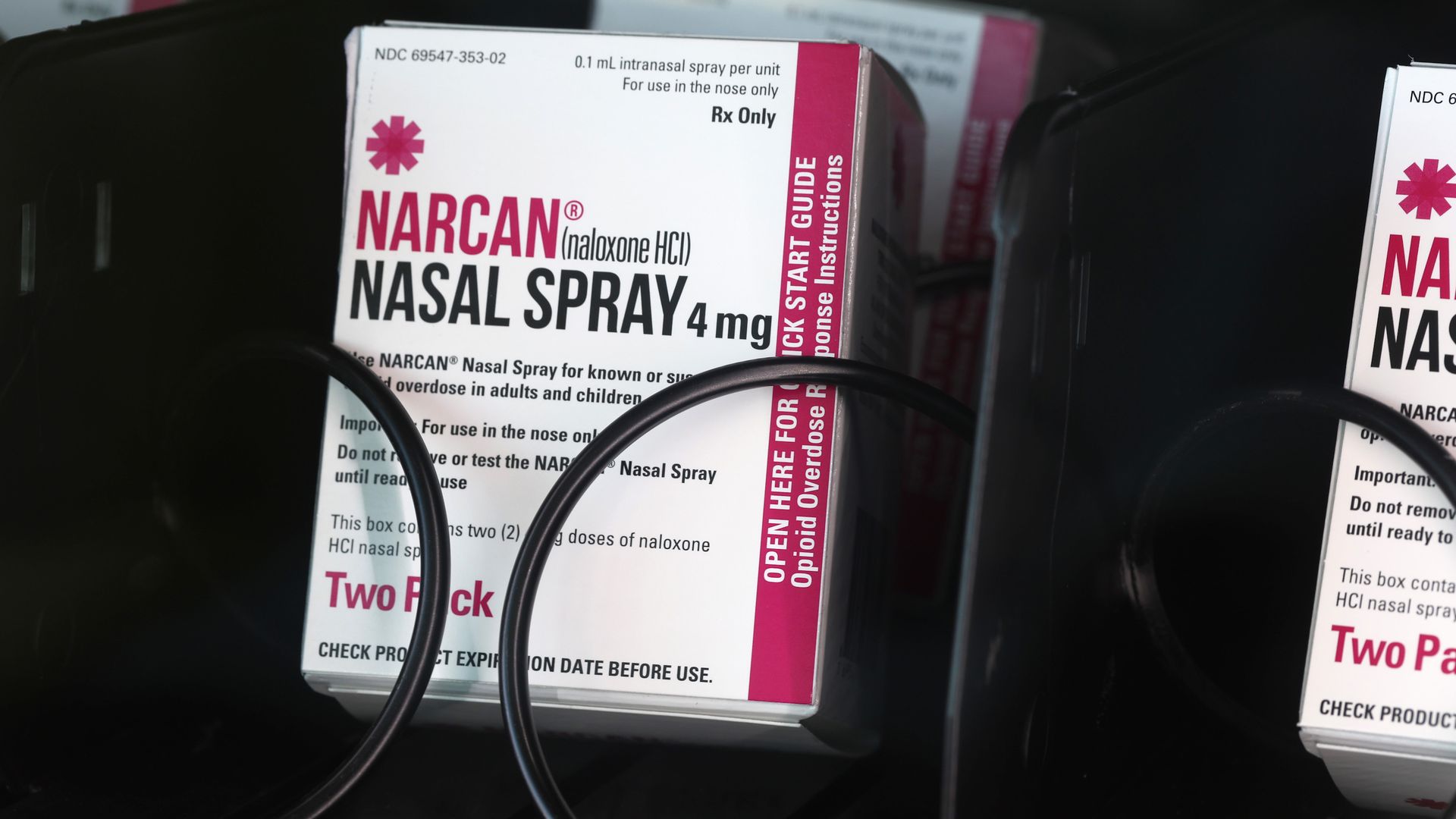 D.C.'s harm-reduction vending machines have pumped out at least 2,800 distributions of Narcan, Fentanyl tests, and other protective items since a pilot program launched last spring.
Why it matters: With opioid overdoses at an all-time high, more communities are investing in innovative and low-cost intervention efforts — like vending machines stocked with free medical supplies — to help save lives.
State of play: In April, D.C. Health teamed up with two local nonprofits with existing harm-reduction programs to run the $300,000 pilot program. Family and Medical Counseling Service (FMCS) operates four vending machines. Honoring Individual Power and Strength (HIPS) operates three, which dispense clean syringes as well as other items.
Machines are placed at Fire and EMS stations and clinics in neighborhoods with high opioid overdose rates.
How it works: Anyone can call numbers listed on vending machines at any time and get a one-time access code for free supplies — Narcan, yes, but also condoms, hygiene kits, wound care, and more.
A cellphone is needed, though FMCS is also providing access cards at their clinics and elsewhere for those without mobile devices.
By the numbers: So far, FCMS vending machines distributed 2,800 items from the start of the pilot in April through August 30. Narcan is the most widely used vending machine item, with 502 packages distributed that each contain two doses.
The machines also dispensed 935 fentanyl test strips and 360 condom packages.
Of note: The overall usage number is likely much higher. HIPS did not respond to Axios' request for statistics for its three machines.
What they're saying: "The biggest thing [about vending machines] is access," FMCS chief operations officer Angela Wood tells Axios.
"You don't have to jump through any hoops, or even give us your name. It allows you to anonymously, privately, go and get what you need."
The big picture: D.C. joins a growing list of jurisdictions nationwide that are rolling out the machines, from New York City to Milwaukee and Coachella Valley, California.
The pilot comes amid a surge in opioid-related fatalities in D.C. over the last five years, according to a report released in March from the chief medical examiner, which counted more than 2,000 deaths in that period.
The city saw a record 448 fatal overdoses last year. Overall, 85% of deaths were among Black people and overwhelmingly older Black men.
Wood says there's national dialogue among vending machine operators in various jurisdictions. "You learn lessons about rollout and messaging and how to give people information around them."
Ultimately, the vending machines are another helpful, low-cost tool in their intervention arsenal in D.C., Woods adds.
What we're watching: Narcan and training on how to use it is becoming increasingly prevalent in D.C.-area school districts after a recent sharp rise in youth opioid overdoses. Staff at Prince George's, Arlington, Montgomery, Alexandria, Fairfax, and D.C. public school districts carry the overdose-reversing drug.
Arlington is the latest county in the region to allow students to bring their own supply (it's also carried by administrators).
Others, like Prince George's and Alexandria counties, let students carry the medication with a doctor's note. In Fairfax County, students who are 18 and older can carry naloxone if they've completed an approved training program.
What's next: Wood says they're also eyeing locations for another machine, and they're considering placing one within walking distance of a D.C. public school.
More Washington D.C. stories
No stories could be found
Get a free daily digest of the most important news in your backyard with Axios Washington D.C..