What to know about Narcan after FDA approved over-the-counter sale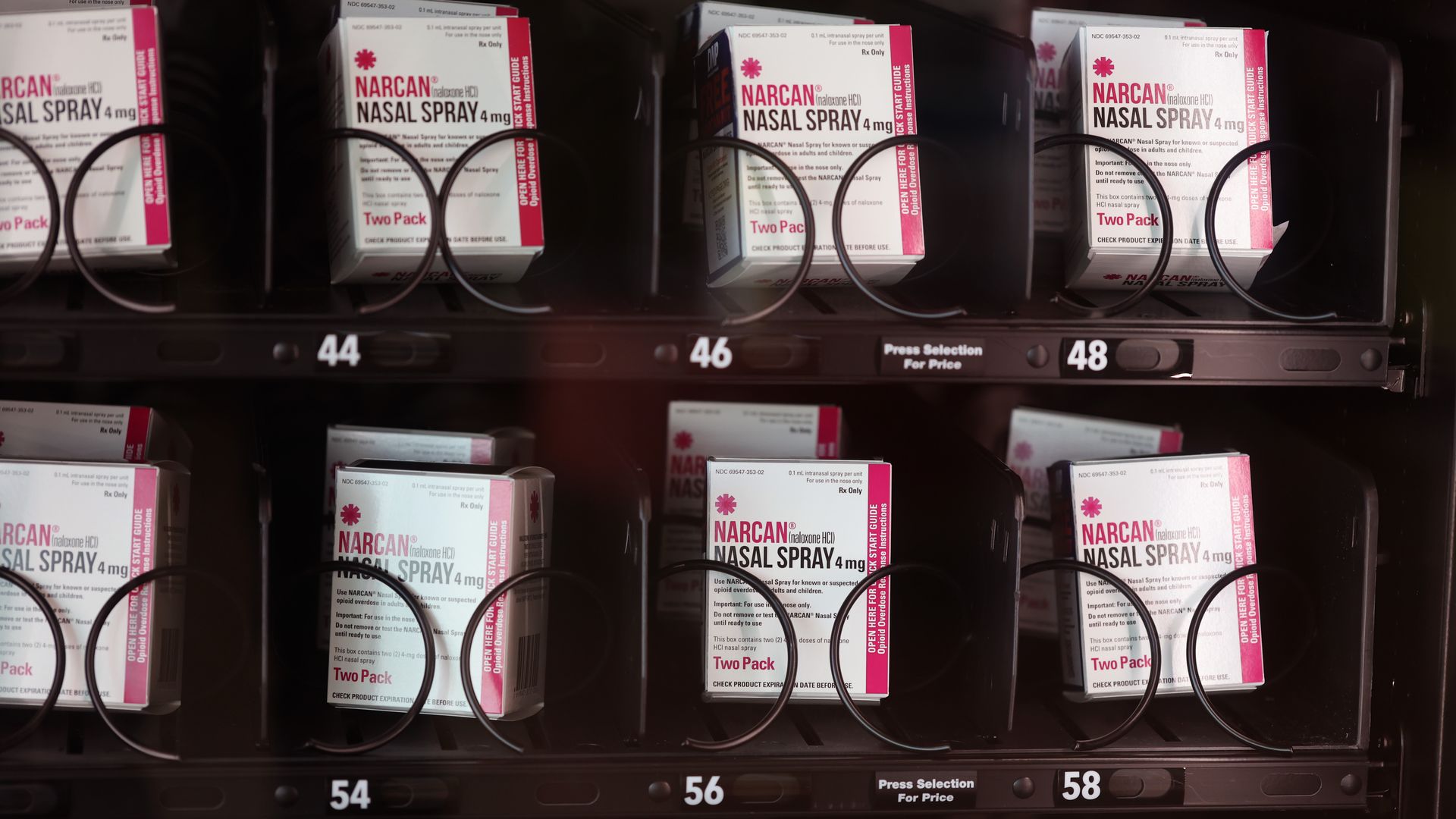 The FDA's approval of the first over-the-counter opioid treatment Wednesday could help prevent surging U.S. drug overdoses, which have been linked to more than 100,000 deaths annually in recent years.
Driving the news: The move to approve overdose-reversing Narcan, the best-known version of naloxone, should increase access but also comes with risk, Keith Humphreys, a professor and addiction expert at Stanford University, told Axios.
Of the 107,622 overdose deaths in 2021, an estimated 80,816 involved opioids, according to provisional data made available by the National Center for Health Statistics.
Here's what we know and don't know about the expansion of the life-saving drug's availability.
How Narcan works
Naloxone comes in two forms: injectable and a prepackaged nasal spray, which is produced by Maryland-based Emergent BioSolutions under the brand name Narcan.
Narcan and the injectable forms of naloxone can reverse an opioid overdose by blocking the brain's uptake of opioids and replacing opioids already bound to receptors in the brain, per the National Institute on Drug Abuse.
Depending on the dose, naloxone can reverse overdoses caused by all opioids, including heroin, fentanyl, oxycodone, hydrocodone, codeine and morphine.
Symptoms of an opioid overdose include slow breathing or heartbeat, vomiting or gurgling noises, limp limbs, blue or purple fingernails or lips or an inability to speak or stay awake.
Of note: The injectable form of naloxone and other formulations of the drug will remain available by prescription only, the FDA said.
When and where Narcan will be available
Emergent anticipates Narcan will be widely available by late summer in places like drug stores, convenience stores, grocery stores and gas stations and online retailers. The company attributed the timeline to manufacturing and supply chain changes.
Yes, but: It's also unclear how many stores will carry Narcan or whether insurance programs will cover it.
Exact cost of the drug over the country is not yet known. The company declined to disclose how much it costs to manufacture Narcan and has not publicly said how much the over-the-counter product will cost, though it's vowed to make Narcan accessible, Axios' Sabrina Moreno reports.
In 2018, the average out-of-pocket cost for naloxone prescription among uninsured people was $250, while the average out-of-pocket cost per naloxone prescription for the insured was $18, according to a recent RAND Corporation study.
What differences wider availability could make
"People will no longer get the advice they would get from a pharmacist for how to use it and when to use it, so perhaps more people will use it incorrectly or at the wrong moment," Humphreys said.
Recognizing the signs of an opioid overdose before using Narcan is important, Humphreys said, but using the treatment on a person who is not experiencing an overdose will not harm them.
Anyone who administers the drug should call an ambulance even after using it. It doesn't always revive a person experiencing an overdose or only revives a person for a brief period, Humphreys said.
More treatments on the horizon
Other forms of naloxone and may be approved by the FDA for over-the-counter purchase.
The nonprofit pharmaceutical company Harm Reduction Therapeutics, which has received funding from OxyContin producer Purdue Pharma, is also seeking FDA approval for an over-the-counter naloxone nasal spray.
Go deeper: Surging opioid overdoses prompt more Americans to carry Narcan spray
Go deeper