Surging opioid overdoses prompt more Americans to carry Narcan spray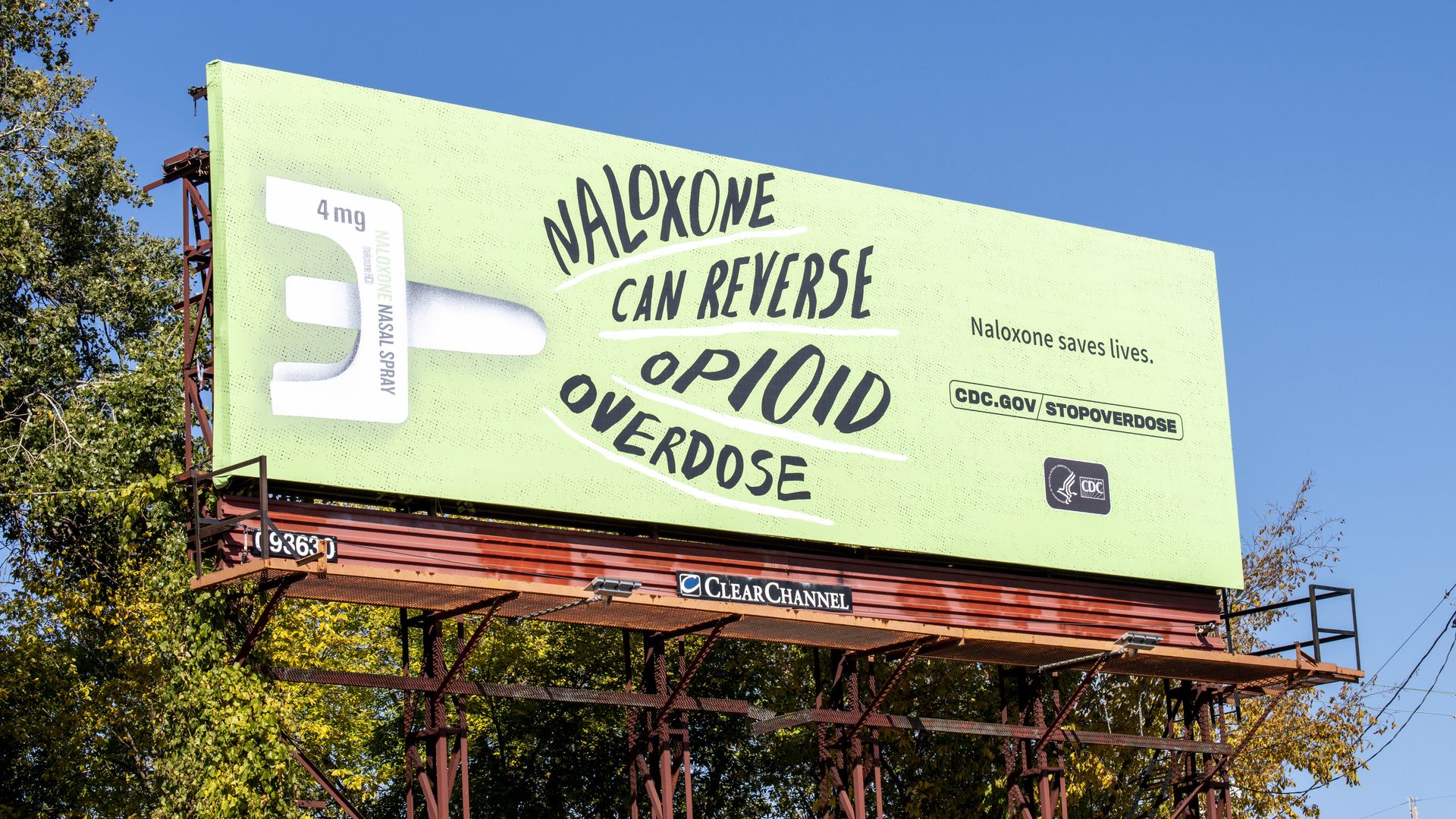 The worsening opioid epidemic is prompting more people to carry a nasal spray that reverses overdoses and become de facto first responders in life-or-death situations.
Why it matters: Naloxone acts five times quicker than the approximately 10-minute average arrival time for EMS technicians, according to a federal overdose tracker launched last month.
That can be critical when fentanyl, the synthetic drug behind most opioid overdose deaths, renders an individual unconscious and not breathing in as little as 90 seconds, said Bonnie Milas, a cardiac anesthesiologist at the University of Pennsylvania who trains people on how to recognize an overdose and use naloxone.
But with retail prices sometimes exceeding $100, the cost can be prohibitive and insurers vary in their coverage of naloxone. Some experts say the most in-need individuals may not be able to afford a $3 co-pay.
The big picture: Naloxone and automatic external defibrillators located in public places allow ordinary citizens to stand in for medical professionals, even with little or no training. Every state has a naloxone access law, though the legal protections vary.
The advantage is most clear in rural areas where professional medical help can be more than 30 minutes away, Kimberly Sue, an addiction medicine physician at Yale, told Axios. 
The FDA is fast-tracking an application from Emergent BioSolutions, the maker of brand-name Narcan, for a non-prescription version that wouldn't require a doctor's sign-off. The first meeting is set for Feb. 15.
Go deeper: Leah Smith, a law student in Cambridge, Massachusetts, said that a customer once overdosed at her previous workplace in an outlying area and no one had naloxone on hand. Police took at least 15 minutes to arrive.
The incident, combined with the experience of having a sister in recovery, has prompted her to carry Narcan for the past five years. Even with insurance, the nasal spray costs her about $50.
In Portland, Oregon, last week, a woman survived an overdose at a dinner because Christopher Woody — a peer support specialist with the Mental Health and Addiction Association of Oregon — had two doses of Narcan with him. 
Woody told Axios he now carries three doses, just in case.
Megan Carolan, an early childhood researcher in Jersey City, New Jersey, told Axios that Narcan, which cost her $30, isn't always readily available at pharmacies.
She began carrying naloxone as a way to deal with guilt from losing a family member to opioids, telling Axios that "It can't bring them back, but it can maybe help somebody else."
By the numbers: More than 56,500 people in 2020 died from synthetic opioid overdose deaths, per the National Institute on Drug Abuse.
Increasing the availability of naloxone could prevent 21% of opioid overdoses, with the bulk of the reduction coming from distributing it to lay people, according to a 2020 analysis in the International Journal of Drug Policy.
A JAMA study from Rhode Island found that focusing naloxone distribution by geographic need averted more than a quarter of opioid overdose deaths.
What they're saying: Joe Wells, a Wichita, Kansas, resident who has been in recovery from opioid use since 2019, told Axios he has to order Narcan spray online from another state for free because it's difficult to find near him — even though he said the crisis there is getting worse.
Wells, who said he has friends who still use opioids, said, "I'd rather have it with me and not need it than need it and not have it ... it can literally affect anybody."
State of play: The public perception of naloxone is still evolving, and there's still stigma around purchasing it, said Sarah Scarborough, founder of REAL Life in Richmond, Virginia, which serves individuals with substance use disorders. 
Localities nationwide are also acting to have naloxone more readily available in public places, augmenting distribution efforts by health departments and harm reduction organizations. 
In Denver, residents can order naloxone directly from the city.
Proposed legislation in California would require public libraries, bars and gas stations to carry naloxone.
Philadelphia and New York health officials unveiled vending machines stocked with naloxone last year.
Yes, but: Despite a surgeon general's recommendation more Americans carry naloxone, there is no nationwide campaign, like the effort to mail free COVID tests to U.S. households, said Milas — even though most opioid overdoses happen inside someone's home.
The bottom line: "If you can't control fentanyl in the drug supply, although we're trying, then the only way that we're going to be able to curb the immediate loss of life is to have Naloxone and life-saving skills available in the home and in public spaces," Milas told Axios. 
The day could come when it's on the wall next to every AED in the United States, she added.
Go deeper