Review: Ranking every new pickle food at the 2023 Minnesota State Fair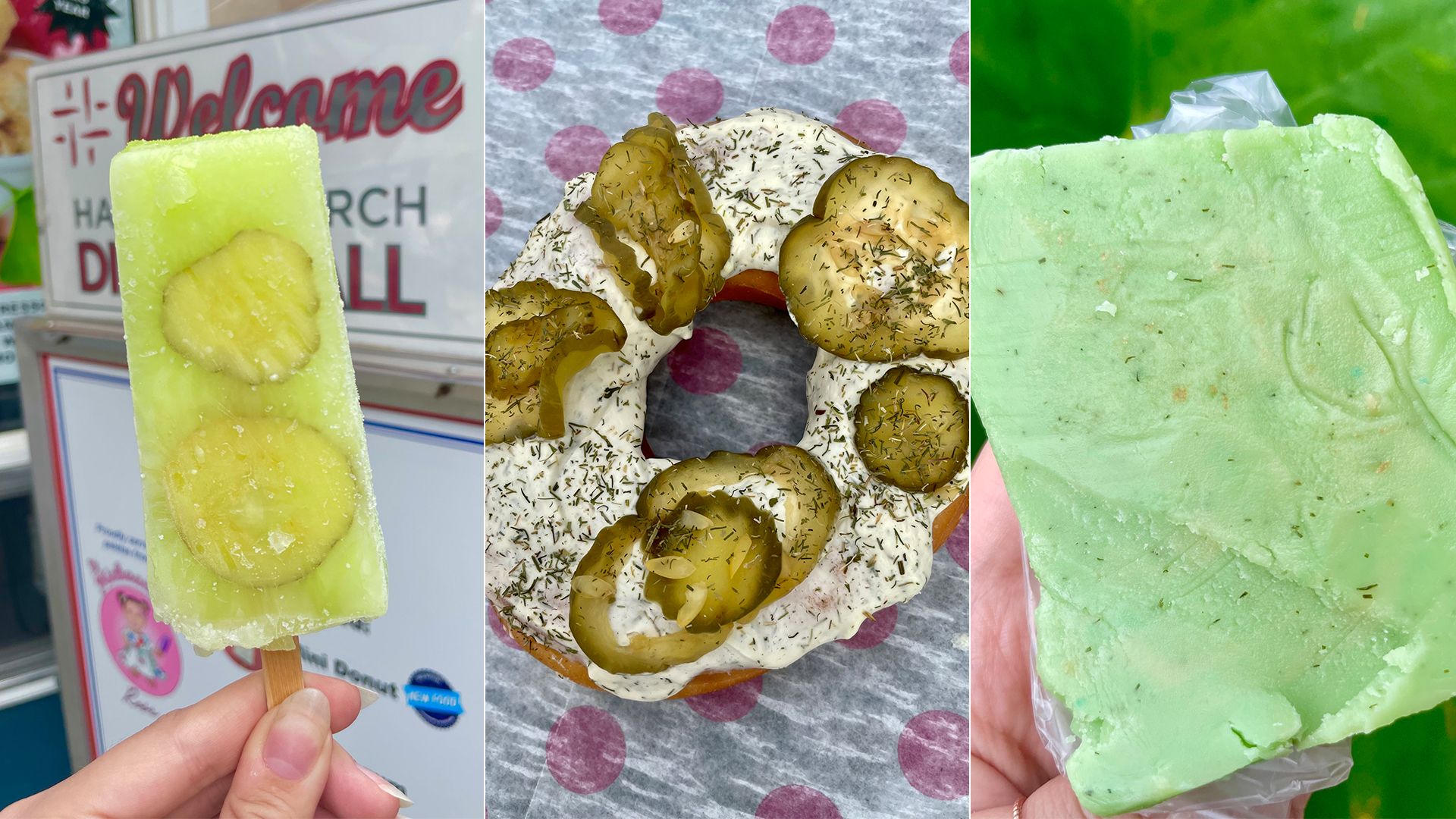 The polarizing new food trend at the 2023 Minnesota State Fair is pickles — and even as a pickle fan, I had my doubts about some items.
Fudge? Popsicles? Doughnuts?! I figured I'd try one or two things, but some of them seemed too out there.
Yes, but: When I posted on X (formerly Twitter) in July asking if I should try and rank all of them, the collective answer was a resounding yes.
In the name of journalism, I had to do it. Here are my rankings of all official new pickle-themed foods (plus one unofficial one), from best to worst.
#1. Dill Pickle Cheese Curd Tacos from Richie's Cheese Curd Tacos ($14)
No contest here — this is easily my favorite. The deep-fried tacos were crunchy, the cheese was gooey and there was just the right amount of dill flavoring and pickle slices. These could please a pickle hater.
#2. Dill Pickle Lemonade Paleta from Hamline Church Dining Hall ($6)
This was one of the foods I was dreading most, but it was an unexpected hit and a refreshing pick-me-up after trying 14 foods on a hot day. Even the pickle slices in the middle were crunchy and delicious.
#3. Pickle Fries from Mike's Hamburgers ($8)
I love fried pickles, and these were no exception. They were a little salty for my taste, but the chipotle dipping sauce helped mitigate it and it was a solid portion for the price tag.
#4. Miami Mango Pickles from Soul Bowl ($5)
These mango punch-soaked pickles were fine, but forgettable. Their sweetness reminded me of bread-and-butter pickles, not mango.
#5. Pickle Lemonade from Nordic Waffles ($6)
This drink had so much potential but failed because it wasn't mixed properly. It tasted like regular lemonade until the very bottom, where it turned into pickle juice.
#6. St. Paul Pickle Fudge from Wow Fudge ($7)
The first-time fair vendor had three types of pickle fudge; my friends and I went for the classic. Unfortunately, the thick, fudgey texture and overly sweet chocolate flavor did not mix well with dill. We threw it out after three bites.
#7. Dill Pickle Donut from Fluffy's ($8)
This was the worst fair food I had ever eaten. The donut was just bread with no sweetness, it was topped with room temperature cream cheese, and the pickles on top were soft. Decent idea, terrible execution.
Check out all our fair food reviews via our Instagram
More Twin Cities stories
No stories could be found
Get a free daily digest of the most important news in your backyard with Axios Twin Cities.