Billions in tax increases in the mix at Minnesota Legislature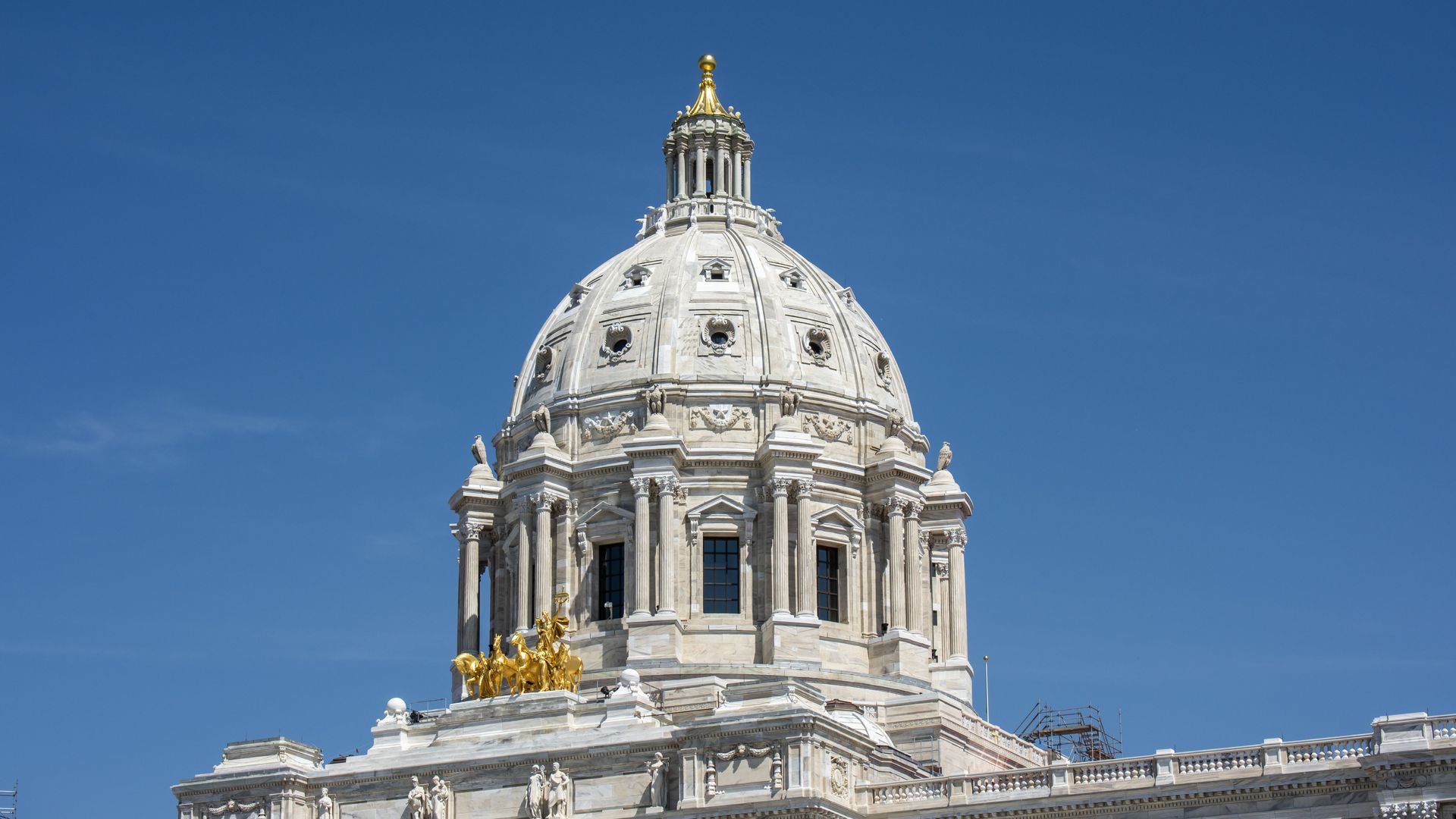 Billions of dollars in new taxes and fees are on the table at the Minnesota Legislature this year.
The big picture: As they debate how to spend a historic $17.5 billion surplus, DFL legislators are looking at increases to fund everything from state parks to paid family leave.
Proposed hikes would hit fishing permits, car tabs, local sales taxes, food deliveries and more.
Plus: Competing metro-wide sales tax measures — one from Gov. Tim Walz and another from DFL lawmakers — would use revenue for transit or housing.
And a payroll tax increase would fund a new paid family leave program.
What they're saying: Democrats argue that some increases are needed to fund long-term needs for infrastructure and services, as a chunk of the surplus isn't ongoing revenue.
"The one-time money is going to help us get ahead, [but] these types of investments are going to make a difference," Walz, who has also proposed $8 billion in targeted tax cuts for families and others in his two-year budget, told Axios in a brief interview this week.
The other side: Republicans and business groups are sounding the alarm. GOP House Minority Leader Lisa Demuth said it is "unconscionable" to consider the hikes "at a time when family budgets are already stretched thin."
Draft bills working through the House contain at least $9.5 billion in tax and fee increases over the next four years, House Republicans say.
"Democrats are going on a spending spree, and they expect Minnesota taxpayers to foot the bill," Demuth said in a statement.
Reality check: Not all the proposed increases will make the final budget. Walz acknowledged that Democrats "have to be careful" not to pass too many increases at once and said leaders still need to sort out priorities among the deluge of competing proposals.
But he thinks voters are OK paying more "if they see what they get [in return] and they feel like it's worth where they're investing."
The intrigue: Ideological divides within the DFL on some key proposals, including sales taxes and the elimination of state taxes on Social Security income, could also shape the final package.
What we're watching: A sweeping House tax bill is set to be released next week. The Senate's version should also drop soon.
Negotiations over which increases to include, or leave out, of the budget are expected to wrap up by the late May deadline for the Legislature to adjourn.
Go deeper: Here's what Walz told Axios about a number of the proposals.
Delivery fees: He's "leaving it open to listen to" a pitch to add a 75-cent fee to food deliveries, Amazon orders and rideshare payments to pay for transportation, though he noted that it wasn't in his own proposed budget.
Of note: The Senate's transportation chair stripped the proposal from a spending bill Thursday, saying he didn't have the votes to pass it at this time. But the language remains in the House version, meaning it could remain in play for final budget negotiations between legislative leaders and the governor.
Income taxes: A bill heard at the Legislature this week would raise $470 million over two years by creating a new, 10.85% tax rate for income above $1 million for married joint filers.
Walz said he's "made it clear" that he's "not going to do anything" to increase income taxes, but said he thinks people who make large sums off of stock sales should "pay their fair share" via higher capital gains taxes.
Local sales tax proposals: DFL lawmakers are divided on whether to approve a record number of requests to ask voters to hike sales taxes to pay for local projects.
Walz said while he thinks there's merit to the argument that more state aid to local government would preclude the need for higher sales taxes, "if I default to a position it's to defer to the local mayors" who want to put the measures on the ballot.
Rebates and Social Security: Walz said he still thinks there will be room in the budget for one-time rebate checks and to "exempt the bulk of Minnesotans" from state taxes on Social Security income.
Editor's note: This story has been updated to show the Senate transportation chair stripped the delivery fee proposal from his spending bill.
More Twin Cities stories
No stories could be found
Get a free daily digest of the most important news in your backyard with Axios Twin Cities.