What you need to know about the Silicon Valley Bank collapse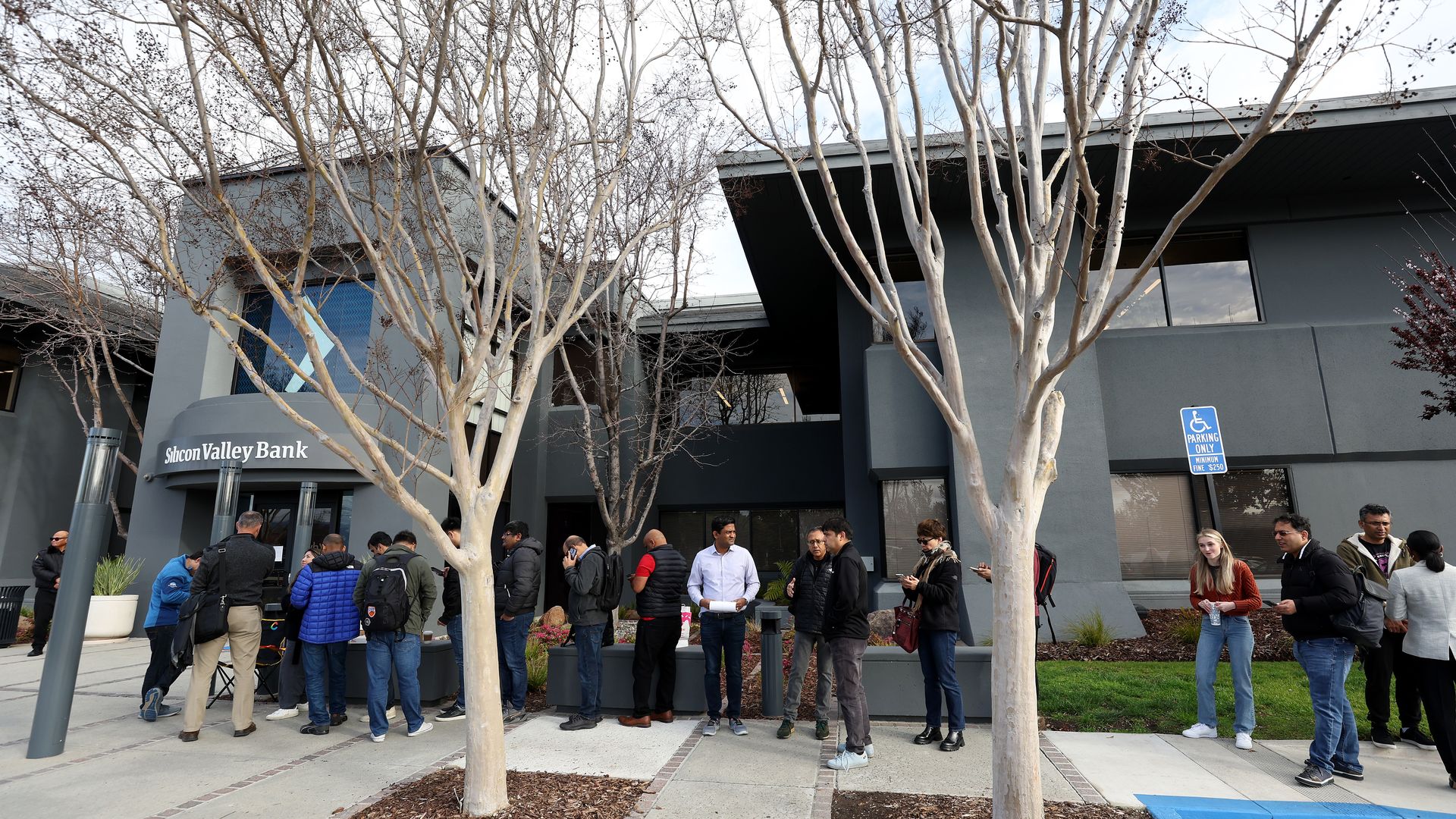 Silicon Valley Bank's collapse has had repercussions across various industries beyond tech, with affordable housing projects, wineries and more in the Bay Area all put in limbo.
Why it matters: While some assumed SVB's failure would only impact the ultra-wealthy in the tech industry, it quickly became clear that its demise had wider-reaching implications.
Zoom in: At least two San Francisco affordable housing projects were put in jeopardy amid SVB's collapse, the San Francisco Standard reports.
Mercy Housing California, for example, was supposed to secure a $52 million loan from Silicon Valley Bank for an affordable housing project near the Civic Center last Friday.
What they're saying: That project, however, "has now been delayed and we are exploring alternative financing options," Kate Peterson, a spokesperson for Mercy, told Axios via email.
Yes, but: The affordable housing organization is still confident the project will move forward, she said.
Meanwhile, California's wine industry was also scrambling, as some wineries were unsure if they would be able to pay bills or process credit card payments, the San Francisco Chronicle reports.
Within the tech industry, Sara Mauskopf, CEO and co-founder of child care marketplace Winnie, was unsure if her company would have the funds available for this week's payroll because she was unable to access them, the Wall Street Journal reports.
The latest: Over the weekend, the federal government guaranteed all deposits for Silicon Valley Bank and Signature Bank customers, enabling depositors to access their funds yesterday.
Meanwhile, the Federal Reserve unveiled a new, bottomless facility to ensure all banks can access cash on favorable terms if they see a bank run of their own.
President Biden assured Americans that "no losses will be borne by the taxpayers," explaining the money will come from the fees banks pay to the Federal Deposit Insurance Corporation.
Biden also said all of SVB's managers will be fired and that the government will not help bank investors recover their money.
The big picture: Silicon Valley Bank ran into problems not by making loans that went bad, but by piling money into ultra-safe government-backed mortgage securities issued when mortgage rates were super-low in 2021, Axios' Neil Irwin reports.
As the Fed raised rates aggressively in 2022, those securities lost value, leaving a hole in the bank's balance sheet.
Things might have eventually been fine if the bank's customers had left their deposits in place. But instead, they withdrew money in droves, especially last week, forcing the bank to reckon with the loss — and regulators to shut the bank down on Friday.
Now that the government has stepped up and offered assurance that bank deposits are safe, the immediate panic has subsided.
What to watch: Banks may still become more cautious in the loans they make and the customer deposits they accept. If that happens, the economy could further slow.
More San Francisco stories
No stories could be found
Get a free daily digest of the most important news in your backyard with Axios San Francisco.