San Antonio plans more homeless camp cleanups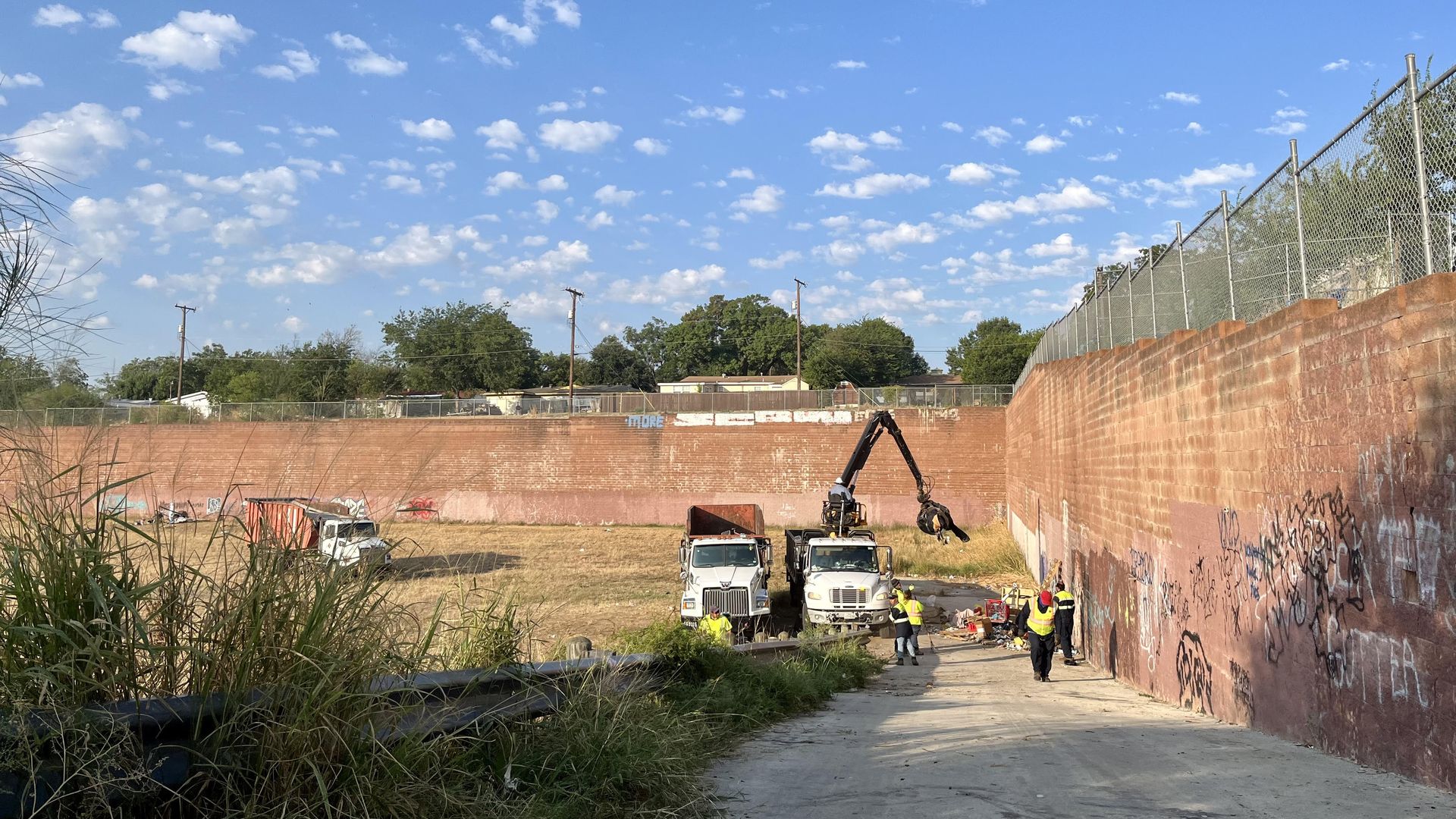 On a recent morning, cleanup crews with the city of San Antonio spread out across a large, open field surrounded by tall brick walls. Workers maneuvered dump trucks to collect piles of trash as others in white hazmat suits swept the area for dangerous materials.
They were cleaning up an encampment where people who are experiencing homelessness stay, just west of Fredericksburg Road on the Northwest Side.
Driving the news: The city is set to clean up 700 camps next fiscal year, up from 500 this year, according to the proposed city budget. Officials also plan to post a schedule of cleanups online.
"We're going to make a commitment that if you call the city on an encampment, we'll assess, do the outreach and clean up the encampment within two weeks," city manager Erik Walsh told reporters.
Why it matters: As camps are more regularly cleared out, more beds are becoming available for people exiting homelessness. But there isn't a bed for everyone, and shelters have been at capacity this summer.
The city's goal is to shelter 400 people experiencing homelessness.
How it works: Two days before the cleanup near Fredericksburg Road, Pete Barrera, outreach manager at Haven for Hope, joined other outreach workers in warning people the camp would be cleared out. They offer to connect them with shelter at campuses like Haven and other resources — standard procedure before any cleanup.
Many refuse services, Barrera says, and they have the right to do so.
He works with people for years, building connections that sometimes lead a person to seek shelter, housing or resources.
The city began encampment cleanups in 2017, per a spokesperson, and employs two encampment outreach workers. The budget could add two more.
Reality check: After a camp is cleaned out, people often return quickly — sometimes within the hour, Barrera says.
After last week's cleanup off Fredericksburg Road, a group of people gathered outside a store about a block away, waiting for crews to finish.
What they're saying: People can get upset before a cleanup, Barrera tells Axios. But he sees it as a chance to consistently connect with people and lead them toward resources.
"It's hot, people are frustrated. It can be challenging," Barrera tells Axios. "But I believe what's behind it is positive for the homeless population."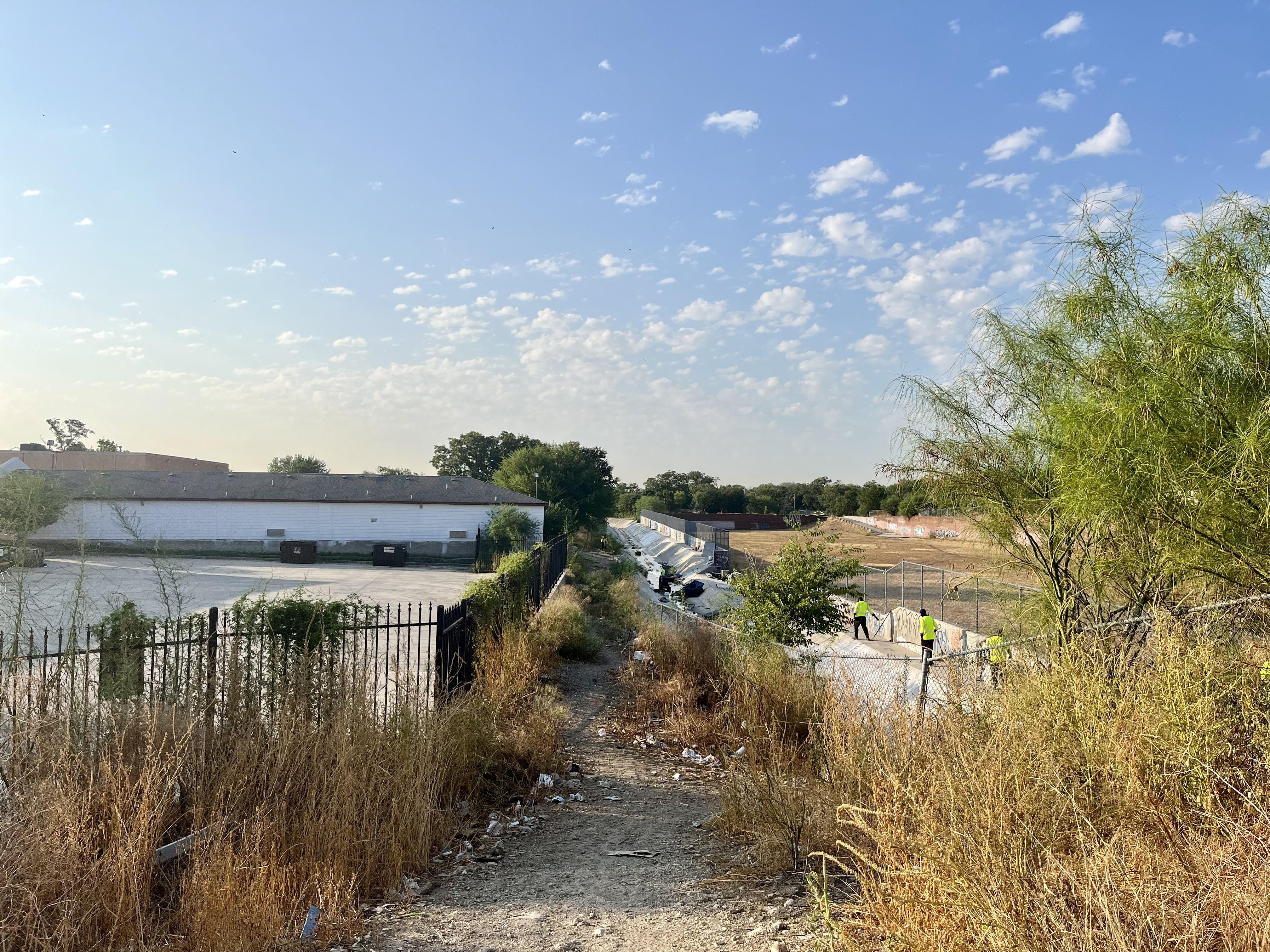 By the numbers: The proposed budget includes $1.4 million to address homelessness. That includes $738,000 for additional cleanups that will add two positions to the city's Department of Human Services and boost funding for the Solid Waste Management Department.
Each encampment cleanup costs anywhere from $3,900 to $4,900, per a spokesperson.
State of play: More than 3,100 people were experiencing homelessness in Bexar County, per the region's 2023 point-in-time count released in May, up 5% from 2022. Of those, 874 were unsheltered.
A camp can be as small as two to three people or as large as 50 people, Barrera says.
Context: Haven for Hope has capacity for around 1,700 people and has been operating over capacity this summer, spokesperson Terri Behling tells Axios.
Zoom in: Towne Twin Village welcomed its first residents this spring. It's San Antonio's first instance of housing in a single location with on-site support services meant for people exiting long-term homelessness.
The goal is to help relieve the need for more cleanups, Edward Gonzales, executive director of Housing First Community Coalition, the nonprofit behind Towne Twin, tells Axios.
Towne Twin currently has 43 residents. Gonzales expects to have 130 people on campus next summer.
"Every person who comes to Towne Twin Village is coming from the street," Gonzales says.
The bottom line: Cleanups can help people access information and keep sites clean. But camps aren't likely to disappear anytime soon.
More San Antonio stories
No stories could be found
Get a free daily digest of the most important news in your backyard with Axios San Antonio.