Springtime means more snake sightings in Texas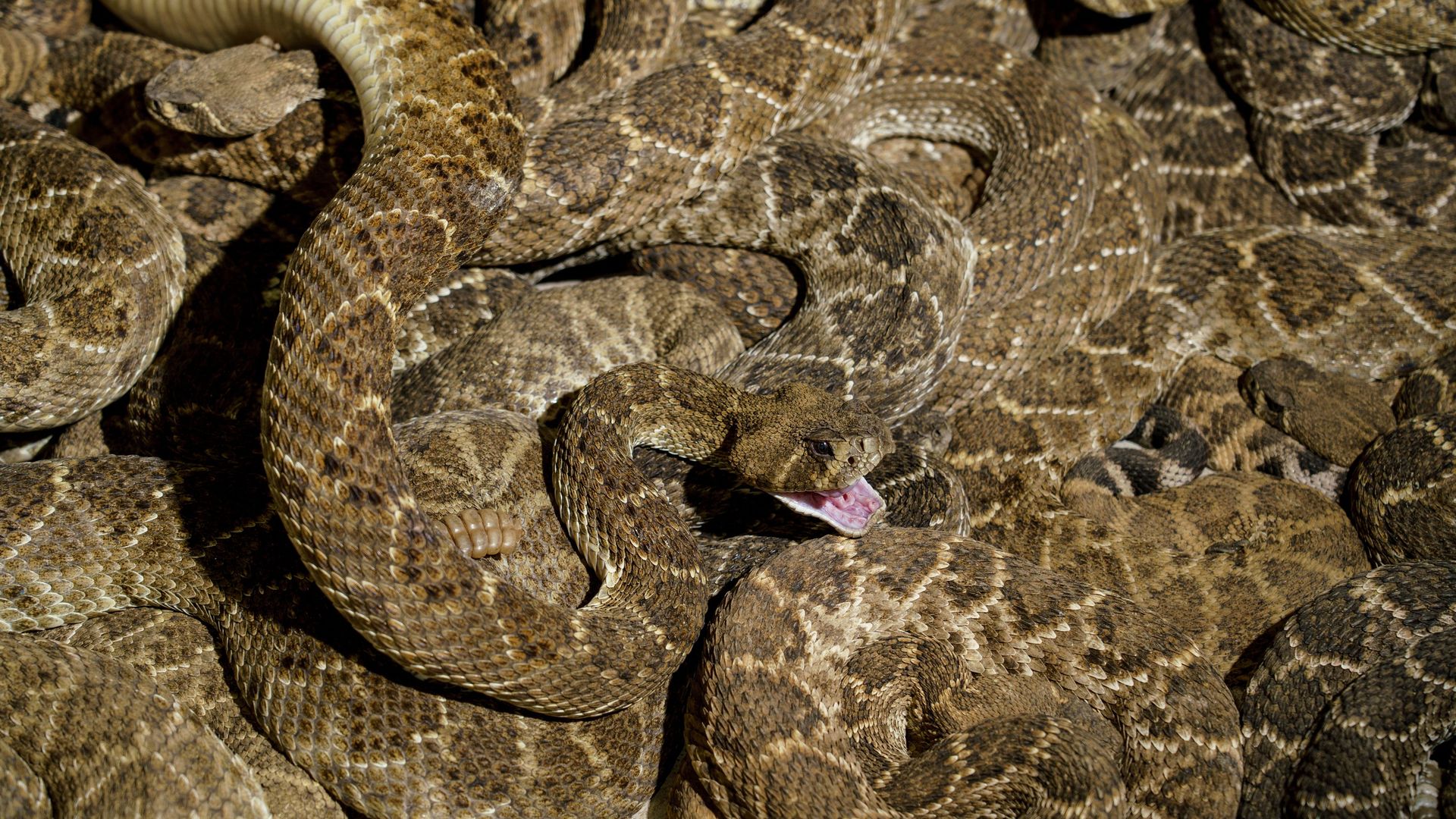 It's springtime, which means there's a higher chance of spotting a snake slithering around Central Texas.
Why it matters: About 7,000-8,000 people in the U.S. are bitten by a venomous snake each year, resulting in about five deaths, per the Centers for Disease Control and Prevention.
Yes, but: While Texas is home to 105 species and subspecies of snakes, only 15 are potentially dangerous to humans.
Threat level: Lerrin Johnson, Texas Parks and Wildlife spokesperson, tells Axios that people are seldom harmed by snakes.
Between the lines: Snakes, which are cold-blooded, do not tolerate extreme temperatures well and are most active when seeking prey. Snake sightings are more common in the spring as flowers, which sustain rodents, flourish, Johnson says.
Zoom in: Brett Parker, owner of Hill Country Snake Removal, tells Axios the four venomous species that could be found in San Antonio are the western diamondback rattlesnake, broad-banded copperhead, Texas coral snake and cottonmouth, also known as water moccasin.
What they're saying: Parker, who is based in Canyon Lake, says most of his calls are for New Braunfels, but even people in urban parts of San Antonio can "absolutely" see snakes.
"They can make their way into the middle of neighborhoods sometimes," Parker adds.
A residential area near a greenbelt or a microhabitat of wildlife could be snake habitat.
Be smart: Parker advises against approaching snakes if you can't identify the species, and avoid walking barefoot outside. He also says it's important to teach kids early on about snakes.
Keeping grass cut short and clear of rock piles is also a safe practice for reducing snake encounters.
Johnson says having a plan similar to a fire drill for snake emergencies, such as knowing which hospitals treat snake bite victims, is also a good idea.
Since snakes are most active when seeking prey, Johnson suggests identifying what's attracting rodents to your property, if you're seeing more of the reptiles.
If you get bit: Call 911, try to stay calm, remove any tight jewelry before swelling begins, and keep the bite lower than your heart, the U.S. Forest Service advises.
More San Antonio stories
No stories could be found
Get a free daily digest of the most important news in your backyard with Axios San Antonio.