SAWS: St. Mary's Strip sewer issues shouldn't have been a surprise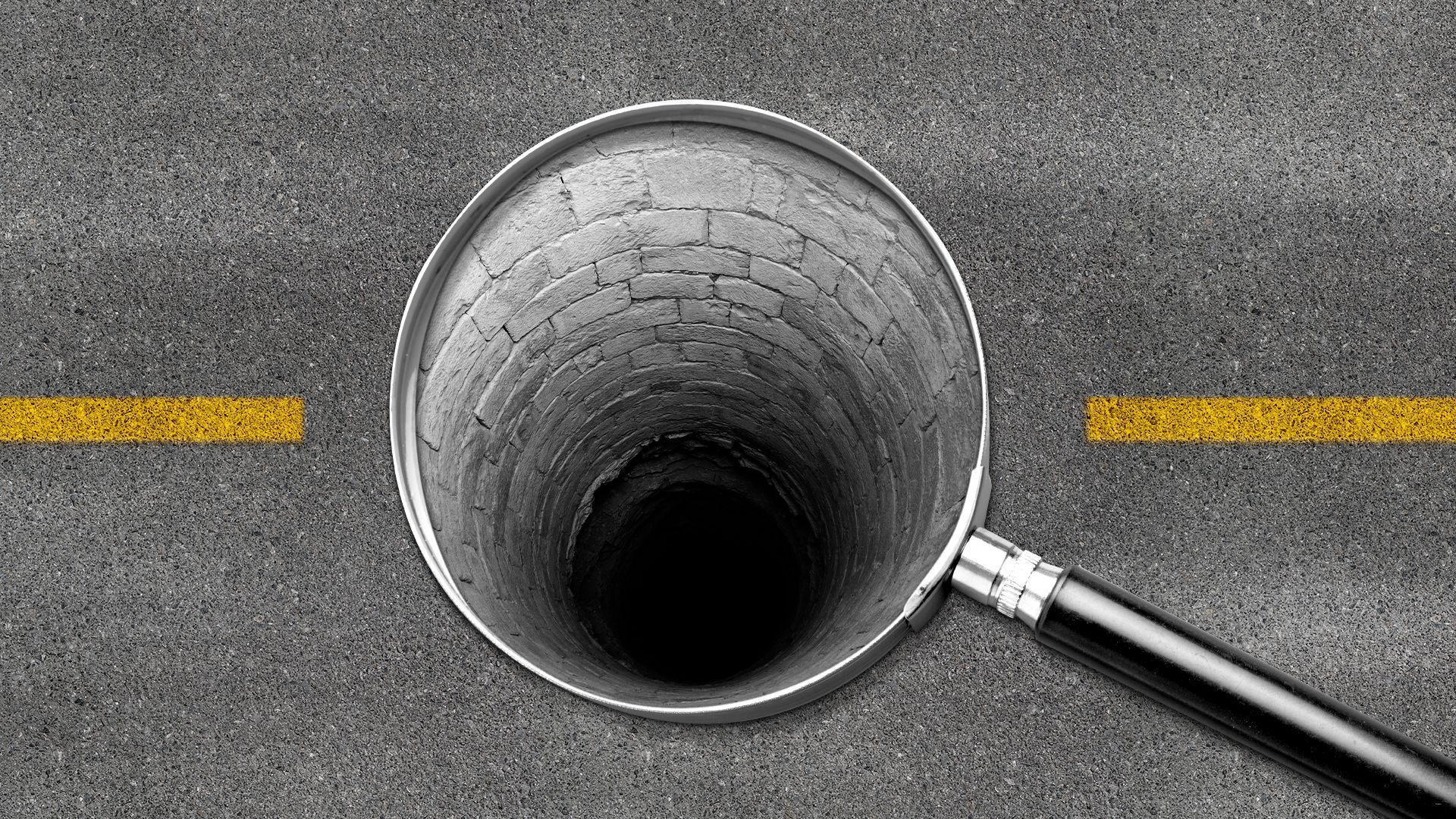 The prolonged project to remake St. Mary's Strip shouldn't have taken as long as it has, and the contractor in charge should have planned for more complicated work, water utility leaders tell Axios.
The general contractor, SpawGlass, had information up front showing a deep sewer line that should have indicated a more difficult replacement and repair of the line, San Antonio Water System leaders say.
That contradicts city officials' prior comments that utility problems were "unforeseen."
Driving the news: North St. Mary's Street construction — which includes road repaving, wider sidewalks, more pedestrian lighting and landscaping — has dragged on at least six months longer than city officials first forecast. The street will be open to two-way traffic by April and finished by summer.
Why it matters: Business owners along the popular commercial strip have felt the burden of the delays, and said would-be customers have stayed away.
Zoom in: Complications with the sewer line and surrounding soil caused most of the delay to North St. Mary's Street construction, accounting for 108 of the 190 days added to the project, per city officials.
What they're saying: "When they bid the work, they knew all about our infrastructure," Robert Puente, SAWS president, tells Axios.
"There was nothing that should have caught them by surprise," Andrea Beymer, SAWS senior vice president of engineering and construction, tells Axios.
"We did not agree with the 100 days," Beymer says. "Did they need some additional days? Yes, but not 100 days."
Risks arise during construction — such as poor soil quality — but contractors should expect some setbacks and plan accordingly based on information available to them, Beymer says.
The other side: A representative with SpawGlass declined an interview request, referring questions to city officials.
Details: The SAWS sewer line is older and farther underground than those in newer areas of the city. Combined with poor soil quality, that led to large and dangerous trenches, triggering road closures.
"All that's part of construction," assistant city manager Rod Sanchez told Axios previously. "They encountered things that they weren't expecting."
But details about the depth of the sewer line and its poor condition were included in documents available to SpawGlass and other contractors when they bid on the work, Puente and Beymer said. SAWS shared the bid documents with Axios.
Yes, but: City officials declined an interview request for this story, but responded to written questions.
The contractor is required to read the conditions of a project to prepare their bid, Razi Hosseini, Public Works director, said in an email.
"All contractors should be prepared for relatively routine issues to arise during the construction of a project," Hosseini's email said. "However, there are circumstances in which issues only become evident upon the start of a project."
"In this case, the condition of the soil around the sewer line was unknown until the work began," Hosseini said.
SpawGlass needed all the extensions it received for sewer work, Hosseini said.
More difficulties: Other sewer problems contributed to delays. In May 2022, around 6,000 gallons of sewage leaked onto the strip, Beymer tells Axios.
The subcontractor overseeing the sewer project, Cruz Tec, was removed from handling the type of work that led to the leak, a SAWS spokesperson tells Axios.
Cruz Tec failed to properly assemble piping, leading to the spill, according to an email SAWS officials shared with Axios.
Raw sewage water saturated the area for 30 minutes, per the email.
Andres Cruz, owner of Cruz Tec, tells Axios he takes responsibility for the leak. But he still believes they were the right company for the job. "We do this kind of work every day, and have projects bigger than St. Mary's," Cruz tells Axios.
Another leak in November 2022, which did not involve Cruz Tec, occurred after a sewer bypass line was damaged during asphalt work, per the SAWS spokesperson.
The bottom line: Multiple issues hammered the North St. Mary's Street project, but early information suggested sewer work would be difficult.
"We feel the risks were the contractor's to take," Puente tells Axios.
More San Antonio stories
No stories could be found
Get a free daily digest of the most important news in your backyard with Axios San Antonio.