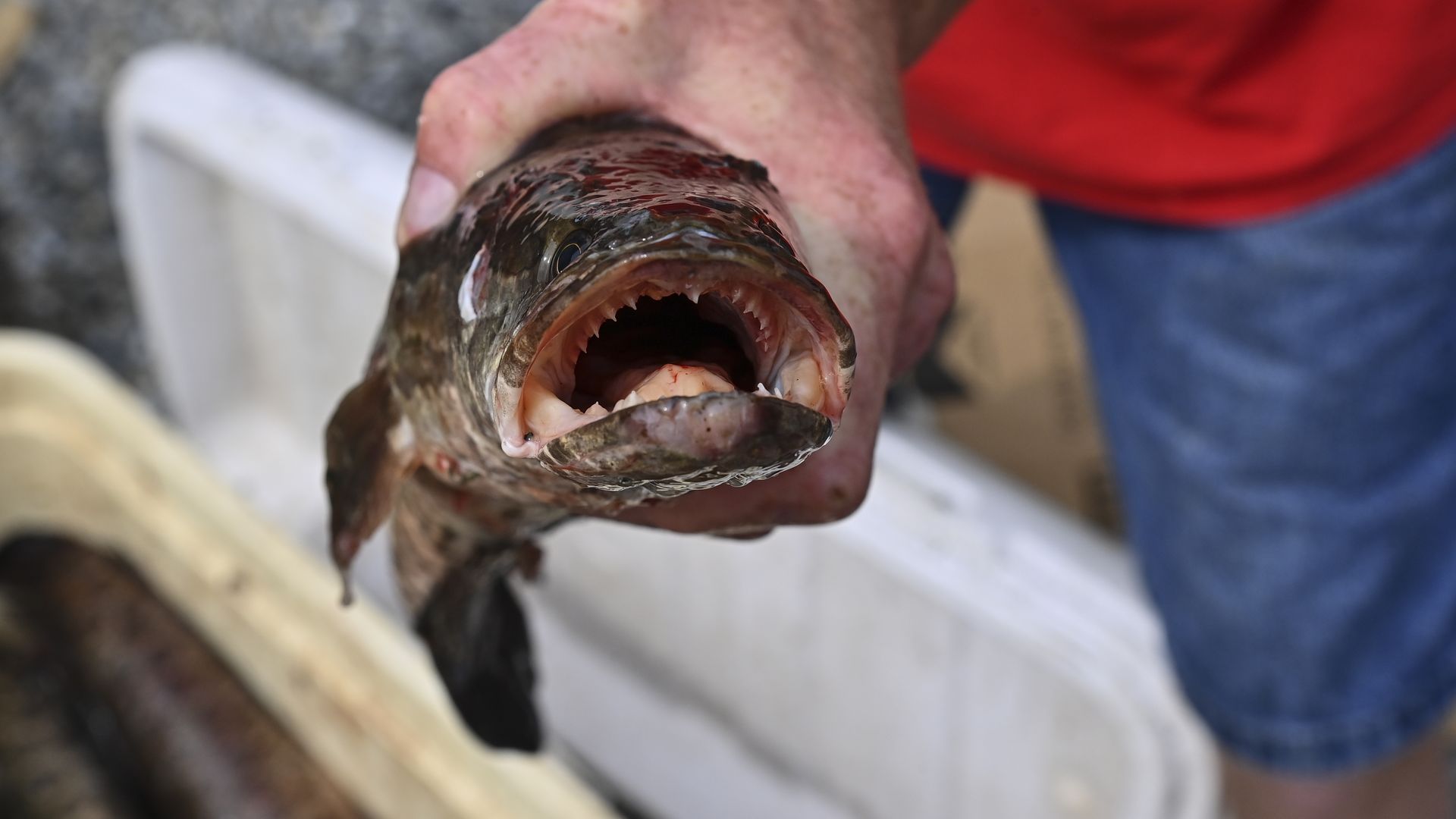 A fish with teeth that can breathe air, live up to three days outside of water, move short distances on land and grow 3 feet long has been found in Louisiana.
Driving the news: The Northern Snakehead has been causing trouble in states including Arkansas, Maryland and Virginia for years — and last month a fisherman spotted Louisiana's first on the Mississippi River in Concordia Parish.
Concordia Parish is about 200 miles upriver from New Orleans.
Why it matters: The snakehead is a predatory fish that can compete with native fish for food — and can also prey on native fish.
Context: For years Louisiana has had false reports of snakeheads that turn out to be a similar-looking native Bowfin.
"When this [fisherman's video] came in my email as snakehead, I was hoping it was another Bowfin," Rob Bourgeois, the aquatic invasive species coordinator for the Louisiana Department of Wildlife and Fisheries, tells Axios.
But it turned out to indeed be two snakeheads guarding their school of babies.
"I did kind of expect them to show up sooner or later," he says, since they were first found in Mississippi River drainage water in Arkansas nearly 15 years ago.
Be smart: Because they can breathe air, snakeheads (sometimes called a "Frankenfish") have an advantage over other fish. They can survive in more "marginal" habitats up in the weeds with hotter water and less oxygen, he said.
Reality check: Bourgeois says they haven't had any other reported sightings, and it's "too early" to tell how the invasive fish will affect Louisiana waters compared to other states.
It's tough to predict since "this is a different system. We're warmer ... you don't really know until it happens."
Details: Snakeheads are from Asia and were brought to the U.S. as part of the aquarium trade and aquaculture. "They're considered to be good table fare," Bourgeois says. "The biologist up in Arkansas said he prefers them to catfish."
Threat level: Maryland Gov. Wes Moore has asked for federal disaster assistance with an "emerging crisis" of invasive fish species — including snakeheads — that are affecting its native populations. That state has dealt with them for more than 20 years, and they've become a popular sporting fish.
Missouri recently spotted its second snakehead.
The big picture: Louisiana officials rely on citizen fisherman as a "force multiplier" to report sightings of invasive species.
"There are more people in the public out there fishing and enjoying the outdoors than there are Wildlife and Fisheries biologists," Bourgeios says.
What to do: If you see a snakehead, kill it. Don't release it, Bourgeois says. And then send it to him.
What's next: During its fall samplings, the state plans to pay particular attention to habitats snakeheads might like — and to the area where the fisherman found them.
More New Orleans stories
No stories could be found
Get a free daily digest of the most important news in your backyard with Axios New Orleans.