Yes, allergy season is worse in New Orleans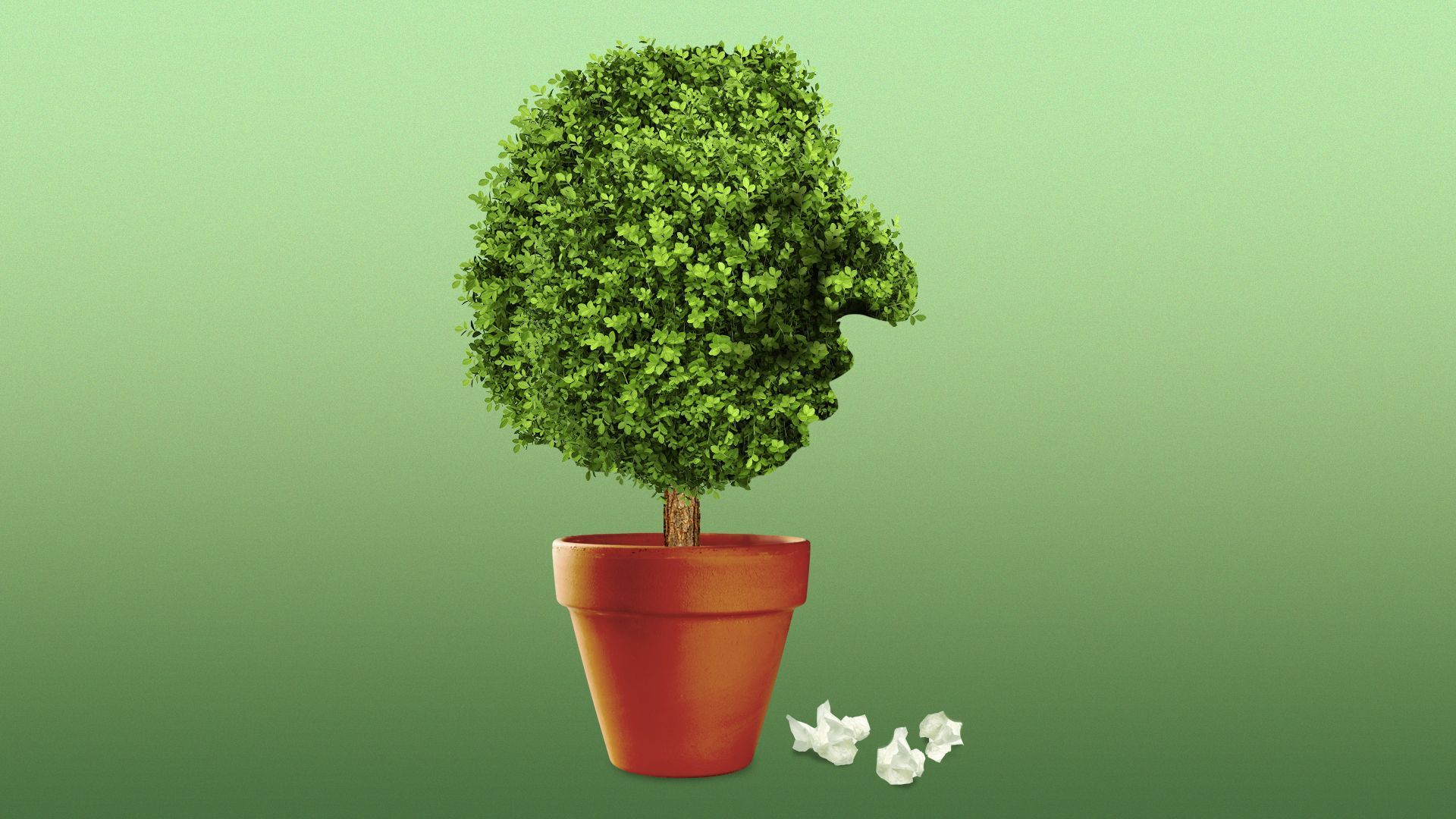 Congrats, y'all. We survived the intense yellow tree pollen season this year, but don't put away your antihistamines yet.
Why it matters: We're blessed with a tropical climate where plants flourish all year. Flip side — we have year-round triggers if you have allergies.
Allergy symptoms vary by person, but they can include a runny nose, a stuffy nose, coughing, sneezing, watery eyes and nasal congestion.
Driving the news: New Orleans is considered one of the allergy capitals of the U.S., according to the Asthma and Allergy Foundation of America.
New Orleans was No. 22 on this year's ranking of 100 metro areas.
Baton Rouge was 30.
What's happening: New Orleans has four main allergy irritants, according to Anna Timmerman, an LSU AgCenter associate extension agent for New Orleans:
Tree pollen: Usually starts in February and is mainly over this year with the exception of a few stragglers. Tree pollen is what coats vehicles and exterior surfaces in the spring. Common offenders are live oak, pine, pecan, tallow, elm and cedar trees.
Ragweed pollen: Usually starts in early April but got a headstart this year and is currently causing the most problems, she said. Giant ragweed will continue blooming through October or November.
Mold: Mold spores love damp, humid environments, such as decaying plant matter. They thrive during our summer weather pattern — hot with daily showers — and are commonly found in homes and HVAC systems.
Grass pollen: Usually April through September, but it isn't as big of a problem as other irritants, Timmerman said. The most common allergy-causing grasses include bahia, bermuda, fescue, Johnson and rye, according to the Asthma and Allergy Foundation.
Zoom in: Ligustrum is an ornamental shrub that is widely used in New Orleans and causes allergy problems for some people. Its peak bloom was about a month ago, Timmerman tells Axios.
Magnolias, jasmine, gardenias and other blooming ornamentals usually don't bother people, she said, because they don't produce a lot of pollen.
The big picture: About a quarter of U.S. adults suffer from seasonal allergies, according to data from the Centers for Disease Control and Prevention, but certain parts of the country have historically had worse allergy seasons, Axios' Arielle Dreher reports.
The Midwest, East Coast and parts of Texas boast many "allergy capital" cities where pollen presence, allergy medication use and the number of allergy specialists is highest, per a 2023 Allergy and Asthma Foundation report.
In 2023, Dallas and Wichita, Kansas, led the list.
Seven Florida cities are ranked in the top 20 on the "allergy capital" list. No cities west of Texas were considered "allergy capitals."
Yes, but: That could start to shift with climate change, especially in typically cooler areas where the temperature now dips below freezing fewer days during the winter.
One analysis that has not yet been peer-reviewed from Climate Central, a climate science research group, found the number of freeze-free days is increasing nationwide. In the western U.S., the freeze-free season has lengthened by 27 days since 1970, the most of any region, the analysis found.
With fewer freezing days, plants have a longer season to grow and pollinate, lengthening pollen and allergy seasons.
"We do expect that areas that haven't previously had substantial pollen seasons will potentially start to experience pollen seasons," William Anderegg, director of the Wilkes Center for Climate Science and Policy at the University of Utah, told Axios. "As seasons get longer, climate change is moving some plants northward."
More New Orleans stories
No stories could be found
Get a free daily digest of the most important news in your backyard with Axios New Orleans.