More Indiana laws headed to court this year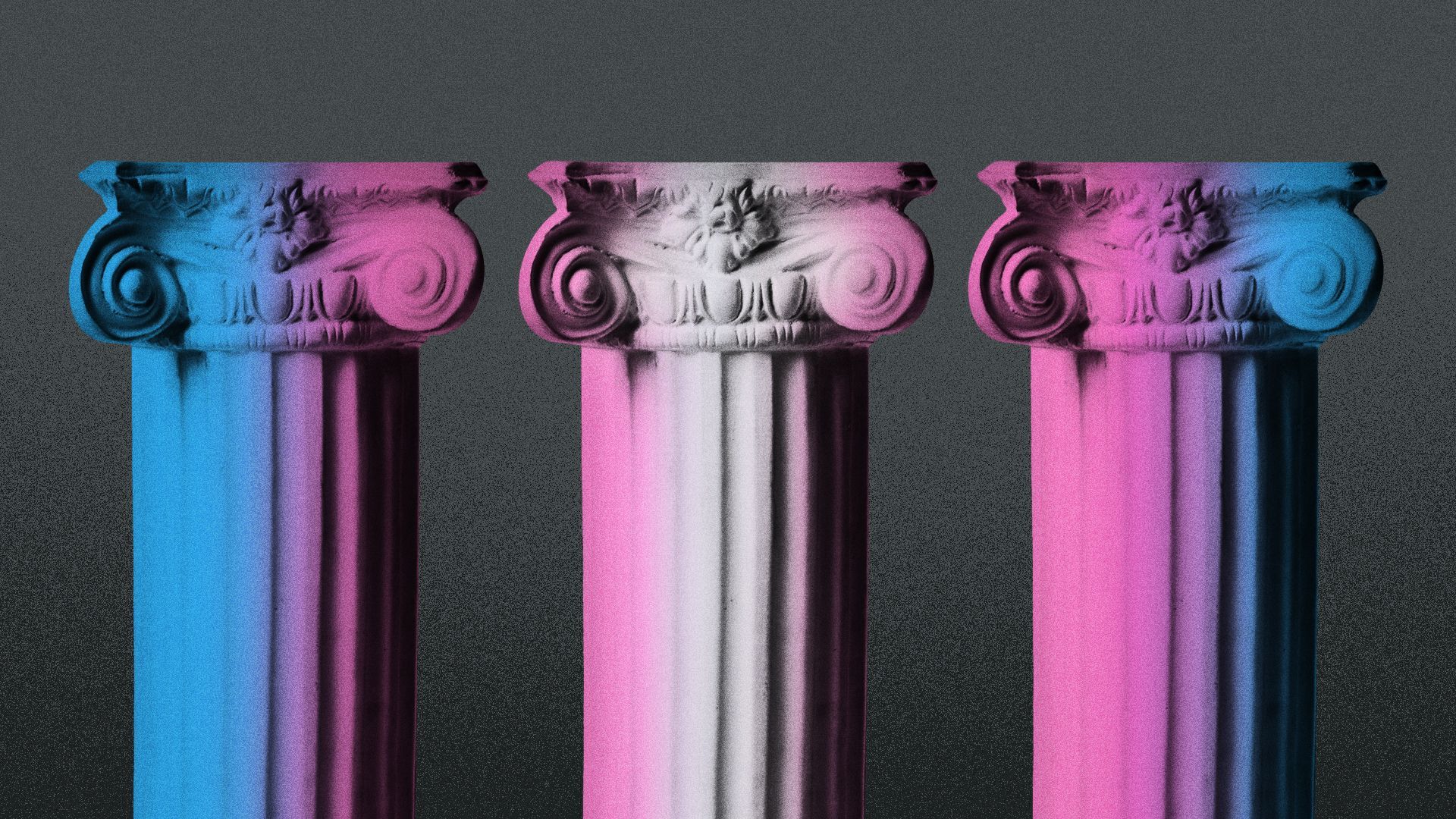 At least five laws passed during the 2023 legislative session are being challenged in court.
Driving the news: The ACLU of Indiana recently filed another two lawsuits questioning the constitutionality of new laws passed by the Indiana General Assembly this year.
Last week, the ACLU filed a case in federal court against the Indiana Bureau of Motor Vehicles over a law allowing some noncitizens in the country on humanitarian parole to receive driver's licenses — but not all.
And earlier this week the ACLU filed a lawsuit against the Indiana Department of Corrections over a law prohibiting the agency from using state resources for or funding gender-affirming surgery for inmates.
Why it matters: State policy battles that get settled in the courtroom are costly and threaten to undermine confidence in the legislative process.
The big picture: In addition to these lawsuits, the ACLU is challenging laws that restrict gender-affirming health care for minors, ban the discussion of human sexuality in elementary schools, and prohibit people from getting within 25 feet of a law enforcement officer after the officer has ordered someone to stop.
Plus: The ACLU still has lawsuits pending over legislation passed in 2022 that restricts the rights of transgender girls to play girls sports in K-12 schools and bans nearly all abortions.
What's happening: Katie Blair, ACLU of Indiana director of advocacy and public policy, said the high number of legal challenges this year isn't stemming from a change in policy on the nonprofit's part.
Instead, Blair said lawmakers have become emboldened to pass more controversial legislation as some members of the Republican supermajority move further to the right and model legislation from other states.
"We're always going to go after unconstitutional legislation," she said.
Zoom out: Four of the laws challenged by the ACLU in the past 18 months are part of a wave of anti-LGBTQ legislation that swept the nation.
Advocates say the laws are part of an agenda targeting transgender Americans, rather than solutions to problems that actually exist in Indiana.
Between the lines: Blair said no one should be surprised by the lawsuits.
Multiple times throughout the legislative session, representatives from the ACLU told lawmakers they were concerned about the constitutionality of bills being passed.
"Unfortunately, sometimes real people have to have their rights violated in order for us to go to court," she said.
In response to last year's lawsuit over the transgender sports ban, Senate President Pro Tempore Rodric Bray, R-Martinsville, said lawmakers don't like to get the state sued but "it happens from time to time."
Zoom in: The federal lawsuit filed against the BMV last week involves House Bill 1050, a 62-page "various motor vehicle matters" bill that created an avenue for Ukrainian citizens in the state on humanitarian parole to obtain a driver's license.
Yes, but: State lawmakers did not extend this provision to those in Indiana on humanitarian parole from other countries.
How it works: Humanitarian parole is a status granted to some noncitizens that allows them to enter and remain in the United States during the duration of their parole.
It is granted for a variety of reasons, including for humanitarian crises or other circumstances affecting significant numbers of persons in their countries of origin.
People from Afghanistan, Venezuela, Cuba, Haiti and Nicaragua have received this status due to humanitarian crises in those countries.
Following Russia's invasion of Ukraine last year, the U.S. began allowing Ukrainians to apply to the program.
Details: The ACLU is suing on behalf of five people from Haiti — four adults and a child — and has petitioned to make the case a class action, on behalf of all similarly situated individuals.
The adults all have jobs but rely on friends, relatives and coworkers to get to and from work.
What they're saying: "The ability to drive is, of course, of fundamental importance in American society, particularly in cities and towns in Indiana where services are frequently dispersed and where public transportation is not ubiquitous," the complaint states.
The case requests the court to allow individuals on humanitarian parole from countries other than Ukraine to obtain driver's licenses and identification cards and to register and title vehicles, on the same terms as those from Ukraine.
Meanwhile, the lawsuit filed this week was brought on behalf of Autumn Cordellioné, a transgender woman sentenced in 2002 to 55 years in prison for murder, according to state records.
According to the complaint, Cordellioné was diagnosed with gender dysphoria and prescribed a female hormone and testosterone blocker in 2020.
But Cordellioné continues to experience serious depression and anxiety, so she was placed on a list within the IDOC to be evaluated for gender-affirming surgery before House Enrolled Act 1569 was passed, according to the complaint.
Inmates at state facilities had previously been able to undergo the transition procedure, though none had done so.
The other side: Republican lawmakers who supported the bill said they wanted to save taxpayers from paying for an "unnecessary" procedure.
More Indianapolis stories
No stories could be found
Get a free daily digest of the most important news in your backyard with Axios Indianapolis.