Lamp competition gets ugly at Indiana State Fair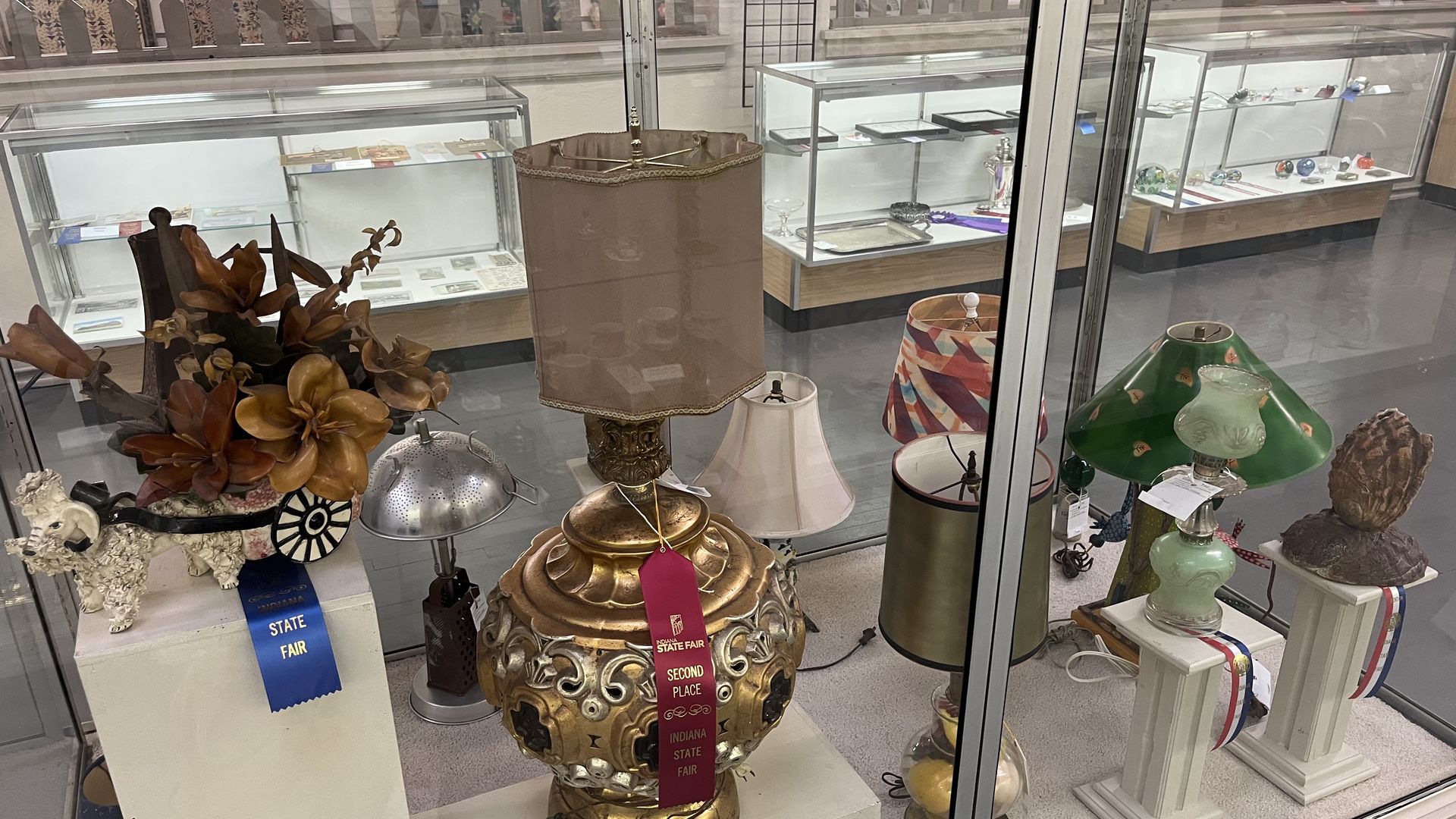 One entry was described as "functional, if disproportionate" and casting "a bilious tint" — and that's only an honorable mention winner in the Indiana State Fair's ugly lamp contest.
Details: For at least the last two decades, Hoosiers have competed to own the state's ugliest table lamp.
The 14 entries in this year's competition were a collection of "travesties," judge Charles H. Alexander wrote on his website.
They ranged from a plastic number filled with fake fruit and "so cheaply made" it cracked under the heat of its own bulb to a poodle with "fur rendered in 'cole slaw' pottery," pulling a cart of "dulled and muddy" flowers so large they dwarf the hardworking pup.
How it works: Competitor Libby Cierzniak scoured antique stores, Goodwills and garage sales looking for the perfect entry.
She set herself a price limit of $40, which was exactly how much her lamp cost after being marked down during a Christmas sale.
"It doesn't seem right to buy your way into the contest," she said.
What they're saying: "​​The term 'Mediterranean' is enough to stir emotion, but when one sees it epitomized in a faux-marbleized gold and silver pierced base, accented with faux blown-glass (i.e. plastic) inserts that glow avocado when lit, one is transported back in time," Alexander wrote of Cierzniak's entry.
"Mind you, not back to the days of the Conquistadors of Colonial Spain, not to the excesses of Spanish Baroque design, and not even to the horrors of the Inquisition," he said.
"Make it the waning years of the 1960s and early '70s, when taste itself had abandoned all hope."
Of note: In her first year competing, Cierzniak brought home second place.
What's next: Cierzniak said she's already on the hunt for next year's entry.
"I'm constantly on the lookout," she said. "I know bad taste. I really can spot it."
Cierzniak will be rehoming this year's monstrosity via a family white elephant Christmas gift exchange.
Hopefully no other Cierzniaks are reading this.
If you go: The Indiana State Fair runs through Sunday.
Hours are 9am-10pm Wednesday and Sunday, 9am-11pm Thursday through Saturday.
The ugly lamps are on display with the antique exhibits in the Indiana Arts Building.
More Indianapolis stories
No stories could be found
Get a free daily digest of the most important news in your backyard with Axios Indianapolis.