Shreve threatens Hogsett's streak of dominance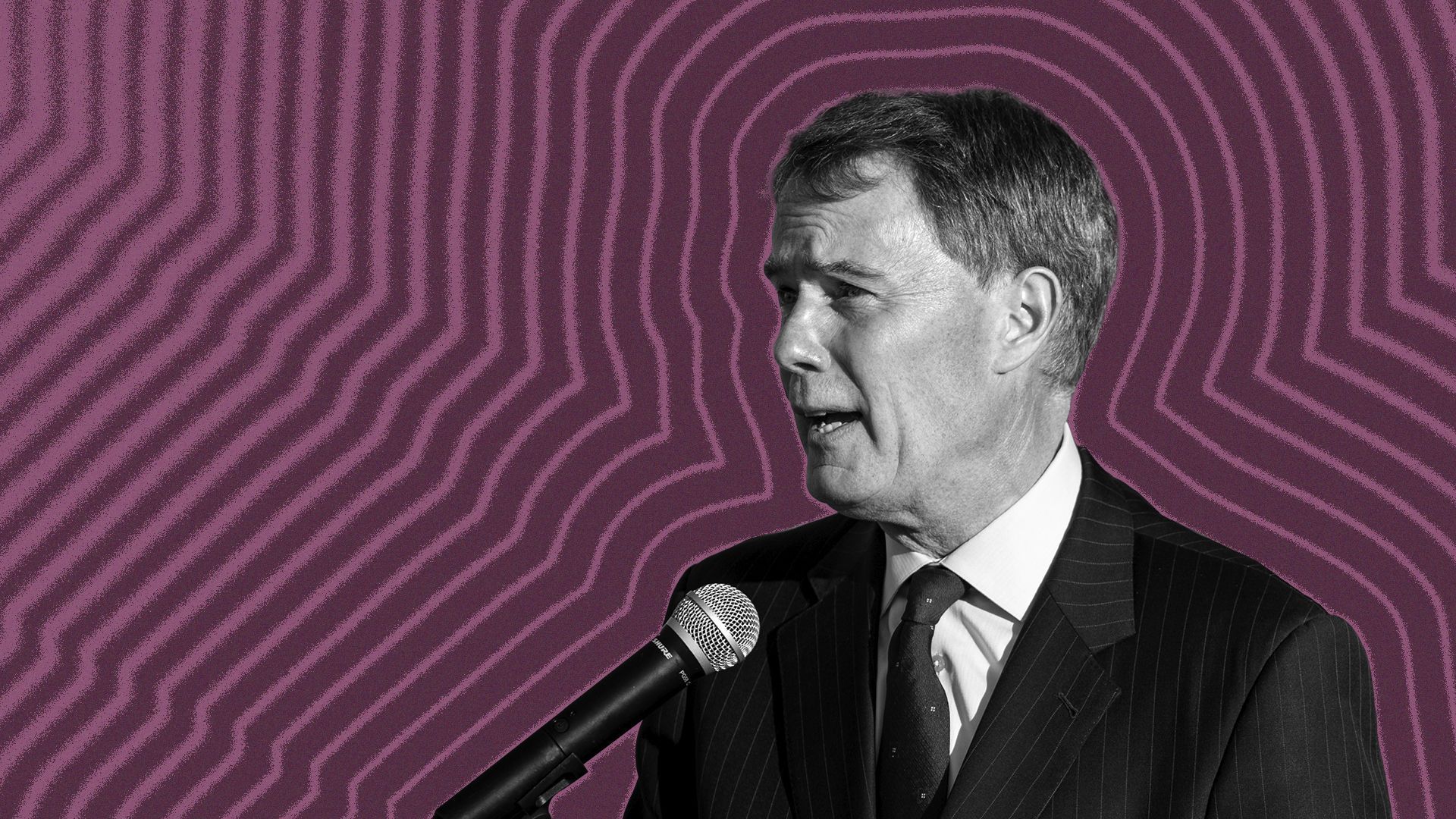 Joe Hogsett's reward for a decisive Democratic primary win on Tuesday is the chance to run against the biggest spender in Indianapolis campaign history before an electorate that gets fidgety when mayors try to overstay two terms.
Driving the news: Hogsett defeated top challenger state Rep. Robin Shackleford, 58% to 38%, according to unofficial vote totals, setting up a November showdown with Jefferson Shreve, who led Republican primary contenders with 66%.
Between the lines: Hogsett once declared his intention to walk away after two terms.
Now, Hogsett's victory forces Democrats to fall back in line behind him, or risk giving the mayor's office back to Republicans.
James' thought bubble: I've spent the past five months talking to Democrats who've attended Hogsett's campaign events and found that even public supporters feel … meh … about the mayor's decision to seek a third term.
Some acknowledge there's a lack of enthusiasm while insisting it doesn't matter, as evidenced by Hogsett's blowout win over Republican Jim Merritt four years ago.
Yes, but: Axios hit the campaign trail with Hogsett on a Saturday in April and watched the mayor make one-on-one connections with voters from Fountain Square to Oscar Charleston Park through hugs, porch visits and park cleanups.
What they're saying: "I don't think people were any more excited for him in 2019 and he still got 72% of the vote and dominated countywide, so what he's doing works pretty well, as far as I'm concerned," Nick Roberts, a Democrat running for a northeast City-County Council district, told Axios.
The big picture: Hogsett might need every ounce of energy he can muster from Democrats and independents to defeat Shreve, the most formidable opponent he's faced in three mayoral campaigns.
Meanwhile, Hogsett views the threat Shreve poses to his re-election bid as a uniting force for Democrats.
"I think (Democrats are) maybe even more enthusiastic now than they were three months ago because, in the course of 30 seconds, (Shreve) can write a check that makes this a much more competitive race than it would otherwise be," Hogsett told me during the run-up to Election Day.
Yet, Hogsett concedes, "I do not anticipate that I'll get 72% of the vote" against Shreve.
The other side: Shreve is not following the oft-tread playbook of cosplaying as an everyman, but rather citing his wealth — "I don't need good seats to the Colts game … I can get that stuff and I've got a nice car," he told Axios before Election Day — to present his candidacy as a duty.
"I'm doing it because I care, because I give a damn, and I can do better," he said.
The bottom line: A third term is "definitely a different election," Hogsett said, and Shreve is a different kind of Republican opponent.
Indianapolis is heading toward its most interesting mayoral election since 2007.
More Indianapolis stories
No stories could be found
Get a free daily digest of the most important news in your backyard with Axios Indianapolis.