Carmel candidates preach to satisfied voters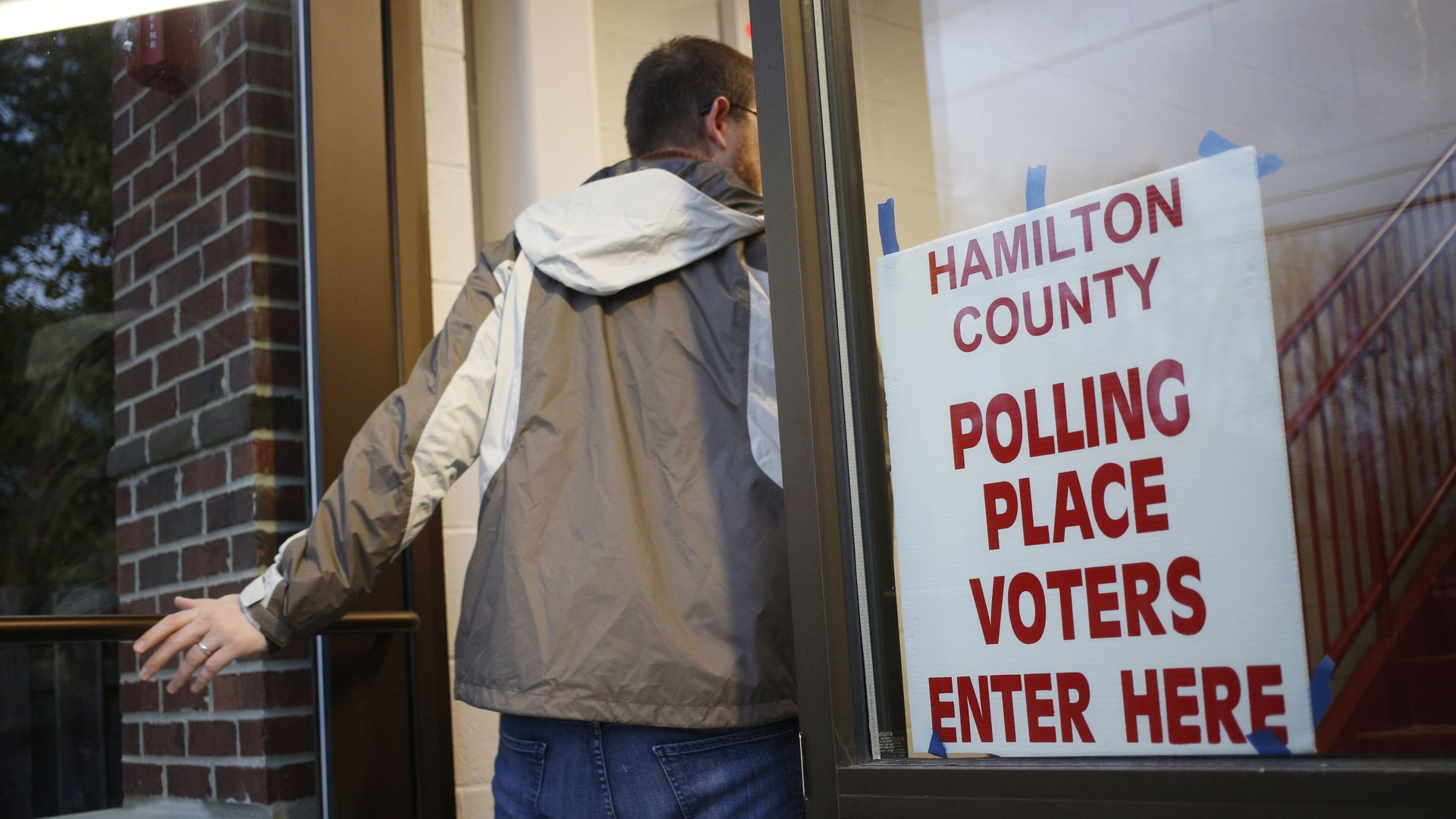 Carmel is already one of Indiana's wealthiest, best-educated cities, offering schools with high test scores and more parks than the average person can visit in a year.
Driving the news: Republicans Sue Finkam, Kevin "Woody" Rider and Fred Glynn are preaching to a prosperous electorate as they run for mayor in the Tuesday primary.
Why it matters: Change is coming, at least at the top.
Republican Mayor Jim Brainard will leave office after an astonishing seven terms, having built a European-style city of his dreams with about 140 roundabouts, public art installations and a walkable downtown.
State of play: Finkam, Rider and Glynn are facing off in a heated primary, while Democrat Miles Nelson is running unopposed and awaits the Republican winner in November.
Finkam, owner of a marketing agency, has been on the Carmel City Council since 2012.
Rider, who has owned and operated restaurants for 25 years, has been on the council since 2008.
Glynn served on the Hamilton County Council and last year lost a close Indiana House race to Democrat Victoria Garcia Wilburn.
What they're saying: "The majority of the people that live in Carmel are extremely happy with what we've done," Rider tells Axios.
"People are busy and I'm thankful we've created a community where they're largely happy," Finkam tells Axios. "I feel really proud that (residents) can feel like they're in a cocoon and it's safe and warm in there and they don't have to worry about what's next."
Between the lines: Finkam and Rider are the candidates of continuity, promising to carry on Brainard's successes, while Glynn, who did not respond to requests for comment, has campaigned on halting Carmel's debt-financed growth and promised to "stop the push for population density," per his website.
Brainard's aggressive moves over 27 years leave no room for anyone to offer a grandiose vision. "We had a big canvas when he started in 1996," Rider said. "Now we're working with a dartboard."
Here's how Finkam and Rider, the leading contenders in fundraising and endorsements, say they would lead Carmel:
Rider: He emphasized the need for more communication and transparency while returning to one word: proactive. "We're not just proactive in crime and public safety. We're proactive in everything we do," he said. "We're always looking for the next thing. What's going to be the next trend or the next improvement that will have a lasting effect?"
Also: Experience — something he says he leads in.
Finkam: She also talked about communication, including the need to survey residents and work with businesses. "I've been talking to a lot of businesses and the question I've asked has been how many times has the city reached out to you," Finkam said. "The answer has been zero. We need to do a more aggressive job of retaining and supporting businesses that are here."
Also: Sustainable growth. "We have to balance very carefully our growth against being overrun by too much traffic, too much noise, because our residents are very clear: They want to keep what keeps Carmel special," she said.
The intrigue: Finkam and Glynn told IndyStar they've heard Rider threatened city vendors with loss of government business if they support his opponents. Rider says that is "100% false."
The front-runners have split key endorsements, with Brainard and the Carmel firefighters union supporting Rider, and the police union and pre-Brainard-era Mayor Dorothy "Dottie" Hancock behind Finkam.
The bottom line: Finkam and Rider likely would follow in Brainard's footsteps if elected, while Glynn would reverse aggressive pro-growth policies.
More Indianapolis stories
No stories could be found
Get a free daily digest of the most important news in your backyard with Axios Indianapolis.