What to know about HISD changes, New Education System
Dozens of schools in Houston ISD will see drastic changes this school year after the state took over the district.
Why it matters: State-appointed superintendent Mike Miles is implementing a plan that dismantles some school libraries, emphasizes student discipline and required some teachers to reapply for their jobs.
Context: Miles mandated 28 schools to participate in what officials are calling the New Education System. An additional 57 schools opted to be NES-aligned schools and participate in a slightly tempered version of the reform program.
Most of the NES schools largely serve Black and Hispanic students, according to an Axios analysis using American Community Survey data.
The plan is to expand the system to 150 of HISD's 274 schools by 2025.
Background: In March, the Texas Education Agency announced that it was taking over HISD, ending a four-year legal battle. The agency tried to take control of the board in 2019 due to years of failing test scores at Wheatley High School in the Fifth Ward. In June, Texas education commissioner Mike Morath appointed the new superintendent and board of managers.
The agency will remain in control of HISD until the district meets several requirements, including no campus receiving a D or F state rating for multiple years, per a letter from the TEA.
Of note: For this past year's standardized test results, students across the state generally improved on tests, while HISD students saw a slight dip in reading scores.
Here's how the takeover is affecting the district:
Teachers: The teachers at the 28 NES schools — including Wheatley, Kashmere and North Forest high schools and their feeder schools — had to reapply for their roles.
Miles said that if staff members weren't reselected for their position, they'd be offered a different position within HISD.
Dozens of classes will be led by uncertified teachers as the new administration fills vacancies with full-time teachers instead of substitutes.
HISD is rolling out a "hospital model" where it aims to have teachers focused on instruction while having assistants or a support staff that will do supplementary work, like grading papers and making copies.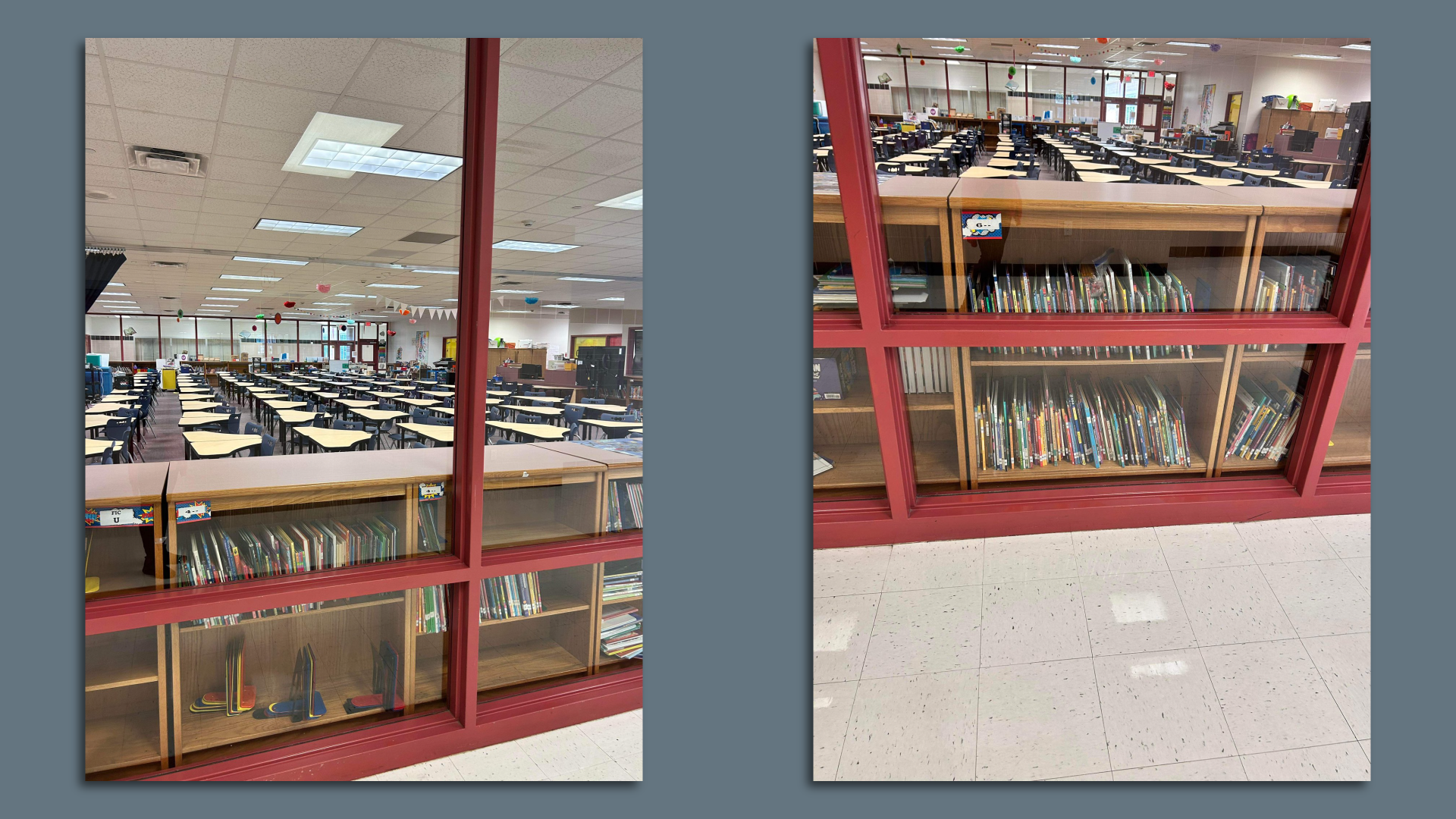 Libraries: Librarians and media specialist jobs were cut at NES schools, and the libraries are being turned into so-called "Team Centers."
Many of those school libraries, plus some at NES-aligned schools, will be transformed into spaces where students who are "struggling or disrupting" will go to watch the class virtually, the district confirmed to Axios.
Meanwhile, book checkout rates skyrocketed across HISD last school year when previous district leaders made a push to revitalize long-neglected school libraries with better staffing, new books and technology carts, per a Houston Chronicle analysis.
In the classroom: There will be a stronger focus on discipline, with cameras in each NES classroom, per Houston Public Media.
Magnet offerings such as STEM and dual language programs will be evaluated on a case-by-case basis and may be cut.
Miles is also introducing the "Dyad Program" where community members will teach students in extracurriculars, such as martial arts or piano, twice a week. He previously introduced this program at his charter school network, Third Future Schools.
The NES and NES-aligned campuses will be open for longer, from 6:30am to 5pm, and offer before- and after-school care.
Staffing: HISD cut nearly 25% of the central administration positions — eliminating 2,347 positions.
The chief academic office, which is responsible for developing and implementing curriculum, is being cut by more than half.
After over 80 positions in human resources were slashed, dozens of HR employees were asked to work extra hours and weekends and to abstain from making vacation plans, according to emails shared with the Chronicle.
Salaries: Teachers, assistant principals and principals who were hired to teach at 28 NES schools reportedly earned a $10,000 stipend.
But at the NES schools, teacher salaries now vary based on the grade and subjects they teach. Those teaching special education, English and reading will generally make several thousands of dollars more than those teaching fine arts, health and early elementary students.
Between the lines: Staff members teaching subjects not tested on standardized exams are being paid less. That includes those instructing students below the third grade, who aren't subject to standardized tests.
Plus: HISD police officers will get higher salaries and bonuses up to $2,000, the Chronicle reports.
Board: Seven of the nine members of the appointed board of managers live in affluent neighborhoods west of downtown, TEA officials told Houston Landing. This leaves many of the lower-income areas of HISD without nearby representatives.
The board, which has remained relatively silent, unanimously voted to increase the superintendent's power at the Aug. 10 board meeting. Now, Miles can spend up to $1 million without prior board approval, up from a $100,000 limit. He can also reduce the number of required meetings with union leadership over working conditions and can alter magnet programs at 85 campuses, per the Landing.
Between the lines: The board, aligning with Miles instead of the hundred-plus community members present at the read-in, indicated their intent to aid Miles' district overhaul by minimizing obstacles.
Special education: HISD has removed 21 independent contractors who were expected to provide special education services this year. The eliminated positions include licensed school psychologists and diagnosticians who evaluate and support students with special education needs, per the Chronicle.
A district spokesperson told the Chronicle that HISD "currently has an adequate number of district-employed diagnosticians."
Miles reportedly prefers hiring "dedicated, full-time employees," and the spokesperson said HISD is still recruiting and hiring special education teachers.
Of note: The special education department at HISD has had "significant systemic compliance problems" and has failed to properly support its students, Morath said in the statement announcing the takeover.
More Houston stories
No stories could be found
Get a free daily digest of the most important news in your backyard with Axios Houston.