Over 100 rally against dismantling HISD libraries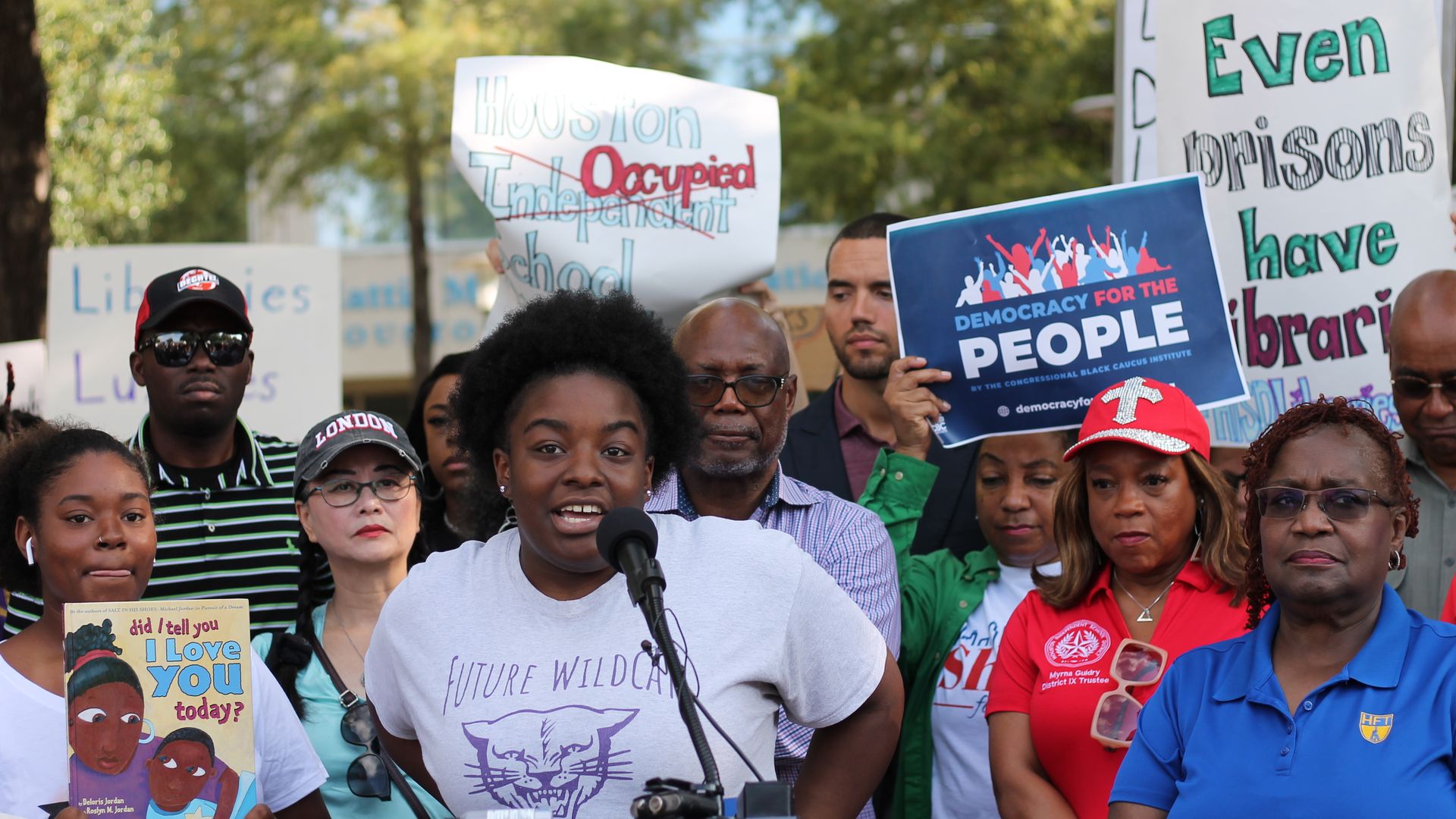 More than 100 people protested Saturday morning in front of Houston ISD headquarters against Superintendent Mike Miles' plan to convert dozens of school libraries into so-called Team Centers.
Context: The state's takeover of the district and many of the new state-appointed superintendent's plans have seen opposition from community members, but the plan to convert some libraries into discipline areas has been one of the more controversial decisions, drawing criticism from Mayor Sylvester Turner and other elected officials.
Catch up quick: The new district administration plans to eliminate librarians and media specialists at the 28 schools under Miles' New Education System and at many of the additional 57 schools that opted into the systemic reform model. The NES schools largely have low-income and Black and Latino students.
Many of those school libraries will be turned into spaces where misbehaving students will go to watch their class virtually, the Houston Chronicle reports.
Details: At Saturday's rally, organized by Community Voices for Public Education, people spoke on the importance of libraries and librarians, how reading has transformed their lives, and how they're concerned this will negatively impact their students.
The rally drew a crowd of parents, students, educators, community members and elected officials despite the excessive heat warning. And organizers urged community members to continue to show up and protest.
The Houston NAACP along with several elected officials were in attendance, including Congressman Al Green, Rep. Sylvia Garcia, Rep. Gene Wu, Rep. Jon Rosenthal and people from Rep. Sheila Jackson Lee and Sen. John Whitmire's offices.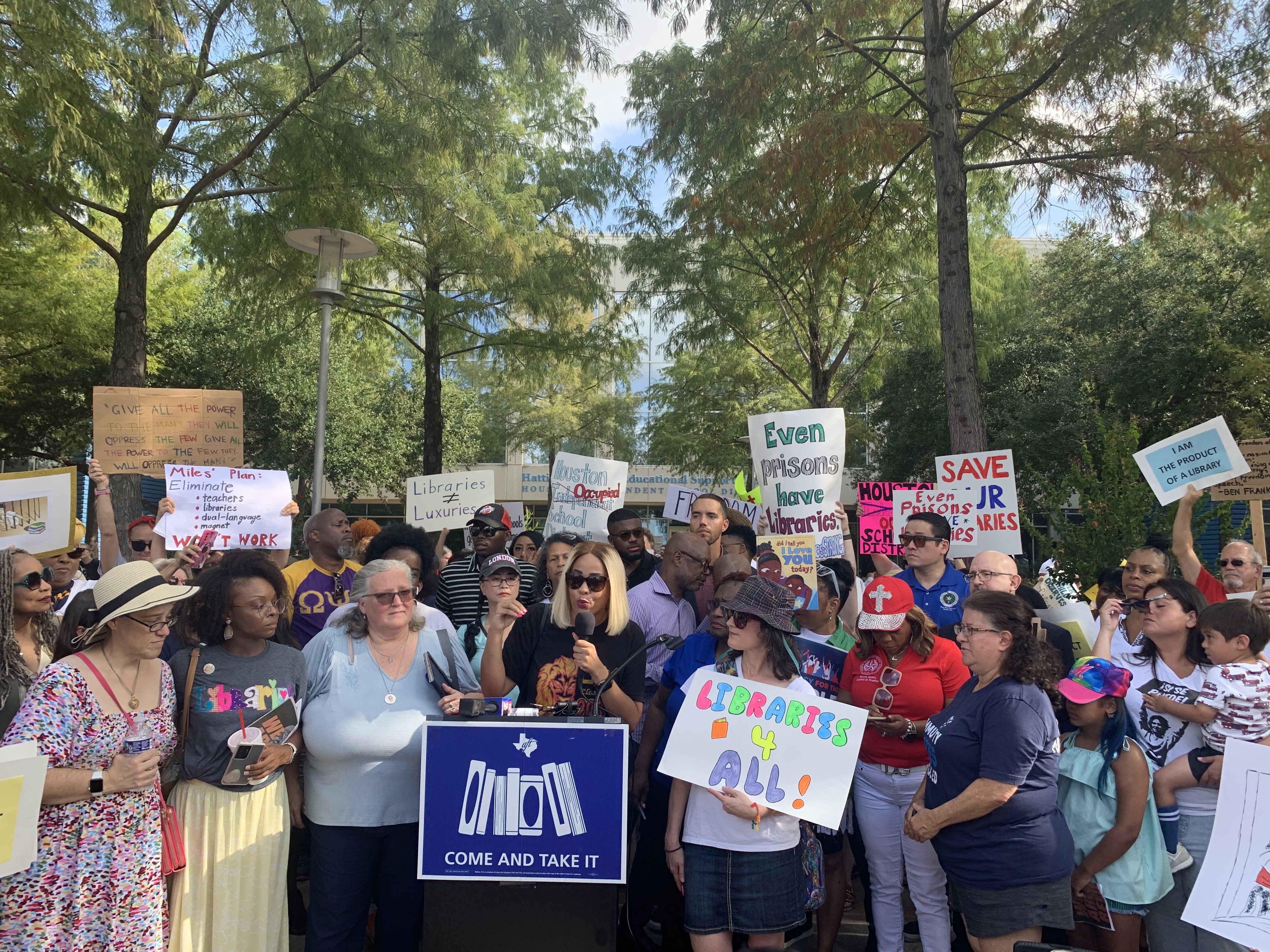 What they're saying: "We are tired of making sacrifices …. We just fought tooth and nail to get these libraries with our elected board and with our superintendent that our elected board selected. We just fought for all these changes, and then just like that, in one month, somebody can come in and change everything," Kourtney Revels, a parent of an NES elementary school student, said.
"I feel like half of my heart is kind of broken …. You're thinking that we are bad kids. We are not. We are wonderful, kind and smart," said Sophie Rojas, an incoming fifth-grader at Pugh Elementary School.
"Books open the world. The easiest and most effective way to enslave a man is to keep him unlearned. We do not remove children from their classrooms and put them in Zoom rooms and think they are to perform well on the test that you send to us and value us by," said Jackie Anderson, president of the Houston Federation of Teachers. "We will not stand for it. It's time for us to put our foot down and let everyone in Austin know: if you don't do something, we're coming for you."
"This is really hurting me. The library is like a comfort space for me," Tailyr Hill, an incoming 11th-grader at Wheatley High School, said. "I read every day constantly. And this is like, I feel like it's gonna hurt my education if I don't have a library available to me."
The other side: The district says there will still be books in the affected schools, but there will be no librarian to aid the students. The students will also be able to take books home through an honor system, per the Houston Chronicle.
Of note: In response to the rally, the district says it respects "the rights of our students, parents, and community members to assemble and express their views through protest."
"The district provides personnel support to ensure students are kept safe while they express their First Amendment right to assemble," HISD said in a statement Monday.
What's next: There is a "read-in" planned for 4:30pm Thursday during the HISD board meeting where organizers are encouraging people to bring a book to read during the meeting.
Editors note: This story has been updated to clarify that the assurance that there will still be books in affected schools comes from the district.
More Houston stories
No stories could be found
Get a free daily digest of the most important news in your backyard with Axios Houston.